The Perfect 4-Day Itinerary for Exploring Queretaro
Queretaro's Centro incorporates more than 204 blocks of history, politics, conspiracies and even a love story, yet it is usually overlooked for its more famous neighbor San Miguel de Allende. There's so much to see and do that skipping out on this UNESCO World Heritage Site would be a sad mistake. We recommend spending at least a minimum of 3 days in Centro and adding a fourth day for nearby pueblos magicos. Queretaro's Centro is large so exploring different sections each day will help you see more and save your feet from too much walking.
Follow us on this itinerary to see the most, and best, of Queretaro.
Disclosure: Some links may be affiliate links where we receive a super-small commission at no additional cost to you if you click through and make a purchase. We call this our Chocolate & Churro Fund.
Fly to Queretaro
Flying into Queretaro is easy since it has its own International Airport (QRO). There are daily connections from Houston, Dallas and Mexico City, and a handful of other cities fly in a few times a week. The airport is small with only 3 gates. Getting through customs and picking up your bag is a breeze. A taxi counter is located just outside the main doors to the left. The taxis have a flat rate to take you to Centro.
Another option is to use your Uber app. The cost will be around $15. (Cost of Ubers and taxis go up after 6pm). The drive from the airport into Centro isn't very pretty, but don't let this influence your first impressions of Queretaro.
Drive to Queretaro
Highways and toll roads connect to Queretaro from many cities across Mexico. If you don't feel comfortable driving, private cars and luxury buses are also available.
Take the bus from Mexico City airport to Queretaro. Read our post: Bus Travel in Mexico is Easier Than Flying.
Where to Stay in Queretaro
Several boutique hotels that were once haciendas are located in Queretaro Centro. Many have gorgeous courtyards, and you will be amazed at how far back they go. When looking for a hotel, use Jardin Zenea as a central point and stay near or between Plaza de Armas and Jardin Guerrero.  The areas between these two plazas are walkable with minimal traffic. This is the main Centro and you will find a lot to see, explore and eat within this area.
Some boutique hotels we recommend are Casa de la Marquesa, Patio Santiago, or Hotel Aspeytia with its rooftop bar overlooking Centro.
Find a hotel on Booking.com
Check into your hotel, freshen up a bit, put on your walking shoes and let's explore the vibrant city of Queretaro!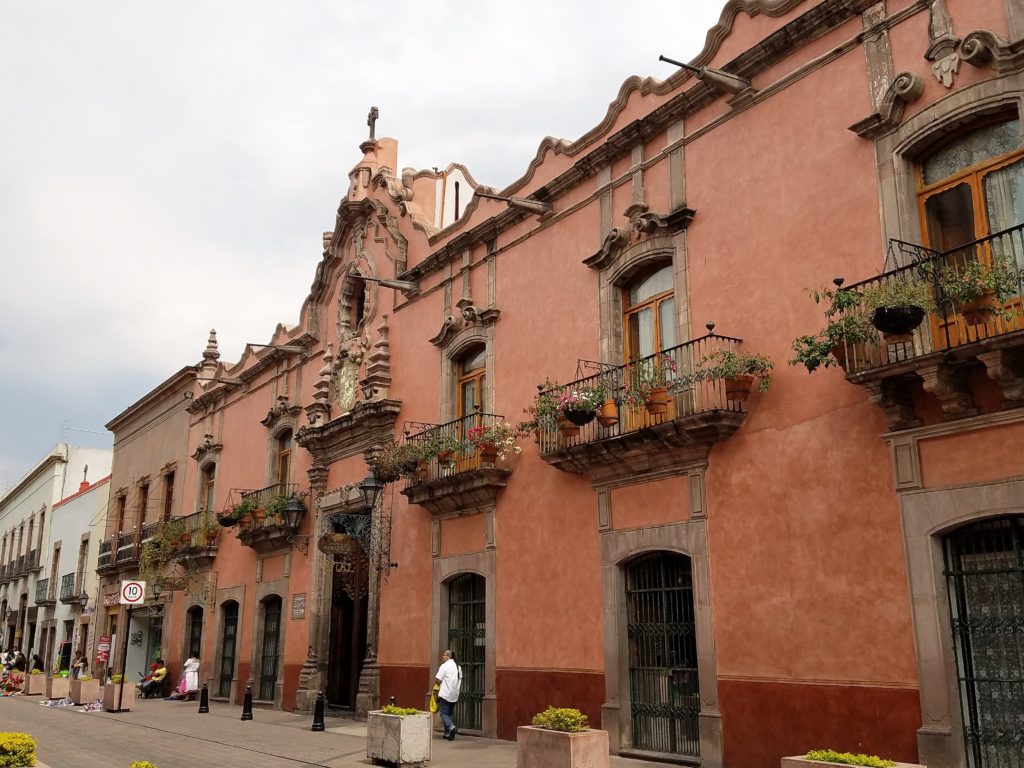 First Day in Queretaro (East Side)
For your first full day in Queretaro, explore from Jardin Zenea to Templo de la Santa Cruz.
Jardin Zenea
Jardin Zenea is a good central starting point to everything in Centro. Churches, restaurants, and walking streets all radiate from this park. Queretaro's Centro is labeled as a UNESCO World Heritage Site Monumental Zone for its 1400 Monuments, street plan and baroque architecture. You won't be able to see all 1400 Monuments on this itinerary, but we hit the highlights that are within easy walking distance. Jardin Zenea was once the gardens of Templo de San Francisco de Asis. Today it's the focal point for Queretano life full of vendors, music, dancing, ice cream eating and holiday decorations.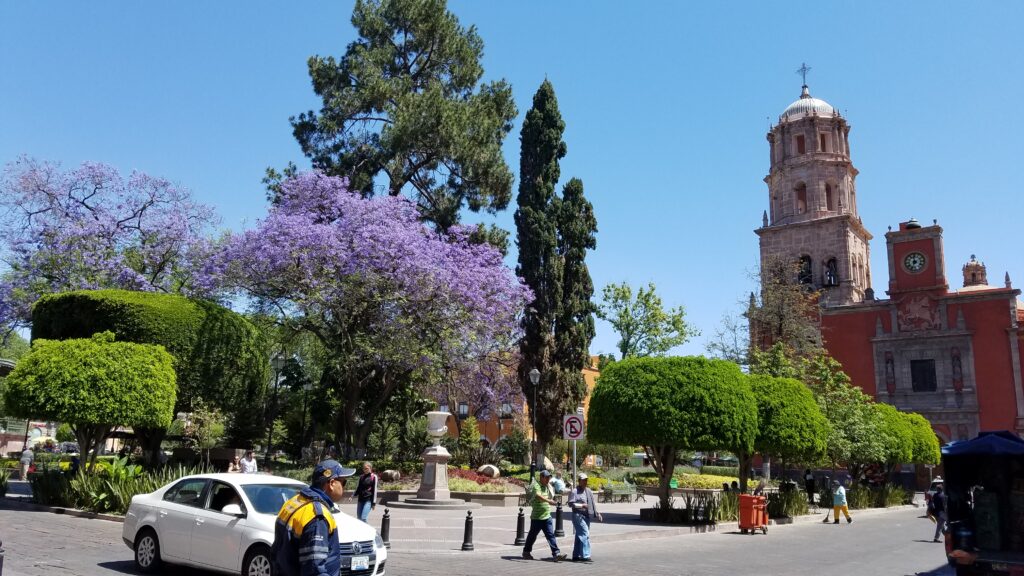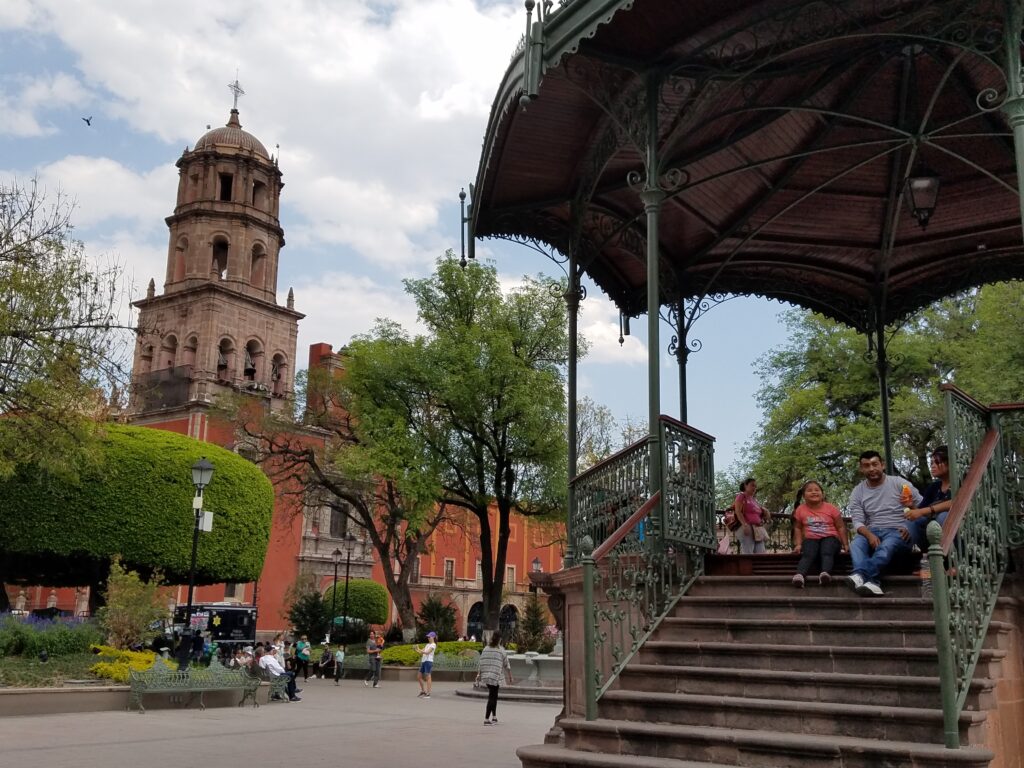 Templo de San Francisco de Asis
Templo de San Francisco de Asis with its red exterior and clock tower is hard to miss. It's also one of the most beautiful churches in Queretaro. The Queretaro Regional Museum where you can see how civilizations of the past shaped this region now occupies the old convent beside the church.
Start your walk up Andador 5 de Mayo with the Dancing Chichimeca statue beside the Templo de San Francisco de Asis. This walking street has many attractions along the way. Surrounded by Spanish Baroque architecture, you'll pass many cute souvenir shops, a street vendor side detour at the fountain, and many eateries.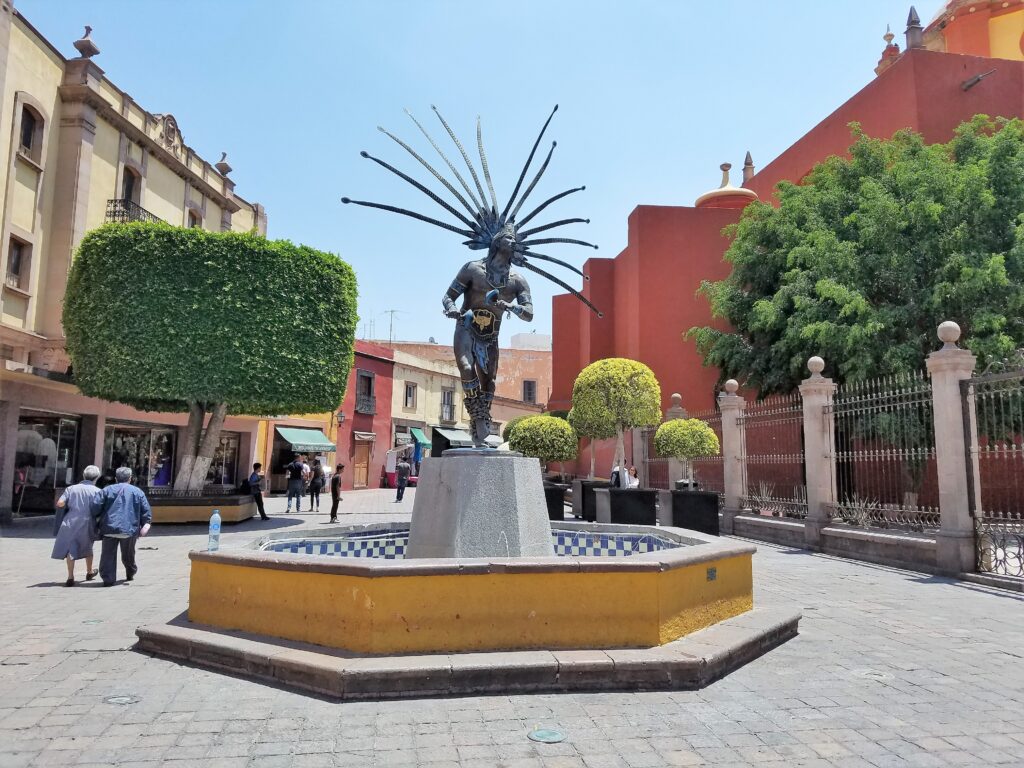 Museo de Conspiradoros
Museo de Conspiradoros is a free museum on Andador 5 de Mayo. The walls of this converted hacienda are decorated with murals detailing the conspirators conspiracy to rebel against the Spanish. Explanations are all in Spanish, but my dad and I understood it pretty well.
Next door to the Museo de Conspiradoros is La Fabrica de Chocolate. Stop in for a late breakfast or chocolate and churro snack. Don't be surprised if you visit this place more than once. My favorite is the tabasco-paraiso, chocolate with hints of chilis. So good!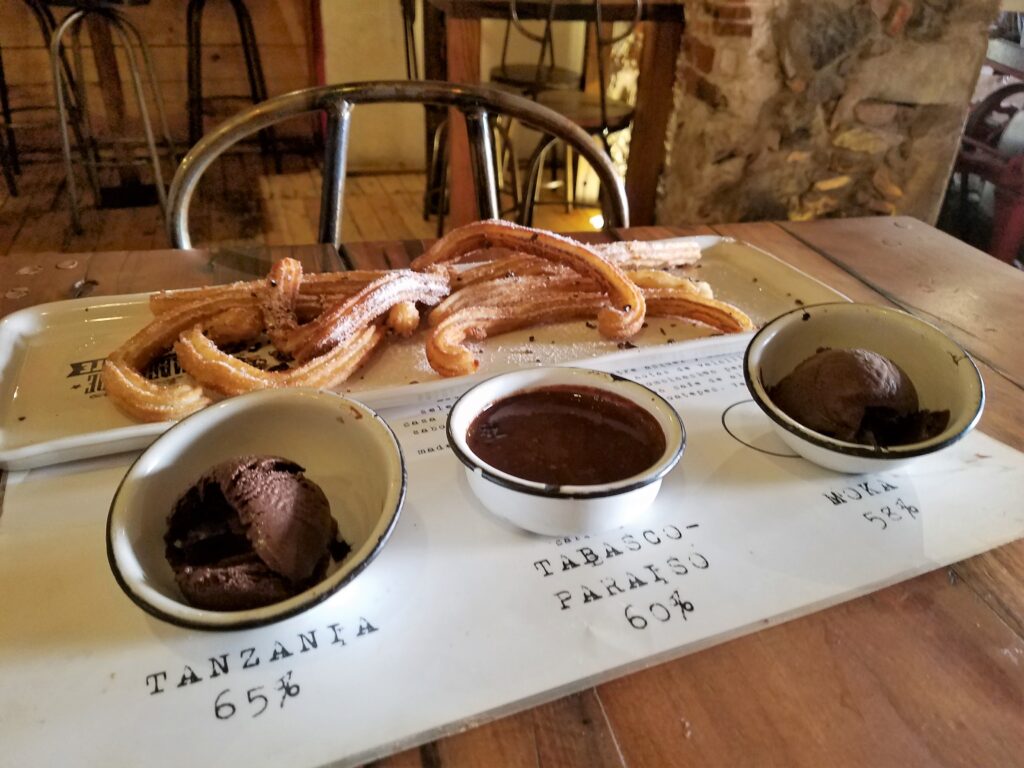 Plaza de Armas
The first plaza you will reach is Plaza de Armas. Casa de Corregidora, the former home of the mayor (Corregidor) and the Corregidora, is the Government Palace today. Wander inside to gaze at the murals. If you visit during the holidays, you might see something special in the central courtyard. For Day of the Dead, altars are constructed for prominent people in the community, and during Christmas you can find a beautifully decorated 2-story Christmas tree.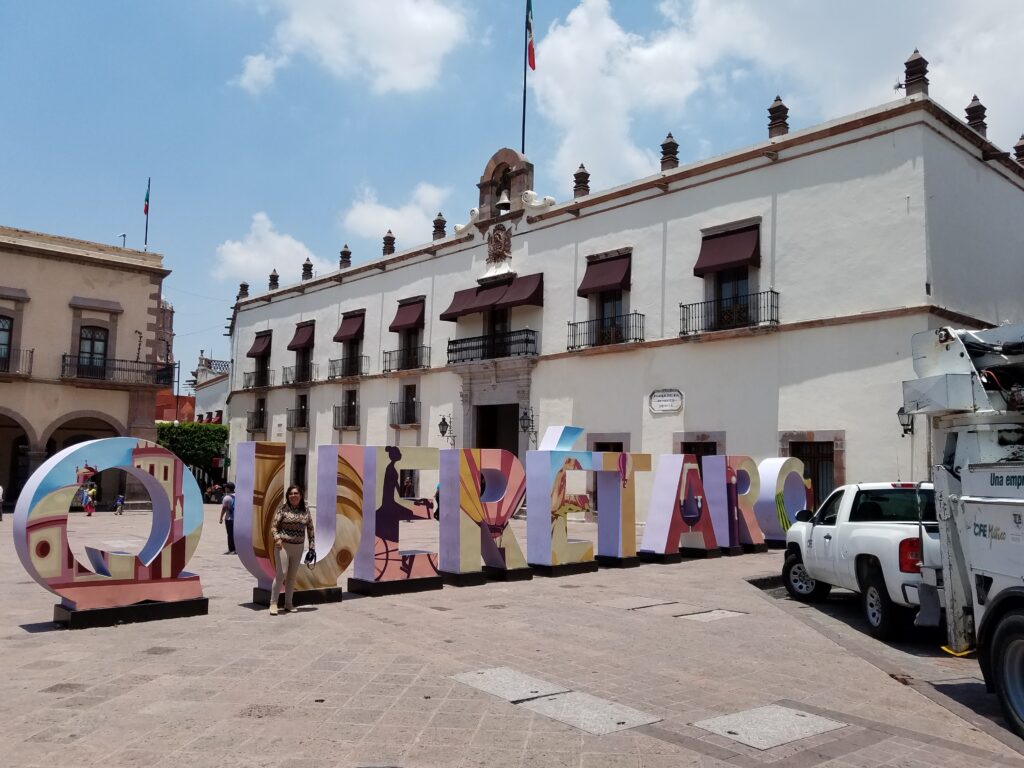 Moving counterclockwise around Plaza de Armas, marvel at the arches and stonework of Casa de Ecala which also houses government offices. Colonial-style hotels and fancy restaurants such as Restaurant 1810 occupy the other buildings surrounding a beautiful fountain in the center.
Where to Eat and Drink on Calle 5 de Mayo
Andador 5 de Mayo turns into Calle 5 de Mayo where cars can slink their way down the narrow street. Continue walking up Calle 5 de Mayo and explore the different restaurants and shops along the way. Alquimia is a tiny bar perfect for a creative cocktail break. And if pulque and chapulines are on your list of "must-try" Mexican cuisine, there's no better place than Maria y su Bici. You'll have plenty of choices for restaurants offering international cuisine and charming courtyard bars.
Plaza de los Fundadores and Templo y Convento de la Santa Cruz
Plaza de Los Fundadores (Founders Square), a small plaza with a handful of statues will be your next monument sighting. From this small plaza you have a fantastic view of the Templo y Convento de la Santa Cruz.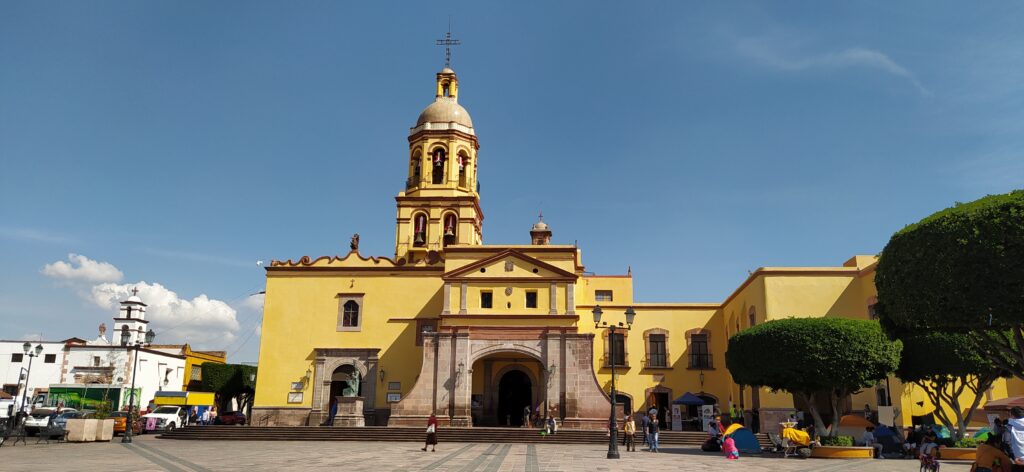 The Battle that Established the City of Queretaro
Templo y Convento de la Santa Cruz is really the beginning of the city of Queretaro. In the early 1500s, the Otomis of the Queretaro region aligned themselves with the Spaniards to get rid of the Aztecs and the ever pressing northern Chichimecas. A great battle was fought on a hill called Sangremal. The Spaniards and Otomis were losing until a solar eclipse darkened the sky. A friar who recounted the battle wrote that St. James rode across the sky on a white horse carrying a blazing cross. Believing that the foreigners' god was there to protect them, the Aztecs and Chichimecas laid down their weapons and surrendered. The Templo y Convento de la Santa Cruz was erected on Sangremal, and the city of Santiago de Queretaro (named after St. James) was officially established in 1531.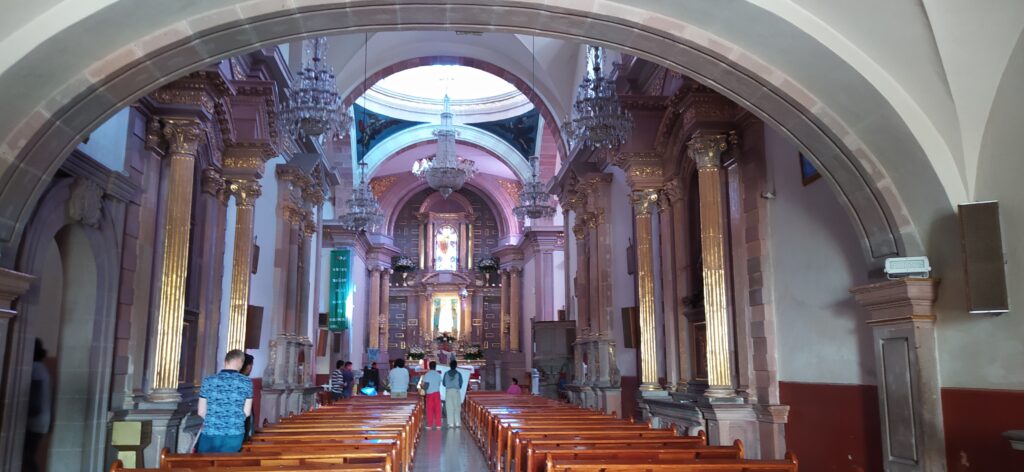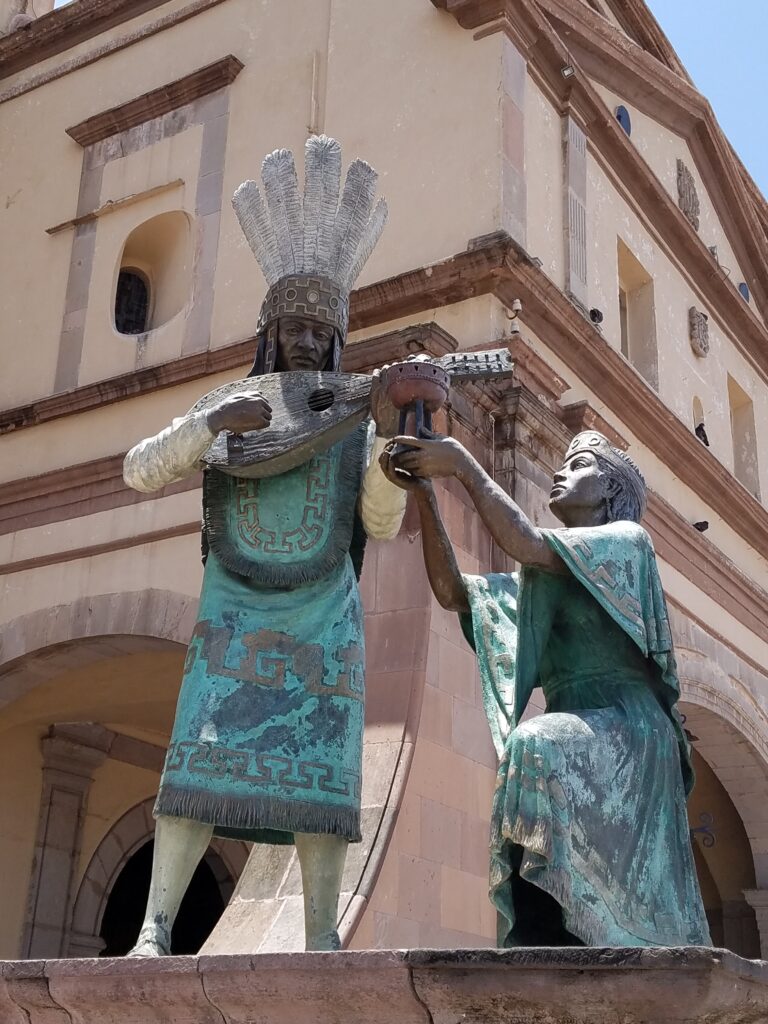 Aqueduct View
Follow the street that runs alongside the church back to the viewpoint of the aqueduct, El Mirador. The aqueduct is Queretaro's most famous landmark. This is the upper view of the aqueduct as it spans across the city.  For an even better view from underneath the aqueduct, continue walking down the street and turn left at the busy highway. Take your first left again and there is a fountain where you can get a fabulous picture of the aqueduct.
Read about the unusual one-sided love story behind the building of the aqueduct and Casa de la Marquesa.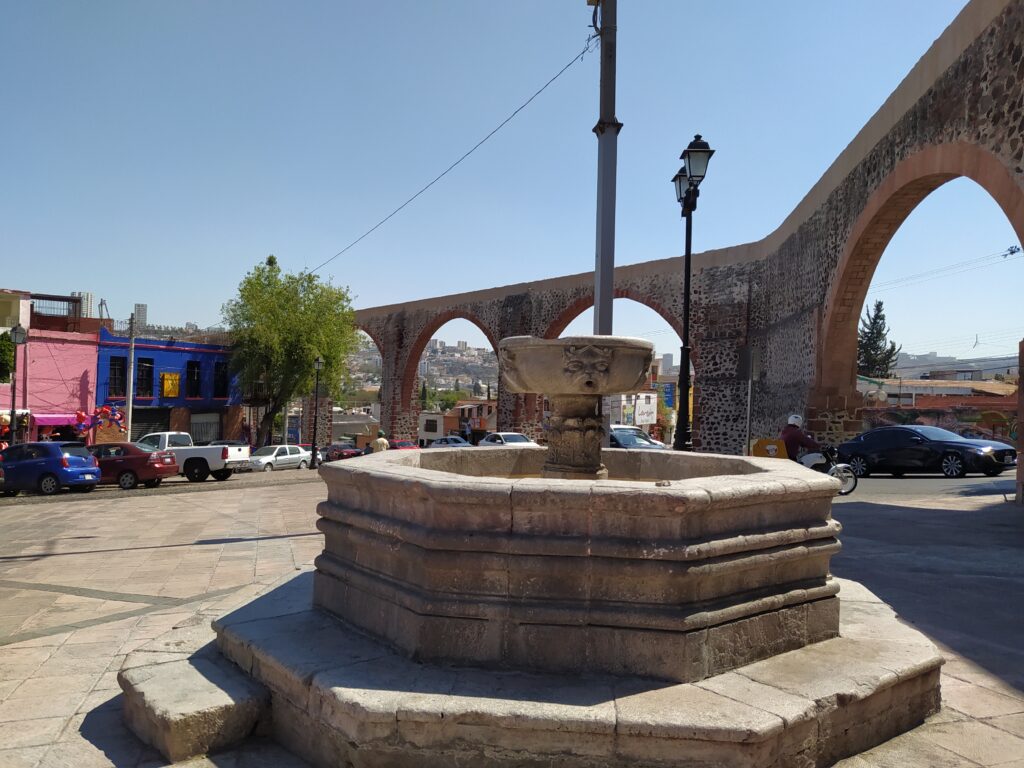 Real de Tierra Adentro
While the view of the aqueduct is the main feature, be sure to check out the plaque commemorating the Real de Tierra Adentro. This was the major trade route from Mexico City to San Juan Pueblo, New Mexico from 1598-1882. On the Mexican side, it's recognized on the UNESCO World Heritage List. On the United States side, its recognized by the National Historical Trail System. Though it's not used today, parts of it are being restored as tourist attractions.
Corregidora Mausoleum
Across from El Mirador is the Corregidora Mausoleum, the final resting place of Queretaro's most famous resident. Josefa Ortiz de Dominguez was the wife of the mayor, the Corregidor. Together they were part of a conspiracy group to overthrow the ruling Spaniards from Mexico. The Spaniards discovered the conspiracy and began arresting people and raiding homes for weapons. Locked away by her own husband (for her protection), the Corregidora still managed to get a message sent to Father Hidalgo, another conspirator. The Mexican War of Independence began on September 16th, 1810 with El Grito de Dolores (the cry of Dolores).
Josefa continued to send money and information throughout the 11-year war and is regarded as a local and national heroine. Her mausoleum has many pictures and letters from that era.  Other prominent people are memorialized as statues around the mausoleum grounds.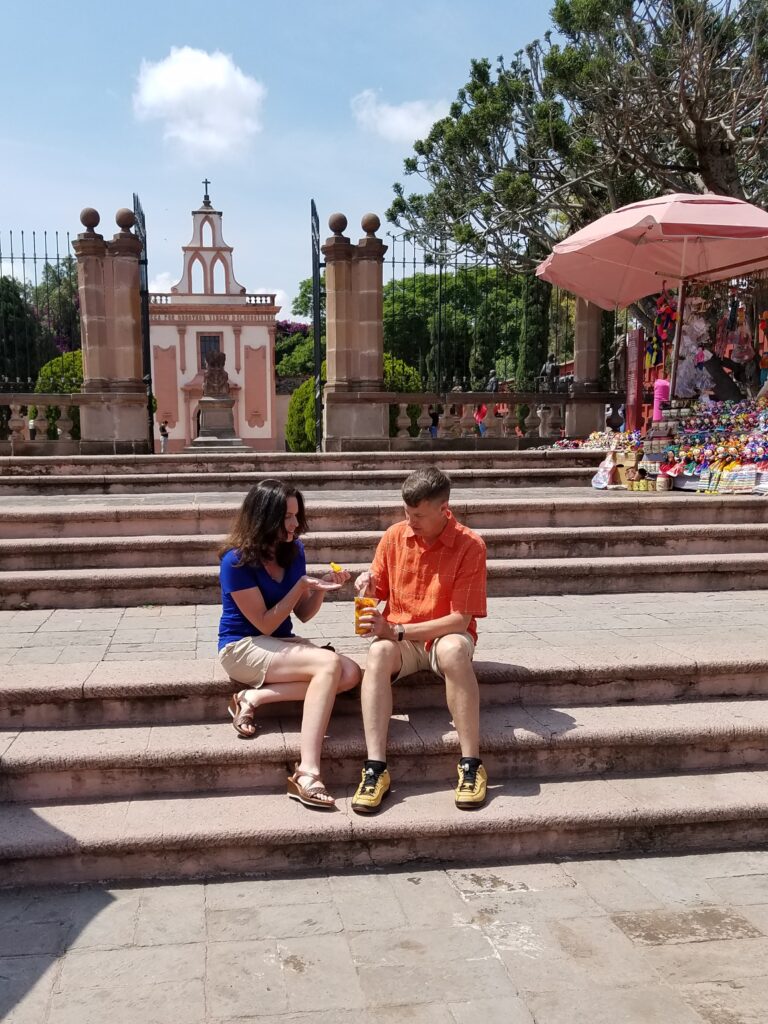 Explore up and down the streets and see what other hidden treasures you can find in the antique shops. The Queretaro is a very safe place and there's a lot of unique things to see on every street.  A few blocks north of the Founder's Plaza is Mercado "La Cruz" where you can grab a bite to eat or local produce.
Day 2 Jardin Zenea to Jardin Guerrero (West Side)
Casa de la Marquesa
South of the Jardin Zenea on Calle Francisco I. Madero is the semi-walking street that leads you past Casa de la Marquesa. We stayed at this beautiful Baroque and Moorish hotel on our first visit to Queretaro. If you choose to do the Night Tour in Queretaro, they will take into the lobby of the Casa de la Marquesa and recite the cunning love story between the Marques and a nun.
NOTE: The night tour can be booked every day in front of Templo de San Francisco.
Around Neptune's Fountain
Just past the hotel is Neptune's Fountain next to Templo de Santuario de Vida. Parroquia del Sagrado Corazón de Jesús "Templo de Santa Clara" located just behind it has stunning Baroque interior. Across the street from Neptune's Fountain is the Museo de Arte Sacro de Queretaro which was once the Royal Hospital of La Purísima Concepción.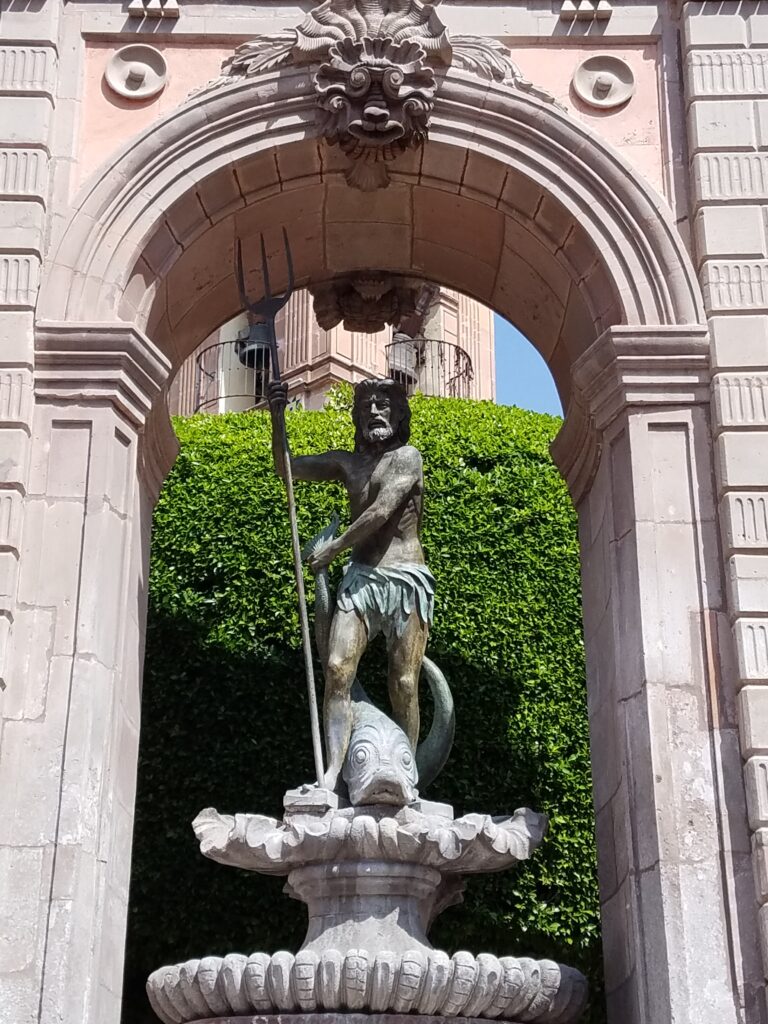 Jardin Guerrero
Passing a handful of coffee shops and small restaurants, you will arrive in Jardin Guerrero. This plaza is home to an exquisite fountain and surrounded by a number of hotels and restaurants. During the Day of the Dead celebrations and Christmas holidays you can find a small market selling all kinds of toys and candies.
Diktatur
Queretaro is a college town and if you want to relive those poor college days with drink specials head to Diktatur. This restaurant has an open roof courtyard where you can watch night fall above the strings of books seemingly floating overhead. To get your money's worth, skip the pizza (which is more like cracker flatbread) and get a burger with a cool mixed drink.
Calendar Museum
The Calendar Museum just past the Jardin Guerrero is a fascinating place to spend a few hours. This museum is in an old hacienda with a few beautiful courtyards, a rooftop view and a cafe. Compare calendars from different civilizations and marvel at the political and commercial messages in the 20th century calendar art.
Crossing Highway 200 to Alameda Hidalgo
From Jardin Guerrero to Highway 200 to your left is 3 blocks. Wander up and down these streets for more churches and local shops and eateries on your way back to Jardin Zenea. When you reach Calle Corregidora, grab an ice cream and head across the highway to Alameda Hidalgo. Traffic noise disappears in this huge tree-shaded park on the outskirts of Centro. Calle Corregidora will take you back to Jardin Zenea, your starting point in Centro.
Day 3- Pueblos Magicos and Wineries
Tour the countryside and enjoy a more laidback pace of life. Arrive early to hike Peña de Bernal before it gets hot in the afternoon. A good time to start is around 9am as most things don't open in town until after 10am. The hike will take about an hour and a half. Afterwards, fill up on your second breakfast with gorditas at the base of the monolith or in town. The town itself is really cute and offers some of the best prices for handmade garments and spirit stones. You can easily spend half a day here wandering the alleys, visiting the Mask Museum and the Casa Museo del Dulce. There's plenty of rooftop restaurants to enjoy the view of the monolith if you stay for lunch, dinner or overnight.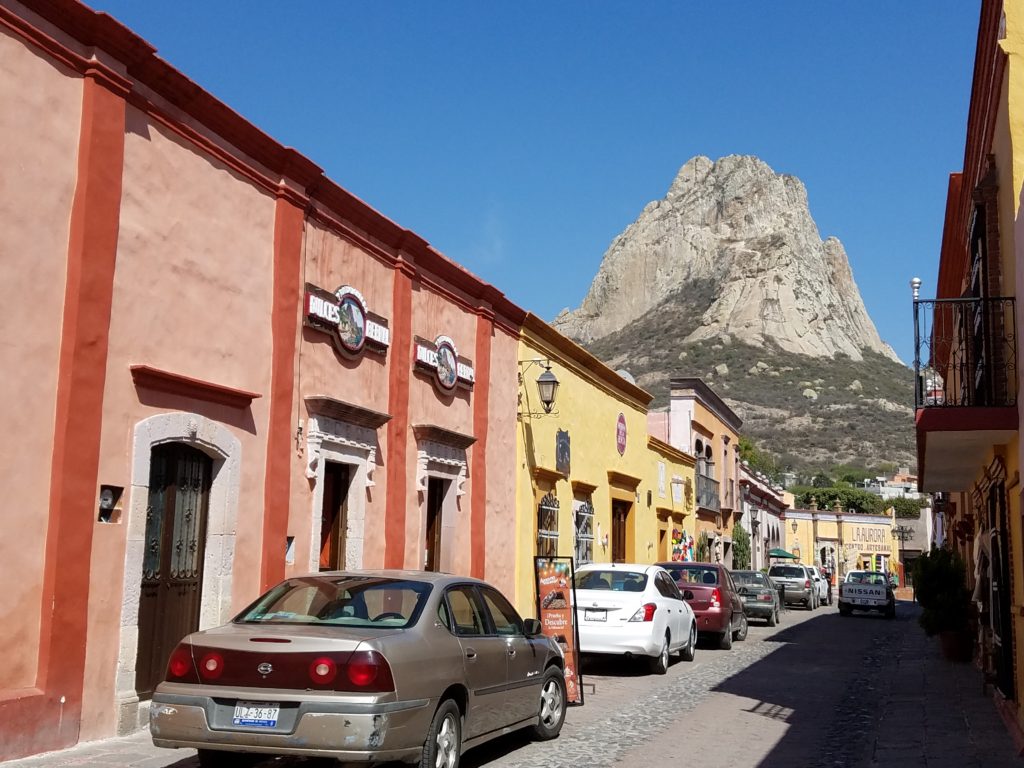 Head out of town and stop at a few wineries along the way to Tequisquiapan. You do need a reservation for each, and you should plan to spend over an hour if you are just wine tasting, and 2.5 hours if you are doing a tour and tasting. Some of the wineries have fantastic restaurants if you feel you want to splurge on food and wine with a view.
I saved Tequisquiapan for last because as cute as it is, there really isn't that much to do. You can wander the streets, watch the kids take a ride on the train around the plaza and drink at the wine bars. Shopping is more expensive here, and nothing really gets going until the afternoon. It's fun to see families enjoying the day out in the plaza while sipping on a Brut Natur Cava from the Freixenet Bar or eating by candlelight al fresco at one of the restaurants surrounding the plaza. You can casually wander through the town in less than 2 hours or choose to stay overnight to experience the relaxing nightlife of Tequis.
Tequisquiapan really gets hopping during its wine festivals. Join us on one of our day tours to the wineries and pueblos magicos to experience more of the Queretaro region through our tour company Heart of Mexico Wine Tours!

Day 4- Trolley to Cerro de las Campanas and Mexican life
Your fourth day may be your last, or you may have decided that Queretaro deserves a few extra days. For today, we recommend just taking it easy and really soaking up the Mexican life. Start with a trolley ride from Monumento a  la Corregidora (yet another statue dedicated to Mrs. Josefa) to Cerro de las Campanas where Maximillian I (the only foreign emperor to rule Mexico) was executed. Translated, Cerro de las Campanas means Hill of the Bells. The rocks have a high amount of iron and when knocked together, make a bell-like sound. The superstitious stories are very entertaining. This tour lasts an hour.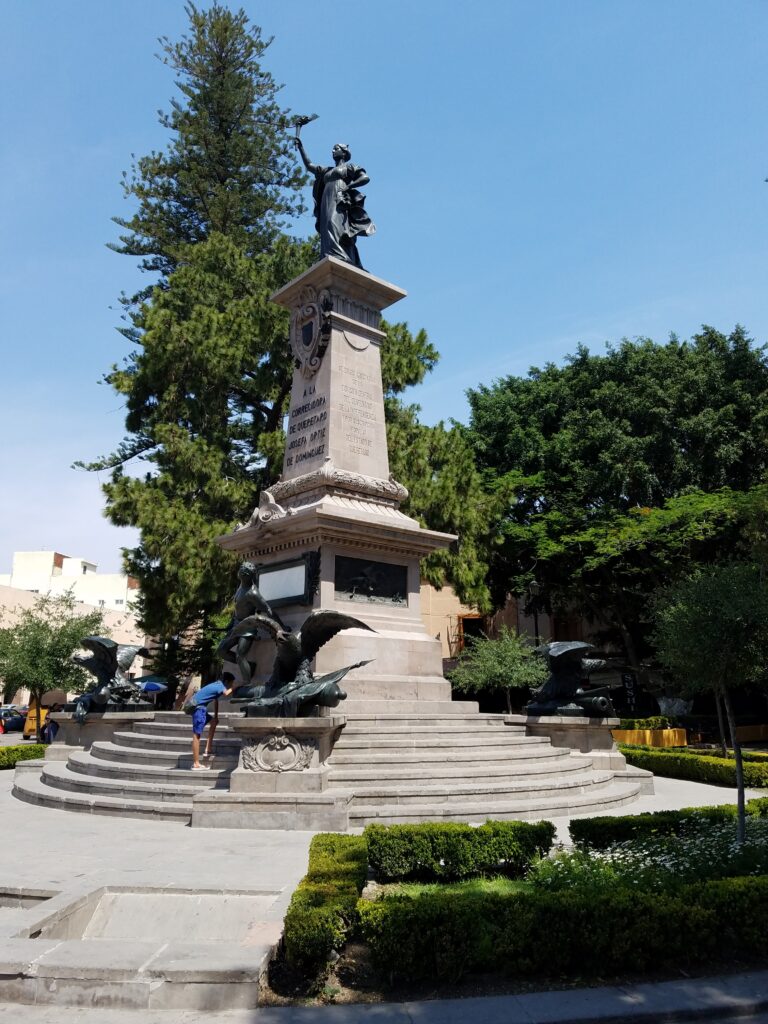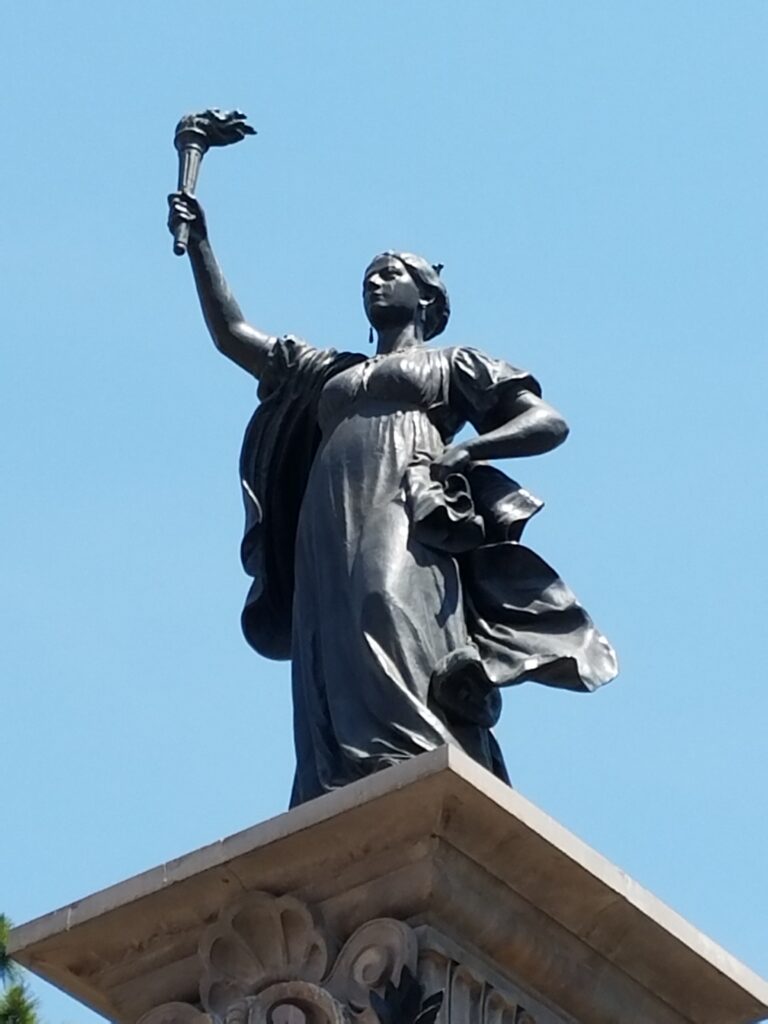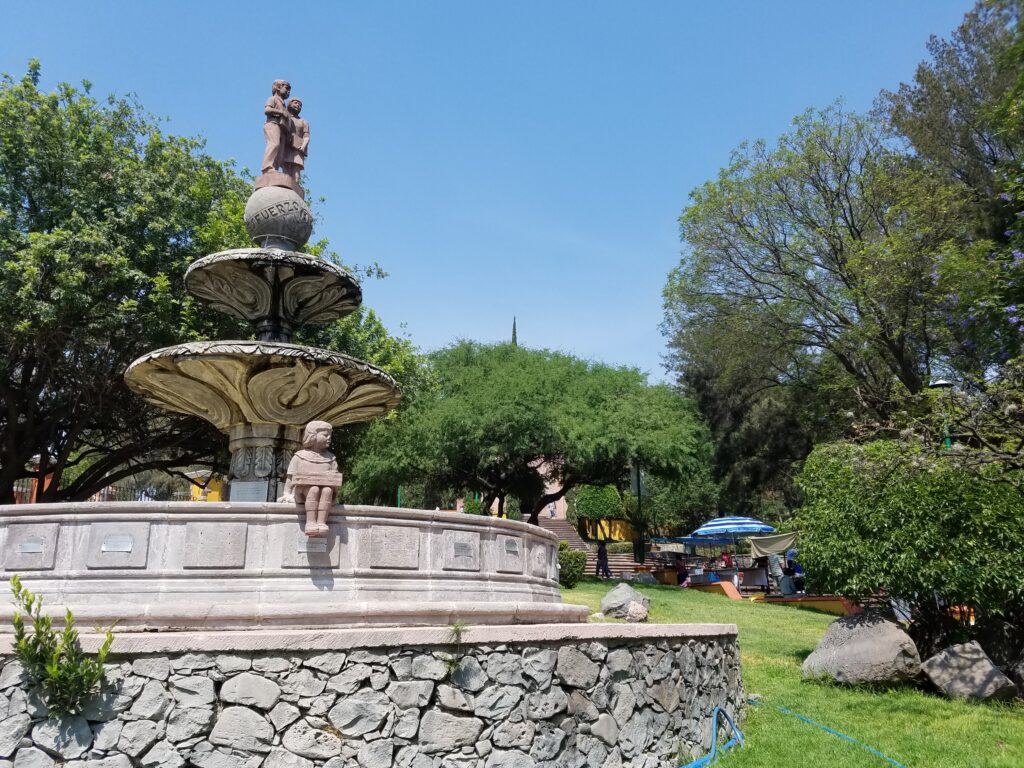 Returning to Monumento a la Corregidora, wander up the walking street Calle 16 de Septiembre with its shops and fancy Basque restaurant Alioli. It will end in a small plaza across from the Sanctuario de la Congregacion de Santa Maria de Guadalupe with its bells and steeples painted in the colors of the Mexican flag.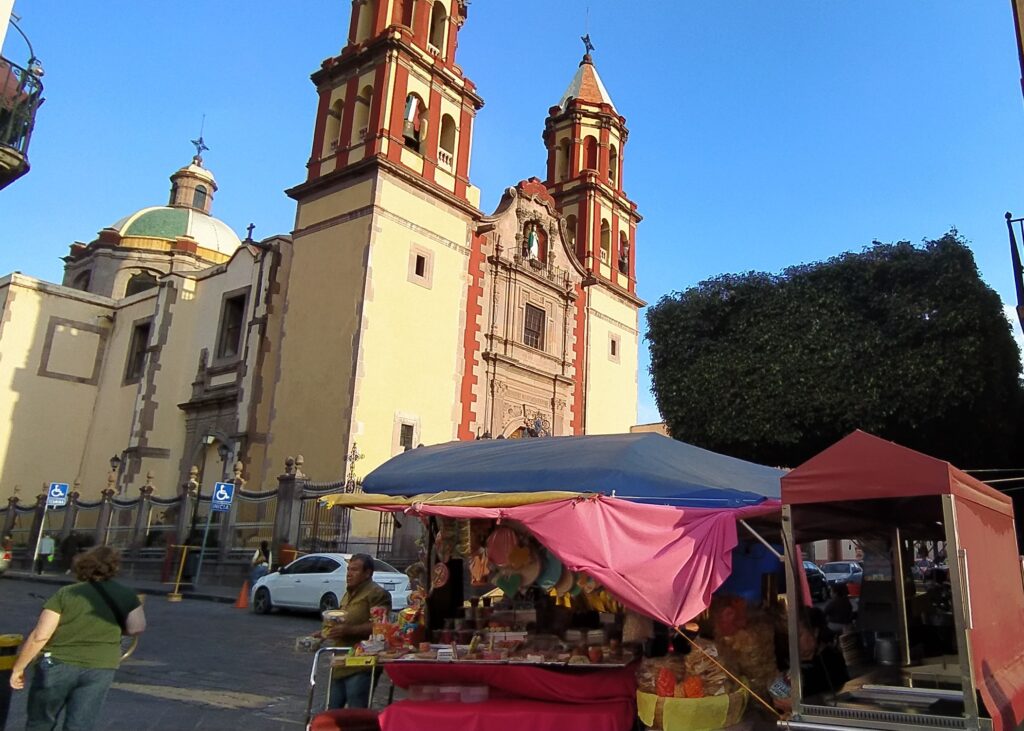 Other Landmarks in Queretaro
This is also a good day to explore north of Jardin Zenea if your feet are up to it. Several churches, small businesses and boutique hotels are located on this side as well and keep your eye out for little details and open courtyards.
Walk a few blocks to the Teatro de la República, a beautiful theater that also had a cameo appearance in the movie Once Upon a Time in Mexico. Templo de San Antonia de Padua is one of the oldest churches in Queretaro.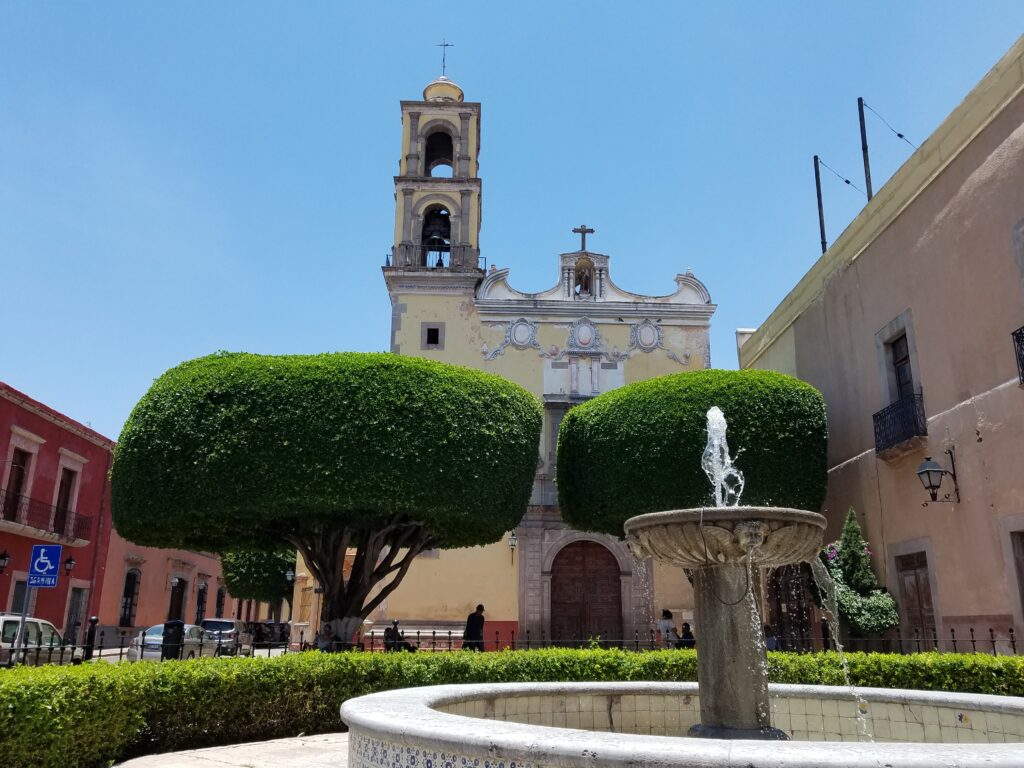 The architecture changes once again from wrought-iron Spanish balconies to one story Otomi houses between Jardin Zenea and Blvd Universadad which runs along the Rio Queretaro. There's lots of interesting local places to eat along these streets.
Don't miss the Fuente de Ignacio Pérez (Fountain of Ignacio Pérez) at the crossroad roundabout of Calle Corregidora and Universidad. Perez was the Paul Revere of Queretaro carrying the message from the Corregidora to Father Hidalgo that started the Mexican War of Independence against Spain in 1810.
Where to get a Rooftop View of Queretaro
For your last night, eat at a favorite restaurant ( they will probably remember you and greet you like family), try some place new or hang out at Hank's Oyster Bar for drink specials and occasional live music. Before you call it a night, make sure to stop by Hotel Aspeytia for a drink on their rooftop bar.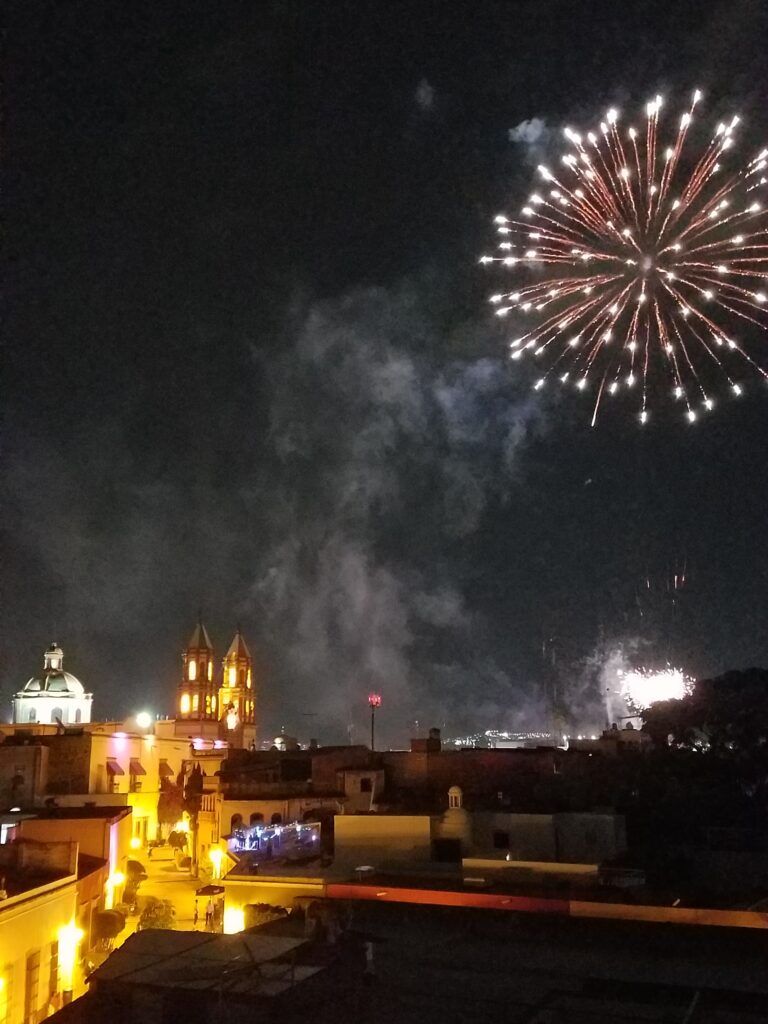 Fall in Love with Queretaro
We've packed a lot into four days in Queretaro, but each day is at your speed. No need to hurry. Enjoy the people watching while eating an ice cream, walking through history and a day of wine tasting. You may even fall in love with Queretaro like we did and think about retiring here. Many people do. If you have more time, there are other places close by to visit as well such as San Miguel de Allende and hiking in the Sierra Gorda.
Don't forget, we also offer wine tours in Queretaro and San Miguel de Allende!
***Did You Find This Information Helpful?***
Website security is costing more and more each each year. Please help us offset the costs of keeping this website running by submitting a donation through PayPal.
Pin This!