Wine Festival Guide of Central Mexico
Oenophiles don't need a reason to drink wine, but a wine festival is the perfect excuse to drink LOTS of it! Most wine lovers will head to the big wine production areas like Napa-Sonoma and Bordeaux, but what if you could discover the next big wine region before everyone else? Welcome to the Central Mexico wine region.
Disclosure: Some links may be affiliate links where we receive a super-small commission at no additional cost to you if you click through and make a purchase. We call this our Chocolate & Churro Fund.
Mexico's History in Wine Production
Mexico has been making wine longer than any other country in the Americas. When the Spanish conquistadors conquered Mexico in the early 1500s, they got to work planting vineyards to grow grapes for wine and brandy. The terrain from Mexico City northwards to Valle de Parras and westward to the Baja Peninsula proved to be the perfect terroir for growing grapes. Mexico might have become a powerhouse wine country if they had been allowed to continue, but since the mother country relied on taxes of exported goods, a ban was placed on New Spain (and consequently all new colonies of Spain in the West Indies) and production was reduced to church purposes only.
This ban would continue until the Mexican War of Independence that ended in 1821. The next 100 years were tumultuous with the land ravished by wars and other conquests.  Prohibition in the United States sparked wine production (and other alcoholic beverages), but it wasn't until the 1970s when wine production finally took root and began to prosper.
Today, wine tourism is seeing tremendous growth in Mexico. Valle de Guadalupe may still be in the lead, but the wine regions around Queretaro, San Miguel de Allende and San Luis Potosi are showing well with European-style wines, fine dining restaurants and celebrations throughout the year.
How to Get to Central Mexico's Wine Regions?
Queretaro produces the bulk of the wine festivals and can easily be reached from Dallas (DFW), Houston (HOU), and airports within Mexico.
San Miguel can be reached by flying into the Queretaro Airport or Leon-Guanajuato Airport (BJX). It's about a 70-90-minute drive from either airport.
San Luis Potosi has a local airport. Flights from Mexico City will probably be the easiest or bus travel from Queretaro (2.5-3 hours away).

When Is the Best Time to Visit Central Mexico's Wine Regions?
Mexico has a culture of celebrating, whether it's a saint day (which is almost every day of the year), a birthday, or a Tuesday. And celebrating wine is just another reason to have a party. Wine festivals take place almost every month of the year, but there are a few that are phenomenal and deserve a long weekend to truly appreciate.
FEBRUARY
Festival 100 Vinos Mexicanos
The Festival 100 Vinos Mexicanos (Festival of 100 Mexcian Wines) will take place every two years starting up again in 2024 at the end of February or beginning of March. It's the most important wine festival as it showcases wines from all 8 wine regions in the country. In 2022, it was held at La Redonda Winery, the second-largest winery in Queretaro. This well-organized event included music bands, VIP seating with snacks, other seating areas, food trucks, and shaded wine vendors. They also did a great job of advertising which Mexican wineries would be attending so we were able to make a list of some that we did not want to miss. Wines were poured generously, and the vendors were excited to share more information about visiting their wineries. This event is perfect for those new to Mexican wines and curious about the different wine regions.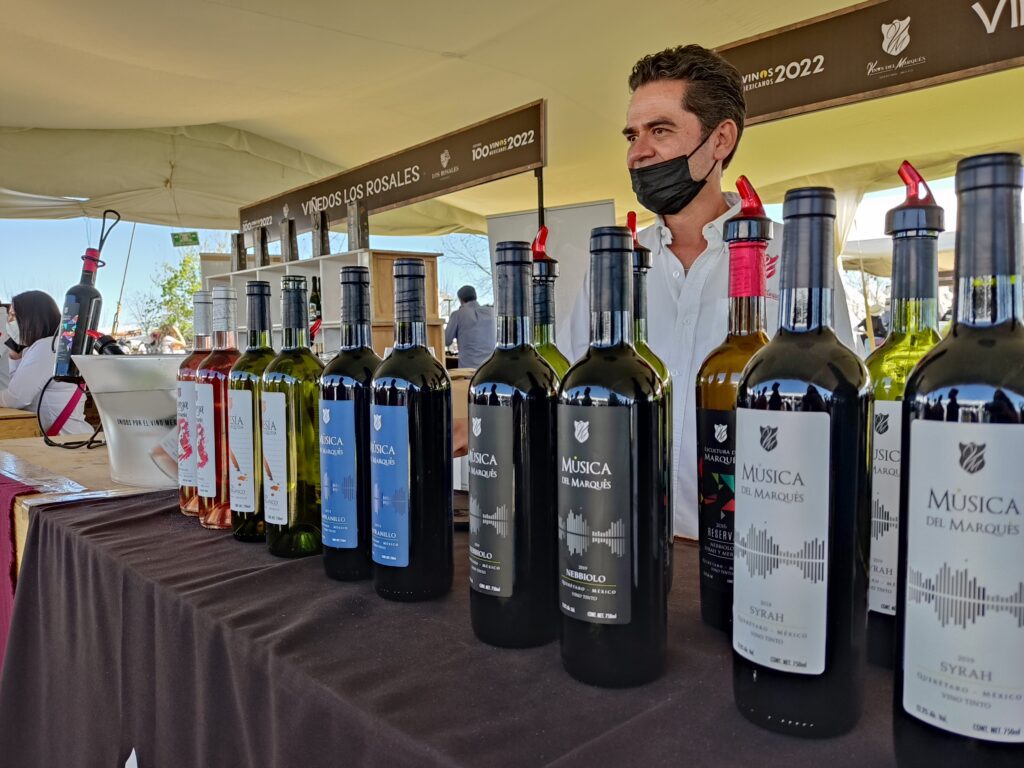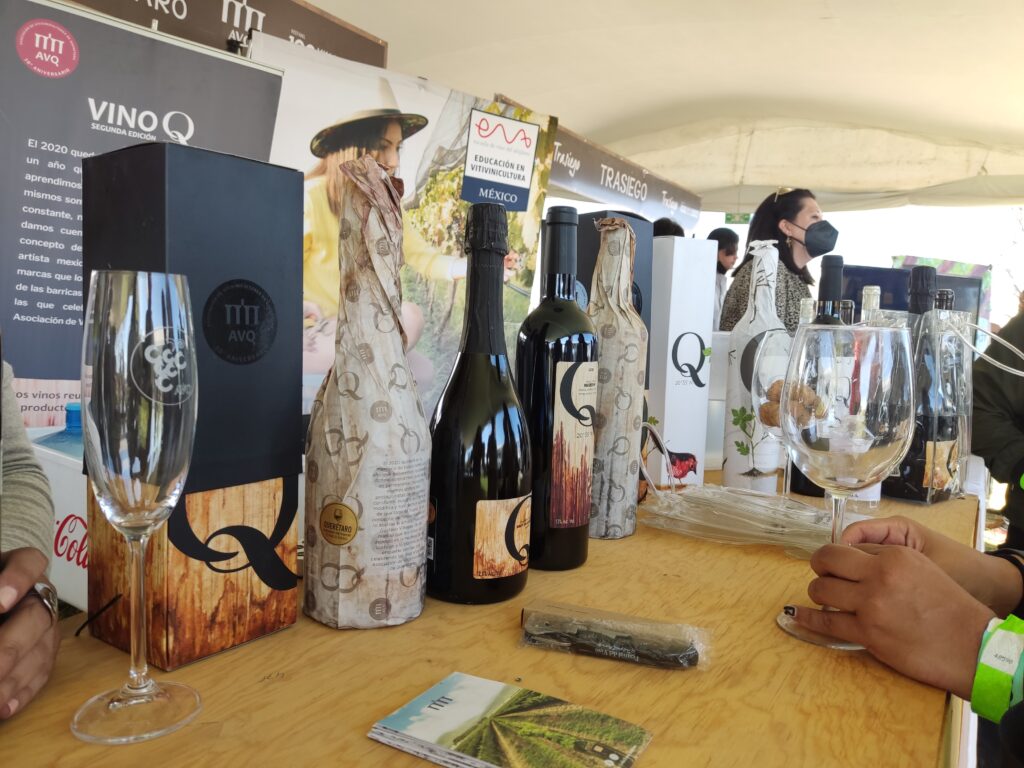 The Festival 100 Vinos Mexicanos is the best wine festival to sample different Mexican wines. We've put together a long weekend package for you that includes the festival admission, hotel, transportation, and visits to local wineries and the pueblo magico of Bernal. For more details, check out the tour package on Heart of Mexico Wine Tours.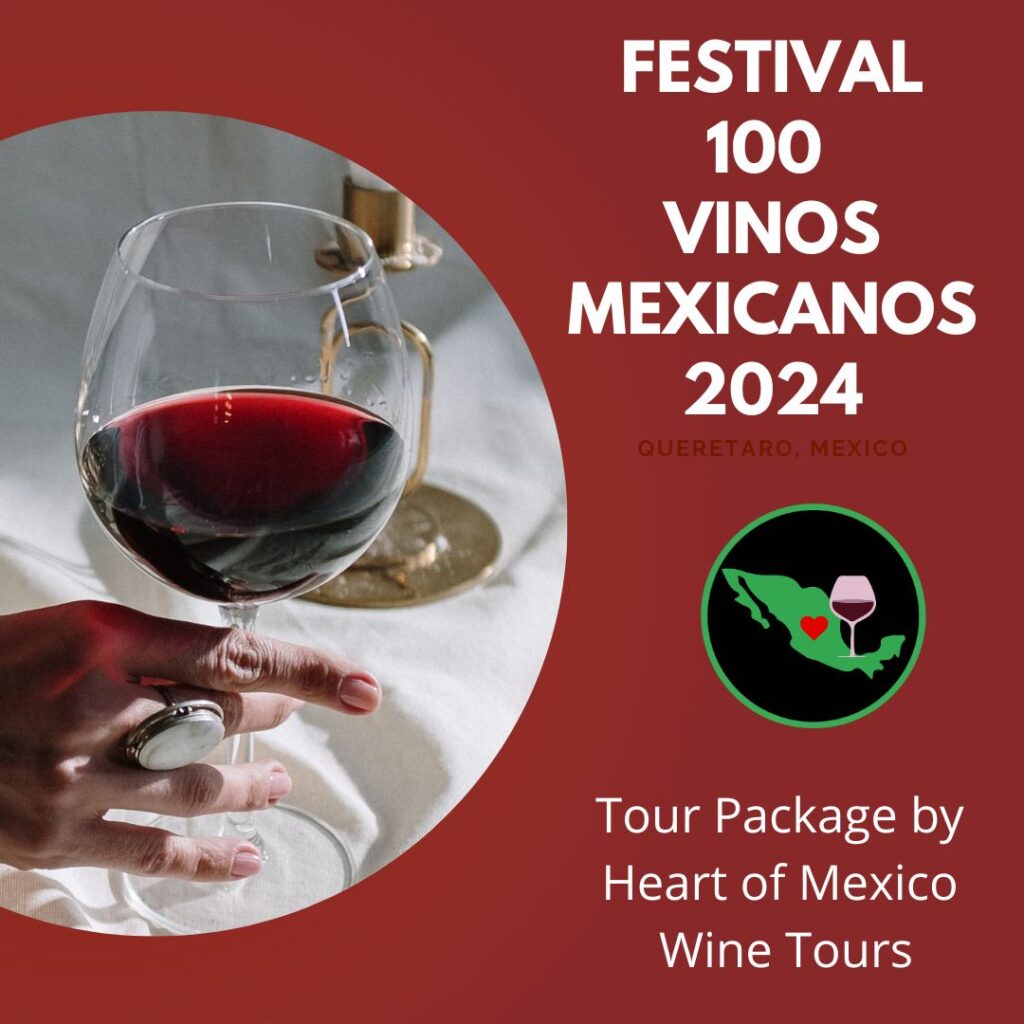 MARCH
Bubble Fest
The Queretaro wine region is perfect for growing sparkling wine grapes like Chardonnay, Xarel-lo, Macabeo and Parallada. The Spanish cava producer Freixenet recognized this in the 1970s and has been a leader in wine production for decades. Bubble Fest celebrates sparkling wine ranging from sweet to brut with perfect weather, bands, and a good time.
MAY-JUNE
Feria Nacional del Queso y el Vino
While this wine festival labels itself "national", more than half of the vendors are local to the Queretaro region. The Feria Nacional del Queso y el Vino (National Cheese & Wine Festival) takes place over three weekends, the last two weekends in May and the first weekend in June. It's the hottest time of the year, but the festival is in the shade of Parque "La Pila", a tree heavy oasis in the middle of the small town of Tequisquiapan. This 3-day weekend event is the perfect opportunity to sample so many local and national producers in one place. Olive oil, jamon serrano and ice cream are also available for tasting. Many of the cheese and food producers can make you a picnic box when you are ready to sit and enjoy a bottle of wine under a tree.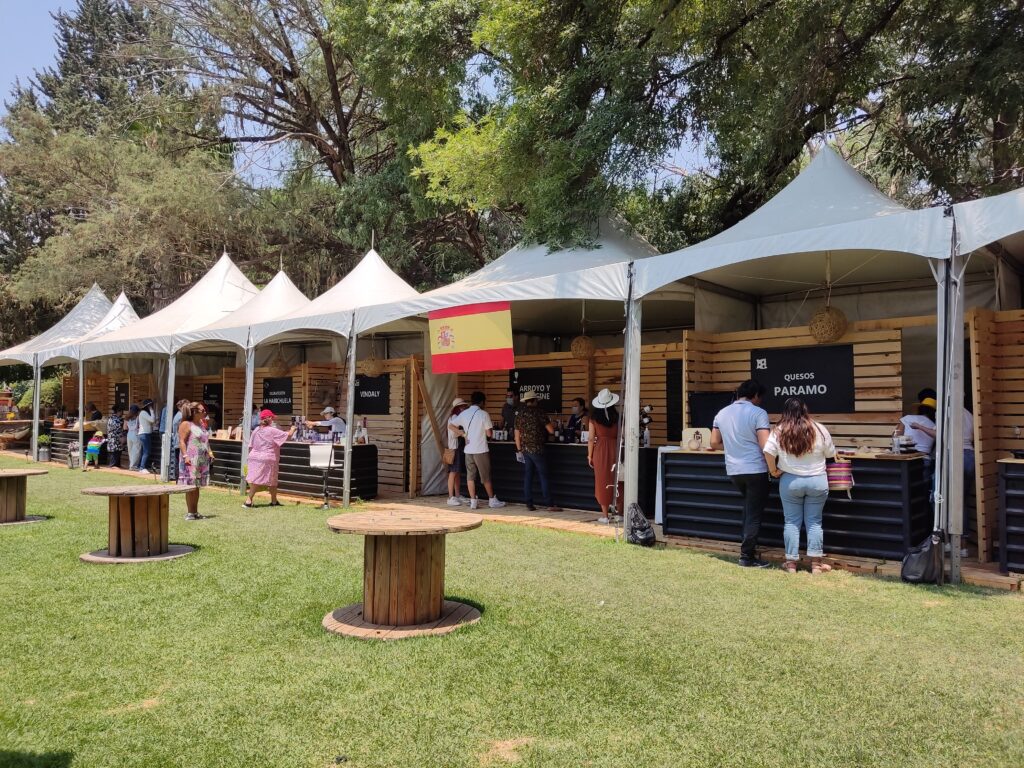 JUNE
Festival Internacional del Vino
This festival (International Festival of Wine) has become one of the largest wine festivals in the country. Over 5000 people will visit this festival in San Luis Potosi over the first weekend in June sampling Mexican and international wines and cuisine. Music ranges from jazz to rock and performers may surprise you with an impromptu flamenco dance. Make this a wine weekend getaway and visit the Sierra Gorda mountains nearby home to many waterfalls.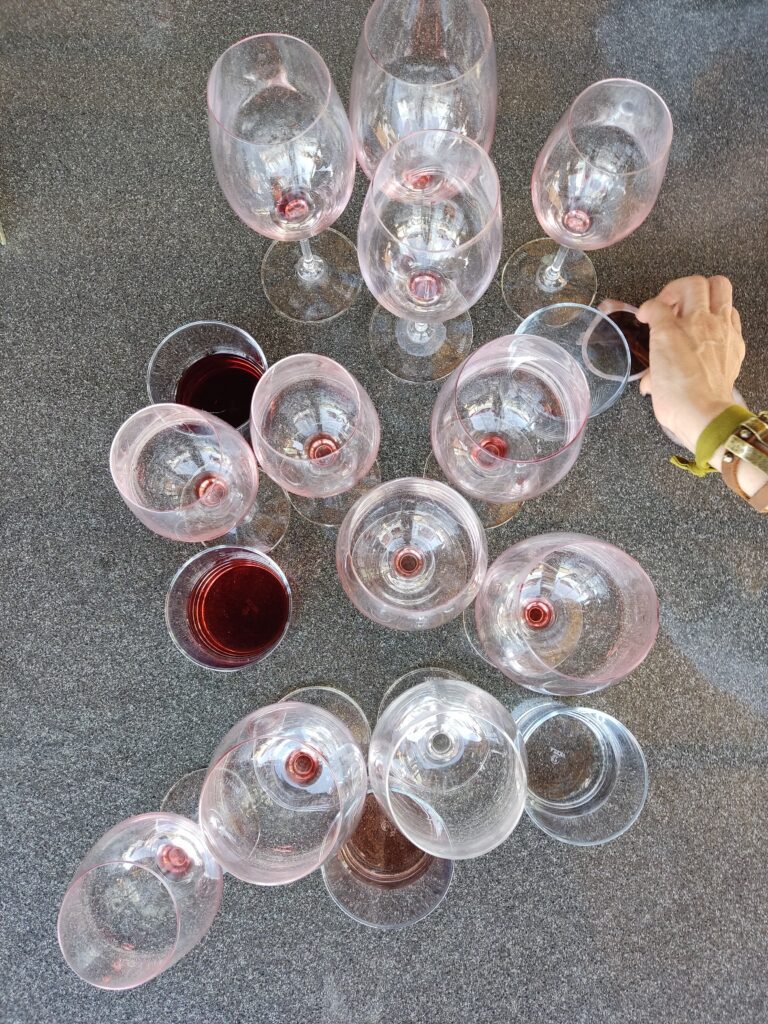 JULY- SEPTEMBER
Vendimias (Harvest Festivals)
Central Mexico mostly grows grapes that ripen early such as Sauvignon Blanc, Tempranillo, Merlot and Syrah. From the end of July through the beginning of September, many wineries will invite guests to their Vendimias, or harvest festivals. Some will have the traditional grape stomping, grill parties and big bands. Other vendimias will feature opera singers and special guest chef dinners. The wineries won't announce their vendimias until a month before, but you are guaranteed some type of celebration during the later half of summer.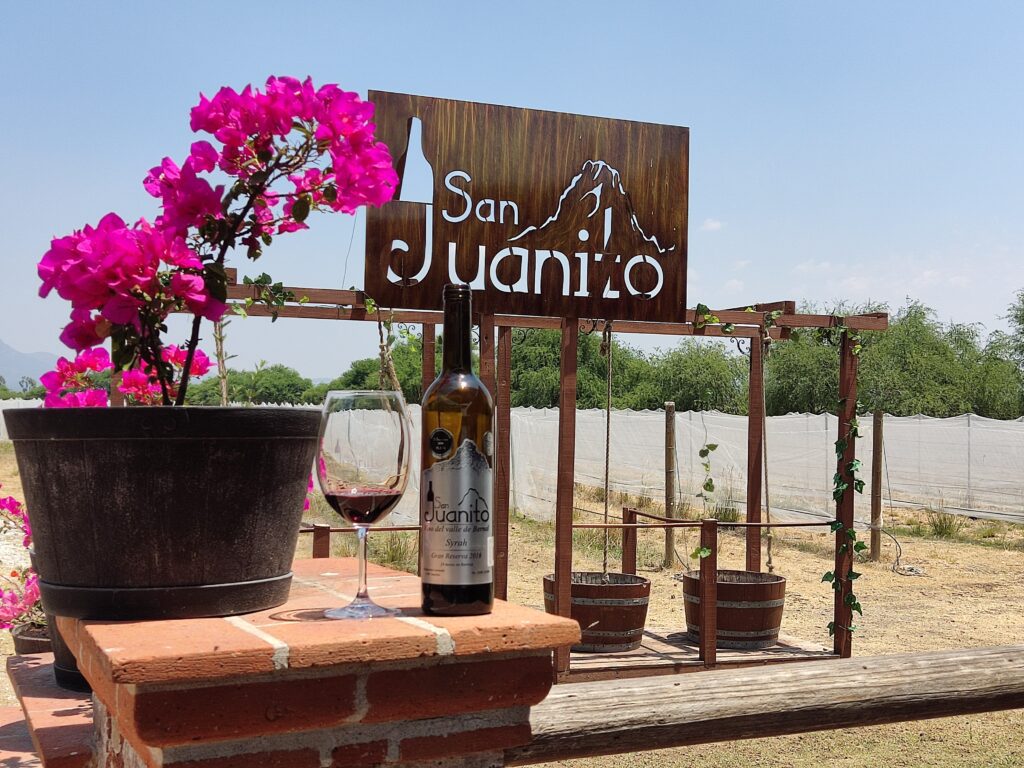 NOVEMBER
Catando México Guanajuato
This a new wine festival in one of the most picturesque cities in Mexico. A UNESCO World Heritage Site, Guanajuato City was the world's leading silver extraction center in the 18th century. Today it's a colorful, walkable town with many of the roads running through tunnels underground. The Catando Mexico wine festival will be occupy the main streets of the city in the evenings during the last weekend of November. Explore the Instagrammable alleys by day and sample regional wine and other products by night. Check out our tour package for this Thanksgiving weekend event.
2023 Thanksgiving Getaway Package by Heart of Mexico Wine Tours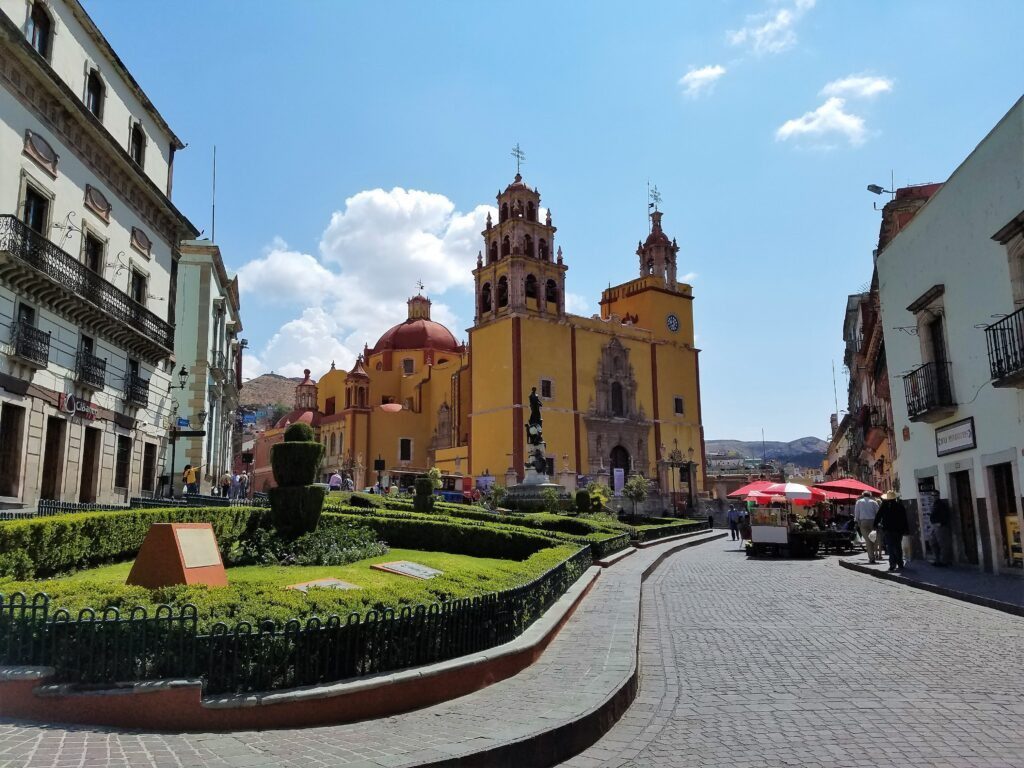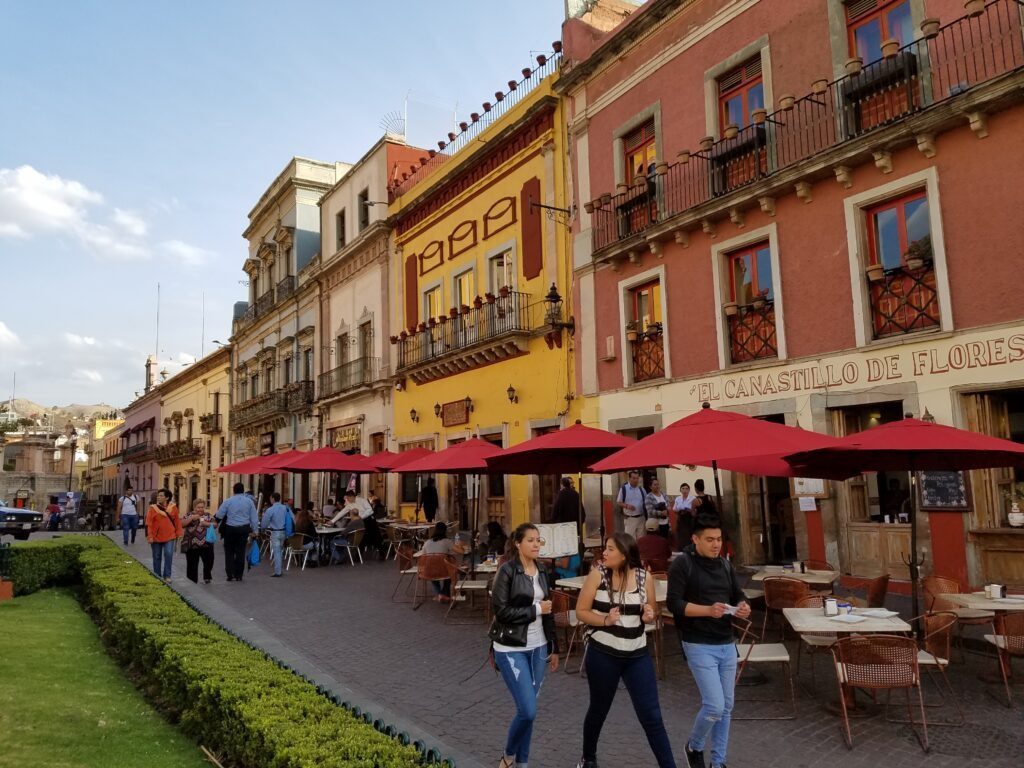 Covid put a damper on many festivals and would-be celebrations for two years, but festivals are returning and I'm sure others will pop up in the next few years. Stay tuned for more wine fun!
How Can I Take Some Mexican Wine Back Home With Me?
The United States allows you to bring back 5 liters of alcohol without paying duty. One wine bottle is 750ml which means each person can bring back 6 bottles of wine!
For more wine gift ideas, click here: The Perfect Gifts for Wine Lovers.
Heart of Mexico Wine Tours
Are you interested in visiting a festival? Heart of Mexico Wine Tours can plan a long weekend for you that will include hotel, transportation, the wine festival, visits to pueblos magicos, wineries, and sampling of regional cuisine. The tours can easily be customized to your interests. Visit Heart of Mexico Wine Tours for more information and trip suggestions.