Restaurants in Centro Queretaro – Where to Eat for Every Budget
Eating while traveling is a given, but where should you eat? Tripadvisor and other review websites are great resources, but are they bolstered by tourists or locals?
Around Jardin Zenea alone there's plenty of choices easily within walking distance. You'll see people in the parks eating ice cream and dancing. Visit around the holidays and plazas are transformed into markets or music event venues. Because Queretaro's Centro is so walkable, we've put together a list of restaurants for you to stay close to all the action. Whether you just arrived, want to celebrate a special night or looking for a particular atmosphere, we have a range of Centro restaurants for you to enjoy.  This is by no means all-inclusive, but it will give you restaurant options for every budget.
This post was updated January 2022.
Super-Budget Friendly Centro Restaurants
Street Food in Centro
If the street food vendors are set up along one or both side roads around Jardin Zenea, eat there. You have your choice of tacos al pastor right off the spit, huaraches, sopes and many more mouth watering choices to choose from. Food hop from one vendor to another sampling juices, grilled meats, fried dough, corn and desserts. This is our favorite choice to eat in Centro.
Tortas Willy's
Willy's is a torta shop with just a few tables and seats at the bar, but over 30 sandwiches to choose from. The bread is terrific! Pair it with an old-fashion glass-bottled Coke and you've got the perfect snack or meal to keep you going for a few more hours. (Don't try to walk away with the Coke bottle. They'll chase after you!) Torta Willy's is located on the corner of 16 de Septiembre and Calle Benito Juarez Norte across from Jardin Zenea.
Address: Calle 16 de Septiembre 2, Centro, 76000 Santiago de Querétaro, Qro.
El Comal Antojitos Mexicanos
Crossing Corregidora from Jardin Zenea, begin walking up Calle 16 de Septiembre. The Centro restaurants on the right will bombard you with their menus, but the little place on the corner to the left is where you want to go. The ladies of El Comal Antojitos Mexicanos make everything from scratch right in front of you. These gorditas are excellent. If you get the large, two hands will not be enough. Gorditas are common in the state of Queretaro, so eat up! They'll make more!
Address: Perú 154, Plaza de las Americas, 76050 Santiago de Querétaro, Qro.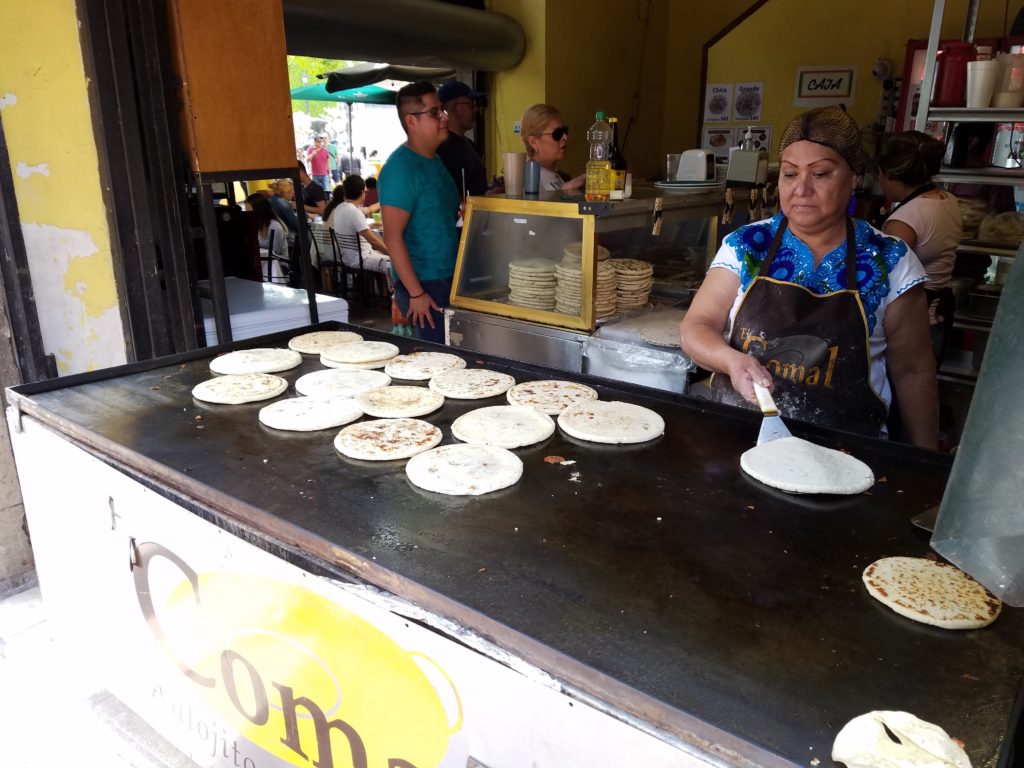 Haga Su Taco
For an authentic guisado experience, head to this little (and I do mean little) restaurant near Templo de la Santa Cruz. If you are looking at the statue of the Indian couple outside the church, turn 180 degrees, cross the street and start walking down Calle Felipe Luna Sur. It will be on your left just a few doorways down.
You can't miss the large plancha with tacos and sopes cooking just inside the doorway. Choose what you want (tacos, sopes, gorditas, etc) then fill or top them with your choice of guisados (stews) and other fillings such as chicken tinga, picadillo, and chorizo and potatoes. Don't worry if your Spanish is limited. There is always someone there to help and point.
Address: Calle Felipe Luna Sur 46, La Cruz, Santiago de Querétaro, Qro.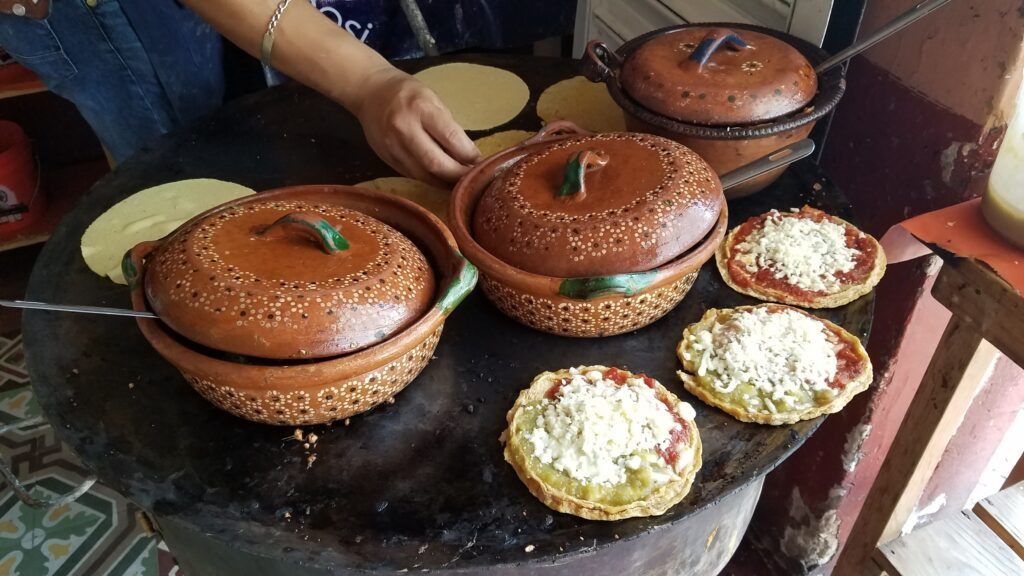 Diktatur
Diktatur is the place to go for colorful drinks and cheap food. In fact, almost everything on the menu is around 32 pesos each. The food won't wow you (though we haven't had their burgers yet), but it's cheap. With famous books hanging from the roof beams and a menu you read backwards, it's a fun place to hang out especially for college age kids. Directly across from Jardin Guerrero, this is a place to go for atmosphere, not so much to satisfy your taste buds.
Address: Calle Vicente Guerrero 5, Centro, 76000 Santiago de Querétaro, Qro.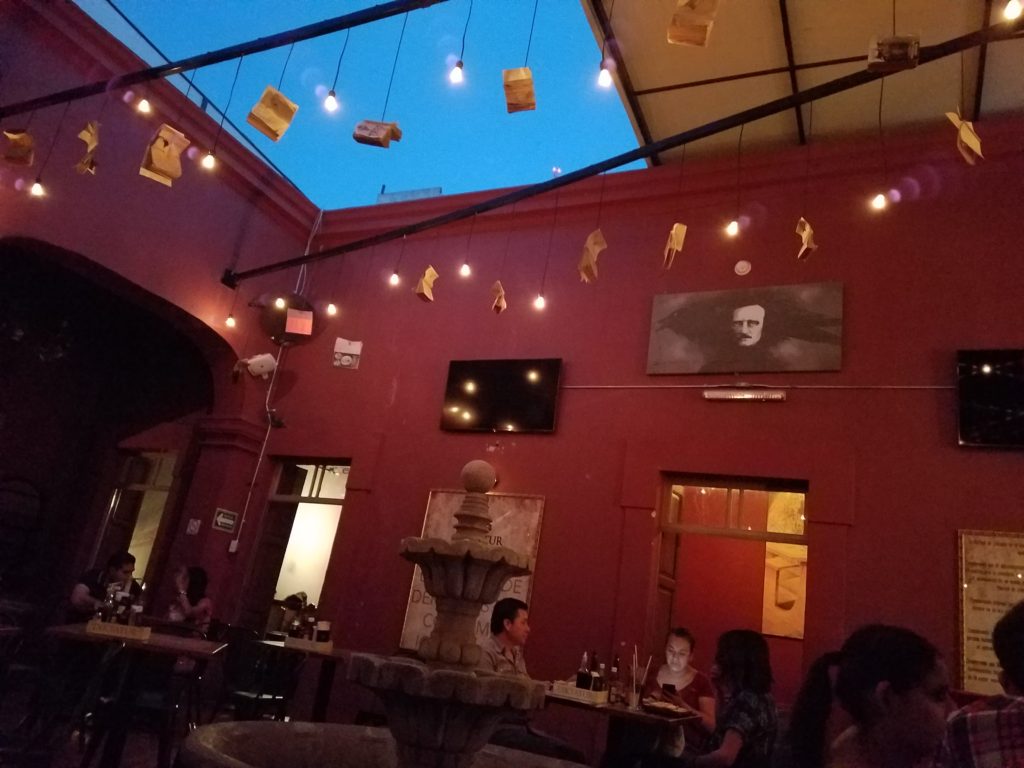 Reasonably Priced Centro Restaurants
Café Breton
This French bistro is an icon in Queretaro. Located off a walking street behind Hotel Meson de Santa Rosa (by Plaza de Armas), this breakfast and brunch place is a favorite among locals and tourists alike. Start with a cappuccino, carajillo, or 2 for 1 mimosas (on special days), and have your choice of pastries, quiche, or croissant egg sandwiches. There's plenty to choose from!
Address: And. Libertad 82, Centro, 76000 Santiago de Querétaro, Qro.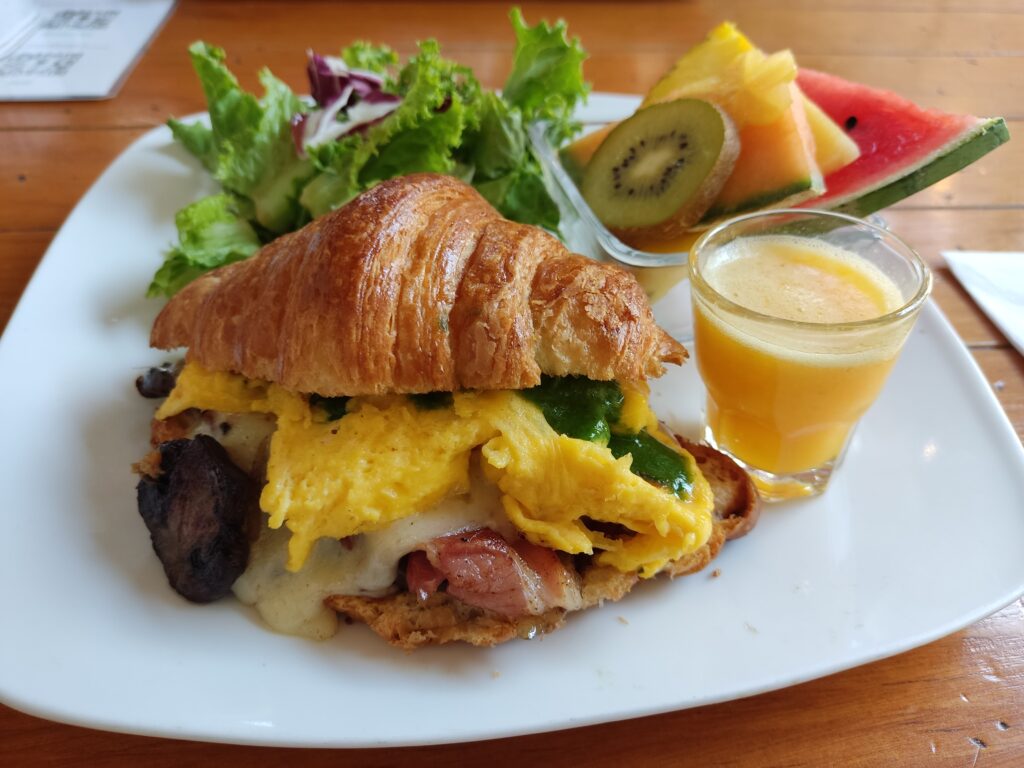 Maria y Su Bici
Maria y Su Bici is a chain restaurant specializing in Oaxacan cuisine. Located on  Calle 5 de Mayo, the walls are decorated with indigenous clothing and various tools used in pre-Hispanic days. If you want to try pulque, a white milky fermented liquid from agave or other cacti, this is the place. Don't miss their moles, mezcals and chapulines (fat-bellied grasshoppers) tossed in chili oil with tortillas.
Address: Calle 5 de Mayo 91, Centro, 76000 Santiago de Querétaro, Qro.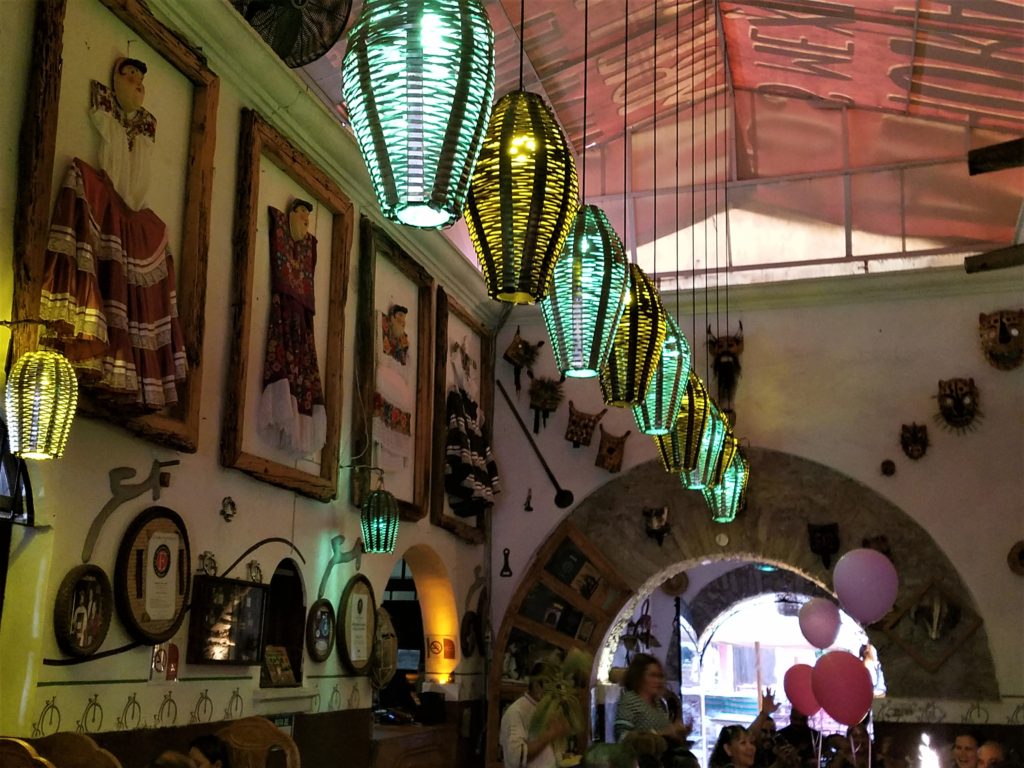 Tacos del 57
Just around the corner from Jardin Zenea on Calle 16 de Septiembre, Tacos 57 serves everything from tacos to enchiladas. You'll have to wait a bit for the food, but it's worth it. Order a few different tacos and some beers and soak up the Mexican life. They also have a beer bar next door stocked with Mexican craft beers.
Address: 16 de Septiembre 29-1 Centro, 76000 Santiago de Querétaro, Querétaro
San Miguelito
For Yucatan, Oaxacan and other regional Mexican cuisine, San Miguelito has many choices for everyone's palate. Start with an overflowing margarita and chapulines with guacamole. Chapulines are tiny grasshoppers and when you roll them into a tortilla with guacamole, you won't even notice. The chicken with mole almendrado (almond sauce) is also really good. The décor is what most people think Mexican restaurants are like, but it's a fun artsy place that will keep you entertained. San Miguelito is located on Andador 5 de Mayo across from the delicious chocolate and churro place, Fabrica de Chocolate.
Address: Calle 5 de Mayo 39, Centro Histórico, Centro, 76000 Santiago de Querétaro, Qro.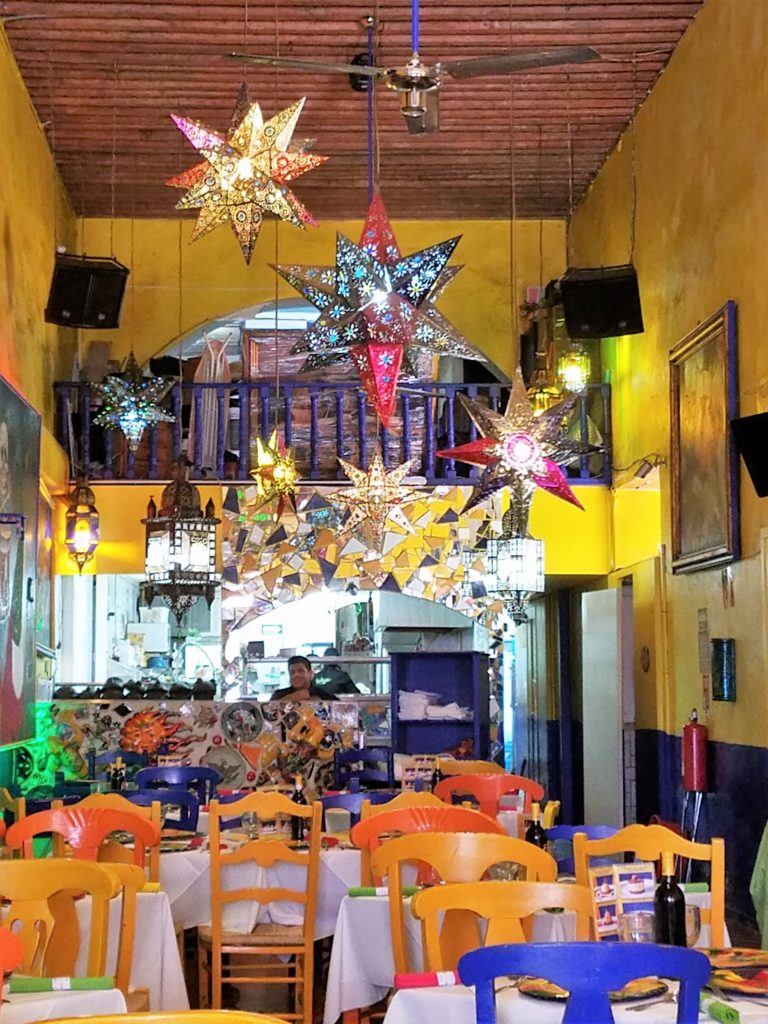 Fine Dining Centro Restaurants
While these restaurants are more for special occasions, prices are still reasonable. 
Restaurant 1810
Restaurant 1810 is popular among the tourists and locals. Sit out on the patio with a view of Plaza de Armas where you can watch the locals enjoy the night around the fountain. The wine list is excellent as well as the seafood dishes. Save room for dessert. My friend Donna says Restaurant 1810 has the best flan in the city.
Need to mention: Right next door to Restaurant 1810 is Chucho El Roto, another highly rated Mexican fare restaurant among Tripadvisor reviewers and friends. We haven't eaten there yet, but if you are here for a few nights it might be worth checking out.
Address: And. Libertad 62, Centro, 76000 Santiago de Querétaro, Qro. (Plaza de Armas)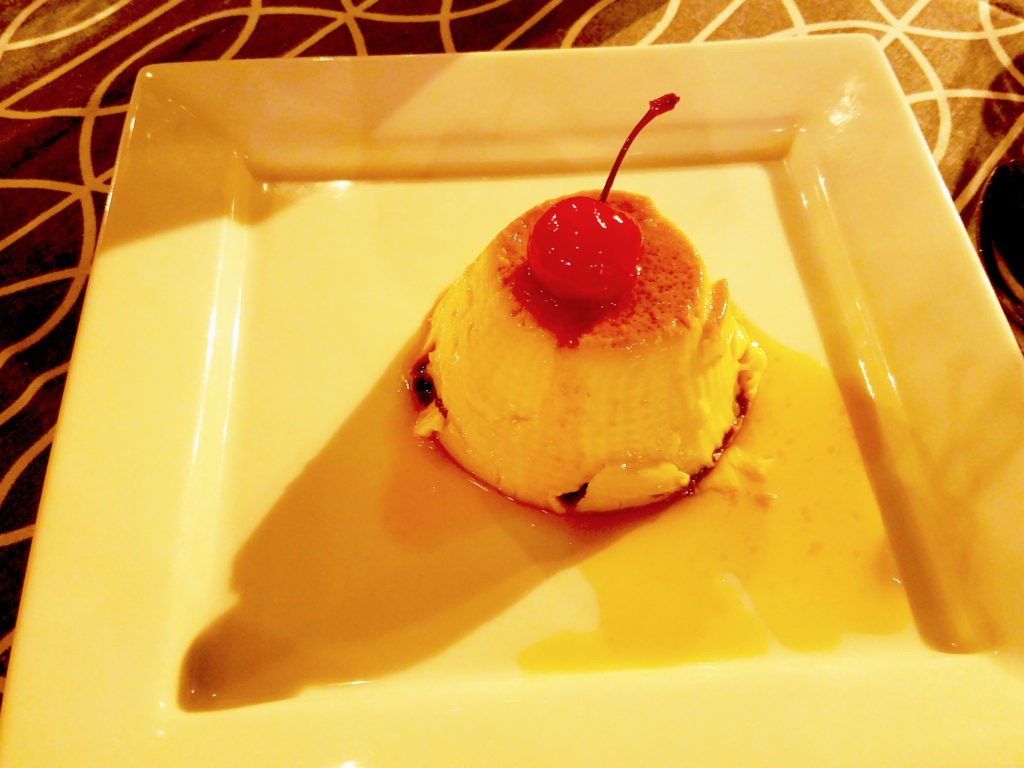 Di Vino Italian Restaurant
Maybe after a few days of spicy salsas, you need a break and Italian food is comfort food for many people. Not only is the food fantastic, but they have a really nice wine list. If "Ladies Luncheons" with wine were part of the culture, this is where they would hang out. Start with a shared appetizer, and share different pasta dishes to make an afternoon of it.
Address: C. 5 de Mayo 12, Centro, 76000 Santiago de Querétaro, Qro.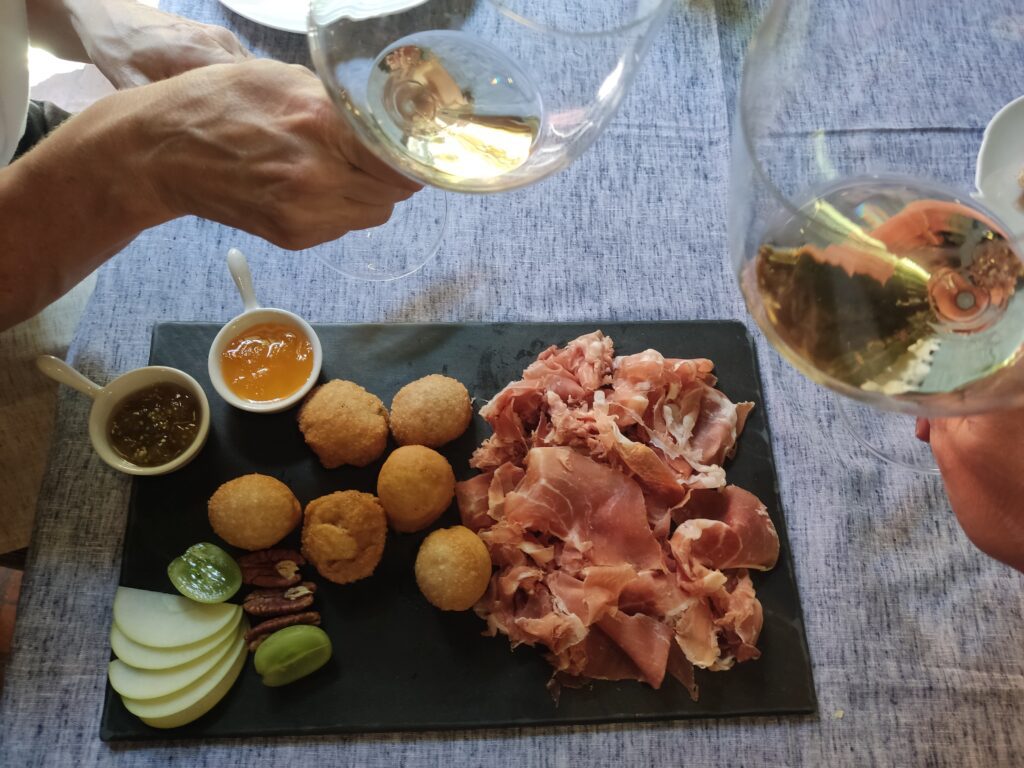 Gnocchi and Parma appetizer with wine at Di Vino Italian Restaurant
Tikua Sur-Este
Walk down Calle Francisco I. Madero (past Casa de la Marquesa), and take a left at Neptune's fountain. Tikua Sureste is a beautiful restaurant with a large mural on the wall and live music on various nights. The delicious Yucatan cuisine is authentic, and the menu is extensive. Definitely try the Cochinita pibil.
Address: Calle Ignacio Allende Sur 13, Centro, 76000 Santiago de Querétaro, Qro.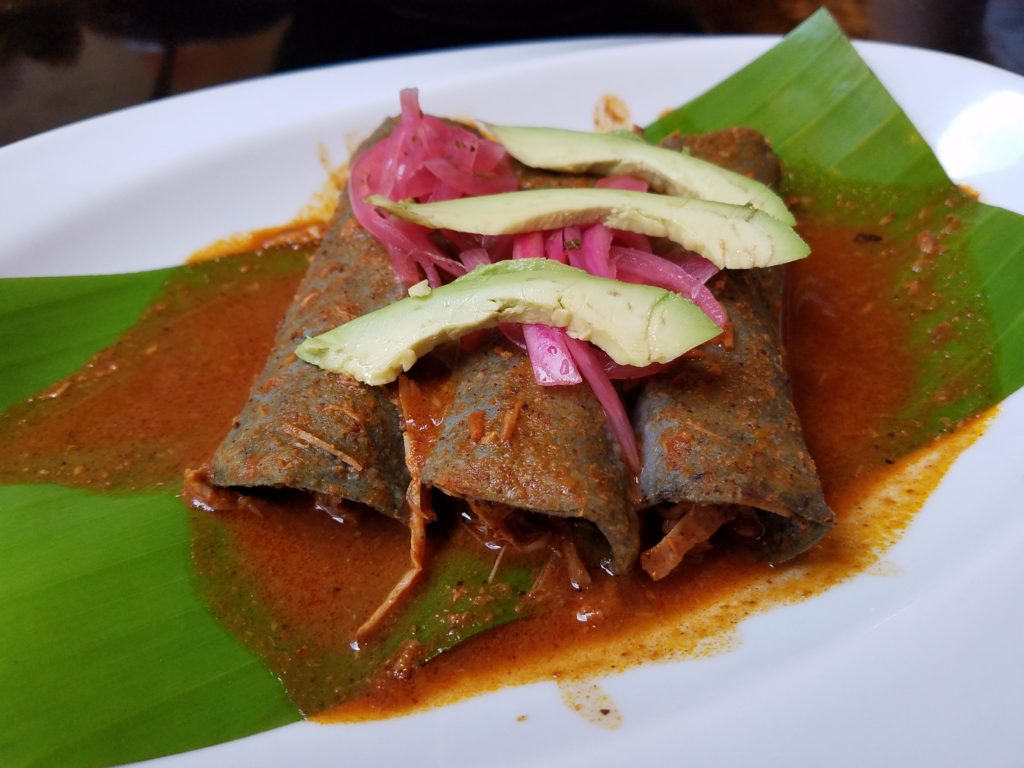 Pia Cocina Libre
We haven't eaten at Pia Cocina Libre yet (thanks to COVID), but the menu always looks delicious, and many of our friends rave about it. They serve breakfast, a menu del dia and monthly special tasting dinners. They promote the "slow food" movement, buying from local producers and artfully presenting their dishes with a range of colorful produce. Foodies, check their website or Facebook page early to reserve one of their special "slow food" dinner nights. Tasting menus are usually 5 courses with full glasses of wine.
Address: Hidalgo 23 76000 Querétaro Downtown, Santiago de Querétaro
Sayil Centro
Occupying an old hacienda ruin, Sayil Centro specialized in Yucatan cuisine and Mexican ingredient cocktails. Dishes like the Conchinita Pibil are substantial enough to share. The open air and gorgeous lighting make Sayil Centro a must-do when you are visiting or living in Queretaro. On weekends, they have live bands perform. Definitely make reservations if you plan on going on a Saturday night.
Address:  C. 5 de Mayo 92, La Santa Cruz, Centro, 76000 Santiago de Querétaro, Qro.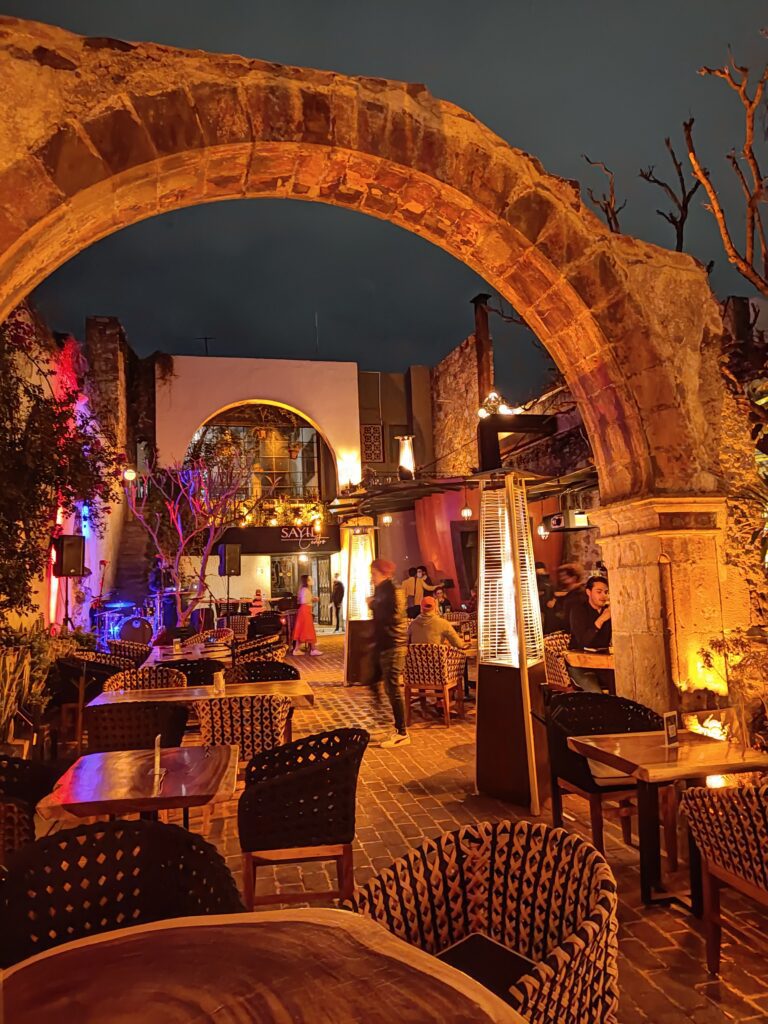 Happy Hour Specials and Nightlife
Terraza La Grupa
There's plenty of bars to discover on every street, but for the best view of Centro, head to Terraza La Grupa on top of Hotel Aspeytia. This historic boutique hotel is in the center of it all, and the views of 13 churches cannot be beat. Sit outside and enjoy local craft beer, creative cocktails or the perfect wine. The food is reasonably priced and the pastas are amazing. If it's too windy or cold, there is indoor seating with glass walls so you can still enjoy the view.
By the way, this is where we filmed our "Final Decision" scene for the House Hunters International TV episode.
Address: Av. Prol. Luis Pasteur 25-Norte, Centro Histórico, Centro, 76000 Santiago de Querétaro, Qro.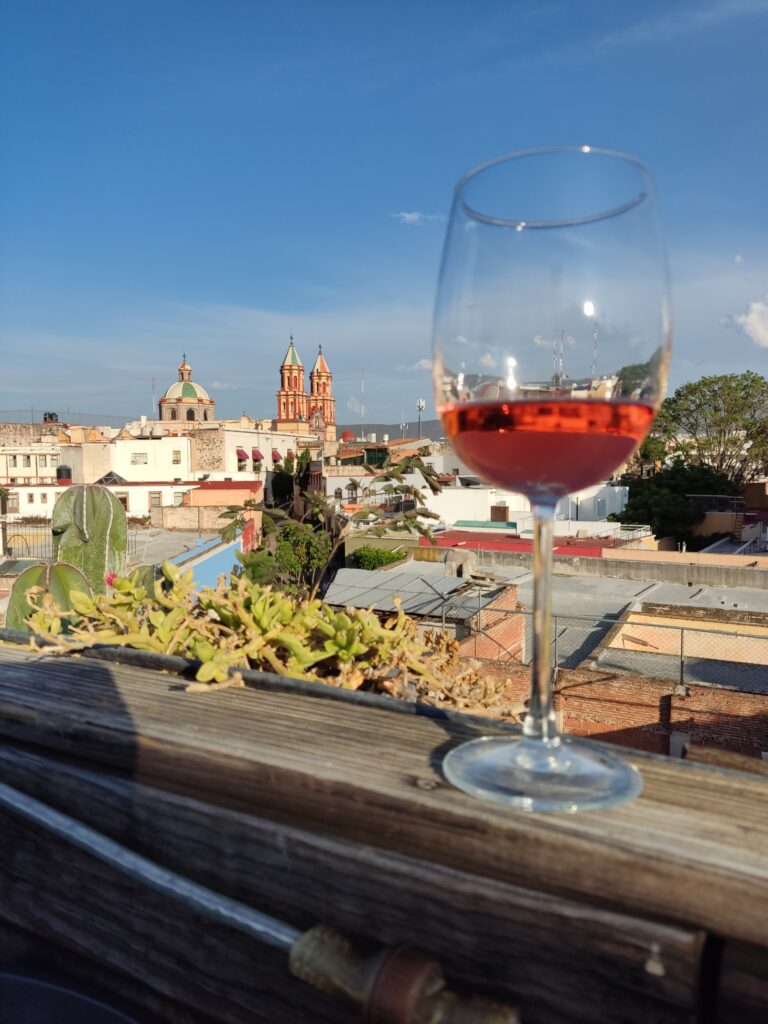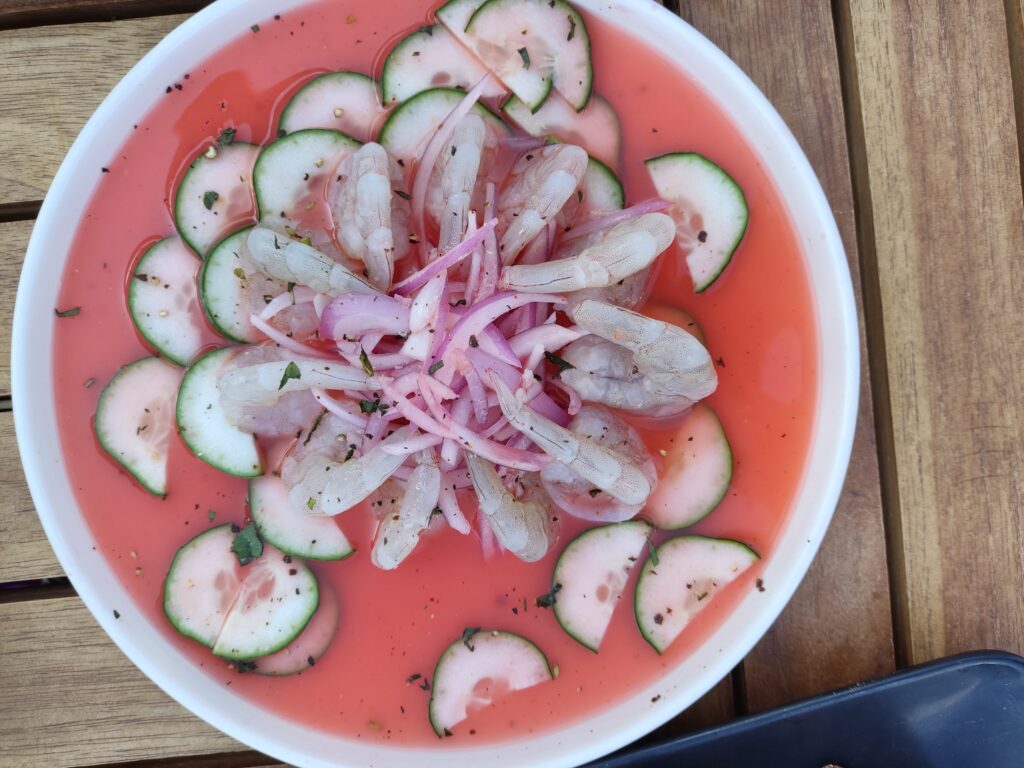 Hank's Oyster Bar
Obviously, you come to Mexico for Mexican food, but sometimes a little New Orleans Creole is needed. Hank's Oyster Bar is just that. With indoor and outdoor seating overlooking Plaza Constitucion, it has special Happy Hour cocktails every day of the week. On weekends, you can catch either a jazz or rock band for your music pleasure. The Creole food is delicious and portions are huge. Try the crab cakes and the spiced bread pudding. This place is a favorite for visitors and locals.
Address:  Calle Benito Juárez Sur 7, Centro, 76000 Santiago de Querétaro, Qro.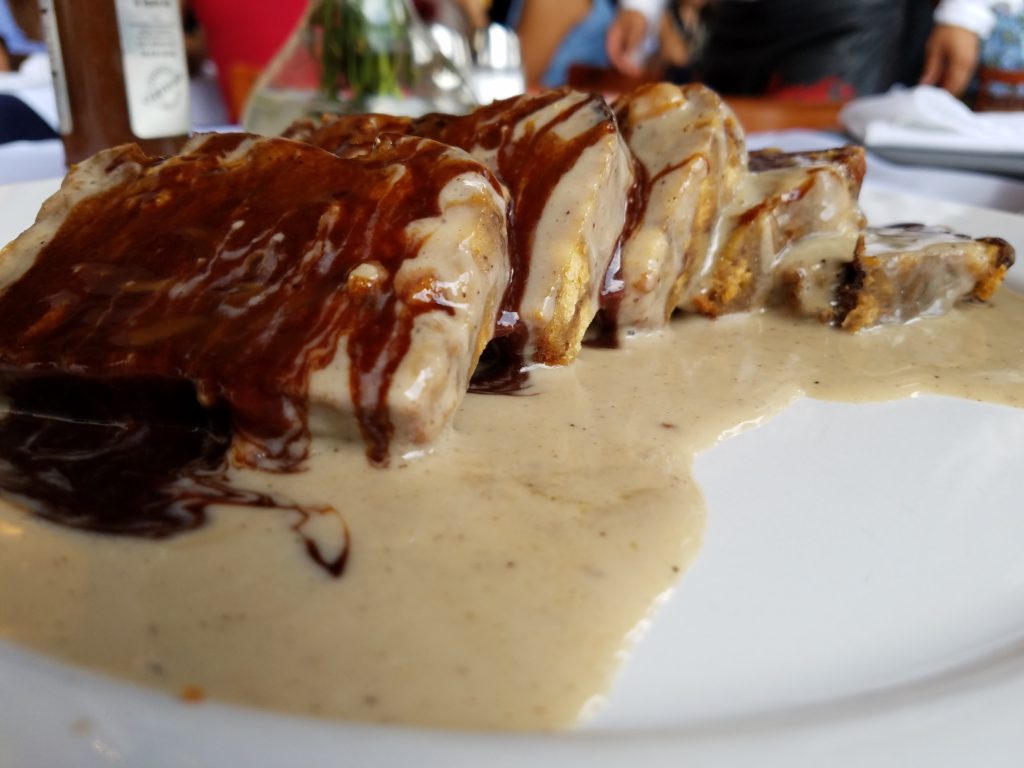 As we discover more restaurants and areas in Queretaro, we will bring you more details. For visits only to Centro Queretaro, these restaurants are a good start.
If you would like a tour of the markets, street food, or wineries in the region, join us for a tour here.