Picture Tour of Mercado La Cruz
Did you know that Mexico produces and supplies 45% of the world's avocados?
And did you know that Mexico grows 14 varieties of mangoes?
One of the highlights of traveling around the world is visiting local markets. Now that we live in Queretaro, the Mercado La Cruz isn't a tourist attraction for us. It truly is local!
Mercado de la Cruz is located a few blocks from the Templo de la Cruz. 
It was established over 35 years ago and has grown past its cement block walls spilling out of its doorways into the parking lot. Almost anything can be bought here; shoes, clothing, cell phone protectors and toys, but we love the produce and meats.
Aisles are narrow and cramped, and vendors shout at each other and the passerbys. It's highly interactive with produce owners offering slivers of fruits and sausage makers handing out samples. Sometimes a group of guitar players serenade the shoppers.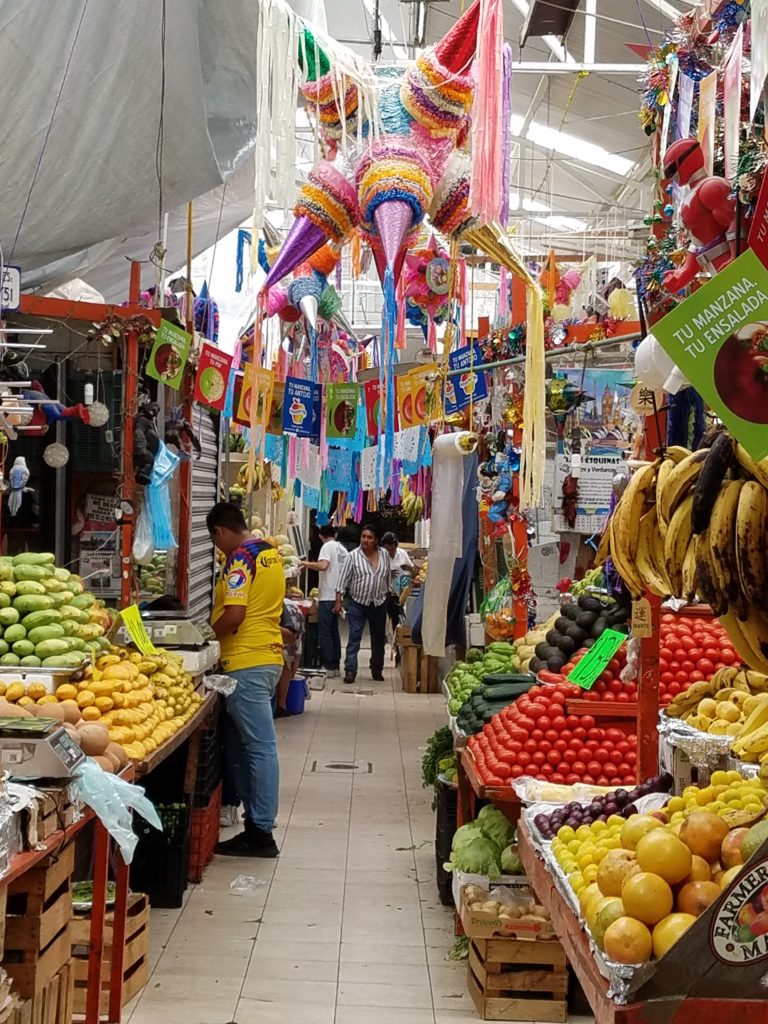 Produce
The produce quality is better than the grocery stores. If you don't know what something is, the vendors are more than happy to let you taste it.
Chiles
Mexico is known for its chiles, and you can find all kinds from around Mexico at the  mercado. Did you know that when a fresh chile is dried, it's name changes, too?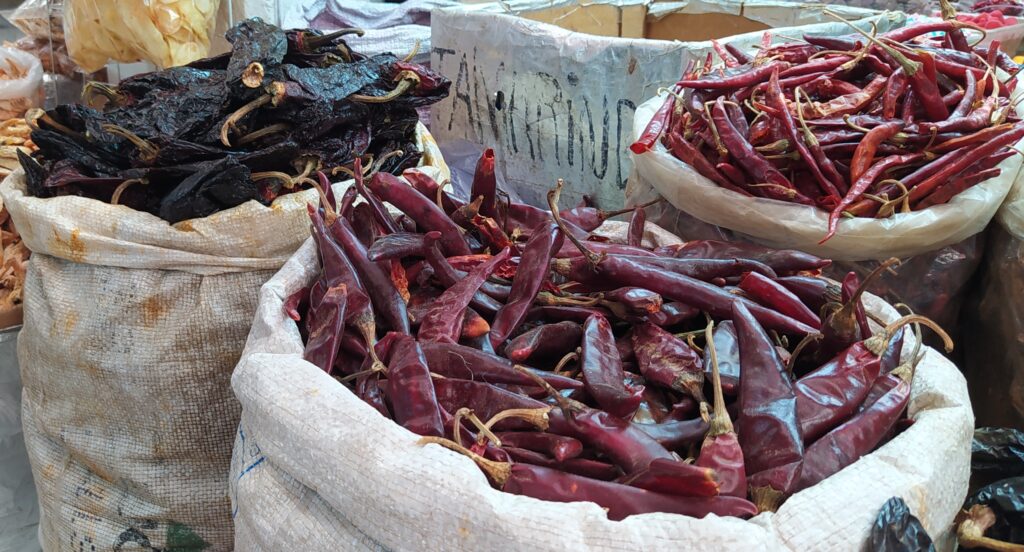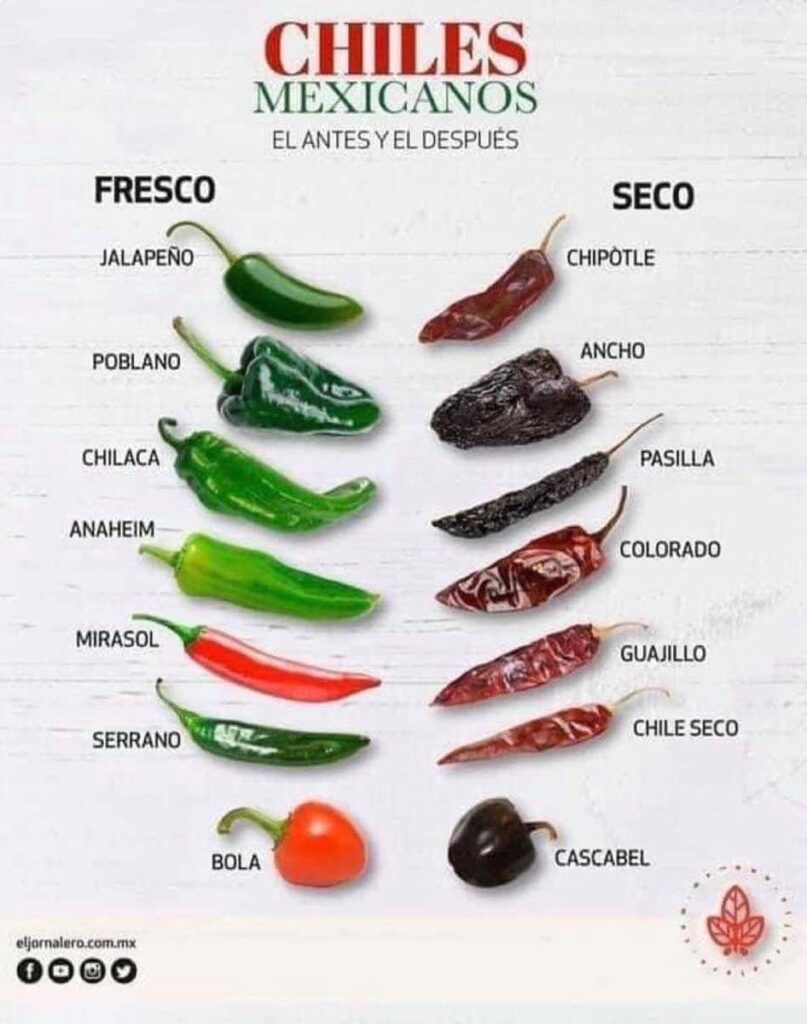 Meat
Green chorizo is a specialty of Toluca, Mexico, but Mercado La Cruz has two vendors who sell this specialty. Green chorizo is made with pork, roasted green chilis and garlic as a base, but many other ingredients can be added such as nuts, fruits and spices. We highly recommend it. (Tom will be making his own green chorizo so stay tuned!)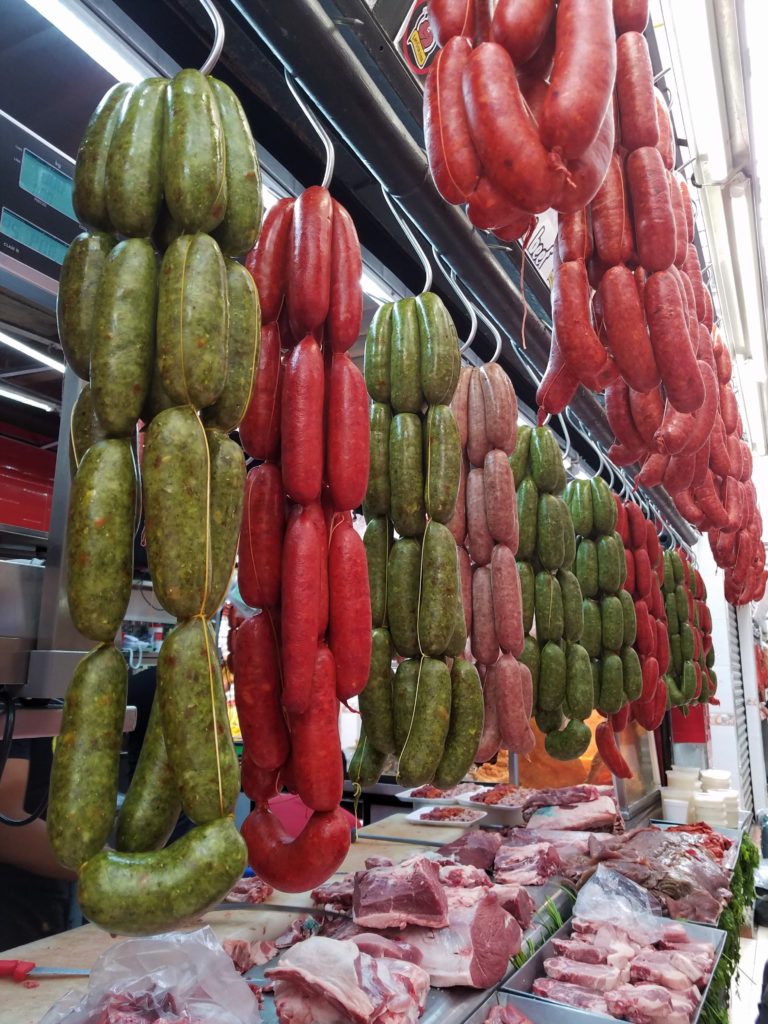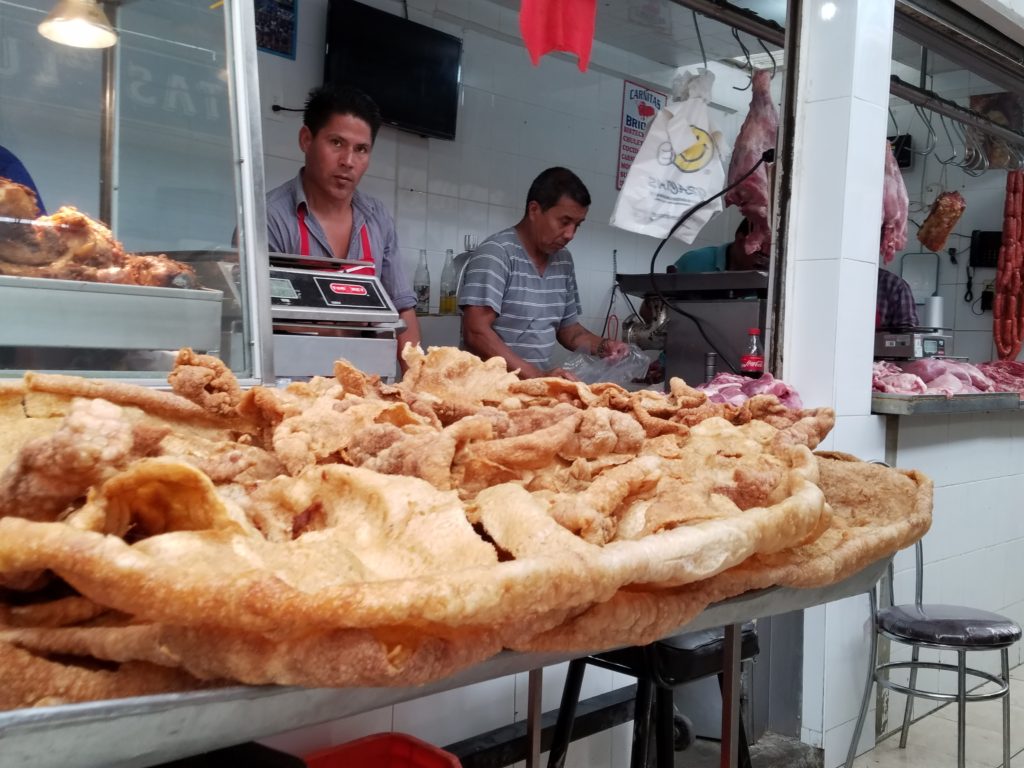 Seafood
Queretaro may be in the dead center of Mexico, but we get fresh fish and seafood delivered every day. Vendors with skin, filet and portion whatever you need. Some serve aguachile and fried fish. This mural was hidden in a corner.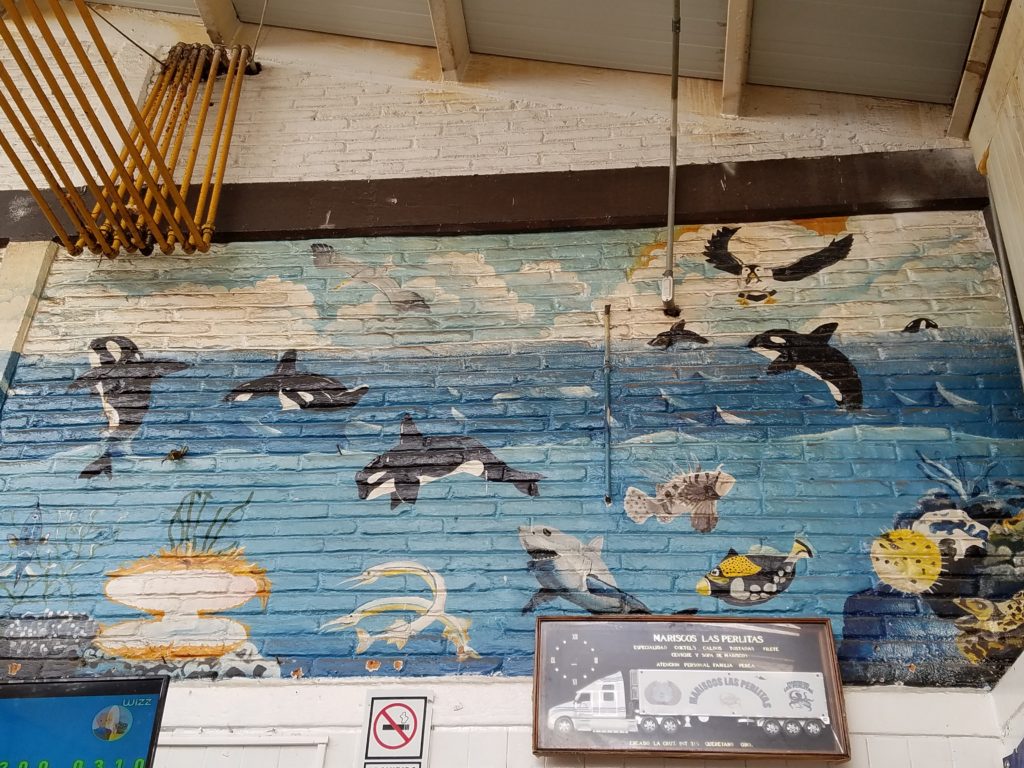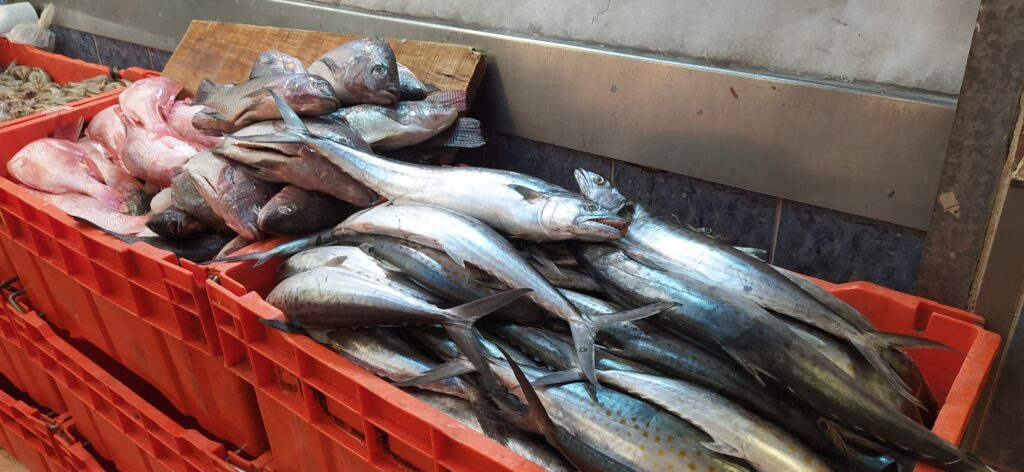 Antojitos
Small, cramped food counters serve local food on the fly. We ate at one of these antojitos (which means small bites) where the whole family was involved. Mama ran the show, multi- tasking between the grill and the customers. One son served some of the clients and controlled the money. Another son was in charge of the drinks. Grandmama pressed the tortillas. Their whole kitchen area was the size of a master bathroom.
The counters were covered with different meats and roasted veggies. Tacos were served warm with one of the fillings. A quesadilla was a taco with cheese and your choice of filling. Wash it all down with a real glass-bottled Coco-Cola and you have the perfect local meal!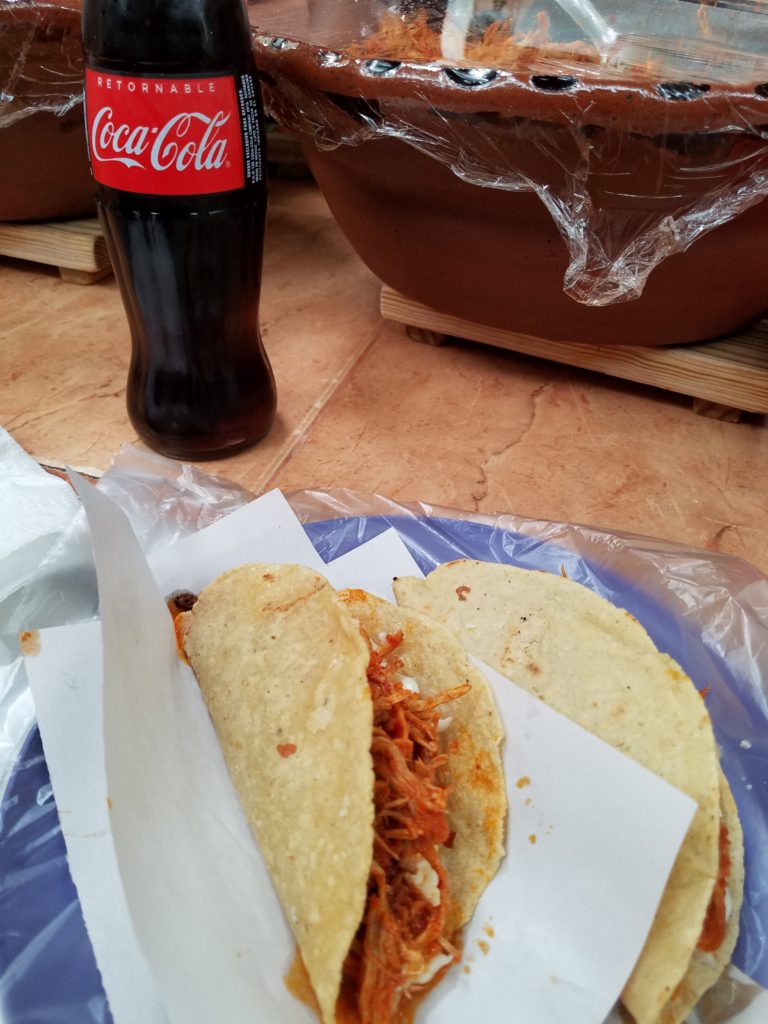 Pinatas
And don't forget to look up. Pinatas decorate the ceiling ready for any type of celebration. You'll see the traditional star shaped pinatas and even some superhero pinatas. Pinatas are a favorite addition to any holiday, birthday, or get-together.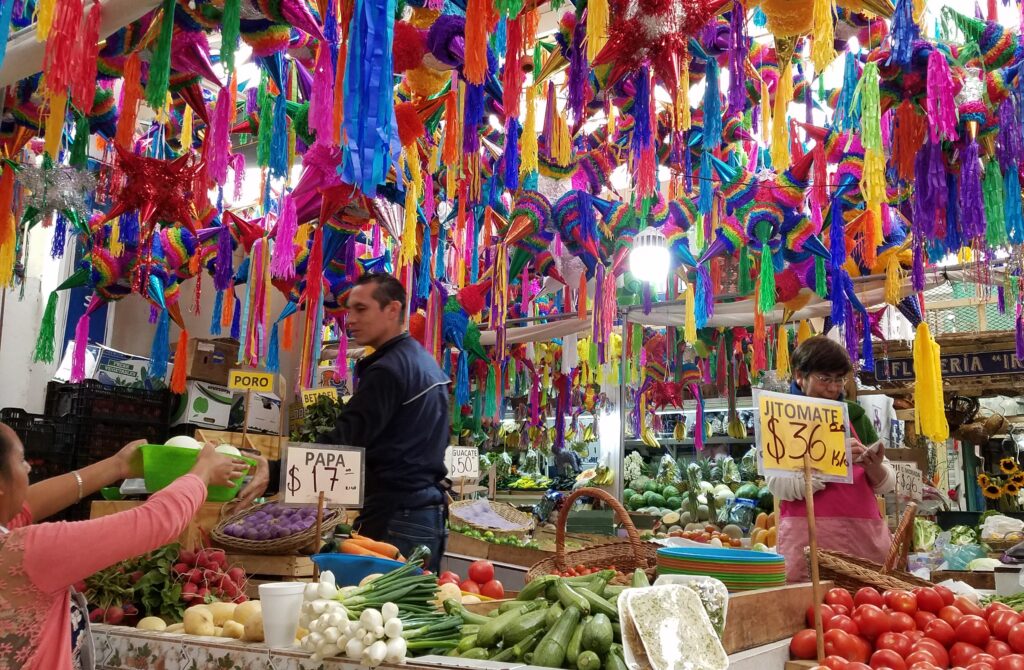 Wherever you wander in the world, a local market should be on your list of main attractions. This is the heart and life of a city, and there's no better waty to get to know the people then through their local food.