The Best Boutique Hotels in Queretaro
Searching for the perfect boutique hotel can take hours. Believe me, I know. I searched online and then on foot for over a week visiting hotels for our wine festival weekends. We have stayed in a few boutique hotels in Centro before we moved to Queretaro and on occasion during holiday peak seasons (when traffic is a nightmare), but I feel the choices can be overwhelming to a first-time visitor.
Why stay in any generic hotel when you can stay in a renovated hacienda or convent, a piece of history, in a UNESCO World Heritage Site? 
So to narrow down your choices, we've compiled this list of the best boutique hotels in Queretaro. Some are more modern with some character touches; others will transport you back to the 18th century with their beamed ceilings and grand chandeliers. We've chosen different types because we know everyone has individual tastes. 
Our criteria for finding the best boutique hotels in Queretaro is based on:
location (walkable in Centro)
king size beds
air-conditioning (only needed in the summer)
great service. 
You'll also find that hotel prices in Queretaro are very reasonable.
Disclosure: Some of the links below are affiliate links which means we will receive a super-small commission when you make a purchase or reservation at no additional cost to you.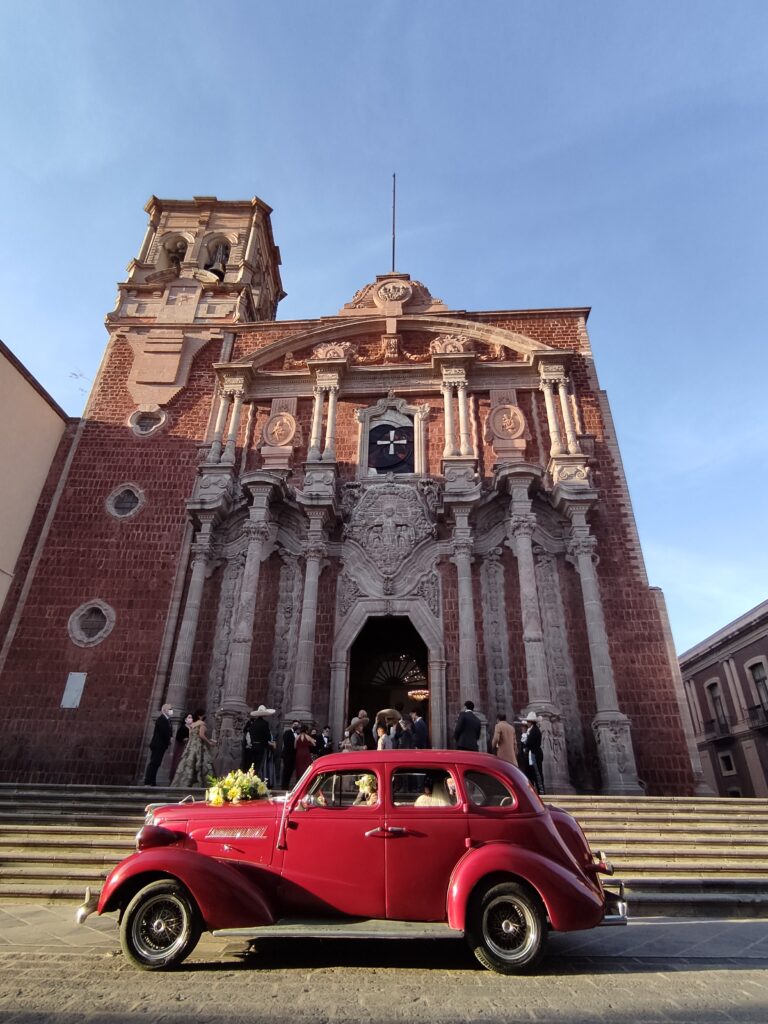 How to Get to Queretaro
Queretaro has its own international airport with connections to Dalles-Ft. Worth (DFW) and Houston (IAH) daily. You could also fly in to Queretaro from Cancun and have a beach'n'wine vacay! There are also connections from Mexico City (MEX), but its easier and cheaper to take the bus. For more information on weather, connections, and what's happening monthly, read our post The Best and Worst Time of the Year to Visit Central Mexico.
Taxis from the Bus Terminal and Airport
You'll have no problem finding a taxi from the bus terminal if you come from Mexico City or another place in Mexico. The cost is probably around $10 USD and its about a 15 minute drive into Centro.
Taxis from the airport to Centro should cost between $18-25 USD depending on what time of day you arrive. It's about a 40-minute drive from the airport to your hotel. The taxi stand is just to the left when you exit the airport and lists the pre-arranged fare. Many hotels will arrange airport transfers for you to the airport, but do not usually pick you up from the airport.
What Should You See and Do in Queretaro?
Many people skip over Queretaro for the more famous San Miguel de Allende, but that's a huge mistake. There is so much history and beautiful architecture to admire in Queretaro's historic center, plus pueblos magicos and a wine region nearby. We have the perfect 4-Day Itinerary for Exploring Queretaro, but you may want to stay longer.
Casona de la Republica Boutique and Spa
One of the more luxurious properties in Queretaro, Casona de la Republica and Spa is a large, secluded 17th century converted mansion with Art Nouveau touches. Suites range from minimalist to art deco, and larger suites come with jacuzzis. Room service is available, and make sure to spend an afternoon at the spa with a leg massage after walking around Centro. In the evenings, admire the city view at sunset from the rooftop terrace bar with a special tequila cocktail. Airport transfers available.
Dos Patios Queretaro Curamoria Collection
For yogis, Dos Patios is the place to stay. With yoga classes, meditation and even gong sessions, guests have a comfortable place to relax and connect with their inner peace. Dos Patios is part of the Curamoria Collection, a group of exquisite hotels in converted haciendas. Book early as this one fills up quickly.
Casa de la Marquesa
One of the oldest and most historic buildings in Queretaro, Casa de la Marquesa even comes with its own love story. Enter the formal waiting room with its sweeping staircase, crystal chandeliers, and period furniture and you immediately feel like you've stepped back in time. This hacienda was built in the Moorish style and each of the 13 rooms is completely different. Start your day at their private restaurant with a hearty breakfast of huevos divorciados and coffee before exploring Quereterao Centro. Former Mexican presidents have chosen to stay here, and it's one of the most exclusive hotels in Mexico. Casa de la Marquesa is also part of the Curamoria Collection.
La Casa del Atrio Hotel Boutique & Spa
For those who love a little more colonialism with modern conveniences and touches, La Casa del Atrio is the perfect place. You could just a book a room, but why not take advantage of their room and spa packages? From steam detox and aromatherapy massages to private yoga or Tai Chi classes, you have many choices to create the perfect zen on your visit to Queretaro. Airport transfers available.
Hotel Patio Santiago
Prepare to be wowed! Hotel Patio Santiago blends Spanish-Moorish doorways with soft lighting and modern touches. Start your morning at the Coffee Bar, an old, converted church, sipping your favorite caffeine-kicker. After a day exploring the historical Centro, dine on regional cuisine at their restaurant, then watch the sunset from their rooftop terrace or sample a cocktail in their cozy pub. For those who are sensitive to noise (Mexico is noisy), Patio Santiago has some of their rooms built in the subterrain level away from the fireworks and celebrations. With a gym, library, and soon a spa, the Hotel Patio Santiago is an ideal place to stay. Airport transfers available.
Casa Once
Located off a quiet street two blocks from Plaza de Armas, Casa Once is the perfect place for tranquility. This hotel is divided into two properties with spacious rooms, modern bathrooms, and a pool. We have chosen this hotel for a few of our wine festival weekend packages, and everyone has raved about the comfortable beds and fantastic breakfasts in the outdoor courtyard.
Gran Hotel de Queretaro
If you like to be in the heart of the action, Gran Hotel de Queretaro is for you. Rooms overlook holiday decorations and occasional street vendors in either Jardin Zenea or Plaza de Constitucion. Hanks New Orleans Restaurant & Bar is a popular place for both tourists and locals for their live music and drink specials. Gran Hotel de Queretaro has its own restaurant, Cantina Comalli, serving Mexican haute cuisine. Located literally in the center of Queretaro's historic center, you could explore to the left one night and to the right another night. A business center and airport transfers are also available.
Casa Brunella
Located halfway between Plaza de Armas and the Templo de la Santa Cruz, Casa Brunella is a fantastic, modern place to rest your head and legs after exploring historic Queretaro. There's plenty of cafes, bars and restaurants just outside your door, and rooms are modern and spacious.
Hotel Boutique Casa Loreta
Your time at Hotel Boutique Casa Loreta starts as soon as you step out of the taxi. The inner courtyard is a driveway so you can take your time gathering your belongings. Inside, the reception area with its tall ceilings has a calming effect. We've had wine tours guests stay at Casa Loreta, and they have commented that the beds are comfortable and the rooms have more of a "home" feel. Most rooms have balconies and there's a small pool to relax in during the heat of the day.  Airport transfers available.
Hotel Markee Boutique
Walk into the spacious covered courtyard with a sweeping staircase behind a fountain, and you might feel like you walked back into the 18th century. The sixteen well-sized rooms with king-sized beds, wood-beamed ceilings and modern bathrooms at Hotel Markee Boutique display a perfect integration between vintage and modern minimalism. Just around the corner is one of the main walking streets between Jardin Zenea and Jardin Guerrero with several cafes and a mecca for vendors during holiday celebrations. The Hotel Markee Boutique may be our most budget-friendly recommendation, but you will feel like you got much more than you paid for.
Boutique hotels are perfect for a few days or a week or exploring Queretaro. But what if you want to stay longer in Queretaro for less money? Why not try petsitting with trustedhousesitters.com. You stay for free in someone's house taking care of their pet. The pet parent knows that their baby is being loved in their own home, not ignored in a kennel. It's a win-win for everyone!
Which Boutique Hotel in Queretaro Will You Choose?
We hope this helps you narrow down your choices for where to stay in Queretaro. The historic center is easy to walk around, but be warned, there are 204 blocks within the historic area. These boutique hotels were chosen because of their ease to the historical attractions, restaurants, and other happenings within Centro. We hope you have a great time while visiting Queretaro, and don't forget, Heart of Mexico Wine Tours can take you to see wineries, creameries and pueblos magicos outisde the city for an even more memorable stay.