Bus Travel In Mexico Is Easier Than Flying
In the 1970s, Tom spent a few of his summer vacations visiting his grandmother in San Miguel de Allende. Back then the roads were not as convenient as they are today, nor was the bus transportation.  Roads were not always paved and potholes could swallow a small car easily. The bus was what you probably have seen in the movies: an old converted school bus crammed with people, screaming kids and a few chickens and goats. He remembers during one of his epic 6-hour rides, a child died in his mother's arms and she wailed for the entire trip back to civilization.
Times have changed and using bus transportation between cities in Mexico is extremely comfortable, and sometimes easier than taking domestic flights between cities.
San Miguel de Allende to this day still does not have its own airport, so the only way to reach this colorful town is to fly into Leon, Queretaro or Mexico City and take a bus.
For the purpose of this post, I will keep it simple with bus transportation between Mexico City and Queretaro, but bus travel is easy all over the country.
Disclosure: Some links may be affiliate links where we receive a super-small commission at no additional cost to you if you click through and make a purchase. We call this our Chocolate & Churro Fund.
Flying Between Cities
If you fly into Mexico City and connect to Queretaro, there's a good chance your layover will be 3-6 hours. The terminal where you wait has a handful of options for restaurants and shopping and unreliable Wifi.  The smaller connecting flights usually won't show the gate number until (they say) 1 hour before takeoff, but 3 out of 4 times we've seen the gate listed 10 minutes beforehand. The last thing you want to be is stressed out on your vacation because of a poorly run airport. Even the Krispy Kreme in the corner of one of the terminals can't make the situation better.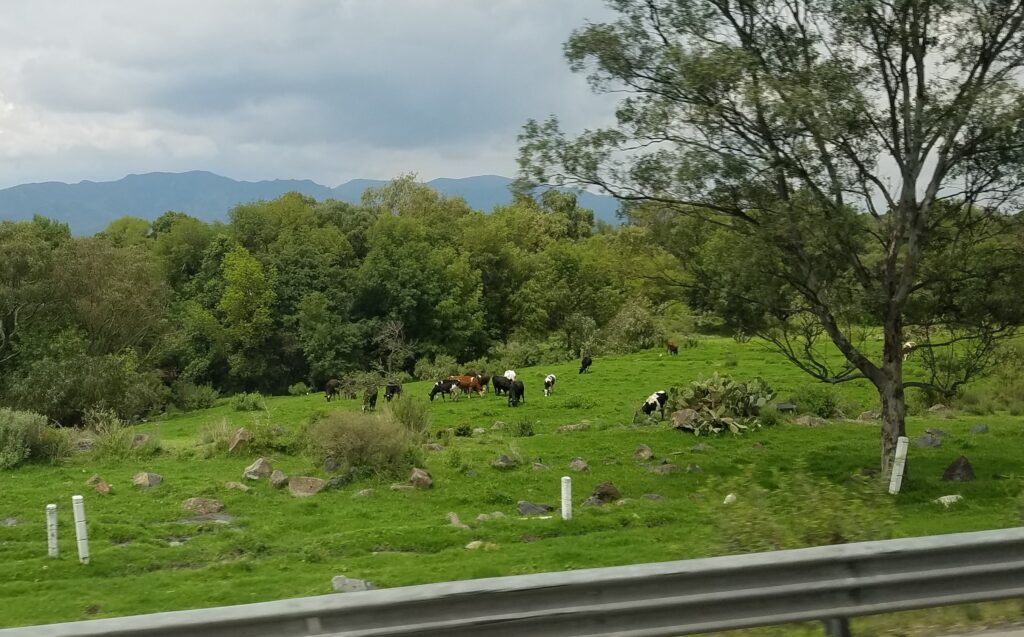 What About Renting a Car?
Renting a car can be more trouble than its worth in major cities in Mexico. Drivers cut across lanes without looking, use their turn signals more to annoy you than for its communication purpose, exit ramps are extremely short and parking is mostly nonexistent. Cities in Mexico have grown faster than the infrastructure can accommodate the number of cars on the road.
Mexico City is a metropolis of 23 million people and about as many cars. Because of this, restrictions are placed on drivers (city locals and visitors alike) on what days they can and cannot drive. It's based on the license plate number: if a plate ends in 1 or 2 the car owner cannot drive on Thursday, 3 and 4 no driving on Wednesday, 5 and 6 no driving on Monday, 7 and 8 no driving on Tuesday, 9 and 0 or ends in a letter no driving on Friday. This is the government's way of trying to keep pollution down, but city dwellers have gotten around these rules by having two or three cars so that they always have a vehicle they can drive. This means every day the traffic is horrendous.
So your best option for travel between cities in Mexico within a few hours is by bus. Most bus terminals are within 10-20 minutes of the city center.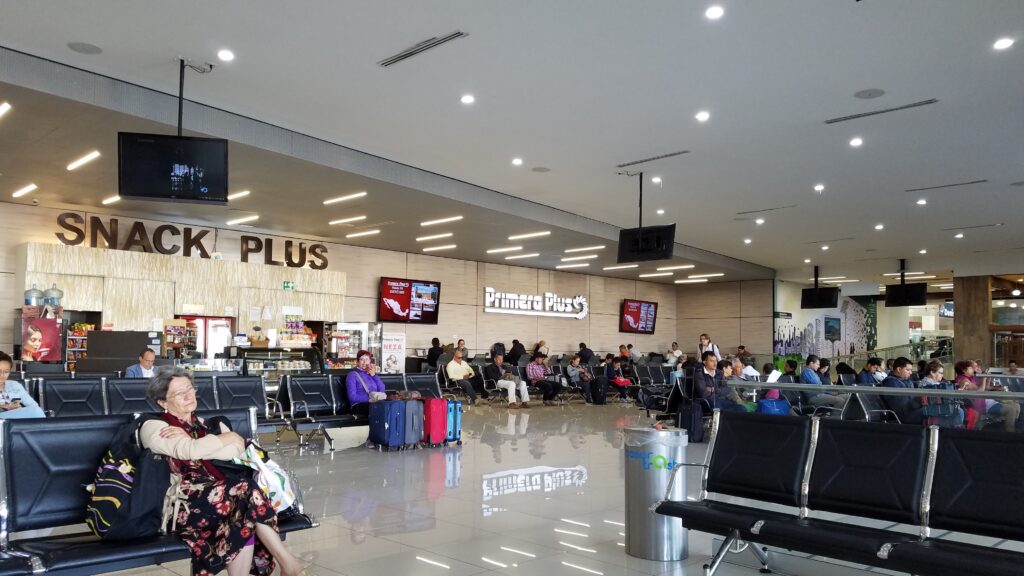 Mexico City Bus Terminals
Mexico City has 5 main terminals to choose from: two at the airport (T1 and T2), a north terminal, south terminal (Coapa) and to the west is the Observatorio.
FYI: Other Bus Stops
There are other bus stops within Mexico City, but they have limited bus routes to other places outside of Mexico City.  There is a small bus terminal behind the American Embassy (Angel de la Independencia) and another smaller bus terminal by Hotel Casa Blanca near the Monument of Revolucion. The latter bus stations will have less arrivals/departures, but are very convenient when you are entering Mexico City.
Airport Terminal 1 and Terminal 2
Buses leave from both Terminal 1 and Terminal 2 about every half hour to Queretaro. Looking at a map of Mexico City, this is also the easiest point to access the historical center and popular neighborhoods of Mexico City. The airport stops are more expensive by 100 pesos or so (roughly an extra $5 USD), but it will be easier to get taxis or Ubers from here to your Mexico City destination.
Terminal two at the airport is the easiest one to navigate. Once you collect your luggage and exit customs, head to the right and exit the main doors. You will see a glass building slightly to the right. That is the bus terminal with customer service counters, a small café, waiting room and modern bathrooms.
If you fly into Terminal 1, it's a little more walking, but signs and security will help guide you. From baggage claim, you will need to go up the stairs. Depending on where in the terminal you arrive, you may be on the correct level or have to go down one level.  The customer service counters are located near the international terminal.
North Terminal (Norte)
There is a metro station directly to and from it, and it's 20 minutes north of the Zocalo. Buses going between Queretaro and Mexico City are more numerous at 3 sometimes 4 buses per hour during heavy traffic times.
Observatorio
The Observatory bus terminal is located in the neighborhood of Alvaro Obregon southwest of the Parque Chapultepec and La Condesa. One or two buses will leave from here every hour.
Coapa
This bus terminal is south of the major part of Mexico City and a good hour away from the central historical center. Buses leave here for Queretaro every hour or hour and a half.
If you are staying in Mexico City, this may determine which terminal you would like to leave from, but we have found it really easy to leave from either one of the airport terminals. If you are flying into Mexico City, it is cheaper to take the bus rather than a connecting flight if you are visiting places within 4 hours or less like Toluca, Cuernavaca, Puebla, and Queretaro just to name a few.

Buying a Bus Ticket
One of the nice things about the bus transportation is that you don't have to reserve your ticket days in advance. You can walk up to the counter and usually get on the next bus. Your wait time will be between 15 minutes to an hour depending on how full they are which is way better than a 3-4-hour layover for a connecting flight. Primera Plus, ETN and ADO are the nicer bus travel companies. All the bus companies have their counters in one location for bus travel.
If you choose to buy your ticket online, please note that foreign credit cards will not be processed. Because of the traffic, it's easier just to wait until you arrive at the bus station to buy a ticket for the next bus.
Bus Travel: Executive Style
Buses, just like airplanes and trains have different class reservations categorized as Executive, which is ultra-luxury, first class and second class. We have traveled executive style only and are extremely happy with what we get.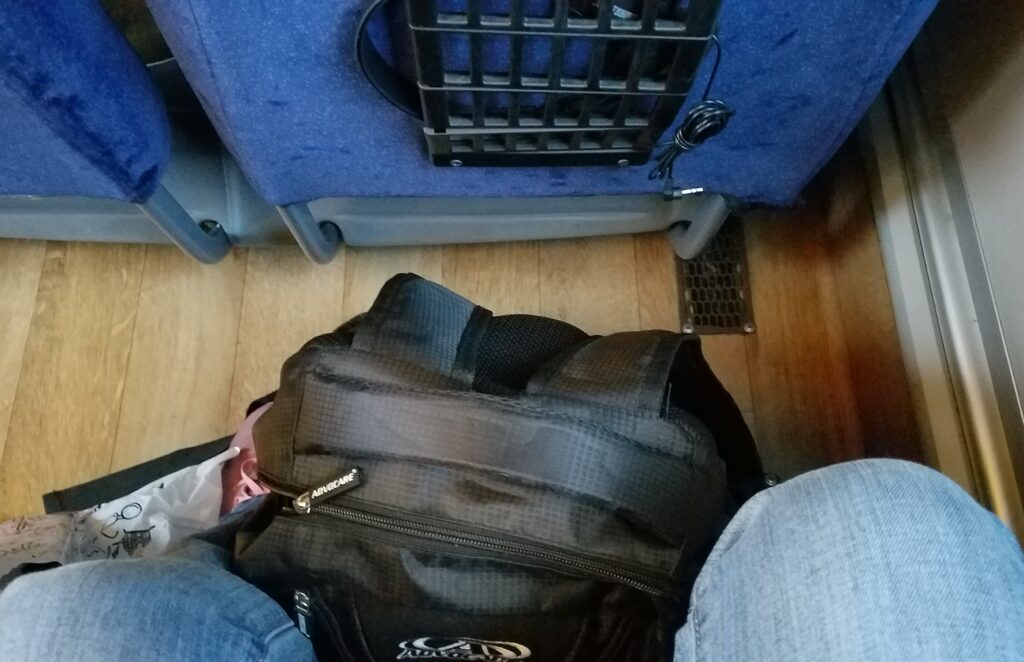 Each seat has plenty of leg room and the seats actually recline to a comfortable position without being in the face or lap of the person behind you. You have your own individual TV in the back of the seat in front of you, new headphones, air conditioning and Wi-Fi on board which is only good enough for social media. Separate bathrooms for men and women are also on board. The bus attendant used to give you a free bottle of water, soda or juice and something to snack on for the ride like sandwiches, chocolate chip cookies or chips, but since COVID, that has stopped.
Buses run 24 hours a day, so you could even take a "red eye". Our trips to Mexico City on executive buses are $24 USD one way. Roundtrip, we spend $48.00 per person at the most, which is still cheaper than an $80/pp plane ticket. That's a small price to pay for comfort on a 3-hour road trip!
Bus Travel: Second and First Class
We haven't tried second class yet, though we hear that second class will make multiple stops along the way and does not have all the flashy extras. If you have limited time and want to get to your destination directly, then travel executive or first class. If you have all the time in the world and want to see what is between your stops, then second class may be more fun for you.
Here's something else you should know; not all cities will be listed from each bus hub. They will list the closest cities and you might have to make a connection in another town to reach your destination. For example, most buses that will leave Mexico City to San Miguel de Allende will be going to Queretaro first.  It's good to know the larger cities and what towns you want to visit along the way.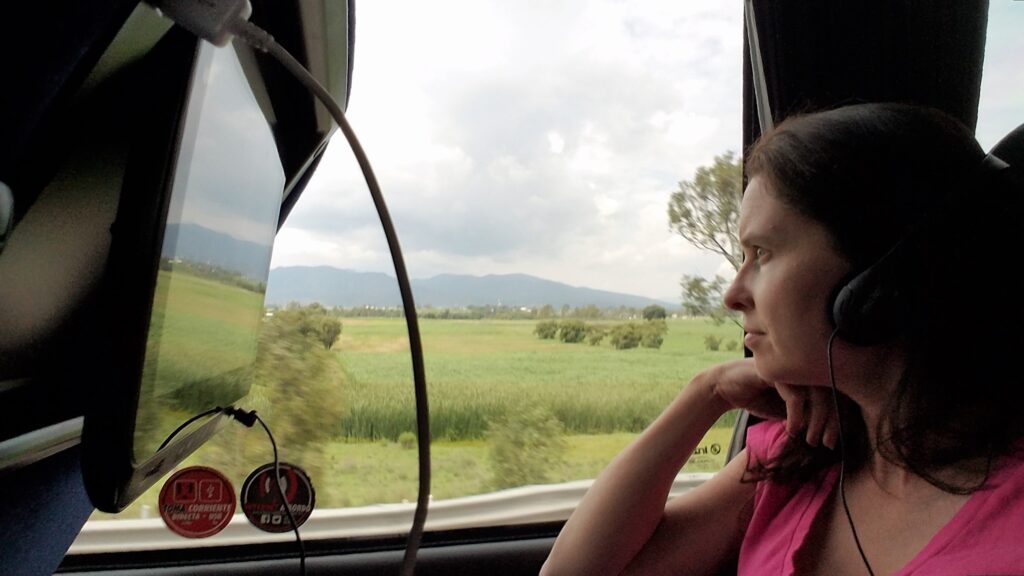 No Baggage Fees
Another benefit of traveling by bus is that there isn't a charge for baggage, even if you have 4 large suitcases like we had one time. Luggage will be taken 15-30 minutes before your bus leaves. The baggage representative will give you a ticket(s) to claim your bag(s) at the end of the trip, and it is customary to tip. You are allowed one carry-on that can be stowed on a rack above your seat on the bus. If your carry-on is too large, they will make you check it under the bus.
Entertainment
The TVs in the back of the seats are standard airplane size. Headphones are provided, but I noticed the smallest adjustable size was still too large for my head and they kept sliding off my ears. If you have your own headphones, they have standard jacks. Movies range from action to drama, but it is all in Spanish. A USB port allows you to charge your phone during the trip.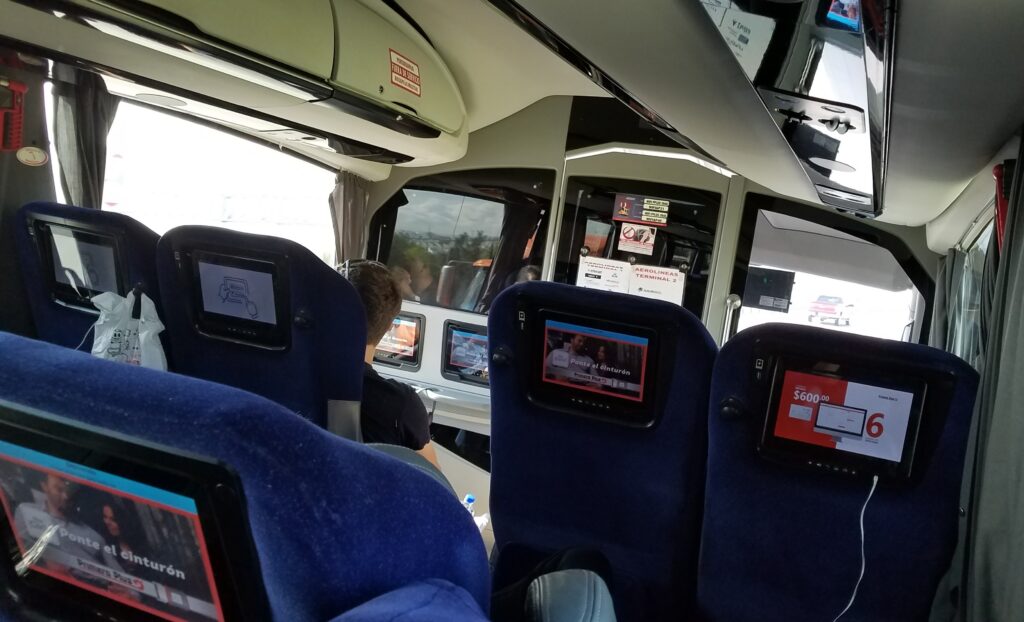 With price and comfort being the main factors, bus travel through Mexico is the way to go. Granted, if you plan on going to the coasts, it will be faster to fly. But if you plan to explore a state or two nearby, try the bus system. It will be easier to stay more centralized, save time and you might discover more than you even imagined.