A Taste of Mexican Life in Tequisquiapan
Tequisquiapan is the perfect escape from city life. Surrounded by dairy farms and vineyards, Tequisquiapan is an oasis for relaxation with its spas, boutique hotels and countryside activities. Spend the morning hot-air ballooning over the agricultural fields, soak in the special mineral waters at numerous spas in the afternoon, shop at the Mercado de Artisanas for unique gifts, and watch the locals dance at sunset while overlooking the plaza with a glass of wine. Whether you visit on a day trip or a weekend getaway, Tequisquiapan is the perfect place to immerse yourself in the real "Mexican life".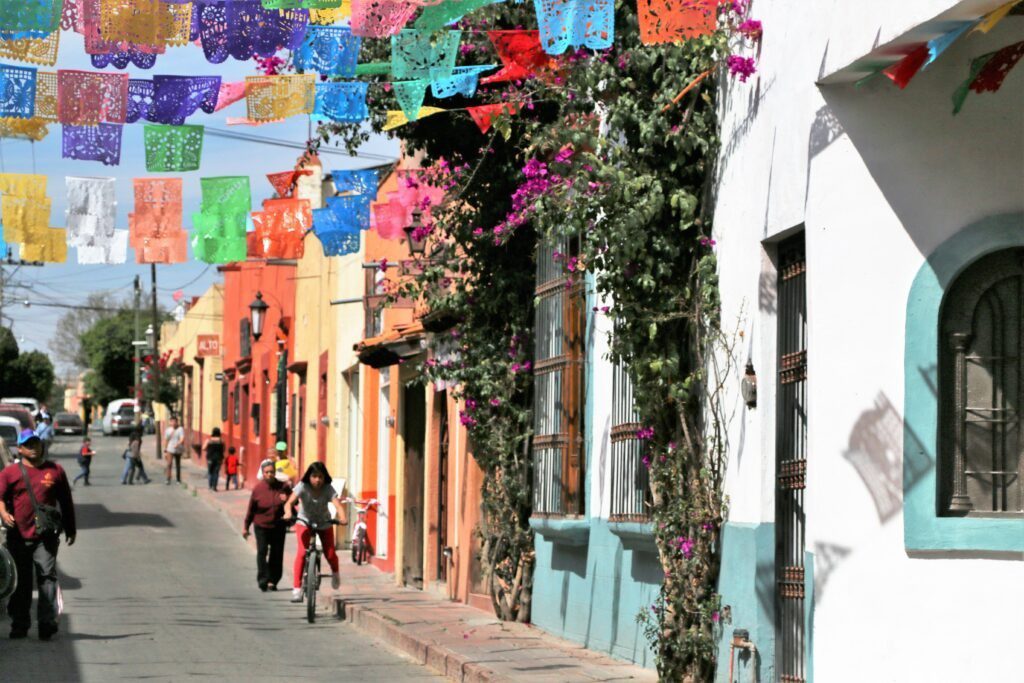 Disclosure: Some links may be affiliate links where we receive a super-small commission at no additional cost to you if you click through and make a purchase. We call this our Chocolate & Churro Fund.
About Tequisquiapan
"Tequisquiapan" (te-Kees-kia-pan) in Nahautl literally means "a place of water and tequesquite", a type of natural salt that was used in pre-Hispanic times to flavor food that is still used today. Because of these natural springs and fertile land, the area around Tequisquiapan has been occupied by humans for thousands of years. Before the Spanish conquest, the Otomis and Chichimecas lived peacefully within this area. First named Santa María de la Asuncón y de las Aguas Calientes in 1551 for its numerous hot springs, by 1656, the name was "shortened" (by Spanish standards) to its current name of Tequisquiapan.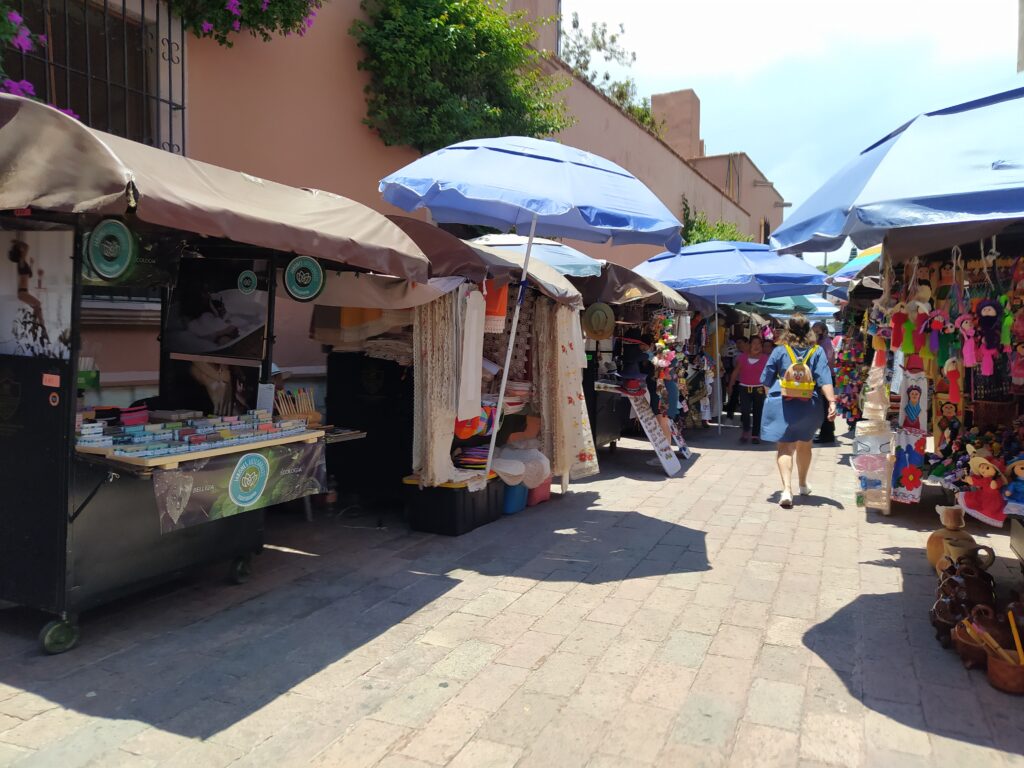 Wine and Cheese
Vineyards and farmland surround the little town of Tequisquiapan, affectionally known as "Tequis" by the locals. Vineyards were planted in the 1960s mostly for brandy production. Over the last decade, independent wineries have developed, and offer wine bars, restaurants, event space, and the occasional hotel.
Cheese production is also a major economic source within the Tequisquipan municipality. It's not uncommon to see goats grazing along the side of the road as you enter or leave town. Fresh cheeses made from cow, sheep and goats' milk are exceptional in this area.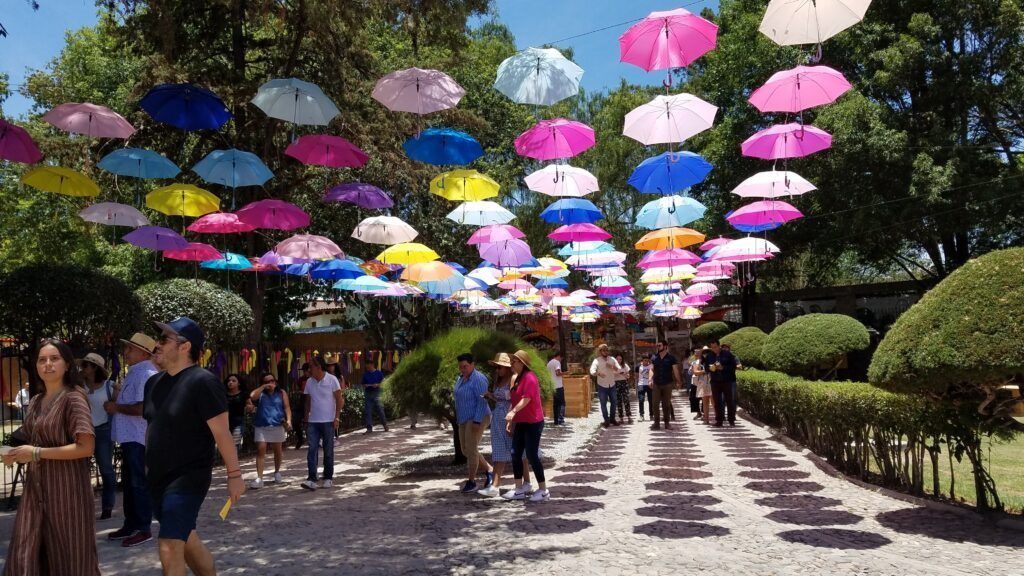 Tequisquiapan Cheese and Wine Festival
Several festivals take place in Tequisquiapan on the weekends, and the most popular festival is the Feria Nacional del Queso y Vino, or the Cheese and Wine Festival. Spanning over 3 weekends in the months of May and June, this is the perfect event to sample not only the regional specialties, but cheese and wine from all over the country and a few other spotlight countries.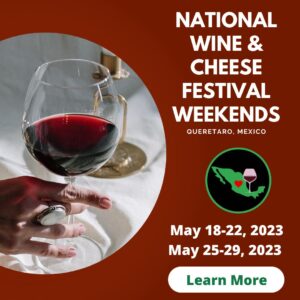 Our tour company Heart of Mexico Wine Tours has special wine weekend packages for 2023!
How to Get to Tequisquiapan
Tequisquiapan is located 41 minutes from the Queretaro airport on Highway 200. From the city of Queretaro, it's just over an hour's drive through the agricultural plains of the state. Grazing sheep, tomato hot houses, and cornfields line the highway into Tequisquiapan. You can take a public bus an Uber from Queretaro or join us on our Pueblo Magico Tour that includes both Tequisquiapan and Bernal.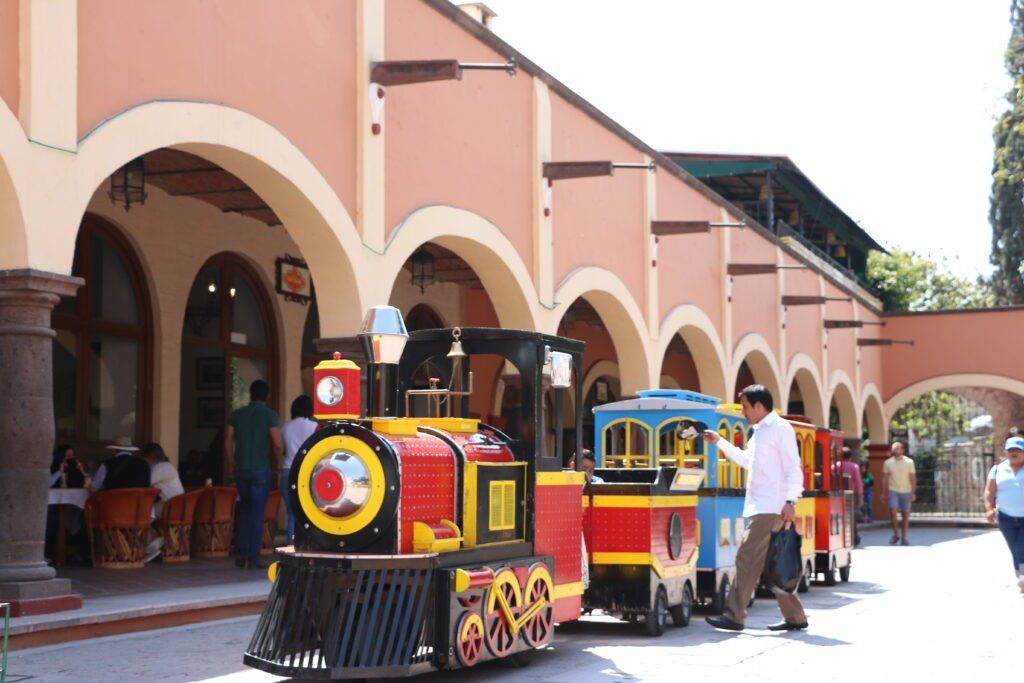 What to Do in Tequisquiapan
Day Trips
Tequis is an easy day trip from Queretaro. We like to visit on the weekdays when its less crowded, but there is a certain vibe on weekends.
Our perfect days in Tequisquiapan usually involve walking around the plaza shops looking for unique objects to decorate our home. Pedestrian streets radiate from Plaza Miguel Hidalgo and lead to other wonderful treasures like chocolate and cheese shops.
There's always something new to discover at the Mercado de Artisanas where local artists display beautiful jewelry, ceramics and embroidered clothing. For lunch, we have our choice of Mexican, Italian, sushi or seafood. Afterwards, we head to the rooftop of the Freixenet Wine Bar to people watch and sip on some bubbly with regional cheese.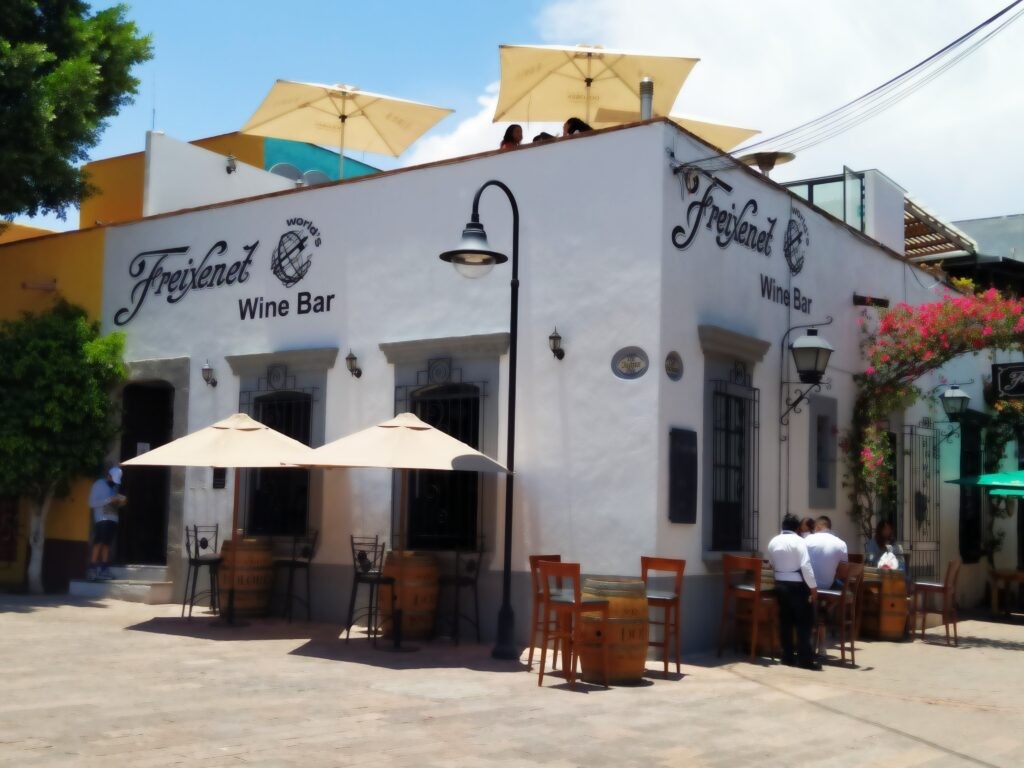 Weekend Trips
If you stay for the weekend, there's plenty of other things to do. Take a hot-air balloon ride over the rolling hills surrounding Tequisquiapan, or for the more adventurous, try opal mining for fire opals. The state of Queretaro is only one of two places in the country that fire opals can be found. Several of the boutique hotels have spa services that are fed by the thermal springs in the area.
Life's little moments are glaringly clear if you stay longer. Dance with locals in the plaza, stake out a sweet spot to watch a wedding procession coming from the church, or make a toast to the sunset as you dine on the rooftop terrace of Las Brasas.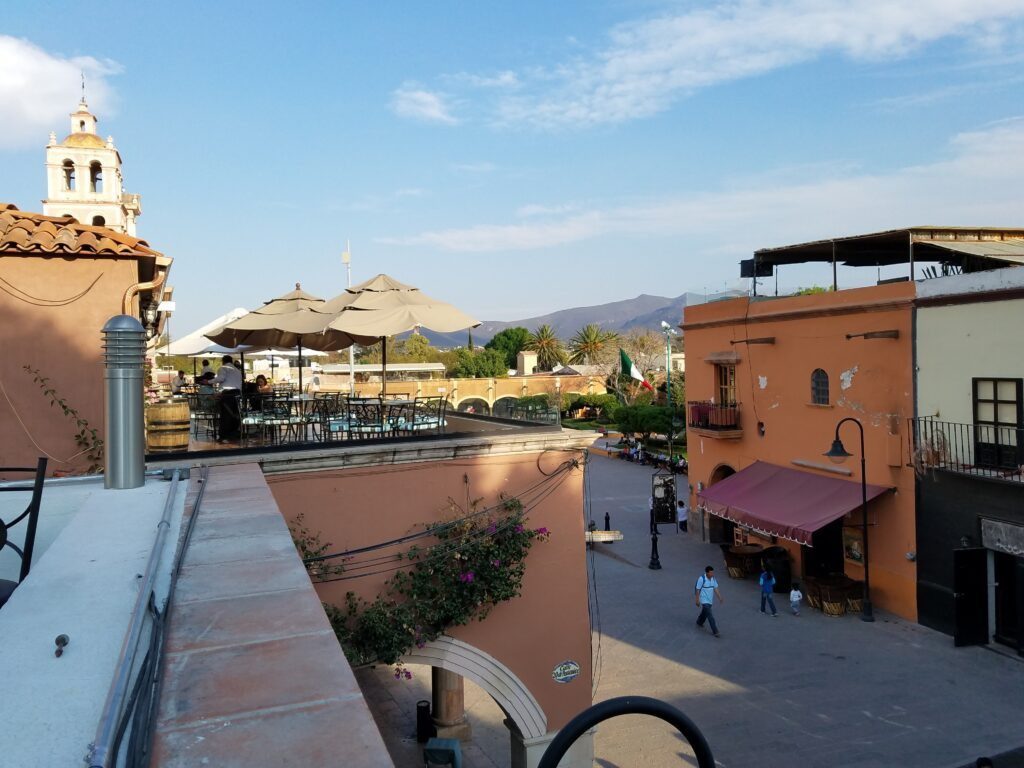 What Not to Miss in Tequisquiapan
Shopping and eating are the best things to do in Tequisquiapan. Here's a few spots to buy unique gifts, sample the regional products, or try a little adventure.
Mercado de Artisanas
Visit the tiny stalls of local artisans and strike up a conversation about their crafts. Amber jewelry and silver décor are popular in Tequisquiapan. Fire opals mined just outside of town are exquisite gifts to give to your family, friends, or just yourself.  Fire opals are only found in two states within Mexico. Hand embroidered clothing, ceramics and casserole bowls known as "cazuelas" are also specialty items you can take home with you.
Shopping
Art galleries, linens and unusual knickknack stores line the Plaza Miguel Hidalgo. The streets branching away from the plaza are also lined with plenty of local vendors for those one-of a-kind gifts.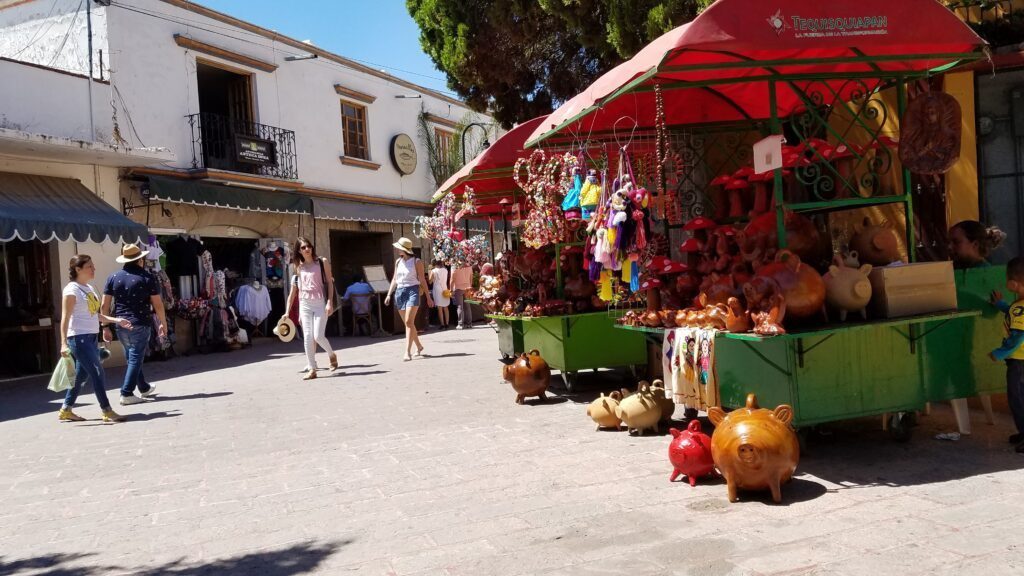 Cheese Shops and Wine Bars
Tequisquiapan is surrounded by vineyards and farmland, so it's only natural to try the local produce. Stop in a cheese shop to sample fresh cow, sheep and goat cheeses. Museo de Queso y Vino is more of a restaurant than a museum. Their shaded courtyard is perfect for a late lunch paired with a regional wine.
A short drive outside of Tequisquiapan are two fantastic cheese producers that you can visit. La Biquette is an artisanal goat cheese creamery with fantastic cheeses. Boconegra is a larger cow and sheep cheese producer that also has a nice restaurant above the cheese and local produce shop.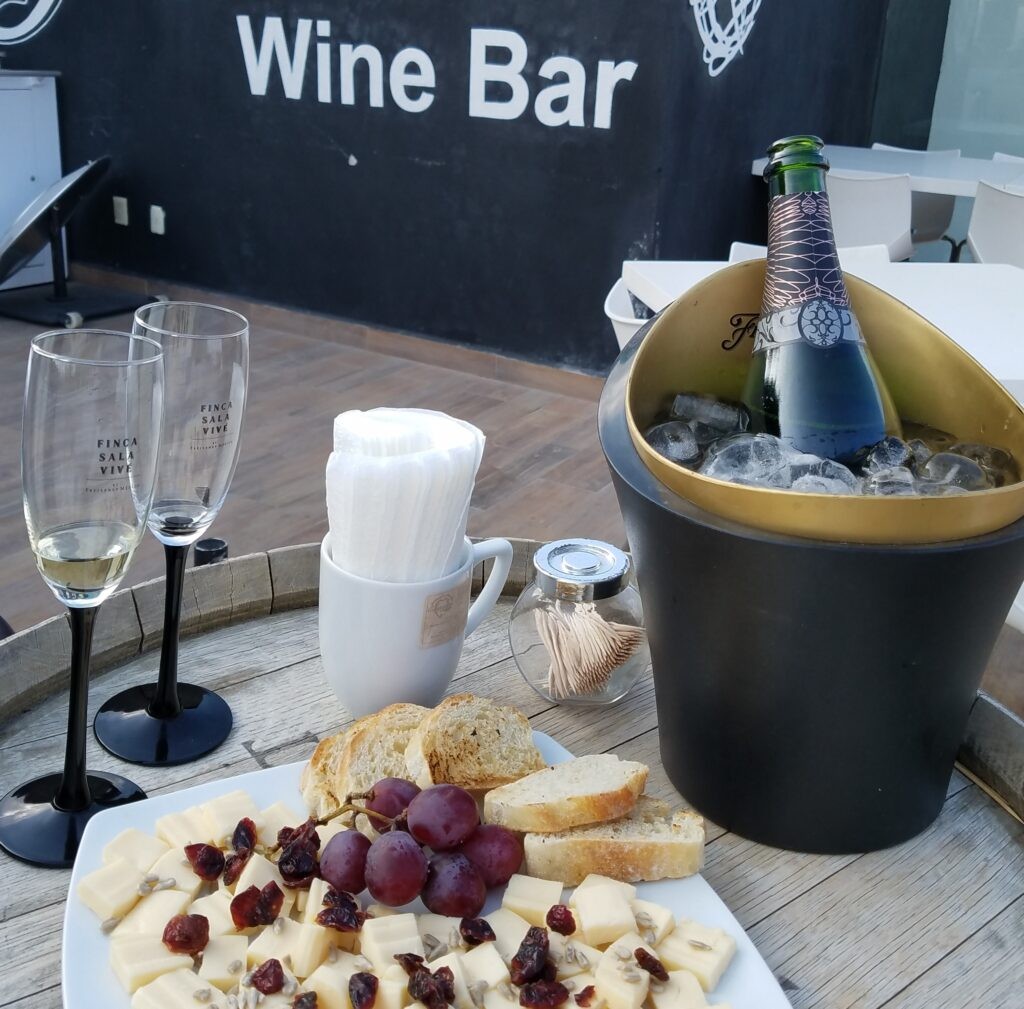 Freixenet Wine Bar
Grab a bottle of bubbles and a cheese plate at the Freixenet Wine Bar for a relaxing afternoon. Their rooftop patio is the perfect place to people watch.
Origens- Cocina Mediterranea
Origens is our favorite restaurant in Tequisquiapan. Situated in an outdoor courtyard, the extensive menu offers eggplant parmasian, oxtail ravioli, and many seafood dishes. Every month, Origens features special seasonal ingredients. Deciding what to eat will be your most difficult decision while you are in Tequisquiapan.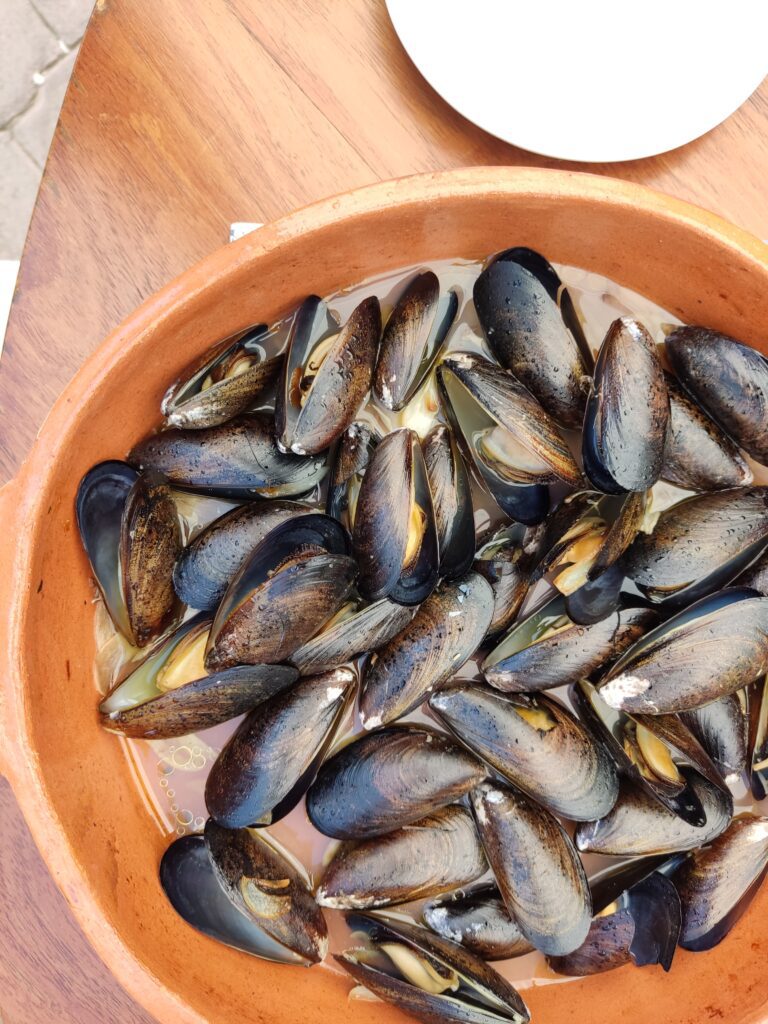 Parque "La Pila"
For those that want a little bit of nature, Parque Pila is a shaded green space in the center of Tequisquiapan. Quiet during the week, it's a popular place for different festivals on weekends. The annual Wine & Cheese Festival is famous throughout the country and is celebrated in the park for three weekends starting in May.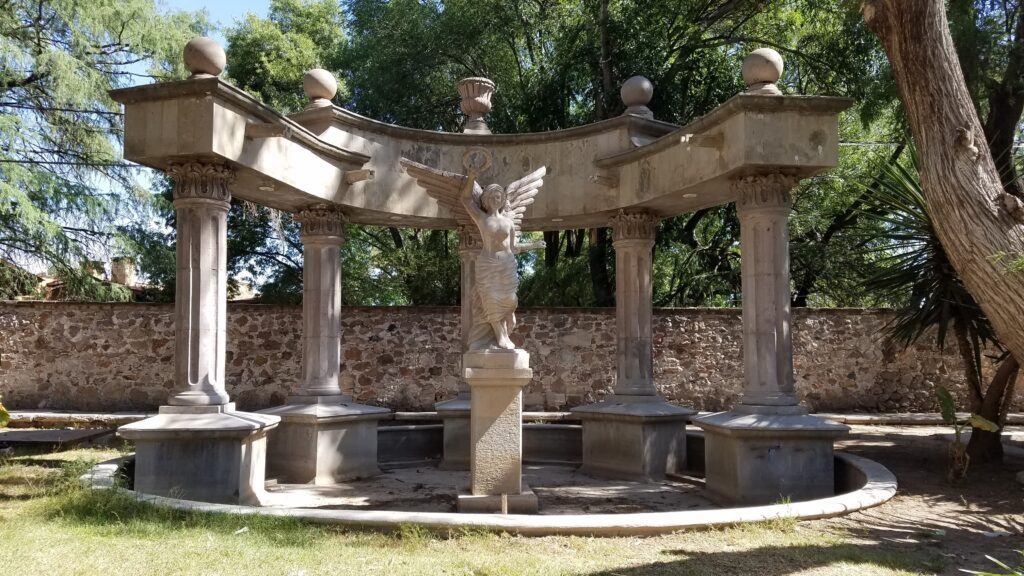 Centro Geográfico de México en 1916
As you wander through the colorful streets of Tequisquiapan, there's one structure that definitely does not blend in with its surroundings. A typical example of a politician wanting to make his mark, President Venustiano Carranza passed through Tequeisquiapan in the early 1900s and decreed that the town of Tequis was at the center of Mexico. Looking at a map, it's easy to tell that this is not true, but an industrious monument stands at the crossroads of Centenario and 5 de Mayo in this otherwise picturesque town.
Opal Mines
Tours to the opal mines can be arranged by your hotel or at the many tourism kiosks. The opal mine tour gives you the history of mining opals in the region, and you get the chance to bust some rocks for fun. At the end of the tour, you can buy polished, finished opals or jewelry in their shops.
Hot Air Balloon rides
Vuela en Globo is the premier hot air ballooning company in Tequisquiapan and San Miguel de Allende. Float above the vineyards and plazas of smaller villages and see how the landscape changes from agriculture to the untamed desert landscape.
Ruta de Arte, Queso y Vino
Why not visit the local wineries and cheese producers while in Tequisquiapan? Several wineries are within a 30-minute drive of Tequisquiapan on the Art, Cheese, and Wine Route. You can easily add a winery and cheese tasting to a day trip to Tequis. Heart of Mexico Wine Tours can customize a tour for you.
Read our post Explore the Wine Region of Queretaro, Mexico for an in-depth look on many of the wineries.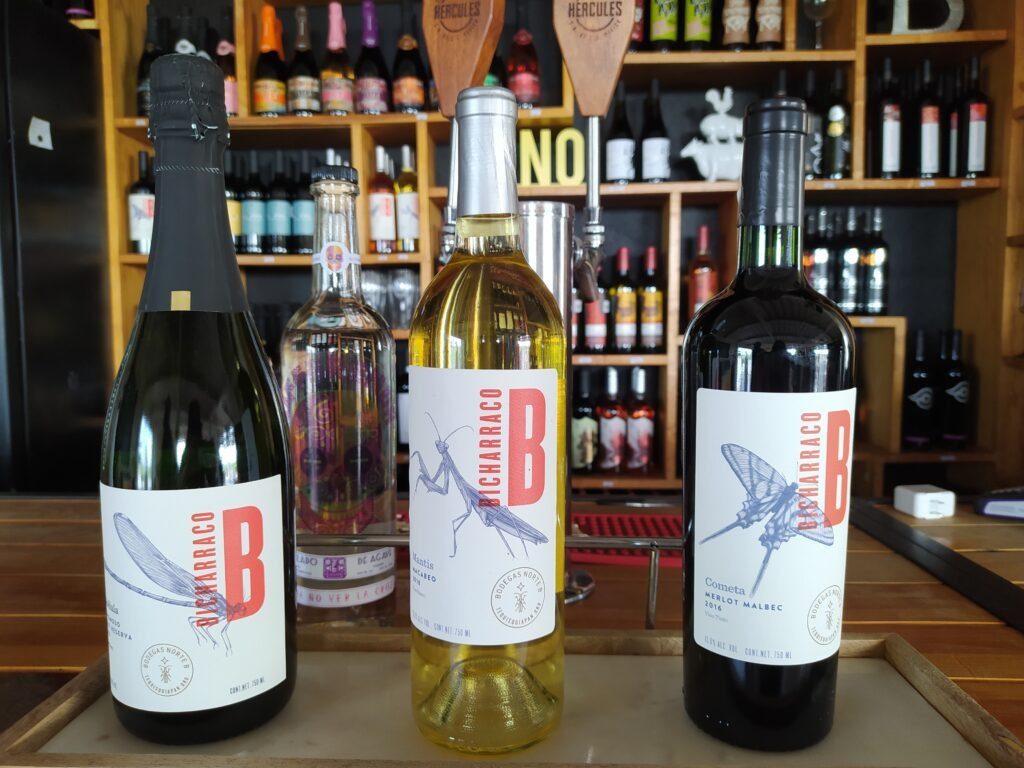 Where to Stay in Tequisquiapan
Have you fallen under Tequisquiapan's spell? Stay overnight or for an entire weekend and take advantage of a full day at a spa. Many of the hotels incorporate the natural thermal water of the area into their spa treatments.
Here's a list of some of our favorite hotels:
For the ultimate in elegance stay at Gran Hotel Firenze. This garden oasis with its spacious air-conditioned suites, a swimming pool, free wifi, spa and wellness center is within walking distance of the center. If you are fond of birds, peacocks and emus wander freely around the property.
For those that prefer modern décor, Hotel Rio Tequisquiapan offers air-conditioned rooms, pool, free wifi and a wellness center. You can schedule tours directly with the concierge to visit opal mines or go hot-air ballooning.
If you are looking for the perfect blend of modern with colonial details, Matian Hotel Boutique is for you. With beamed ceilings, king size beds, stone walls, free wifi, a bar on property and large pool, you may not want to leave.
Since you are staying on the Rute de Arte, Queso y Vino, it only makes sense to stay at Hotel Casa de Vino. This converted hacienda has an impressive indoor courtyard, but rooms are simple. With a restaurant, free wifi and spa on premises, you have everything you need.
For that Mexican "charm" with arches surrounding a beautiful courtyard and rustic, but comfortable rooms, Posada del Virrey is the place. Located behind the church, it has a pool, free wifi and breakfast included.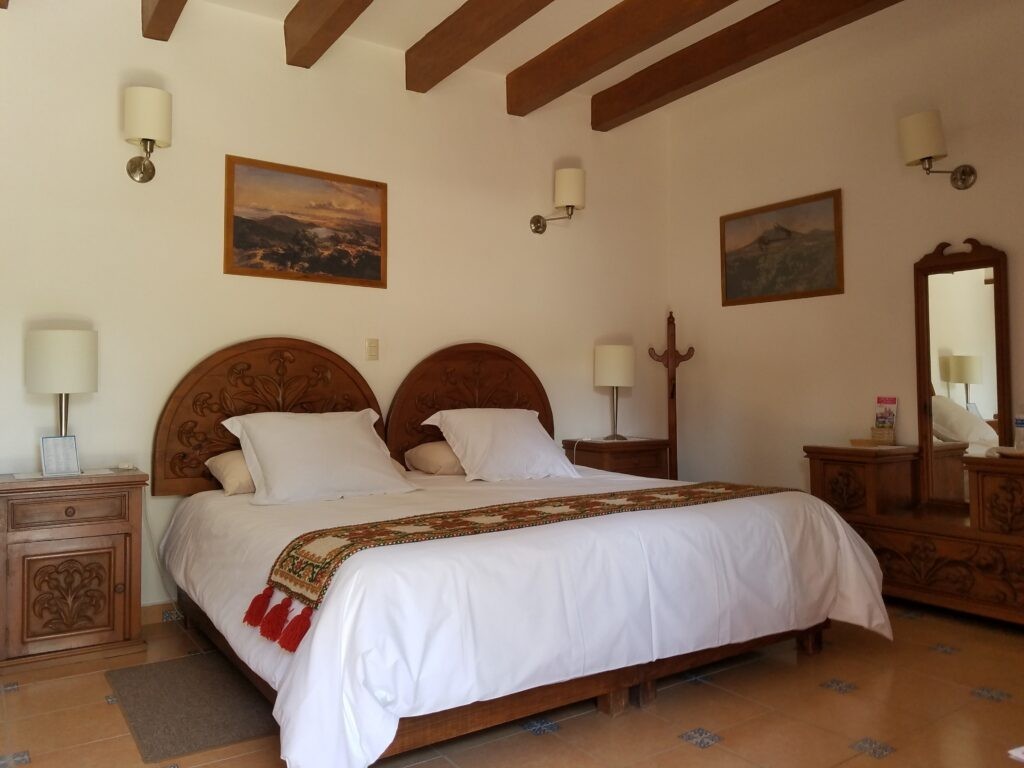 Whether you only have a few hours to visit, or plan a big spa weekend, Tequisquiapan is the perfect little town to relax, unwind and immerse yourself in Mexican life.