Road Trip to Denali National Park and Other Adventures
Alaska is home to 7 of the largest national parks in the United States, the most famous being Denali National Park. Home to the tallest peak in North America, Denali National Park is an unpredictable environment of weather, landscapes and wildlife. My friend Christy and I took a road trip up to Denali to explore a part of Alaska we had only seen in nature shows. From the bus ride through the park, to horseback riding through a marsh and Class III whitewater rafting, it's no wonder people fall in love with the nature beauty of America's Last Frontier.
Disclosure: Some links may be affiliate links where we receive a small commission at no additional cost to you. 
How to Get to Denali National Park
FLY
If you are flying into Alaska, the two closest airports to Denali National Park are Fairbanks (FAI) 120 miles away, and Anchorage (ANC) 240 miles away. A car, bus or train will need to be reserved to get you to Denali.
CRUISE
Many people arrive to Alaska by cruise. The cruise ports of Valdez, Seward and Whittier are over 5 hours away by car. Anchorage is the closest cruise port, but you will still need to rent a car or travel by bus or train from any of these ports.
TRAIN
If you want to sit back and enjoy the scenery, train travel may be for you. For train routes and schedules, check out www.alaskatrain.com. You can easily visit places such as Seward, Valdez, Anchorage, Homer, Fairbanks, Talkeetna and Denali by train.
BUS
Check out www.Alaskacoach.com for bus routes to Denali National Park and other destinations.
DRIVE
The park entrance is off of Alaska Highway 3 also known as George Parks Highway. Below is the distance and the time it takes to drive to the entrance (if you don't stop to take pictures along the way). AK is the abbreviated version of Alaska Highway.
From Fairbanks– take AK-3 South for 120 miles (2-hour drive).
From Anchorage– take AK-3 North for 240 miles (4-hour drive).
From Whittier– take AK-1 North to AK-3 North for 296 miles (5.5-hour drive
From Seward– take AK-1 North to AK-3 North for 362 miles (6.5-hour drive).
If you choose to start your trip from Seward, spend a few days exploring this little town with big adventure:

History of Denali National Park
Denali National Park opened in 1917 as Mt. McKinley National Park to protect Dall sheep from overhunting. In 1980, the park added an additional 4 million acres and was renamed Denali National Park. With an area that is slightly larger than the state of Massachusetts, the park encompasses both the north and south side of the Alaska Range.
Denali rises 20,310 feet above sea level and is the highest mountain peak in North America. Over 75% of Denali is covered in snow and ice year-round, and glaciers, some over 40 miles long, extend from its base. Denali rises 4 miles into the sky towering almost 3 miles above the resto of the mountains in the Alaska Range. You would think it would be easy to spot Denali from anywhere in the park, but it's so massive, it creates its own weather patterns. Less than 20% of visitors get to see Denali on a clear day.
Where to Stay
Denali National Park has 6 campgrounds within the park. If camping is too rustic for you, cabins and lodges are located within a few minutes outside the park entrance. A 15-minute drive from the park entrance is Denali Cabins. It has free Wifi, a hot tub and restaurant on premise. That hot tub is a luxury even in the summer months. There aren't any hotel lodgings within the park boundaries.
Hiking in Denali National Park
There are a few hiking trails near the Visitor Center in Denali. For the real adventurous, you can go off-trail almost anywhere in the park. Check with a ranger before you go to find out if any areas are closed off due to wildlife, landslides, or other dangerous situations.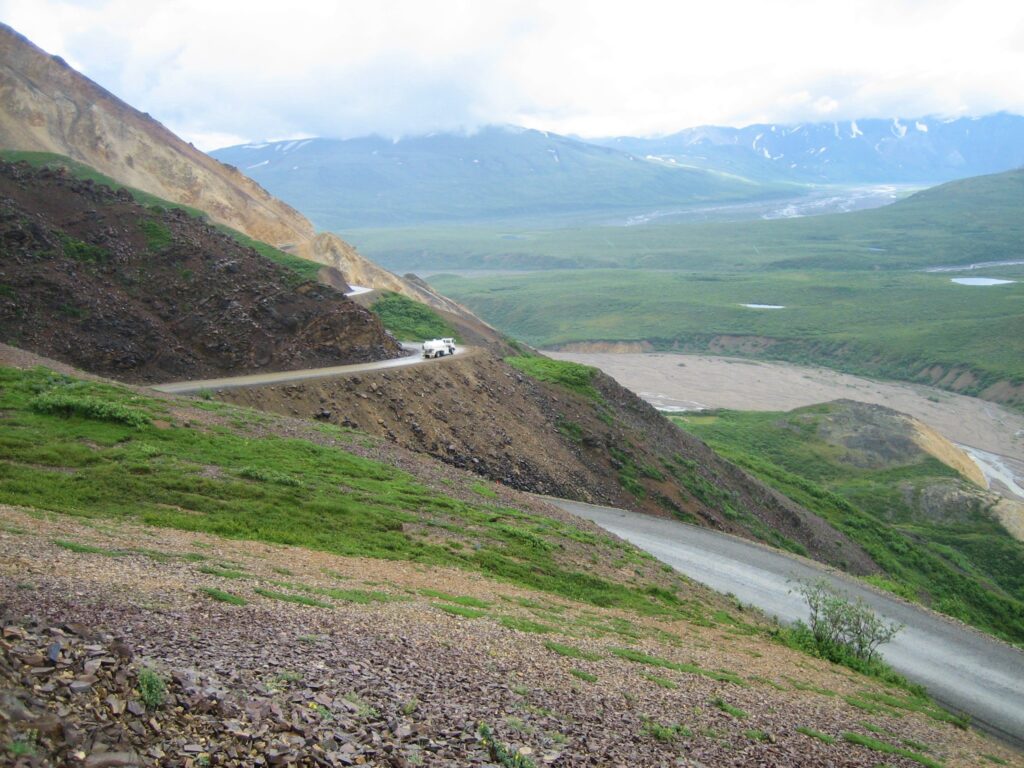 Transportation in Denali National Park
During the summer, you can only drive your own vehicle 15 miles into the park to Savage River. To see more of the park and hopefully get a glimpse of Denali, you will need to ride one of the designated park buses. You can board the bus at the entrance to Denali or at your hotel if they offer that service. Only one road runs through Denali.
Road Trip from Seward to Denali
My friend Christy and I took a long weekend and drove from Seward, making many stops along the way to take pictures along this scenic highway. North of Anchorage, you'll pass through the Palmer Hay flats on the way to Wasilla. After you pass the exit to Talkeetna, you'll go through Broad Pass, a very scenic stretch of highway. The glacial scars across the valleys and the occasional rainbow over bare mountains took our breath away.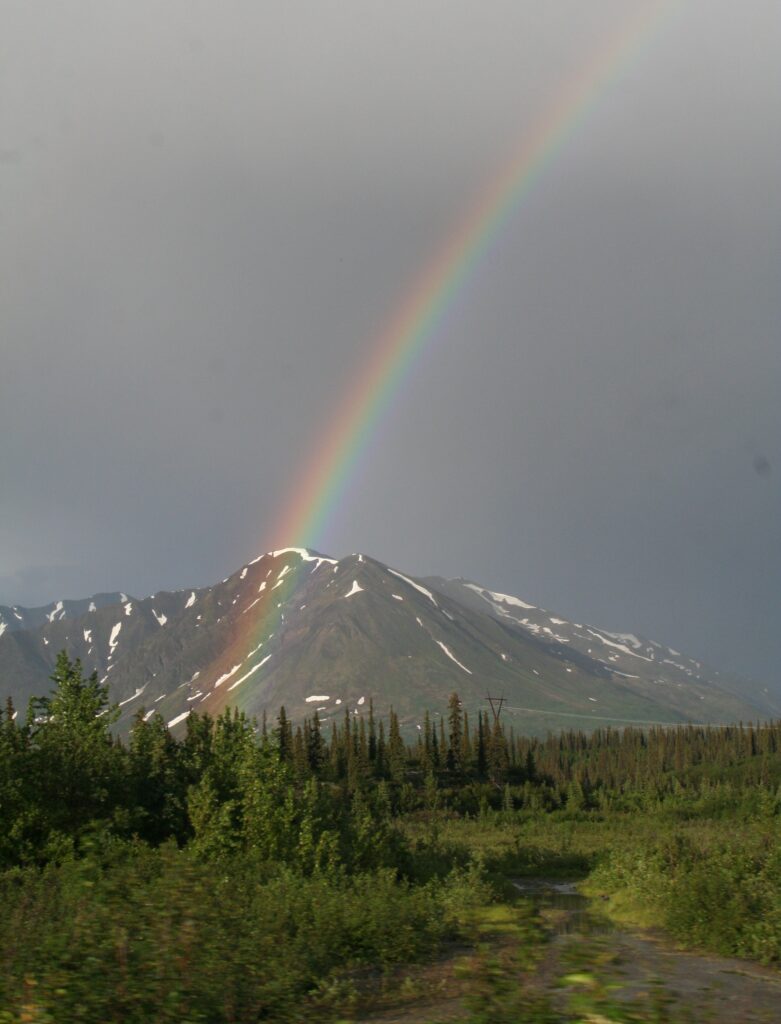 Side Detour: Talkeetna
If you have time for a little detour, Talkeetna is worth a visit. Eat lunch at Sparky's Burger Drive-In and shop for special handcrafts and souvenirs at the small shops lining the main road. The Talkeetna Lodge has spectacular views of Denali and the Alaska Range. The weather was slightly rainy with lots of sunshine, perfect for creating rainbows.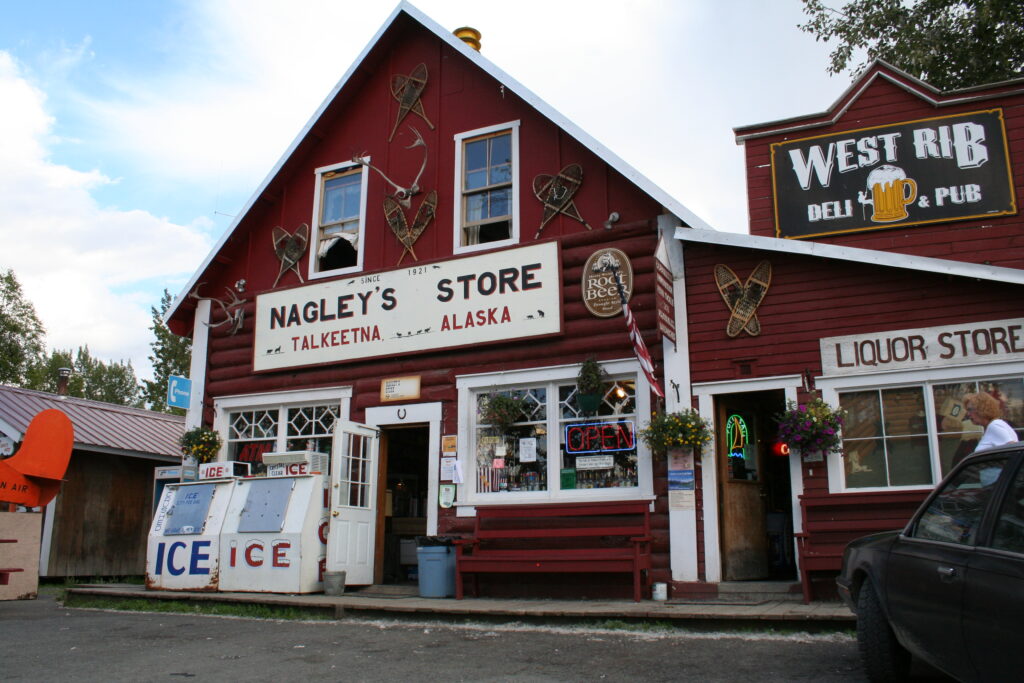 We arrived at Glitter Gulch outside the park entrance later than expected, so our excursion into Denali would have to wait until the morning. By the way, in Alaska the sun goes behind the mountains, but it never really gets dark.
Bus Ride Through Denali National Park
The next day, we took the park bus ride into Denali National Park.  We had a choice between a 4- hour or 8-hour bus ride, the latter of which gives you an opportunity to see Wonder Lake and possibly Denali. Obviously, we chose the longer bus ride. We had plenty of stops along the way to stretch our legs and take photos, but I will just hit the highlights of the journey.
Wildlife of Denali
I didn't have high hopes of seeing Denali, but I was looking forward to seeing wildlife in the park. We saw Dall sheep, caribou, beavers, a mother fox with her babies playing outside the den, a falcon's nest with babies, and a mother bear with her 2 cubs.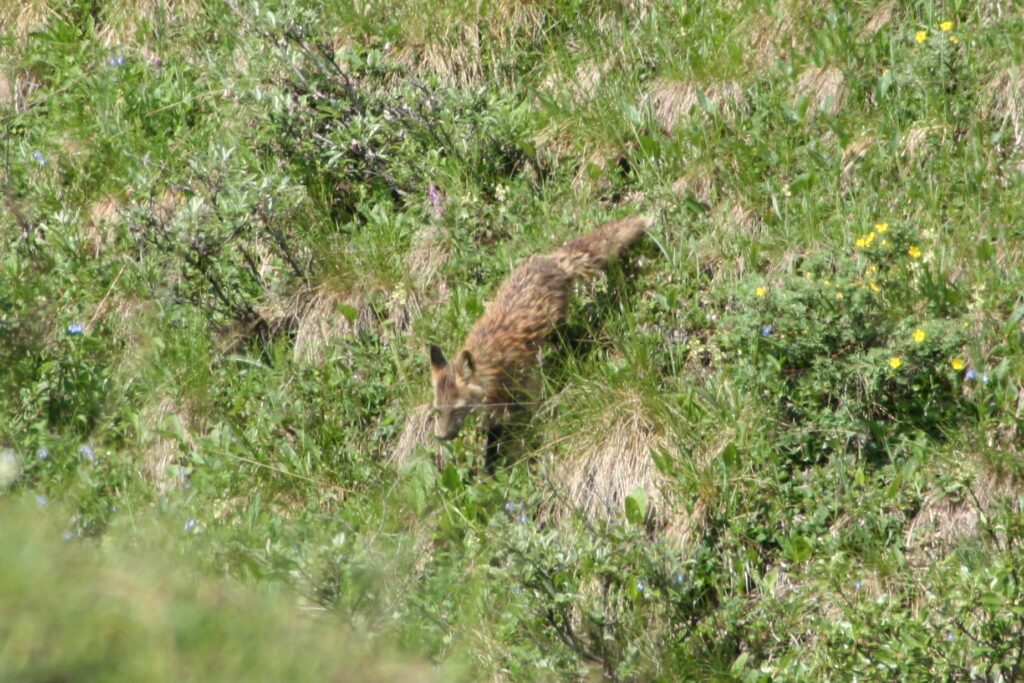 The crowning glory of wildlife moments happened early on in our day.  A bear walked right up to the side of the road where our bus was parked and nonchalantly started munching on the grass. He was there for more than 20 minutes and only 20 feet away!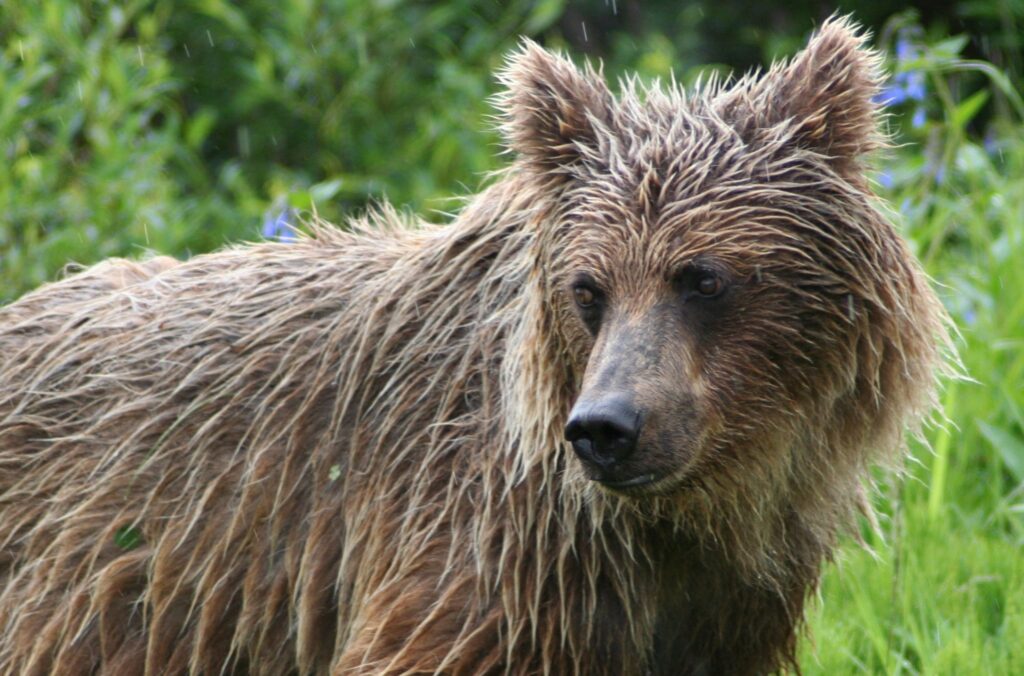 Wonder Lake
The turnaround point for the bus ride was at Wonder Lake, a beautiful blue oasis surrounded by trees in this mostly sparse landscape.  Behind us, Denali loomed somewhere in the distant clouds. We were about to board the bus again for the trek back to the entrance when the weather took a surprising turn. The clouds over Denali parted, and we could see the peak poking out of the clouds twice as high over the surrounding mountain range. And just like that it was gone again. The bus driver said we were lucky. Only about 20% of visitors ever get to see the top.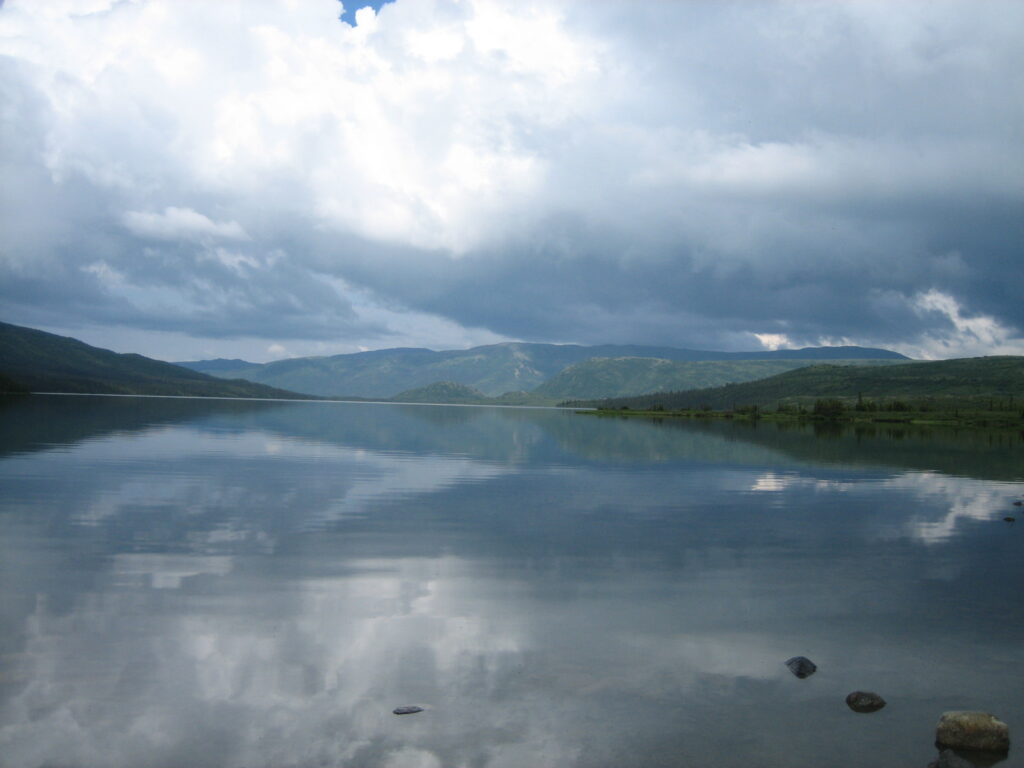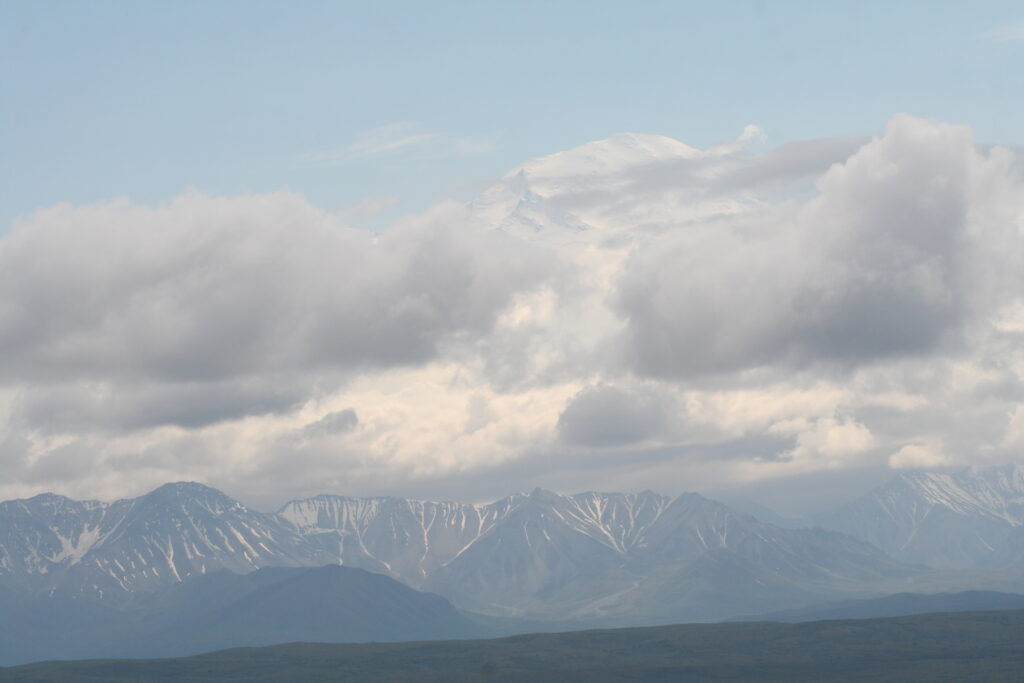 On the way back from seeing Denali and Wonder Lake, the weather turned again, this time for the worst. It was gray and raining and further ahead of us, it had hailed.  The bus had to stop for more than 20 minutes because bulldozers had to clear an unexpected rockslide.
More Adventures Outside of Denali National Park
Denali Horseback Tours
The next day we drove 12 miles north of Denali to Healy to go horseback riding with Denali Horseback Tours.  After a brief intro and safety talk, they lined us up at the stepping ramp to help us get on our horses. The horses are big and hardy for the damp weather. We rode through marshy areas that sucked the horses down to the knee, and up a ridge meadow looking out over the Primrose Range, part of the Alaska Range.  Wildflowers were abundant, but trees were scarce.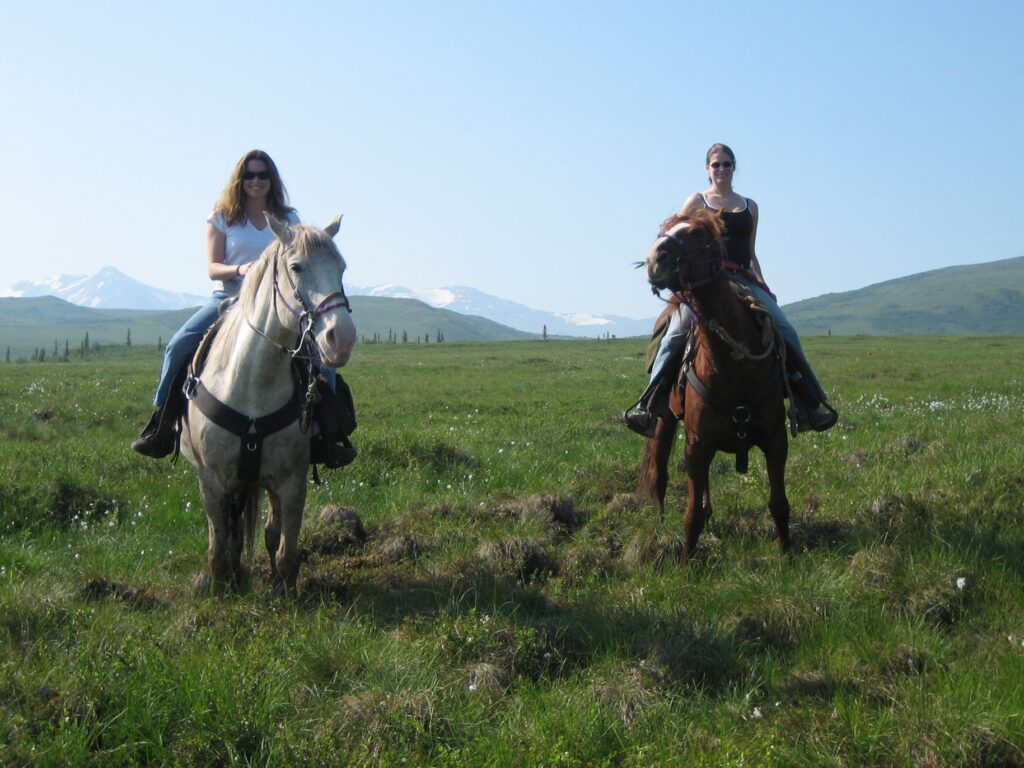 Funny story:  While slogging through the marsh, my horse farted and scared himself.  He tried to take off through the marsh, but only succeeded in kicking up mud onto his haunches, my back, and whoever was unlucky enough to be behind us.  Fortunately, the rest of the ride was gas free.
Whitewater Rafting with Denali Raft Adventures
In the afternoon, we went whitewater rafting on the Nenana River with Denali Raft Adventures. We dressed in dry suits, loaded into the raft with our guide at the paddles, and floated down the river.  The river flowed through a stunning landscape of massive, steep, treeless mountains.
We continued past sheer rocks as the river picked up speed.  In one choppy area, a rogue wave came up over the raft and knocked me down into the boat onto my hands and knees.  Somehow, the 35- degree water managed to trickle down the neck of my dry suit.  If I was comfortably warm before, I wasn't now.  I was shivering for the last half hour of the two hour "float" cruise.
We pulled up onto the shore for a short 20-minute break and I took advantage of the time to warm myself in the sun.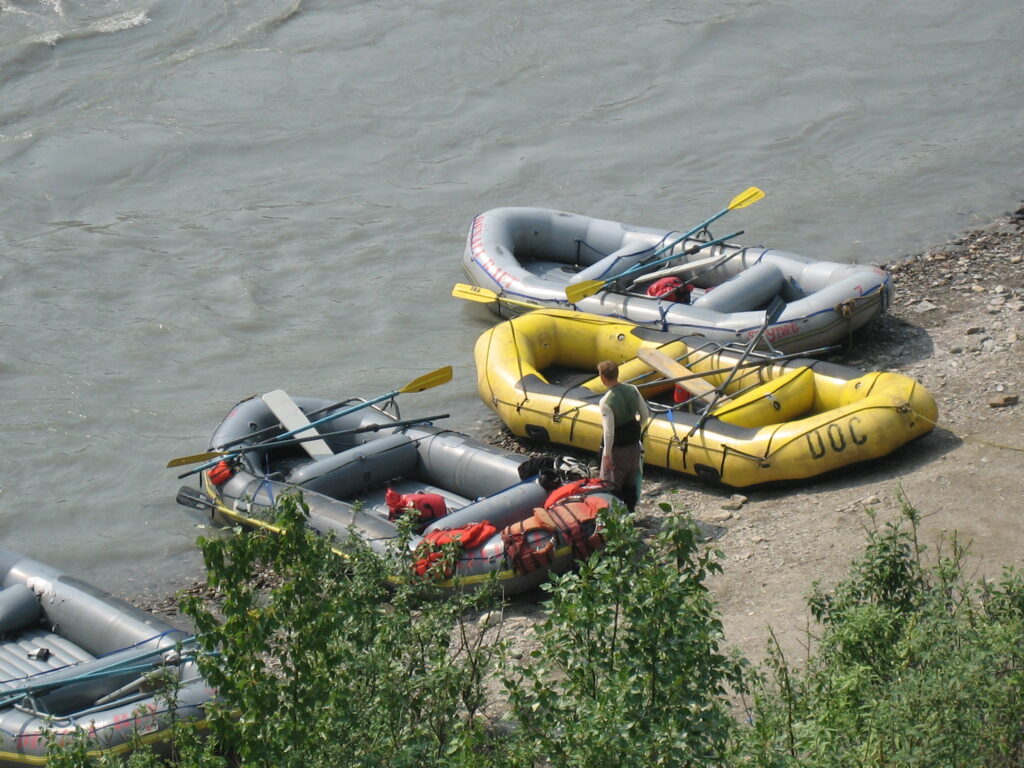 The second part of the rafting trip introduced us to the real Class III rapids on the Canyon Run. Our guide reduced his paddling workload to just steering.  I was cautiously holding on for the first two hours especially after being knocked down, but now I held on for dear life.  The roaring rapids rocked us like a bucking bronco.  We screamed, laughed, leaned when we were supposed to, and raced the other raft through the Gorge.
Glitter Gulch
That night we went to the Salmon Bake restaurant for dinner and live music in Glitter Gulch. Dubbed as the ugliest stretch of road in Alaska, this is the touristy shopping strip outside of Denali National Park. It is a bit kitschy, but that's part of its charm. Tourists can explore the numerous excursions, have some ice cream, pizza or other Alaskan fare, fill up their car with gas, and shop for those unforgettable Alaskan souvenirs.
Alaska is big. Bigger than you might expect. What looks close on a map could take you all day to get to. If Denali is on your list of must-visit places, allow for extra days to not only get there, but to really appreciate the natural surroundings.
Pin This!