Travel Guide to Hiking Peña de Bernal (3rd Time's the Charm!)
Ever since we first visited the tiny pueblo magico of San Sebastian Bernal on a tour in 2017, we wanted to hike Peña de Bernal, supposedly the third largest monolith in the world. Little did we know, it would be more than a year after we moved here, and a few mishaps, that we would finally step up to the challenge to explore this popular nature hike.
Just recently, Peña de Bernal was listed as the "tallest freestanding monolith in the world."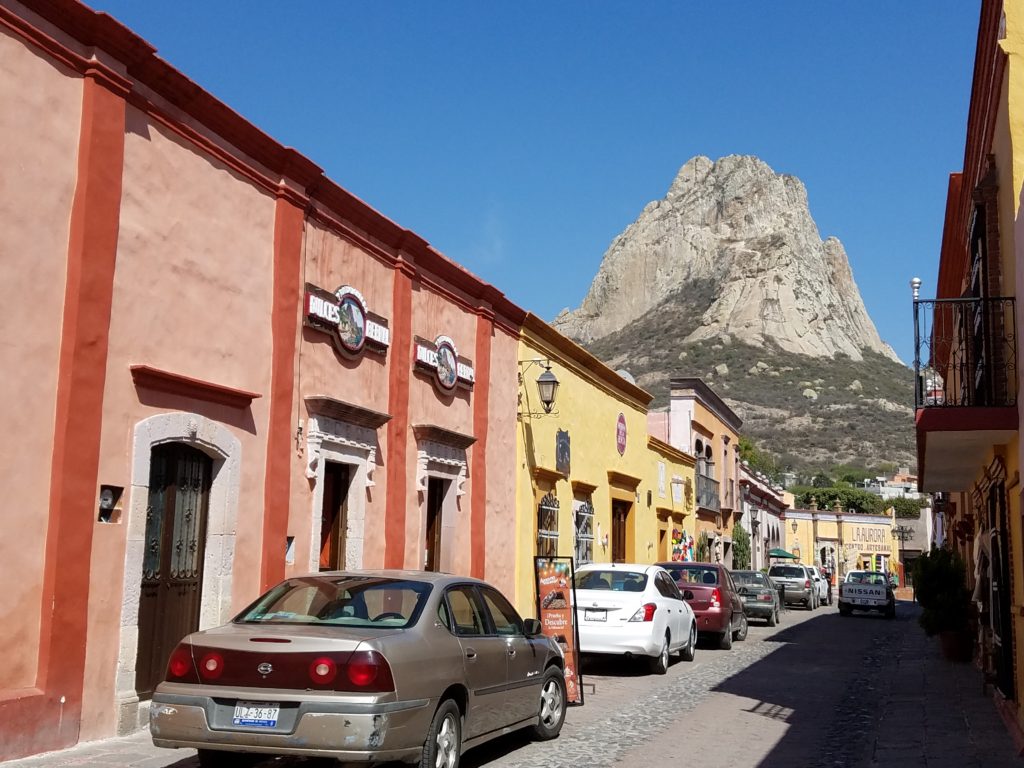 Disclosure: Some links may be affiliate links where we receive a super-small commission at no additional cost to you if you click through and make a purchase. We call this our Chocolate & Churro Fund.
Fun Facts about Peña de Bernal
Peña de Bernal is a monolith composed of volcanic or igneous rock. Translated from the Greek word "monolithos", monolith means single stone. It stands at 433m high above the surrounding area (1420 feet), with a total elevation above sea level at 2510m or 8230 feet, and one of the tallest in the world. Some say it is the tallest monolith in the world, and some say it's the third tallest in the world. Regardless, it's massive.
Here are a few well-known monolith landmarks as comparisons:
Stone Mountain in Atlanta is 251 meters (825 feet) above the surrounding area.
Rock of Gibraltar stands 426 meters (1,396 feet) high above sea level.
Sugarloaf Mountain in Rio de Janeiro, Brazil is 396 m (1299 feet) above the harbor.
Devil's Tower in northeastern Wyoming stands at 1267 feet above the surrounding valley.
Uluru (Ayer's Rock) rock's summit stands 1,142 feet above the desert sand.
El Capitan in Yosemite National Park stands at almost 3000 feet above Yosemite Valley.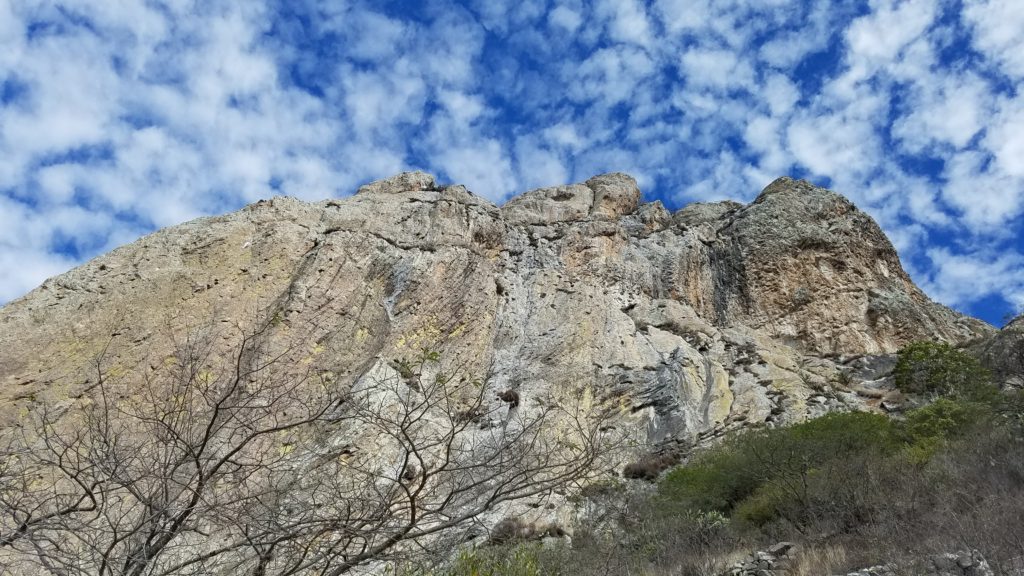 Our First Try:
We had just bought our car and decided to head out to the town of Bernal for the weekend. Our plan was to stay in a hotel overnight and hike the next morning. What we didn't plan on was that I got sick before our little trip. I hardly ever get sick. We had been grappling with immigration and buying the car for weeks, and all the stress taxed me out. So our romantic weekend was not happening. That night, I think every construction truck in the state of Queretaro drove up the main street under our window. By 7am, we were dressed and packed and heading back home.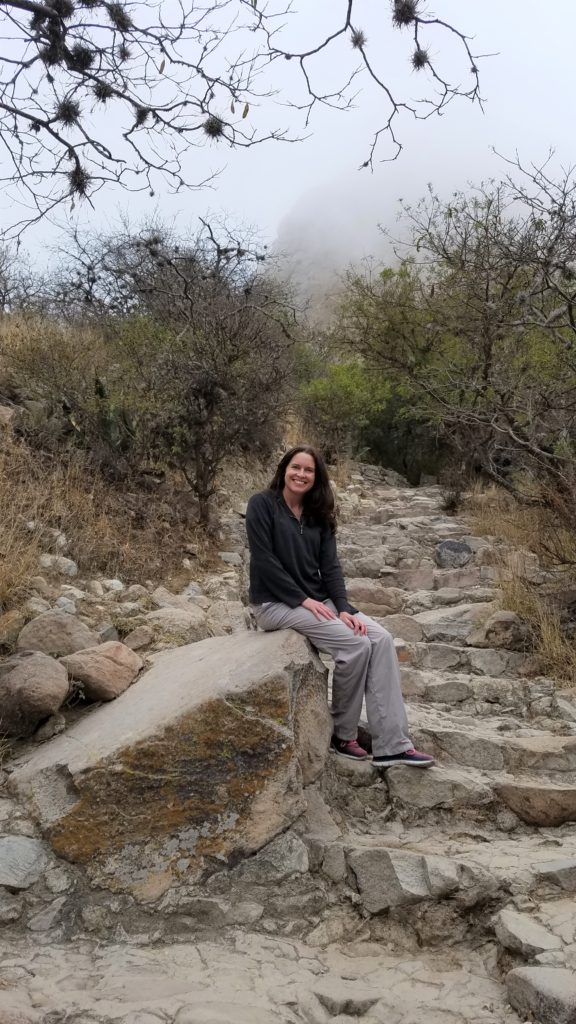 Second try:
For a girl's day outing, we planned to go hiking in Bernal, visit the Freixenet winery and end our day in Tequisquipan.  That morning was unusually cloudy and gray. It had not burned off by the time we arrived in Bernal. We weren't exactly pros at navigating the roadways, so we parked at the lowest part and walked up the street to the base of Bernal. That alone is enough of a hike. It's an entertaining walk with views of the town below and local artisans set up along the way, but it is about a mile uphill before reaching the base of Bernal.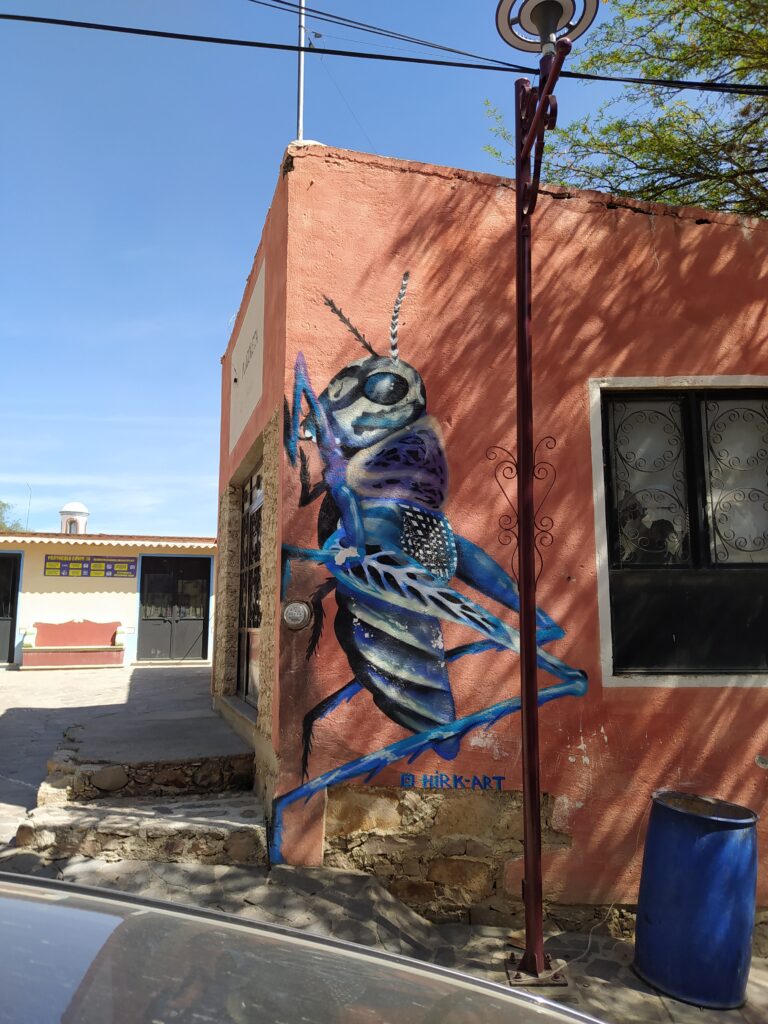 After paying the entrance fee, we made our way slowly up the rocky path, taking many breaks for photo ops. The grayness still did not burn off and a light mist would blow over us on occasion. This made the smooth rock surfaces very slippery. We reached the first platform overlook and I could see ominous clouds rolling in. For safety reasons we turned back.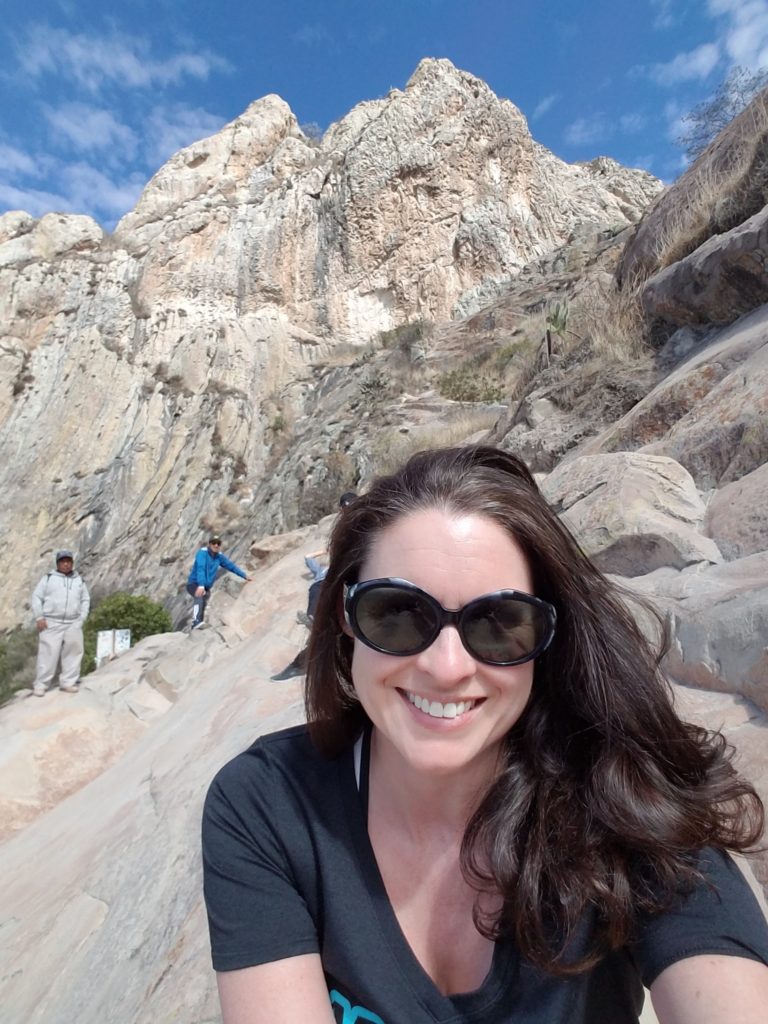 Third try:
Tom and I watched the weather for a week trying to pick the best day to go to Bernal. The weather was getting warmer during the day, and soon it would be too hot to hike out in the sun up the face of the monolith. We chose a day where it would be partly cloudy with a 10% chance of rain (which means it won't rain because this is the desert).
It couldn't have been more perfect. The weather was cool and even though we were in the sun, we didn't feel like we were overheating. The climb was tough in some parts, but the views were spectacular. We reached the halfway point, but the last bit was tricky. Tom made it to the boulder overlook and up the path a little more, but the final ascend to the church on top requires a guide and equipment.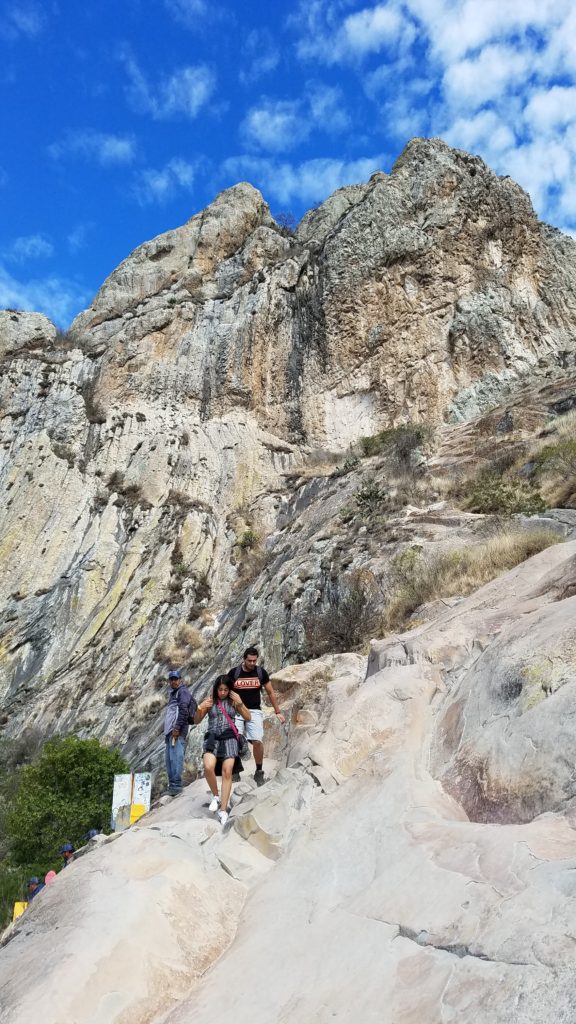 What to know before climbing Peña de Bernal:
Though people of all ages do this hike, it's not easy. The path is smooth white stone and boulders, sometimes cut into for steps, and other areas with a natural incline and plenty of switchbacks. Sometimes the path is wide with plenty of space to rest, other times there's only room for one person to get through.
At the halfway mark, it becomes increasing difficult to pass people going in the opposite direction and at one point your footing is on a smooth 80-degree inclined rock without any footholds. Balance and surefootedness have never been strengths of mine. Tom is agile like a mountain goat, and even he said it was tricky coming back across that one area. Still, we saw 5-year-olds to 70-year-olds traversing the hike, so if you have no fear and great balance, I highly recommend getting out there.
What to Bring:
This hike is just over 2 miles roundtrip, so it won't take you all day, but you do need to take precautions against the sun and dehydration. At just under 7000 feet high at the base, the sun is intense.
The four main things you need:
Sunscreen
Water
Camera
Good hiking boots or grip-type shoes
Other recommendations: hat, sunglasses, maybe some trail mix. I was starving when we made it back to the finish! Many people began their hike with a cup full of chili powdered junk food and nuts that can be bought at the vendor stands leading up to the entrance.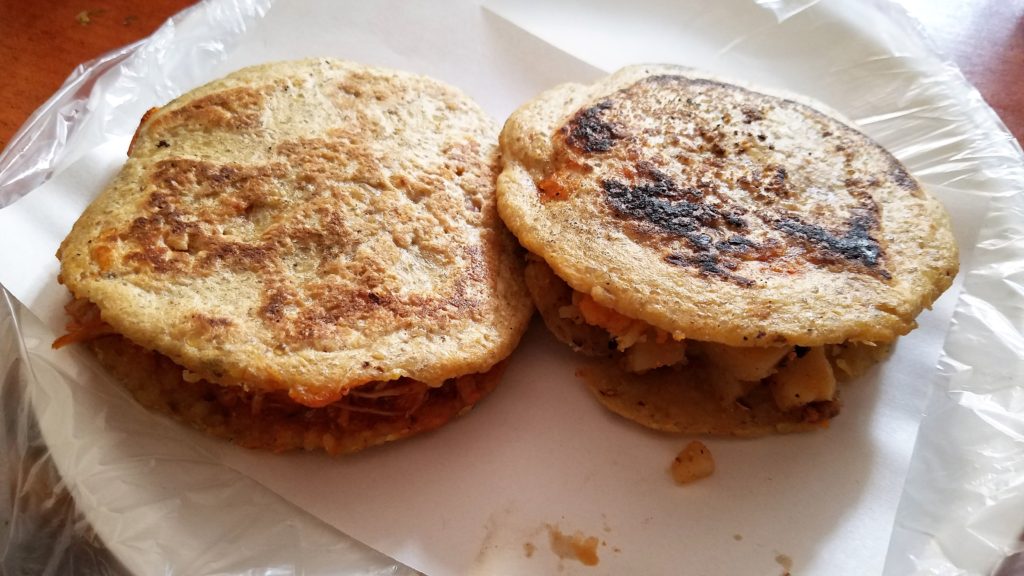 Where to Eat
After your hike, there's plenty of restaurants to choose from at the base of Bernal and in town. Gorditas are very popular in Bernal and very filling. We ate at one of the food vendors just below where the path starts. Prices are ridiculously cheap. We had 3 gorditas, 1 quesadilla, a coke and jugo de Jamaica for 90 pesos (5 bucks!). Other items to try are sopes, tacos and huaraches. If you aren't driving, they also have a variety of micheladas to try.
In town, restaurants offer the same type of dishes, but at higher prices. At night, more restaurants open up, some with rooftop terraces with great views of Peña de Bernal at sunset.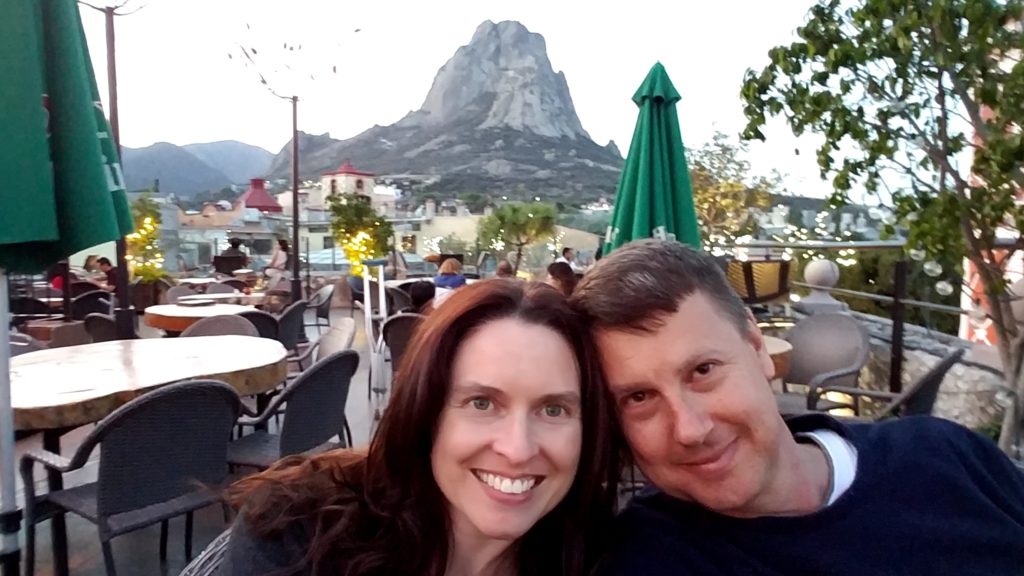 Other Things to Do While in Bernal:
Bernal looks more like one of the worlds at Disneyland. It's small, with a mountain town theme with merchandise and food opportunities around every corner. Though this little pueblo magico is considered a tourist spot, it still maintains its colonial charm, and is a nice break from the big city.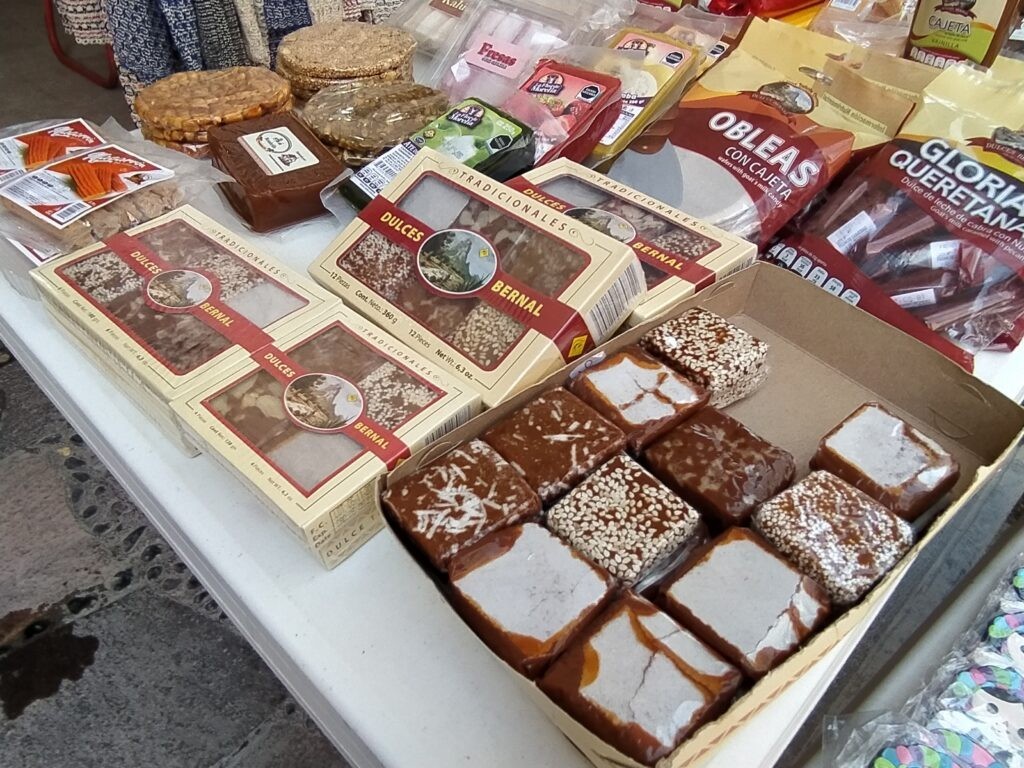 Museo de Dulce and Museo de la Mascara
Bernal is famous for its cajeta, or goat milk caramels, so check out the Museum of Dulce and some of the sweet shops for tasty souvenirs. The museum of masks is a collection of 300 masks from the region and other parts of Mexico and the world.
Shopping
Shopping for clothing is exceptional in Bernal. We found this cute little Peruvian clothing place where the prices are way less than they were in Lima. The store is packed with sweaters, shirts, jackets and dresses. You can find some really cute and unique clothing here.
Other stores have beautiful shirts and sweaters to buy as well. Save your money to shop for excellent bargains in Bernal. And make sure to duck into all the shops and restaurants to admire the architecture and eclectic artwork.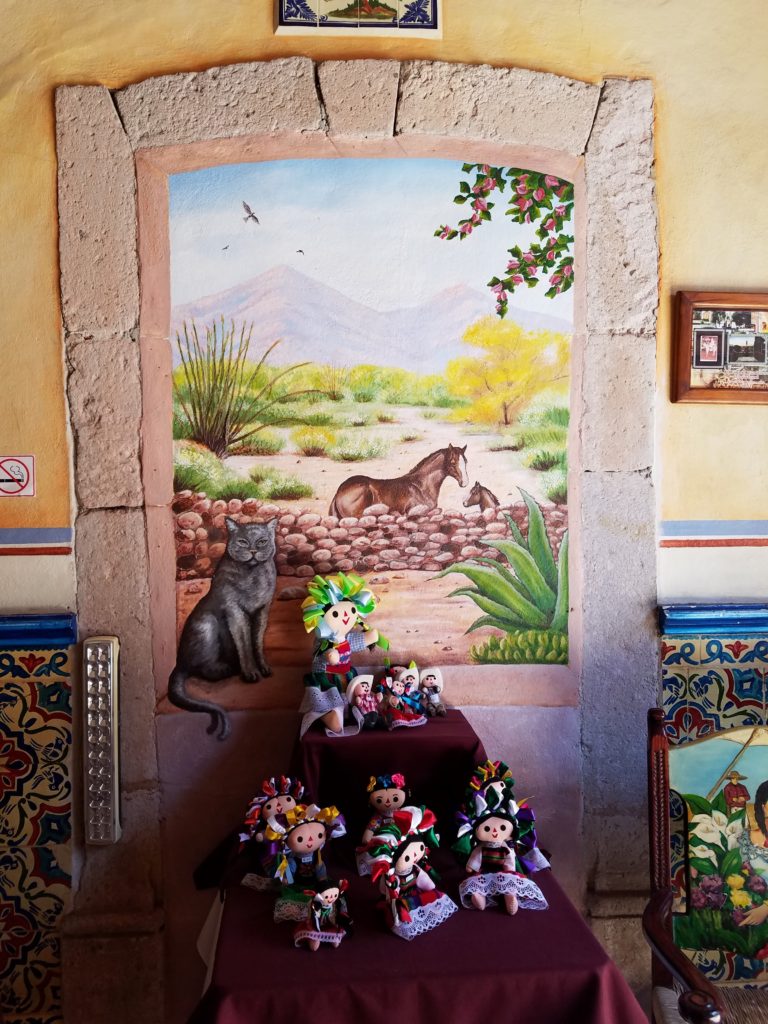 Wine Route from Bernal to Tequisquipan
Bernal is 20 minutes away from a few wineries like Freixenet, Bodegas De Cote and Vinedos Azteca, and 30 minutes from the pueblo magico Tequisquipan. Hotel prices and restaurants are better in Bernal, but there is more nightlife in Tequisquipan. There's also plenty of vendors along the highway to buy authentic Mexican ceramics.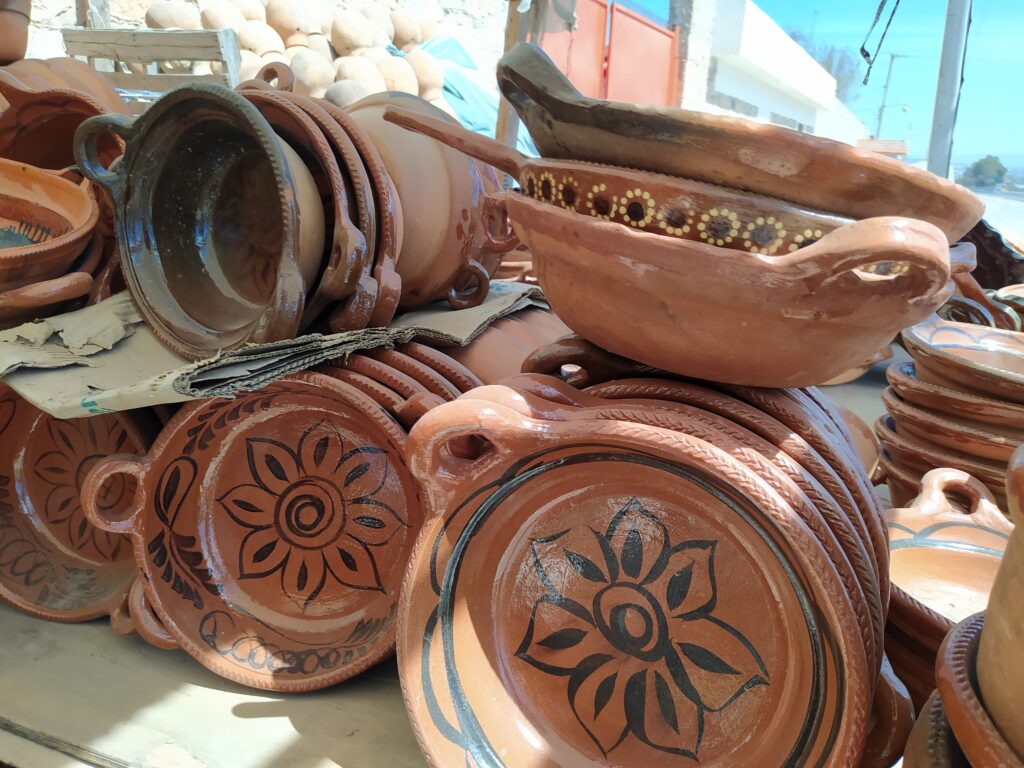 Pair a day to Bernal with some wineries on our one of our tours: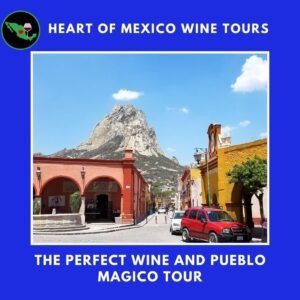 Where to Stay in Bernal:
Booking.com has several choices for you on where to stay in Bernal. We recommend a few of these hotels based on location for you convenience.
If you stay in any of the hotels along the main road Benito Juarez, make sure to ask for a quiet room in the back.
Hotels along Calle Corregidora will get you closer to the base of Peña de Bernal and many have excellent views of the town below. Parking is scarce, so if you are not driving your own car, these hotels are good options.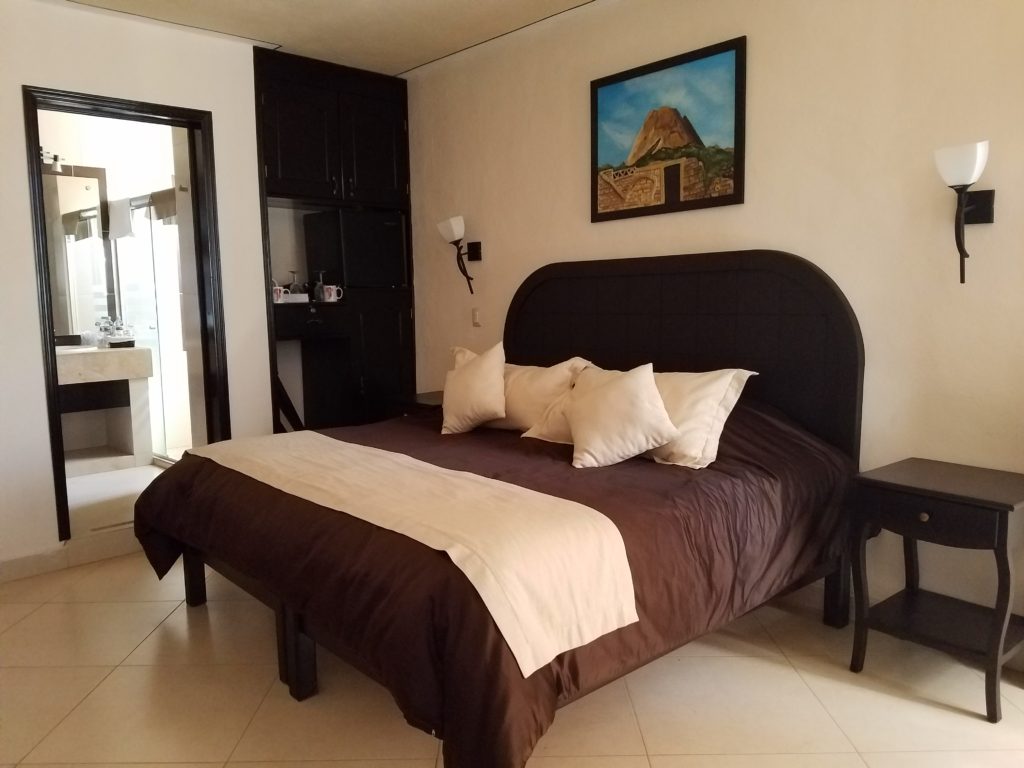 This luxury stone hotel has a solar heated pool, rstaurant, and its own wine cave.
Close to the center: the town street plan is not in a grid so there's plenty of smaller side streets that offer quiet settings.
You can't get any closer to the center of town than Hotel Posada Maria Bonita. Every room has a terrace, but ask for one that has a view of the monolith.
This former 1758 military barracks has been transformed into a gorgeous boutique hotel with its own restaurant.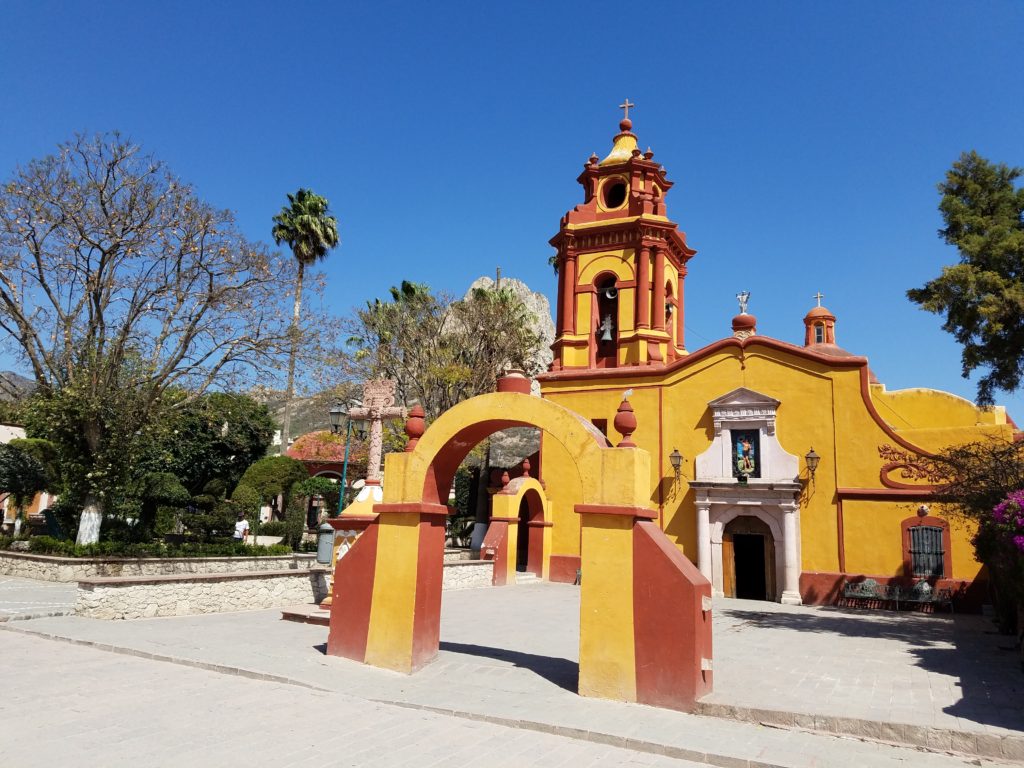 Travel Tip:
If you plan to stay in Bernal overnight at any of the hotels, I recommend not staying at the hotels on the main highway 100. At night is when all the construction trucks come rambling up the road with rocks, cement, and anything else needed to build houses and resorts in the area. Our hotel was right on the main road, Benito Juarez, and though it had great views from the rooftop, the noise all night long was deafening. I didn't get any sleep and by 7am I was done. We headed out even before breakfast so we could get home and take naps.
Stay in one of the hotels leading up to Pena de Bernal (preferably with parking because those hotels will have some space to buffer the road noise) or in the center part of town where there is less traffic.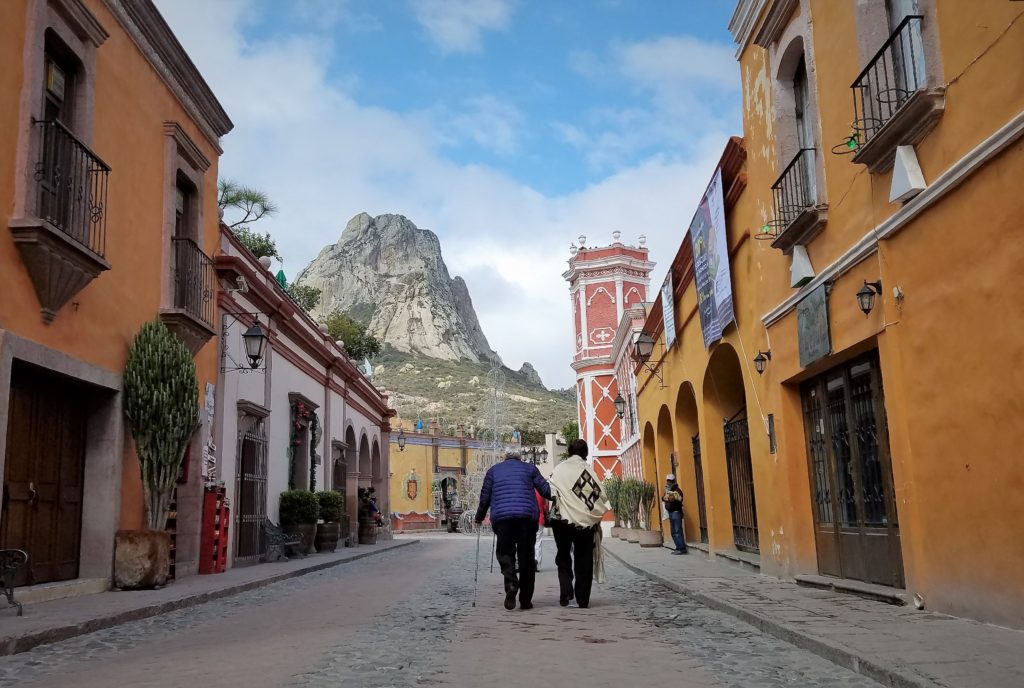 Minimum Time You Need in Bernal:
2 hours without hiking
4 hours with hiking
Bernal is a favorite weekend getaway for Mexican locals and a popular tourist attraction for foreigners. You can visit Bernal on the Wine and Cheese tours (full day trip) from Queretaro or Tequisquipan. If you have more time stay overnight. You'll practically have the town to yourself after the tourists leave for the day.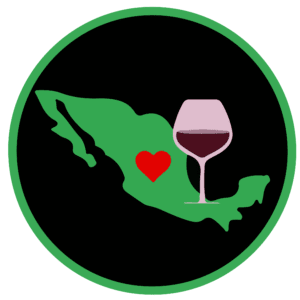 Click the picture to learn more about our tours.
PIN THIS!