Our Advice After 4 Years of Living in Mexico
It's hard to believe we've been living in Mexico for four years. It really doesn't seem that long. Time moves at a different pace when your life isn't consumed by work and a commute. That's not to say it's a vacation every day. Sometimes it's far from it. But we will say that the good far outweighs the bad, and every day is a new learning opportunity.
I find it interesting that many people have the dream of moving abroad, but don't because of fears; fear of not being able to understand or speak to others, fear of not making friends, fear of not being in familiar situations. Our four years has had its fair share of ups and downs, but if we gave into fear, we never would have had this time together, known more about Mexican culture, and met people who have become like family.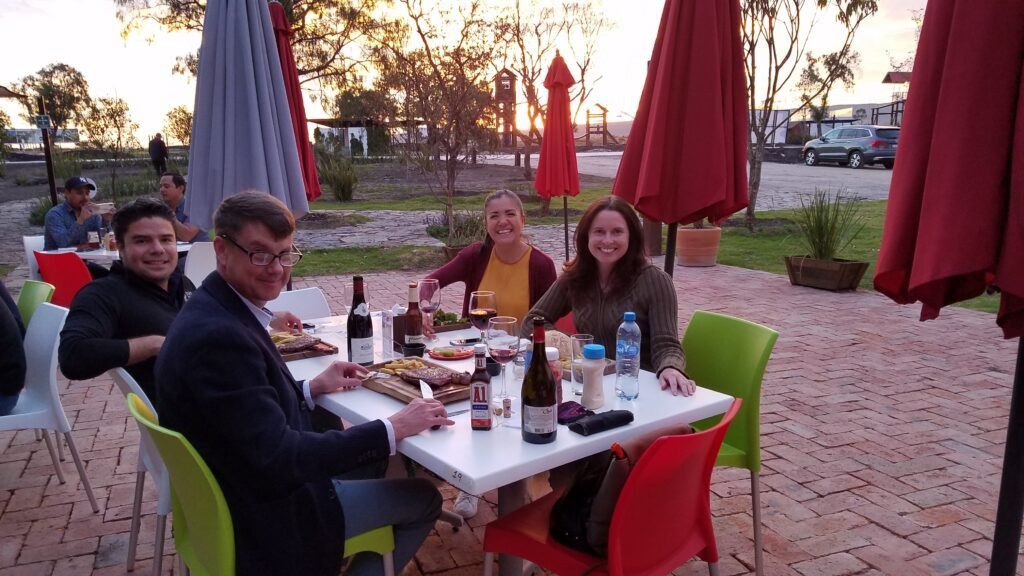 The First 100 Days Living in Mexico
The first 3 months in a new country will be chaotic. If you know this upfront, it will be easier to handle the rush of responsibilities and feelings in a new place. There was a long list of things we needed to do when we arrived:
We relied heavily on our realtor when we first arrived because he was the only person we knew. We learned that the old people who bag groceries at the grocery store work for tips only. They are not employed by the store. He showed us that many shopping plazas and malls have a ticket system and if you get your ticket stamped, you get the first two hours free.
The first week we met with our lawyer about the visa process. In 2018, it took a month to get a residency visa. In 2022, you can get it done in one day (lucky you!). We also found a house in a nice neighborhood and bought our refrigerator, living room and bedroom sets.
The second week we moved into our new rental home, set up our bank account, and waited around for deliveries.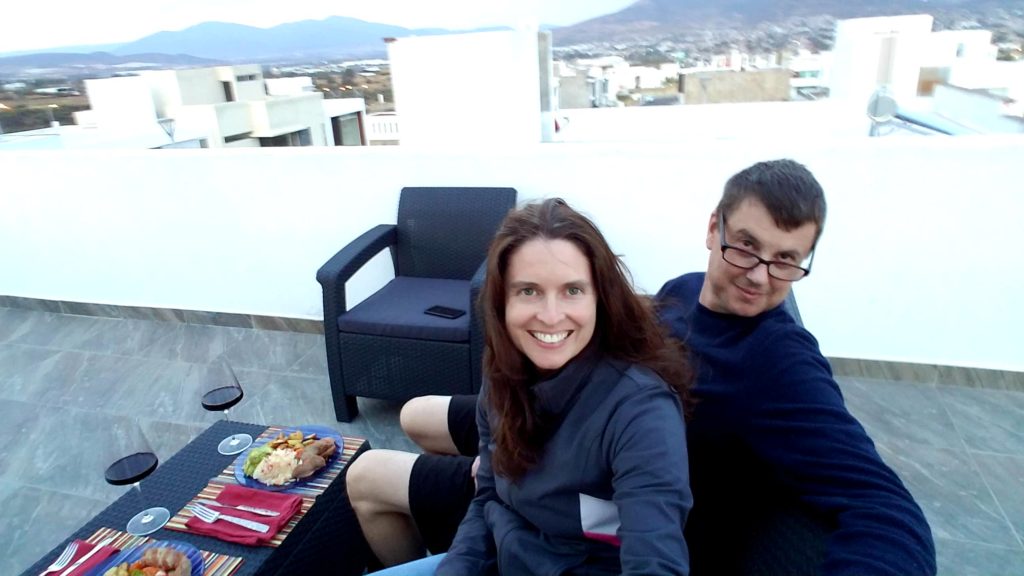 Sounds like things were moving along pretty well, huh?
Well, in writing, things always look better. We bought a car and finally received in 3 weeks later. Deliveries arrived, but not on the set dates. We were lucky to get our refrigerator 2 days after ordering it, but it took 3 weeks to get the 55" TV and a month to get the dryer. They were all supposed to be delivered within two weeks. The dryer was a challenge because it used natural gas and we had LP gas in our house. It took another month to get a technician out to convert it, but he was efficient and got it done in just a few hours. No more crunchy air-dried clothes. Yay!
Once we had a car, we purposely went out and got lost (and had a car accident in the first 3 days). Google maps only shows you some key things on their app, but there's plenty of mom'n'pop restaurants, food truck stations and other retail areas that are not on google yet. As my grandmother used to say, "just go with the flow". We found churches tucked away on back roads, a butcher that spoke a bit of English, and made a mental list of "favorite" places to eat and shop.
Did We Learn Spanish Before We Moved to Mexico?
Technically, no. We should have. We knew enough Spanish to order at a restaurant, basically "food Spanish". The Spanish language isn't difficult, but it does take practice. Going out to eat, buying food at the market and even buying furniture were not difficult because things were labeled. Where we have fallen short and continue to struggle is when we need to talk to the car insurance company after an accident, talk to customer service about installing cable or internet, and most especially the construction of the house.
Are We Fluent in Spanish Yet?
Not by a long shot. But we try.
You may feel you don't know enough Spanish to get by, but you would be surprised. I still don't say many full sentences especially if I want to convey something in the past or future, but Mexicans are very helpful and very forgiving of you butchering their language. Practice with your neighbors, the people at the bakery, or even with a bartender. The more you practice, the easier it will be. Most people have Google Translate on their phone and are genuinely interested in making you feel welcome.
And if you are really in a bind, like having to deal with customer service, ask a neighbor to help you. They know it's difficult to understand and get things done in their own language, and many of them are very sympathetic to you trying to do things on your own.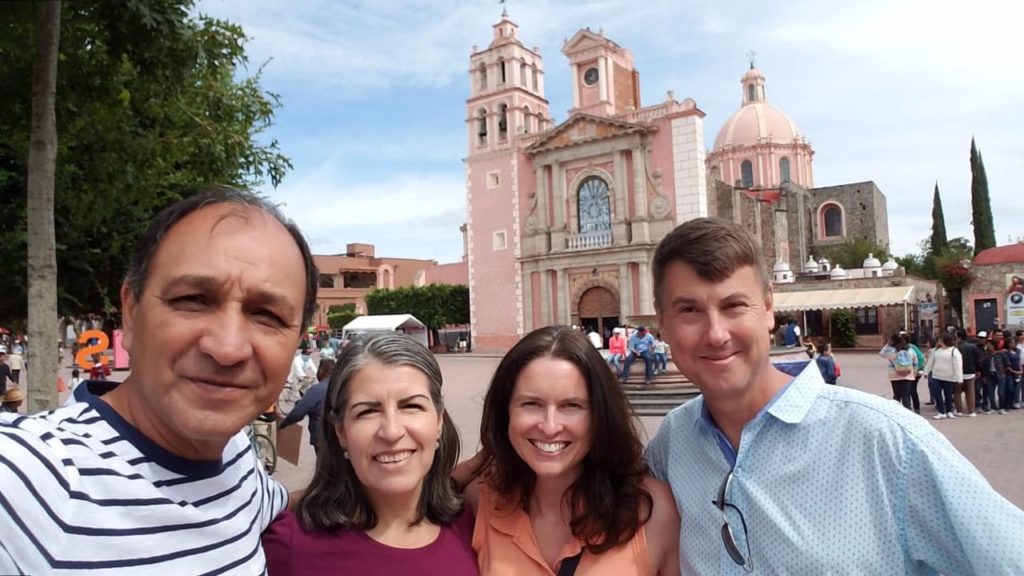 Tip: When you talk to your neighbors, let them know its ok to correct your speech. You want to say things correctly, and in their culture it's impolite to correct someone. No one corrects me on my verb tenses, and only two ladies have corrected my sentence structure but only when I asked them to.
Greeting Someone Is a Thing in Mexico
Saying Hello, Thank you, or Goodbye may be as far as a tourist interacts with the locals, but when you live here, you become part of the community.
Where we live, people make eye contact and say a greeting you. I won't say this happens everywhere, but when you are in smaller neighborhoods it can be commonplace. So knowing when and how to greet people is important.
Hola! Buenas dias!   Hello, good morning.  (any time before noon)
Hola! Buenas tardes! Hello, good afternoon. (from noon to sunset)
Hola! Buenas noches! Hello, good night/evening. (after sunset and its getting dark)
Stop to Chat
It's also polite to stop and have a conversation. This took us awhile to get used to. We were so laser focused on our schedule and what we needed to accomplish each day but rushing around like that is just rude. You learn that things will get done eventually, but human interaction is key to living in Mexico.
When we first moved into our rental neighborhood, I would take the dog for a 25-minute walk like I did back in Florida. But some days I would be gone for an hour. Tom would always come looking for me, and I was usually held up in conversation with a neighbor just a few houses down.
There will be days you just don't feel like talking to people, but again, that would be rude. Mexicans are very friendly and want to make sure you feel welcome. I have to say that even after a bad day, a short conversation with a neighbor always lifted my spirits. Our neighbors were fantastic and really made us feel like part of the community. They invited us over for the Christmas posada, Independence Day cookout and would not take no for an answer for the New Year's Eve celebration even though we were in our pajamas.
Asking for a Favor
Even asking for a favor is different here. Americans get right to the point, but Mexicans do not. They ask about each individual person in your family, the dog, talk about the weather, hobbies, etc. Thirty minutes later they might ask you for the favor. It's very sweet, but sometimes you just want them to get to the point.
Having said that though, we've had our fair share of asking for favors, too. We always try to do things ourselves first like contacting furniture stores about delivery by writing out some phrases. There were times when we got lucky, and everyone sort of understood what was going on. But sometimes things did not go well like the time our cable and internet was turned off because we didn't pay the bill for two months. The problem was we never received a bill to know when or what to pay.
Customer Service Will Test You
The typical response when dealing with any customer service is that we would get another number to call, transferred to someone who supposedly spoke English but didn't, or they would just hang up on us.
After many tries, it was just easier and faster to ask a neighbor for help. Even though I say faster, sometimes it would still take over 2 hours to get the problem solved. We've asked our neighbors to help us with the set-up call for cable and internet and talking to the car insurance. We've even had our friends drive us down to the car repair place to help with translation.
Lesson learned: You should learn the language, but there are things that are not commonplace in regular conversation like car parts and insurance jargon. Your neighbors will be your most valuable resource, and they get it. It's not easy to get things done here even if you are fluent in Spanish.
Mexican Time Is Real
When we first arrived, we were still in that American mode of "get things done". We had lists of things to accomplish by 12pm just like we did in Florida. We quickly learned that if we accomplished one thing per day, we were doing great. Three things in a day and we were on fire! Sometimes the only three things we accomplished were showers, walking the dog and calling my Mom,  but hey, that's 3 things!
Time moves at a different pace here, and if you don't adapt to it, you'll be frustrated with everything and everyone. The set up of our internet was supposed to be 10 days, then 10 business days. On the 12th business day, I stole a technician from someone else's house to get it installed. It took 74 days to get cable. Furniture deliveries can take a week to 4 weeks, and sometimes drag on for 8 weeks. It's hard to be flexible when you spend your entire day waiting for something important to show up, but that's the way things are here. Just know that they do it to everyone and don't take it personally.
We have mellowed out (which is a big thing for Tom) and take things more in stride. We know our Mexican friends will be an hour late, that we need to stop and talk to neighbors, and that eating out is an "experience" not a race. It's all good. Nothing is an emergency, and your errands will still be there tomorrow.
Is It Safe to Travel in Mexico?
Despite what you see on the news in your country, Mexico is safe, as safe as any other country. You can travel by car, but it is recommended by local Mexicans not to travel at night. Buses are a great way to travel from city to city if you don't have a car or don't want to deal with parking issues. There are some towns to avoid, but overall Mexico is a fun country to explore.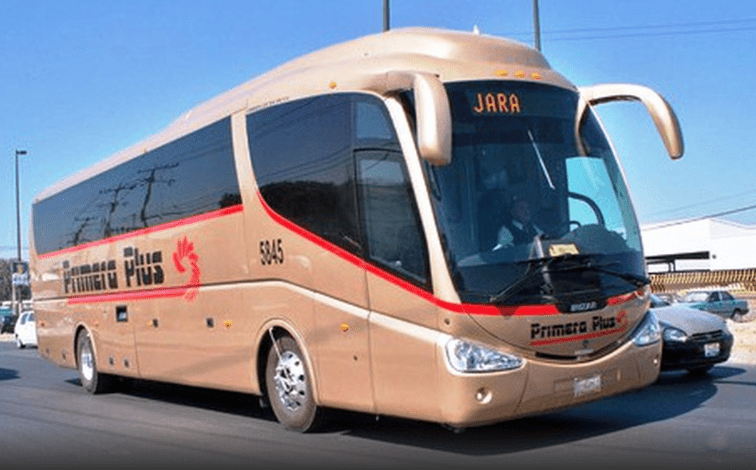 We encourage people to travel whether by car, bus or airplane. We've taken a luxury bus roundtrip from Queretaro to Mexico City for $44 USD. Domestic airlines are between $70-120USD.
The first two years we were learning our way around Queretaro and San Miguel de Allende. We took extended trips to Guadalajara by plane, Mexico City by bus and a road trip to Puebla in our own car.
In 2020, we had road trips planned to Aguascalientes and Zacatecas and through the Sierra Gorda mountains for hiking and waterfalls. But then COVID hit, and we were homebound for over a year. If COVID hadn't happened, we would have done a lot more traveling and started our wine tour business much earlier.

Has the "Newness" Worn Off After 4 Years?
This question recently came up from one of the people on our tours. When we think about the "newness" of a place, we picture the excitement of discovery. That newness has graduated to a familiarity that invites us to explore further.
When we visit Centro, we always find new restaurants or bars to check out. We visit Bernal often on our tours, but it hasn't lost its small-town charm. Many of the people we pick up for our tours in San Miguel stay in Airbnbs. This means its always an adventure picking them up on the narrow roads, but it also gives us a new area to explore.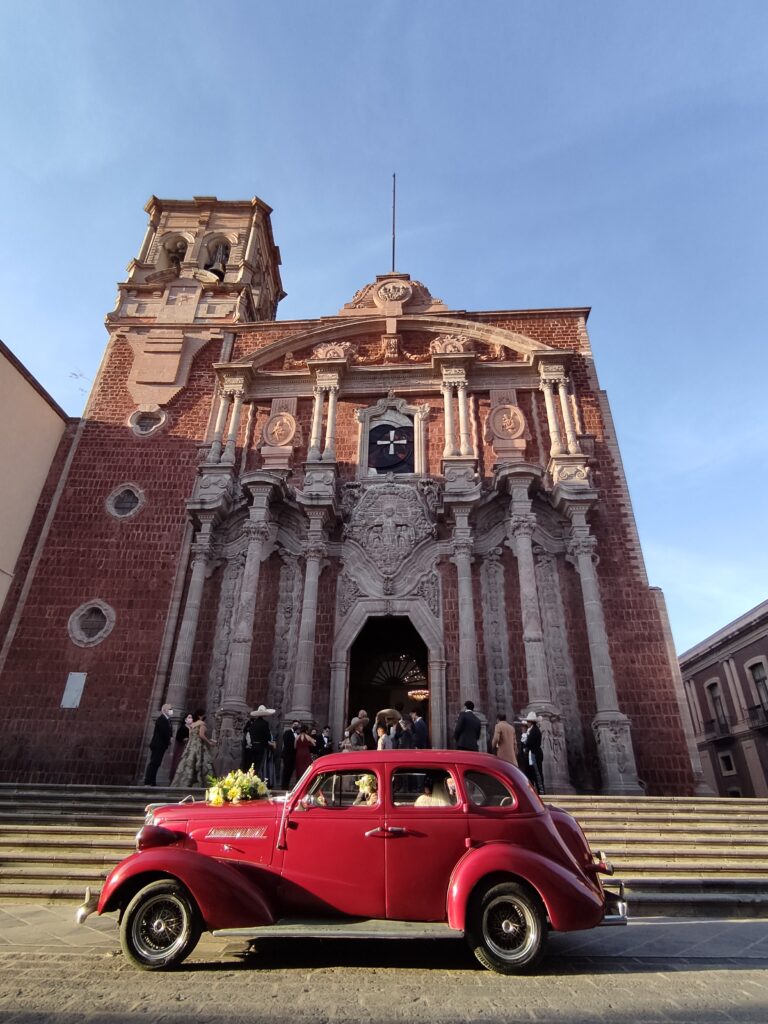 What's Been the Best Part of Living to Mexico?
We can't name just one thing as the "best". The people are absolutely wonderful. What's been great about living in Mexico compared to the States is that we have time to spend together and time to explore our passions. With the low cost of living and being able to work remotely, opportunities abound especially in marketing.
We did not have the idea to start a wine tour business when we moved here. Our wine experience just "fit" to help promote this wine region. You may find your skills are needed in other industries around Mexico, or maybe you can finally turn your passion or hobby into something profitable.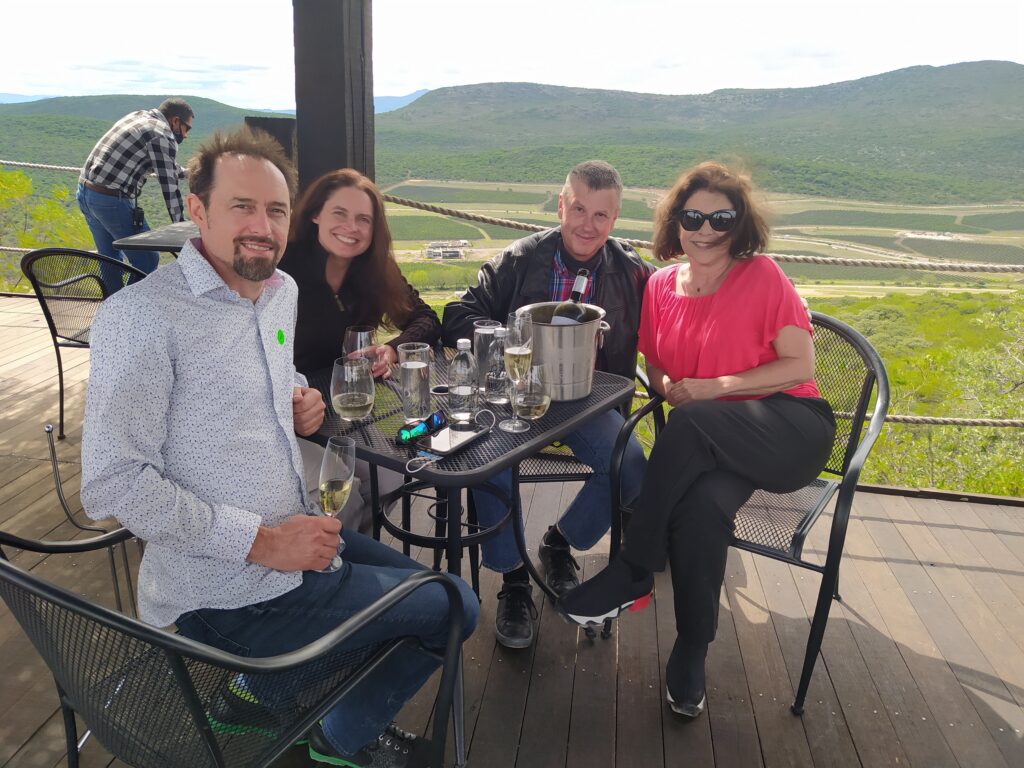 What's the Worst Thing About Living in Mexico?
There's always a "worst thing" somewhere. The worst thing about living in Mexico is trying to get certain things accomplished within a reasonable time frame. Recently, our car was damaged by a rock exploding underneath. We've been going back and forth with the car insurance company, Honda service shop and now we've added the bank into the mix. I know all 3 English speaking insurance agents that only work Monday through Friday. We aren't being told what we need to do to get things done and that is very frustrating. We will write a post about it once we have a conclusion to the situation, though that might be in another 3 months.
What's the Best Advice We Can Give to Someone Thinking About Moving to Mexico?
The best advice we can give is to be adaptable.
You may not be able to pay for all your bills through your bank. That's ok, that's what convenient stores like OXXO and SuperQ are for. Seriously.
**Buying a car will take at least a week or two, not 3 hours. You don't just drive a car off the lot. Money needs to be transferred and then the car needs to be trucked in from some distant supply lot.
**Except for Amazon.mx Prime, things probably won't be delivered on the day promised.
**Driving in Mexico takes nerves of steel. You will see people reversing on the highway because they missed their exit and people stopping in roundabouts even though they have the right of way. We always feel like a nap after driving around.
**Mexicans love to celebrate. You will hear fireworks and mortars going off all the time. Your Mexican neighbor may have a karaoke party until 4am. You can't complain, that's rude and you will create an enemy. Either invest in good earplugs or white noise headphones or go join the party.
Last Bit of Advice…
When you move to Mexico or anywhere for that matter, you make it what you want. Trying to recreate your American life elsewhere is a sad way to live. There are so many wonderful things here to experience and made even more meaningful when you become part of the community. Some things are just better, other things take some creative genius. Make an effort to meet and talk to people, not just other Americans. Your Mexican friends may just become family.
Relocation Consultation
Do you have questions on prices, neighborhoods, and expectations about starting your new life in Mexico? Ask us directly! We can set up an hour long video conference call on Whatsapp and help answer questions that pertain to you and your lifestyle. Our consultations are $70 USD for an hour. If we go over the allotted time, no worries. We won't charge you extra. We want you to get the answers you need to make the best decision for a new life. Plus, we will send you a follow-up email with resource links specifically for you.