10 Dishes You Have to Try in Puebla (and the Restaurants to Try Them)
Puebla is known as one of the gastronomic regions in Mexico, and recognized under the UNESCO catagory of Intangible Heritage.  The people of Puebla have been practicing their traditions for thousands of years, well before the Spanish arrived and even before the tribes of the continent were recording their history. Traditions of planting, rotating crops, tools and utensils for grinding and grilling corn and chilis have not changed for centuries.
Though many of the pre-hispanic beliefs have faded away after the Spanish arrived, the people did not lose their culinary traditions. Today, Poblano cuisine is a fusion of indigeneous, Spanish and Arabian techniques to create something uniquely Puebla.
Here is a list of some popular dishes to eat from Puebla and the best restaurants to try them. I added the restaurant links into this post if you would like to check their menus and location.
Mole Poblano
The signature dish of Puebla is mole poblano. This dish is a smorgasbord of ingredients that may seem thrown together (and maybe at one time it was), but today it's an art form. The two key ingredients are chocolate and chilies to give it its rich chocolatey taste with some heat at the end.
The best restaurant to sample mole poblano is at Augurio. Have you ever tasted something that just made you stop and savor the delicious richness of it? Yeah, that's what this is like.
Different Moles
Both states of Puebla and Oaxaca claim to be the origin for mole, but regardless, both create exceptional moles from incredible ingredients and technique. Other moles to try while you are in town are the pipian verde (green pumpkin seed) mole and the mole rojo (made differently at every restaurant). Some restaurants will even have their own signature mole like Meson Sacristia de la Campanio in Los Sapas. Try them and let us know what you like the best.
Los Sapos is a must visit for foodies, shoppers and instagrammers! Check out our post: A Shopper's Paradise in Los Sapos, Puebla
Cemitas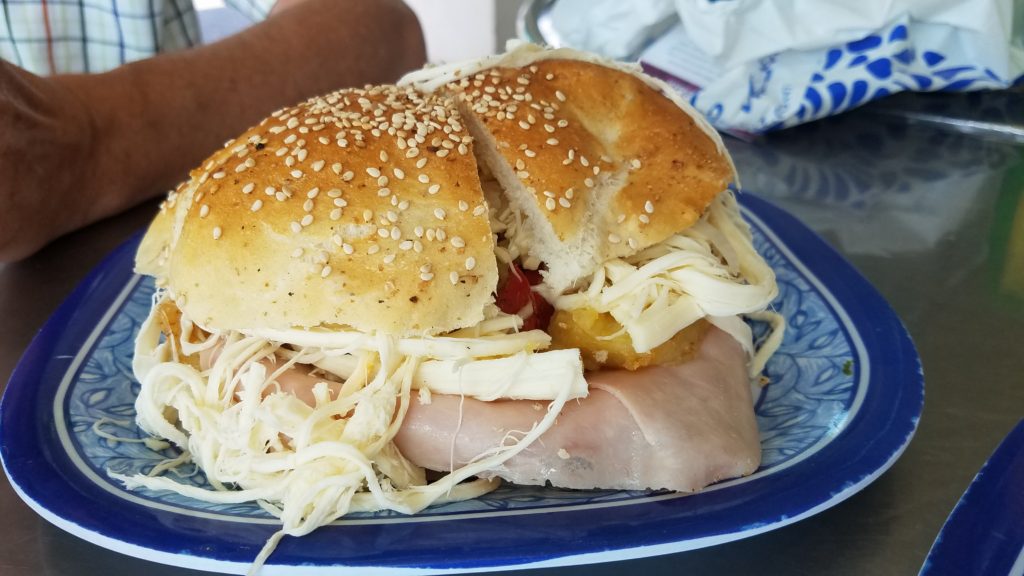 Cemitas are sandwiches piles high usually with a flattened breaded piece of chicken or pork (milanese), Oaxacan cheese, avocado and slivers of jalapeno. Cemita refers to the type of bread used for this sandwich, a type of brioche  covered in sesame seeds. These sandwiches are delicious and extremely filling. The Mercado de Sabores near Talavera Uriarte is a food court of several cemita vendors. But for the best cemitas, you don't have to go far in Centro. El Mural de los Poblanos has a nice appetizer of 3 different small cemitas, but the ones we liked best were just around the corner from the antique markets in Los Sapos called Cinco Cocina Urbana. Their small cemita was plenty, and we could split the larger one between the two of us.
Pelonas
Pelona is also a sandwich of shredded beef, lettuce, refried beans, spices and crème fresca made with fried bread. The bread is bathed in butter, then fried to give it a crispy texture. Sorry there isn't a picture. I can only eat so much bread.
Tacos Arabes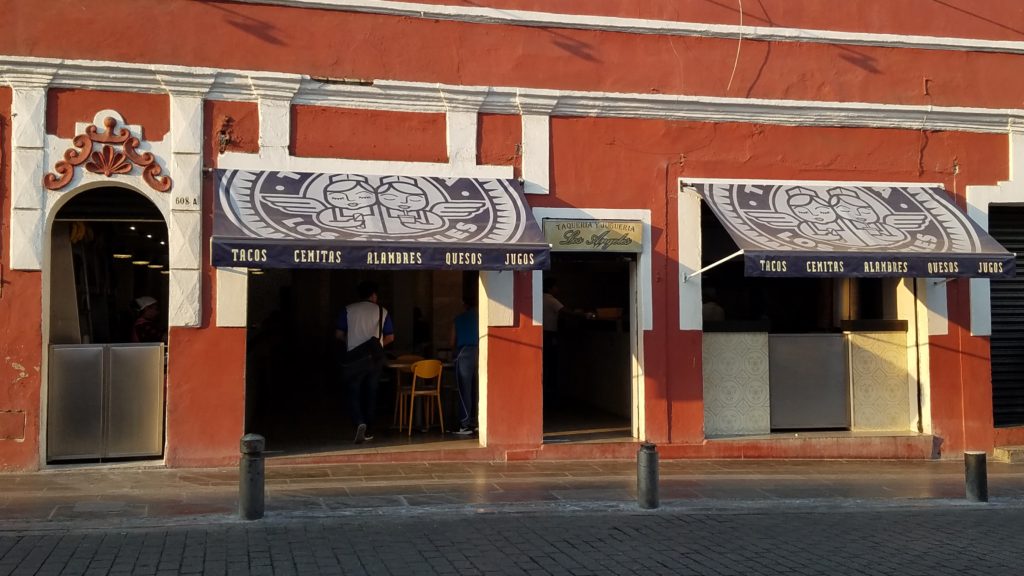 Translated, tacos arabes means Arabian tacos. Really, it's meat carved off a spit, made crispy on the griddle and rolled in a soft taco shell. Add sauces, onions and chilis as you like. There's nothing really elaborate about it, but it is a really good taco. Tacos Arabes are on most restaurant menus, but we liked Taqueria y Jugeria "Los Angeles" located on Av. Don Juan de Parafox y. Mendoza just a block from Los Sapos. Many locals go here, and the tacos and smoothies are delicious!
Chalupas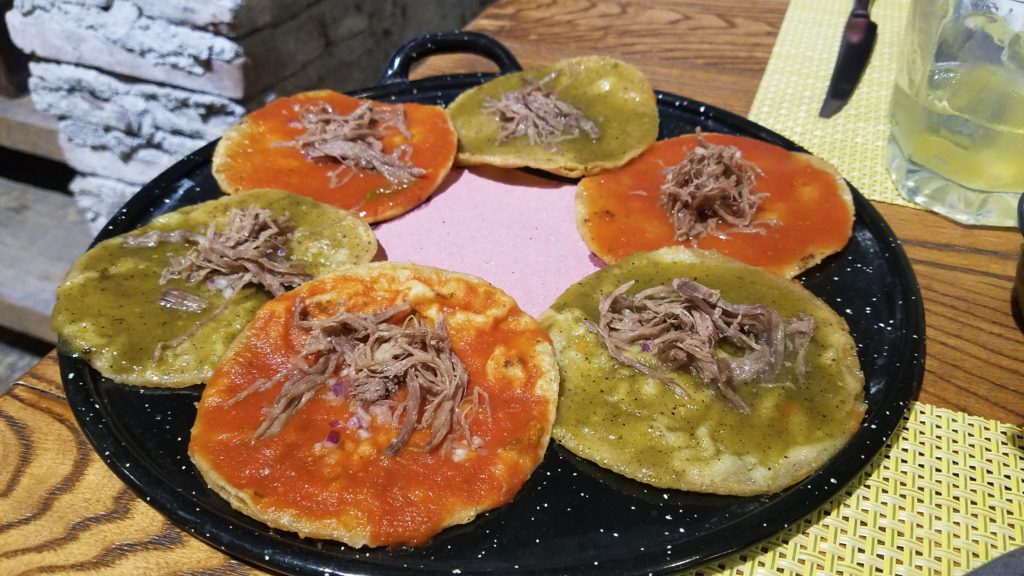 Here's a great snack or appetizer. Chalupas are fried corn tortillas either smothered or dipped in sauce with shredded chicken or pork and a little onion. The green salsa is always my favorite, but both are good. What's the best restaurant to eat chalupas? Anywhere. Almost every restaurant has them.
Molotes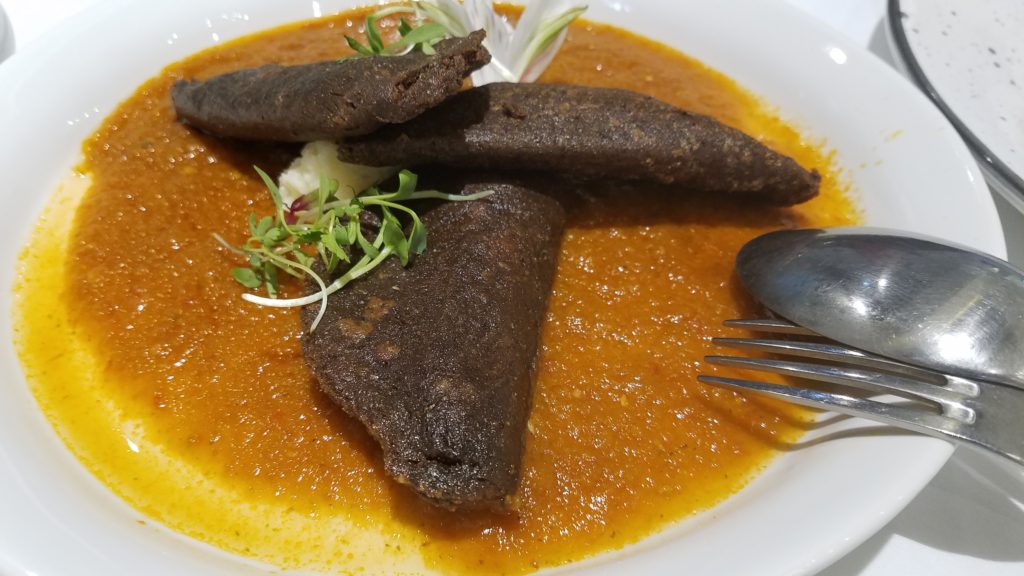 Similar to empanadas, molotes are a corn tortilla with a filling consisting of meat, onion, chilis, cheese and potatoes, fried and served smothered in salsa and cream. The molotes at Casa Barroca were a little more elaborate than your usual street food or mom'n'pop eatery. These consisted of rabbit, squash blossom and corn smut known as huitlacoche.
Chiles en Nogada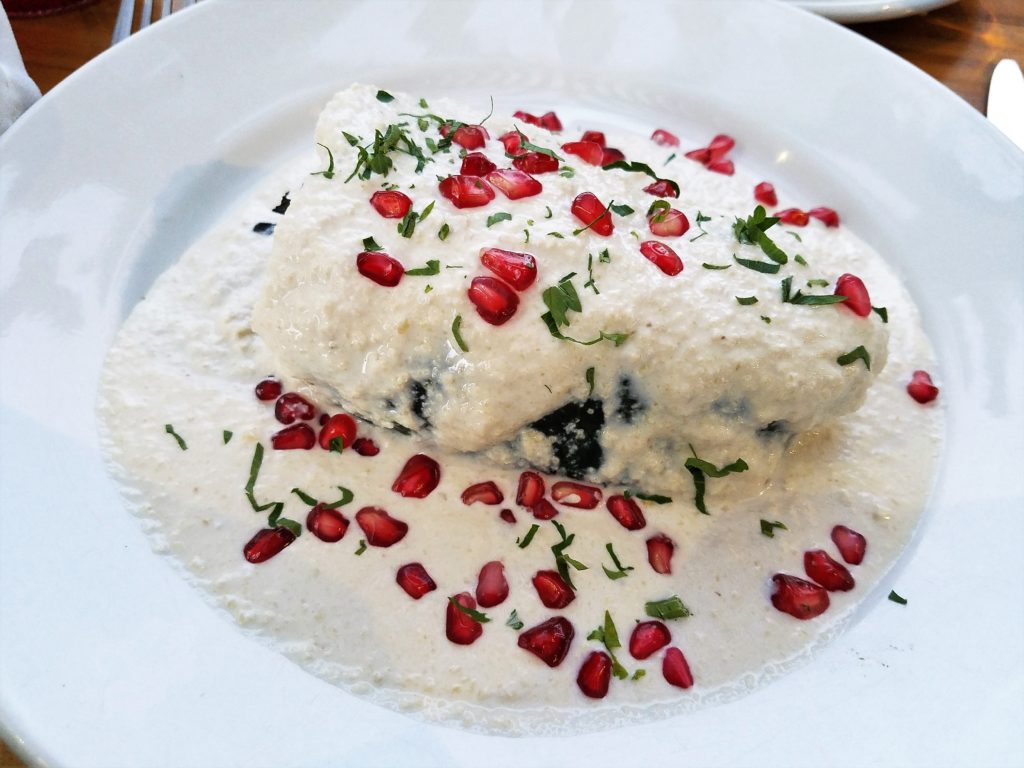 My favorite Mexican dish chiles en nogada was created right here in Puebla. This roasted poblano pepper is stuffed with ground meat, raisins, fruits and spices, covered in a creamy walnut sauce and sprinkled with pomegranate seeds. The colors of the green poblano, white sauce and red pomegranate seeds represent the colors of the Mexican flag. This dish, like so many, was created by the nuns of Puebla for a royal dignitary's visit, in this case the Mexican army general and future emperor Augustin de Iturbide. Between August and September, every restaurant will be serving Chile en Nogada but I would definitely try it at Entre Tierras.
Escamoles and Other Seasonal Insects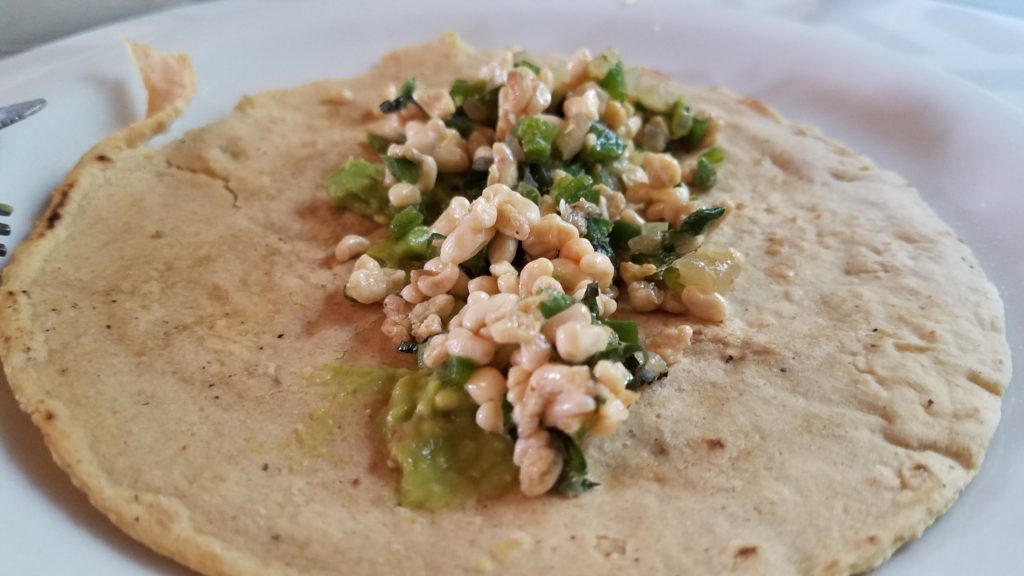 Insects are a big part of Mexican cuisine. Start with escamoles with guacamole and tortillas. Known as Mexican caviar, escamoles are ant eggs or larvae. They don't have faces or legs, and if someone handed you a plate of them without telling you what they are, you'd probably think they were potato risotto. They have a mild taste, creamy, almost buttery. If you can't get past the mental image of an ant, smear a scoop of escamoles into a tortilla, cover with guacamole, roll up the tortilla and take a bite. The guac covers up any of the taste. Don't knock it til you try it!
For the more adventurous, El Mural de Los Poblanos menu has a special section on seasonal delicacies such as cocopaches (beetles), maguey worms, chicatanas (ants) and cuetlas (butterfly larvae).
La Pasita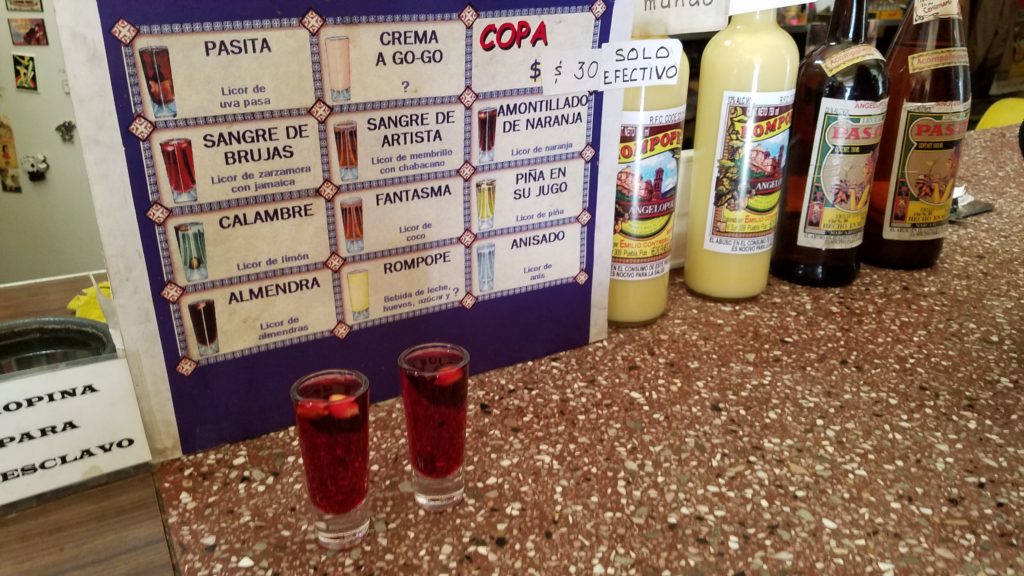 It's not a food, but I have to mention it. A pasita is a shot of a raisin liquor served with a raisin and piece of goat cheese  in it. We didn't try the original, but we had fun sipping a few of the others, all served with a raisin and a piece of cheese (which usually dissolves in the liqueur while you are taking a selfie). La Pasita is one of the smallest bars I've ever seen, just big enough to walk-in, order and walk out. They are only open from 12:30-6pm. Think of it as your aperitif before you make your way to dinner.
There's plenty of great restaurants to eat traditional Puebla cuisine around Centro. This is just a sampling of what not to miss on your visit.
Puebla is a city that deserves a few days of your time to explore the architecture and history.
Check out our post: Discover the Treasures of Puebla