Cost of Living in Queretaro
One of the most asked questions to any expat is "What's the cost of living?"
Mexico is a big country, and the cost of living can vary. Housing in cities with international airports are going to cost more than smaller towns an hour or so away. Meats and produce tend to be cheaper in Mexicothan the United States or United Kingdom, but you might pay considerably more for imported foods and products. Water and cell phone service is cheaper, but electric and internet costs can fluctuate depending on your usage and location. Regardless, the cost of living in Mexico is one of the reasons we moved here.
Housing Expense Depends on Location
Renting or buying a house in Mexico will be your biggest expense. In Mexico City alone, what neighborhood you decide to rent in determines the cost. In Polanco, a 1-2-bedroom apartment could cost you 25-45,000 pesos a month, while the same apartment just north of Coyocoan may cost you 15,000 pesos a month.
Living near the beach also comes with its roller coaster prices. A 3-Bedroom condo could cost between $1000-3000 USD depending on the number of expats (who drive up the price) and the location. Say you want to live in Puerta Vallarta. The City central area will cost more (average $200,000- $500,000 USD), but 30 minutes away in Sayulita you may find something bigger, cheaper and with less tourists.
Before we moved to Queretaro, we searched a variety of housing websites to see what we could afford. Considering Queretaro has so many foreign industries and a strong middle class, housing here is considered on the high end for Mexico. Yet, I saw houses that gave us plenty of space around the $500-700 USD range (depending on how big of a backyard we wanted). That was half the cost of our mortgage in Florida.
Cost of Living Breakdown
In the chart below I've listed our expenses of what we paid in Orlando, our rental house and the house we built. These numbers are based on our experience and are broken down to a per month average (except gas for the car). This is a rough estimate because some bills are every other month and gas for the house is only when we need a refill. The exchange rate I used was 20 pesos for 1 US dollar to make it easier to calculate the prices.
Other people may pay more or less in their home country and in another part of Mexico. It's good to research using the keywords COST OF LIVING IN… so you have a better idea of what to expect. Additionally, I have included a few other expat expense summaries in this post to give you a better idea of prices in Queretaro.
2022 MONTHLY COSTS: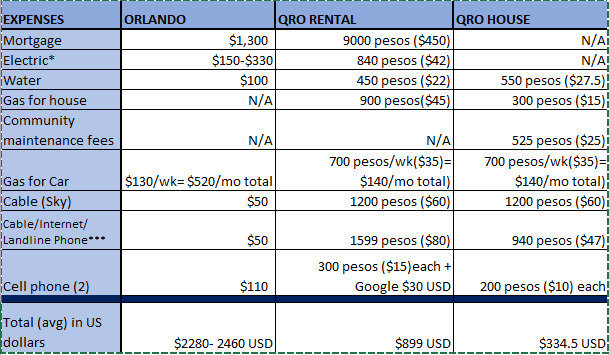 Expenses for Orlando Explained
ELECTRIC- In Florida, our electric bill was always over $300 between June and September because we were constantly running the air conditioning. $150 USD was the lowest the electric bill ever was during the year, usually in February.
CABLE TV- We were able to get rid of DirecTV ($165 USD) and switched to Amazon Fire TV almost a year before we left. This was a tremendous savings for us.
GAS FOR TRANSPORTATION -Tiffany commuted 45 minutes to work 5-7 days a week, and Tom delivered wine to his customers 4 days a week.
Expenses on our Rental House vs. the House We Built Explained
MORTGAGE- When we built our house, we paid cash from the sale of our house in Florida. It's nice not having a mortgage!
ELECTRIC– We don't pay for electric. Explained further down.
GAS FOR TRANSPORTATION- We now have two cars here in Queretaro to accommodate our tour business. But we don't go out every day like when we were working in Orlando.
CELL PHONE- Tom had a Google phone and paid $30 USD a month when we rented a house for two years. Becase we don't go back and forth to the States as often as Google Fi would like, they canceled our phone. We no longer need the navigation as much on our phone so we were able to reduce the costs down to $10 a month for each phone.
Renting a House in Queretaro
Rents can vary just as much as the housing available. The interesting thing about the housing market is that it keeps going up even with several residential communities being built on speculation. Housing is available and searching a variety of websites can give you an idea of what you can afford in your price range. We recommend contacting a realtor who will have better access to what's available in the neighborhoods you want.
To see what a typical modern Mexican house features, read our post House Hunting Fun in Queretaro
We paid 9000 pesos ($470 USD) for our 3-bedroom/2.5 bath house in a gated neighborhood in 2018. The average cost for a 3-bedroom house seems to be about 10,000-20,000 pesos ($500-$1000 USD) unfurnished and 13000-25000 pesos ($750-1500) for furnished. The price also depends on the neighborhood.
What Are Other Rentals Like?
The price range above is what I've seen on real estate websites. I also asked some friends what they pay for their rental places around Queretaro so you can have a better idea of what prices really are like here.
Tina rents a 2/1.5 apartment 10 minutes from Centro with kitchen, dining room, outdoor space and a washer fully furnished. Her rent is 14,000 pesos a month, electric is 316 pesos and cable/internet/phone are 469 pesos a month. She can walk to two grocery stores and a number of restaurants close by.
Donna and her husband rent a 200-year-old house unfurnished with two bathrooms in Centro. Tiled floors, an inner courtyard and 15 ft. ceilings with exposed beams are part of the charm. It has a kitchen, dining room, living room and five other rooms, but no closets. Their rent is 20,000 pesos a month, water is 500 pesos a month and gas is 500 pesos every 6 weeks.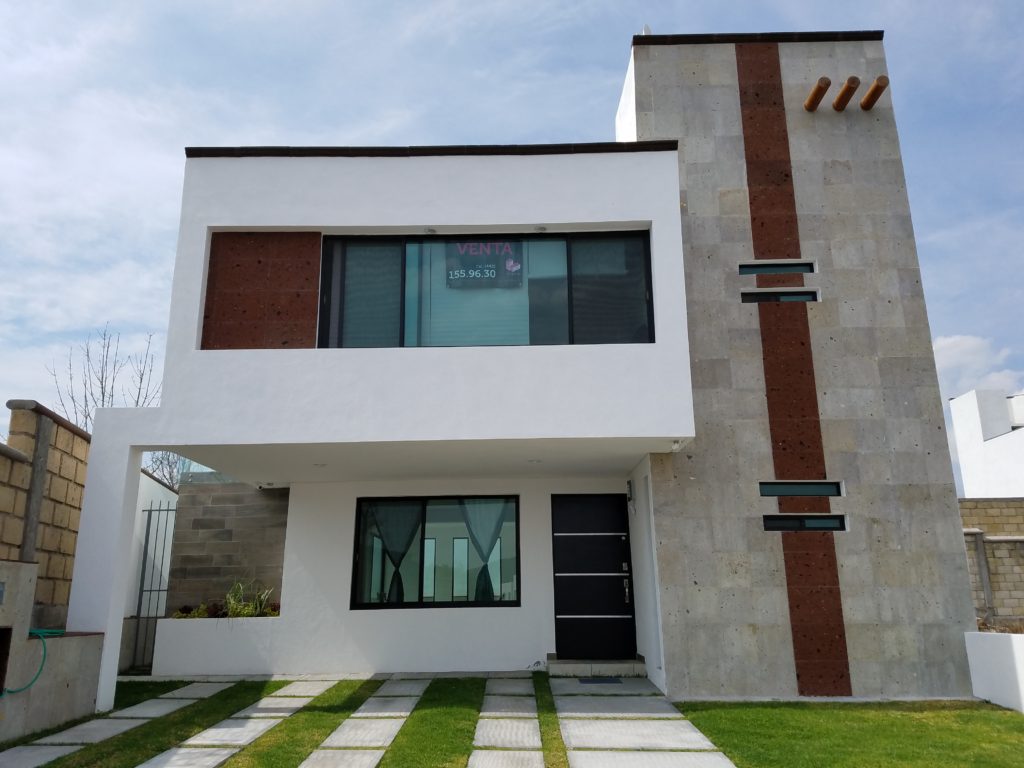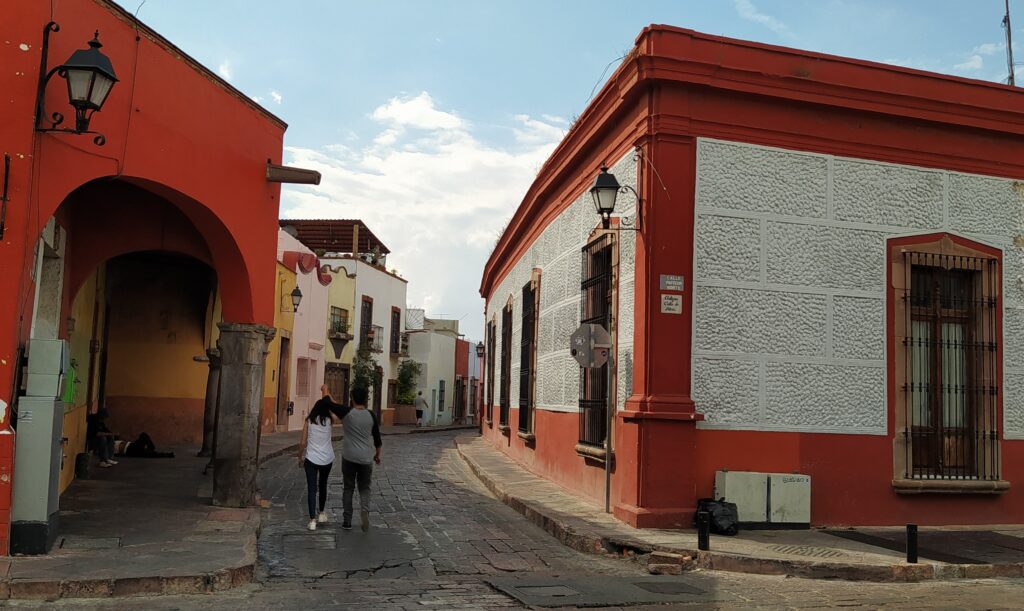 ELECTRIC PRICES
The utility bills in Mexico are much lower than what we paid in Florida. However, the electric has been a bit of a headache. If you live in a new neighborhood that is still building houses  (like ours), the electric could be free. Meanwhile, you could be on a neighborhood generator that loses power for an hour or two every month or so when they refill the generator.
More established neighborhoods will bill you monthly or bi-monthly for your electric kilowatt usage. The average electric bill for 2 months is $40 but if you go over the allotted watts, the price per kilowatt jumps. If you go over your allotted kilowatt usage month after month, they take away the discounted rate and start charging you more pesos per kilowatt. We learned this the hard way.
From what we could gather from our electric bill, we are allowed 500 kilowatts, but ours was over every month. We do havea dryer, second refrigerator and an additional small refrigerator that maybe most people do not have. Our electric bill kept going up from 600 pesos to 840 pesos to over 1300 pesos. When you divide this over two months and convert it back to US dollars, $35.00 USD per month doesn't sound so bad, But when the bill arrived for 6409 pesos ($320 US dollars) right before Christmas and the family of 6 down the street is only paying 400 pesos, something doesn't sound right. We went over twice and stopped receiving the discounts.
Can You Contest Your Electric Bill With the Electric Company?
Fighting the electric company is a losing battle. Our Mexican friends went down to the CFE offices to argue our case for us, and the electric company didn't care. Pay or they will cut the service. You never want them to cut the service because they will need to send a technician out (at their convenience) and it will cost somewhere between 15,000-20,000 pesos to turn back on.
WATER
Water usually costs 400-450 pesos ($20-25) a month. In our rental neighborhood, water was billed every month. In our new neighborhood, it's billed every two months. One of our friends is billed every four months in her neighborhood, so it all depends on where you live.
GAS FOR THE HOUSE
Our water heater, stove and dryer used gas in the rental house. We would fill up about every 6 weeks and it usually cost 1600 pesos ($80).
In our new house, we opted to get an electric heater, solar water heater and only have the dryer and stove on gas. We filled it up at the end of January for 2600 pesos (it's a much larger tank than the one we had at the rental house). Even with Tom roasting vegetables and cooking non-stop, we still have 42 pounds of pressure 7 months later. We are filling our gas tank about every 9 months for 2000 pesos ($100 USD).
INTERNET SERVICES
We've tried three different internet service providers in Queretaro. We've tried satellite internet first with IENTC. 50mbps was 1499 pesos a month, and the service was horrible. Telmex fiber optic was finally installed in our rental neighborhood and we had wonderful service with 100 mbps plus TV and phone for 1500 pesos a month. Later we downgraded to 70 mbps for 999 pesos.
When we moved into our new neighborhood, we did not have a fiber optic internet option. Knowing that IENTC satellite was horrible, we tried a cell service. That was worse. Finally, a year later, fiber optic internet was installed and we've been very happy ever since.
CABLE OPTIONS
We were very happy with Dish TV/HD channels- 1200 pesos in our rental home. Yes, during thunderstorms we would lose the signal, but that doesn't happen very often. When we moved to our new house, we decided to get SkyTV because they have more sports channels. We've also tried Megacable, but we like the sports options and DVR we get with Sky.
Netflix- 299 pesos ($15) a month. Some of the cable companies have package deals with Netflix included. You won't get all the same offerings that you would see in the USA, but there's plenty of movies and series to choose from.
Amazon Prime- 299 pesos ($15) a month- You need to have good internet speed to stream Amazon videos.
Community Maintenance Fees
Our new house was built in a gated community, and the community maintenance fees for the upkeep of the landscape, street lights and security. You can pay monthly, but they will give you a 20% discount if you pay for the full year in one payment usually in November. It does go up every year. in 2019, the fees were 485 pesos per month. In 2020 and 2021, our fees went up to 525 pesos per month. Community maintenance fees can vary depending on the nighborhood and amenities.
PROPERTY TAXES
You'll be happy to know that property taxes in Mexico are very low. The property tax is called a Predial and is assessed and paid for at the beginning of the year between January anf February (The earlier you pay, the better the discount). Last year we only had a lot, and paid less than $100 USD. Our landlard for the rental home showed us his predial. For a 138m2 lot with a 168m2 house his property taxes were roughly 3952 pesos ($180USD).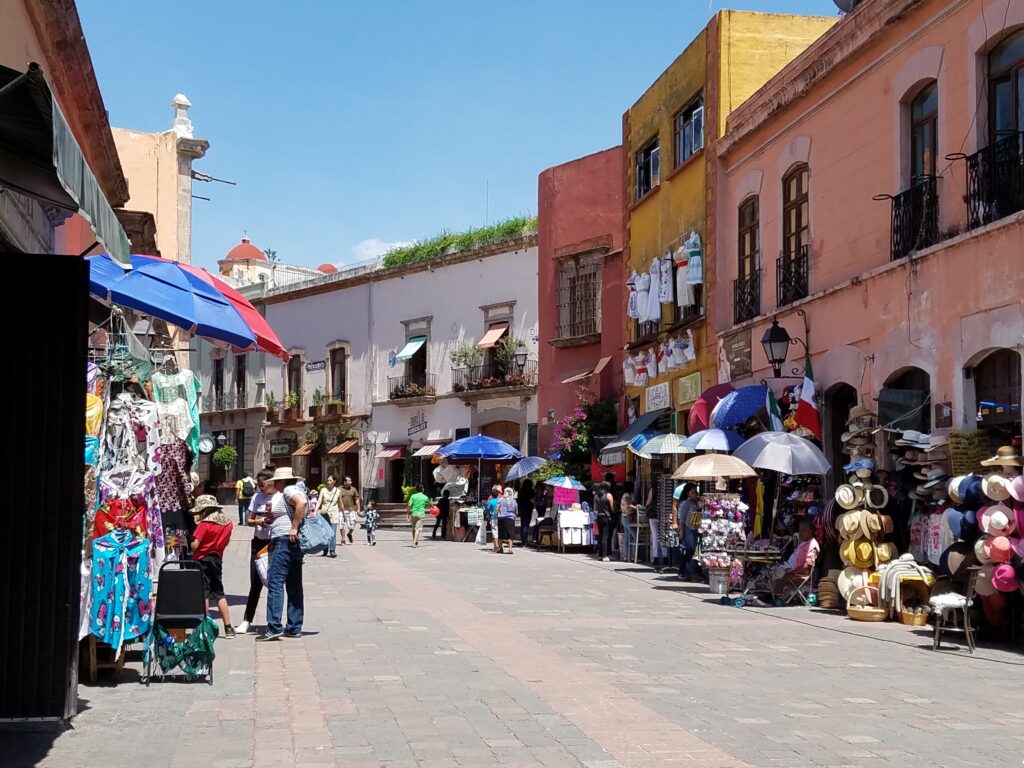 TRANSPORTATION AND CAR EXPENSES
Until we bought a car, we used Uber exclusively for one month. If you decide to live in Centro, a car will not be needed because everything is within walking distance and there is very little parking. You might need an Uber once a month if you plan to shop at Costco or Walmart or want to go to one of the fancy restaurants along Fray Junipero.
We live on the northern edge of Juriquilla, a 25-minute drive from Centro. On occasion, we prefer to take an Uber to Centro instead of dealing with traffic and finding parking. An average Uber ride is 160-220 pesos ($8-$11 USD)one way to Centro.  During peak hours and holidays, the price does go up.
Buying a Car
We paid $14,000 USD cash for a new car in 2018. New car prices have gone up considerably and used cars are holding their value. We bought a 2018 used car for roughly $13,000 USD. Car dealers do offer monthly payment options if you prefer if you have credit. Be aware that starting in 2022, you need an RFC (tax id number) to buy a car. Check out the process of buying a car and getting your tags in our post: Buying a Car in Mexico
Car Insurance
Car dealers and your bank will offer car insurance to you. We found a good rate with full coverage from MAPFE for 17000 pesos ($850) a year. We pay for the full year coverage in January.
Car Emissions
Queretaro is stricter than other Mexican states about car emissions. If you buy a new car, you can get a 2-year sticker (called a Doble Cero) for around 849 pesos ($42). After this has expired or if you buy a used car, you have to get your car checked for emissions every 6 months. For more details on emissions and maintenance, read our post: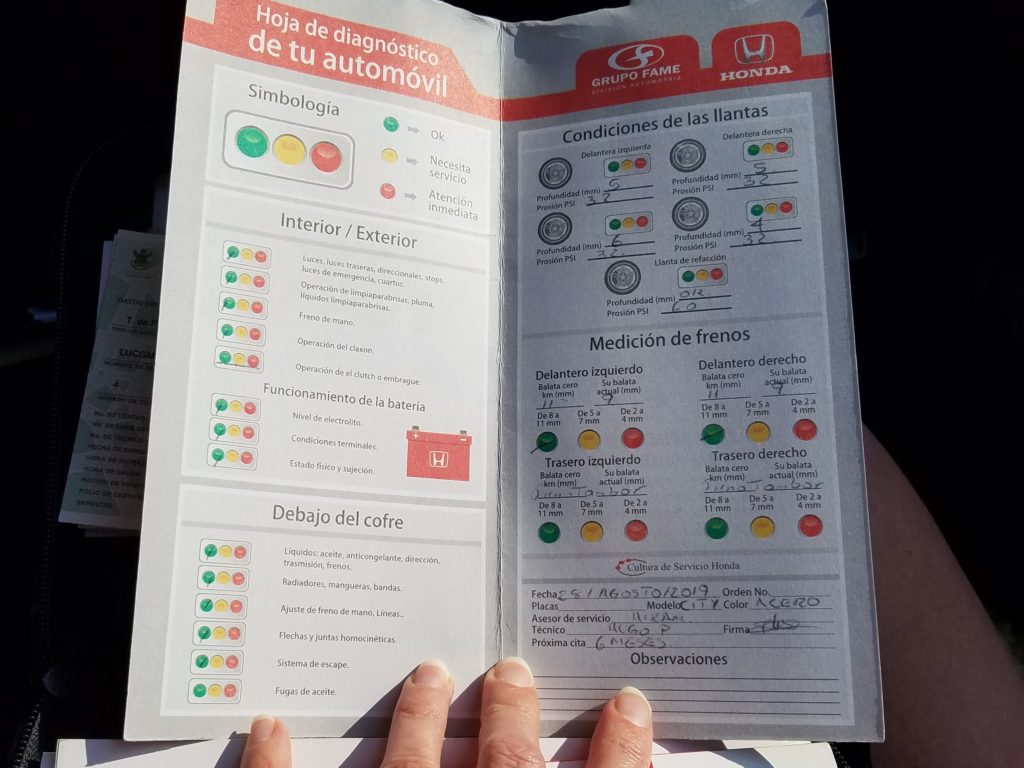 PRICE OF GROCERIES
Tom and I spend more on groceries than the average couple, and probably more than a family of 4. Tom loves creating new dishes, sauces and vinegars so we have a very full pantry of dehydrated fruits, roasted vegetable salsas, cocktail flavorings, vinegars and leftovers in the fridge. What I can say is that in-season produce is ridiculously cheap. Spend a week going to the grocery store every day to find out when they have discounts. The Chedraui Selecto near us has their best deals on priduce on Tuesdays.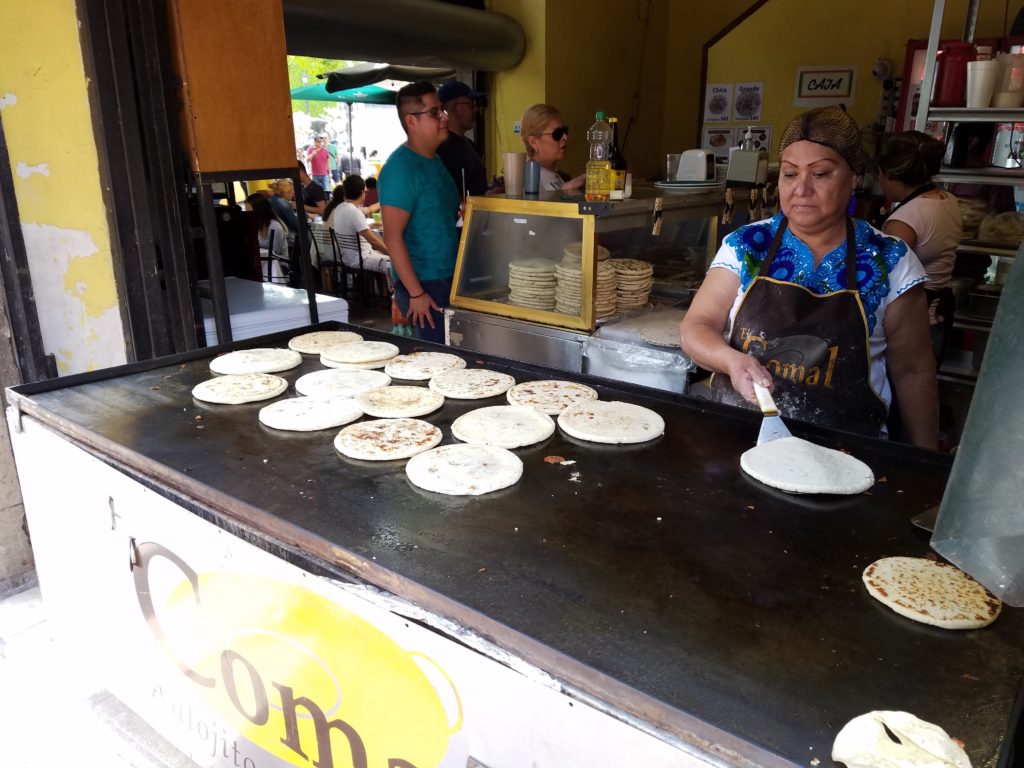 EATING OUT IN QUERETARO
Restaurants range from cheap to fine dining in Queretaro. For the average nice lunch out with wine or cocktails, we spend about $50-$70 USD with tip. Breakfast usually costs $8-$13 US dollars and a multi-course dinner will cost about $100 USD with wine.
Tipping: 10% is the usual tip when dining in Mexico. Wages are low, and if we can afford a few extra pesos to make someone's day, we do it. We usually tip 20% or more.
Restaurants in Centro Queretaro- Where to Eat for Every Budget
BUYING FURNITURE AND OTHER HOUSEHOLD ITEMS
The quality and price of furniture you can buy in Mexico is comprable to other countries. Kitchen items like blenders and food processors tend to be higher priced because they are imported. We brought all of our kitchen stuff with us, but bought all the big sfurniture here. Check out our post on furniture shopping for more price comparison and when the best time to buy here: Buying Furniture in Mexico
INCOME TAX
Because we do not work in Mexico, we are not that knowledgeable on income tax. What we heard is that income tax in Mexico is around 30% and is taken out of your paycheck every month if you work in Mexico. If you are still a resident of the United States but work for a Mexican company, you can claim the Foreign Earned Income Exclusion (FEIE). You can earn the equivalent of $112,000 USD (as of 2022) in Mexico before you are taxed on your earnings by the United States. If you work online and get paid exclusively by a company in the United States, you have to file income tax forms with the United States.
Both the United States and Mexico tax on worldwide income. There are ways to not be double taxed. It's best to contact an international accountant to learn about what needs to be reported, credits and deductions. This article can explain it a bit better: https://1040abroad.com/blog/taxes-for-us-expats-living-mexico/
Our research on finding the best place to live started with a subscription to International Living. This magazine and website prints real stories from real people living in other countries around the world. From big cities to small villages, it's been a wonderful resource for us in evaluating cost of living, finding the ideal weather and being centrally located to several towns and countries for travel. Writers for International Living go more in-depth on topics such as taxes, banking overseas, health insurance and real estate. If you don't know where you should start, check out International Living for their subscription and bonus offers.
NUMBEO.COM
Compare your hometown with a place you want to move to on Numbeo.com for a complete breakdown of expenses, grocery prices and crime rates. This website helped us narrow down our interest in cities around Mexico.
Mexico is a fantastic place to live with warm-welcoming people, a fabulous food scene and jaw-dropping landscapes. Queretaro has the cooler mountain weather, modern conveniences, and availability of international food products that we enjoy. I hope this post helps you in deciding where you want to live and what is comfortably affordable to you.
***Did You Find This Information Helpful?***
Website security is costing more and more each each year. Please help us offset the costs of keeping this website running by submitting a donation through PayPal.
Relocation Consultation
Do you have questions on prices, neighborhoods, and expectations about starting your new life in Mexico? Ask us directly! We can set up an hour long video conference call on Whatsapp and help answer questions that pertain to you and your lifestyle. Our consultations are $70 USD for an hour. If we go over the allotted time, no worries. We won't charge you extra. We want you to get the answers you need to make the best decision for a new life. Plus, we will send a follow-up email with other resourceful links specifically for you.
Pin This!