Research Tips For Pet Travel to a New Country
If you think it's hard planning your own flight to your overseas location, planning your pet travel is even more difficult. As humans, we can deal with wonky flight times; leaving at 5am in the morning, or arriving at an unknown location at 11pm at night, hoping someone will be available at the hotel or Airbnb to let us in.
But putting our pets through it is worse. I'm not talking about the handbag- pets. I'm talking about the "large" dogs over 20 pounds that need to go in a crate in the dark belly of a plane. They don't know what is going on, where they are going, and you, their entire world, is nowhere to be found. It kills you to put them through this, but you know there's something better on the other side.
I would gladly pay for first class tickets to have Hayley fly in the cabin with us. She could still lay at our feet, and she behaves better than most children. But unfortunately, for many pitiful reasons, they have to be crated. And don't even get me started on  the emotional support turkeys that are allowed on the plane.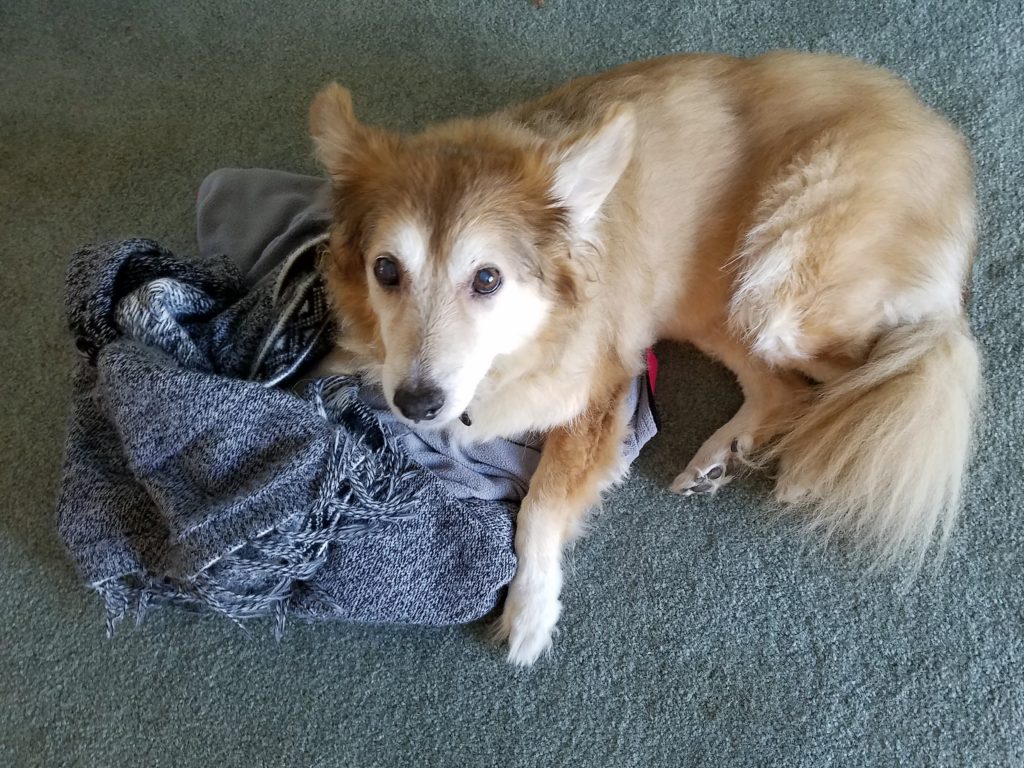 DO YOUR RESEARCH
So to avoid as much inconvenience for yourself as well as your pet (again, I'm talking about checked pets), you need to do a lot of research. These are the basic questions to get started with:
Is there a quarantine period in your chosen country?
What documents and vaccinations are required?
Which airlines fly pets?
What are the airline requirements for the crate, paperwork, breed, and drop off time?
Are there connection flights to your destination?
What is the temperature of your departing city,  connections and arrival city the day you are flying?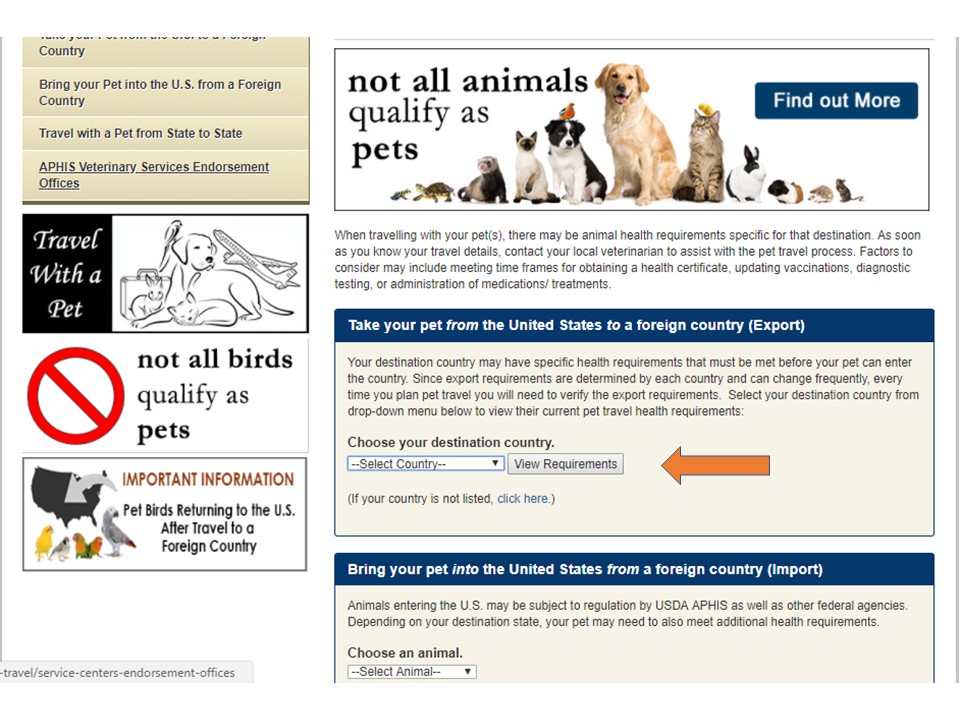 APHIS
Flying our dog into Mexico, I did a lot of research. This website https://www.aphis.usda.gov/aphis/pet-travel is your go-to for any pet travel whether it's exporting your pet from the U.S, importing back into the U.S., or just from state-to-state.
Also check your destination's country for a government sponsored website and what they require. Mexico has SAGARPA-SENASICA, the Ministry of Agriculture, Stockbreeding, Rural Development, Fishing and Food. Double check that all the requirements are the same as APHIS.
The good news is, there isn't a quarantine for Mexico. They will need to see a health certificate, and though there were two options on the website, I did both to make sure I was covered.
Option A needs to be signed by your veterinarian, then sent to a USDA vet for an embossment and signature.
Option B just needs to be reprinted on your veterinarian's letterhead.
Both will need to list the breed and age of the pet, date the rabies shot was given and expiration date of the rabies vaccine. And since early 2017, the vet will need to list the dewormer they gave your pet to prove that the pet is free from internal and external parasites. It's not enough to have them on Heartguard and flea & tick medication. The Mexican government requires that a dewormer be given within 6 months of entering their country.
READ THE WEBSITE INSTRUCTIONS CAREFULLY.
Nothing on either certificate can be abbreviated. Not "years" for your pet's age, nor your street and state in your address. Have your vet team write everything out. Triple check it. Don't rely on someone else to do it right. My vet team had to redo the paperwork 5 times because of misspelled cities and abbreviations.
The certificates need to be signed in blue ink to be considered "originals". The airlines and destination country will require originals. I recommend getting 4 copies signed in blue ink.
These certificates and a physical of your pet need to be done within 10 days of leaving your home country.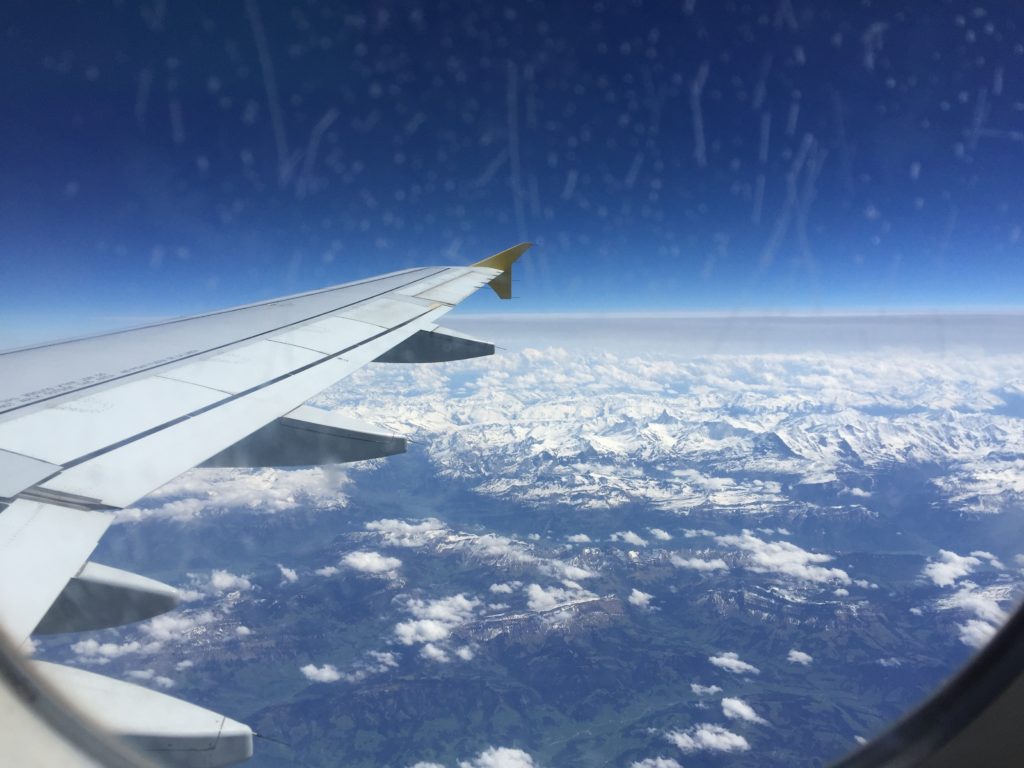 AIRLINES and AIRCRAFTS
Now that you know what you need right before you go, it's time to research the planes, and you do need to research this. Here are the problems that I encountered:
DELTA: needed a 4 hour layover between flights to transfer her crate from the first plane to the connecting flight.
UNITED: did not fly pets into Queretaro. They flew pets into almost every other major airport in Mexico, except Queretaro, and they wouldn't tell me why that was.
AEROMEXICO: I was going to fly with them, and then the rep told me that the oxygen level may or may not be right in the cargo area. I'm sure something was lost in translation, but I wasn't going to chance it.
AMERICAN: I've flown my dogs on American before from Miami to the Dominican Republic and back again. On the return flight home, the airplane was heading down the runway, stopped, turned around and headed back to the gate. When we parked, I saw my dogs being taken off the plane. I hit the flight attendant button, and she walked by and turned it off. That made me panic. I shouted at her and asked why my dogs were being taken off the plane. She said she would go find out. When she came back, she told me they were put in the wrong part of the plane.
Having experienced this, I wasn't really happy to consider American again, but they had shorter flights. I talked to a rep and explained what happened in the past. Every American Airlines rep I spoke to said that couldn't happen because the plane's entire cargo area is pressurized. Regardless, that's what I was told, and I want to make sure it doesn't happen again.
The other reason to talk to the airlines directly is because not all planes have a pressurized cargo area and can fly pets.
At the very top of the American Airlines Traveling With Pets page is this:
Special notice
Checked pets cannot travel on A321, A321S, A321H, A320, A319 aircraft.
Pets can travel on Boeings, so check the aircraft type before booking your flight.
TEMPERATURE RESTRICTIONS
The reason we couldn't bring Hayley down with us when we first left for Mexico was because of the temperatures. We were flying from Orlando to Dallas to Queretaro. Both Orlando and Dallas were below 45 degrees the day we were supposed to leave. Airlines will only fly pets in the checked baggage area if it is above 45 degrees, but below 85 degrees.
IMMIGRATING HAYLEY
The ticketing rep for American was truly wonderful. The airline requires that you check your pet 4 hours before your scheduled departure (check with the airline). The ticketing rep went through an extensive checklist (it took over 2 hours) and walked us down to where we needed to check Hayley through.
On each flight I let the flight attendants know that my dog was on the plane, and could they make sure the captain knew. I got exasperated looks from each of them, and one attendant even said to me, "Yes, we do this all the time".
My response, "I know you think I'm asking moronic questions, but that's my baby". She was a lot nicer after that.
Going through customs at Queretaro was a breeze. I presented both certificates, but they only wanted Option A (that's why I did both). I pointed out the dewormer that was on the certificate, and the official told me he would be a few minutes typing up the paperwork. It was more like 15 minutes, but I wasn't worried about it. Paperwork always takes some time, and usually the officials are not the best typists.
Another official asked me in Spanish if my dog bites. He needed to spray down the kennel, so I took her out. Afterwards, he came over to pet her.
Both the APHIS website and the SAGARPA-SENISICA websites said that the kennel could not contain any bedding. If it did, it would be destroyed upon entering the country. I did not want Hayley to be uncomfortable for what turned out to be an 11- hour day in the kennel, so I did have an old pillow wrapped in one of her old bed covers in the crate. They sprayed it, but did not remove it. (We threw it out as soon as we got home).
Before we had gone back to the USA to get Hayley, I did ask some Mexicans if they would feel comfortable bringing their pets through the Mexico City airport. They said no, way too big, and the officials are not nice. Queretaro is a very small international airport. You literally walk off the plane into immigration, stand in a cue line of 5 rows at most in a space as big as a living room, then pick your bags up from the one carousel six steps away.
I'm glad that we went through Queretaro. The officials were wonderful, and I was able to see Hayley at every connection being loaded in or out of each plane. If you ask Tom I was probably more stressed than Hayley, but now we can sit back and enjoy more free time together here in Mexico.
Read our post on what type of pet care to expect: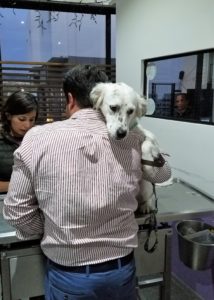 RELOCATION CONSUTATION
Do you have questions on prices, neighborhoods, and expectations about starting your new life in Mexico? Ask us directly! We can set up an hour long video conference call on Whatsapp and help answer questions that pertain to you and your lifestyle. Our consultations are $70 USD for an hour. If we go over the allotted time, no worries. We won't charge you extra. We want you to get the answers you need to make the best decision for a new life. Plus, we will send a follow-up email with other resourceful links specifically for you.