Showing Off Queretaro on House Hunters International
If you are a fan of House Hunters International, you might have seen us! Our episode titled "Wine Not Move to Queretaro, Mexico" first aired in the USA on February 19, 2019. Our reason for getting on the show was not to have our 15 minutes (or 22 minutes of airtime) of fame, but to show the world that there's more to Mexico than beach towns, poverty and media slandering.
House Hunters International is one of our favorite TV shows, and to be a part of it was an interesting experience. It's not as simple as raising your hand and saying, "I want to be on the show". There were quite a few steps in the process, and couple that with learning how to navigate our new life in Mexico, there were times it was a bit chaotic. After the episode aired, we had a few questions from our friends and viewers on the process and about Queretaro. So keep reading, and we will share the details on how we got on the show, the filming and more about Queretaro.
How did we apply to get on the show?
Before we left Florida, I visited the House Hunters International website. They have a section asking if you want to be on the show and what to do. I sent them a brief email about us, how we were moving in a few months to Queretaro, Mexico, a picture and that we were big fans of the show. Two months after we moved, we were contacted by someone from Leopard USA,  the parent company that produces the show. By this time, we were renting our house and bought most of our furniture.  We began the auditioning process which included:
emails
video chats
an extremely long questionnaire
having our landlord and community sign release documents
an intro video about us
a house tour video
After several weeks of back and forth emails and video chats we were chosen!
Just a note: All videos sent in for the audition plus all the filming are Leopard USA property. We cannot share pictures with you from the show, but you can watch the episode on HGTV or youtube.com.
What was the actual filming like?
The filming of our episode took a full 5 days to shoot. The filming team from the USA consisted of one audio person, one video person and the director. Our location manager, Alex, was from Mexico and had worked with Anthony Bourdain on one of his episodes in Mexico City. The team was fantastic and kept the mood light when they could tell we were getting tired of the multiple takes. They bought us lunch every day and had snacks and drinks for us between takes. We did not have a script, but we were given some direction and reminders on our "conflict" points which we kept forgetting.
If you are a fan of the show, like us, you probably make fun of the people and the things they tend to obsess about. If you watch our show, Tom is obsessed about "no grass" and I'm all about our geriatric dog. In reality, houses in Mexico do not come equipped with garages to store lawn equipment, and even though our grass area is small, we live in a desert where it doesn't rain for 8 months straight. Really, who wants to waste water on something that would not survive on its own anyway? And my obsession with a banister on the stairs is real. Hayley learned not to go up the stairs on her own, but I feel more comfortable having bannisters around me when I carry her up and down from the rooftop terrace.
We wore our own warbrobe and I did my own makeup. Our film shoot took place during the the month of August. It was hot in the middle of the day, but cool in the mornings and evenings. Queretaro is located in a high desert plateau close to the Sierra Gorda mountains. It hadn't rained in 3 weeks until our 5 days of film shooting.
The reenactment of our house hunting in Mexico was very similar to what we previously experienced. All the houses we looked at were unfurnished (I admit it's more fun to see how people decorate). Gilberto with Century 21 was our original realtor and joined us on the show. Gilberto lined up two other housing options for us to tour, and of course, we had our own house that we were renting as a third option.
Is Our Rent Really That Low?
We researched houses for over 6 months before we moved to Queretaro. We created our price range based on what we needed, knew what type of housing was available, aware that laundry facilities were mostly outside, and bathtubs were not common.
Because we were already living in our "chosen" house, the film crew hired movers to move our furniture out the day of shooting. Tom and I prepared the house as much as possible by stowing some of the kitchen stuff away in the cabinets and 3rd bedroom. That was no easy feat. We moved to Mexico with 42 boxes of just kitchen stuff. In Florida, his kitchen took over the dining room and the second living room. When Tom says he needs a big kitchen, he really does need a big kitchen!
Showing Off Queretaro
And now for the best part, touring Centro historico and surrounding areas of Queretaro. The producers had asked us to make a list of places we liked or wanted to visit.
Central Mexico is one of three main wine regions of the country, and we were ecstatic to visit the Puerta del Lobo winery for our opening scene and house wish list. We love their Sauvignon Blanc, but we hadn't visited the winery until the filming of the show. You can read more about it on our post Puerta del Lobo.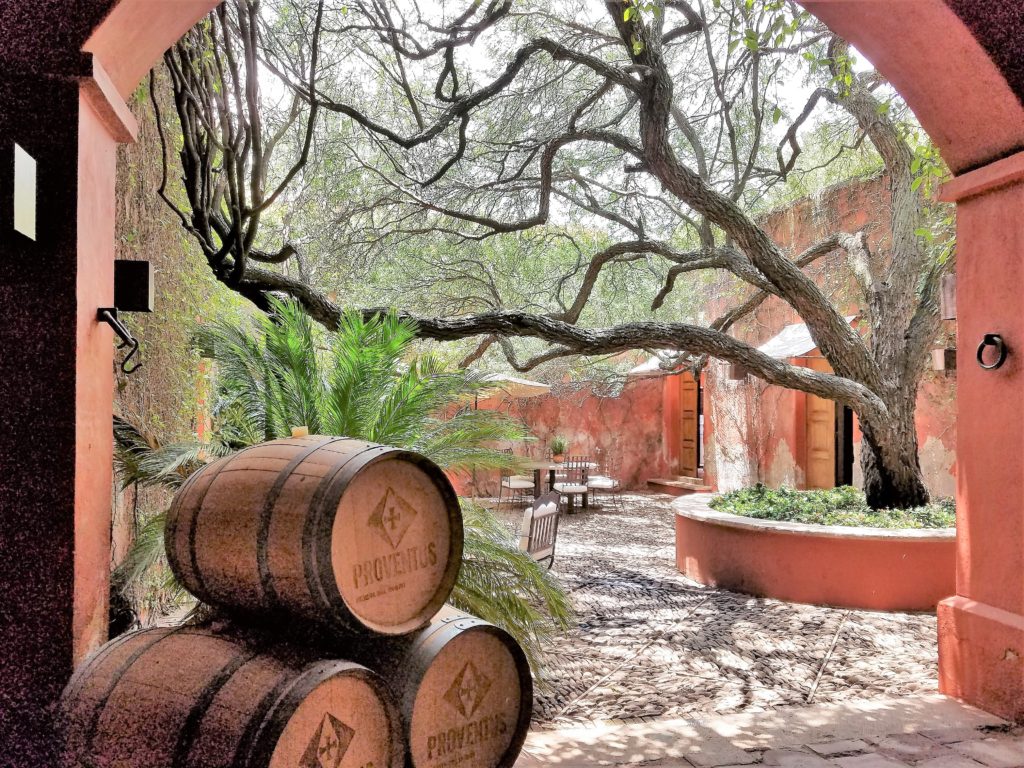 UNESCO World Heritage Site
The Centro historico of Queretaro is a designated UNESCO World Heritage Site and one of the most beautiful we have seen on our travels in Mexico. Queretaro is listed as a Historic Monuments Zone not only because of it's 1400 monuments from the 17th and 18th century, but for the urban layout that incorporated both the twisting streets of the indigeneous Mexican culture and the geometric grid pattern of the Spanish.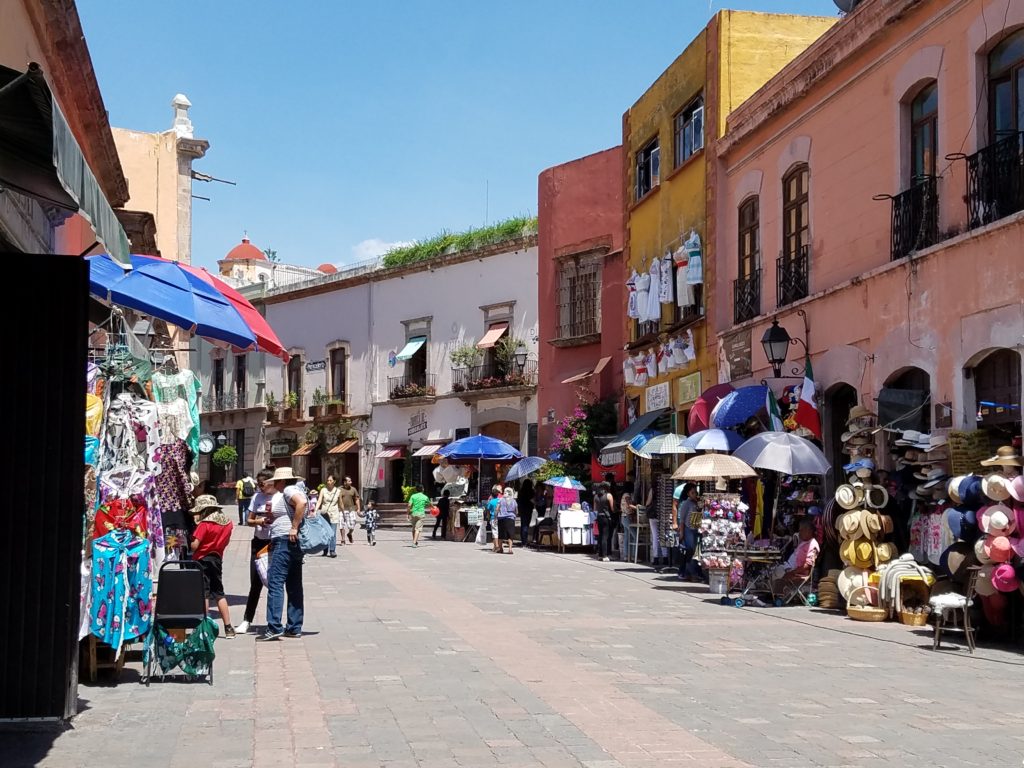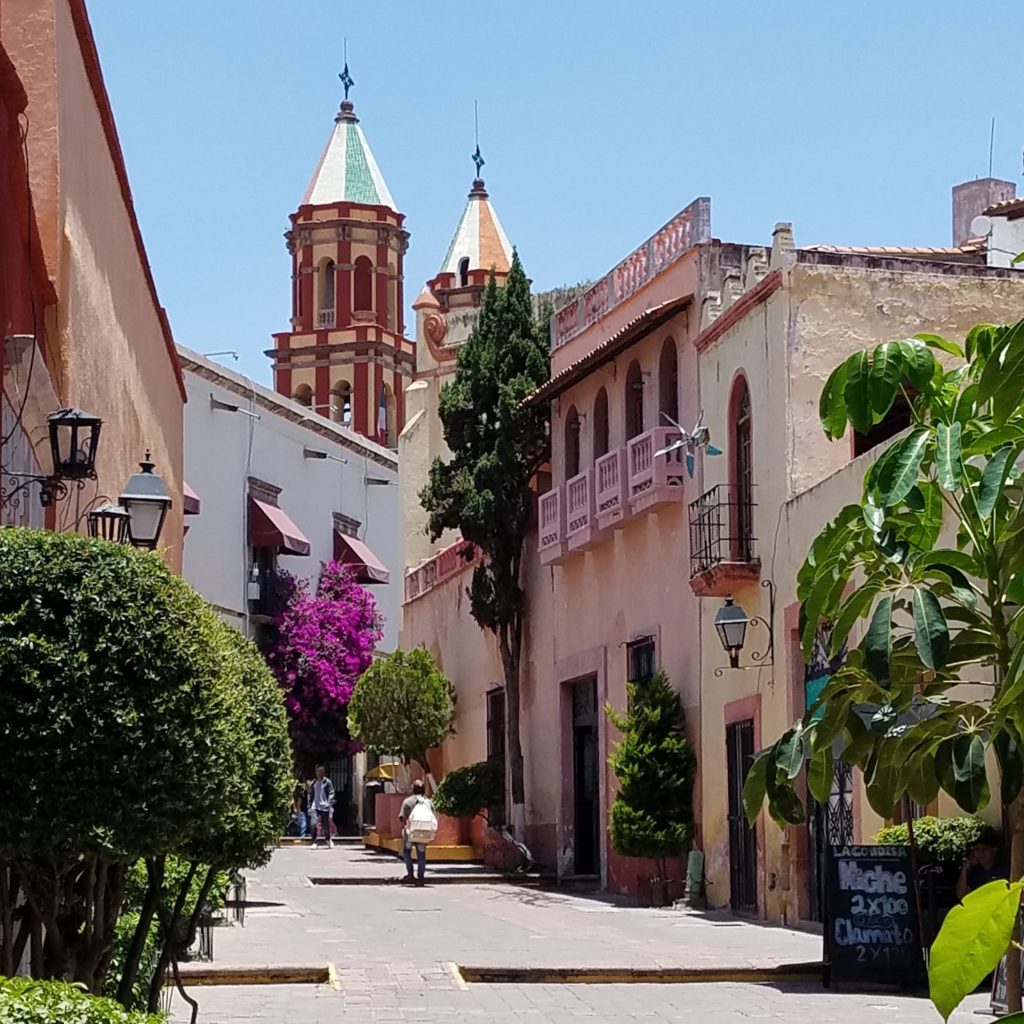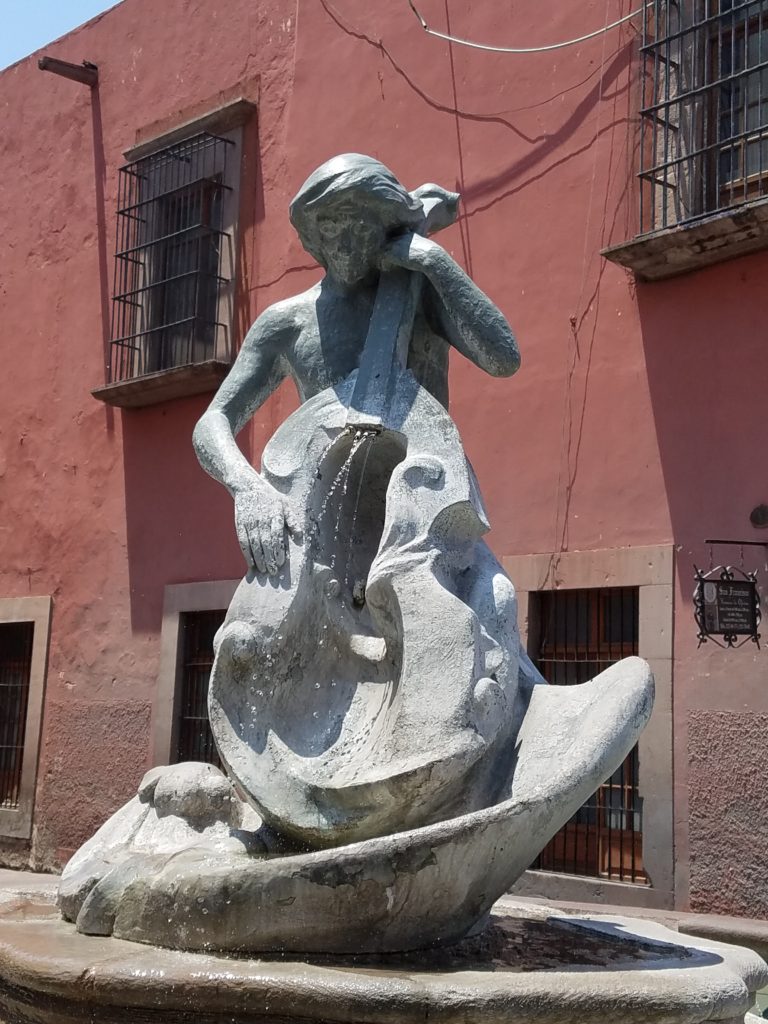 Queretaro Aqueduct
One of the most iconic features of Queretaro is the 74-arch aqueduct. It was built between 1726 and 1738 and still supplies water to some of the fountains in the Centro. This architectural wonder is also part of love story which you can read about in our post Boutique Hotel de Casa de la Marquesa, also built by the same Spanish architect, Marquis Juan Antonio de Urrutia y Arana.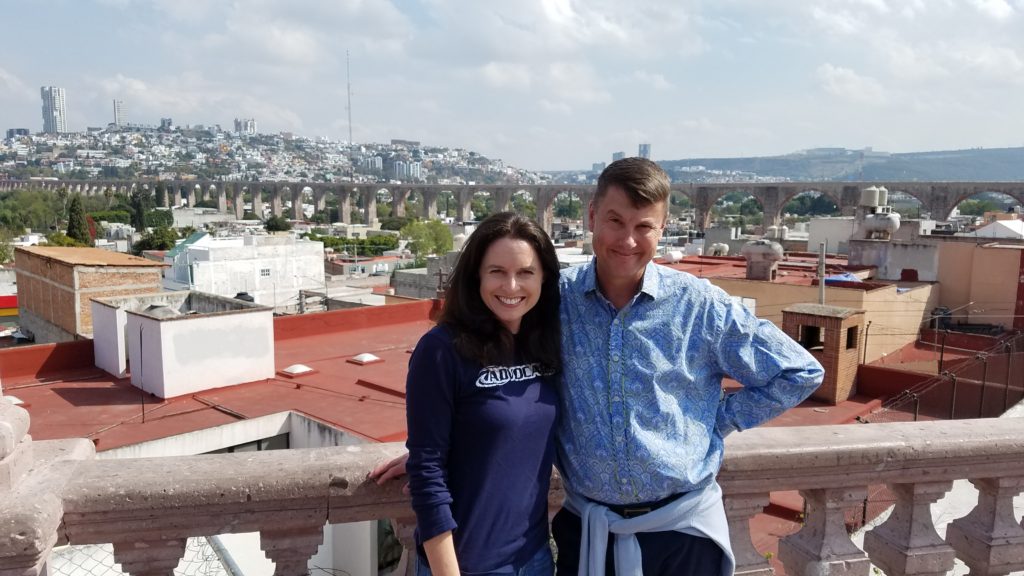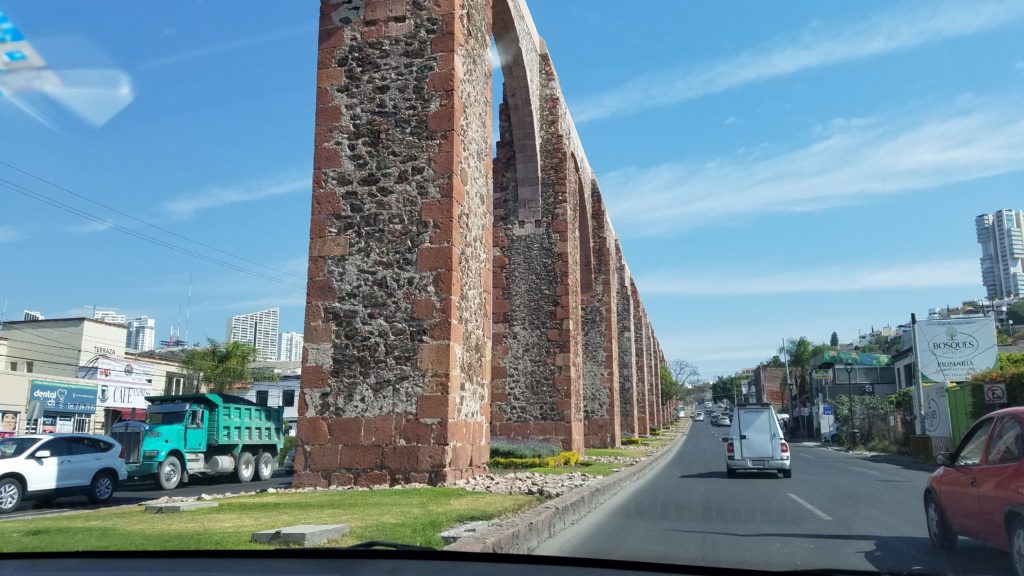 Other Places Featured On Our Episode
Other places featured on our episode were the restaurant Maria y Su Bici for our grasshopper tacos, La Cruz Mercado for the fruit and the rooftop bar at Antiguo Meson de Aspeytia in Centro historico for our "Final Decision" scene. The views of the churches from the rooftop bar are spectacular, and we've visited many times since our film shoot.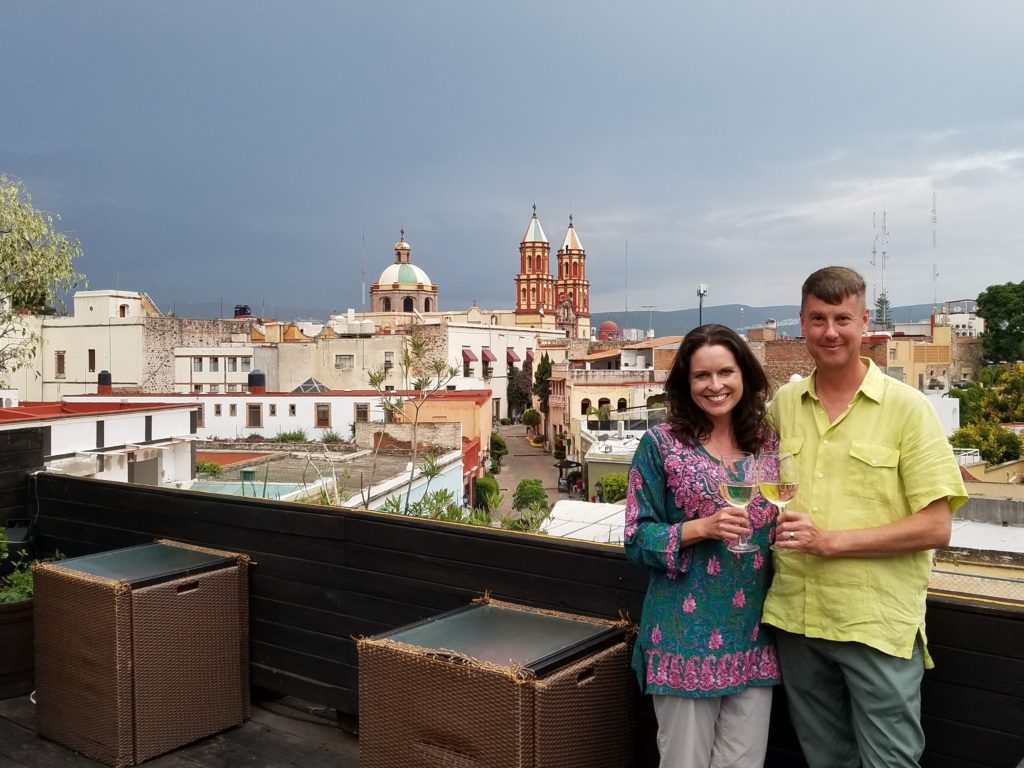 We are grateful for the entire Leopard USA team for choosing us and Queretaro. We know we aren't up for any Oscars for our acting ability, but we hope we've peaked your interest in learning more about our fabulous city and other parts of Central Mexico.
You can view our episode "Wine Not Move to Queretaro, Mexico?" on HGTV. We cannot access HGTV from Mexico, but if you search for the title, it should come up.
Queretaro Travel Tips:
If you plan to visit Queretaro, do not rent a car. Parking is hard to find in the Centro area.
Taxis and Ubers can get you around. The cost of a taxi from the airport to Centro is around $25.00 USD. Queretaro is beautiful city to walk, but if you need a taxi or Uber, most trips are between $3-5.00. For trips to Juriquilla or out to wineries, you will pay $8.00 and up.
We use Booking.com for our hotel reservations. La Casa de la Marquesa and  Antiguo Meson de Aspeytia are both in the Centro area on streets with very little traffic noise.