New Year's Eve Celebration with Mexican Hospitality
Many of you probably had big plans to celebrate New Year's Eve. Maybe it was a beach barbeque in Australia, skiing in Switzerland or one that we've talked about doing; celebrating in the Puerto del Sol of Madrid eating our 12 grapes at midnight.
We, on the other hand, did not have any plans for the last night of the decade. We just returned from a 5-week trip through Southern Europe and are still trying to scrape enough money to finish our house here in Mexico.
Past New Year's Eves
Since we've been together, we've never been anywhere on New Year's Eve except for home. Up until this year, we always had dogs. Fireworks and dogs are an awful combination. To help alleviate their stress and anxiety, we always stayed home and watched action movies turned up really loud. Even when they became deaf (more like super-selective hearing), we preferred to stay at home watching movies with our endless supply of our favorite wine, champagne and cheese nibbles.
Last Night of 2019
Just before the sunset on the last night of the decade, we drove up to our soon-to-be new neighborhood to watch the sunset over the mountains with some sparkling rose wine. Afterwards, we returned home, changed into our pajamas and settled in to watch football and movies with leftovers and another bottle of wine. But our neighbors had other plans for us…
At 9pm, the doorbell rang. Our neighbors showed up on our doorstep to invite us to the neighborhood New Year's party. We were in our comfy clothes already bloated from chocolate cake, but they weren't going to take "no, gracias" for an answer. Still not knowing how to politely decline after 2 years here, we said we would be over in 30 minutes.
New Year's Eve Party and Traditions
Changing in to something more presentable and slapping on a bit of makeup, we walked 3 houses down in plenty of time to greet everyone, grab a mug of ponche (a traditional spiced punch made from water, sugar fruits and spices) and practice our Spanglish. Dinner (our second) was served at 11pm and consisted of conchinita de pibil, pasta and apple salad. Did you know pork is considered a lucky food because the animal moves forward (as opposed to moving backwards which is unlucky)? It's also rich and fatty promoting prosperity.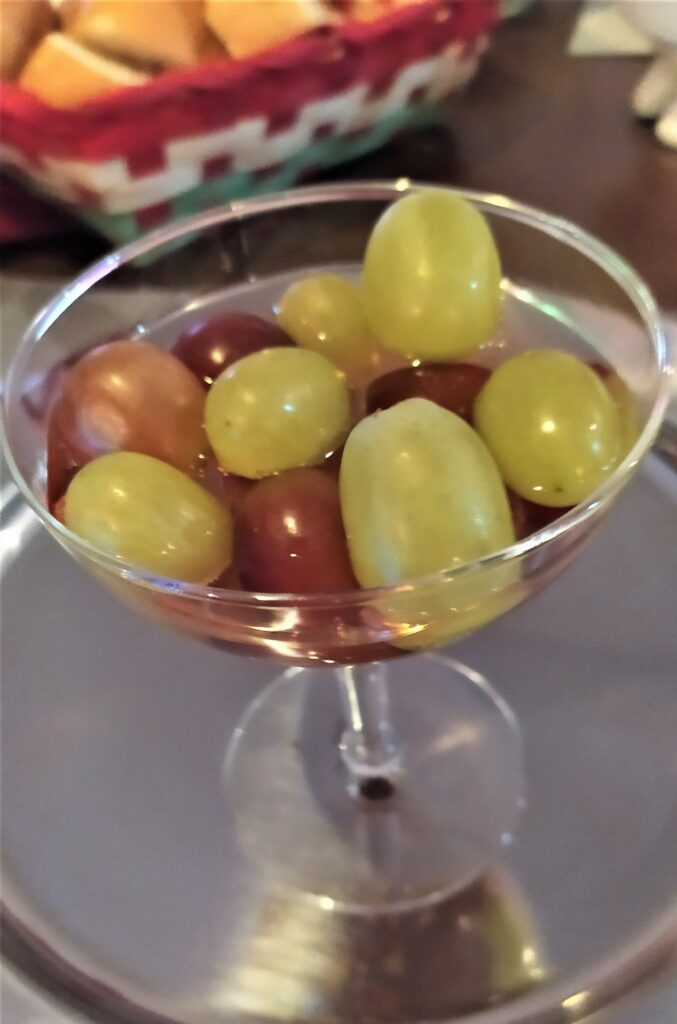 We discovered we didn't need to go to Madrid to celebrate the new year grape tradition. Mexicans celebrate this popular Spanish tradition, too. We were also given a cup of cooked lentils in a tomato chutney. Lentils resemble coins, so the thought is to increase your wealth by eating lentils. On top of that, we were given a handful of uncooked lentils to throw in the air outside our house for luck and prosperity in the new year, and a little extra to put in our wallets. That's a lot to do all at midnight.
3…2…1…. Happy New Year!
We grabbed our little champagne glasses of grapes and stuffed our faces with a grape on each chime of the bell. Each grape represents one calendar month, and the sweeter the grapes, the luckier the month. It's actually a lot harder than it seems to keep the grapes in your mouth without laughing and squirting juice everywhere. On the last grape, we toasted to each other and the new year and took a huge sip of our wine. (Bad video below) 
Luck, Prosperity and Travel? Yes, please!
Many of you travelers will like this next tradition originally from Columbia. After the grapes, we grabbed our luggage and ran around the neighborhood. Why? So the universe will bless us with many trips in the new year. Rocio takes it one step further by putting her passport in one of the pockets to ensure a trip overseas!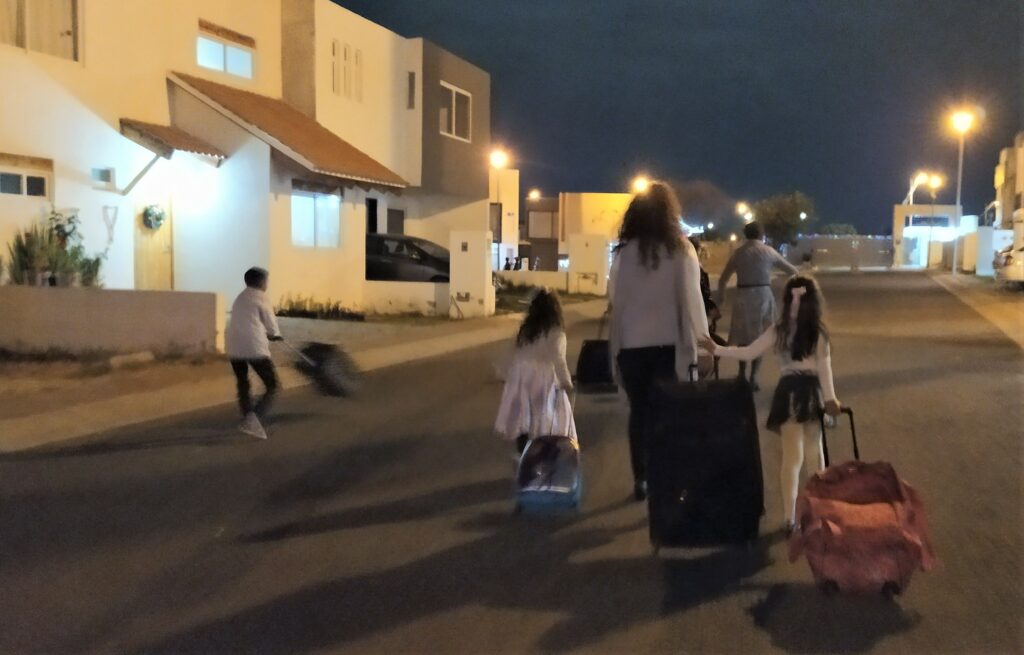 We aren't done yet. Everyone was given 3-foot long sparklers to light up the night. The kids jumped, ran and twirled with their mini light displays while the adults spiked their ponche with tequila and mezcal.
Mexican Hospitality
Back inside, it looked like a game of standup Twister with everyone giving hugs, kisses and well wishes for the new year. The tequila bottles moved from the kitchen to the dining table and we ate our lentils, laughed and sang well into the morning. Somewhere in there, Tom and I had our "kiss at midnight" tradition, though it well after midnight by this time.
On the way home, I took my handful of lentils, made a wish and threw them in the air. Neither one of us is superstitious, but you can never have enough luck, right?
***Did You Find This Information Helpful?***
Website security is costing more and more each each year. Please help us offset the costs of keeping this website running by submitting a donation through PayPal.
Happy New Year from Mexico!
Check out some of these other Mexican celebrations