Buying Furniture in Mexico
Buying furniture in Queretaro is not that different from the States. They have modern and antique furniture stores ranging from Contemporary to Victorian. It's always exciting to buy new furniture, especially for a new house.
On our visits to Mexico last year, we researched furniture prices to make sure we could afford the cost of living and furnish our house. The price of shipping here would have been astronomical, and the delay in shipping goods would have meant we would have been living on a cold tile floor for months. Buying furniture down here was the smart thing to do.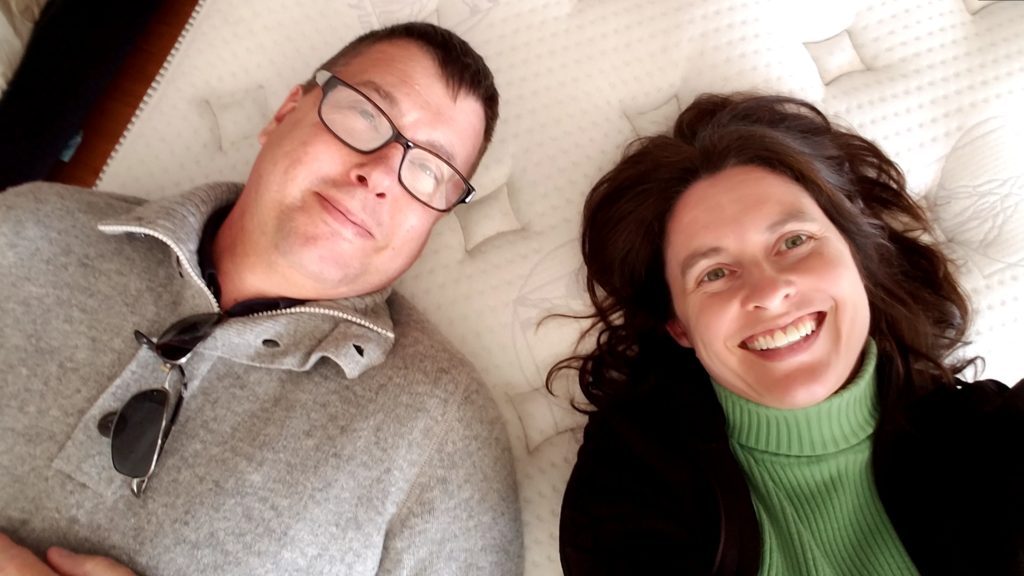 Our major priorities in buying furniture were functionality and comfort. Later we could shop for more aesthetic pieces at the artisan markets to give our home personality.
At each store, we had to show proof of address, and our passports as a form of identification. My passport has been copied more times in the first 6 weeks here than all my previous years of having a passport. I'm sure my picture is up on the internet or a public bathroom somewhere.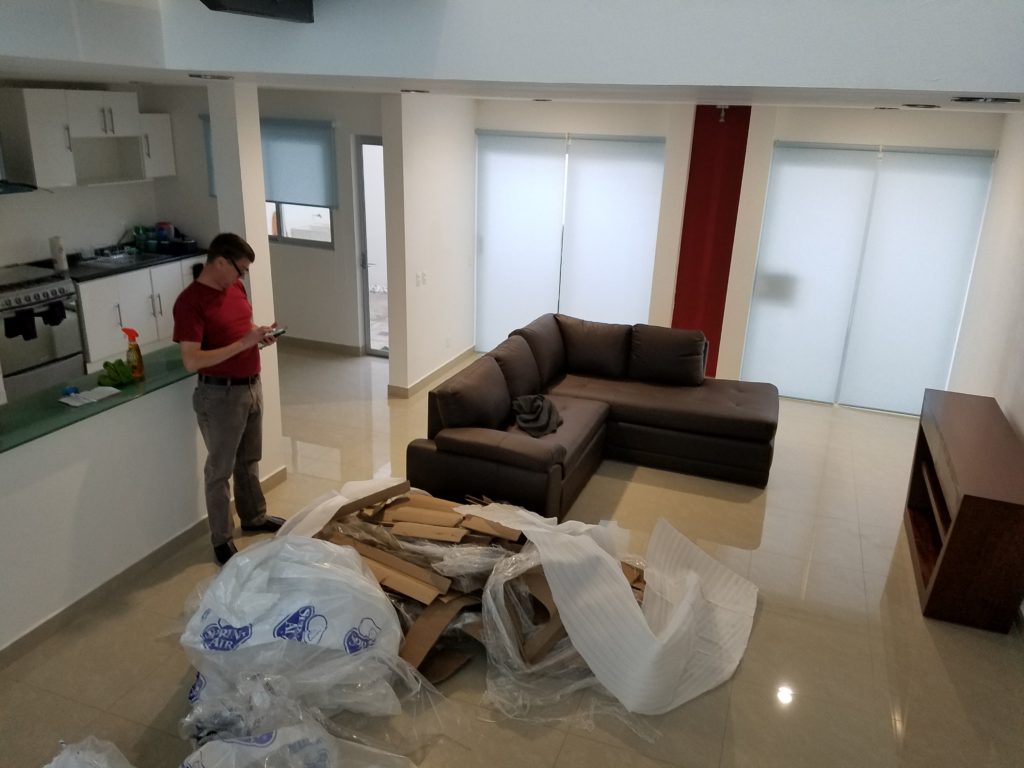 The deliveries were the most interesting and entertaining part of buying furniture. Sometimes the delivery was scheduled 3 days away, other times the deliveries were 2-3 weeks later. We had surprise deliveries, and also forgotten deliveries. Sometimes it was on an official store brand truck, other times on a pickup truck. Either way, each piece was protected in cardboard and plastic to the point that if it fell off the truck, the piece wouldn't be damaged.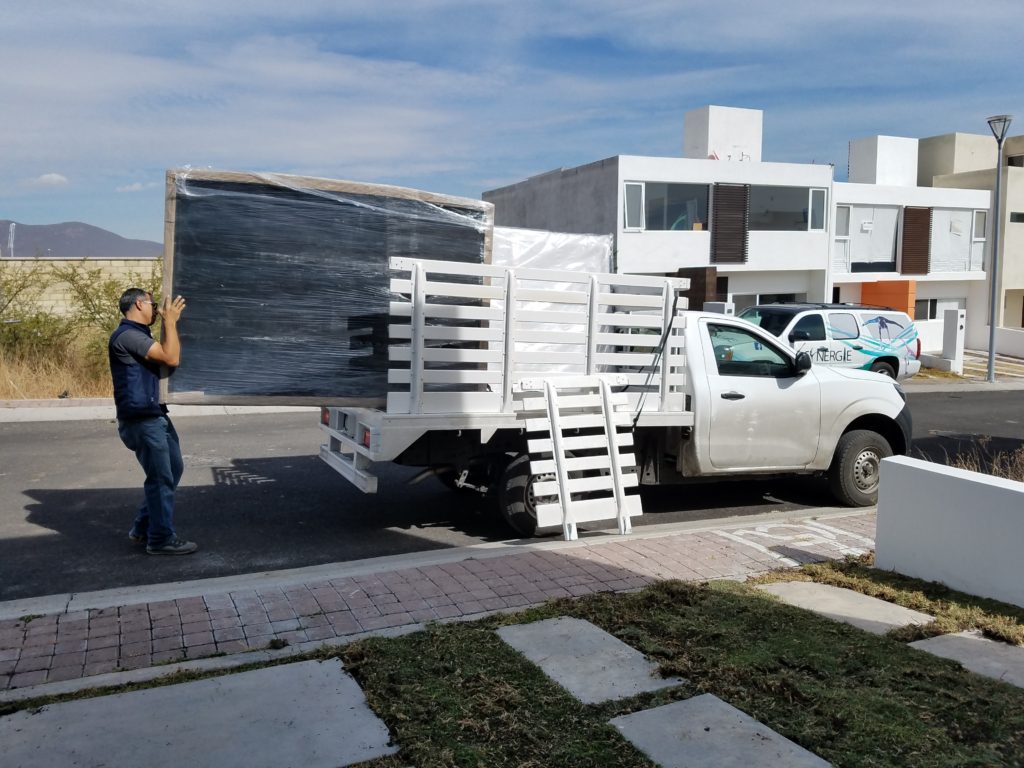 DICO was the least expensive, and we got a deal on two beds, a couch and TV table. All were delivered in less than a week on a pickup truck. Was it the best quality? Well, the beds were good, but after 6 months the couch has two dips where we have consistently sat.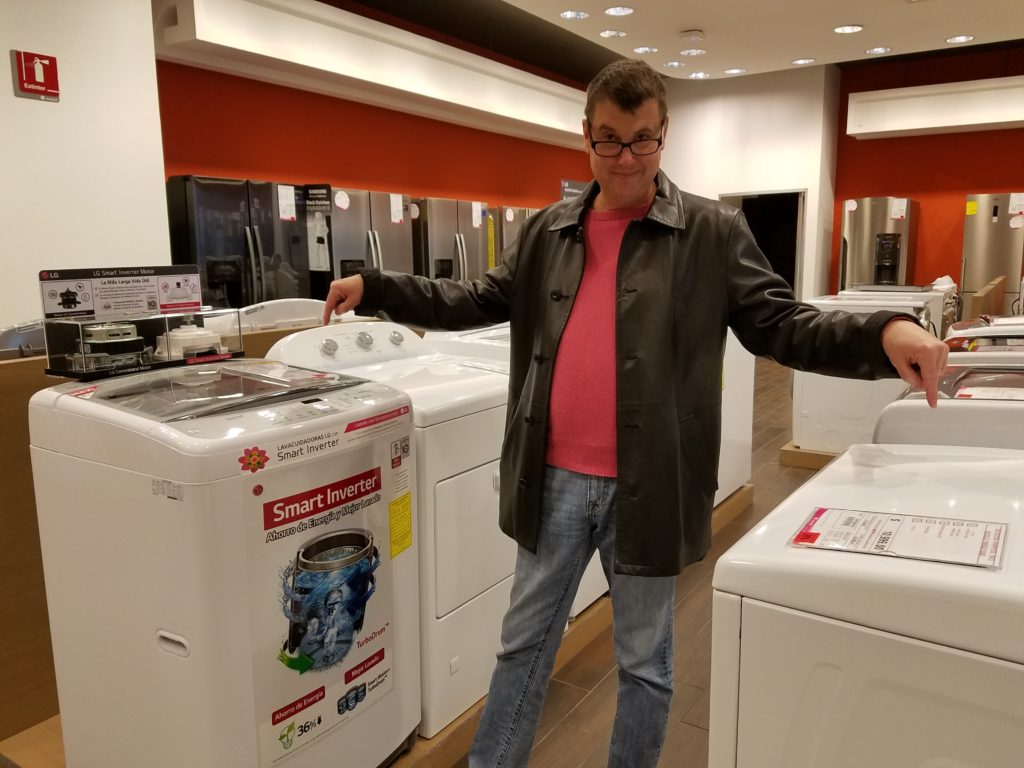 We bought all of our appliances at Liverpool in the Antea Lifestyle Center. Why? They are constantly having discounts on top of discounts!
We bought a full- size refrigerator, washer, dryer, and 65" TV, all with a store discount on top of the manufacturers' discounts. The delivery dates for these were supposed to be one-two weeks. After a week, we went back to the store to double check on delivery dates. The TV was going to take another 2 weeks, so we bought a 40" TV that we could carry out of the store and shove in the back of an Uber.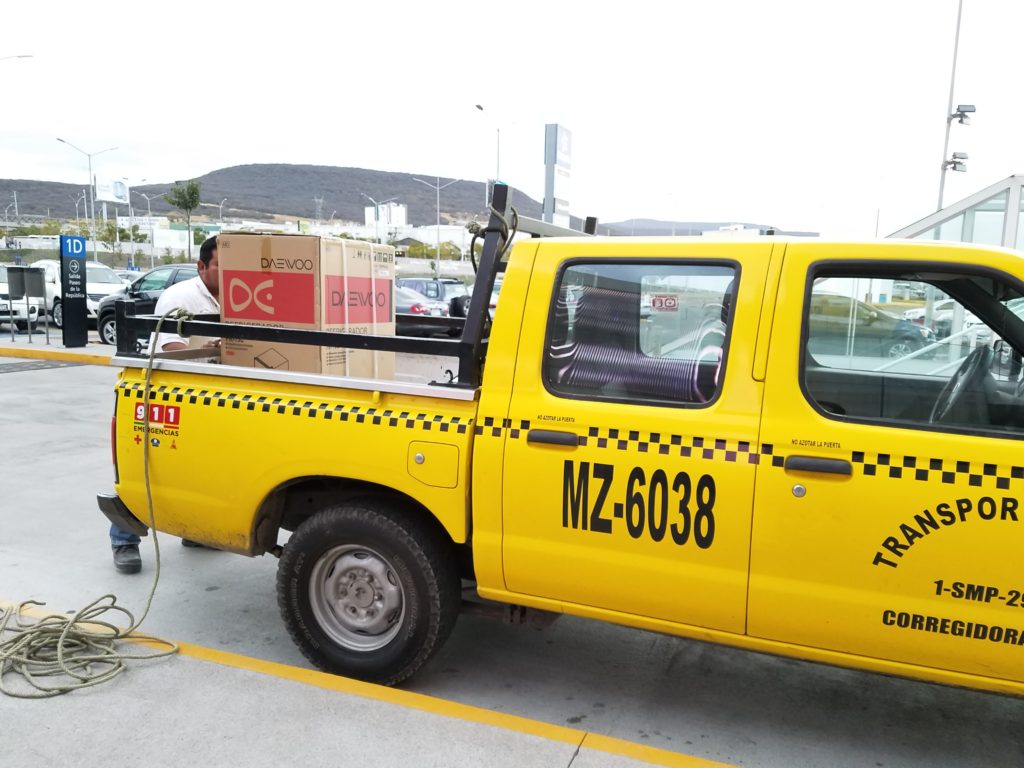 The washer, dryer and refrigerator were going to be another 3 weeks. So we bought a mini-fridge to get us by. The lady at the store told us there was no way it was going to fit in an Uber. She was kind enough to arrange a taxi truck to help us get it home.  Two days later we had a surprise delivery of the big fridge and washer. Now we have a designated wine fridge.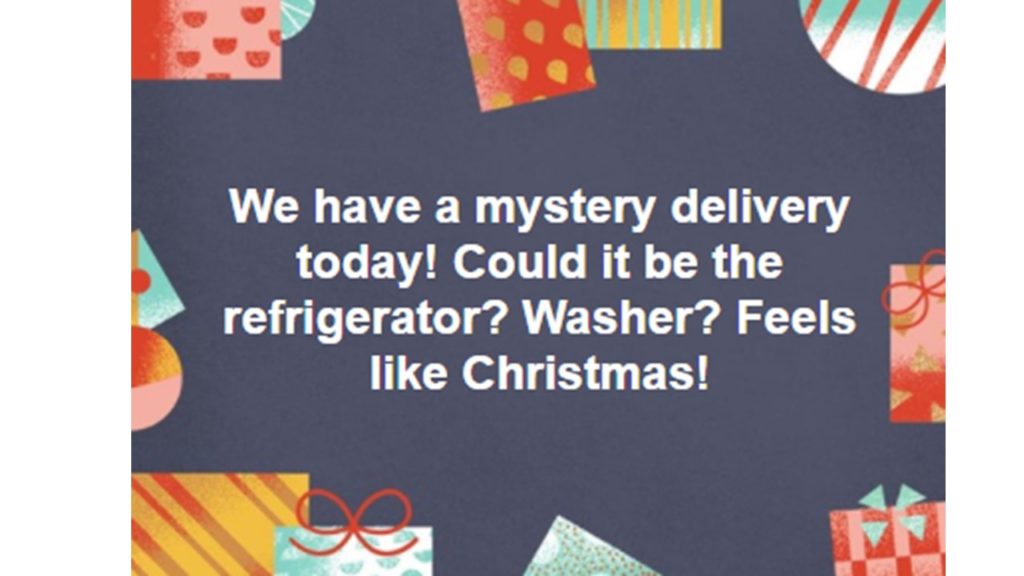 The dryer arrived 2 weeks after that. We were excited to have an electric dryer running on 110watts, until we discovered in the manual that it ran on natural gas. The gas in our tank is LP. We had to wait another 3 weeks until a whirlpool repairman could come out and change the gas motor. Drying our clothes in the sun for over a month was not fun. The clothes were covered with lint, dried crunchy and critters liked to hide in the towels.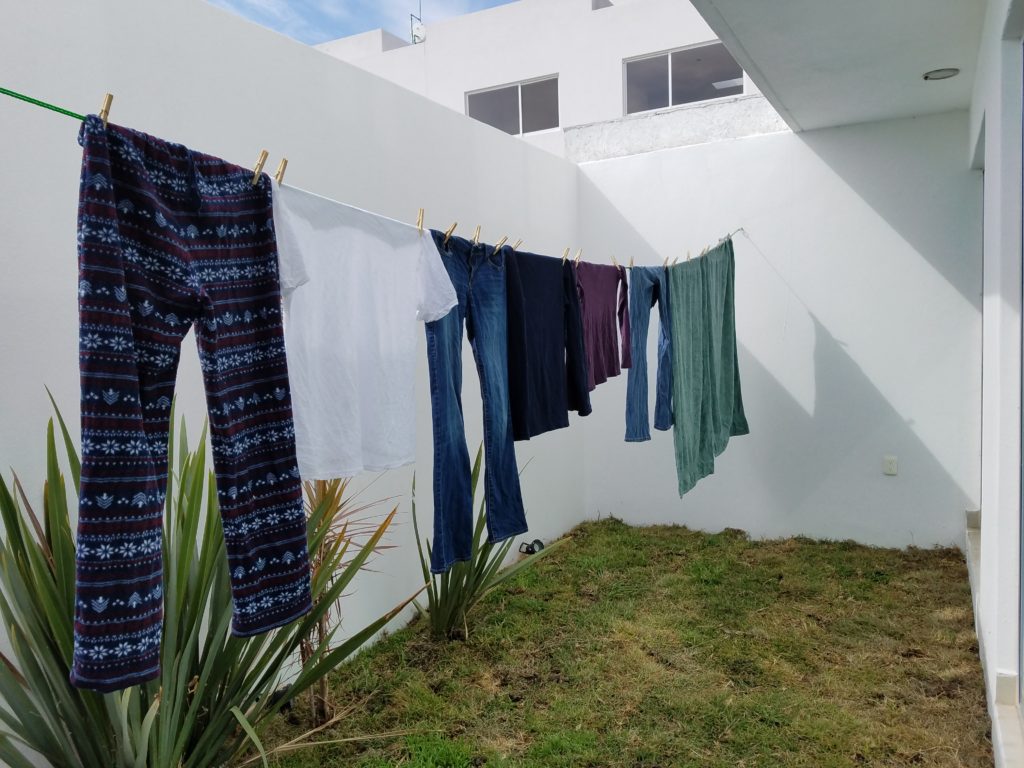 Our rooftop patio furniture and grill came from Homea near downtown Queretaro. The patio furniture was delivered the same day we bought it.  This is us enjoying a sunset dinner on the roof.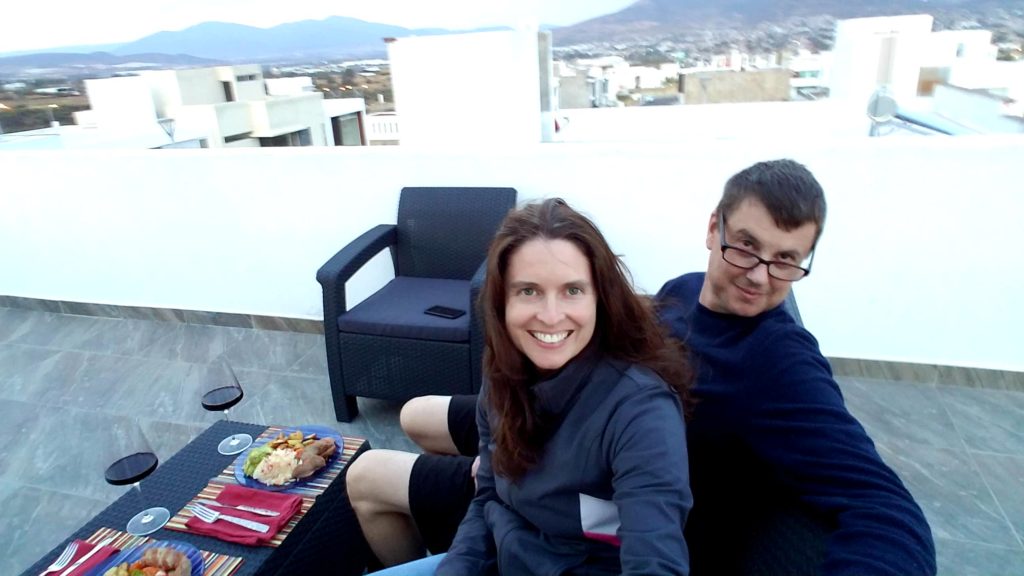 There were a few hiccups along the way. One store "forgot" to schedule a delivery on our tables. Another store made us pick up our nightstands from the warehouse because we weren't home at the designated 8am-8pm delivery time. And twice the store salesperson had left the company, and no one bothered to check their sales records and delivery dates.
We have all the necessities to live, and now we can take our time and explore the markets and other home good stores for the pretty accents that will give our home that "Mexican" charm. Check out our post on Mexican Art Gift Guide of Handcrafts You'll Love.
Relocation Consultation
Do you have questions on prices, neighborhoods, and expectations about starting your new life in Mexico? Ask us directly! We can set up an hour long video conference call on Whatsapp and help answer questions that pertain to you and your lifestyle. Our consultations are $70 USD for an hour. If we go over the allotted time, no worries. We won't charge you extra. We want you to get the answers you need to make the best decision for a new life. Plus, we will send a follow-up email with other resourceful links specifically for you.