Why We Love Mexico City and Visit Again and Again
Mexico City is one of the most dynamic cities in the world with its collection of neighborhoods, world class cuisine and an endless list of attractions for the young and old. As a major airline hub for the Americas, its easy and affordable to fly in for a long weekend or extended vacation. Stroll in peaceful silence in Parque Chapultepec, visit a castle, dine at world famous restaurants, visit art and history museums and pump up the adrenaline at one of the many theme parks. From ancient Aztec ruins to being named the World Design Capital in 2018, Mexico City is the perfect big city getaway.
There aren't many cities that we have visited more than twice, but there's just too much to love about this melting pot of regional and international cuisine, ancient and modern architecture and the friendliness of its people. As many times as we have been here, we still have not done everything!
Fun Fact: Mexico City is the largest Spanish speaking city in the world
With a population of over 22 million, Mexico City is the largest Spanish speaking city dwarfing its European counterparts. The second largest Spanish speaking city Buenos Aires, Argentina comes in well below at 15 million. Mexico City is also the oldest capital city in the Americas with archeologists estimating the founding of the Aztec Empire somewhere in the 1300s.
Disclosure: Some links may be affiliate links where we receive a super-small commission at no additional cost to you if you click through and make a purchase. We call this our Chocolate & Churro Fund.
Flights to Mexico City
Mexico City is a major airport hub in the Americas and can be easily reached from most major airports around the world. From the United States and Canada, it's just a few hours flight. Check the WayAway Homepage
for flight prices. Airlines that fly into Mexico City include:
American Airlines
Delta
AeroMexico
KLM
Copa
Iberia
LATAM
Air New Zealand
Air France
JAL
Korean Air
Virgin Australia
Volaris
Interjet
Westjet
JetBlue
At an elevation of 7300 feet and boasting a temperate climate between 50-75 degrees Fahrenheit even in summer, Mexico City is the perfect vacation choice anytime of the year. And if you want to visit other cities near Mexico City, the bus transportation is first class. Living in Queretaro, we can easy get to Mexico City on a 3-hour, extremely comfortable bus ride.
Where to Stay in Mexico City
Mexico City is large, but most attractions are centralized into a few neighborhoods. Depending on your interests, you may want to stay in different areas during your trip or on future trips. Check Booking.com for hotels in your neighborhood choice.
Zocalo
Several hotels are located in the Zocalo or historical center. For history buffs, this is the ideal place to stay. From the Templo Mayor and palaces to the many museums, you could walk the many streets here and always find something new. The Zocalo Central or Gran Hotel Ciudad Mexico (as shown in 007's Spectre) has the best views of the Metropolitan Cathedral and Plaza de la Constiticion.
Polanco
Polanco is one of the "ritzy" neighborhoods with its high-end shopping and dining. Foodies would enjoy this neighborhood home of Pujol and Quintonil, two restaurants on the Worlds Best Restaurants list. With its wide avenues, beautiful parks and international allure, this is where many people stay as it is close to museums and Bosque de Chapultepec. Our favorite boutique hotel in Polanco is Pug Seal Allen Poe, directly between the main avenue of President Masaryk and Lincoln Park.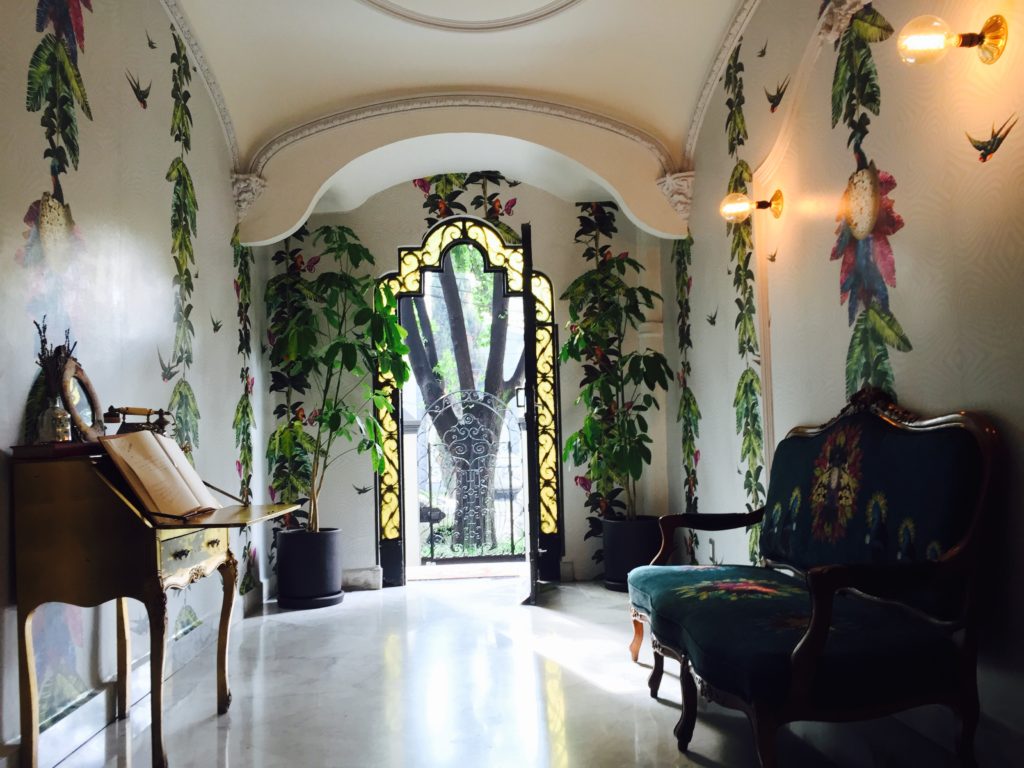 Condesa and Colonia Roma
For those wanting that neighborhood vibe with cafes, galleries, eclectic shops and funky bars, Condesa, Roma Norte and Roma Sur (all close to each other) may be just the place. World renowned chefs have flagships restaurants along with smaller projects in these neighborhoods and they are within a short drive of Parque Chapultepec or the Zocalo.
Wherever you decide to stay, try to be near a park to observe daily life of the locals. Get up early between 7-8am to watch dogs play off-leash together while the landscapers shake their heads at their antics, and owners mingle over coffee.
On Sundays, Paseo de la Reforma, one of the main roads through Mexico City, is closed to traffic from 8am-12pm. Walkers, runners, cyclists and even Zumba participants crowd the street for the best workout party in Mexico. Many of the larger hotel chains are located on Reforma or close to it. For my birthday one year, we stayed at Le Meridien, a Marriott property and used points.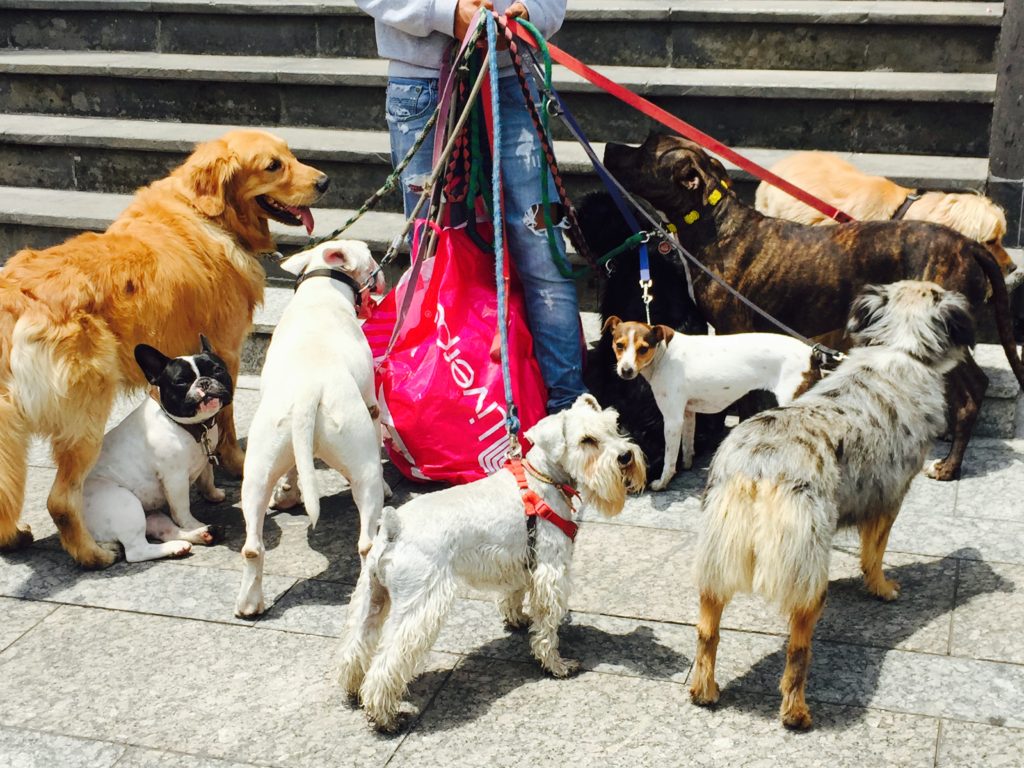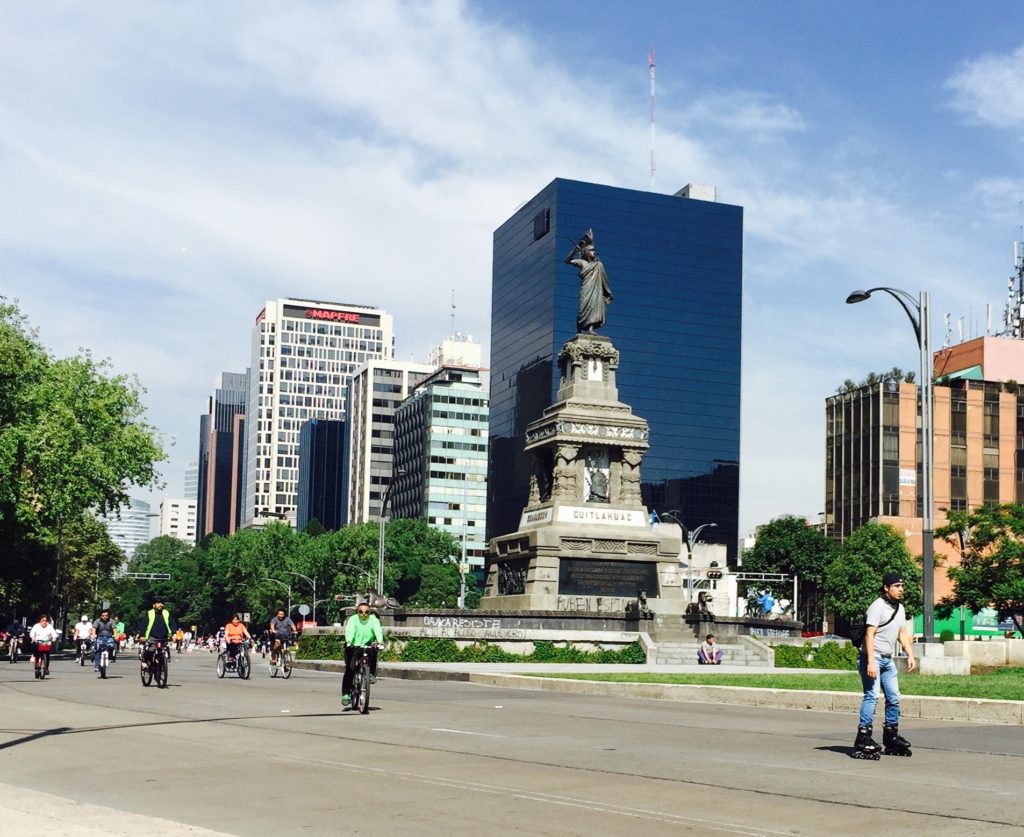 Hotel Alternatives
Some people like their accommodations to feel more like a home. Travel Like a Local For Less. Exchange Pet Care For Free Accommodation with www.TrustedHousesitters.com. We stayed in Mexico City for 11 days petsitting someone's dog and absolutely loved it. Airbnb is another alternative.
For those that like modern conveniences and 24/7 concierge service, Casai might be for you. Their blog contains the most up to date curated city guides from local chefs and artists, descriptions of the must-see bars and restaurants, and updates on new features, like their recently launched Casai bike rental program.
What to See and Do in Mexico City
Visiting the Zocalo is a must for anyone traveling to Mexico City. Marvel at the largest cathedral in the Americas, the Aztec ruins of Templo Mayor, and gaze upon Diego Rivera's murals in the Palacio National and Belles de las Artes. There's a lot to see in the Zocalo, and a walking tour willl help you better plan your day to see what you want.
Museums
There are well over 130 museums to visit housed in large complexes, former palaces and Bohemian homes. The Museo Nacional de Anthrologia traces Mexico's history back thousands of years. Fine art lovers can't miss Soumaya Museum with its unusual shape and over 66,000 works of art and sculptures from world renown artists like Salvador Dali, Pablo Picasso and Joan Miró.
Art can be seen everywhere in Mexico City from large murals on modern day buildings to the Blue House of Frida Kahlo in Coyoacan. Walking tours or even better, food tours are a good way to see the sights and learn the city's history. Who doesn't love tacos and mezcal?
Theaters
Theater lovers will be overwhelmed with the number of performances in Mexico City. Catch a Broadway show, Cirque performance or a concert at Teatro de la Cuidad, Foro Shakespeare or other classic theaters. Mexico City even has its own Opera House and Folkloric Ballet that perform at the Bellas de las Artes.
Ancient Civilizations
And for those that enjoy ancient civilizations, a guided tour of Teotihuacan to see the Pyramids of the Sun and the Moon is an easy day trip just outside Mexico City. Better yet, get a bird's eye view at sunrise in a hot air balloon ride over the city ruins and really see how large this city once was.
If you don't have time to leave the city, head to the Zocalo. Behind the Metropolitan Cathedral are the recreations of the city of  Tenochtitlan at the Templo Mayor Museum, the foundation that Mexico City is now built upon.
Find and book Mexico City tours and activities on Viator.com. Book ahead to save time and money!
Bosque de Chapultepec
As the "lungs" of Mexico City, Chapultepec is a green haven in the concrete jungle of Mexico City. Spend a day wandering the many paths through the park, visiting the Zoo, the Modern Art Museum, the Museo de Nacional Anthropologia or see the Chapultepec Castle, a real European castle built by the Hapsburgs.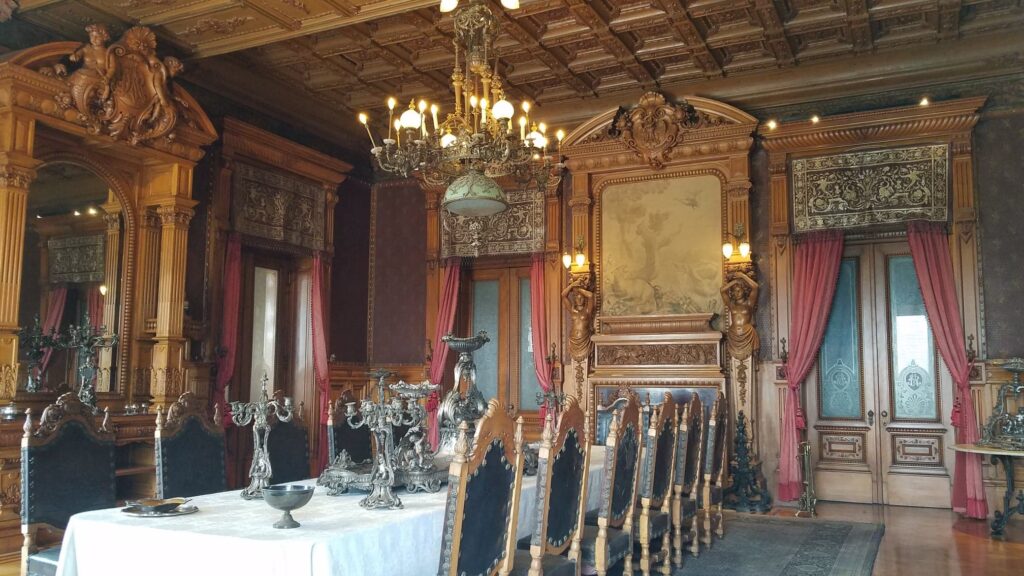 Hungry for an adrenaline rush? Theme park enthusiasts can experience the roller coaster thrills at Six Flags Mexico City and La Feria de Chapultepec.
For those who want something a little more relaxing, take a scenic gondola ride south of the city through the ancient Aztec canals of Xochimilco while being serenaded by a mariachi band.
Shopping for Authentic Mexican Gifts
Kitschy souvenirs shops are everywhere in Mexico City with the usual shot glasses and cheap junk, but for those of you who want something more unique visit Mercado de Artesanias La Ciudadela.  La Ciudadela is a beautiful traditional artisan market just outside Mexico City's historic downtown. You can find leather goods from Leon, Talavera ceramics from Puebla and decorative metals and tiles. It's like a "one stop shop" of Mexico's handmade specialties. Skip the cheap stuff and take home something that will add color to your house and be a unique conversation piece.
Not enough room in your suitcase? No problem! Anthentic artisan gifts can be ordered online.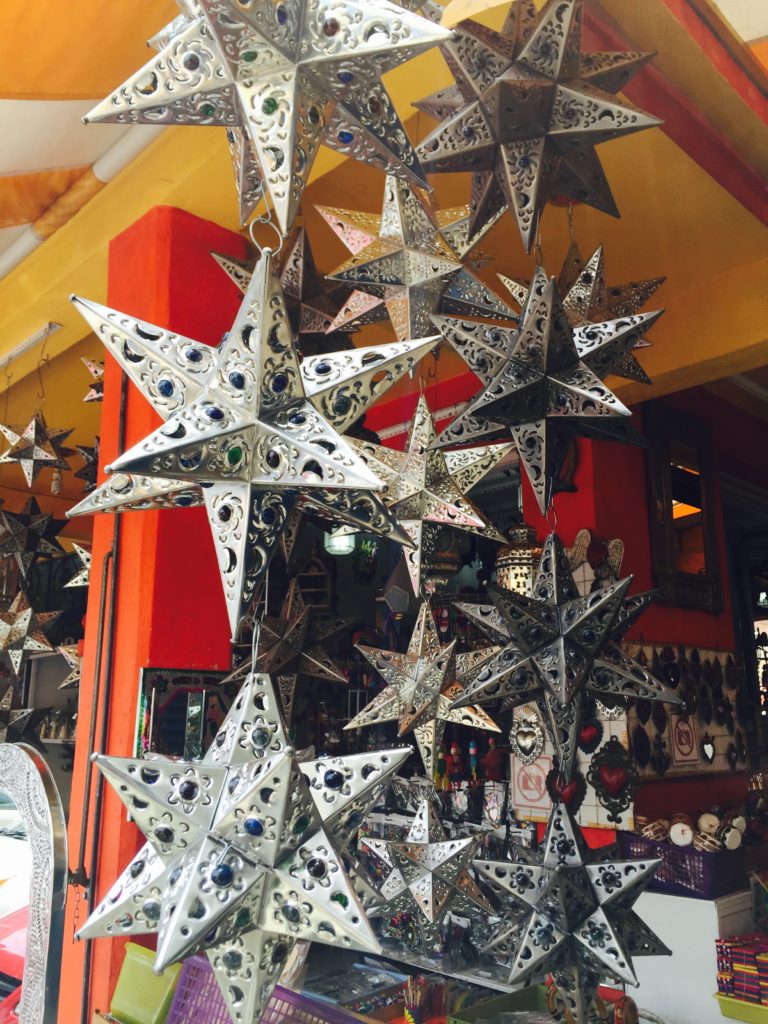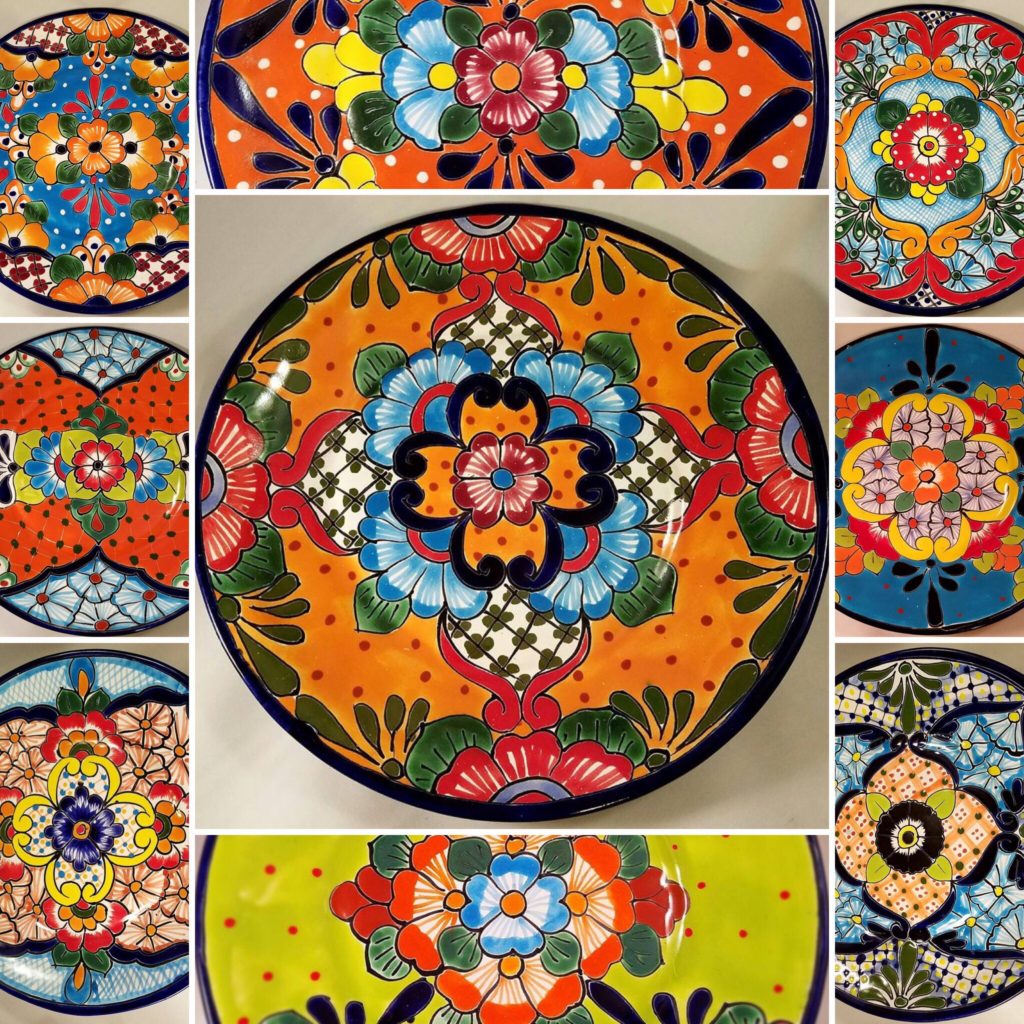 Where to Eat in Mexico City
Mexico City is a food lover's paradise. To experience Mexico City's Best Latin American Restaurants, we recommend making reservations before you go.
Pujol and Quintonil are located in Polanco.
Sud 777 is about 30 minutes south in the neighborhood of Álvaro Obregón.
Rosetta, Maximo Bistrot and La Docena are all close to each other in Roma Norte.
Nicos is north in Claveria.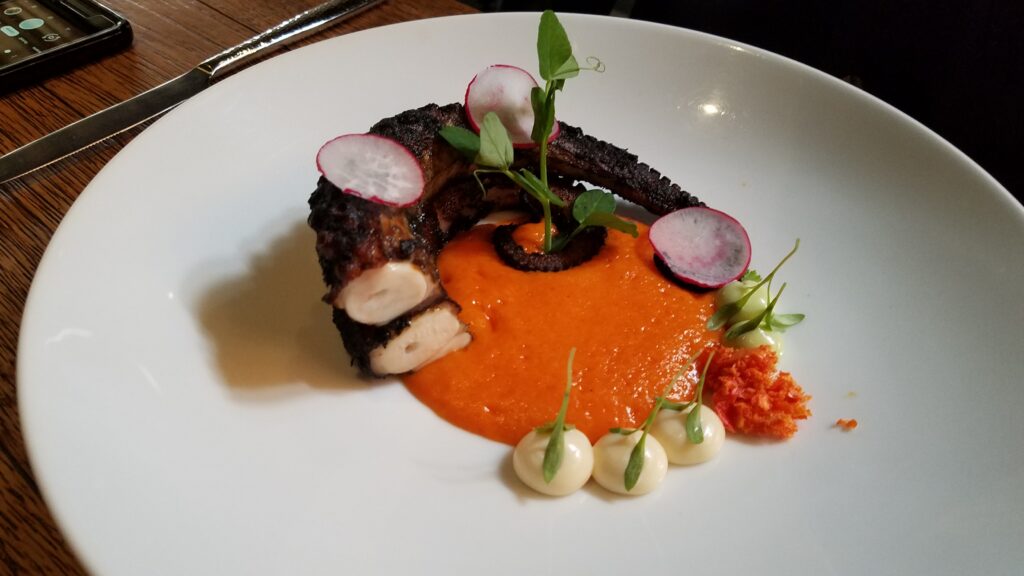 Octopus with piquillo pepper puree at Sud 777, Mexico City
These aren't the only restaurants we recommend. Gabriela Cámara's Contramar in Roma Norte is best for lunch and has the freshest seafood. El Hidalguense, a fantastic Hidalgo lamb barbacoa place between Roma Norte and Roma Sur is only open on the weekends. Try street food of tacos, canastas and huaraches at the weekend markets or in Mercado de San Juan. And for dessert, there's no better place than Churreria El Moro for chocolate and churros (multiple locations).
Or take a food tour in Mexico City! Many Mexican favorites were created right here in the city, and you can taste other regional dishes as well. We recommend trying the Top 10 Tastings of Mexico With Locals: Private Food Tour.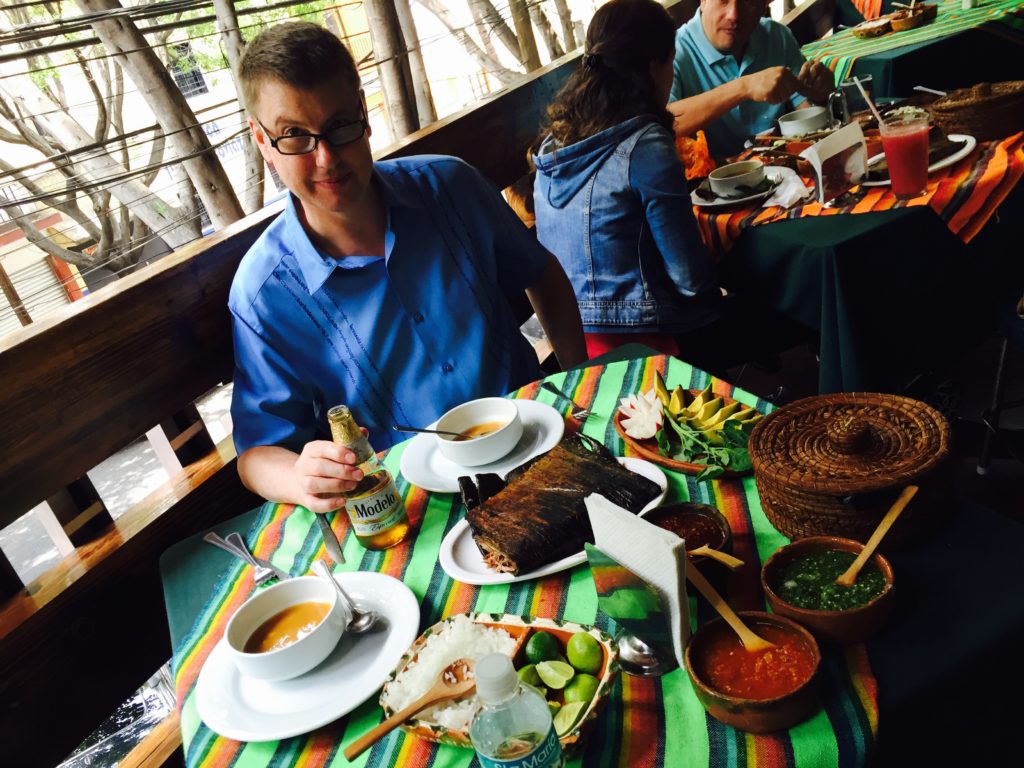 What to Eat
Tacos are the first thing that come to mind when you are thinking of what to eat, but Mexico City brings all the regional specialties together in one city. Try different moles from Oaxaca and Pueblo like mole poblano, mole verde or mole almandrada (made from almonds). Barbacoa can either be lamb or beef. Carnitas and Gorditas are popular in the state of Queretaro. The seafood is second to none in Mexico City, so if you are hankering for Baja fish tacos, no problem. You can get those here, too.
Something you must try that was created in Mexico City in the 1930s is a huarache. A huarache is a masa ball flattened and oblong shaped, topped with almost anything you can imagine, but usually mashed beans, onions, potatoes, meat, different salsas and of course, cheese for the final touch. They can also be filled with cheese or meats. This delicious dish resembles a type of sandal, or "huarache" which is how it got its name. There's no shortage of street food tours in Mexico City!
What to Drink
You can't come to Mexico and not have their signature drinks. Tequila is the most known and it's distilled in the pueblo magico of Tequila. Mezcal is a distilled liquor that gets its smokey flavor from roasting the agave hearts over a fire. Mezcal is created in 14 states, but the most popular mezcals come from Oaxaca. And don't forget to try the wine. Mexico boasts 3 major wine regions each with unique flavor profile. We have 9 wine brands we highly recommend you should try.
Looking for a great bar? While there is no shortage of great bars, four of the World's 50 Best Bars are found in Mexico City! Make your reservations for Licoreria Limatour (#4), Handshake Speakeasy (#11), Hanky Panky (#13). and Baltra Bar (#32). For a fun night, why not try this Mexico City Bar Crawl?
What Other Cities Can I Visit From Mexico City?
While there's plenty to see and do in Mexico City, you may want to add some other cities to your trip.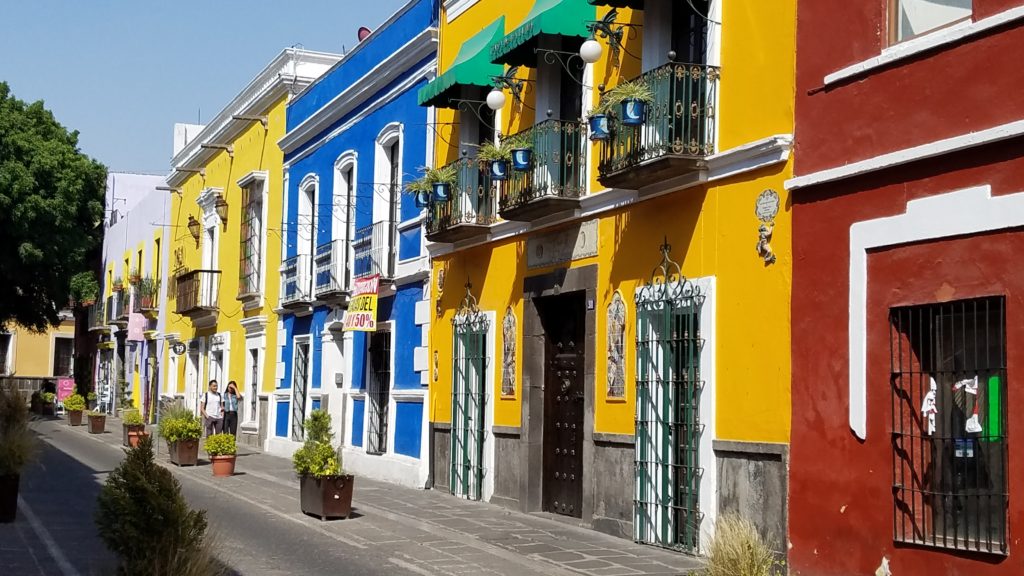 Puebla is a two hour bus ride away. You can explore Puebla on a day trip from Mexico City, but it really deserves at least a two-night stay to explore it's Baroque architecture, talavera tiles and it's regional cuisine, especially it's mole poblano. And just a 15 minute ride away is Cholula, a pueblo magico. Visit in the morning on a clear day to view the church on the hill framed by the volcano Popocatépetl. (We did not get to see it on a clear day)
Other magical towns nearby are Cuernavaca and Taxco known for their silver mining. Monarch butterflies migrate to their winter home in the forests of Central Mexico just a couple of hours away from Mexico City. Day trips can be taken to any of these UNESCO World Heritage Sites and nature preserves. Check out Viator.com to see what tours they offer or take the bus from to some nearby cities to explore on your own.
Don't be surprised if you fall in love with Mexico City. It's easy to do. We've visited multiple times and always find something new. Like many other great cities, one visit is not enough, but it's a good start.  With reasonably priced flights, a mecca of things to do and its central location and ease of travel to other destinations makes Mexico City the ultimate city getaway.
Pin This!