Seward: Gateway to Alaska Adventures
If there's one town that embodies all that Alaska has to offer, it's Seward. Framed by the Kenai Mountains on one side and Resurrection Bay on the other, Seward is a picturesque base camp for all your Alaskan adventures.  Touch a glacier, play with sled dogs, hike through the wilderness or cruise the bay to view wildlife, Seward has something for everyone.
The town of Seward was founded in 1903 though it was used as a port by Russian fishermen well beforehand for over 100 years. The 18-mile long Resurrection Bay doesn't freeze in winter which makes it a perfect port for shipping supplies into and out of the interior. In 1964 on Good Friday, an earthquake hit between the towns of Whittier and Valdez on the Prince William Sound, exploding oil tanks and sending tsunamis along the Alaskan coast. A tsunami raced up Resurrection Bay destroying 90% of the town of Seward.  It has since rebuilt and flourishes as a fishing, shipping, and tourism gateway to the Kenai Peninsula.
Here are just a few things to do in Seward while you are in town.
Disclosure: Most links go directly to the business websites.  Some links may be affiliate links where we receive a small commission at no additional cost to you. We call this our Chocolate & Churro Fund.
DOG SLEDDING
Go dog sledding in Seward any time of the year at Iditaride Sled Dog Tours run by legendary musher Mitch Seavy and his family. These over eager dogs exercise year-round to prepare for the 400-mile competition between Anchorage and Nome held annually in February.  The original Iditarod began at mile marker 0 (zero) by the Alaskan Sea Life Center at the end of 4th Ave.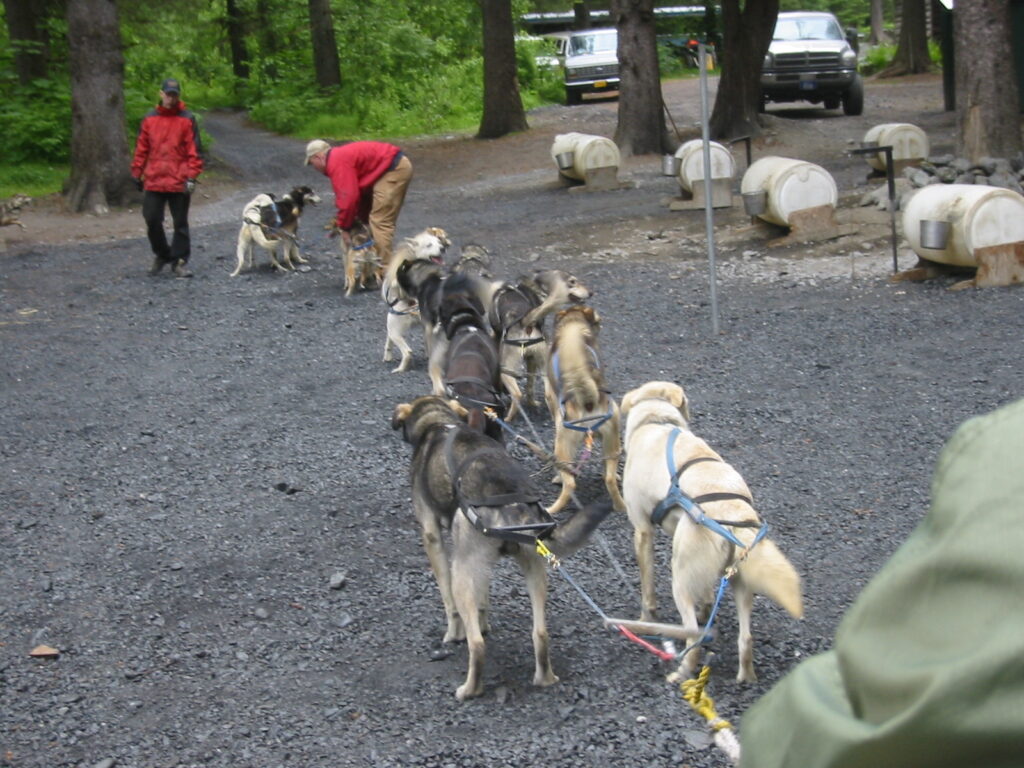 During the summer, these Iditarod sled dogs are weight training with a 500-pound metal cart that can hold 7 people, and in the winter, you can ride an actual sled.  During the competition, 16 dogs pull a 35 lb. sled with a musher, and an extra 150 pounds of baggage.  If you're lucky, puppies might be available to hold or play with.
EXIT GLACIER
Named by explorers because of its suitable "exit" from Harding Ice Fields, Exit Glacier is a fabulous example of how our climate has changed. Driving up to Exit Glacier, signs are posted to show how far the glacier has retreated in the last few hundred years.  With the increase in pollution and global warming, the glacier has receded the most in the last 75 years. Nature guides are available to point out the different plant species and answer questions about wildlife in the area.
Walking around Exit Galcier is easy for small kids to older adults. For those that want more of a challenge, try glacier ice hiking.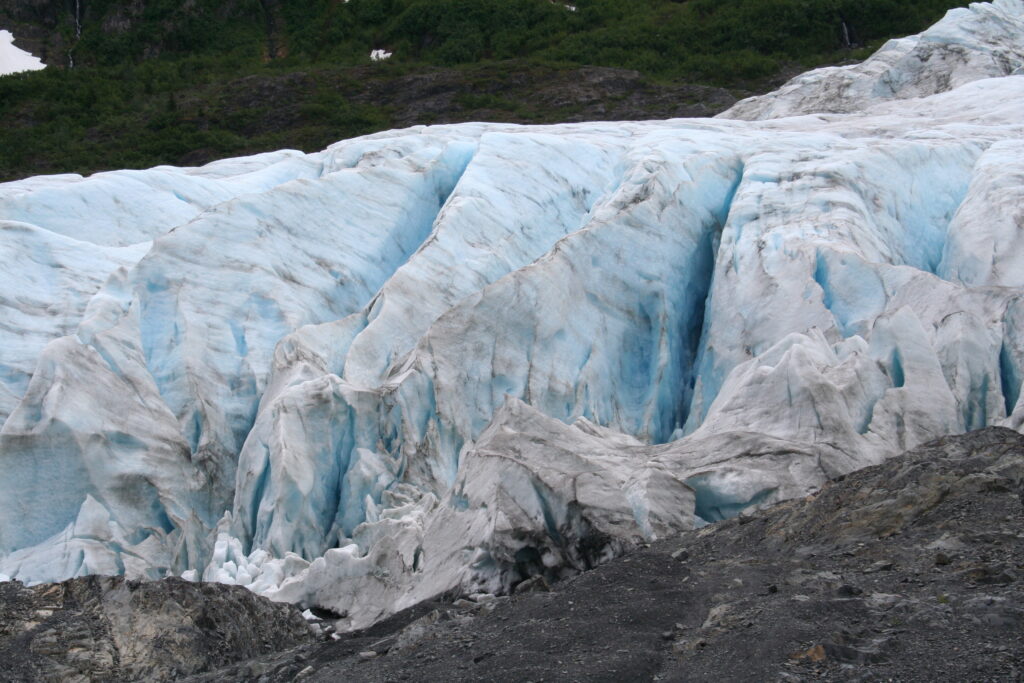 Tip: There's always a possibility of seeing a moose around Exit Glacier. The entrance to Exit Glacier is located at Mile 3.7 of the Seward Highway.
SMALL BOAT HARBOR
Seward's Small Boat Harbor is the place for all fishing and wildlife excursions.  On perfect weather days, take advantage of the many wildlife tours offered from Seward.  You never know what you may see, but the captains are experts at knowing where some of the favorite hangout spots are for Dall's porpoises, Stellar sea lions, sea otters, orcas, eagles, and whales.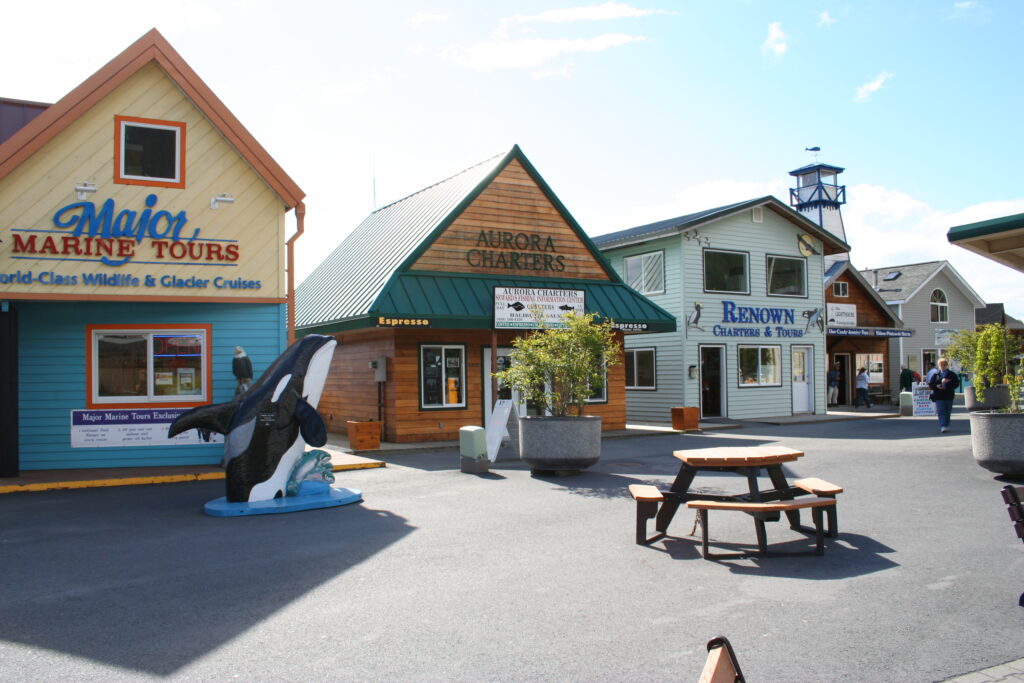 If you want to catch your own halibut, salmon or other Alaskan fish, you'll have plenty of fishing charters to choose from. Sea lions hang out below the fish prep areas, and you can ship your fish prizes home with expert fish packing businesses.. Helicopter rides, sea kayak tours, restaurants and toursit information are also available here.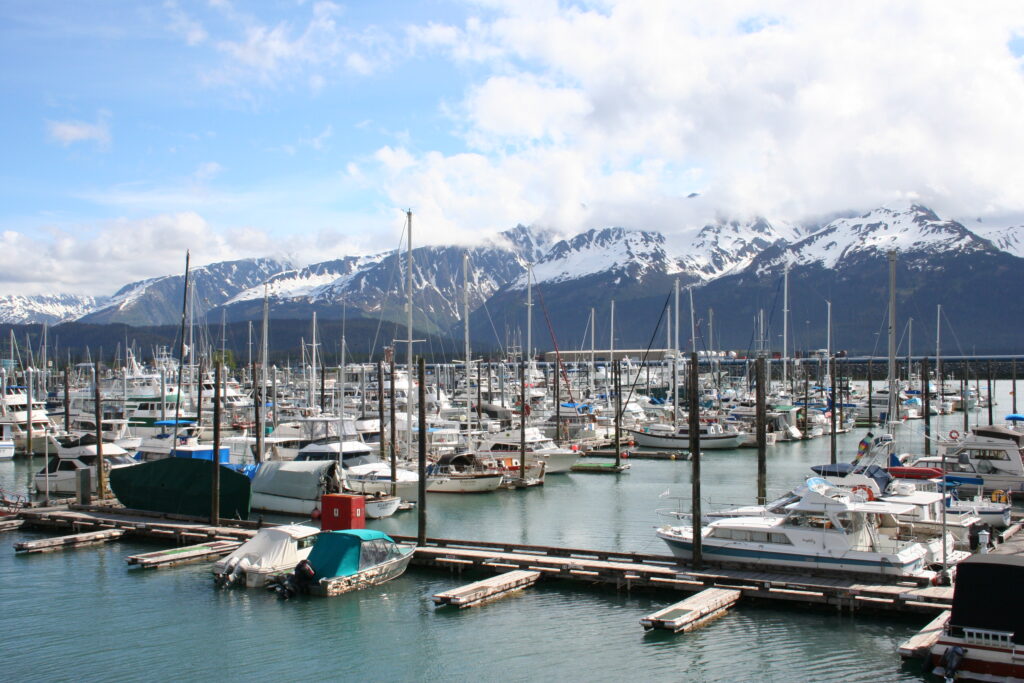 FOX ISLAND
Fox Island near the opening of Resurrection Bay is a great place to camp, hike, and paddle. This mountainous island is 3.5 miles long and 2 miles wide. Kenai Fjords Tours offers day trips to Fox Island with a lunch on the beach.
For the ultimate getaway, stay overnight in one of the eight secluded cabins of Kenai Fjords Wilderness Lodge. This eco resort is certified by Adventure Green Alaska and receives most of its power from solar. There aren't any TVS, electrical outlets or phones in the rooms. This is the place to truly get back to nature.
HIKING
Seward has plenty of hiking trails with excellent views. South of Seward there are two hikes that are exceptionally beautiful.  The Tonsina Point hike is 5.5 miles south in Caines Head State Recreation Area. You'll travel through the woods, over a stream with salmon swimming up, and if it's low tide, out to the beach. This is a good spot for a picnic, then wander back through a dead forest and fireweed (tall purple flowers).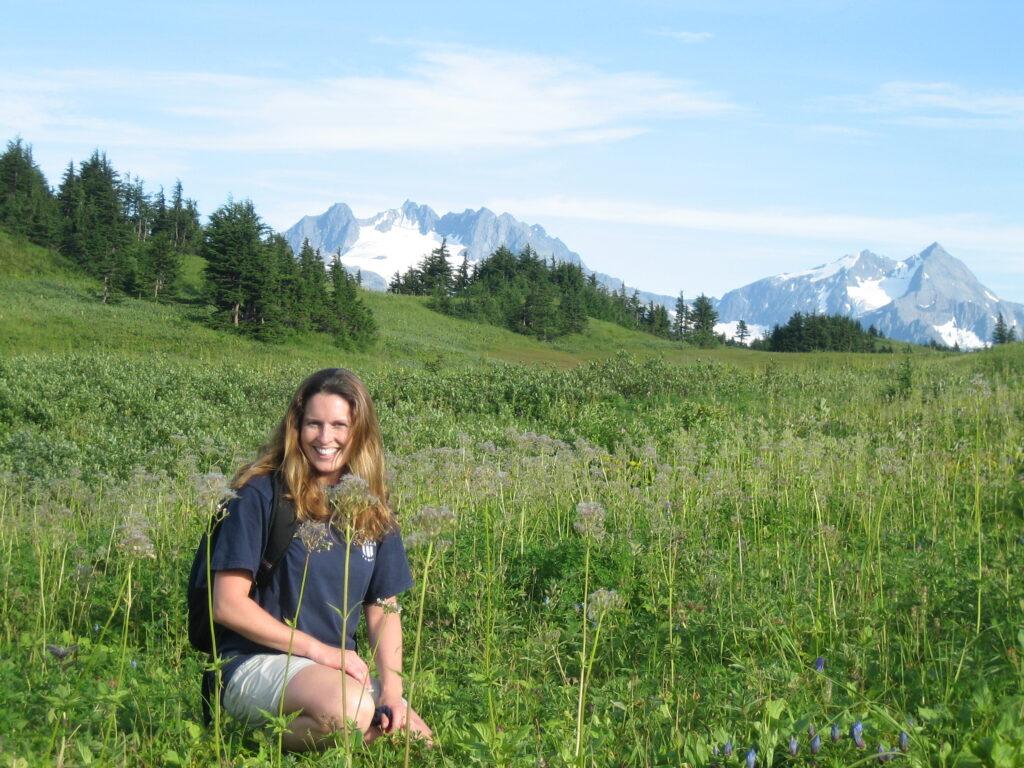 The other hike is Lost Lake Trail, a mountain hike with 2 different paths, located at mile 5.3 of the Seward Highway.  The summer path has the views of the mountains and canyon, but the winter trail has all the blueberries. Other nearby hikes include Mt. Marathon, Exit Glacier, and trails along the Seward Highway.
ALASKA SEA LIFE CENTER
Something wonderful did come out of the Valdez oil spill. The Alaska Sea Life Center is a $56 million marine life and rehabilitation center that is the only cold water marine science facility in the western hemisphere. Many of their residents are temporary, as they rescue abandoned, sick or injured animals from all over the coast of Alaska.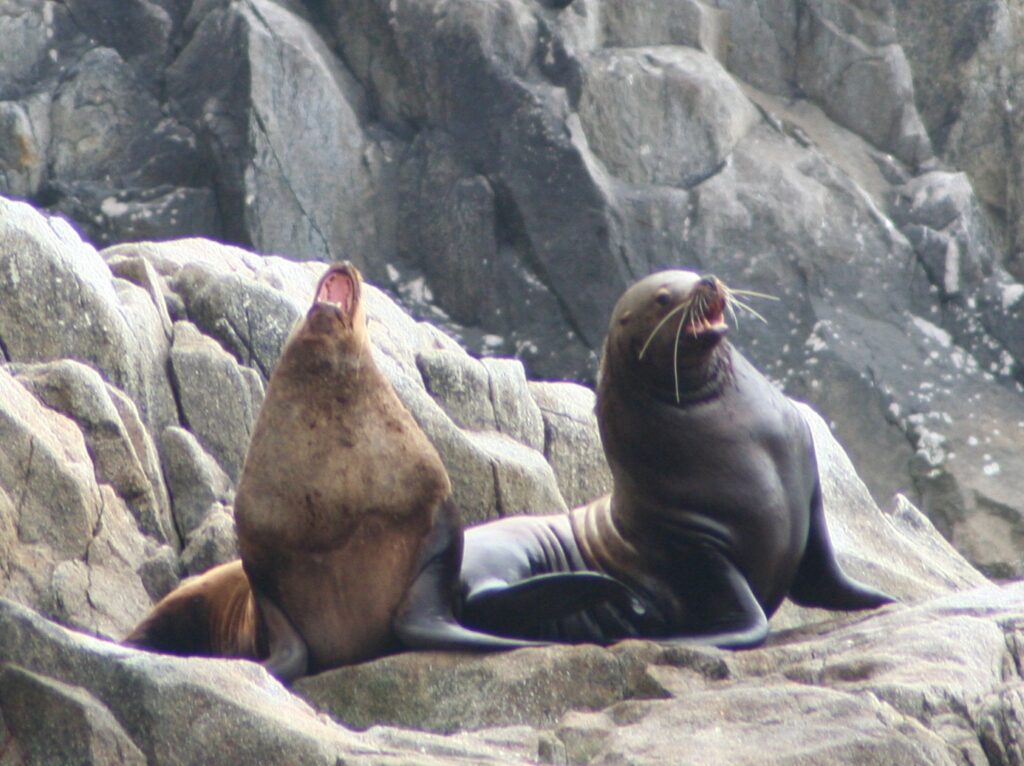 Large aquariums display the many aquatic cold water habitants of Alaska's waters, and a 21-foot deep exhibit with tall windows allows us humans to marvel at the speed and grace of puffins and rehabilitating harbor seals as they dive and glide underwater. Scientists working at the facility are studying the effects of climate change, metabolics, nutrition, and other factors that affect Stellar sea lions, sea otters, and other native species.
***Because of the coronavirus affecting tourism and loss of state funding, the Alaska Sea Life Center is in dire need of donations otherwise it will have to close its doors and relocate the animals. This would be a serious loss to the state of Alaska and its marine life.***
Please consider making a donation directly to ASLC so that marine life will have an advocate for years to come. Click ASLC.
SEWARD MUSEUM
For history buffs, the Seward Museum houses exhibits and relics from Iditarod, Good Friday Earthquake, the 1989 oil spill and the USS Alaska. It also showcases a rare 49-star American flag.
CAMPING & RVs:
Alaska is very camper friendly, and one of the best spots to camp or park your RV is Seward Waterfront Park. It's right on the beach and centrally located to all Seward attractions. A bike path runs through it and leads you to Small Boat Harbor to the North and Alaska Sea Life Center to the south.  Other accommodations are located south of Seward at Miller's Landing, north near Exit Glacier and throughout town.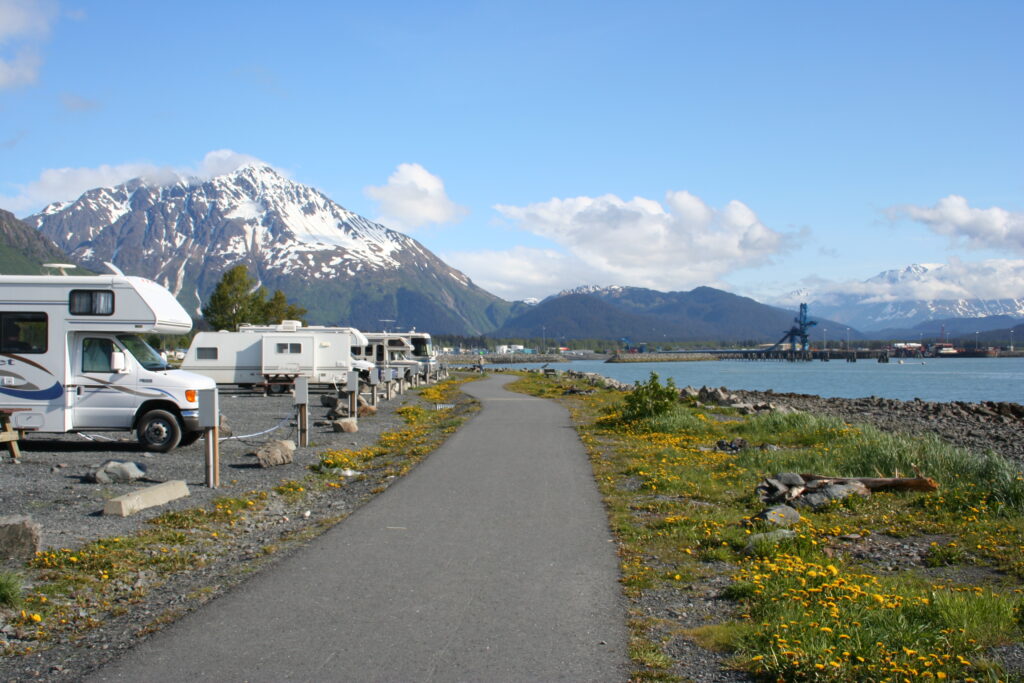 MILLER'S LANDING
Paddling tours from one day to multiple days are launched from here away from the big fishing boat and cruise ship traffic.
NIGHTLIFE
Seward is a beer guzzling town, and bar hopping is easy to do with everything so close by. The Yukon Bar has live music and a full menu including fried halibut. Note: Smoking is allowed in Alaska's bars, and jeans, overalls, and sweaters are the formal attire. Check bar schedules for entertainment.
So there you have it; Alaskan culture, wildlife, and nature all rolled into one neat little package in  Seward, Alaska.
If you are interested in going to Denali National Park, it's about a 6 hour drive from Seward. check out our post: Road Trip to Denali National Park and Other Adventures.
For more wildlife photos, check out our Photo Journey: Alaska Wildlife.
Pin This!