Designing Our Semi-Dream House in Mexico

Renting was a smart idea when we first moved to Mexico. This gave us a chance to be based somewhere that we thought would be good for us, plus have time to explore the different neighborhoods and amenities before settling into a more permanent home. The decision to design and build our semi-dream home came after many disappointing house hunting experiences over a course of a few months. What we found was always the same: a small kitchen with not enough storage.

No matter where you are located in the world, you want certain things to make your home unique to you. Some people want aesthetic details like crown molding or a vintage fireplace, others prefer granite countertops and an open plan. Our house wish list wasn't out of reach. We just couldn't find everything we wanted in one specific house.

House Hunting Helped Us Make a House Design Wish List

Every house we saw had things we liked and didn't like. The laundry rooms were outside and uncovered, rooftop terraces were small or non-existent, rooms were sometimes too small for a decent bed and bathrooms were either modern or had crappy tile. We narrowed our wish list down to a big kitchen, plenty of outlets everywhere, an indoor laundry and storage room, and a real master bathroom with two sinks and a tub. We've been together for 12 years and never had a real master bathroom, just an ensuite barely big enough for one person to turn around in.

Designing and building our own house was our best option. We could make anything work, but since our plan was to own a house outright without a mortgage, it only made sense to get everything we wanted. And when a property became available in the neighborhood we really liked on top of the mountain, and they didn't jack up the price because we were Americans, it seemed like things were finally falling into place. Our property is a long rectangular lot that is 160m2 which is roughly 1722 sq. feet. We hired an architect to help us design and configure a practical house with plenty of space and storage areas. 

Designing Our House Wish List:

BIG KITCHEN
We wanted a kitchen twice the size of any we saw during our house hunting. We needed plenty of cabinet space for spices and appliances, plus a huge island for prep work. We also wanted a deep two-compartment sink to make it easier to wash big pots. On any given project Tom could be using the food processer, a cutting board, the sous vide machine and mixer. He doesn't do anything simple of small. We wanted the kitchen and island to be big enough to host possible cooking classes and small popup dinners.
LAUNDRY/UTILITY ROOM INSIDE THE HOUSE
Most houses are 2-3 stories tall, but built on a small piece of land. Washing machine hookups are usually outside under cover. Stairs are wasted space, so we wanted to use the space underneath as storage, plus have additional room for the washer, dryer, freezer and extra refrigerator. When your husband likes to cook, you need a good size utility room for all his creations.
MASTER BATHROOM
Our house in Florida was built in the 1960s. It's ensuite bathroom was a luxury back then, but it was small with only one sink, toilet and tiny shower. Two people could not be in there at the same time. The master bathroom in our rental house wasn't much better. The shower was bigger but the room was long with the toilet behind the door. We wanted a two sink vanity, a toilet area with a wall and door, a large enough shower for two people and room for a bathtub.
BEDROOMS
The bedrooms need to be able to accommodate a queen size bed with plenty of walking area and closets. The master bedroom will have a wall of closets with plenty of drawers for knickknacks and linens. It will also have a walk-in closet for all our hanging clothes and shoes.
Do you want to see what modern Mexican houses look like?
LUXURY DESIGN FEATURE
Our luxury design feature for our house will be the rooftop living room and terrace. We expect we will spend most of our time here. We will get a big TV for movie nights, dine al fresco on the terrace and sip wine while watching the sunset over the mountains. It will also have an outdoor food prep area and parilla. When we have parties, this is where we can all hang out. 
OTHER HOUSE DESIGN DETAILS 
We incorporated other features while designing our house as well. We designed a bookcase to separate the ground floor bathroom from the living area and also make a small foyer. The guest bedrooms have balconies mainly so we could extend the rooftop terrace. The master bedroom has a huge balcony that provides shade cover for the car. And we also included a Jack'n'Jill bathroom between the two guest rooms to give our guests privacy.
Meeting with the Architect
Our architect, Alejandro, is an independent contractor that lives in our community. We sat down with him over several meetings to map out where the rooms and features would go on all three floors. By community regulations, we had to leave 5 meters in front and in back of the house for displaced water. 
Ground Floor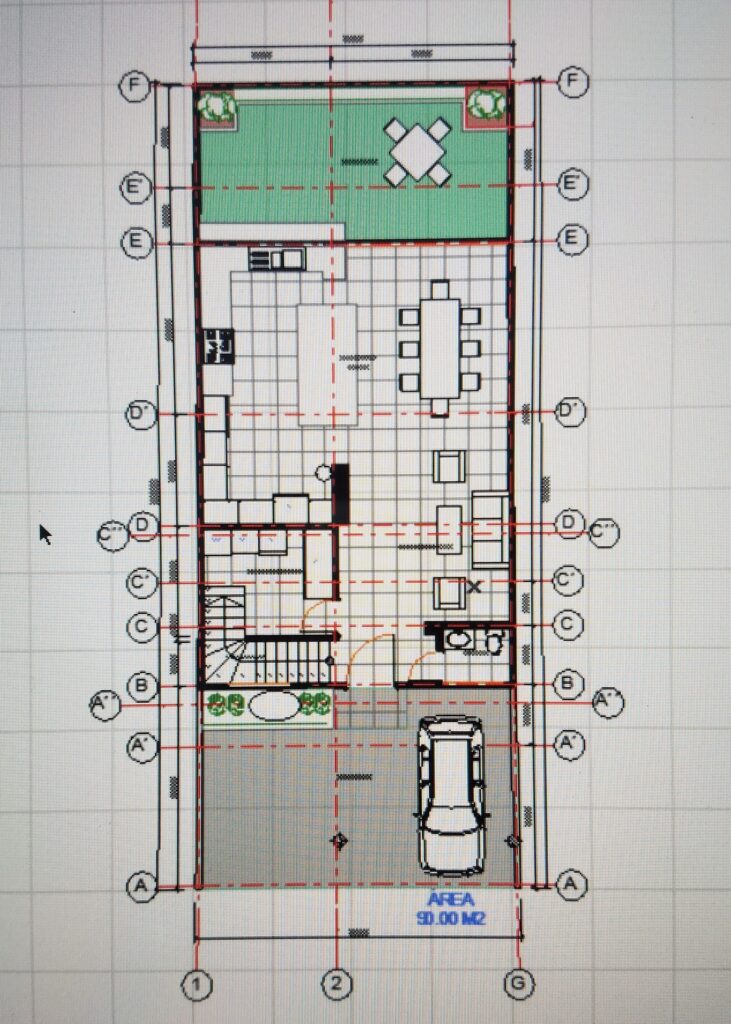 Second Floor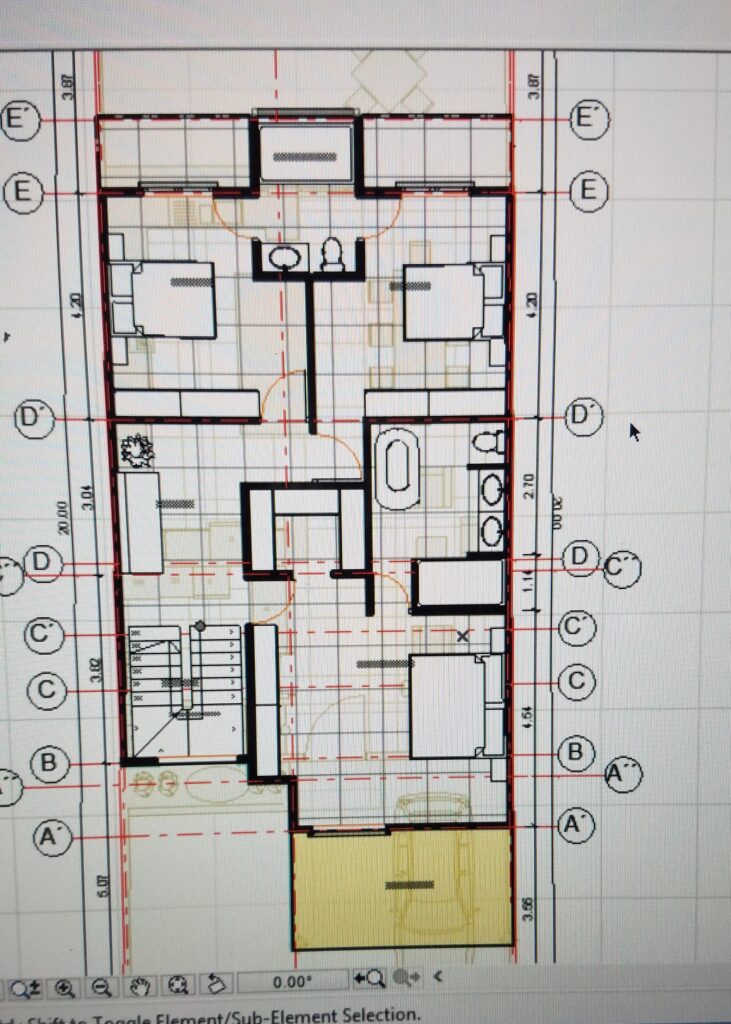 Rooftop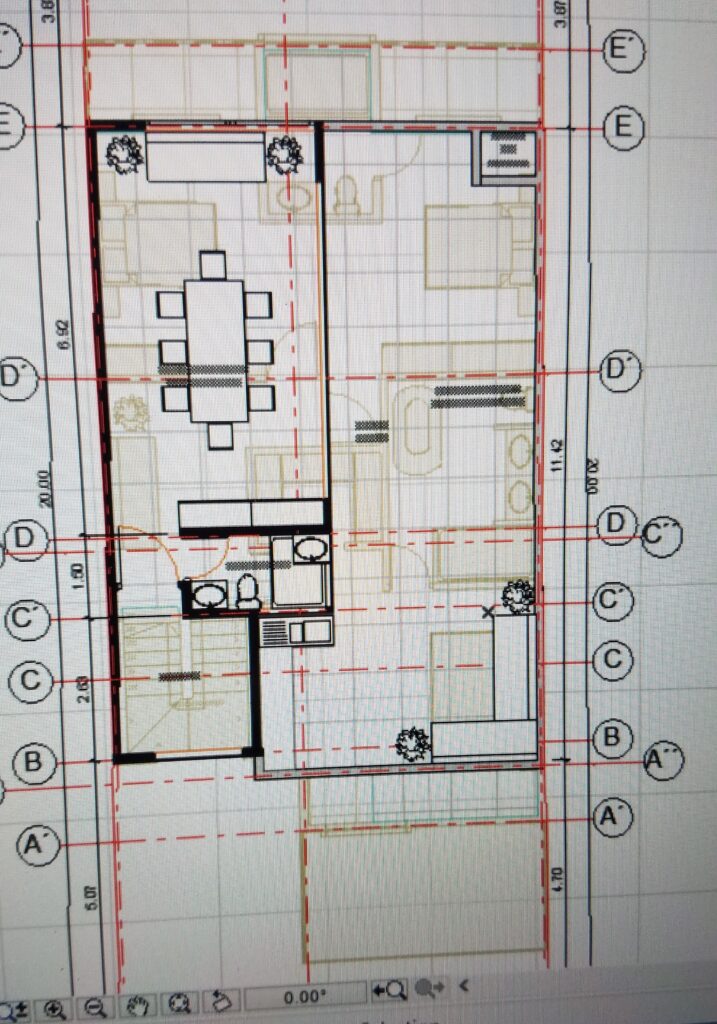 Over the weeks, we went through several revisions. Once we were happy with the layout, the blueprints were passed to the community architect for approval. Revisions were made again to satisfy the community architect whether we agreed with them or not. Most of the 3-page checklist we already complied with. The biggest hiccup was that our rooftop terrace and living room were shortened. Now the living area on the roof which was going to be our main entertainment area was slightly bigger than a bedroom.

The architect said, don't worry, that after we finished building the house and the community approved it, that we could build additions without needing their permission.
Designing the Exterior Aesthetics
Have you seen the movie Fools Rush In? Remember the scene where Isabel's Mexican family painted the house all different colors as a wedding gift? That's not our community. Our neighborhood wants all the houses to be predominantly white, but the house can have accent areas using natural elements of wood or stone.
For our accent areas on the house, we wanted Mexican talavera blue and white tile. We built shadow boxes around the windows and sliding glass doors and covered them in tile. We had plans to cover one of the short walls next to the car park with large tile and also create a band of tile around the house like you see in the picture below. The community architect approved the renderings, but when the house was almost finished, she shot down our idea saying it "looks too Mexican". We will see what we can get away with in the future.
The balcony railings in the renderings are not what I want, but we have time to decide on those.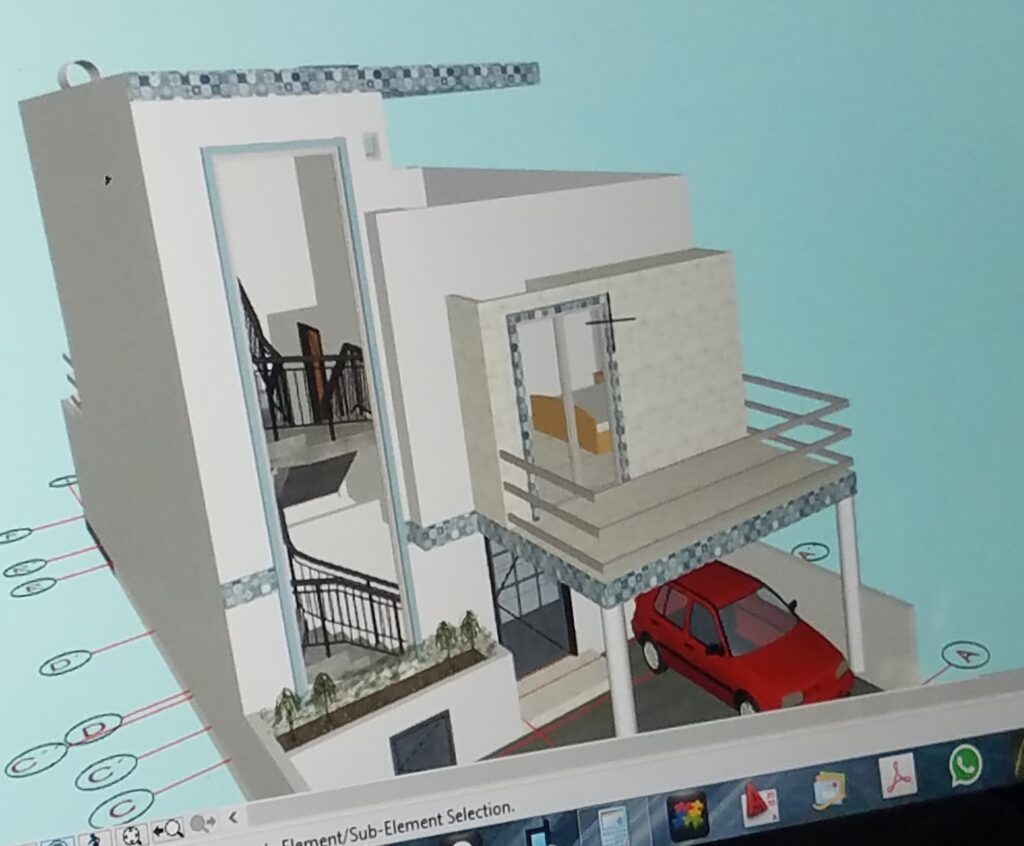 If you are considering building a house in Mexico or anywhere in the world, here are the two main features you should consider:

ELECTRICAL

During our househunt, we noticed there were never enough outlets in the rooms or kitchen. Think about how many things you plug in: lamps, cell phone and tablet chargers, TV, cable box, computers and appliances. And if you have electrical recliners and massage chairs, you need even more outlets. For some reason, architects think one or two outlets per room is plenty.

Once you design the room layouts, decide where your current or future furniture will go. Placing outlets every 4-6 feet is a good rule of thumb. In the kitchen we planned outlets every 3 feet on the counters and two more on either side of the island. In the living/dining room, we had 3 outlets on the wall and two put in the floor. For the bedrooms, we placed outlets on either side of the bed plus one other. Master bedroom has four outlets. Bathrooms each have one outlet except the master bathroom which has two. I made sure to tell the architect that we needed outdoor outlets as well. How else am I going to plug in Christmas lights?

PLUMBING

Plumbing is extremely important when designing a house. Not only do you have to plan for toilets, showers and sinks, but drains off the rooftop and piping from the cisterns into the house. We also added a solar water heater system and air conditioning units. Luckily we did all this in the preplanning stages before the house was built otherwise there would have been a lot of concrete and plaster chiseling up and through the walls. If you are designing a 2-3 story house, try to plan for the water and drain pipes of bathrooms, kitchen and laundry room to be over each other or close together.
Finished Design? 

All in all, we got the design that we wanted that's practical with plenty of space and storage. Is it our dream house? Not quite. We need more land for that, but it's larger than our last home, and we got almost everything we wanted in it.

After it's built, we have some extension plans, but that won't be for awhile.




Relocation Consultation
Do you have questions on prices, neighborhoods, and expectations about starting your new life in Mexico? Ask us directly! We can set up an hour long video conference call on Whatsapp and help answer questions that pertain to you and your lifestyle. Our consultations are $70 USD for an hour. If we go over the allotted time, no worries. We won't charge you extra. We want you to get the answers you need to make the best decision for a new life. Plus, we will send a follow-up email with other resourceful links specifically for you.