Why Should You Visit Xel-Ha in Mexico?
The natural beauty of the Riviera Maya region of Mexico is unrivaled. White sandy beaches and crystal blue water are what you see above the surface, and the world's second largest coral reef offers some of the best diving in the world below. Colorful birds, howling monkeys and other creatures make their home in the surrounding jungle. So with all this natural beauty, why should you visit the natural theme park Xel-Ha?
Disclosure: Some of the links below are affiliate links which means we will receive a small commission when you make a purchase at no additional cost to you.
Why Visit Xel-Ha?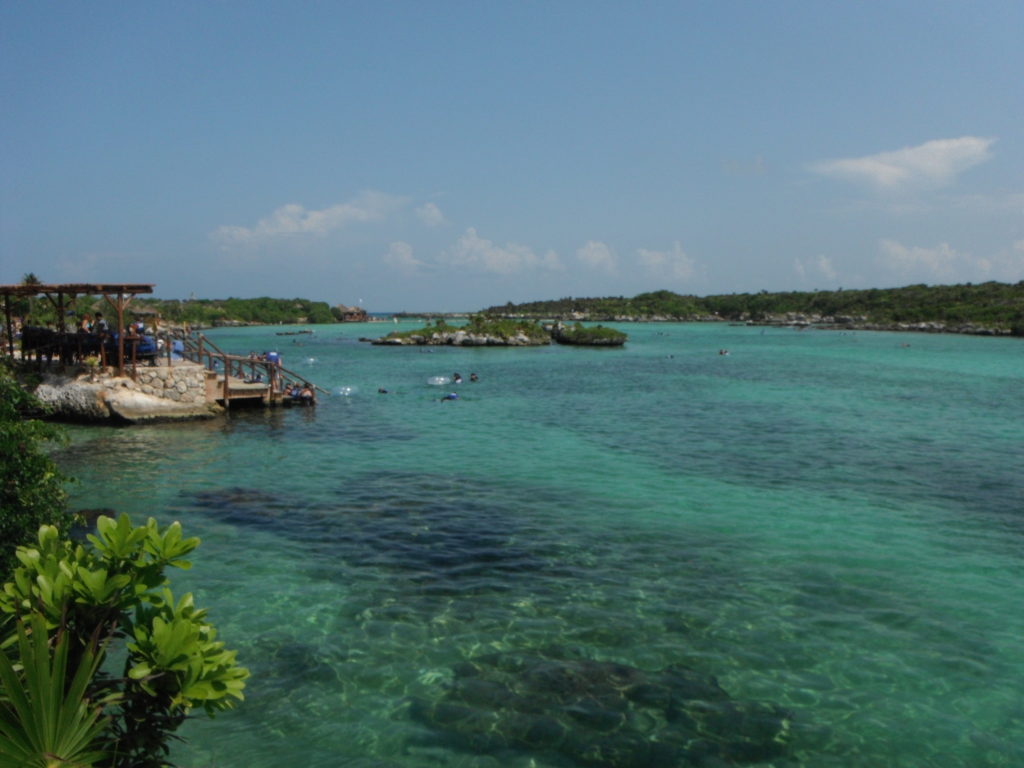 Xel-Ha is one element of Experiencas Xcaret, a company that features the natural wonders of the Riviera Maya. Each family-friendly theme park highlights some part or parts of the natural landscape. Xel-Ha focuses on the water, moving from fresh to salt water in a protected lagoon  perfect for those who want to practice their snorkeling skills. Think of it as a "baby step" before heading out to the Mesoamerican Reef System just a boat ride away from the coast. This natural lagoon has real fish, is surrounded by wildlife, and has many options for adrenaline or relaxation.
You can spend a full day experiencing Xel-Ha, or spend half the day combining two tours like Xel-ha and Tulum.
There are tons of different tour pairing options available, and pick up from your hotel can usually be arranged. Relax and enjoy one of the best natural parks on the Carribbean!
11 Reasons to Visit Xel-Ha
Here are my top 11 reasons why you should not miss Xel-Ha:
1.  Xel-Ha is a protected lagoon known as the world's largest natural aquarium.
2.  The All-inclusive price includes: All food and drink (including alcohol), snorkel gear, tubes, life jacket, lockers, bicycles, showers and towels.
3.  There's plenty of fish to see around the rocky outcrops or by the walls of the lagoon without having to worry about currents.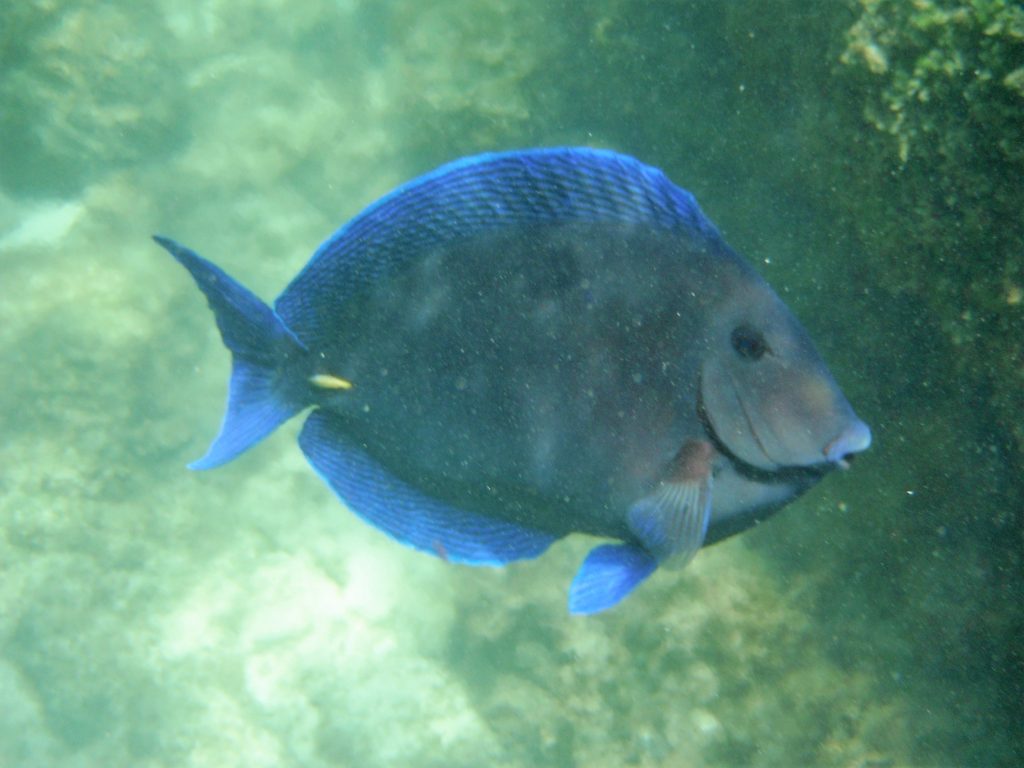 4.  Snorkel or float in a tube from fresh water to salt water. Start in the mangrove forests which provide a nursery for smaller fish and move into the protected cove connected to the sea.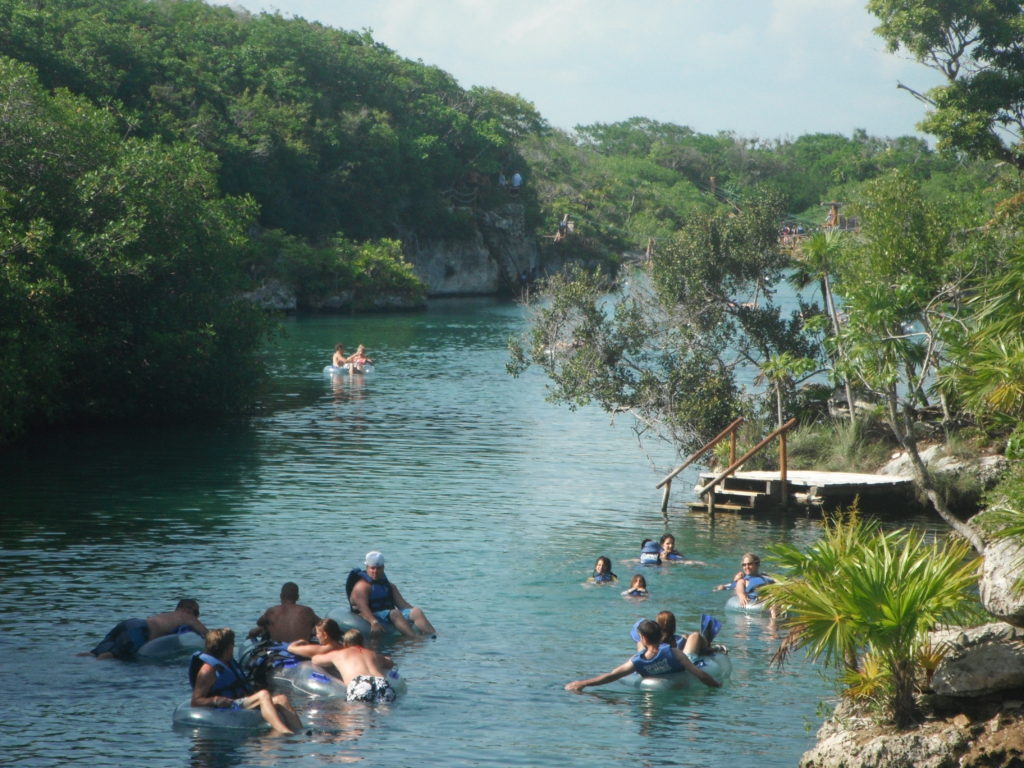 5.  Xel-Ha has rope-walking, cliff diving (jumping), and zip-lining!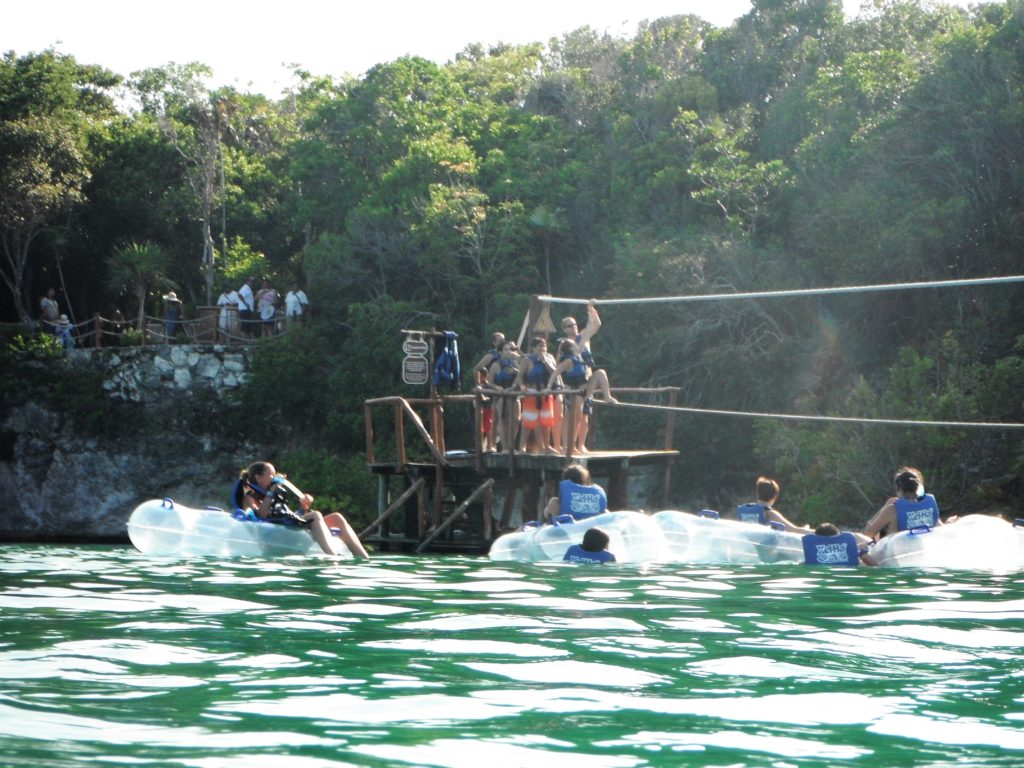 6.  Opportunities to SNUBA and swim with dolphins and manatees ($ extra).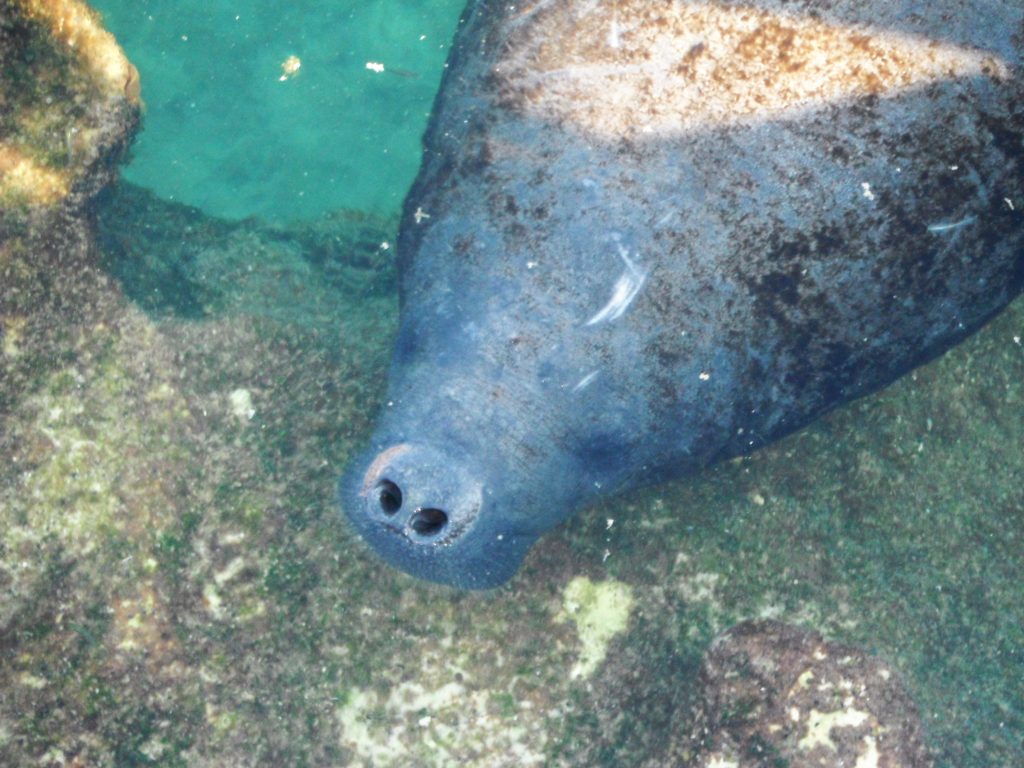 7.  Get up close and personal to wildlife on the Jungle Trails. Iguanas are everywhere, but we also stumbled upon a family of coatis digging up dinner.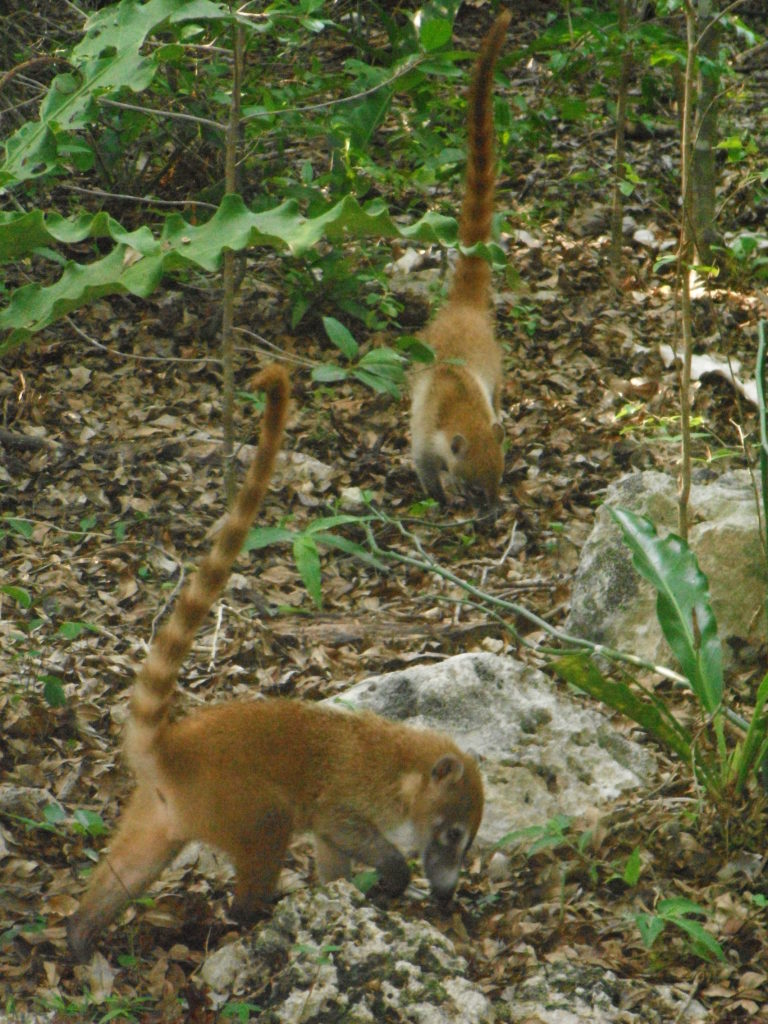 8.   Shuttles and bikes are available to help get you from one side of the huge park to the other.
9.  Tired? There's a hammock with your name on it!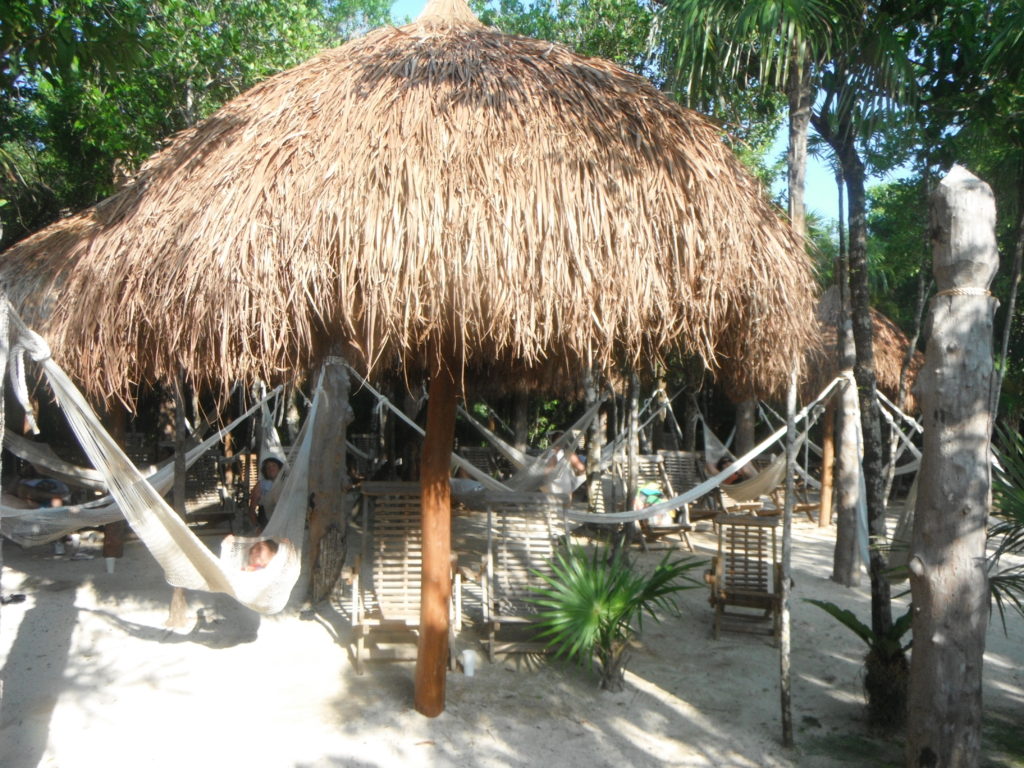 10.  Xel-Ha is also a sanctuary and teaching facility. Staff and scientists have montiored the Queen Conch in Xel-Ha for years, and compiled several notes and records on their growth stages. Xel-Ha is also a training center for teachers on the Mesoamerican Reef System just a short boat ride away.
11. The lighthouse not only offers stunning views over the lagoon, but also a 98 foot waterslide!

ECO-FRIENDLY TIP
Help Xel-Ha conserve its natural environment by buying bio-degradable sunscreen. It's sold at the park and costs just a bit more than regular brands, but won't leave an oil slick on the water, rocks, coral or fish that can affect the health of the ecosystem in the lagoon and out in the ocean. The lagoon isn't as colorful as the open ocean because of the use of non-biodegradable sunscreens people bring from their own countries.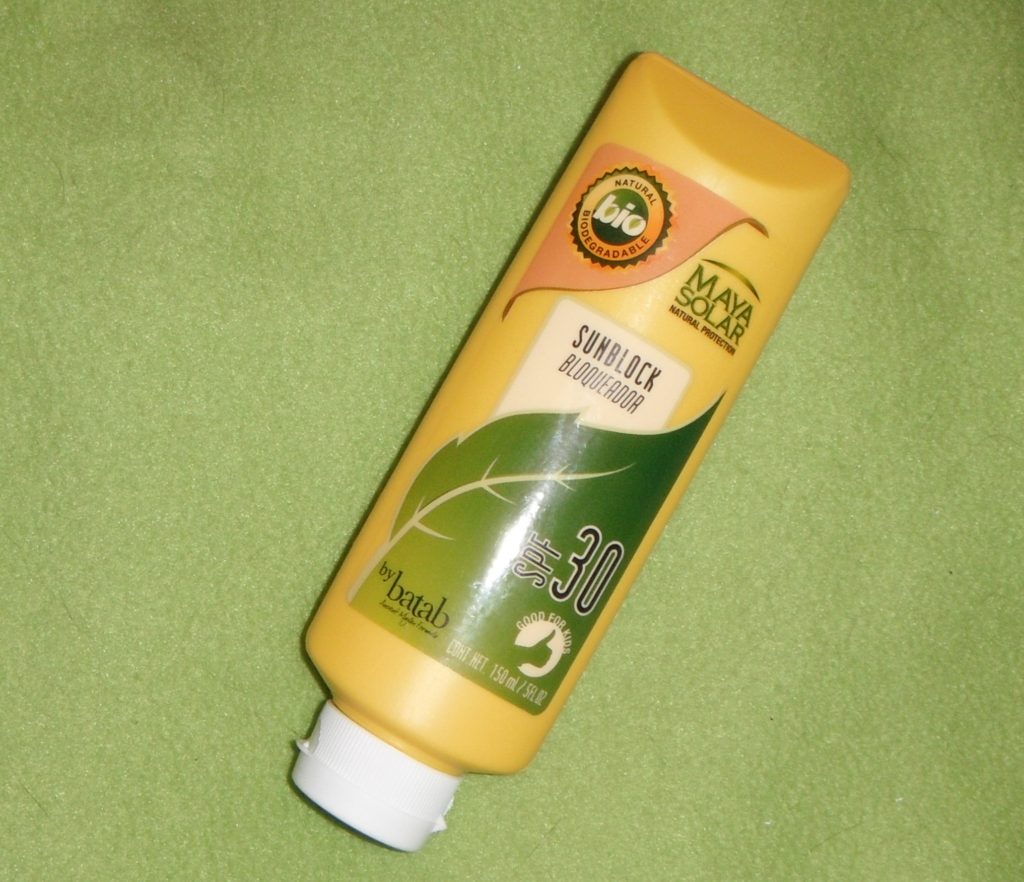 Sunscreens cause reef bleaching and the ingredient oxybenzone has been proven to feminize fish. Click the link to learn more about oxybenzone. Remember, if it doesn't say BIODEGRADABLE on the label, it isn't.