Sedona for Art and Nature Lovers
With its stunning red rock formations, picturesque canyons, and artist community, Sedona is a must-visit destination for nature and art lovers. Located just 118 miles north of Phoenix in the state of Arizona, Sedona is an ideal spot for a day trip or a long weekend getaway. Whether you're a hiker, photographer, shopaholic, or simply seeking a serene getaway, Sedona has something for everyone.
Disclosure: Some links may be affiliate links where we receive a super-small commission at no additional cost to you if you click through and make a purchase. We call this our Chocolate & Churro Fund.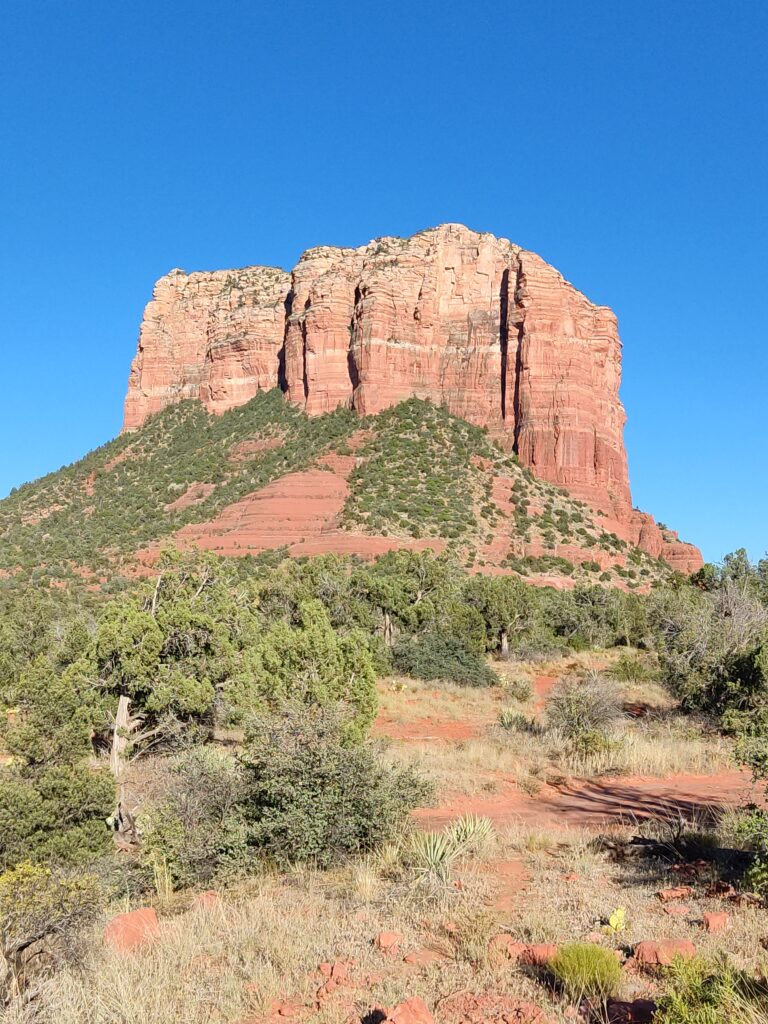 When to Visit Sedona
Sedona is in the high desert. This means you may have snow in the winter and hot temperatures in the summer, though nowhere near as hot as Phoenix. The optimal time to visit Sedona is during the spring (March to early June) and fall (September to November) seasons. During these months, the weather is pleasant, with temperatures ranging from the 60s to 80s Fahrenheit during the day.
I visited Sedona in November and July. November was perfect with cool mornings for hiking. I did not go hiking in July because it felt like the largest, invisible hair dryer was blowing hot air on me all day. On both occasions, I had fantastic clear skies and lighting on the iconic rocks around Sedona.
Getting to Sedona
Sedona is conveniently located just a short drive away from Phoenix, making it an ideal day trip destination. The drive from Phoenix to Sedona takes approximately 1.5 to two hours, covering a distance of 118 miles. If you are staying in Phoenix and only plan to visit Sedona for the day, leave in the early morning (before 8am) to avoid the Phoenix traffic.
Travel Tip:
If you plan on hiking around Sedona, it's best to leave Phoenix before sunrise. This way you still have the cooler morning weather on the trails.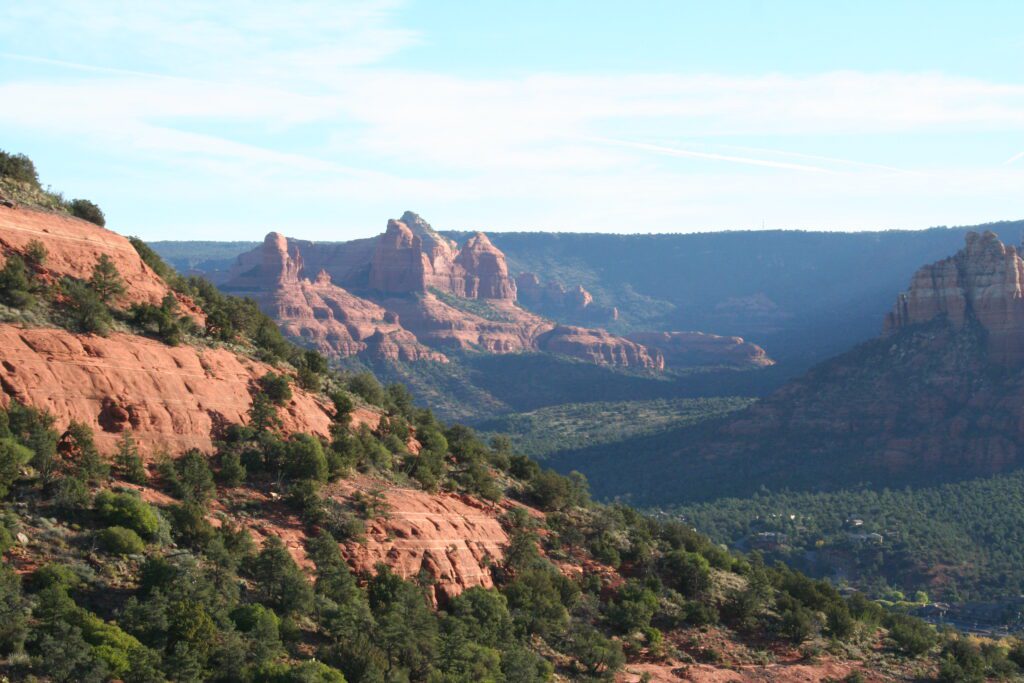 Where to Stay in Sedona
If you plan on staying in Sedona overnight or for a weekend, there's plenty of options from high-end luxury resorts to cozy Airbnb apartments. Here's a few resorts that offer exceptional variety in activities and views:
L'Auberge de Sedona: Located along the banks of Oak Creek, L'Auberge de Sedona is known for its serene ambiance and exceptional service. The resort features cottages and suites, a spa, pool, free shuttle service to uptown Sedona, and a renowned restaurant.
Hilton Sedona Resort at Bell Rock: For those of you with Hilton points, you can't beat the location and views of this Hilton property. Surrounded by the iconic red rocks, this resort offers a large pool, golf, horseback riding, dining options, and a spa to relax in this desert oasis. If you are bringing the whole family for a longer stay, check out the Hilton Vacation Club options as well.
Sedona Cedars Resort: Perched on a cliff overlooking Oak Creek Canyon, this resort offers spacious rooms, pool, and hot tub with spectacular views. The best part about this resort is its location. Sedona Cedars Resort is a short 5-minute walk away from the main shops and restaurants of Sedona.
For more hotel or Airbnb options, check out Booking.com.
What to See and Do in Sedona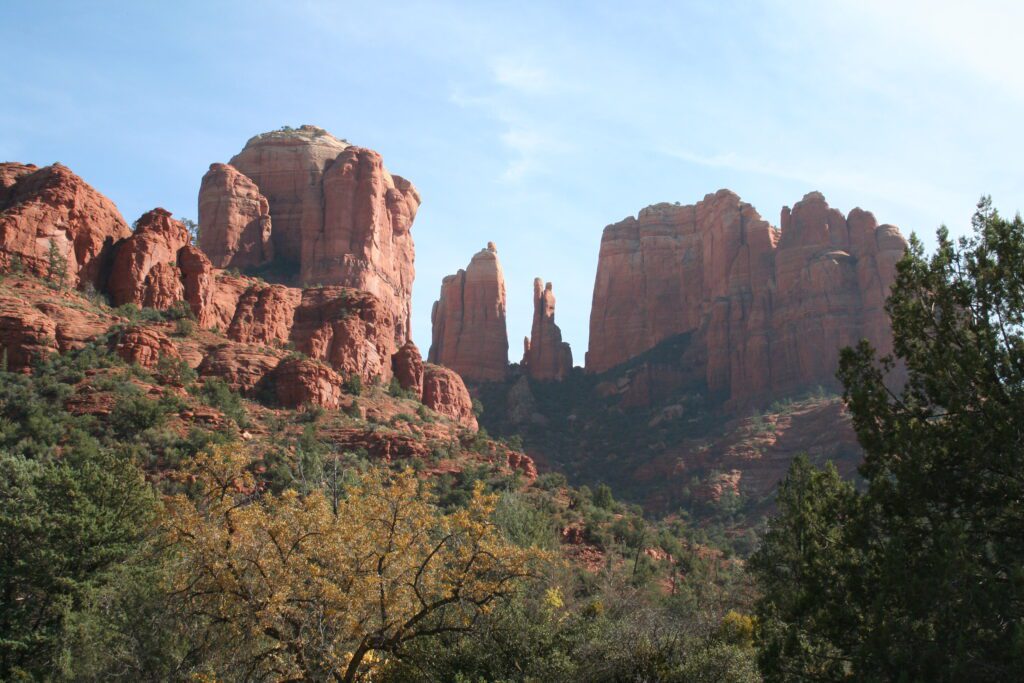 Hiking Trails Around Sedona
Sedona is known for its extensive network of hiking trails, offering opportunities for both beginners and experienced hikers. Check out Visit Sedona for a list of hikes in the area including Chapel of the Holy Cross. Here are some popular trails with spectacular views:
Bell Rock and Courthouse Butte Loop Trail: This moderate 4.2-mile loop trail offers stunning views of Bell Rock and Courthouse Butte. The trail takes you through scenic desert terrain, with the option to ascend Bell Rock for a panoramic perspective of the surrounding area.
Cathedral Rock Trail: For a more challenging hike, tackle the Cathedral Rock Trail. This steep and rocky trail rewards hikers with awe-inspiring views of Sedona's red rock formations. The trail is approximately 1.5 miles round trip, but the ascent can be strenuous, so be prepared for a workout.
Devil's Bridge Trail: This iconic trail leads to the largest natural sandstone arch in the Sedona area, Devil's Bridge. The trail is approximately 4.2 miles round trip and features moderate difficulty. Once you reach the bridge, you'll be rewarded with breathtaking views of the surrounding landscape.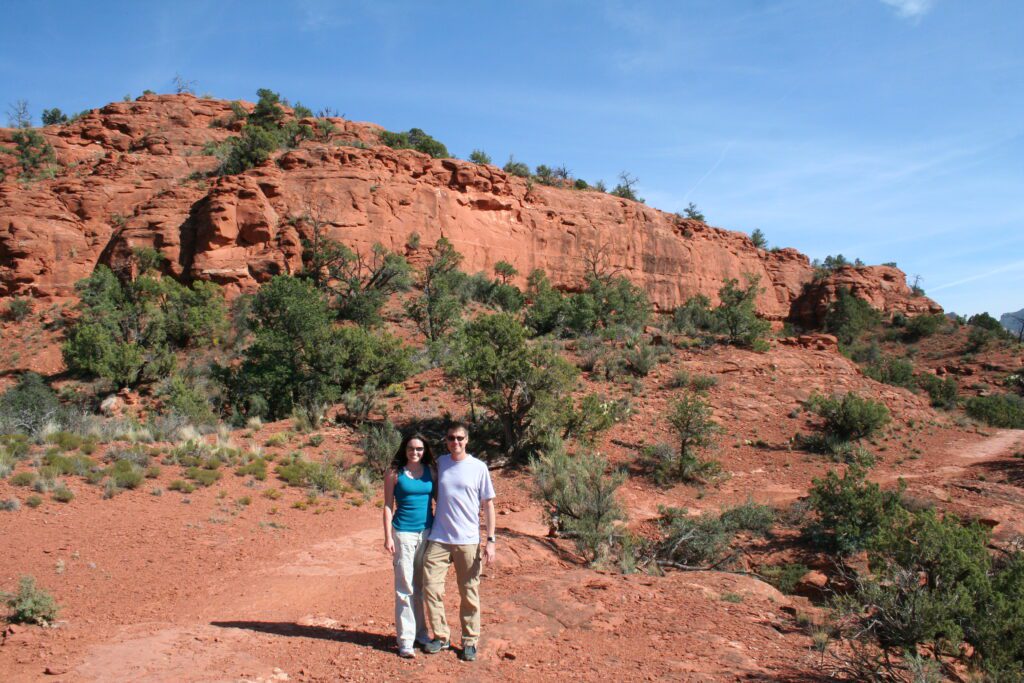 Things to Know Before Hiking in Sedona
It's important to note that Sedona's hiking trails can vary in difficulty and terrain, so choose a trail that aligns with your fitness level and experience. Additionally, ensure you have proper hiking gear like these hiking boots, sunscreen, a hat, and plenty of water. If you hike at night, make sure you have a headlight.
Experience a Vortex
Besides its stunning landscape, Sedona is known for vortexes. A vortex is a center of energy. People have different experiences with vortexes. Some may feel inspired and recharged, others can feel dizzy or nauseous. Sedona is considered a vortex, but there are certain areas where you have a greater opportunity to feel the energy. Airport Mesa, Cathedral Rock, Bell Rock, and Boynton Canyon are perfect places to meditate and connect with nature.
Explore Uptown Sedona
Take a leisurely stroll through Sedona's Main Street District known as Uptown Sedona. This area is a hub of activity, lined with souvenir shops, art galleries, cafes, and restaurants. As you walk along the street, soak in the breathtaking views of the red rock formations that frame the town. Sedona's Main Street offers the perfect opportunity for window shopping, browsing unique artwork, and immersing yourself in the town's vibrant atmosphere.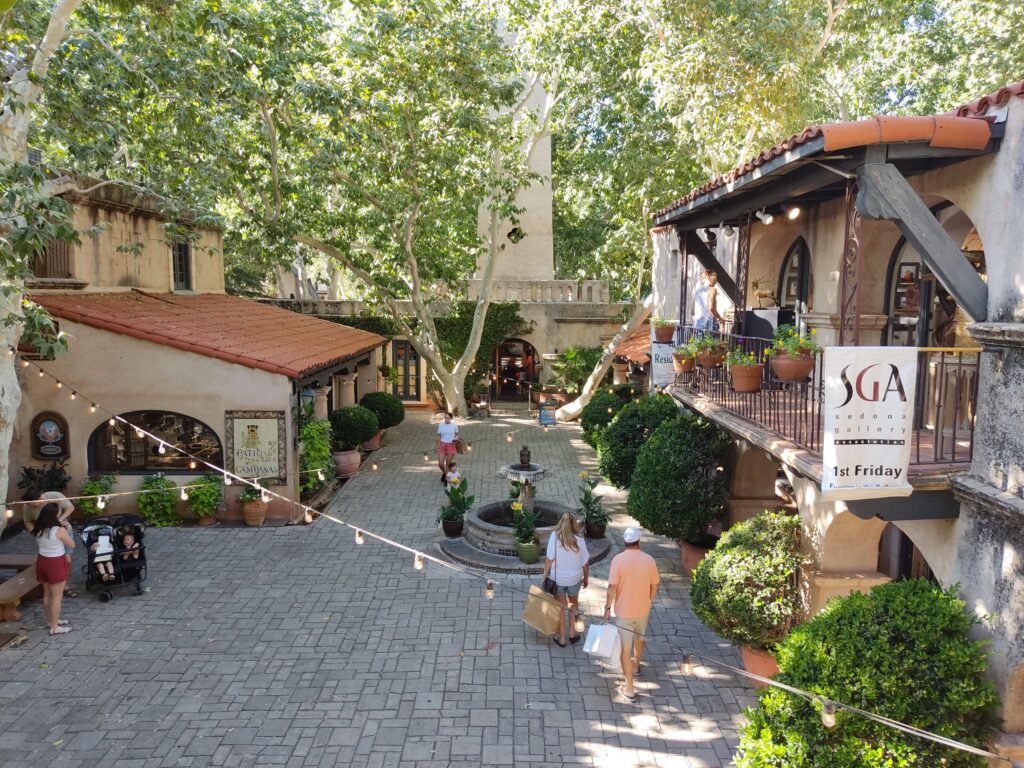 Visit Tlaquepaque Arts and Crafts Village
Speaking of shopping and unique artwork, no visit to Sedona is complete without exploring Tlaquepaque Arts and Crafts Village. This unique shopping destination is built around enormous sycamore trees that provide shade to its many walkways and tiled plazas. Galleries, boutiques, and specialty shops showcase the work of local artisans. There's even a Christmas shop!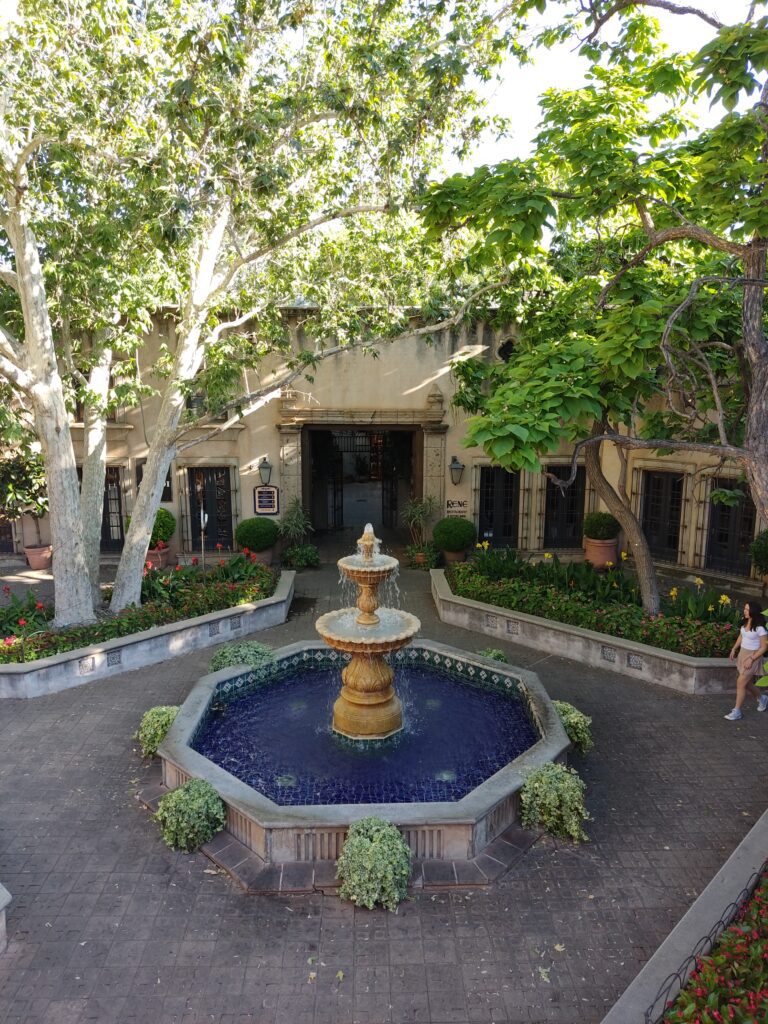 Tlaquepaque Arts and Crafts Village also features several restaurants and cafes, from quaint little ice cream and chocolate shops to fine dining at Rene Restaurant & Wine Bar. Craft beer lovers will want to make a stop at the Oak Creek Brewery & Grill for their world-class microbrews and wood-frilled cuisine.
Indulge in Sedona's Culinary Delights
Sedona isn't lacking in dining options. From casual cafes to upscale eateries, many restaurants in Sedona pride themselves on using fresh, local ingredients and bold flavors. Whether you're craving classic American cuisine, international flavors, or vegetarian and vegan options, you'll find a restaurant to satisfy your taste buds. Here's a few delicious suggestions on where to eat in Sedona:
Coffee Pot Restaurant– start your day with (one or more) of the 101 omelettes on the menu.
Elote Café– the best choice for real Mexican cuisine.
Hideaway House– Italian-inspired dishes with a breathtaking view from the outside terraces.
Cowboy Club Grille– historical 1946 tavern with charming saloon details. Wild game meats are a specialty.
Pisa Lisa– wood-fired pizzas with gluten-free, vegetarian, and vegan options by Chef Lisa Dahl.
ChocolaTree Eatery– organic, gluten-free and vegan options with real flavor.
Cress on Oak Creek– Located at the L'Auberge resort, this is the ultimate fine dining choice right on the creek.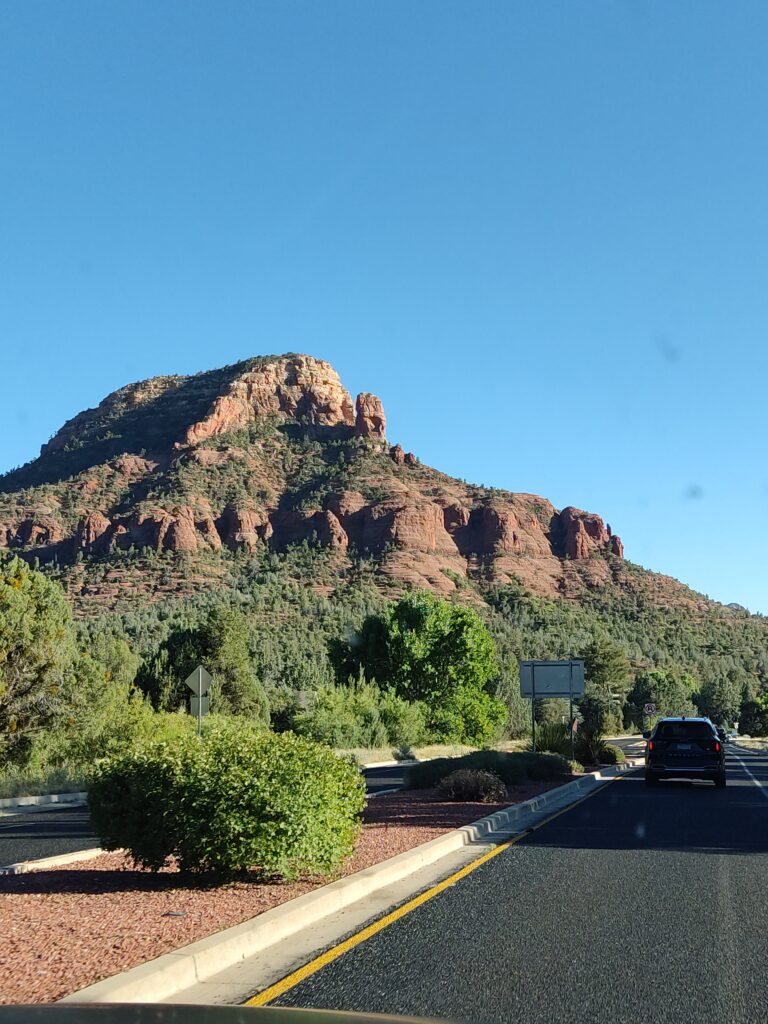 Take a Scenic Drive Around Sedona
To truly appreciate Sedona's natural beauty, take a scenic drive along the Red Rock Scenic Byway or Oak Creek Canyon Road. These routes offer panoramic views of the towering red rock formations and winding canyons. The Red Rock Scenic Byway, also known as State Route 179, is a designated All-American Road and showcases some of the most iconic landmarks in Sedona, including Bell Rock and Cathedral Rock. Oak Creek Canyon Road, on the other hand, is known for its lush forests, cascading waterfalls, and stunning vistas.
Before setting off on your drive, make sure to research any specific viewpoints or pull-off areas along the way that you'd like to visit. This will ensure that you don't miss out on any must-see sights during your trip.
Travel Tip:
Check out the viewpoints and pull-off areas going to and leaving Sedona to see how the rocks change from morning to late afternoon.
Sedona Sunsets
At sunset, the vibrant hues of the red rocks, combined with the golden light of the setting sun, create a truly magical atmosphere. Many hotels will have spectacular views of well-known landmarks, but there's also a few key spots that photographers gravitate to.
Airport Mesa is the easiest location to drive to for panoramic views.
The hiking trails previously mentioned (Cathedral Rock, Bell Rock, and Devil's Bridge) also are popular spots for views over the valley. Just make sure you are equipped with a headlight for the way back.
If you are worried about hiking back in the dark, take a Sunset Vortex Tour to see some of the best views with knowledgeable guides.
A trip to Sedona is an incredible opportunity to immerse yourself in the natural wonders and unique charm of this Arizona gem. From hiking through breathtaking trails, exploring art galleries, and witnessing a majestic sunset, Sedona offers a range of experiences that will leave you with lasting memories. So, pack your bags, hit the road, and head for Sedona, where adventure and beauty await at every turn.