The Best Bars in Mexico City
Mexico City is known as a gastronomical destination, but don't discount their bar scene. From wine to mixology, Mexico City is making waves in the spirits world with cutting-edge techniques and local ingredients. Not sure which bars you should go to? No worries. Here's a short list of our favorite bars in Mexico City.
Disclosure: Some links may be affiliate links where we receive a super-small commission at no additional cost to you if you click through and make a purchase. We call this our Chocolate & Churro Fund.
A Little Help From the World's Best Bars List
The World's 50 Best Bars, sponsored by Perrier, gives us yet another list to check off for our travels. I mean, it's nice and all to see reviews on TripAdvisor, but having industry people rate an establishment (compared to friends and family sometimes) is a whole other ball game. The voters are anonymous and vote for seven bars according to their own best experience. The next World's Best 50 Bars awards ceremony will take place in Singapore on October 17, 2023.
Now let's get started……
Mexico City Best Bars on the World's Best Bars List by Perrier
Licorería Limantour #4
Location: Roma Norte and Polanco
Present on the World's Best Bars list since 2014, Licorería Limantour is #4 on the list this year. The Roma Norte location has a fun atmosphere with a few high tables on the sidewalk, a long bar in the front room, and more tables in the back and on the second floor. The bartenders are upbeat and bilingual. They obviously love their job, which is probably one of the reasons they are in the top 5 of World's Best Bars. The menu is playful as well with plenty of drinks to choose from. The Margarita al Pastor is always a favorite.
Handshake Speakeasy #11
Location: Juarez
If you're looking for that speakeasy style of a secret entrance and jet-black and golden brass interior, Handshake Speakeasy is it. And while silent film stars may not slink past you with a Sidecar cocktail, Handshake Speakeasy does give new twists to classic favorites. Try one of their seasonal specialties. Reservations recommended.  
Hanky Panky #13
Location: Juarez
Hanky Panky started as a real speakeasy, where friends and family of Walter Meyenberg would gather for a drink, but quickly grew into a hot commodity. This is the place to come to impress your date or hang out with friends while indulging in creative cocktails. In true speakeasy fashion, the exact location will only be given to you a few hours before your reservation.
Baltra Bar #32
Location: Condesa
What you may think is just another typical neighborhood bar, turns out to be one of the most creative cocktail bars in Mexico City (and the world). The bartenders are ready to make you any of their signature cocktails or something designed just for you (which they did for us). The name Baltra comes from one of the islands visited by Darwin in the Galapagos. Just like its namesake, the cocktails are in constant evolution.  Check out their Instagram for gorgeous and inspiring cocktails. 
Brujas- #64
Location: Roma Norte
This was the bar to watch a year ago, and this year it debuted at #64. Run by women, each cocktail celebrates a woman in history or today who made a difference in women or human rights. Located on a street just off of Plaza Janeiro (where the replica of a David statue is surrounded by cascading fountains), this small bar will wow you to no end.
What Else Is There to Do in Mexico City When You Are Not Drinking? 
Mexico City is one of our favorite cities in the world. From museums to theme parks, restaurants to pyramids, you will not get bored of Mexic City! If anything, you'll be planning your next trip before the Uber arrives to take you to the airport. Read our post: Why We Love Mexico City and Visit Again and Again.
Other Notable Bars in Mexico City
Rosetta Salon
Location: Roma Norte above Restaurant Rosetta
Restaurant Rosetta has been an icon of Mexico City for decades. Now you can enjoy a beautiful cocktail on the second-floor salon overlooking the Roma Norte neighborhood. Decorated with Asian paintings that reminded me of salons from the aristocratic era, it's the most relaxing place to have a drink. The staff are friendly and are happy to recommend something or craft something special for you based on your drinking preferences.
Gin Gin
Locations: Condesa, Roma Norte, Polanco
You'll find a Gin Gin in many of Mexico City's neighborhoods such as Condesa, Roma Norte, and Polanco. Each one is slightly different, but the drinks are well crafted and delicious. I had one of the seasonal drinks made with mezcal, but I can't remember the name. I do remember it tasting like key lime pie with a kick! 
50 Mils
Location: Four Seasons Hotel in Juarez
This premium bar in the Four Seasons exudes luxury. Appearing on the World's Best 50 Bars list a few times, 50 Mils is always raising the bar with innovative cocktails. I remember one spring 50 Mils created cocktails with an Alice in Wonderland theme. Check their website to see if any guest bartenders or themes are being featured during your visit. 
Don Nadie
Location: Roma Norte
Last year, Don Nadie was on the list of 100 Best Bars, but honestly, I was not impressed. Gin and whisky cocktails dominate the menu, which is great if these are your go-to libations. The cocktails are creative and well-crafted, but the glasses are dainty and pricey (even though they look normal size in the picture). We did have drinks here twice to give it a chance, but the service left a lot ot be desired.  
The wine culture is growing in Mexico, as evident by the many wine bars springing up around the city offering more than just Spanish and Italian wines. Here are a few wine bars in Mexico City to check out with easy access to Roma and Condesa. 
Wine Bar by Concours Mondial de Bruxelles
Location: Juarez
The Concours Mondial de Bruxelles is a wine competition where wines receive medals for their outstanding qualities. If you only have time for one bar, then this is the one. Every month they change their wine-by-the-glass list and you can try wines from not only Mexico, but from around the world. You might even get lucky and try a glass or bottle from China! (Yes, China is a major wine producer with many of the big name wine brands trying to capitalize on the Chinese growing interest and buying power in wine.)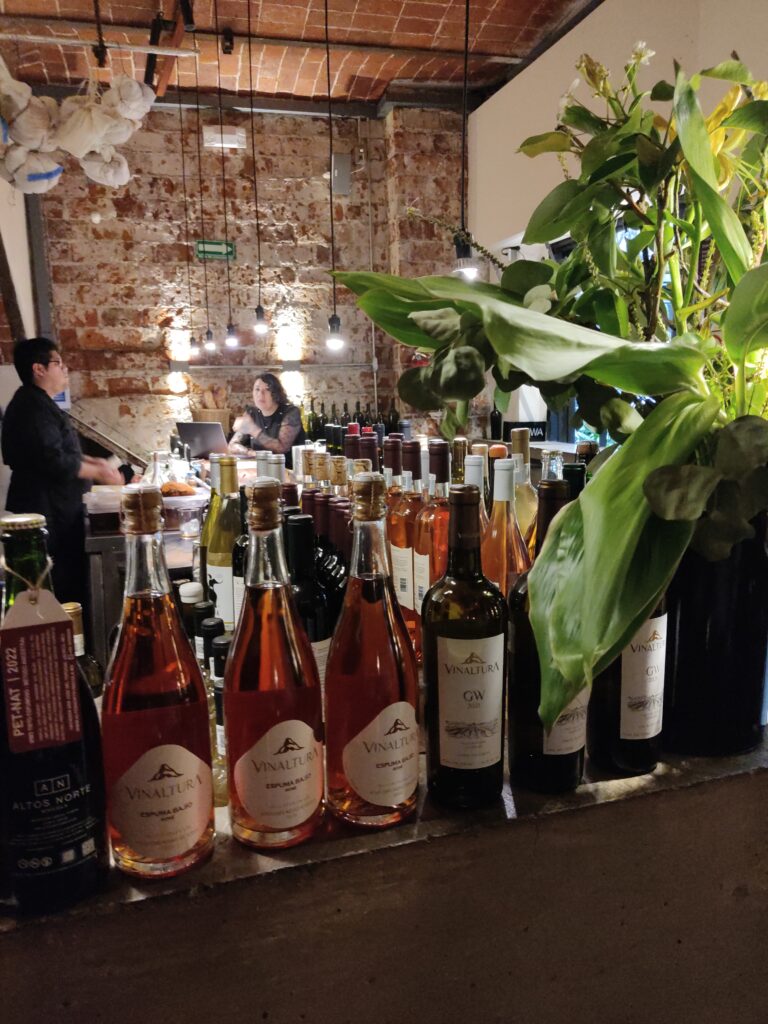 Si Mon Wine Bar
Location: Roma Norte
With wood beams, high tables, and a bar that even the most iconic restaurants would envy, Si Mon Wine Bar is definitely a place to go. It has the largest collection of Central Mexico wines that we've seen (you'd be surprised how hard it is to find Mexican wines outside their own regions). If you don't have time to add one of our wine tours around Queretaro or San Miguel de Allende, then stop into Si Mon Wine Bar for a taste of the real Mexico.
Local 1
Location: Roma Norte
Local 1 serves more recognizable natural wines in an artistic space, but it's the small production mezcals that really impressed us. Around 20 different agave species are used to make mezcals, and we were lucky to try a few different types to really appreciate the differences like espadin, tobala, and tepextate. This is a bar I'd recommend for groups because with beer, wine, and mezcal on the list, plus a few nibbles, there's something for everyone. 
Loup Bar
Location: Roma Norte
This quaint little natural wine bar in Roma Norte is the perfect neighborhood bar to hang out at with friends. We personally don't gravitate towards natural wines because the quality isn't consistent, but Mexico City is capitalizing on the natural wine trend. If you are into obscure, small-production natural wine, then this place is for you.
Which Bar Are You Going to in Mexico City?
There are so many fantastic bars in Mexico City to experience! This is just a small sampling of cocktail bars and wine bars in Mexico City. There are also cervecerias for craft beers and mezcalerias for small-batch mezcals. Make a notes of a few bars you want to visit, wander around the neighborhoods to find hidden gems, and enjoy every sip in one of the most vibrant city bar scenes in the world! Cheers!