Not All Tours Are the Same – So How Are We Different?
Buyer beware, you get what you pay for…
During my thirty-five years in the wine business, I often came across instances where you didn't get what you pay for. Fifteen-dollar wines were often just as good as twenty-five-dollar wines. Sometimes fifty-dollar wines were better than one hundred- and fifty-dollar wines. But there is one area of my new life in Mexico where you absolutely, 100% of the time, get what you pay for. And that is in the new industry we have chosen to join, that of tours of all sorts.
Our First Tour in Queretaro
When we first visited Queretaro, we booked a tour at one of the tourist kiosks in Centro Queretaro. The tour included a visit to a creamery, a winery and two pueblos magicos for $85 USD per person. We showed up on time and learned there were about twelve other people on the tour. Everyone else was Mexican and the "tour guide" ended up just being just a driver.
Visiting the Dairy Farm
The creamery turned out to be a large commercial operation of a common cheese brand that we buy from the grocery store. We had to wait at the creamery in the sun for about an hour for other vans to arrive before our tour began. We were given a hayride behind a tractor to look at alfalfa fields and grazing cows. Next, we were led through different rooms with beautiful signage and words too small to read about the cheese making process, but herding over 100 tourists through these rooms took a lot of time. At the end, we were offered cubes of cheese which all resembled Monterey jack. This "experience" lasted for 2.5 hours, and mostly we were sitting around and waiting.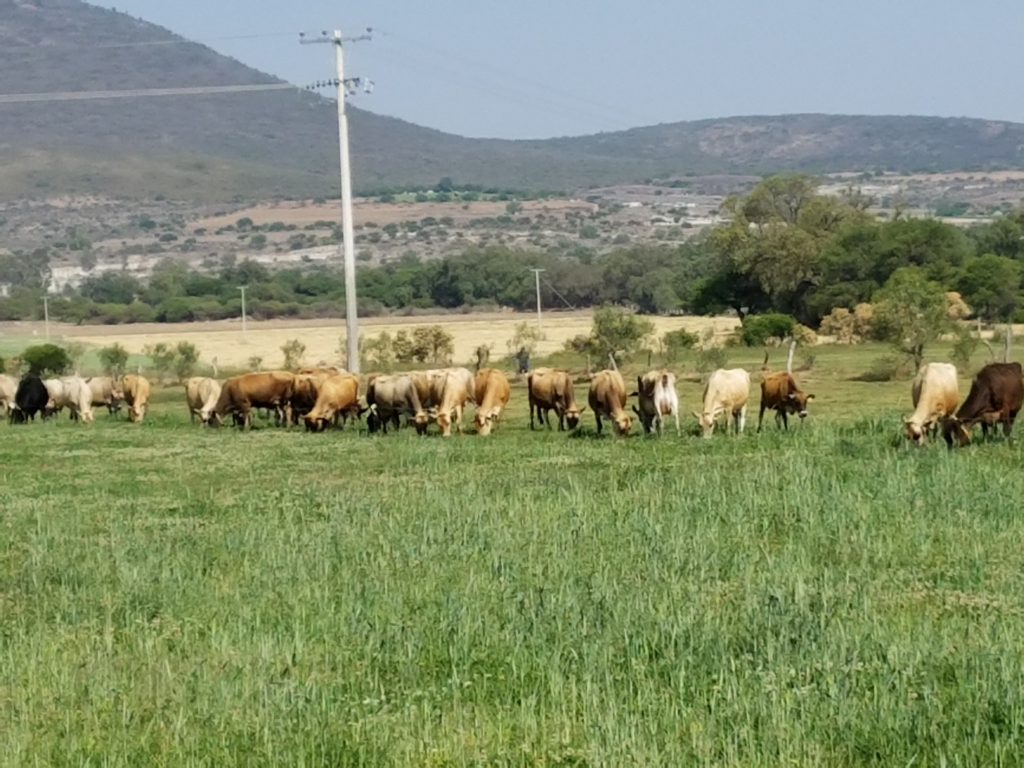 45 Minutes in the Pueblo Magico of Bernal
Our next stop was the pueblo magico of Bernal where we were dropped off at the base of Pena de Bernal. We had 45 minutes which wasn't enough time to hike the monolith nor walk the mile down to the town and get back in time to meet the bus. Basically we took a few pictures with the monolith behind us and looked at what the vendors were selling. If we were dropped off in town, 45 minutes might have been enough, but it didn't offer enough time to have a meal.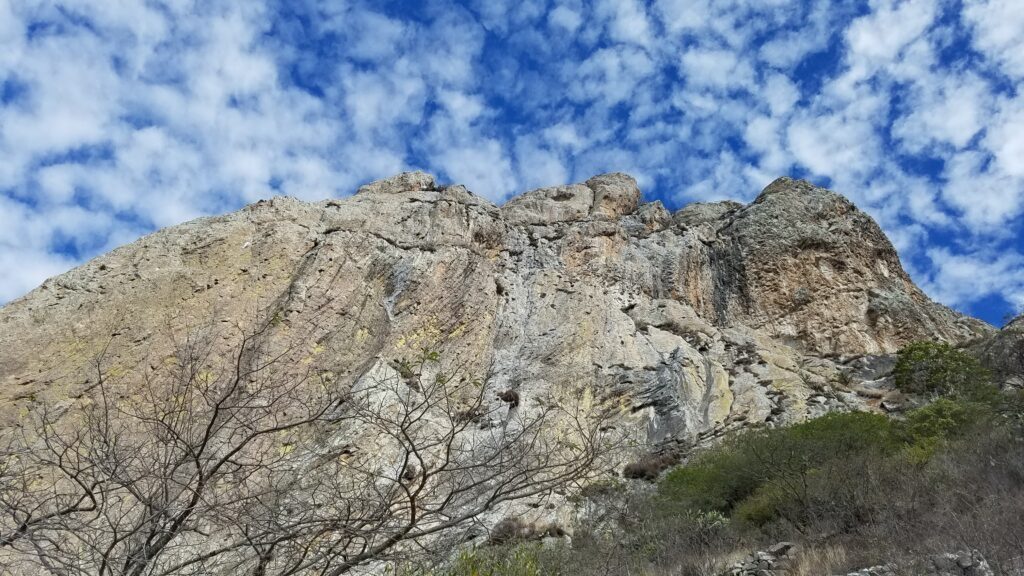 Winery Visit
We ventured on to a historic winery property in Queretaro and one of the largest wineries in the state. Their operation resembles Disney World on the weekends (and being from Orlando we know a thing or two about that). This "tour" consisted of waiting in line again for enough people to amass to take a 90-minute tour of the winery in Spanish only. To anyone who has seen barrels and steel fermentation tanks before, this can be quite boring. At the conclusion, they were given one small pour of a sweet wine. We opted to skip the tour completely and bought ourselves a bottle and tacos. This was five years ago and the food options have now been removed from this winery.
45 Minutes in Tequisquiapan
Our final stop was the pueblo magico of Tequisquiapan which is 10x larger than Bernal. Unfortunately, we only had 45 minutes to sprint through town. There was no "tour" of either pueblo magico, we were simply dropped off and told to meet the van in 45 minutes.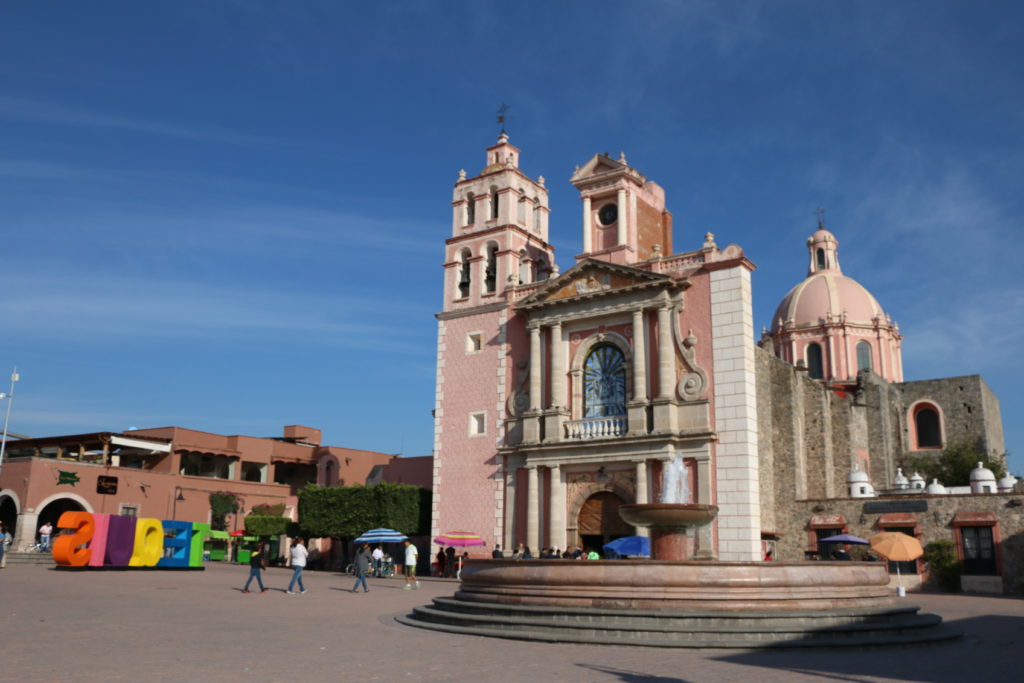 You Get What You Pay For
In the broadest definition of a tour, it was. If you just want to get out and drive around the country with a bunch of strangers, it works. The cheese tour is open to the public free of charge. The magic towns of Bernal and Tequisquiapan were free as well.  The tour company spent about $8 at the winery for the tour and a taste of one wine. This could hardly be called a wine tour. "Winery tour" perhaps. As most winery tours target Mexican clients, it was beginner level and quite boring for anyone who has been to other wineries in the past.
Not All Tours Are the Same
Being the well-traveled gringos that we are, we recognized a few things from our experience:
1- Virtually every American/Canadian/European that comes to colonial Mexico is savvy and worldly.
2- If a person has an interest in wine, they almost certainly have visited wineries in other countries so wasting their time showing them barrels and fermenters is not enhancing their experience.
3- Because drinking wine is brand new to Mexicans, every winery trains their staff to push a "wine 101" script that they never deviate from. Minimizing interaction with the winery staff and presenting all the important information ourselves allowed us more time to enjoy wine and food at the wineries.
4- And our tours wouldn't offer one ounce tasting pours like the other tour companies. We offer full glasses (of your choice and not the cheapest wines pre-arranged) and food at each winery.
5- Our tours eliminate the free of charge "time filler" walk about tours other companies lean heavily on. Instead, it's all about relaxing, eating and drinking the best wines of the region.
6- Lastly, if a visit to a pueblo magico is included, we pay for you to enjoy some local food so that you aren't going to wineries on an empty stomach.
We Don't Get Kickbacks
The one thing other wine tour companies have in common is kick-back arrangements (discounts provided to the tour operator for bringing clients) to the vineyards. These usually consist of an arranged tour of the production area and vineyard plus a tasting of one or two tiny pours of the cheapest wine the property produces at a reduced cost to the tour company. Of course, this keeps the cost low, but you don't get to try what you want, and you get the exact same "wine 101" tour at each winery.
We have no arrangements with wineries, so you are free to drink and eat what you want, and the cost is included in the tour. In fact, 60% of our tour cost is spent on wine and food.
So, if you want an afternoon of relaxation in beautiful settings while leisurely dining and chatting about wine production in central Mexico or just what it's like moving to a foreign country, we think our tours stand alone in what we offer and deliver. You really do get what you pay for with tours in Mexico. If somebody is doing it much cheaper, its because you aren't getting anything other than transportation.

Take a Customized Tour With Us!
We started our own private tour company Heart of Mexico Wine Tours exploring wineries, pueblos magicos and regional food strictly for couples or friends traveling together. Our typical tour size is 2-4 people with some people organizing small group tours for their friends and family.
If you want to spend half the day in Bernal or Tequisquiapan, you can do that.
If you want to visit wineries, we take you to the wineries based on your wine preferences.
Not sure where or what to eat? No problem! We know a few fantastic spots not over run by tourist buses.
Check out our Food and Wine Tours and let us create a personalized tour for you!
For more information on any of our tours or to customize your own tour, contact us directly at

[email protected]

.
Before you go…
Check out these other guides of what to visit when you are in Queretaro: