Unique Wineries to Visit Near San Miguel de Allende
San Miguel de Allende has been named the Best Small City in the World in 2017, 2018 and 2020 by Conde Naste Traveler readers, and rightly so. Its location in the heart of wine country probably had something to do it. You can't beat a combination of colonial architecture, colorful festivals, fine dining and wine at all within a short drive.
Disclosure: Some links may be affiliate links where we receive a super-small commission at no additional cost to you if you click through and make a purchase. We call this our Chocolate & Churro Fund.
Wine Growing History and Climate in Guanajuato
The state of Guanajuato has been growing grapes for hundreds of years, but it's just within the past decade that they are commercially selling their wine and the San Miguel wineries are developing enotourism with wine tasting tours, restaurants and hotels. Many of the vineyards we see today were old agricultural plots of fruit trees, corn and leafy green vegetables.
Guanajuato has ideal temperatures and humidity levels but the terrain was harsh for the deep-rooted vines. Many wineries had to remove and replace the first few meters of rocky substrate and drill holes for the roots to grow. Because of late rains and hail in the summer, the growing season is shorter. The daytime to nighttime temperature swings produce higher acidity in the wines. You'll also notice a soft aging of red wine that complements the Mexican cuisine.
Visiting the Wineries in Guanajuato
The San Miguel wineries are spread out from the east edge of San Miguel de Allende to the west side of Dolores Hidalgo. To truly enjoy this beautiful region, let us take you on one of our customized wine tours of the wineries of San Miguel. Leave the driving to us, get out of the city and enjoy the wines of the state of Guanajuato. Below are some of the wineries in the region and the type of grapes grown. Red blends are the most prominent in the wine brands, but we are seeing rising stars in 100% varietals.
Cuna de Tierra
Cuna de Tierra translated means Earth Cradle or Cradle of the Earth, and that's what you will find at this winery. The care and precision in winemaking is most notable in the Cuna de Tierra wines. French grape varieties were planted in the 1990s and in 2005 winemaking began with 15-year old grapevines.
Designed by architects Urquiza Seoane and Bernardo Quinzanos Oria, Cuna de Tierra's state-of-the-art winery and visitor center has received many awards. It was named Icon of Design Mexican by Architectural Digest magazine and received a silver medal at the First Architecture Biennial of Mexico City in 2014. The winery has also received the 2014 Guanajuato Award for Tourism Competitiveness Best Tourism Product.
Cuna de Tierra has been instrumental in promoting the Wine Route in Guanajuato and hosts many events. They produce 6 red wines and one white wine and are working with French, Italian and Portuguese wine varieties including Syrah, Nebbiolo, Malbec, Tempranillo, Cabernet Sauvignon, Merlot, Cabernet Franc, Semillon and Sauvignon Blanc, Moscatel and a 100% varietal of Semillon.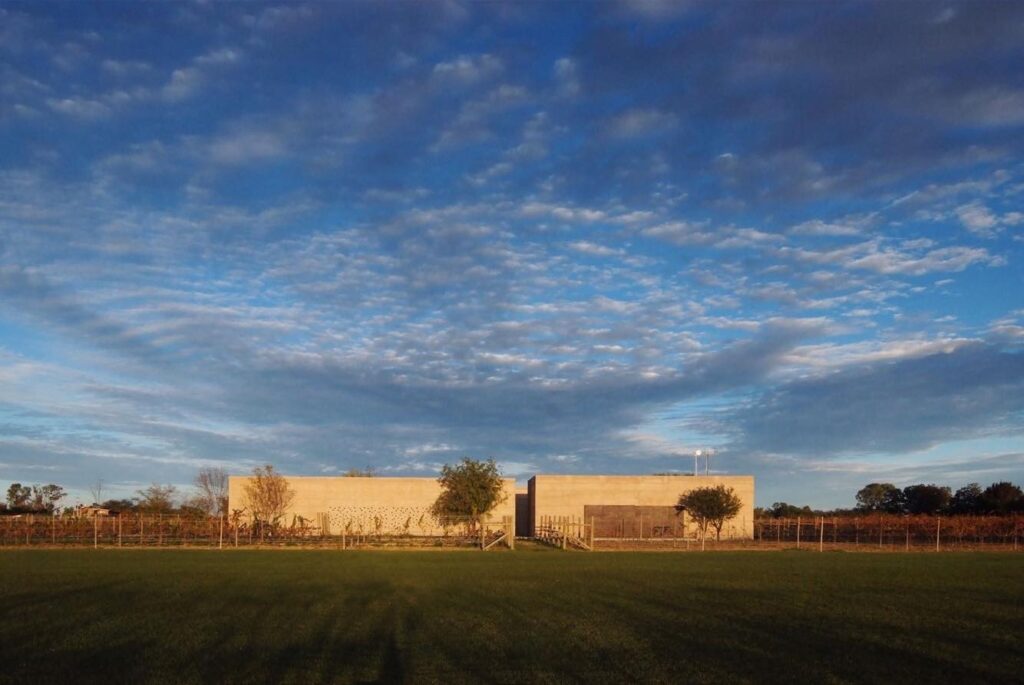 La Santisima Trinidad and Viñedos  San Lucas
La Santisima Trinidad is one of the largest real estate developments in Guanajuato with sister properties Viñedos  San Lucas, Viñedos  San Francisco, Viñedos  de los Senderos and Santa Jacinta. Residents can choose to plant vineyards, olive trees or lavender. La Santisima and Vinedos San Lucas (located on opposite sides of San Miguel de Allende) offer boutique hotels, restaurants, polo fields, wine tours and workshops for olive oil and lavender. The grape varieties they specialize in are Cabernet Sauvignon, Malbec, Syrah, Tempranillo, Malbec, Cabernet Franc and Chardonnay.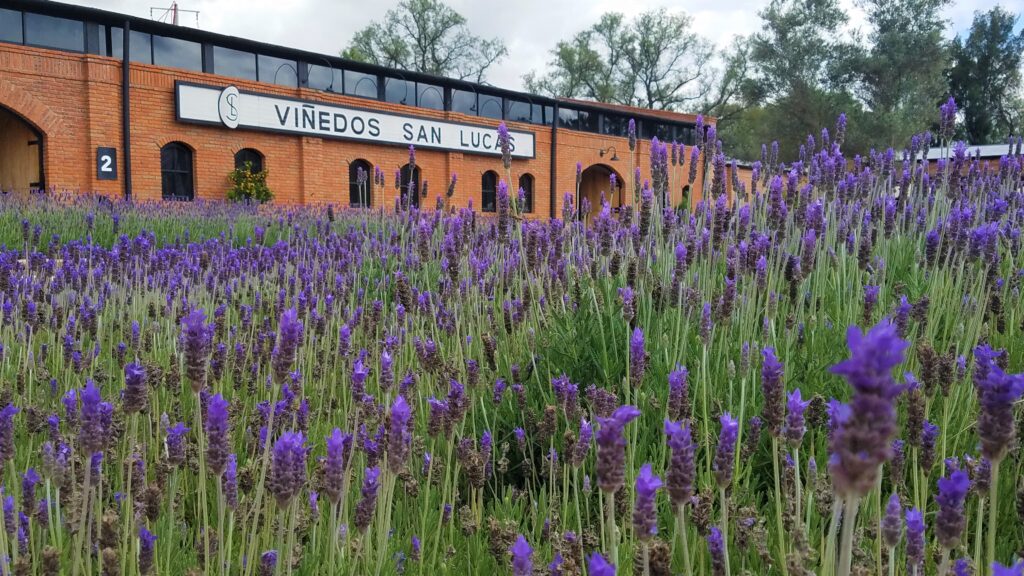 Viñedos  San Miguel
Also a real estate development, the dream of owning a piece of a vineyard can be a reality at Vinedos San Miguel. In 2013 they began making wine and have continued to expand their vineyard and wine selection.
Their modern winery incorporates a tasting room, cellar, crush production area, restaurant, shop and meeting space. Other projects in the works are a hotel and wellness spa. Vinedos San Miguel plans to be the ultimate winery experience in Central Mexico.
The wines they are producing on their 90 hectares include Cabernet Sauvignon, Merlot, Malbec, a white blend of Chardonnay, Semillon and Sauvignon Blanc and Rose blend.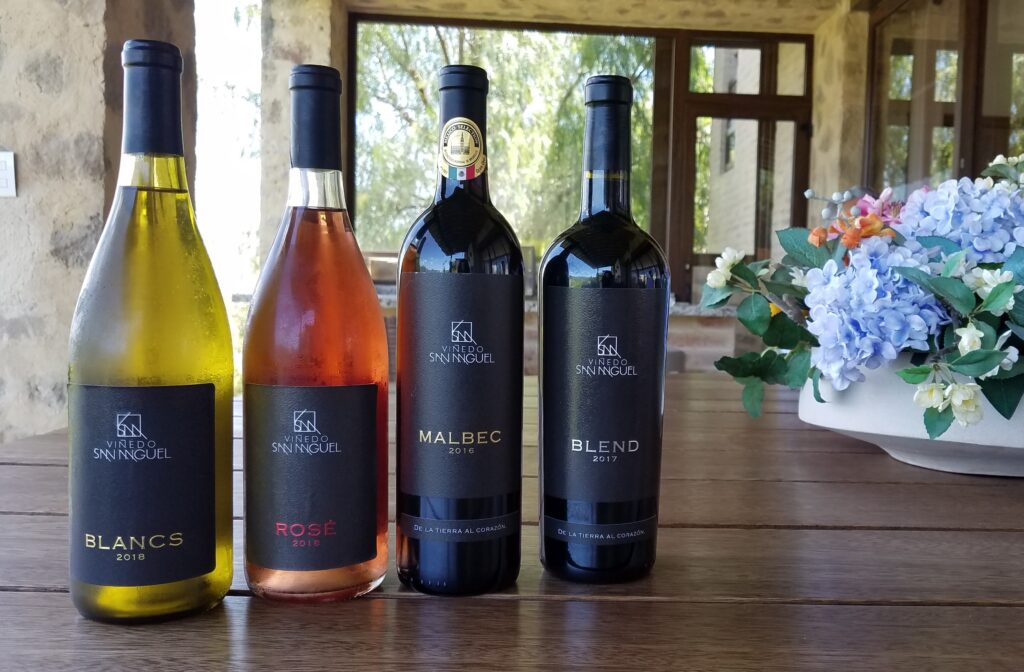 How Can I Take Some Mexican Wine Back Home With Me?
The Unites States allows you to bring back 5 liters of alcohol without paying duty. One wine bottle is 750ml which means each person can bring in 6 bottles of wine!
For more wine gift ideas, click here: The Perfect Gifts for Wine Lovers.
 Tres Raices
Tres Raices is one of the newest wineries to open its doors to the public. Building on the concept of enotourism, it's establishing itself as a destination with vineyards, a high-end restaurant Terruno, annual events and a boutique hotel. Currently they have 60 hectares growing Syrah, Cabernet Sauvignon, Sauvignon Blanc, Merlot, Moscato and Tempranillo. Their Sauvignon Blanc is delicious and very well priced.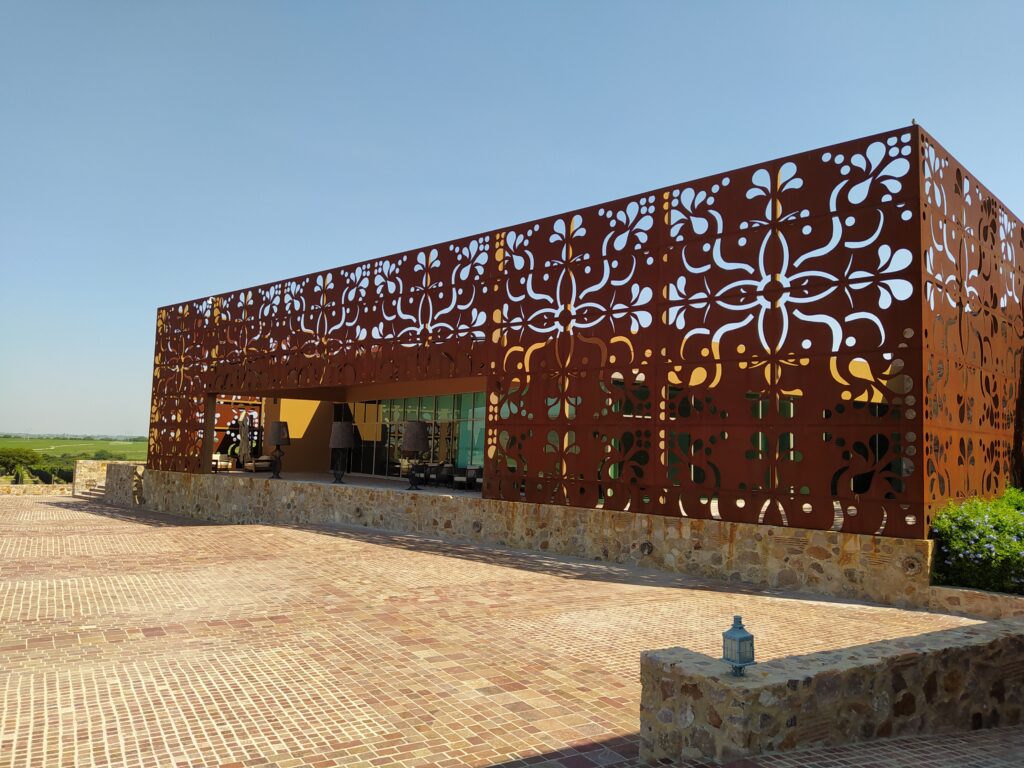 Dos Buhos
This fertile land was home to fruit trees and organic vegetables for half a century before being converted into a vineyard in the early 2000s. In 2019, Dos Buhos completed an expansion to their production area and cellar. Artists will love the hacienda architecture and the fine details in the event hall built by the owners' son.
The vineyard is certified organic, and the menu has vegetarian options. Dos Buhos is expanding beyond the wine and offering orange wine, vermouth, craft beers and oven baked pizza on weekends.
One of the oldest wineries in the state, Dos Buhos grows 12 different grape varieties including Tempranillo, Cabernet Sauvignon, Cabernet Franc, Syrah, Aglianico, Chenin Blanc, Sauvignon Blanc and Moscato Giallo. The featured image for this blog is from Dos Buhos.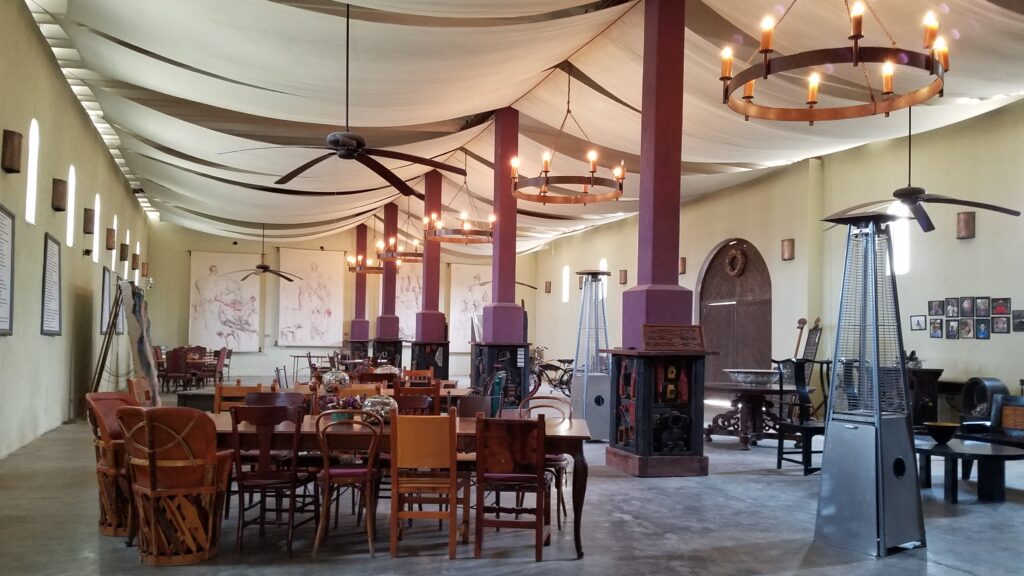 Rancho Toyan
Rancho Toyan is a family owned organic winery with 12 hectares of vineyards. Their eclectic gardens display statues, fountains and gargoyles, and cherubs guard the rows of vines. Rancho Toyan also grows organic produce and their impressive wine cellar is 14 meters underground to maintain a constant temperature.
Toyan's vineyards are planted with Chardonnay, Sauvignon Blanc, Cabernet Sauvignon, Cabernet Franc, Merlot and Pinot Noir.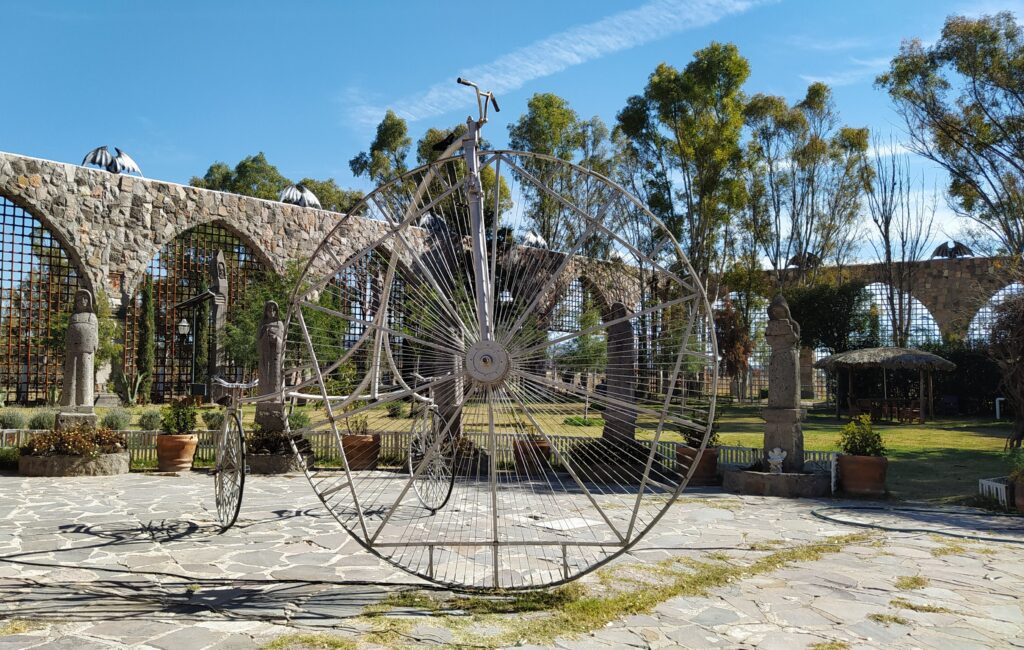 San Miguel de Allende may be best known as an artist community and expat haven, and now it's getting recognized as a wine region. Add a extra day to your vacation to explore the San Miguel wineries with us on one of our customized wine tours. Add in some time to explore Dolores Hidalgo and Atotonilco along the way! Sip some wine, visit the pueblo magico of Doloroes Hidalgo or Atotonilco, and see the heart and soul that this UNESCO World Heritage Site has to offer.

Are you interested in touring the wineries?
We offer customized wine tours based on your wine preference with options to visit pueblos magicos and shop locally along the way. Click here to learn more about our customized wine tours.
Join Us for a a 2-Day Food and Wine Tour!
Explore both the San Miguel and th Queretaro wine regions with this special discount! Food and wine are included!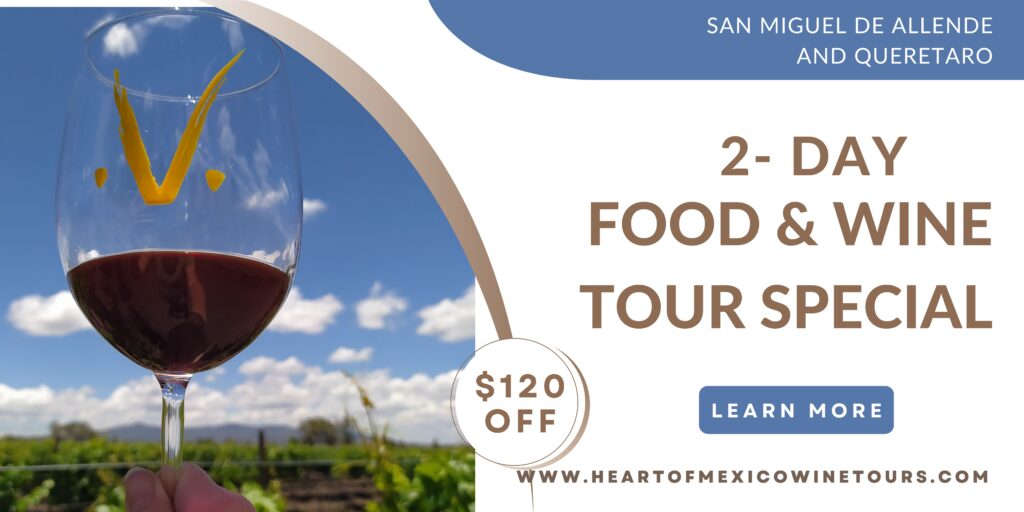 For more information on any of our tours or to customize your own tour, contact us directly at

[email protected]

.
Pin This!