What to Do If You Get a Parking Ticket in Queretaro
It's bound to happen. With parking lots being few and far between in Centro and the one-way roads stressing you out, a little space may seem like a gift from heaven, but later comes with a price tag.
Here's a short explanation on what to do if you get a ticket in Centro in Queretaro, or any Centro in Mexico.
How I Got a Parking Ticket
One day I went to Centro Queretaro on my own to talk to some hotels. Usually Tom and I drive to Centro together, he drives, I navigate. I don't drive often on my own. I am familiar with the area, but my sense of direction is not as good as Tom's. It's also harder to spot the circle sign with the "E" in it that indicates parking or an entrance to a parking lot. Not wanting to circle over and over (since I did have an appointment time with one of the hotels), I was getting a little desperate to find parking soon.
As I rounded a corner by one of the many churches, I saw a space on the side of the road. Other cars were also parked there. I didn't see an "E" sign anywhere, and the curb wasn't painted red or yellow. I thought I just got lucky. An hour later I returned to see my car was the only one parked on the side of the road, and there were some papers under the wiper blade. I just got a parking ticket.
Don't Make This Mistake
I was having a good day, and then I got a parking ticket. The front of the car still had its license plate. I didn't know what I should do, so I went home. Back at the house, I told Tom about the parking ticket and he immediately went to check on the car. Yep, the back license plate had been taken.
We both took a long look at the parking ticket and the little brochure that had been left on the windshield. Turns out, I could have taken care of this while I was in Centro. The CAPTA office (office of parking violations) was just around the corner where I previously parked. After consulting a friend who had experience with parking tickets in Centro, I headed back to take care of the parking fine the same day.
The CAPTA Office
It's funny how you start seeing certain words or images after you've had some type of personal experience with them. I now notice the CAPTA office in other cities like the small weekend retreat of Tequisquiapan (located on Plaza Miguel Hidalgo).
The CAPTA office in Queretaro Centro is located on Av. Prol. Luis Pasteur Norte 4 in between Plaza de Armas and the church with the steeples painted red, white and green (Santuario de La Congregación de Nuestra Señora de Guadalupe). The receptionist led me to one of the offices where a large officer was sitting behind a desk. He asked if I spoke Spanish, I responded with "un poquito" and he went through the motions of asking for my license and checking my ticket number and other things on the computer. I also gave him my residency visa (or you can give your passport) just in case.
He was very nice and tried to explain what he was doing and what I needed to do in slow Spanish. He obviously had dealt with a few foreigners before.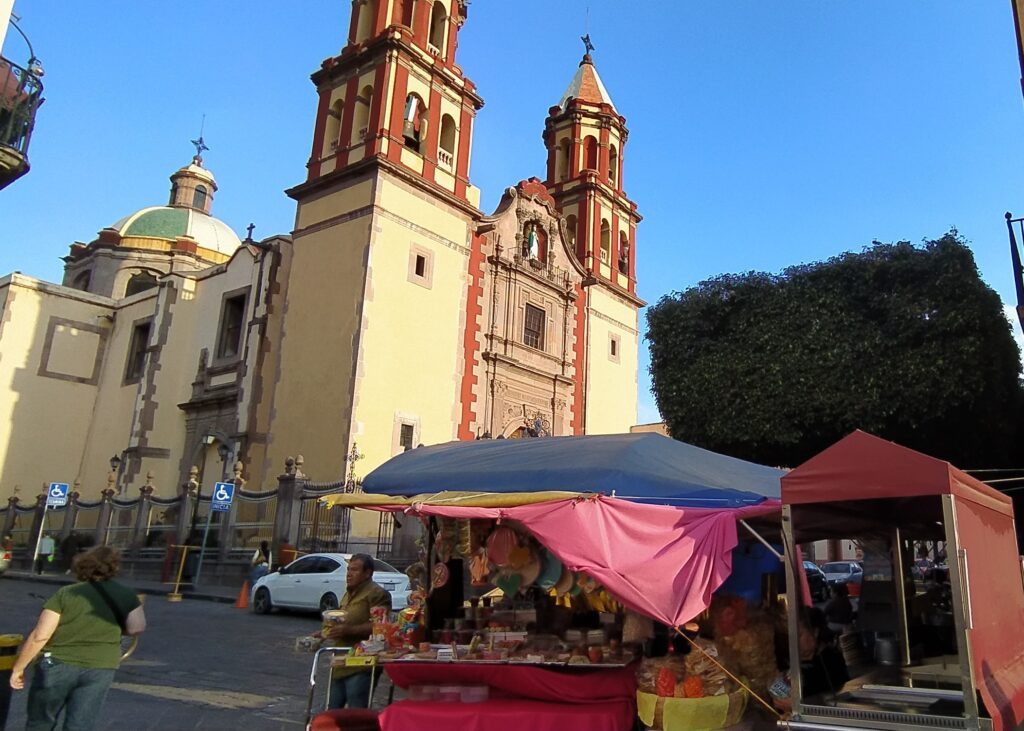 Paying for Your Parking Ticket
The officer explained that I needed to got the SuperQ with the sheet of paper he gave me and pay for my parking fine. You will not pay at the CAPTA office. SuperQ and OXXO are the places to pay your bills, property taxes, car registration, etc. I walked the short distance to the SuperQ, paid my fine (less than $25 USD), got the receipt, and returned to the officer. He fished my license plate out of a pile, printed off something that said I paid, and crossed off the ticket. Easy peasy.
To Simplify, These Are the Steps You Need to Take:
Visit CAPTA Office.
Give your license ID, residency card (or passport), and ticket to officer.
Take the paper he gives you to a SuperQ or OXXO store.
Pay fine.
Return to office and get another printout and your license plate back.
Pay Your Parking Ticket the Same Day
It's important to note that when CAPTA takes your license plate, you can get it back the same day if you pay the fine. If you leave your car overnight and don't notice you have a parking ticket, your license plate will be sent to another location:
Secretaria de Seguridad Ciudadana: Río Tuxpan 107, Desarrollo San Pablo, 76130 Santiago de Querétaro, Qro.
If the ticket is municipal you go to: Delegación Epigmenio González Av. Tlaloc 102, Desarrollo San Pablo
If you did not receive a notice from CAPTA, you might want to wait a day or two to go to these other locations because your license won't be there until the next day.
TIP: Pay your parking fine within 10 days to pay the "discount" rate. I don't know how much the ticket price will go up after this, but why would you want to pay more?
Best Way to Avoid a Parking Ticket
This is pretty simple: park in an Estacionamento (parking lot). They are sometimes hard to see because of the small openings that might only allow one car to pass in or out, but they are much more secure then parking along the road. 30 pesos an hour is better than a 500 peso ticket.
Check out some of our other CAR posts:
Buying a Car in Mexico With Cash or Credit
Your Car Maintenance and Ownership Questions Answered
Our Experience with Mexican Car Insurance After an Accident