The Best and Worst Time of Year To Visit Central Mexico
When we tell people we live in Queretaro, Mexico, the usual response is "Where's that?" What people know about Mexico is abbreviated to beaches, cruises and biased media reports.
Yes, Mexico has some beautiful beaches on both coasts.
A cruise is a nice introduction to Mexico, but it is only a glimpse of what Mexico really is, like looking at a postcard.
The media IS BIASED and only reports on things that can instill fear in the people watching.
How We Came to Know Central Mexico
Tom spent some of his childhood summers in Central Mexico. His grandmother lived in San Miguel de Allende for 20 years. His first introduction to Mexico wasn't the beach, but of the colonial architecture, cobblestone streets and the mercado where he could buy tacos and toys that usually got him into trouble.
My intro to Central Mexico was Mexico City before we decided to take a look around the country for a possible place to settle down. I had heard about San Miguel de Allende for years because my mom, an artist, had always wanted to see the town. What little I knew about Central Mexico was from reading the expat retirement magazine International Living. San Miguel was a regular feature and Guanajuato and Queretaro were occasionally mentioned. We took 2 weeks exploring the region before moving here, then continued our exploration more in depth.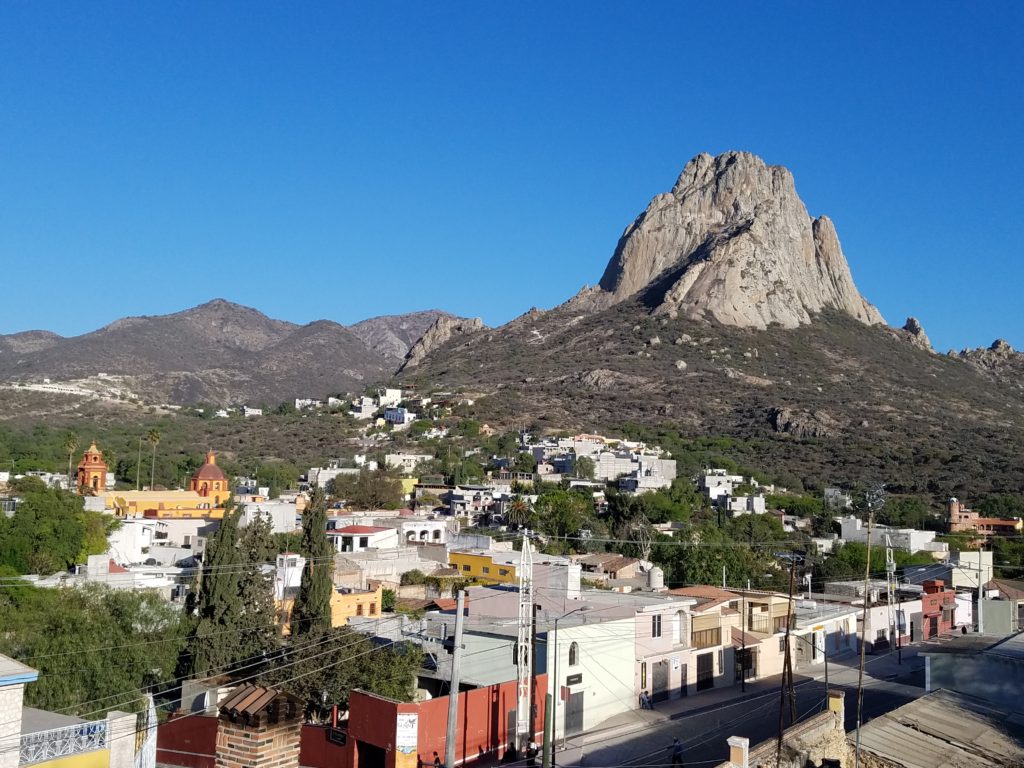 Mexico is a large country with more than just beaches. Mexico has mountain ranges crisscrossing the country with ecosystems ranging from coastline, desert, jungle, canyons, high desert and snow-covered mountains. Temperatures range from hot and humid to dry and below freezing. Mexico is the 4th most biodiverse country in the world, and 62 indigenous languages are spoken throughout the country. To say you've "been to Mexico" is like saying "I've been to the USA". One city does not define the entire country.
Disclosure: Some links may be affiliate links where we receive a super-small commission at no additional cost to you if you click through and make a purchase. We call this our Chocolate & Churro Fund.
Diversity of Colonial Mexico
Guanajuato
Let's take a look at the state of Guanajuato first. The major airport in Guanauato is near Leon. The city of Leon is in the Central Mexican plateau with semi-arid temperatures. The capital of Guanajuato and silver mine town of Guanajuato City is built in a narrow valley between mountain peaks about 30 minutes east of Leon. The state of Guanajuato is also home to Dolores Hidalgo where the War of Independence in 1810 began. Most people only know of the artist and expat community San Miguel de Allende which is also a UNESCO World Heritage Site.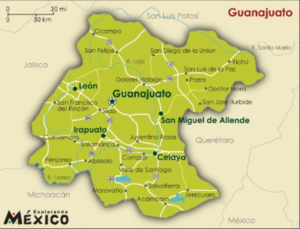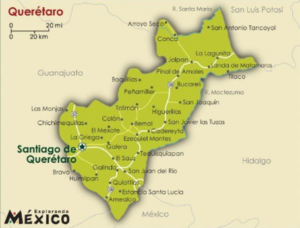 Queretaro
The state of Queretaro is in the heart of Colonial Mexico in the middle of the country near the Sierra Madre Occidental mountain range. Queretaro is temperate and surrounded by mountains and rolling hills for agriculture. The major city in the state is Santiago de Queretaro, usually shortened to just Queretaro. The pueblos magicos of Bernal and Tequisquiapan are in the center of Queretaro's wine country, and smaller missions, caves and waterfalls are scattered in the mountains of the Sierra Gorda Biopreserve.
Is the Colonial Mexico Region Safe?
We know that the news likes to say how dangerous Mexico is on a frequesnt basis. We have been here almost 4 years and yes, we have seen some crime increase over in the state of Guanajuato in certain towns, but it's not as dangerous as the media makes it out to be.  When we were first looking at Guanajuato, San Miguel and Queretaro as possible places to live, this is what we were told: An expat, who had lived in Guanajuato for 11 years, told us that if a person gets pickpocketed, it would be on the front-page news. We know people who have lived in San Miguel for up to 15 years and have no plans on ever leaving.
Queretaro is one of the safest cities you can visit (or live) in Mexico according to numerous sources including Numbeo.com.The people in this region are very friendly and helpful. We have never felt unsafe. It's kind of a joke around here that the cartels got together and decided that these two states were off limits so that their families had a safe place to vacation. Whether it's true or not, people from all over Mexico and many other countries move here because of its safe reputation.
How to Get to Colonial Mexico
Colonial Mexico has two small international airports located in Queretaro (QRO) and Leon (BJX) about 3 hours apart. If you are going to Guanajuato City, fly into Leon. Fly into Queretaro if you plan on spending most of your time in the state of Queretaro. If you plan on spending all your time in San Miguel de Allende, you can fly into either airport and get a bus or private car, but the Queretaro airport is closer.
You can plan a trip to and from one airport or arrive at one and leave from another. This post will mainly focus on the states of Queretaro and Guanajuato with Queretaro international Airport and Del Bajio International Airport as your points of reference.
Queretaro International Airport code QRO
Del Bajio International Airport code BJX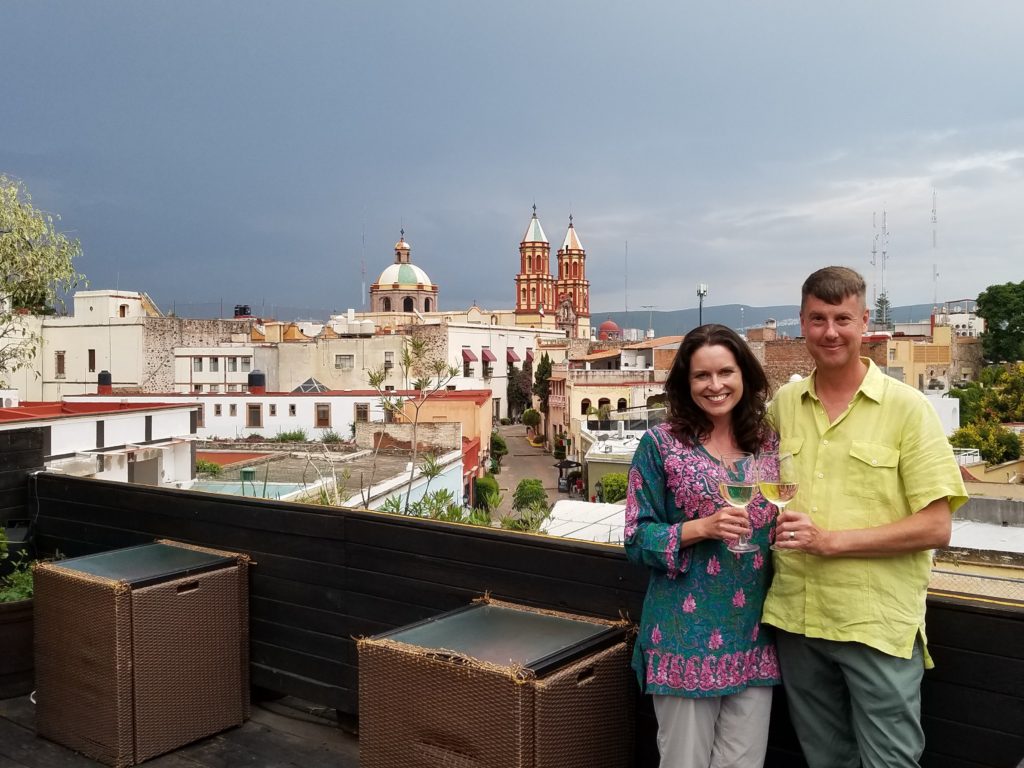 Queretaro is 2 hours north of Mexico City, 3 hours from the Monarch Butterfly preserves in Michoacán and just an hour away from San Miguel de Allende. Queretaro has its own international airport with direct flights to and from Mexico City, Monterrey, Dallas, Houston, Chicago and Detroit as well as smaller airports around Mexico.
Leon is a great city to fly into to explore the state of Guanajuato. Del Bajio International Airport has direct flights from Mexico City, Monterrey, Los Angeles, Sacramento, Oakland, San Jose, Houston, Dallas, San Antonio, Chicago (both airports), Tijuana, and many  smaller airports around Mexico.
Travel Tip:
Combine a beach and colonial tour of Mexico by flying in/out of Cancun to/from Queretaro. Prices from Cancun are just an extra $120 USD.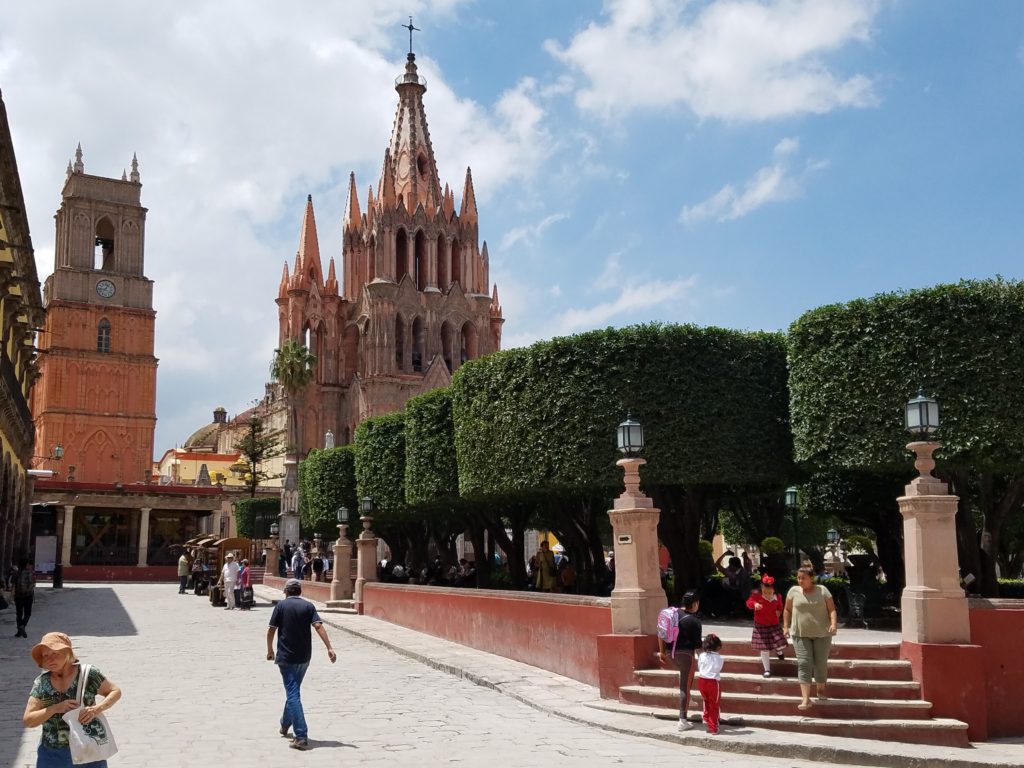 San Miguel de Allende is in the state of Guanajuato and one hour from Queretaro. It's been named the Best City in the World by Travel & Leisure readers in 2017, 2018, and 2021, falling to the number two spot for 2019 and 2020. It's directly in between the two airports characterized with rolling hills and Colonial architecture. San Miguel did have plans to build an international airport, but the residents were not too excited about that. If San Miguel de Allende is at the top of your list of places to visit, there's plenty to discover around this UNESCO World Heritage Site from either direction.
Best (and Worst) Times to Visit Queretaro and Guanajuato
After spending almost 4 years here, we can honestly give you the best advice of when to visit Colonial Mexico. Below is a list of best and worst times to visit. I did not list specific dates because these can change at random. This list is to give you a general idea of what's happening each month. Many other events will be taking place in your chosen destination that aren't advertised on websites, event pages or Facebook events.
January
It's usually pleasant during the day but can be extremely cold and windy in the early morning and at night. January has sunny days and every town is absolute beautiful at this time of the year. After the first week in January, there are less crowds.
Extra tip: *December through March is a great time to see the monarch butterflies in Michaocan (3 hours away).
February
Weather is still temperate with lots of sunny days. Wine festivals are starting to take place at Queretaro wineries. The beginning of February has two national holidays and Valentine's Day is big here. February is a beautiful time to visit almost anywhere in Mexico.
The Festival 100 Vinos Mexicanos (100 Wines of Mexico Festival) is one of the most important wine festivals in the country that takes place at the end of February in Queretaro in 2024.  We have a special tour through our tour company Heart of Mexico Wine Tours to experience the festival and many other wonderful things in the state of Queretaro.
March
Wine festivals are in full swing in Queretaro and around San Miguel de Allende. Purple jacaranda trees are in bloom, and it's also strawberry season in Irapuato, Guanajuato.  It's a good time to visit Sierra Gorda for hiking, camping and to see waterfalls.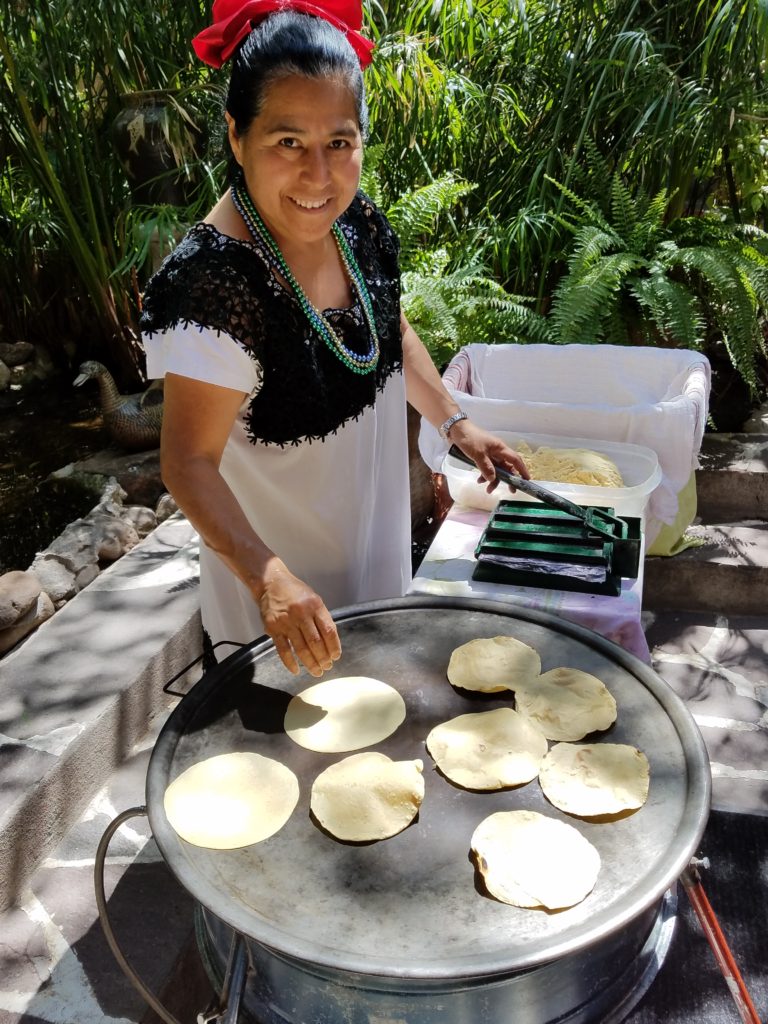 April
Easter celebration in San Miguel is something to see. Schools are closed for the week before and after Easter so smaller towns swell with city dwellers going on vacation. If you can get an Airbnb at this time the price will be better than hotels, but take note, reserve months in advance. Temperatures start getting hot during midday, but evenings are still nice. Mineral de Pozos has its Mariachi Festival, and to beat the heat, try some unusual flavors at the ice cream festival in Dolores Hidalgo. The weather is still nice to explore Sierra Gorda. Avocados and apricots are sold at ridiculously cheap prices along the roadside.
May
May is the hottest month of the year in Colonial Mexico (and most of the country). It's hot and dry and since the beauty of Mexico is usually outside, you may want to avoid this month. The heat lasts from 10am-7pm, then cools down by 20 degrees. It's a good time to escape to the mountains of Sierra Gorda for 70 degree weather, waterfalls and hiking.
Another escape: National Wine and Cheese Festival weekends in Tequisquiapan. Heart of Mexico Wine Tours has some fun vacation packages planned to include the festival, wineries and pueblos magicos on three different weekends!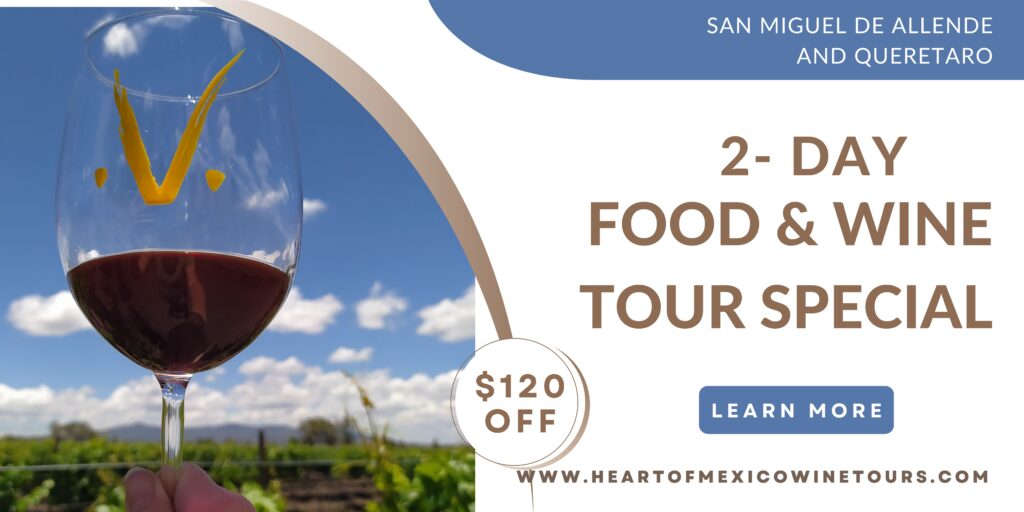 June
The rainy season begins, and flooding can occur. I would say that it usually rains at night, and just a few times during the day, but 2021 was a very unusual rainy season with rain and cloud cover for most of the summer.  There are still festivals every weekend such as Dia de los Locos in San Miguel de Allende. To learn more about the rainy season check out our post The Good, The Bad and the Ugly of Central Mexico's Rainy Season.
July
Perfect summer weather! It mostly rains at night and the heat of the day is just a few hours. The mornings and evenings are beautiful.  Wine and food festivals are happening every weekend. You'll see vendors selling figs and sometimes peaches along the roads. Guanajuato Film Festival is the last two weeks in July.
August
Wine Harvesting Festivals or Vendimias take place all month. Plan a trip to explore the different wineries in Queretaro and Guanajuato with our customized tours at Heart of Mexico Wine Tours. Middays can be hot, but evenings are cool. Figs, and corn vendors line the roads.
September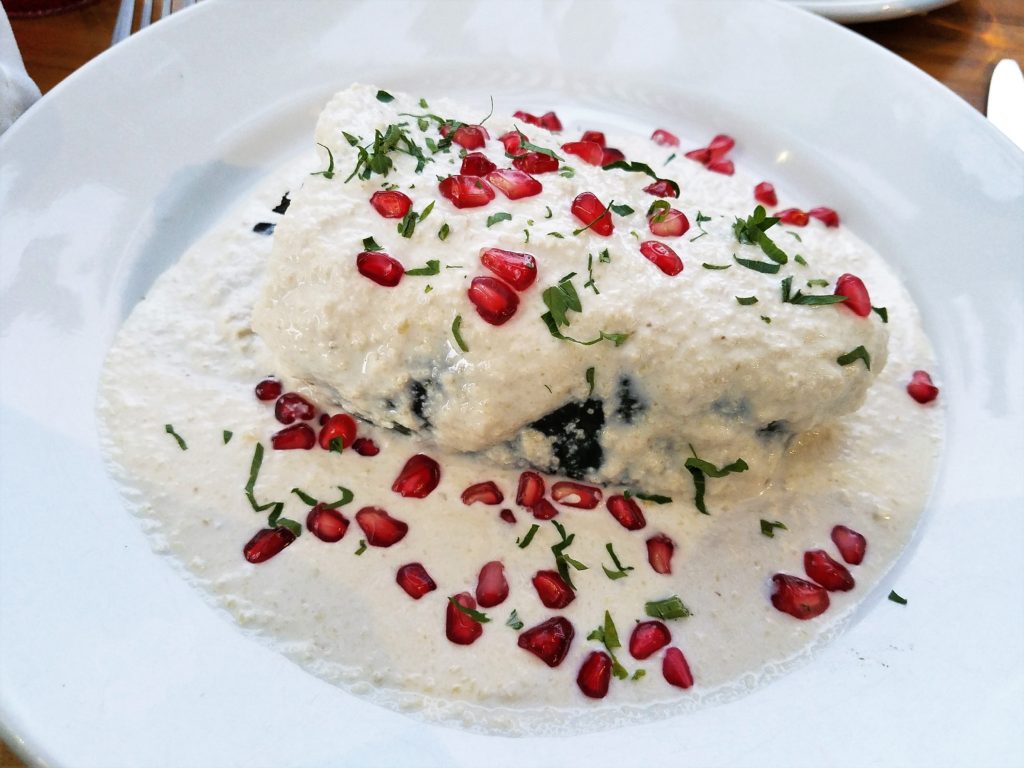 Mexico's Independence Day on September 16th is a big deal. All cities decorate buildings and streets, and children dress in custom clothing. Parades are common and Chile en Nogada is on the menu (a must have!). Dolores Hidalgo's big music event festival Fiestas Patrias is popular. Wildflowers cover the hills with electric colors of pink and yellow. Corn, pomegranates, walnuts and pecans are in season.
October
October has very pleasant weather and it's not very busy. At the end of October, you'll see people preparing for the Dia de los Muertos celebration in November. Festival International Cervantino musical fest takes place in Guanajuato City. Wildflowers are at their most colorful.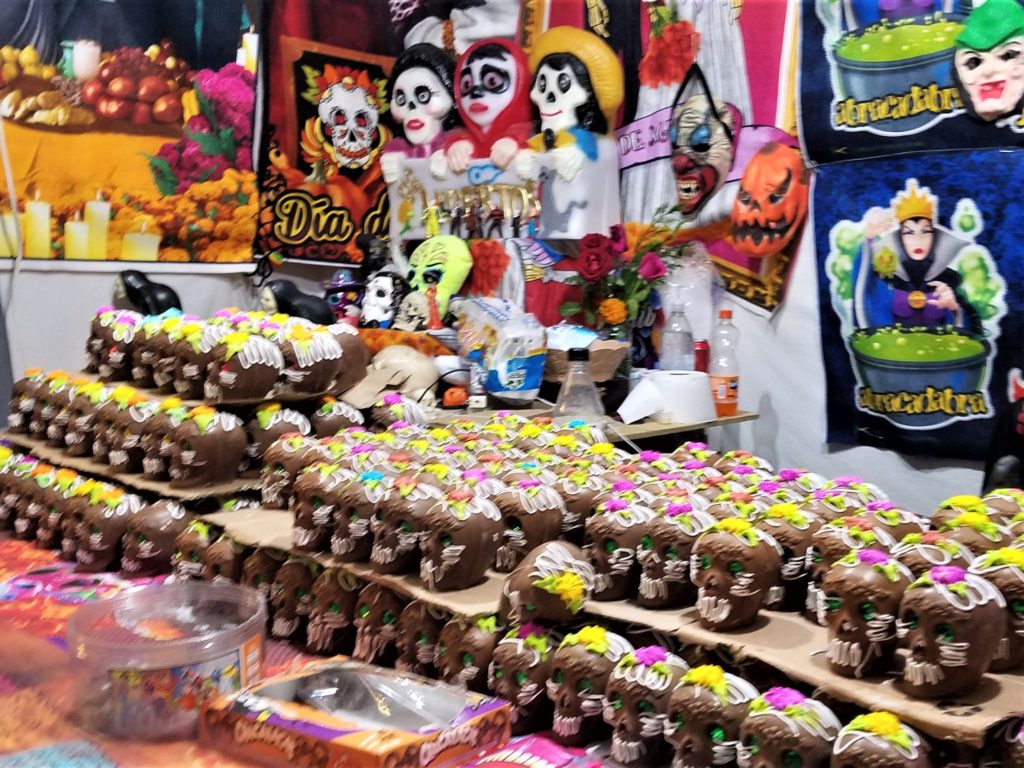 November
Dia de los Muertos November 1-2 is a huge celebration.  Book your accommodations 3 months in advance because the good places sell out quick. This month marks the last of the wine festivals. Christmas decorations are in the stores and starting to go up in the residential areas. Temperatures really start to drop so bring sweaters and puffy jackets (everyone wears puffy jackets, even in summer). Don't miss the International Balloon Festival in Leon, Catando Mexico Wine Festival in Guanajuato, and the International Festival of Jazz and Blues in San Miguel de Allende. This is the wettest month in Sierra Gorda.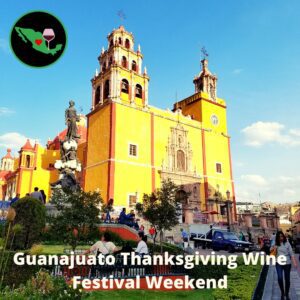 December
December is THE perfect time to visit! Christmas is everywhere! It's cool, but sunny. The towns decorate with Christmas lights, and the last two weeks of December are vacation weeks for the Mexico people. Crowds can be expected especially in Guanajuato and San Miguel de Allende. Parades are common especially on the 23rd and 24th. The Sierra Gorda region is cool, but it's still the wet season.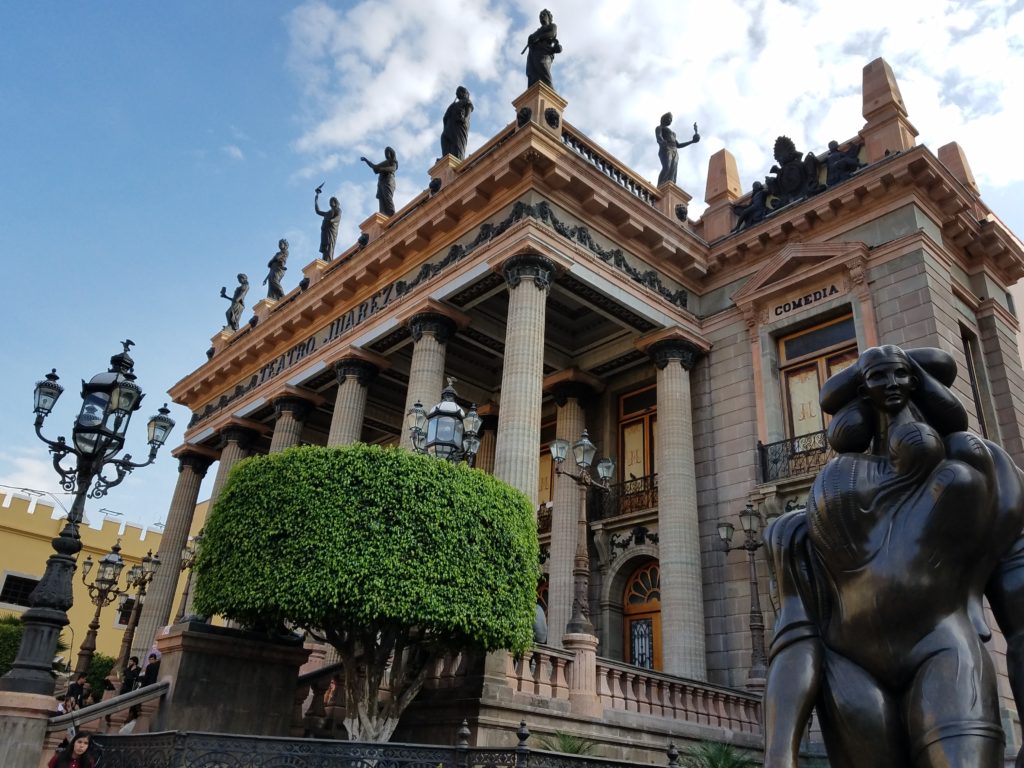 *Travel Tip:
Throughout the year we've seen many monthly festivals for mezcal, gastronomy, coffee and chocolate. If one of these festivals is not happening while you visit, don't worry. There's plenty of bars, cafes and shops to help you create your own personal celebration with these.
I hope this guide helps you in your trip planning to Colonial Mexico. If you have any questions, comments or adds you'd like to contribute, leave a comment and I'll be sure to update this.
Also, if you would like a guided tour of the region, check out our Heart of Mexico Wine Tours for tours ranging from a day to week. We can even customize a trip for you!
Like this post? Save it to Pinterest!