Latin America's Best Restaurants- Mexico Edition 2021
Mexico has many things to celebrate about its culture, biodiversity and most especially its cuisine. 2021 marked the 500th year of the founding of Mexico City and the 200th year anniversary of its independence from Spain. From its pre-Hispanic cuisine to its European and Middle Eastern influences that they've embraced as their own, Mexico is one of Latin America's most desired foodie destinations.
How Are the Restaurants Chosen?
Latin America's 50 Best Restaurants lists have been going strong since 2013. Produced by William Reed Business Media and compiled by a group of over 250 leaders in the restaurant industry across Latin America, each restaurant has been chosen based on their cuisine and innovation. As we all know, 2020 was a horrible year for the restaurant industry, with many having to close their doors during lockdowns and finding new ways to service their foodie clientele. Those that survived through 2021 are coming back with a vengeance. 
So instead of naming just 50 restaurants that managed to survive this COVID era, the Latin American Restaurant Academy expanded the list and chose the 100 Best Latin Restaurants from the past eight years. Mexico has an impressive 19 restaurants (almost 1/5 of the list!) on the 2021 Best Latin American Restaurants that debuted on November 21, 2021.
Disclosure: Some links may be affiliate links where we receive a super-small commission at no additional cost to you if you click through and make a purchase. We call this our Chocolate & Churro Fund.
Foodie Travel Around Mexico
Mexico City is home to many of the top restaurants, but several other cities have held their own on the list year after year. All the restaurants are found in cities with airports, some with international airports to make it easy to fly in for a weekend foodie getaway.  Mexico City can be reached from many American and Canadian cities within a few hours. Take a few weekend trips to splurge on tasting menus, or make it a longer trip with Mexico City as a starting point and explore more of Mexico.
Here are the flight times from Mexico City to:
Guadalajara                         1 hr 15 min with 16 flights per day
Monterrey                              1 hr 45 min with 20 flights per day
Cancun                                 3 hrs 10 min with 35 flights per day
Oaxaca                                 1 hr 11 min with 8 flights per day
Tijuana (Ensenada)            3 hr 45 min with 82 flights per day
Ensenada is an hour drive south of Tijuana and the gateway to Valle de Guadalupe wine region. 
Toluca is just over an hour bus ride from Mexico City. You could easily visit the #44 restaurant Amaranta for lunch and be back in Mexico City before sunset.
Mexico's Best Restaurants
We haven't eaten at all the top restaurants yet, but it is a goal of ours. We are not sponsored by any company to dine and review these restaurants, so every place we have eaten at has been paid for directly by us. 
Let's dive into the list by city and by rank and focus on the 19 best restaurants in Mexico. As this list is quite long, feel free to jump around to the city you are most interested in to discover the top restaurants.
***Unfortunately, #40 Corazon de Tierra did close last year after 10 years of stunning cuisine and service.
Mexico's Best Restaurants by City
Mexico City
#5 Pujol
#8 Quintonil
#12 Sud 777
#27 Rosetta
#33 Maximo Bistrot
#35 Nicos
#72 Merotoro
#85 Dulce Patria
Toluca
#44 Amaranta
Guadalajara
Monterrey
#15 Pangea
Valle de Guadalupe
#40 Corazon de Tierra (closed)
Ensenada
#62 Manzanilla
#79 Laja
#98 Deckman's en el Mogor
Oaxaca
#63 Casa Oaxaca
#95 Pitiona
Update July 25, 2022 
The Worlds Best Restaurants List was release on July 18, 2022. Restaurants in Mexico are featured prominently, most notably Pujol at #5, and the top restaurant of North America. Other accolades go to #9 Quintonil, #51 Alcalde, #52 Sud 777, #60 Rosetta and #89 Maximo Bistrot. 
Chef Enrique Olvera of Pujol has spent time with indigenous tribes in Oaxaca learning about their traditions and food preparation. Bringing this knowledge back to the kitchen, each course tells a story about where it is from and the people who cultivate it. One of his most famous dishes is the aged mole paired with the new. The aged mole has been simmering for years and depending on when you go, will be well over 1000 days old.
We've eaten at Pujol twice trying both the multi-course menu and the Taco Omakase. Both offer a mother mole course contrasting with a young mole. You can see and taste the difference between the two. The young mole is a combination of bright chilis while the mother mole has more chocolate and dried chili notes. Both are delicious. With the Taco Omakase tasting menu, you also get a choice of beer, wine or mezcal paired with each course. Eating at Pujol is pricey, but it is well worth it.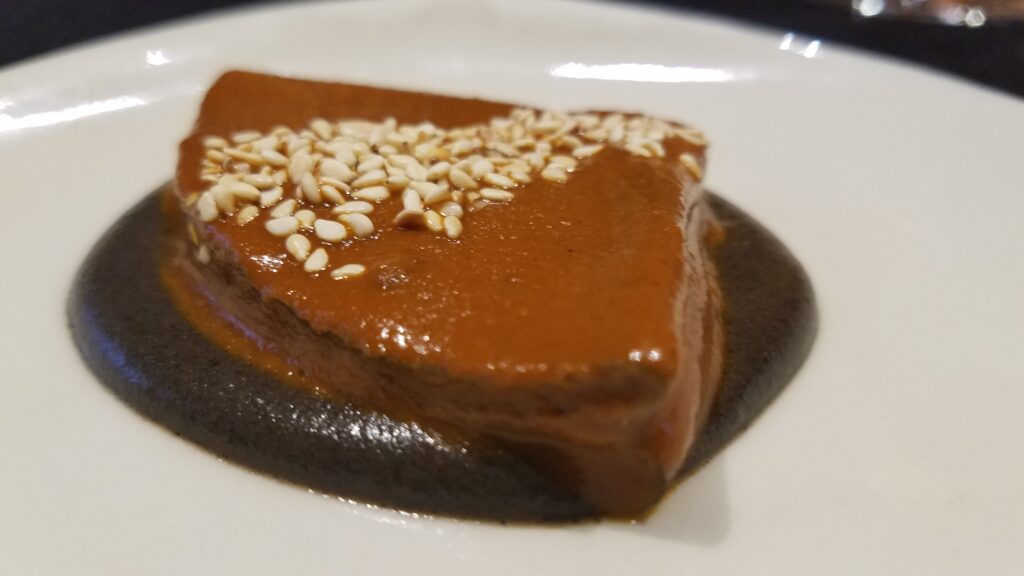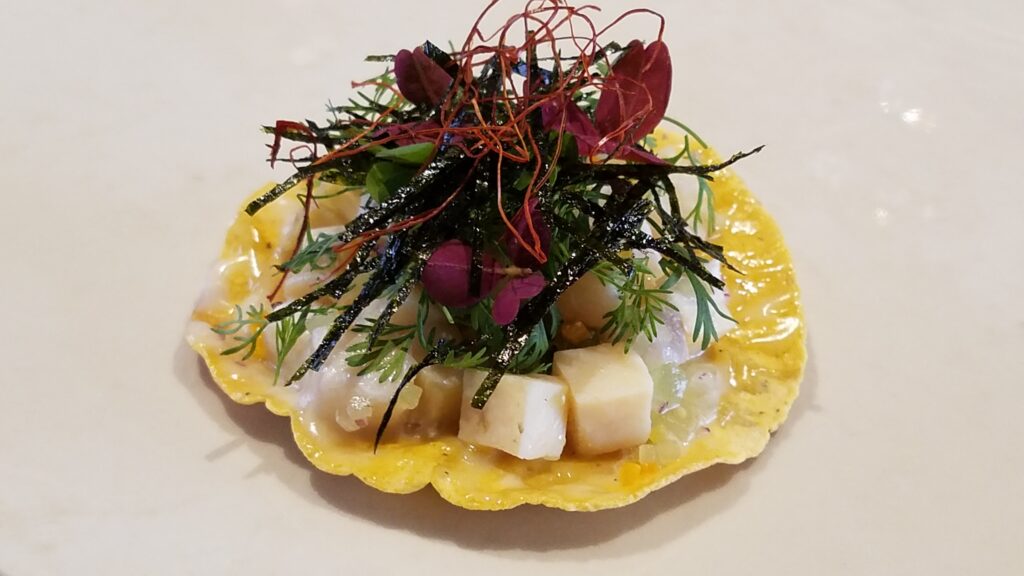 Enrique Olvera restaurant empire has expanded from Mexico City to San Miguel de Allende with Moxi at Hotel Matilda, Cosme and Atla in New York, and Damien in Los Angeles. He has also published several books exploring Mexican cuisine and its traditions like Mexico from the Inside Out.
Quintonil is the introvert of the culinary scene with a more subdued and zen-like atmosphere. The name Quintonil is derived from a green Mexican herb similar to coriander that features in some of the dishes and cocktails. You have a choice of a la carte or the tasting menu, but we always opt for the tasting menu. One of the most popular dishes is the charred avocado with escamoles which will blow you away.
We've eaten here twice and loved each and every moment. This family owned restaurant is run by Chef Jorge Vallejo in the kitchen while his wife Alejandra Flores and staff pamper you in the dining room. The décor is relaxing and provides the perfect ambiance for a special occasion.
During COVID 2020, Quintonil temporarily closed but continued supporting the local suppliers by selling boxes of fresh ingredients to his customers. Chef Vallejo also bought ingredients from farmers and prepared meals to hospital patients and poor families through the project Comidas Solidarias.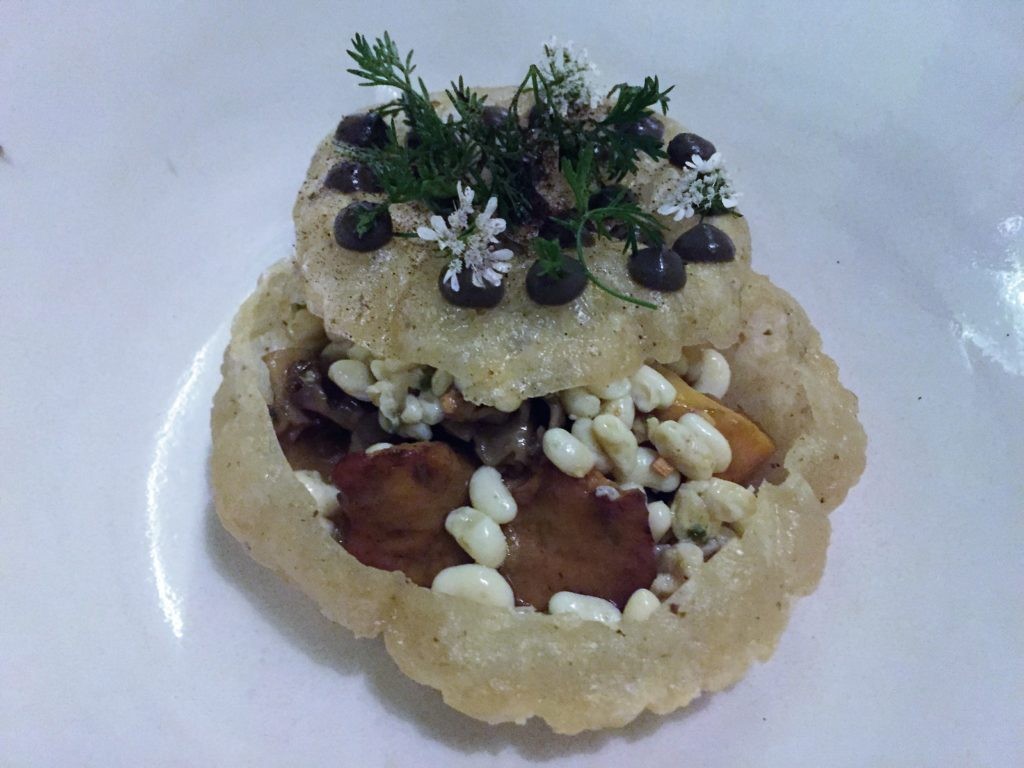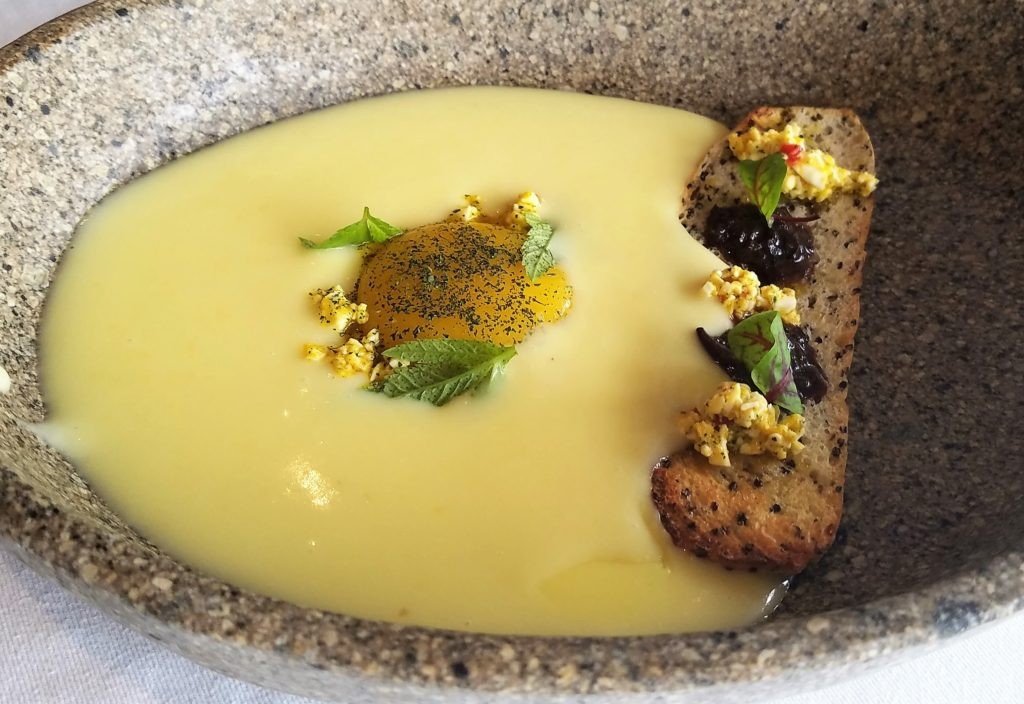 Located outside the usual tourism spots in Mexico City, Sud 777 is a gorgeous restaurant with vibrant food to match. The different rooms interconnect seamlessly yet give each couple or group a bit of privacy. The menu changes monthly, and most of the products are locally sourced.
We can personally recommend the sweetbreads in a veal reduction, octopus, and the duck breast with mole Amarillo.
Chef and co-owner Edgar Nuñez trained in France with stages at El Bulli and Noma, two of the most well-known restaurants in the world. He joined Sud 777 as executive chef in 2008.
He created Kokeshi by Sud 777, an offshoot of the main restaurant serving Asian cuisine. His other restaurant in Mexico City is Comedor Jacinta, based on his grandma's recipes. Branching out to the beach, Maria Dolores located at the all-inclusive Atelier Resort in Playa Mujeres, is a fine dining restaurant with a 9-course tasting menu of contemporary Mexican cuisine. Internationally, Nuñez opened Aguafresca, a joint venture with Chef Juan Manuel Barrientos in Medellin, Columbia, offering the finest Mexican food and mezcal south of the Panama Canal.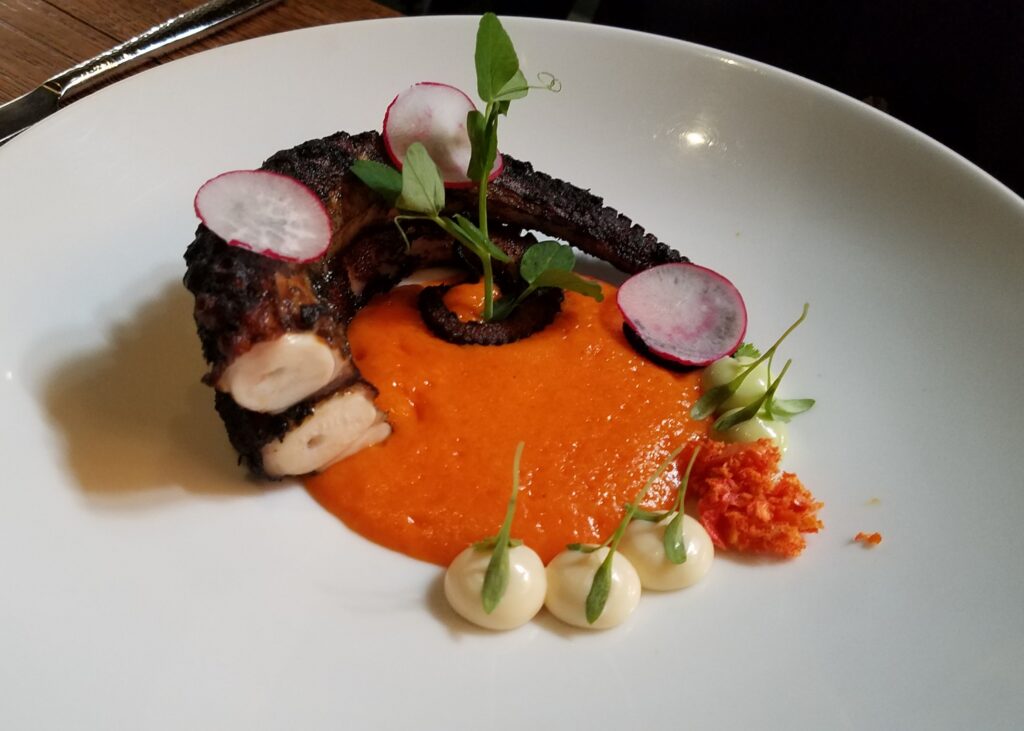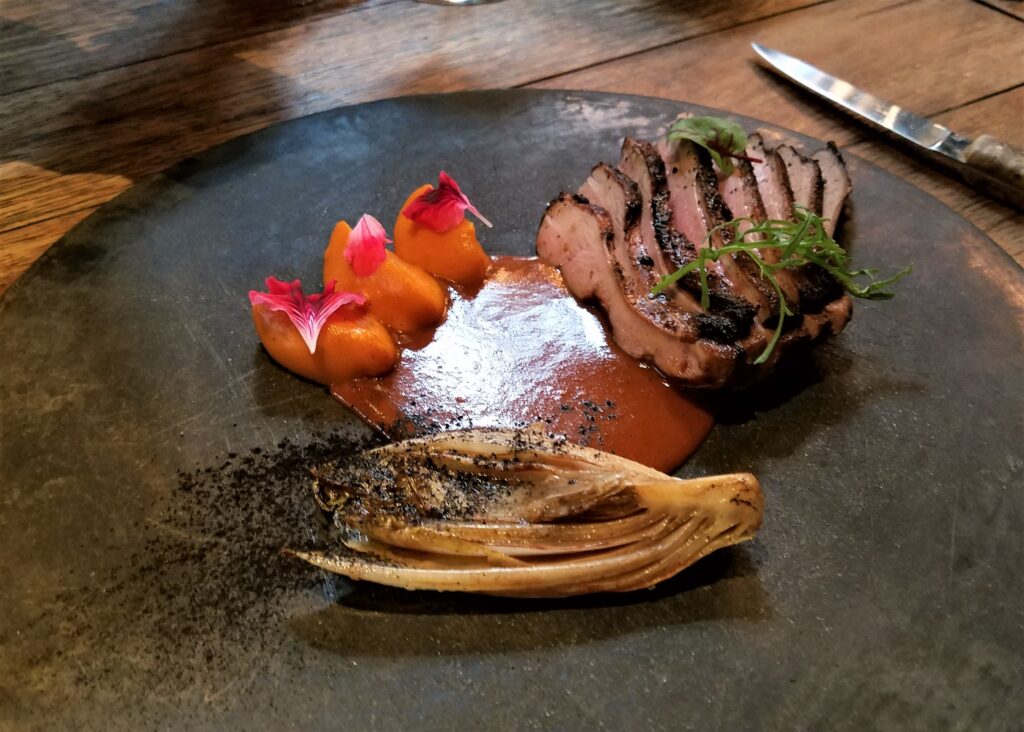 Led by female chef Elena Reygadas, Rosetta is a favorite special occasion dining spot for tourists and locals. Combining her training of French and Italian cuisine with her Mexican family traditions and seasonal ingredients, Rosetta and Reygadas are legends in the Mexican culinary world.
Try dishes such as the potato gnocchi with huitlacoche or a unique Mexican dessert of white heirloom cocao and hoja santa chocolate.
Reygadas has opened other restaurants across Mexico City such as the casual restaurant Lardo and the French Bistro Café Nin. Even if you have limited time in the city, don't miss her bakery Panaderia Rosetta. The bakery has made a name for itself and supplies many restaurants across the city with its bread and pastries. And if you only have time for a drink, Salon Rosetta is above the restaurant. The room is fascinating, but the drinks are small and pricey.
In 2019 Reygadas published her first cookbooks with many of Rosetta's favorite recipes and an exploration into how Mexican traditions influence the ingredients.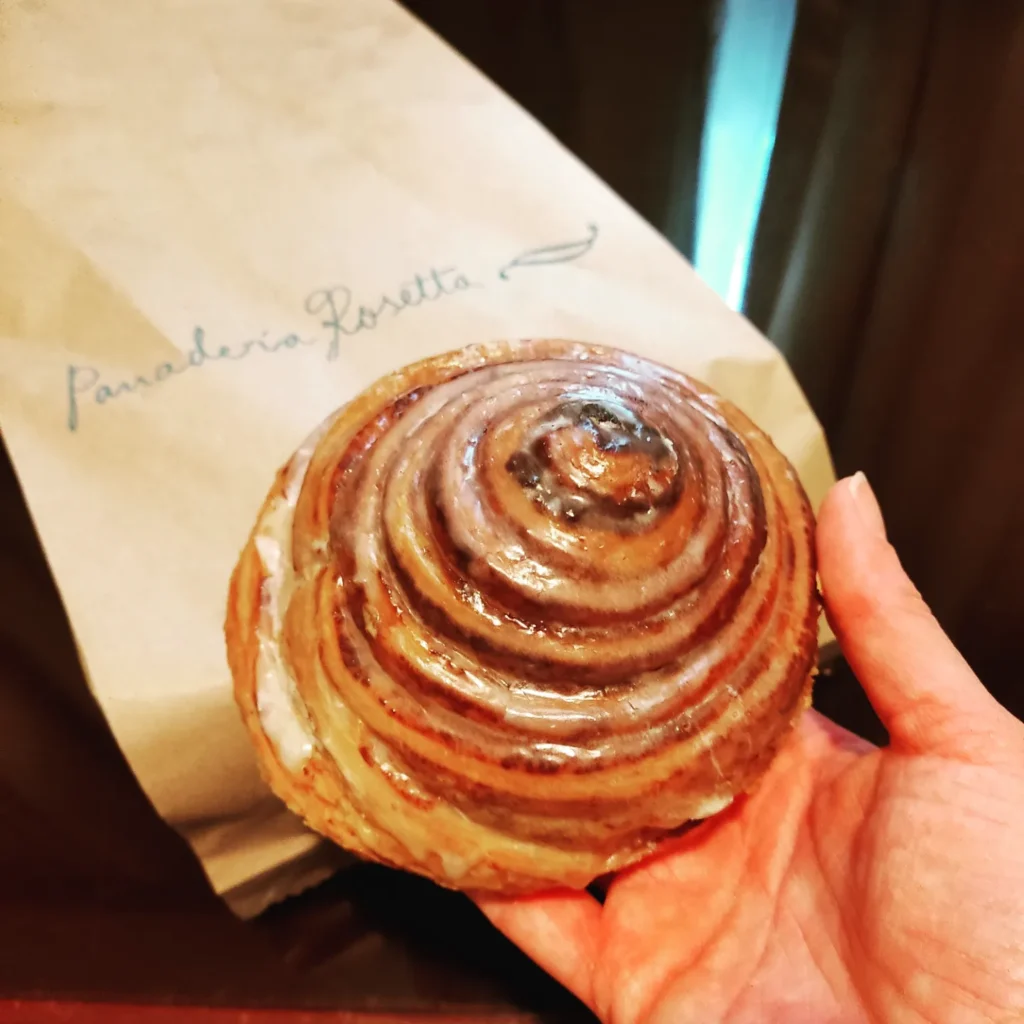 Listed as #33. MAXIMO BISTROT
Chef Eduardo Garcia opened Maximo Bistrot in 2012, and has been a dining destination ever since. The focus is on the food, and each dish is prepared with the highest quality of ingredients with emphasis on color, texture and flavor.
Chef Garcia spent time at Pujol and Le Bernardin in New York before opening Maximo Bistrot. Today he continues to stretch his cooking techniques and ingredient knowledge with two other restaurants, the 30-seat Lalo and the French Brasserie Havre 77, reminiscent of a Parisian café.
Try the duck confit with mushroom risotto or any of the fresh seafood dishes.
Nicos is another restaurant located outside the usual tourist attractions, but still worth the Uber ride. This fine dining restaurant has been a fixture on the Mexico City dining scene for well over 60 years.
Located 20 minutes north of Polanco, the white tablecloth service and hearty Mexican dishes are not to be missed. María Elena Lugo Zermeño opened Nicos back in 1957 and can still be seen today chatting amongst the diners while her son, Chef Gerardo Vázquez Lugo creates each masterpiece back in the kitchen. The mother-son duo recently received the Lifetime Achievement Award for their contribution to Mexican cuisine.
Try the Carne Asada al Carbon or the Fillete Nicolasa with a caramelized apple and hibiscus flower sauce.
Merotoro brings you the best of Baja surf'n'turf cuisine in the leafy neighborhood of La Condesa in Mexico City. Chef Jair Téllez is known for his simplicity in style and cuisine. His restaurants include Laja in Valle de Guadalupe (see below), Amaya in Mexico City, and on occasion, he will host a pop-up dinner (which we have attended). We highly recommend getting the lamb or pork dishes. The meat is tender and almost melts in your mouth. 
 

 

 

View this post on Instagram

 

 
Listed as #85. DULCE PATRIA
Known for her artistic style and dishes that look good to eat, Chef Martha Ortiz transforms the Mexican landscape onto a plate. Showcasing the best of Mexican cuisine from desert flowers and jungle fruits to the bounty of the sea, Dulce Patria is part restaurant, part gallery of the best works in Mexican cuisine. Whether you are in the mood for sweet or savory or just a cocktail, the energy of Dulce Patria will move you.
Self-taught chef Pablo Salas brings you the flavors of Central Mexico from the mountain around Toluca. He is true farm-to-table showcases mountain stream trout, local produce like nopales and corn, and pork and game dishes that will have you drooling at the descriptions alone. Take a look at Amaranta's instagram including this Valentine's Day menu and tell me I'm wrong. 
The city of Toluca is an hour drive from Mexico City. You can take a bus or an Uber to Toluca for lunch at Amaranta and be back in Mexico City before dark. 
Add a Wine Festival Weekend to Your Mexico City Trip!
Food lovers cannot miss a short trip north to the Queretaro wine region and it's many wine festivals throughout the year. Add one of our Heart of Mexico Wine Tours 3-night/4-day packages that includes hotel, pueblos magicos, food and plenty of wine!
*Queretaro can easily be reached by luxury bus from the airport.
Chef Francisco 'Paco' Ruano takes Mexican cuisine to a whole new level. The sleek, modern restaurant Alcalde offers an upscale dining with a friendly down-home vibe. It's not uncommon to see Chef Paco come out of the kitchen and have a conversation with the local diners. Chef Paco trained on cruise ships and completed stints at El Cellar de con Roca and Noma before opening Alcalde to enthusiastic reviews.
Chef Paco is innovative with powders, nuts and seasonal ingredients. My favorite dish at Alcalde was the freshwater shrimp sauteed in garlic, tomato and chili oil. For dessert we tried the passion fruit tamal with mango puree, which was bursting with flavor.
Guadalajara has plenty of other fantastic restaurants to make it a foodie destination. Try Chef Paco's other restaurant, Trasfonda, a traditional Mexican restaurant based on the flavors of his childhood.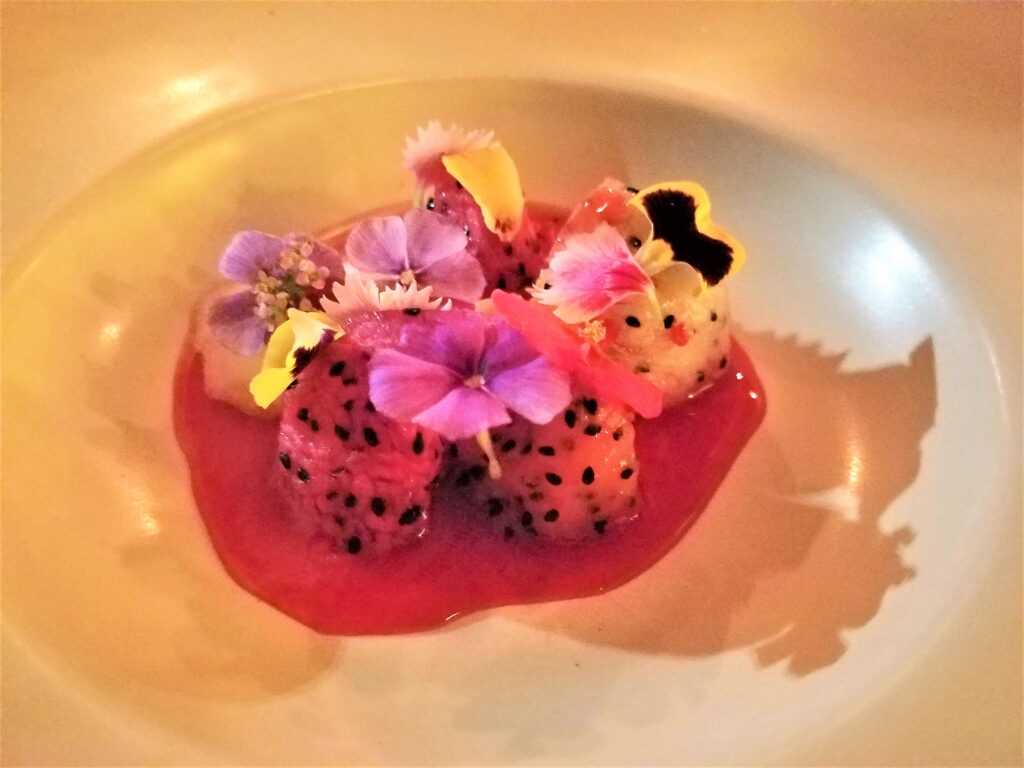 Oyster lovers cannot miss La Docena. This seafood centric restaurant has the freshest seafood in the middle of the country. We loved the food here so much, we dined here twice. Feast on the seafood tower with its oysters and chocolate clams. And for dessert, you will have a hard time choosing between the chocolate lava cake and the cajeta lava cake. Just get both! The flagship restaurant is located in Guadalajara, and two more restaurants have been opened in Mexico City (just in case you can't get to Guadalajara).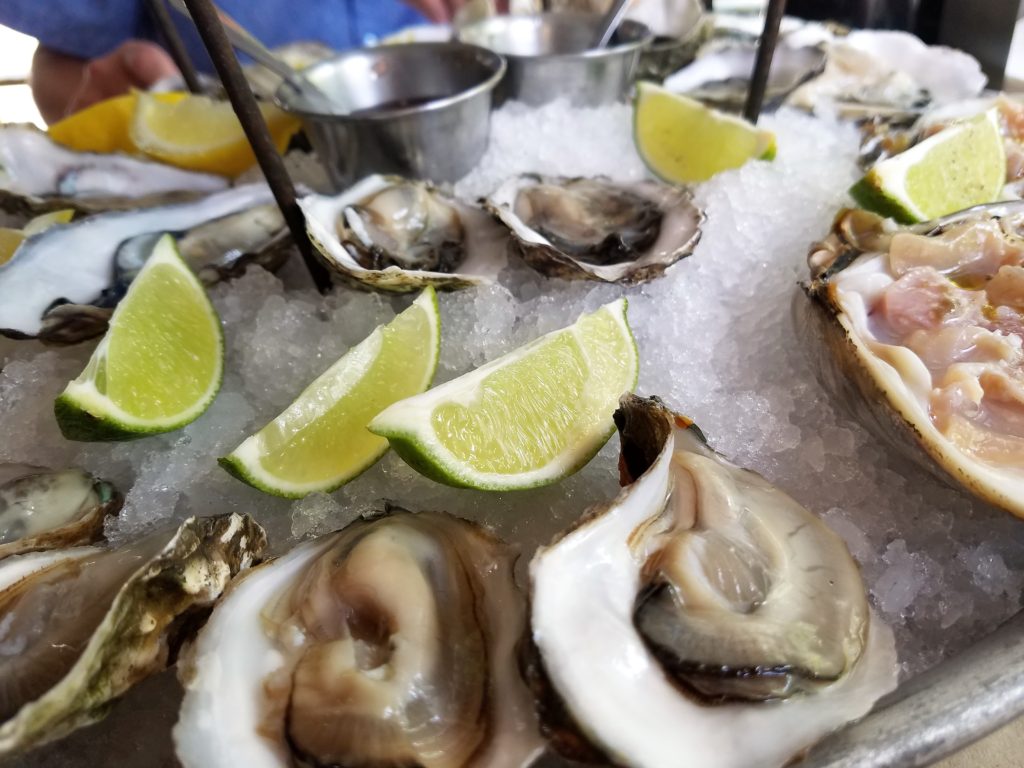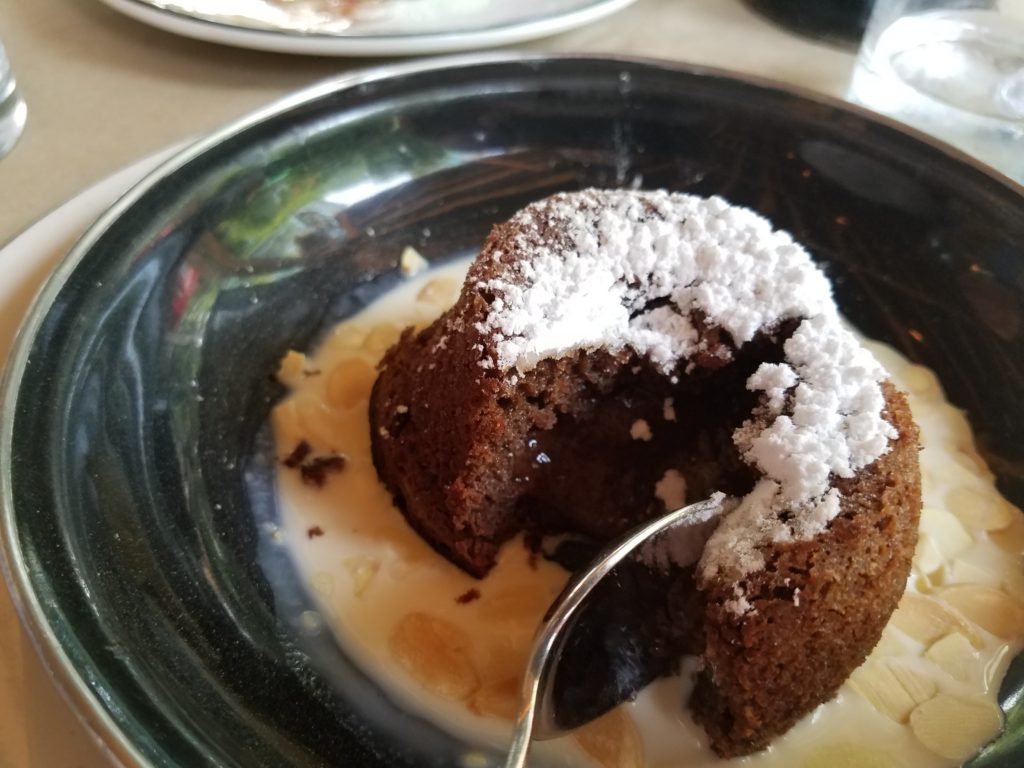 Fine dining paired with lazy beach days on the Caribbean is a dream cocktail for many. And that's what you'll get at Le Chique at the Azul Beach Resort Riviera, an all-inclusive resort in Cancun, Mexico.
Chef Jonatan Gómez Luna studied at Centro Culinario Ambrosia in Mexico City and stages at El Bulli, Noma and El Celler de Can Roca before becoming the culinary leader of the Le Chique project for Karisma Hotels and Resorts in 2008.
This adults-only restaurants takes molecular gastronomy to a whole new level. Part fine dining, part amusement, dishes are deconstructed and reconstructed to look like something else and cocktails are served as spheres. His motto is to "puzzle, amuse and amaze" diners with Mexican flavors and cuisine. Try their signature dish of tender beef tongue with black mole. With a focus on regional ingredients, this dining experience will look as spectacular as it tastes.
Chef Guillermo González Beristáin has worked internationally in Madrid and Paris, but returned to the industry-rich Monterrey to open his restaurant Pangea. His dishes are a blend of French cooking techniques and Northeast Mexican cuisine (not Tex-Mex). The regional specialty of this area is goat. Try his signature dish cabrito braseado de salsa de Bocanegra (goat braised in dark beer).
Chef Beristáin has opened other restaurants in Monterrey such as the French Bistro Bardot and rustic Italian Vasto. He was a judge on Top Chef Mexico in 2015 and 2016 and part-owner of the artisanal beer brand Bocanegra and the Mariatinto winery.
Pangea is a place we've wanted to visit for a while but just haven't had the time. The funny thing is we could literally fly up to Monterrey, eat a late lunch and fly back all in one day!
Listed as #62. MANZANILLA
A long time resident of  Ensenada, it doesn't get any fresher than Manzanilla. Husband and wife chef team Benito Molina and Solange Muris literally get the fresh catch of the day within minutes of the fishing boats docking. For 20 years, their restaurant has served the best seafood which they buy from Mercado Negro, a fish and seafood market supplied directly from the local fisherman.
Chef Molina experienced the life of a fisherman in his early days, so Manzanilla is focused on aquaculture of shellfish and line caught (not net caught) fish. Those that prefer more meat also have choices of Rib-eye and Tomahawk steaks. This iconic restaurant of Ensenada is a not-to-be-missed foodie destination. 
If you spend a day wine tasting in Valle de Guadalupe near Ensenada in the summer, stop into their sister restaurant Silvestre with its local wines and fire-grilled cuisine.
What started as a dream is now a destination restaurant in the heart of Valle de Guadalupe. Chef Jair Téllez trained in several restaurants across the USA before coming back to Mexico over 20 years ago, and opening his first restaurant, Laja in the country. Today, Valle de Guadalupe is the Napa Valley South of the Border. Laja's cuisine is a blend of Mexican, seafood, pastas and tapas. Try one of their tasting menus and enjoy the view over vineyards and the garden. 
 

 

 

View this post on Instagram

 

 
Listed as #98. DECKMAN'S EN EL MOGOR
Georgia native Drew Deckman studied the culinary arts in Europe for over 10 years before moving to Mexico. He opened Deckman's en el Mogor, an outdoor restaurant that focuses on sustainability and hyper-local ingredients in 2011. The menu changes daily depending on what's available that season.  Chef Drew Deckman has been an intricate part of the slow food movement and consultant to different wineries on sustainability methods. 
Listed as #63. CASA OAXACA
The city and state of Oaxaca is known internationally for its' cuisine, and Chef Alejandro Ruiz of Casa Oaxaca is leading the charge. Chiles, corn and chocolate are well represented in his dishes, taking traditional recipes and adding an innovative twist and reinterpretation. Much of the priduce they use is grown in their own organic garden, and they partner with farms that raise free-range animals. Oaxaca is known for its moles and insects, and there's no better place to try these than at Casa Oaxaca.
 

 

 

View this post on Instagram

 

 
With a rooftop terrace overlooking the Templo de Santo Domingo Guzman and local ingredients from the mountains to the sea, Pitiona is a definite foodie destination. Chef José Manuel Baños trained at the world renowned El Bulli and transforms traditional dishes with a modern twist. The name pitiona comes from a Oaxacan herb that tastes like spicy guava and it's used to flavor seafood broth and various moles. Can't decide what to try? Order the taco tasting menu for his famous tacos de lechon. 
Are you ready to eat your way around Mexico?