Visit Wine Bars and Wineries Near Sedona, Arizona
On a recent trip to Arizona, I was super excited to visit Sedona and the surrounding Verde Valley wine region. Having the same grape varieties grown in similar conditions to our excellent wine region in the Heart of Mexico, I really wanted to taste and compare the two different wine regions. What I found was not what I expected in so many ways. I only had two days to try what I could. Here's a list of wine bars and wineries near Sedona plus I share my wine trip highs and lows through the Verde Valley.
Disclosure: Some links may be affiliate links where we receive a super-small commission at no additional cost to you if you click through and make a purchase. We call this our Chocolate & Churro Fund.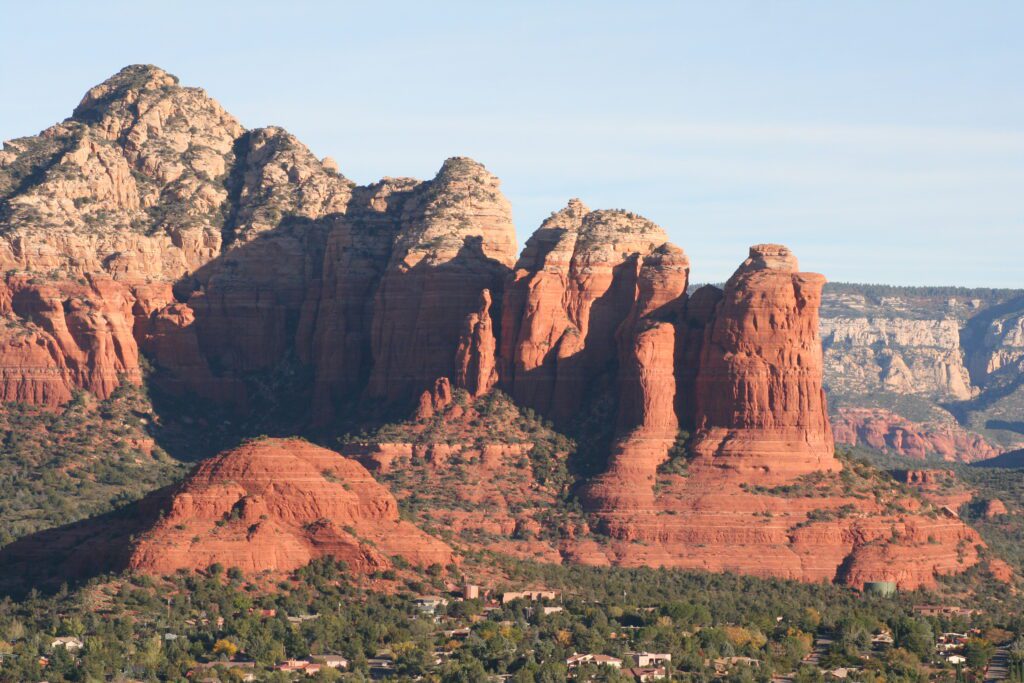 Where to Stay in Sedona Near Verde Valley
Sedona is a major tourist destination whether its for a day, weekend, or longer. There's plenty to do in this little mountainous town surrounded by majestic red rock formation. The majority of tours start from here.
If you have only one day in Sedona, you might just want to check out the wine bars or a half day tour to the wineries. If you have an extra day, take a wine tour from Sedona to visit 3-4 wineries. The Verde Valley wine region is only 25 minutes away from Sedona, but make sure you have a designated driver. Speeding and Under-the-Influence laws are strict in Arizona.
Earn or use your Hilton points at the Hilton Sedona at Bell Rock. or the Hilton Vacation Club Ridge on Sedona. The views alone will have awestruck.
For resorts with kitchenettes and pools, your best choices are Los Abrigados Resort and Spa, Sedona Springs Resort, and Villas at Poco Diablo. All 3 are less than 2 miles away from the center of town.
Cottonwood is in the heart of the Verde Valley wine region, but I found the hotels to be more expensive then many places in Sedona. There's also not much to do in Cottonwood unless you are staying Friday or Saturday night for food, drinks, and live music.
Arizona Wine Regions
Arizona has 3 distinct wine regions. Wilcox and Sonoita/Elgin are located in the southern parts of the state. Both are high elevation (4000-5500 ft) and surrounded by mountains. 70% of the wine grown in Arizona comes from the Wilcox region.
Verde Valley is two hours north of Phoenix around the towns of Sedona, Cottonwood, Jerome, Camp Verde, and Clarkdale. Elevation of the vineyards are between 3000-5500 ft, and the Verde River and Oak Creek run through here. You'll find smaller boutique wineries around Page Springs, Cornville, and Rimrock.
Another distinction is the Mavericks & Pioneers. It's not an actual AVA region. It has more to do with the "mavericks" focusing more on microclimates and planting in different areas of the state.
How Arizona and Central Mexico Wine Regions Are Similar And Different
The wine regions in Arizona and Central Mexico (Queretaro and Guanajuato) are both at high elevations. Central Mexico is around 6000 ft. elevation compared to 3500-5500 ft elevation in Arizona. Both areas get their rain during the summer months (called the monsoon season in Arizona). This creates special challenges for the winemakers during harvest. If it rains right when its time to harvest, sugar levels in the grapes can drop (the yeast won't have enough sugar to feast on and turn in to alcohol), or mold spurs can penetrate the grape skins if they can't dry. These things can delay the harvest, or even make the grapes unusable.

Why I Prefer Wine Bars to Wineries
I do enjoy going to wineries, but when I don't know the wine region, I prefer to try different wines from different wineries at one place. This helps me narrow down my search and consequently, my travel to different wineries. My strategy did not work in this case as you will see.
My Wine Trip Through Verde Valley
If I lived in Sedona, I would be 25 minutes away from Cottonwood and the closest wineries. It would be easy for me to go out a couple times a week to really get a "taste" of what the Verde Valley wineries and wine bars offer, but I only had two days. So even though I researched what I could, I did not get the information I needed to make a good decision.
Sedona Wine Bars
Vino di Sedona looks like a great wine bar. The selection of California, Italian and French wines are excellent. But they only offer four Arizona wines, 3 from the Wilcox region and one from a cooperative somewhere in Arizona.
The Art of Wine is another great wine bar with the majority of their wines from Italy, France, Germany, Spain. This would be a fun place to hang out with friends on a Friday night, but I was looking for Arizona wines. They had 10 Arizona wines on their list representing 8 wineries, but only two were from the Verde Valley.
Made in Arizona Wine & Gifts is supposed to be a wine bar, but all I could find was their Facebook page. They don't post very often.
Winery 1912 Wine Bar- Big Disappointment
I ended up at Winery 1912. I did not read their website thoroughly so that is on me. Winery 1912 features Spanish grape varieties grown in Wilcox at one winery, Dragoon Mountain Vineyard.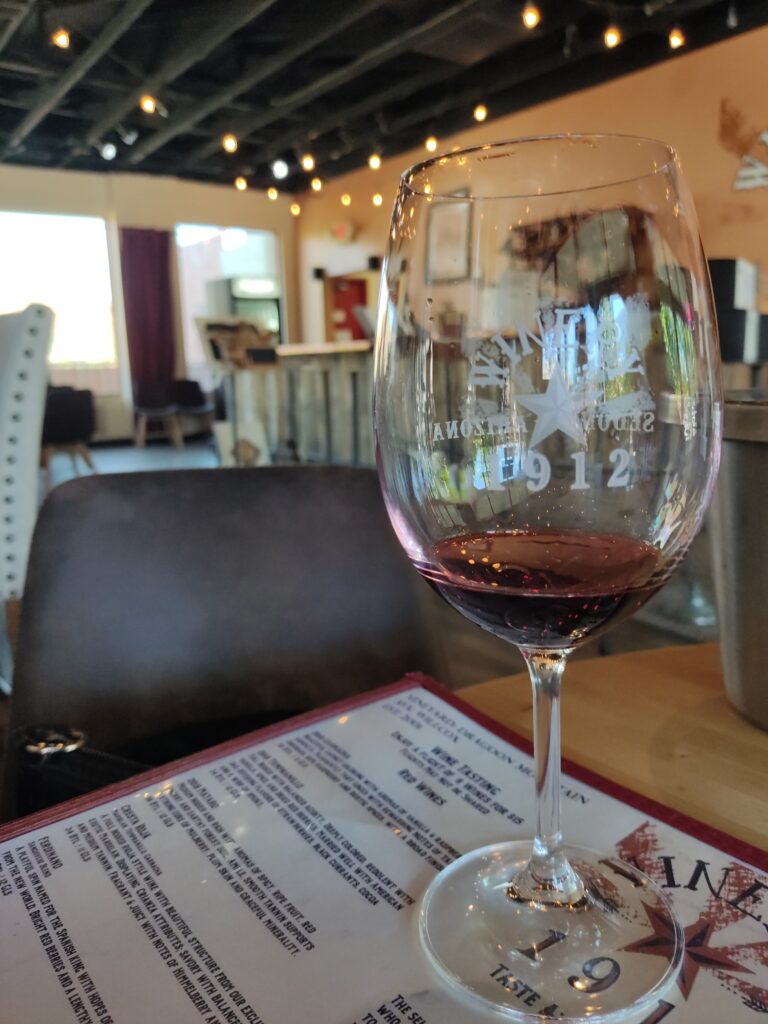 Now, I KNOW Spanish wines. I worked as a wine distributor and for a wine marketing firm that solely specialized in Spanish wines. The 6-wine tasting was a disappointment from the start. You should never, ever serve an unoaked wine that is 4 years old. Out of the 6 wines I tasted, 3 were undrinkable, and none of them tasted like they should. I was so disappointed, the server gave me an extra taste of a Cab Franc blend. This wine happened to be the best out of all of them, but I still wouldn't buy a bottle.
Sedona Wine Bars Mostly Have Arizona Wines From Wilcox
If you are on a search for Verde Valley wines (like I was), I'll save you the trouble. If a wine bar in Sedona is selling Arizona wines, they will most likely be from Wilcox in the southern part of Arizona. Verde Valley wines are hard to find, so its best to just head out to the wineries.
Visiting a Winery in Verde Valley
My dad and I went out the next day to visit a winery. I knew the little town of Cottonwood was smack dab in the center of a few vineyards in Verde Valley. I chose to visit Alcantara Winery & Vineyard. I really had no idea what grapes they grew, but they offered kayaking tours from Cottonwood or from their winery, which sounded cool.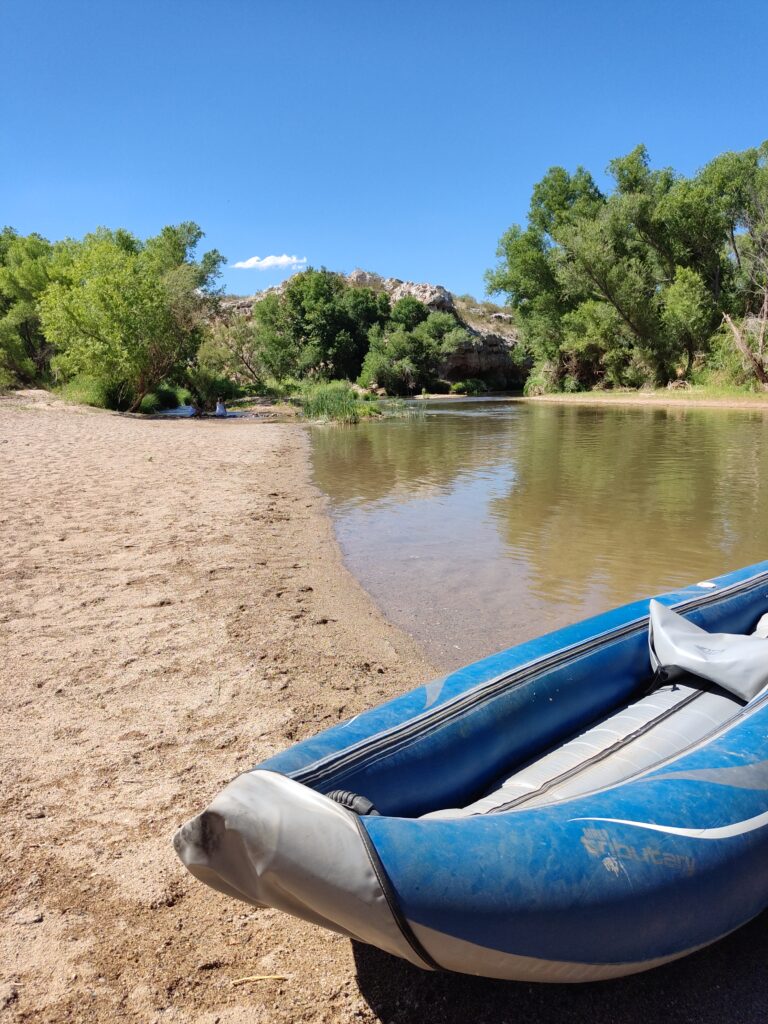 Alcantara Winery & Vineyard
We drove down the hill past the vineyards to the winery. It's a cute little building with a small bar and a few tables inside and a small patio outside overlooking umbrella-shaded tables on a huge lawn. The river cannot be seen from the winery. You have to drive down the road to the right to access the kayaks and the river.
What makes Alcantara wines special are that the vines grow where the Verde River and Oak Creek converge. This is a family-owned winery that has been around for almost 20 years.
Alcantara had three different wine tasting menus. I didn't recognize any of the white wines, so I opted for the VIP tasting of Zinfandel, Cab Franc, Malbec, and Petit Syrah. Let me just say, my faith in Arizona wine was restored!
Zinfandel– had a really nice spiciness to it.
Cab Franc– a little tight at first, but good fruit on the palate after 5—10 minutes.
Malbec– good tartness, better with meat.
Petit Syrah– this changed with the different foods we ate. By itself, black fruit on the palate and a bit of tartness. Red fruit was more prominent with meat and cheese.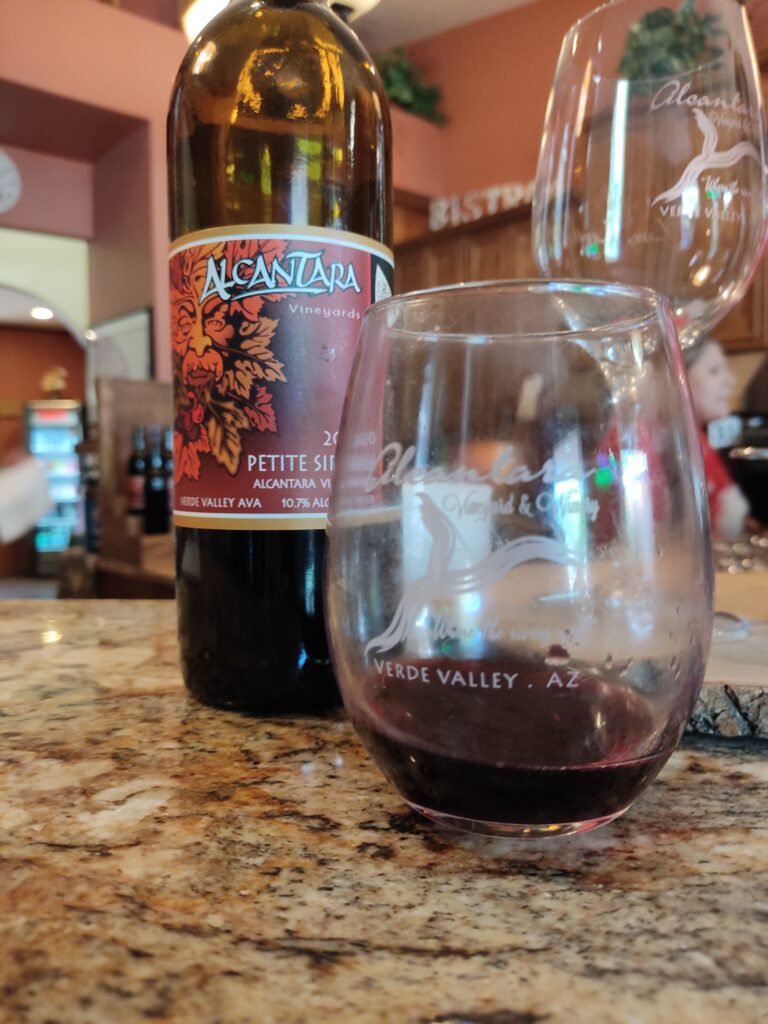 After our wine tasting, we wandered around the vineyard, past the wedding pavilion, and down to the river to check out the water. The river is shallow where the kayaks launch and shaded with lots of trees. Further down you'll see where the two rivers come together. If you don't have a car to get to Alcantara Winery on your own, Verde Adventures offers the kayaking tour from Cottonwood to the winery.
Other Wineries to Visit in Verde Valley
Though I can't vouch for the wines at these wineries, I do think they are worth mentioning. You might get a driver to take you to the different wineries for the day. These three wineries are all less than a mile from each other off of Page Springs Road.
Page Spring Cellars is a winery and a bistro. Reserve your spot here for lunch. They offer salads, pizzas, tapas, and paninis. You can even order from their picnic menu and enjoy private time in the vineyards. Syrah, Petit Syrah, Chardonnay, and many other lesser known varieties are grown and blended in their wines. Check their calendar for live music and yoga sessions.
Javalina Leap Vineyard is a small boutique winery across the street from the Audubon Society. Syrah, Tempranillo, Viognier, Merlot, and Zinfandel are their specialties. If you feel like something lighter, they also make their own sangria. Local food trucks are available on the weekends. Try their homemade chocolate truffles!
Oak Creek Vineyards & Winery is a family-friendly and pet friendly winery. They make Sauvignon Blanc, Merlot, Chardonnay, Zinfandel and Grenache wines. It's a family-owned winery spread out over 11 acres. They produce 3000 cases a year.
This wine tour on Viator includes a picnic lunch, wine tastings, and souvenir glasses at Alcantara, Page Springs, and Oak Creek Vineyards.
Though not a winery, Up the Creek Bistro & Wine Bar is on Page Springs Road as well. With more food and wine choices, this would be a great spot for groups with different dietary needs or a place to taste test different wines from different regions.
Cottonwood Wine Bars
I was feeling more hopeful about Arizona wines, so we drove 20 minutes down the road to see what Cottonwood offered. Historic Cottonwood has experienced a recent revival with numerous wine bars and breweries. From what I hear, Cottonwood is a party town on Fridays and Saturdays. The Sunday after the Fourth of July week, it was dead. Only half the places on the main street were open.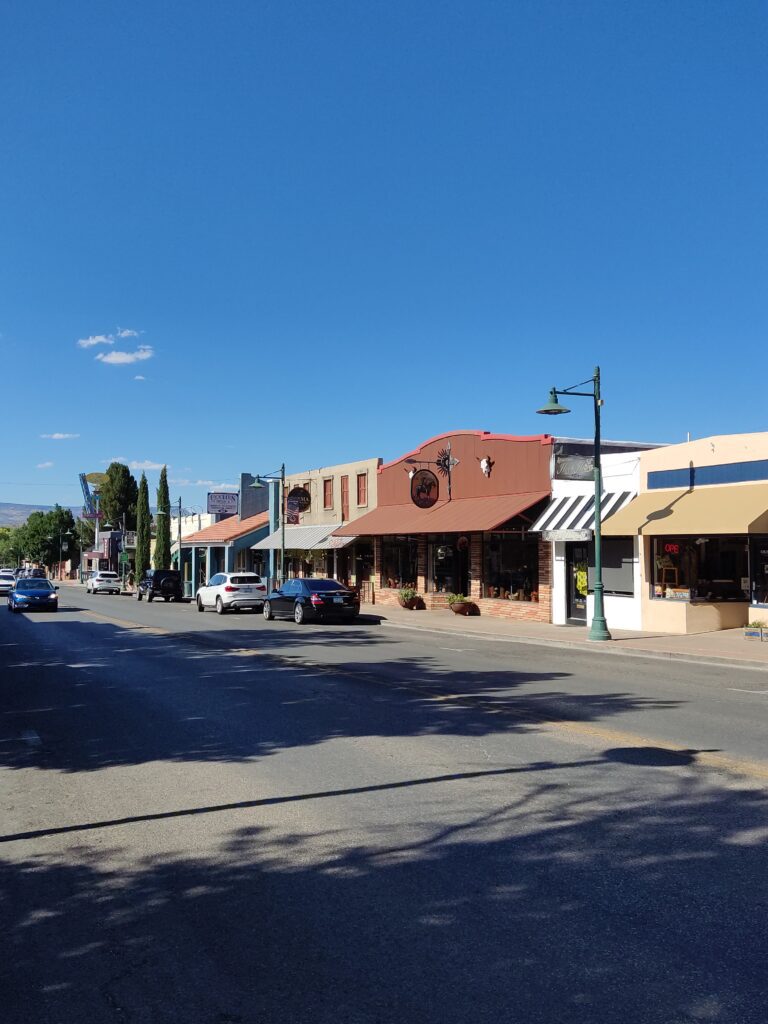 We started at Merkin Vineyards Tasting Room and Osteria, a really nice industrial restaurant. The Italian food looked amazing on the menu and apparently everything is made from scratch. We were feeling like something sweet, and the server offered freshly made and filled (very important) cannolis.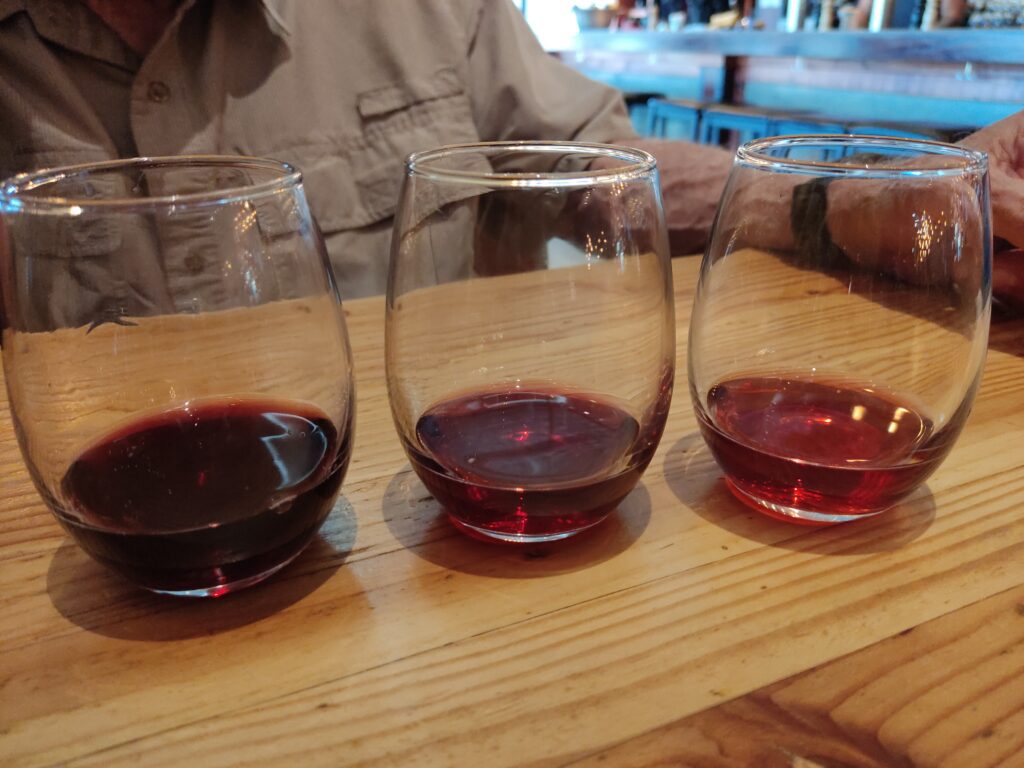 We each tasted 3 wines, but again, nothing stood out. Merkin Vineyards has vineyards in both the Wilcox and Verde Valley wine regions. Kudos to the cannolis though!
We walked around the town for a bit. There was this really cute wine bar, very artsy, called Vino Zona Vintage. The wines displayed were all from very small producers, but again, many were from the Wilcox region. I mentioned to the owner that I just wasn't excited about Wilcox wines. She said she could change my mind about that, but I had had my fill of Wilcox wines.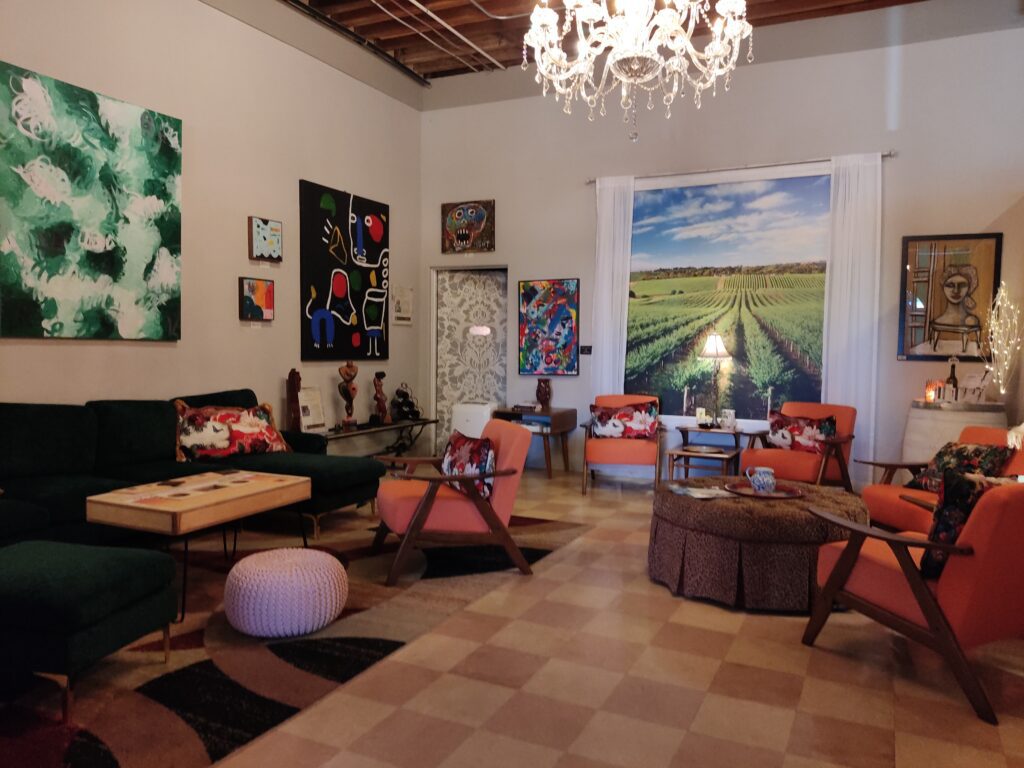 Across the street there was a Co-op Wine Bar called Arizona Stronghold Vineyards. They had a menu of wine flights to choose from, but I didn't see anything specific to the Verde Valley. The sommelier had me taste a Cab-Merlot blend which was supposed to be their top of the line. It was good, but no wow factor. Honestly, the wines from Central Mexico are so much better.
Other Cottonwood Wine Bars to Put On Your List
Burning Tree Cellars has wines made from Yavapai Collage and the Wilcox wine region. They also serve Paso Robles wines.
Vegans may want to try the wines at Pillsbury Wine Tasting Room. The wines are naturally fermented and vegan friendly. Just a note, they are from the Wilcox region. They also offer charcuterie, cheese, and vegan cheese boards to nosh on.
Cellar 433 is another wine featuring Dragoon Mountain Vineyard wine (like Winery 1912 in Sedona) but with different labels.
Lesson Learned: Visit the Wineries in Verde Valley
From what I saw on websites and menus, 95% of the Arizona wines offered are from Wilcox. That to me is a disappointment especially since Sedona isn't far from the Verde Valley region. I asked Page Springs Vineyard why Verde Valley wines are not represented in restaurants in Sedona. They replied that they are in a few restaurants, but because they are a boutique winery (as well as many others), the majority of their wines are sold at the winery.
I hope you enjoyed this list and can use it as a reference the next time you visit Sedona and other parts of Arizona. Next time I visit, I will definitely be visiting the wineries directly for their wine and ambiance. If you've been to any Verde Valley wineries, leave a recommendation in the comments.
Pin this post for your next wine trip to Sedona!