Mexico's National Patriotic Dish: Chile en Nogada
There's nothing more Mexican than Chile en Nogada. Beautifully designed with the colors of the Mexican flag and only available in late summer, chile en nogada is the national dish created specifically for Mexico's Independence Day.
Disclosure: Some links may be affiliate links where we receive a super-small commission at no additional cost to you if you click through and make a purchase. We call this our Chocolate & Churro Fund.
What is Chile en Nogada?
Chile en Nogada consists of a poblano pepper stuffed with seasoned pork, nuts and fruits, covered in a delicious walnut sauce, and sprinkled with pomegranate seeds and parsley. The dish gets its name from the walnut (known as nogal) sauce.
The green of the poblano pepper and parsley, white of the walnut sauce and red pomegranate seeds represent the colors of the Mexican flag. Because walnuts and pomegranates ripen late in the summer, you will only find the best chile en nogada served during the months of August and September.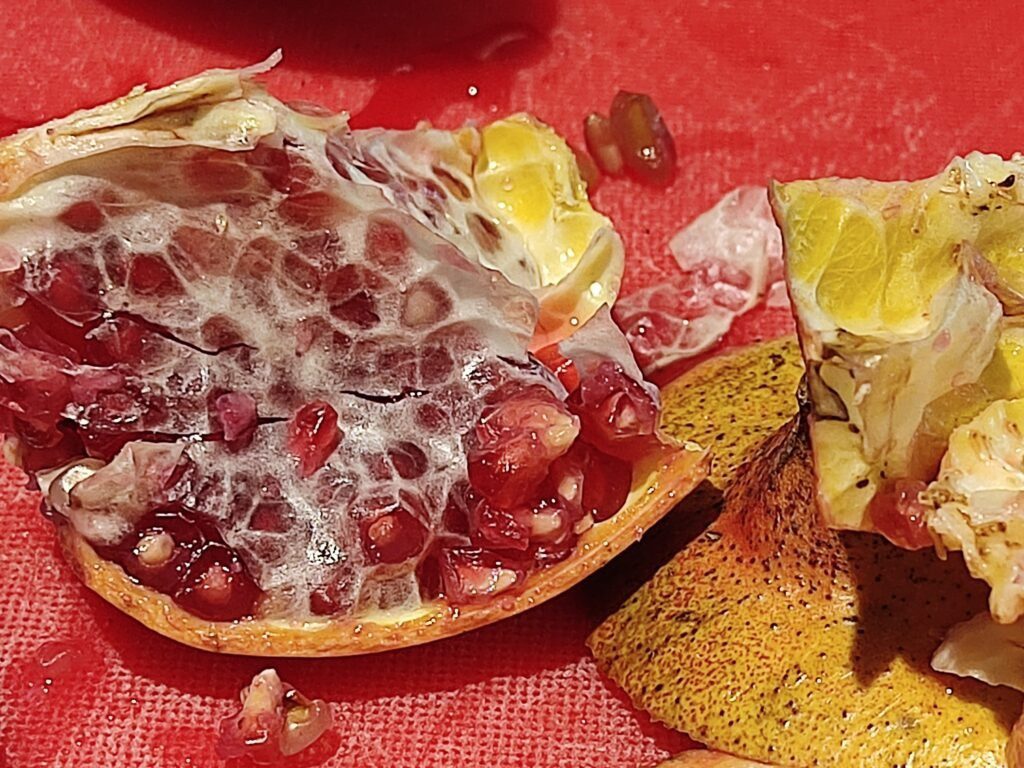 Savory, Spicy or Sweet?
Though Chile en Nogada requires a whole poblano pepper, it is not a spicy dish. The pepper is roasted, then stuffed with mild spiced pork or beef and many different types of fruits like plantains, bananas, raisins, cranberries, peaches and apples. Nuts, onions, and garlic are also added at the discretion of the chef. Topped with a sweet, creamy walnut sauce, this dish is more for sweet lovers than spice or savory lovers.
History Behind the Making of Chile en Nogada
Chile en Nogada was created specifically to celebrate Mexico's Independence from the Spanish in 1821.
The national Independence Day holiday is observed on September 16th, but the big celebrations of fireworks, parades, family get-togethers and food happen on the 15th. This is the day Father Hidalgo received the message from the Corregidora of Queretaro that their conspiracy to revolt against the Spanish had been discovered. Father Hidalgo stood in the town of Dolores and uttered El Grito, the cry for independence.
Eleven years and 10 days later, Mexico's War of Independence ended with the signing of the Treaty of Cordoba by General Agustin Iturbide. On his way back from Cordoba, Iturbide stopped in Puebla to celebrate with the people.
The nuns had been tasked to make a special dish for the occasion. Using seasonal ingredients and a twist on a traditional dish, they created a stuffed poblano pepper smothered in a rich walnut sauce and decorated with parsley and pomegranate seeds. This sweet deliciousness represented the colors of the Mexican flag and quickly became a favorite and national patriotic dish.
Varieties of Chile en Nogada
Chile en Nogada is served all around Mexico between August and September surrounding Mexico's Independence Day. You will see a few variations of this dish depending on the region or a chef's creativity.
In Puebla, the home of Chile en Nogada, it is usually stuffed with pork, fruits, and raisins. In Guanajuato, you will find Chile en Nogada stuffed with beef, pork and biznaga, a candied cactus. In Oaxaca, it's common to use shredded chicken. The walnut sauce may also be a pecan and walnut or almond and walnut blend. We've also seen seafood stuffed Chile en Nogada in Mexico City along with vegetarian options.
But where can you find the best Chile en Nogada? Well, you may just have to sample a few at different restaurants to find that out on your own. It's a tough job, but hey, someone has to do it!
How to Make Chile en Nogada
Eating your way cross Mexico is one way to sample Chile en Nogada, but you can also make it at home. This dish is a bit labor intensive with several different parts, but if you have a few hands in the kitchen, it's a great meal to make with family. Divide up the different tasks so that at the end, you can all come together and marvel at your family masterpiece.
Before you get started, gather all the ingredients and read through the directions. This recipe is using authentic ingredients plus a few additions that we found make it taste really good. The meat can be chicken, pork or beef and you can use whatever fresh or dried fruits you prefer.
Cream cheese is sometimes used in place of the goat cheese for the walnut sauce, but cream cheese wasn't invented back in 1821. Plus, goat cheese has more flavor, so I recommend not changing this.
This dish can also be made in advance and assembled right before it's time to eat.
Ingredients
Picadillo:
1 tablespoon olive oil
1 onion, chopped
2 cloves garlic, finely chopped
¼ tsp ground cloves
½ tsp dry thyme
1 ¾ pounds ground pork
2 cups peeled, seeded, and chopped tomatoes
2 tablespoons raisins
1 ripe plantain, diced ( or a banana)
1 apple, diced
1 peach, diced or
1 pear, diced
2 tablespoons of dried fruit like cranberries or mangos
2 tablespoons pine nuts
2 tablespoons blanched almonds, chopped
2 tablespoons chopped candied orange peel or Mexican candied cactus
salt and pepper to taste
Nogada Sauce:
2 ½ cups walnuts
1 ¾ cups milk
¾ cup soft goat cheese
1 tablespoon white sugar
1 (1 inch) piece cinnamon stick
Garnish:
1 ½ cups pomegranate seeds (prepare this before the picadillo)
½ cup chopped fresh parsley.
Making the Nogada Salsa (Walnut Sauce)
The first time we made Chile en Nogada, I was put in charge of the nogada sauce. Even after boiling the walnuts, the skins were hard to remove. They are really thin and light, and maybe I was being too much of a perfectionist.
Tom made the sauce this year, and he just rubbed the walnuts with a handcloth to remove most of the skins. The skins have a bitter taste which is why it's recommended to remove them. If you have a teenager you want to torture, don't tell them about the handcloth trick.
If you use almonds for the sauce, try to get the ones without skins.
Start by putting the almonds or walnuts in hot water for about 20 minutes. This is so that it is easier to remove the skins, resulting in a white salsa. Rub with a handcloth to remove the majority of the skins quicker and easier.
Once you have removed the skins, put the almonds or walnuts in cool water for 15 more minutes.
Blend the nuts, milk, goat cheese, sugar and cinnamon stick in a blender, and blend until smooth. Set aside.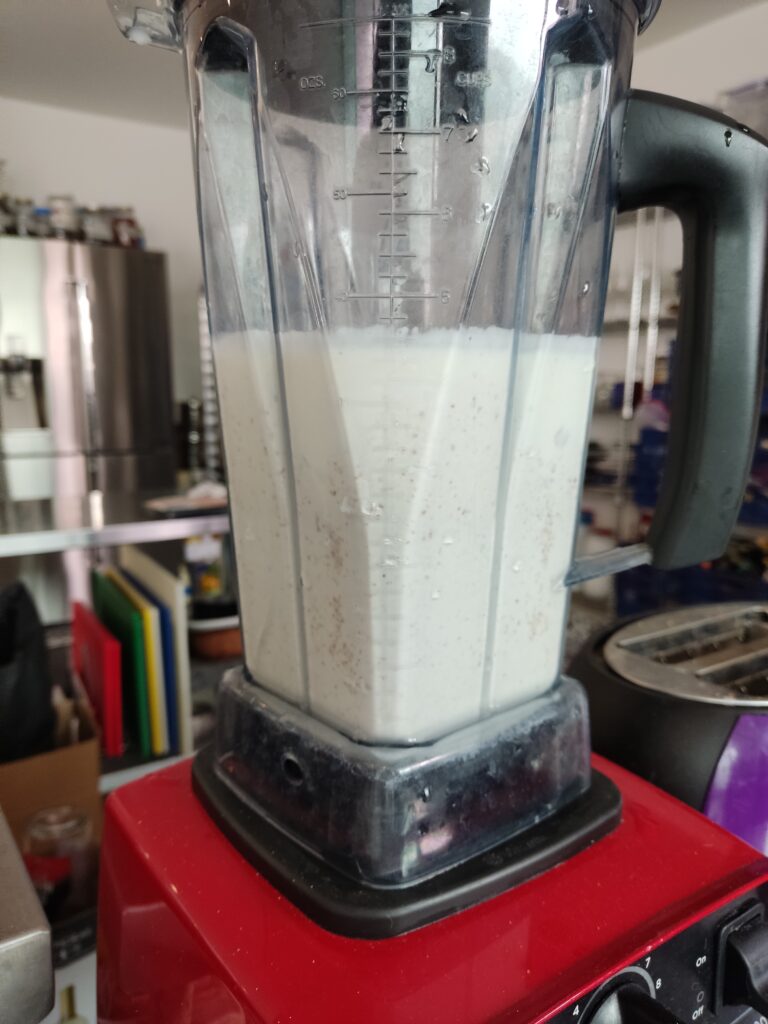 Preparing the Picadillo for Chile en Nogada
Heat olive oil in a large pot over medium heat. Add onion and garlic and cook until soft and translucent, 3 to 4 minutes.
Add ground pork and cook until browned, breaking it up like taco meat while cooking, about 7 minutes.
Mix in tomatoes, fruits, nuts and seasonings. Simmer until most of the liquid has evaporated and flavors are well combined, about 10 minutes. (The meat should not be dry, but too much liquid will make it harder to fill the chiles later).
If you have time, let the picadillo sit for an hour or two to really soak up the flavors.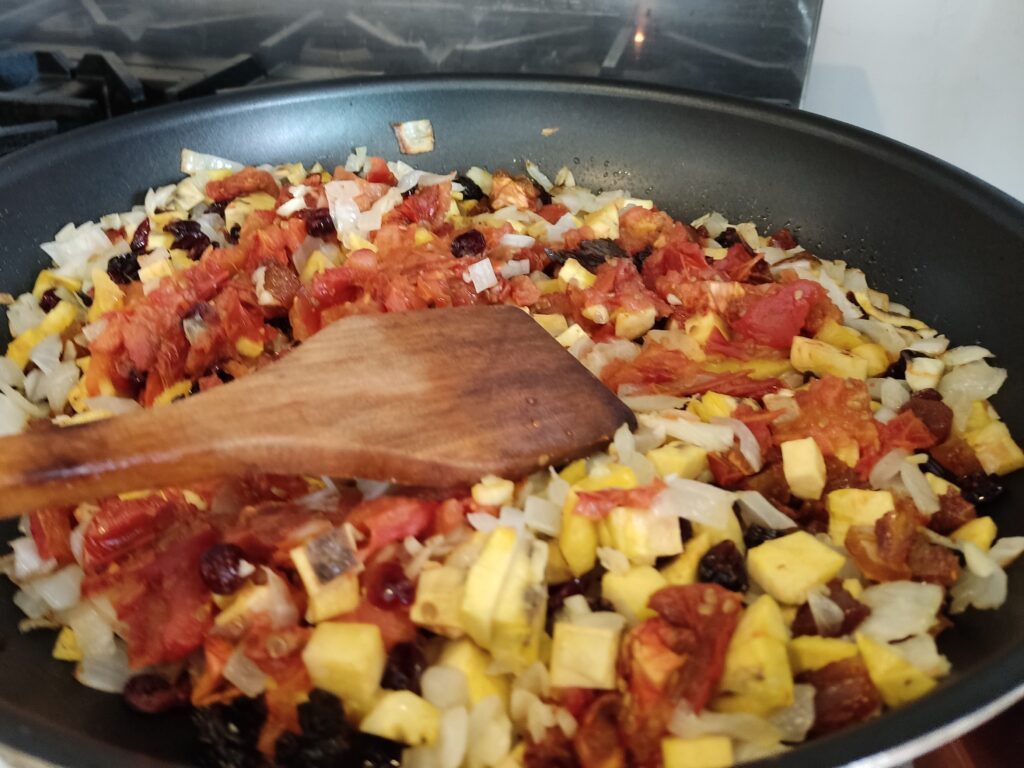 Preparing the Poblano Peppers for Chile en Nogada
Roast the poblano chiles ovear an open flame on a gas stove or grill, turning often until the skin is black and charred on all sides, 10 to 15 minutes.
Place the charred chiles in a plastic bag or in a large bowl covered with plastic wrap. Allow to sit for 5 to 10 minutes, then open and peel off the skin.
Cut a slit in each chile lengthwise and remove the seeds. The chiles will be more delicate now that the skin is off, so take extra care to be gentle.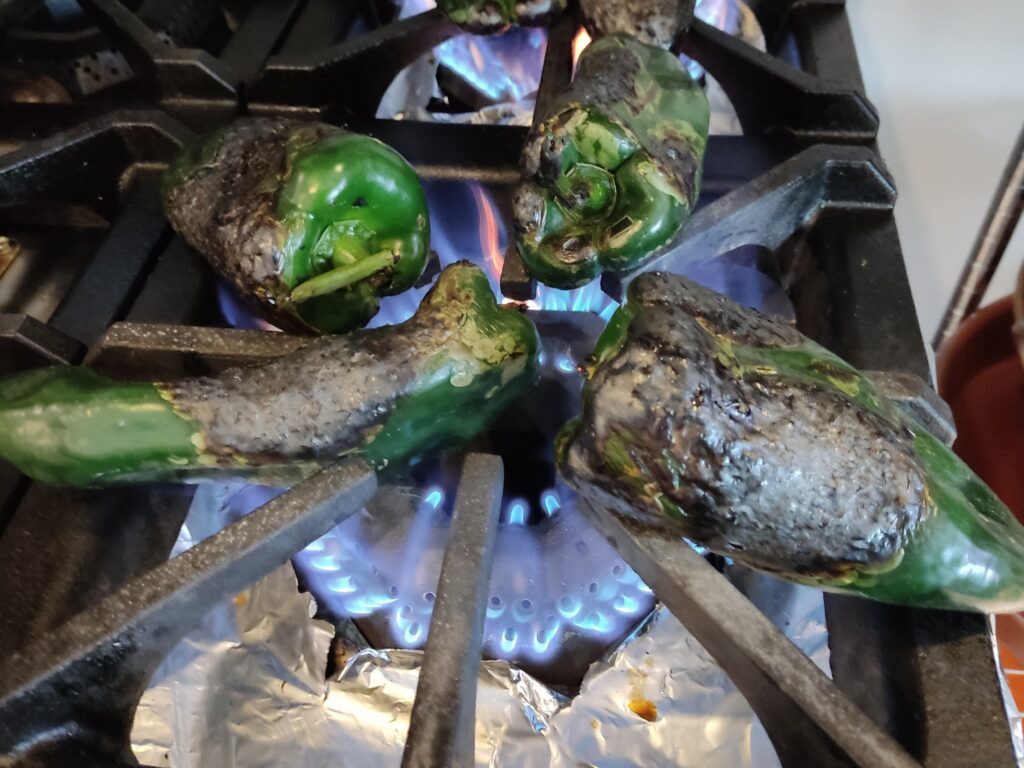 Plating and Garnishing Chile en Nogada
Normally, chile en nogada is served cool or at room temperature. I prefer the picadillo to be served warm and the sauce to be room temperature. The flavors really stand out with the temperature difference between the picadillo and nogada sauce.
Heat up the picadillo mixture until warm.
Spoon the picadillo mixture into each chile.
Ladle the cooler nogada sauce over the chile.
Sprinkle parsley and pomegranate seeds over the entire dish.
And voila! You have now created Mexico's national dish! Enjoy!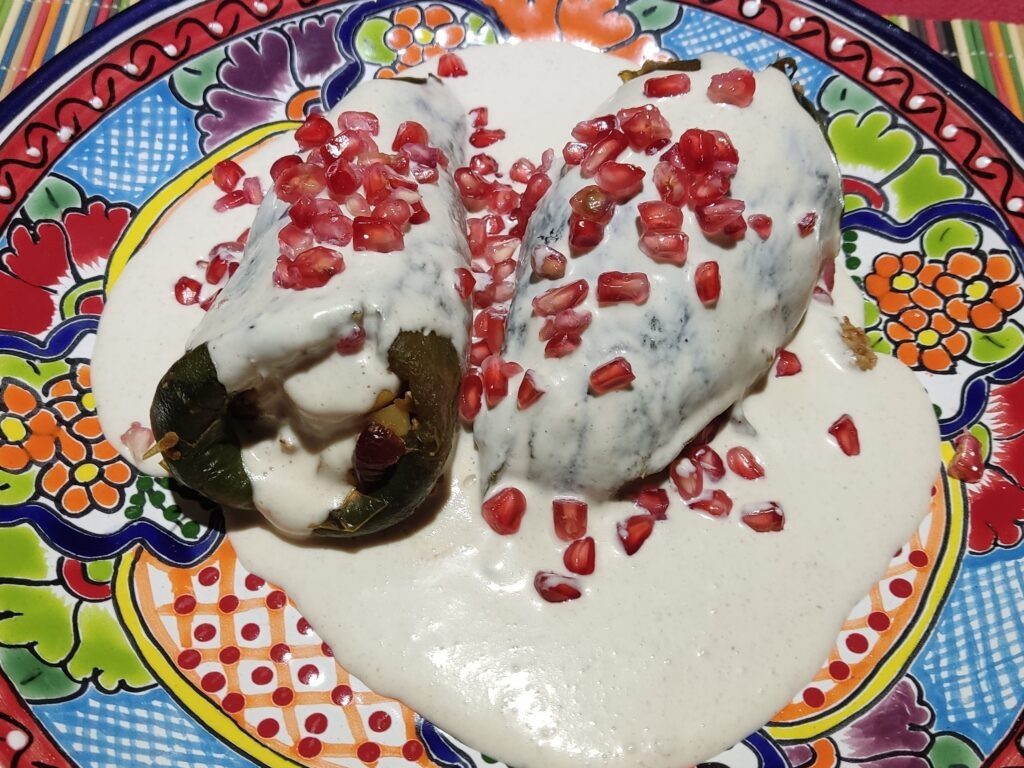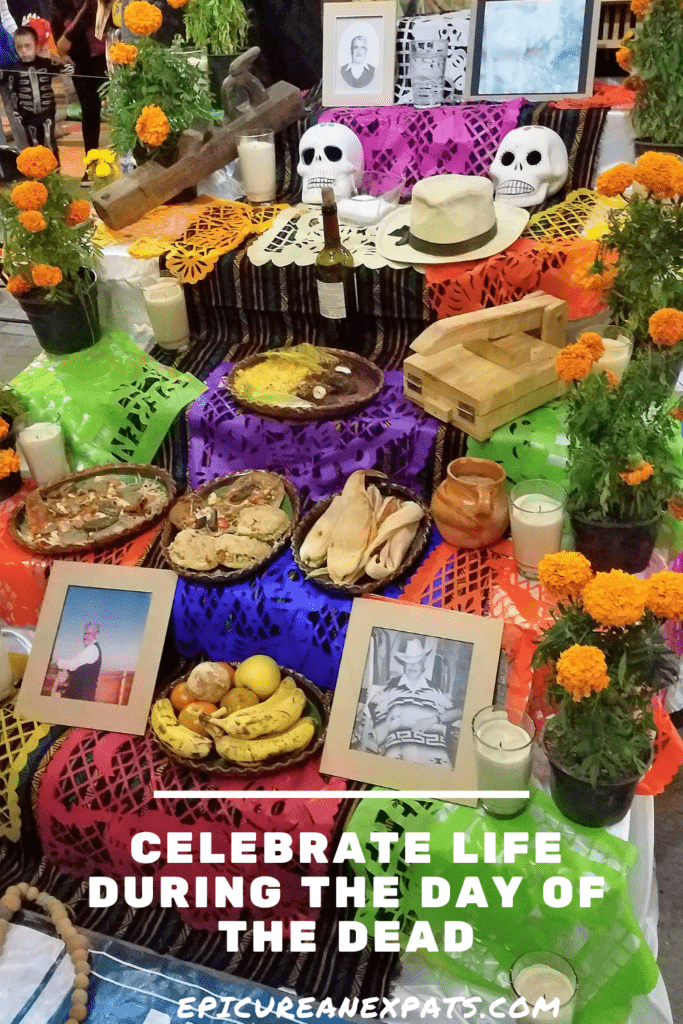 Do you want to know more about holidays in Mexico?
Check out our post on Day of the Dead Celebration.