Scenic Road Trips in Alaska
Alaska was made for road trips. The twisting 2-lane highways through flatlands, forests and glaciers with an occasional wildlife sighting is better than any roller coaster in the lower 48. Southcentral Alaska which encompasses Anchorage to the Kenai Peninsula and Prince William Sound is a fisherman's paradise, wildlife lover's dream, and landscape artist's muse. Whether you arrive to this region by plane, boat or RV, take the time to explore it's beauty and wildness on these scenic road trips in Alaska.
One summer I stayed with my friend who lives in Alaska, worked at a restaurant and fish shipping office, and did as much traveling as I could in between. Still, when I look at a map, the places I explored are barely more than the size of a thumbprint. If you can drive your own car up to Alaska, it will save you a lot of money. I rented a fixer car from a high school automotive class for my summer in Alaska. This car was from the 80s, had rol- down window cranks and a tape deck. All my roadtrips around Alaska were either to U2 or Air Supply, not bad choices, but a 3rd option would have been nice!
Disclosure: Some links may be affiliate links where we receive a small commission at no additional cost to you. 
Where to Stay in Alaska
Anchorage and Seward are the best places to stay to reach the other towns mentioned in this post. Hotels and rental cars are available, and Anchorage and Seward are connected by highway, bus transportation and rail. Check out Expedia's vacation packages in Alaska. If you are driving an RV or plan to go camping, you have plenty of choices in town and along the highways.
Find the perfect space for your next RV excursion. Book now at Expedia.com
Rental cars are expensive in Alaska, but it gives you the freedom to pull off the road if you spot wildlife or to explore hiking trails at your leisure. Prices for rental cars will be better at the Anchorage airport.
The city of Anchorage can be explored in one day especially with unending sunlight in the summer months, but I recommend 3-4 days. Anchorage is a good base to explore Girdwood and Whittier. For a more deluxe experience, Alyeska Resort is 40 miles outside of Anchorage in Girdwood surrounded by nature.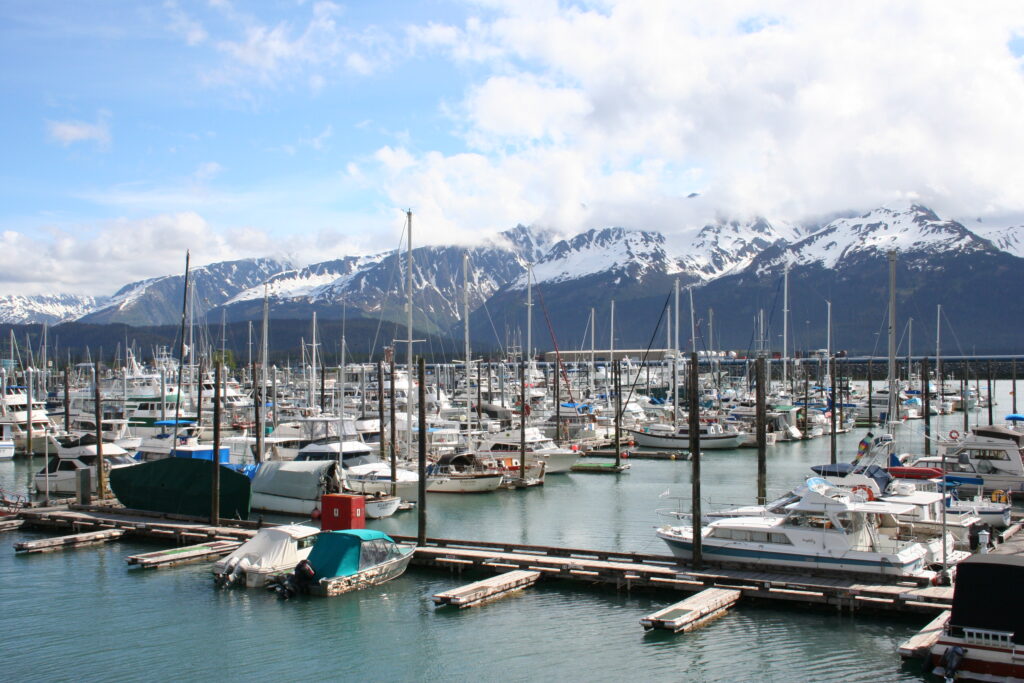 SEWARD
If you arrive by cruise ship, Seward is also a good base for 3-4 days. Seward has everything for your Alaska adventures. Hike in the surrounding mountains, go fishing for halibut or salmon, photograph wildlife from a cruise or kayak, and play with Ididarod sled dogs year-round are just a handful of the adventures you can have in Seward.
For more details on what to do in Seward, check out our post Seward, Gateway to Alaska Adventures.
ANCHORAGE
From native Eskimos to Russian fur traders, Anchorage has grown from a trade port and railroad tent town in the 19th and 20th century to the metropolis (by Alaskan standards) that it is today. It's a popular refueling stop for both domestic and international airlines and a major hub of FedEx. Anchorage is the largest city in Alaska with over 300,000 people and is the perfect base camp for many of your Alaska adventures and day trips.
Save 30% on hotels in Anchorage, Alaska…a TripAdvisor Top 10 Summer Destination!
Things to do in Anchorage
Start at the Visit Anchorage Log Cabin Visitor Info Center on 4th Avenue for maps and local events, then hop on the Anchorage Trolley for an amusing narrative of Anchorage's history and scenic landmarks. Visit Earthquake Park to see how Alaska's coastline was affected by the 9.2 earthquake of 1964. Nature lovers may want to stop into the Botanical Gardens to see their collection of perennial flora and wildflower walk. For an interactive experience, visit the Native Alaska Heritage Center where you can learn about the native ways of life through displays, dance and song.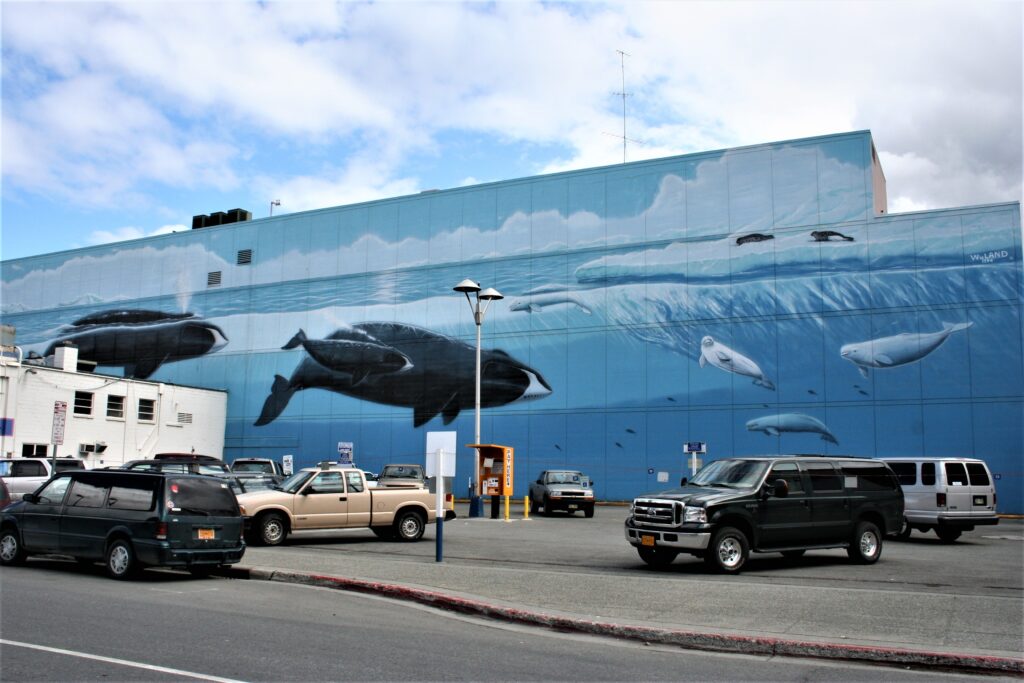 Anchorage Breweries
After touring the sights why not relax at one of the many craft breweries in Anchorage? Try the beer flight at Midnight Sun Brewing Company, the oldest brewery in Anchorage. For real beer aficionados, check out this post on Anchorage's breweries from a local's perspective: A Local's Guide to Craft Beer in Anchorage, Alaska
Anchorage Wildlife
The "big city" isn't without a few surprises. Wildlife like moose and foxes still walk amid the city limits and surrounding area. It's not uncommon to see moose and Dall sheep as you approach Anchorage from Girdwood, and beluga whales can sometimes be spotted in Turnagain Arm. If you are determined to see a polar bear, visit the Alaska Zoo which is working with Polar Bear International on the conservation of polar bears and participates in the Species Survival Plan. This is the only way you are going to see a polar bear unless you plan to drive more than a day to the North coast of Alaska.
Travel Like a Local For Less. Exchange Pet Care For Free Accommodation
ROAD TRIP TO GIRDWOOD
Girdwood was founded in the late 1800s as a supplier camp to gold miners. Today it's a year-round tourist mecca for summer and winter activities. The Alyeska Resort is the perfect place to spend a few days exploring the Alaskan wilderness and relaxing in the evening with a massage and chef prepared meal. Take their aerial tram to the top of Mount Alyeska for fantastic views of Turnagain Arm, the surrounding mountain range and seven "hanging glaciers." Back at ground level, head over to Turnagain Arm for fishing, a chance to see beluga whales and the bore tide. This unique phenomenon happens when a low tide and high tide collide creating a wave. Both low tides and high tides happen twice a day.
While there is a chance you will see a moose on your drive from Anchorage to Girdwood, it will be hard to pull over for a picture. For the safety of both people and moose, visit the Alaska Wildlife Conservation Center in Girdwood. Here you will see animals that have been orphaned, injured or part of several conservation efforts like the musk ox, Roosevelt elk and black bears.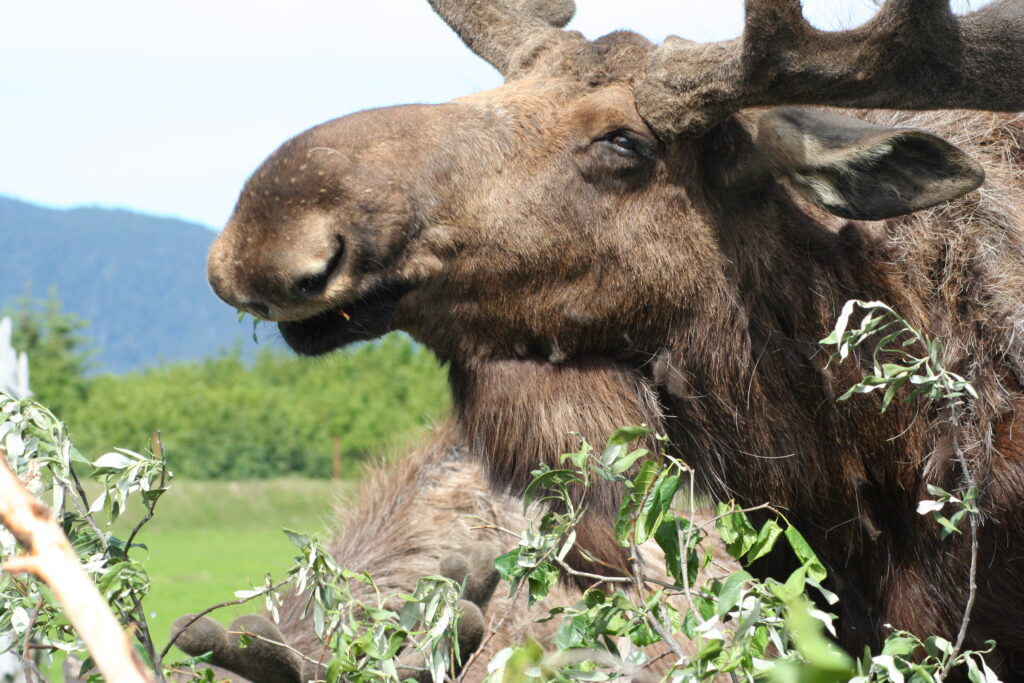 Anchorage to Girdwood and Alyeska Resort 40 miles 1 hour
Seward to Girdwood and Alyeska Resort 90 miles over 1.5 hours
ROAD TRIP TO WHITTIER
Whittier is an easy day trip from either Anchorage or Seward. It's a small town built on fishing and logging. The unique thing about Whittier is how you enter and exit the town through a train tunnel. Yes, you read that right.
Cars and trains enter and exit through one tunnel bored into Maynard Mountain. It's a very organized procedure with cars leaving Whittier at the top of the hour and entering Whittier on the half hour. The 2.5-mile-long tunnel (officially named the Anton Anderson Memorial Tunnel) takes about 10 minutes to drive through and then you enter the world of Whittier.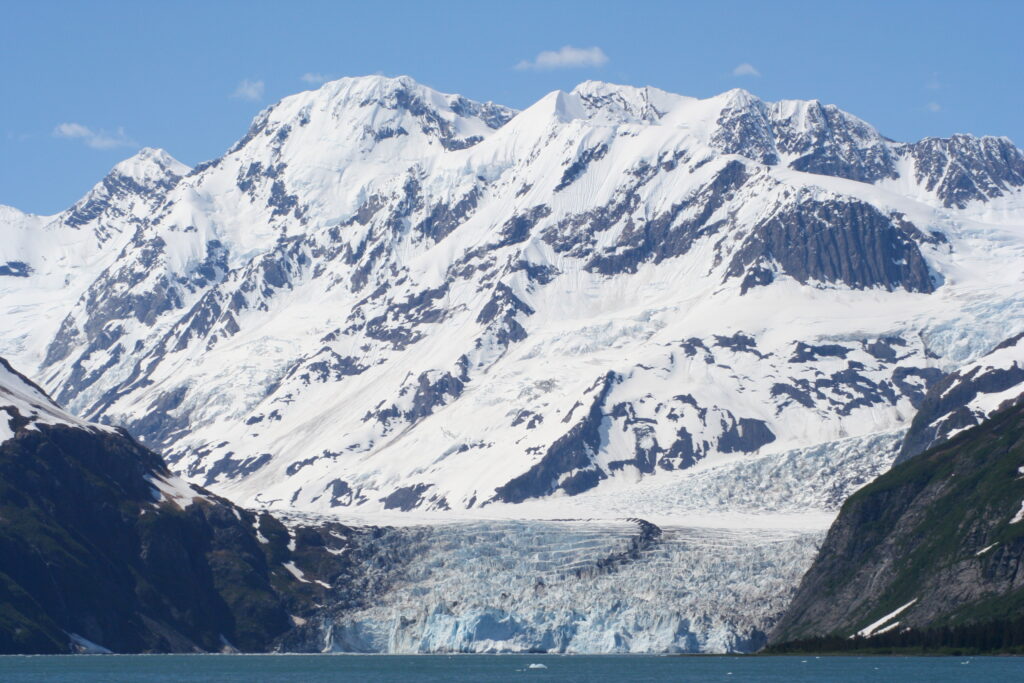 Whittier, named after the American poet John Greenleaf Whittier, is small with a few souvenir stores, fishing charters and glacier cruises. Touring around Prince William Sound, you'll be greeted by coastal waterfalls, masses of birds and the majestic Chugach mountain and glaciers. If you're lucky you may see a glacier calving after a series of cracks and growls.
Anchorage to Whittier 60 miles 1.5 hours
Seward to Whittier 87 miles almost 2 hours
ROAD TRIP TO VALDEZ
Traveling between Anchorage and Valdez is one of the most scenic drives in Alaska. You'll pass wetlands, lakes, flat areas, glaciers, mountains and waterfalls on this drive.  This road trip isn't about the destination, but the journey. It's a 5-hour drive if you don't stop, but with so much to see, plan for a whole day. Here's a few highlights that will take along the way.
From Anchorage to Valdez- over 5 hours. Take AK-1 to AK-4 N.
From Seward to Valdez it's almost 7 hours and 30 minutes via AK-1 N, AK-1, and AK-4 N.
Musk Ox Farm
First stop in Palmer and visit the Musk Ox Farm. This is a non-profit farm that domesticated the once endangered musk ox native to Alaska. The farm combs the fine hairs from the under wool of the musk ox to make the finest wool garments. Just holding a scarf in your hand, you can feel its warmth. Musk ox wool is eight times warmer than sheep wool and labor intensive.  Buying the handcrafted sweaters, scarves and yarn from the farm benefit the native Alaskans of this region.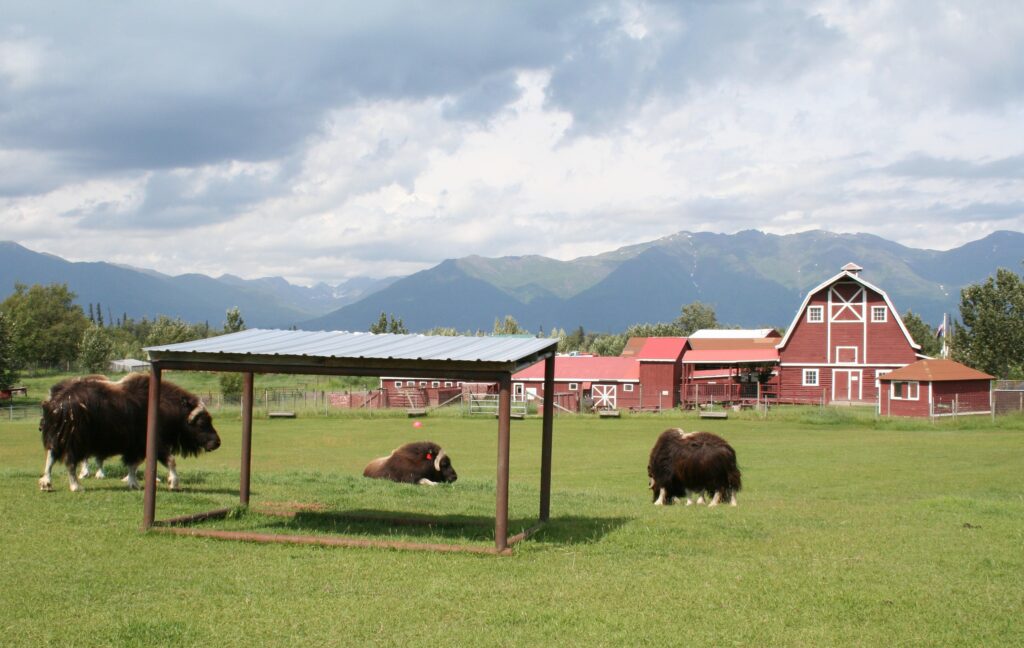 Matanuska Glacier
Matanuska glacier is the largest glacier you can walk right up to and touch. There are several ways to see this glacier. Climb aboard a raft and float down the glacier-fed river (summer only) or ice climb up the face. Hike to Lion's Head Trail for a thrilling view above Matanuska Glacier. It's a strenuous one hour climb, but well worth it.
Glennallen
From Glennallen to Valdez you'll be surrounded by mountains, glacier valleys and roadside waterfalls. Stop at Willow Lake for a view of the Wrangell Range in the distance. Part of the Trans Alaska Pipeline is accessible off the highway.  Stop at mile marker 28.7 and look up at Worthington Glacier or stretch your legs a bit and walk up to it for a closer view. Bridal Veil Falls and Horsetail Falls are next along the highway.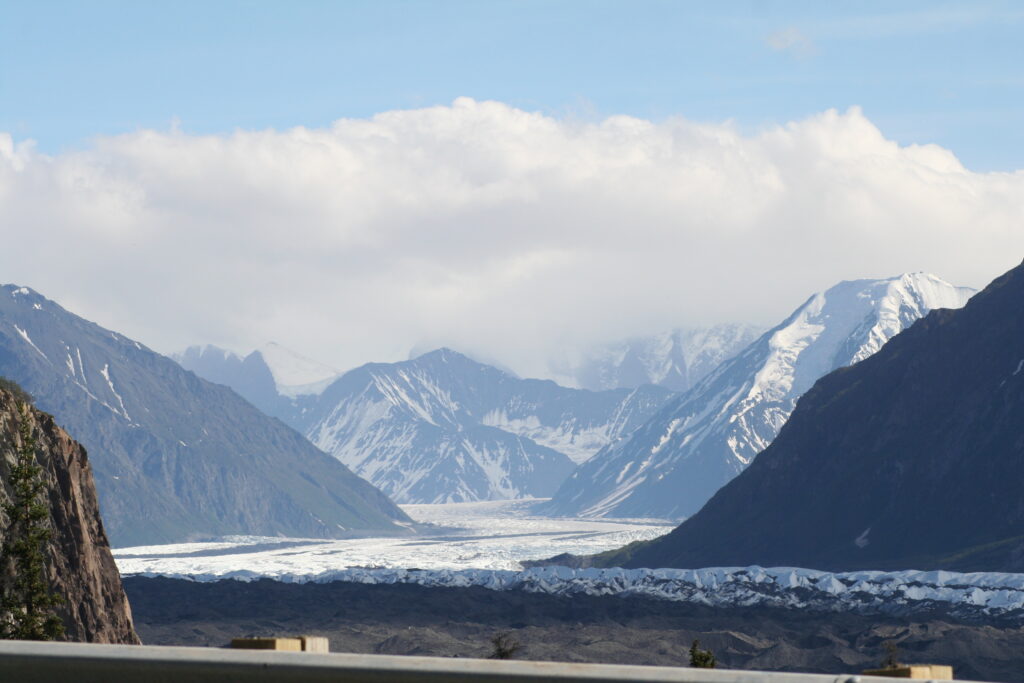 Valdez
After the 1964 earthquake that devastated Old Valdez, the people rebuilt the town 4 miles away.  As the terminus of the Trans Alaska pipeline, Valdez is very industrial. Visit the Valdez Museum and Historic Archive to learn more about the gold rush days and the 1964 earthquake. Spend time on the water in Prince William Sound admiring glaciers and wildlife from kayaks to small cruise tours or fishing for halibut and salmon. Valdez hosts a number of Fishing Derbies between May and August with huge cash prizes. Cross over the bridges near the small boat harbor and you may spot salmon swimming upstream for spawning.
DRIVING TIP: A smart way to divide up the drive is to leave Anchorage in the morning, drive to Glenallen, then stop along the way to see waterfalls and glaciers before reaching Valdez. When leaving Valdez, leave early again, drive past Glenallen and visit the Mananuska Glacier and Musk Ox Farm on the way back to Anchorage.
ROAD TRIP TO HOMER
Homer lies on the other side of the Seward Glacier from the town of Seward.  There isn't any straight access to Homer, so enjoy the ride and the fishing along the way.
Cooper Landing
Sterling Highway traverses through a mix of white spruce, willow and paper birch forest. First town you encounter at milepost 48.7 is Cooper Landing. Fisherman get up before dawn to stake their spot on the Kenai River for trout and salmon. Wildman's is a popular place to restock your ice chest, do laundry and take a shower if you are camping or living in your RV. Soldotna is another small town with great fishing and wildlife.
Scenic View of Homer Spit
The Sterling Highway runs all the way out to the Homer Spit, but take a detour on Diamond Ridge Road that will eventually turn into Skyline Drive. Scenic viewing areas give you a full panorama of the Spit jutting out into Kachemak Bay.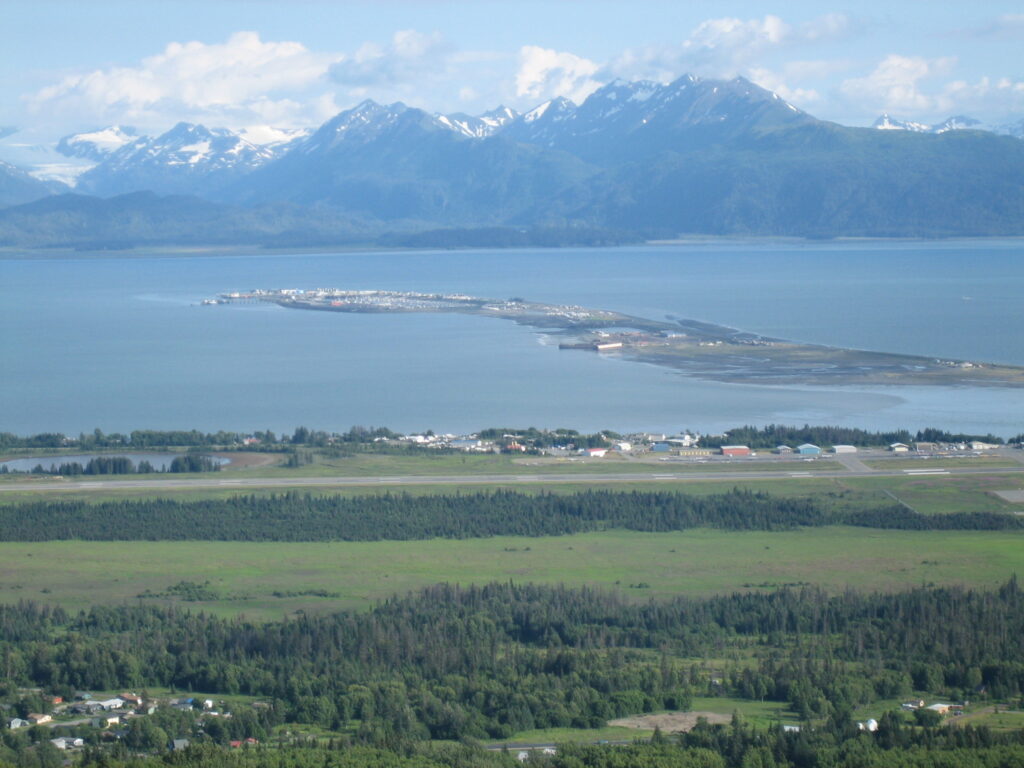 Homer Spit
The Spit is where all the action is. Fishing charters, kayaking excursions, and air and ferry services to rugged Alaska islands are all found on the Spit. Most of the hotels are on the mainland with only two located at the end of the Spit. There are plenty of restaurants and bars and places to camp.
After a day of fishing or kayaking with harbor seals, visit the famous Salty Dawg Saloon. Constructed in 1897, this cabin served as a post office, grocery store and offices for coal and oil companies before being transitioned in the 1950s to the bar it is today. It's cramped and covered with dollar bills and bras. All conversations seem to revolve around the catch of the day. Homer definitely lives up to the town motto "A quaint drinking village with a fishing problem."
Things to do in Homer
For more relaxing activities, head back to Homer on the mainland and check out the Homer Farmer's Market on Wednesdays and Saturdays or grab a beer at one of the two craft breweries. Visit the Pratt Museum to learn the history of the native people, homesteading and marine ecology. The Alaska Islands & Ocean Visitor Center is a free education center highlighting the natural world outside its massive facility. Take a walk along Bishop Beach and explore the rocky tidepools for little sea critters. Whether you want an adrenaline rush, quiet time or ready to explore more of the Alaska coastline, Homer has it all.
Anchorage to Cooper Landing 100 miles 2.5 hours AK-1 (South to Sterling Highway)
Seward to Cooper Landing 48 miles 1 hour (AK-1 North to Sterling Highway)
Anchorage to Homer 221 miles 5-6 hours
Seward to Homer 170 miles 4-5 hours
What kind of wildlife will you see in Alaska?
Read our post: Photo Journey: Alaska Wildlife for top animal sightings and conservation centers.
Pin This!