Guanajuato City: Travel Guide on What Not to Miss
From the moment we got out of the tunnel, we were in love with Guanajuato City. I don't know if its because of the colorful facades or the mountains looming up behind the buildings, but we were hooked.  Music and the arts define this city. Live music is performed on the steps of Teatro Juarez almost nightly. Callejoneadas wander the streets playing their music led by a estudiantina, the lead storyteller that invites guests to join in acting out the story or singing to the music. The Baroque architecture of churches and buildings are well preserved and transport you to another era. If you want to experience real Mexican life, there is no better place than Guanajuato City.
The state of Guanajuato is probably most known for the artist and expat enclave of San Miguel de Allende, but the capital, Guanajuato City, will absolutely take your breath away. Situated in a mountain valley, the city is a lively mix of university students, foreigners and locals all mingling within the twisted alleys of this UNESCO World Heritage Site. Gold was first discovered in Guanajuato, but by the mid- 18th century, it became the world's leading silver extraction center and richest city in Mexico.
Disclosure: Some links may be affiliate links where we receive a super-small commission at no additional cost to you if you click through and make a purchase. We call this our Chocolate & Churro Fund.
How Long Should I Stay in Guanajuato City?
You may be able to see most of the highlights within 2 days in Guanajuato City, but we recommend spending at least 3-4 days. This gives you time to see the sights you want to see, eat at different places, shop for beautiful silver jewelry and centerpieces, and just stroll through town enjoying student pop-up performances and elotes. We spend three fabulous days in Guanajuato City, but we wish it could have been more.
How to Get to Guanajuato City
When flying into the state of Guanajuato, you'll arrive at Guanajuato/Leon International Airport (BJX) near Silao. There are direct flights to BJX from Chicago (ORD and MDW), Sacramento (SMF), San Jose (SJC), Oakland (OAK), Fresno (FAT), Los Angeles (LAX), Houston (IAH), Dallas (DFW), San Antonio (SAT).
You can also plan a two-part vacation from these Mexican cities: Mexico City (MEX), Monterrey (MTY), Cancun (CUN), Puerta Vallarta (PVR), Tijuana (TIJ), and San Jose del Cabo (SJD).
Once you arrive at the airport, take a taxi into Guanajuato City. It's about a 30-minute drive.
NOTE: We do not recommend you rent a car and drive to Guanajuato City. Many of the roads are underground in tunnels, and parking is extremely limited. This is a walking town, and you will be less stressed if you let someone else familiar with the tunnels do the driving.
*If you are interested, there is a city tunnel tour that will take you into the tunnels. These tunnels were created to divert the rain water and reducing flooding in the city.
Arriving by Bus
There are buses that go to Guanajuato City. They will drop you off at the major bus terminal about 20 minutes outside the city. From there, you will need to take a smaller bus or taxi to get you into Centro. We have not done this. Taxis seem to be the easier way to go.
Where to Stay
Most attractions are within walking distance of any hotel in Centro (this includes up on the hill by the funicular). There's a broad range of hotels and airbnbs, but most places in Centro will only have a handful of rooms. Book early as this town fills up easily.
1850 Hotel Boutique – Boutique luxury hotel with spa and rooftop lounge
Edelmira Hotel Boutique – rooftop terrace, indoor pool, hot tub and restaurant
Hotel Casa Virreyes – all suite hotel around a central atrium with stained glass ceiling
Hotel Chocolate – features chocolate-inspired décor and wonderful views of the city's historic center
We stayed at Hotel Posada Santa Fe right on the Jardin de la Union. Part of this hotel used to be the  Prussian Embassy from 1864-1867. It has a vintage bar, fantastic breakfast on an outdoor patio, and the beds were comfortable. There's great views from the rooftop, and this hotel was used in the filming of Once Upon a Time in Mexico.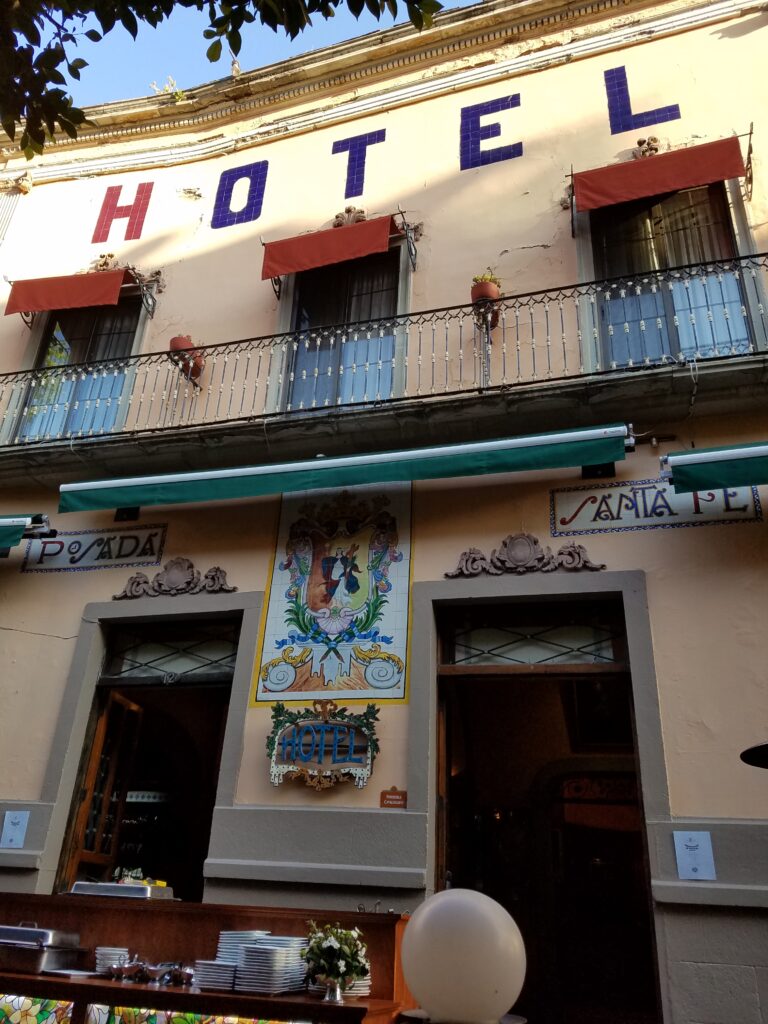 Things to See and Do in Guanajuato
The best thing about Guanajuato City is that you can walk just about anywhere. It's a small enough city where there is something around every turn. Because its so compact, larger hotel and restaurant chains cannot get permits to build modern monstrosities, so it retains its colonial charm. Here's some things to see and do while you are in town, but take some time to just wander the twisting alleyways and really get to know the city your way. A good way to become acquainted with Guanajuato City is through a walking tour with a local.
Guanajuato Basilica
The centerpiece of the city is the Basílica Colegiata de Nuestra Señora de Guanajuato. Built in the 1600s, the outside is humbling, but the interior will take your breath away. A 7th century statue of the Virgin Mary was presented to the city by King Philip II of Spain in 1557. Use this landmark as your center point for hotels, restaurants and attractions.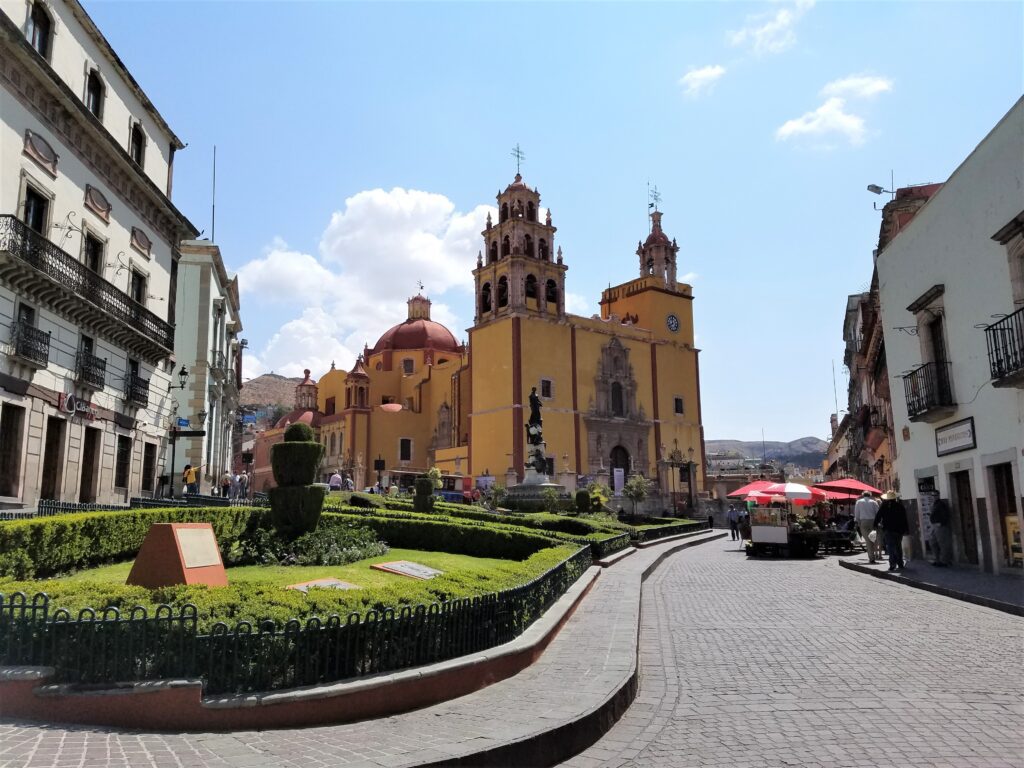 Plaza de la Paz
In front of the Basilica is a green space named Plaza de la Paz. on either side of the plaza are former haciendas renovated into specialty shops, cafes, banks and governemt buildings. Flower pots with geraniums line the balconies, and the multitude of colors instills a sense of tranquility. After a coffee, spend the afternoon at the Conde Rul Museum which houses temporary exhibitions of national and Latin American artists.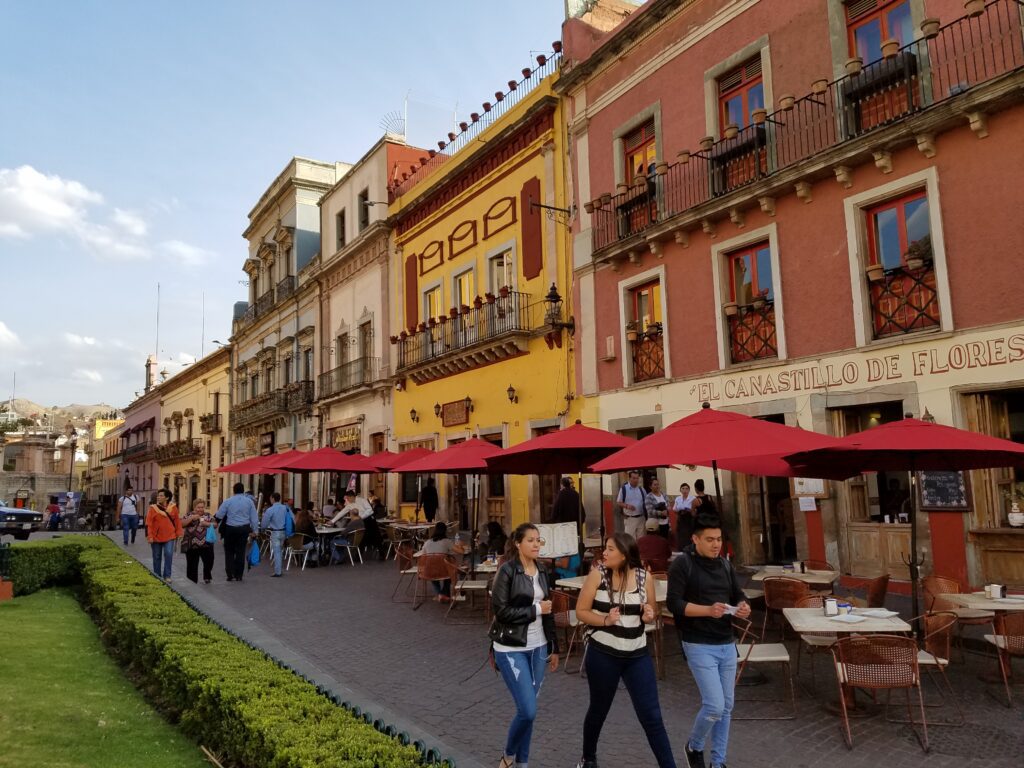 Palace of Powers Museum (Museo Palacio de los Poderes)
Museo Palacio de los Poderes was the joint legislative building from 1903 until 2016. Today, it houses a library and spaces for meetings and conferences. The Plenary Hall, Green Room and a few other historical legislative rooms have been preserved and can be seen on a tour. If you somehow miss the Plenary Hall, it's the presidential party room in the movie Once Upon a Time in Mexico.
The museum is open Tuesday through Sunday 9:30am-5pm. Price is 25 pesos.
Church of San Diego (Iglesia de San Diego)
This pink sandstone church stands next to Teatro Juarez and dates back to 1780. Inside, you'll see 18th century paintings and statues of Jesus Christ.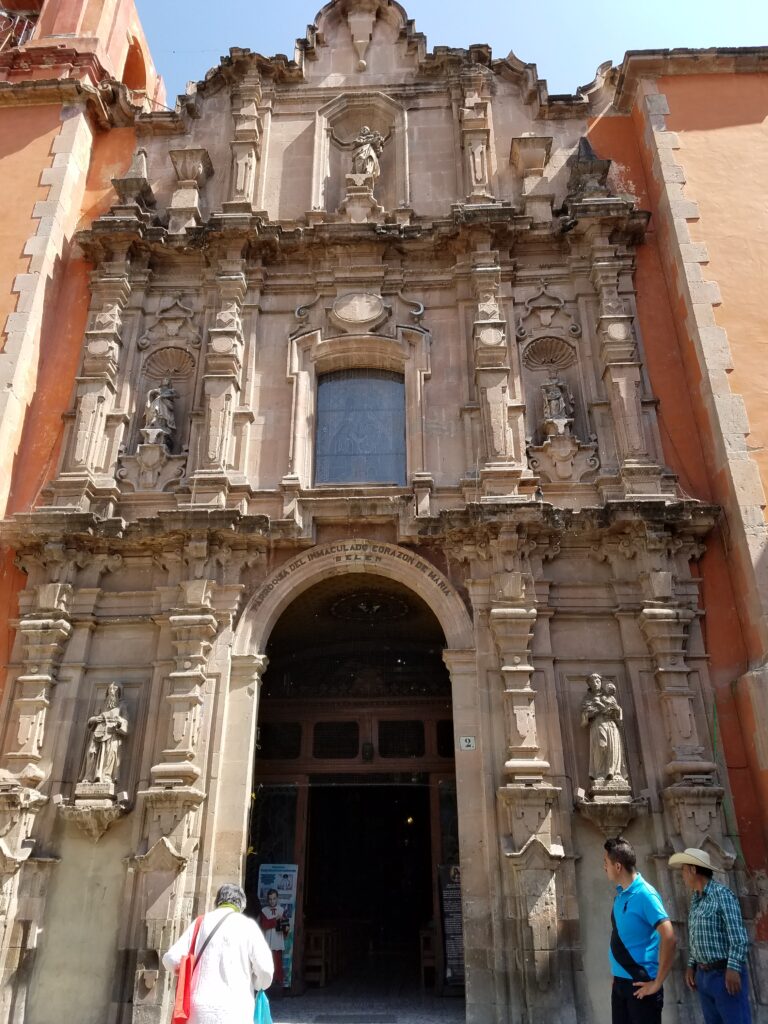 Juarez Theater (Teatro Juarez) and Jardin de la Union
As the principal venue for the International Festival Cervantino, the Teatro Juarez has been at the center of the arts for Guanajuato since its inauguration in 1903. Built in the neo-classical style with 8 of the 9 muses perched on top, the Juarez Theater is the place for international performances. On any given night you might see a small orchestra playing, a puppet show, or street performance. The theater is open to tours as long as there isn't a performance inside that day.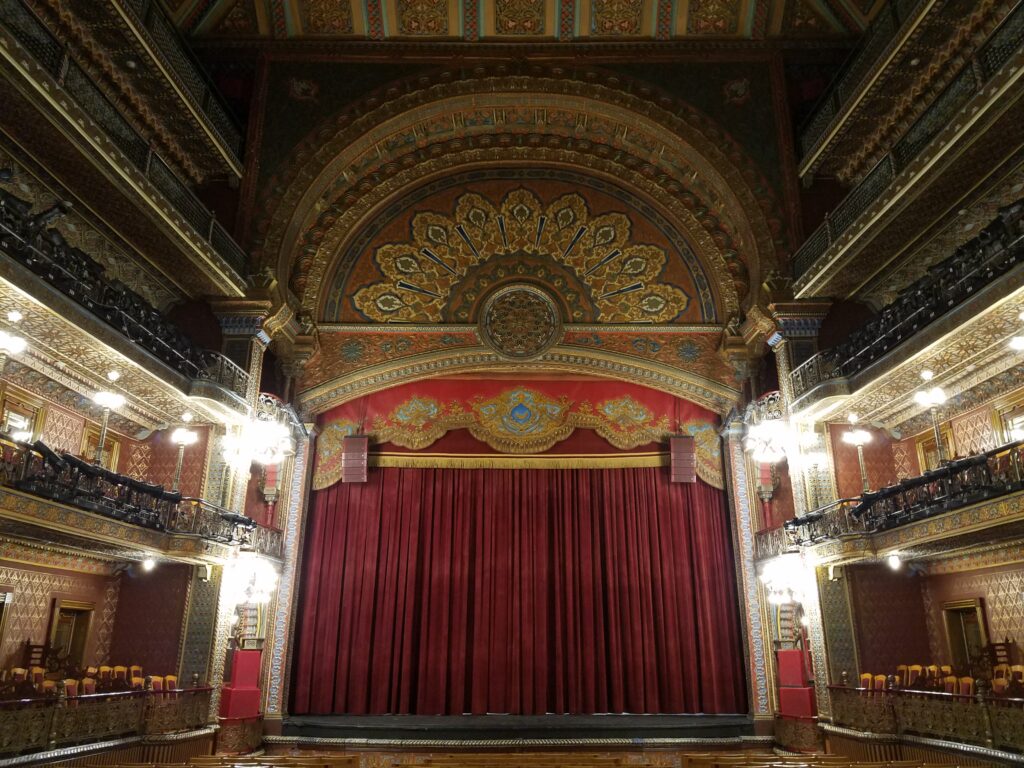 The best seat to observe and enjoy the performances on the steps of Teatro Jaurez are from the restaurant Casa Valadez · Anfitrión & Gourmet across the street. Windows are open to enjoy the sights and sounds of the artists at work while you sit back and dine on an exquisite meal.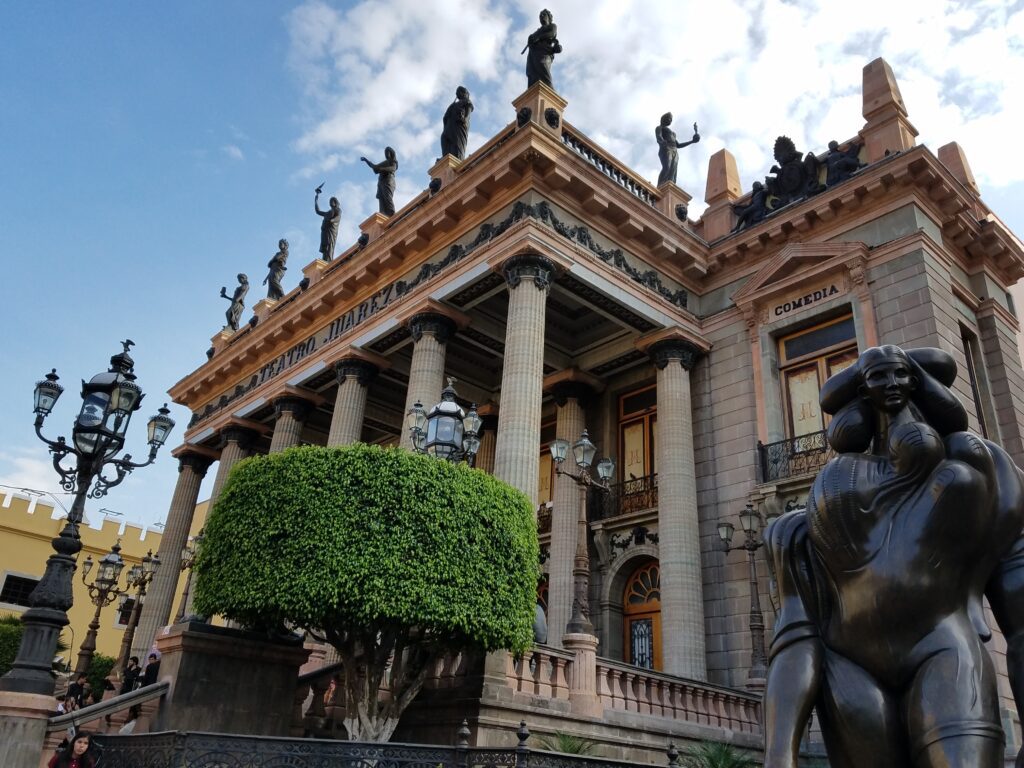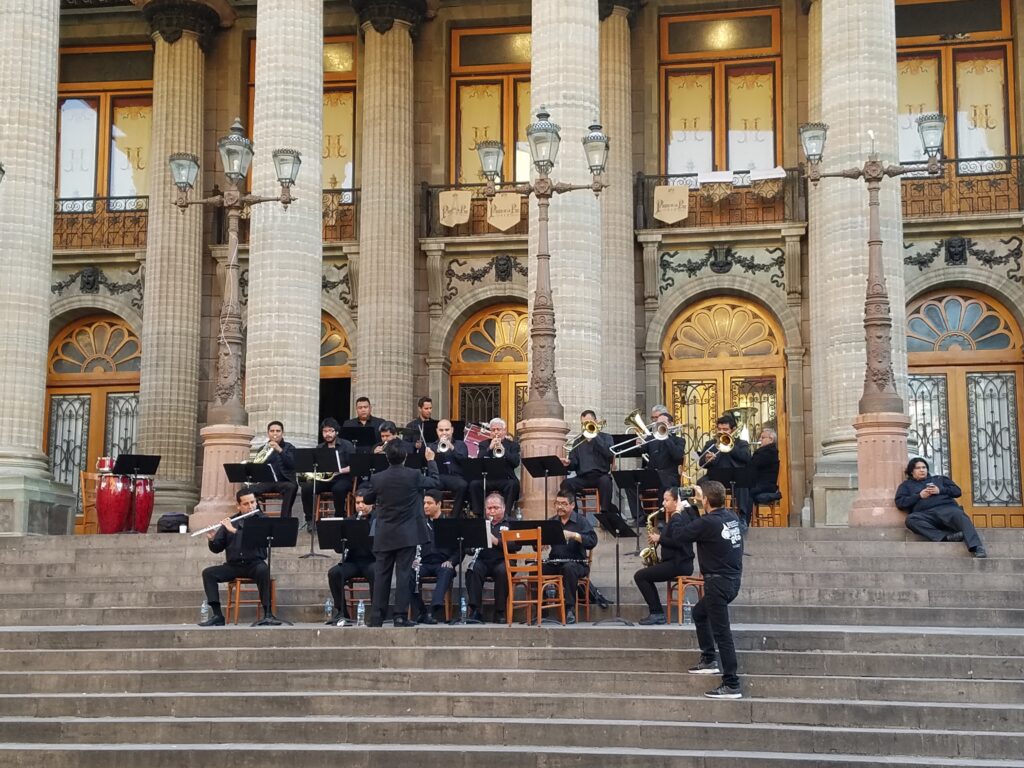 Funicular to El Pipila
The Funicular is located to the left and behind Teatro Juarez. The smooth ride up to the statue of El Pipila and its observation deck gives you stunning views of the city. You can really see the grand scale of the iconic landmarks like the University and the Basilica as you travel up the mountain.
At the top is the statue of El Pipila, a miner and insurgent hero during the Mexican War of Independence. His full name was Juan José de los Reyes, but it's easier to remember his nickname, El Pipila. During the battle of the Alhondiga de Granaditas, a grain storage building where the Spanish were barricaded, it was El Pipila that burned down the door amid flying bullets and allowed a victory for the insurgents. More on that below.
We spent an afternoon enjoying the views from the observation area over the city of the city. The kaleidoscope of colorful buildings against the mountains makes Guanajuato one of the prettiest cities in Mexico. We even got lucky and caught a K'Pop video shoot while we were there.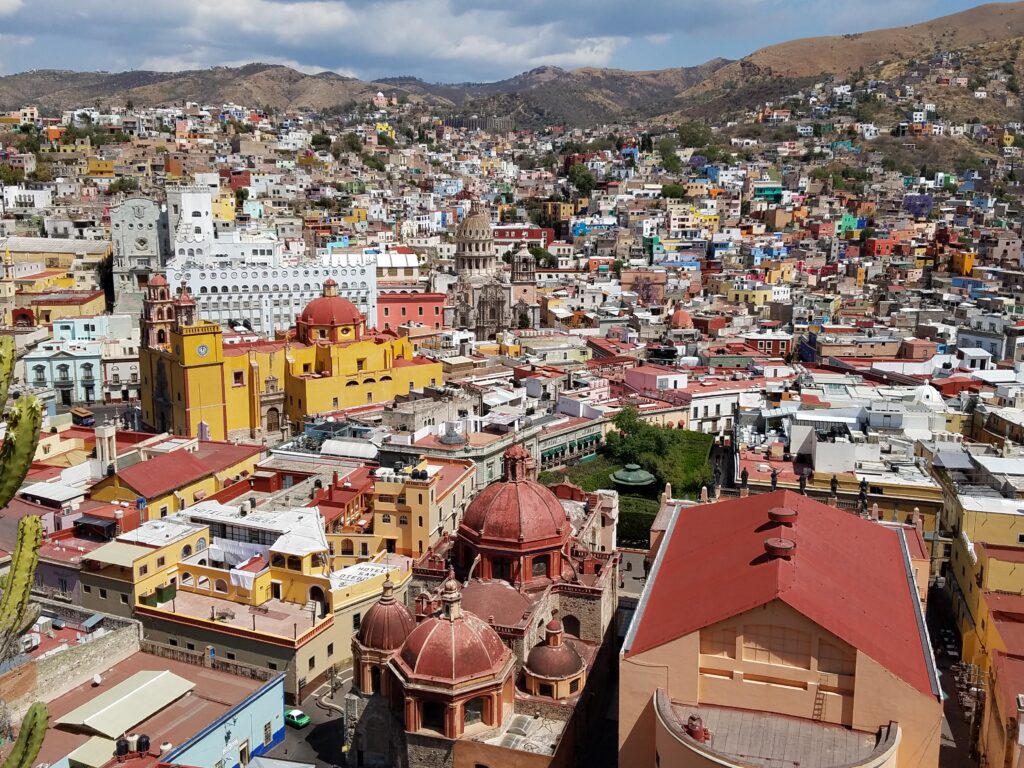 Alhondiga de Granaditas
On the outside, the Alhondiga de Granaditas is ugly, but it's an important part of Guanajuato's history. Built to store grains, it has also been a military barracks, a prison, and today it's a regional museum.
This building was an important battle site during the War of Mexican Independence. Father Hidalgo led 20,000 insurgents into the city to take back control from the Spaniards. About 300 rich loyalists and criollos barricaded themselves in the building. With only two entrances and plenty of food, they thought they could hold off the attacks indefinitely.
Father Hidalgo and his army decided the only way to enter the building was if they burned down the main door. El Pipila, a strong miner volunteered for the mission. Strapping a large flat rock to his back to protect him from bullets and rocks, he ran at the door, and torched it. Once the door burned down, the insurgents ran into the building and killed everyone inside.
The bloody story continues. About a year later, four of the leaders of the Insurgent army, Father Hidalgo, Ignacio Allende, Juan Aldama, and José Mariano Jiménez, were caught and killed by firing squad. Their bodies were decapitated, and their heads were hung from the four corners of the Alhondiga de Granaditas for 10 years during the war to discourage anyone from rising against the Spanish crown again.
More than a 125 years later, artist José Chávez Morado painted murals on the building reflecting this gruesome battle and other historical moments of Guanajuato. The Alhondiga de Granaditas officially became a museum in 1958.
Open Tuesday through Saturday 10am-6pm, Sunday 10am-3pm. Price 30 pesos.
University of Guanajuato
The name of the university has changed many times since it was established in 1732, but it has remained a premier college now offering over 153 academic programs from high school to doctorate level. There was a bit of controversy when the main building was expanded and incorporated the Templo de los Hospitales into its construction. The 16th century church was constructed solely for the indigenious population of Guanajuato.
If you've watched the movie Once Upon a Time in Mexico, the university was the backdrop for the presidential palace.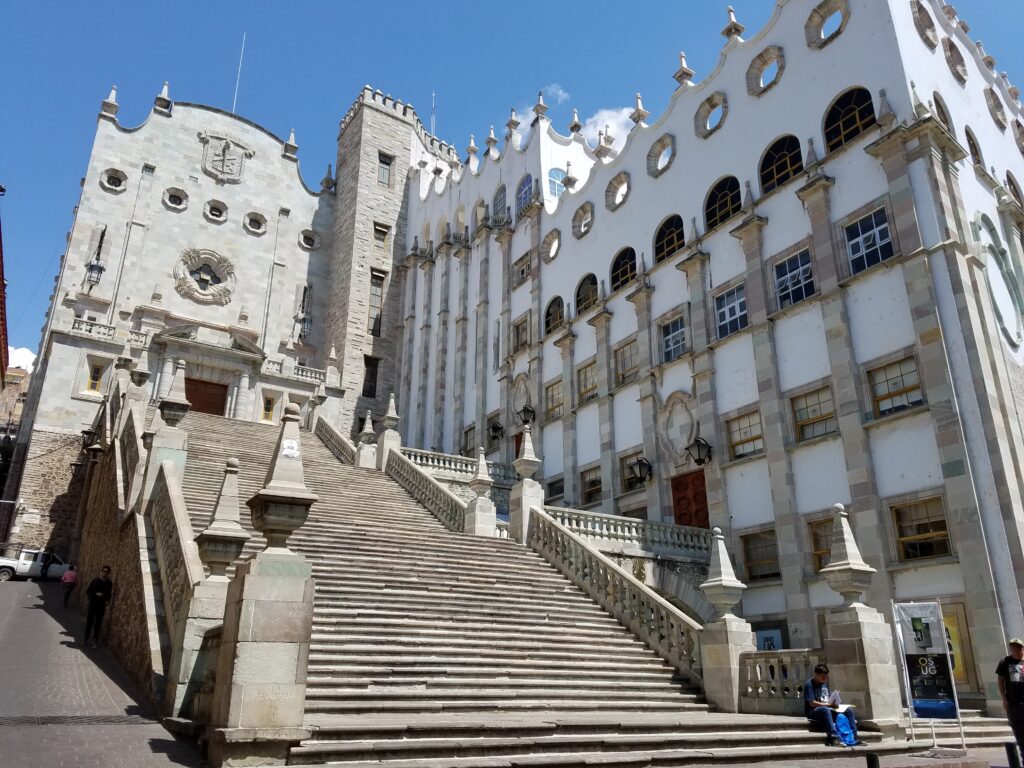 Kissing Alley (Callejón del Beso)
Many cites have a Romeo & Juliet story intertwined in its foundation and Guanajuato's version is just as romantically tragic. Behind Plaza de los Angeles is a narrow alley only two feet wide flanked by two buildings with quaint balconies. The daughter of a wealthy family lived on one side while a young man, trying to make his way in the world, rented a room in the other. Meeting on their balconies, they eventually fell in love and would kiss at night across the narrow space. One night, the father of the girl found out about this little tryst and stabbed his daughter to death. Some versions of the story continue with the grief-stricken young man falling to his death.
Every tour has its own version of the story. It's also said that if lovers kiss in this alley, they will stay in love for at least the next 7 years. It's a fun spot to get your Instagram shot, but be warned, this is a popular place at all times of the day.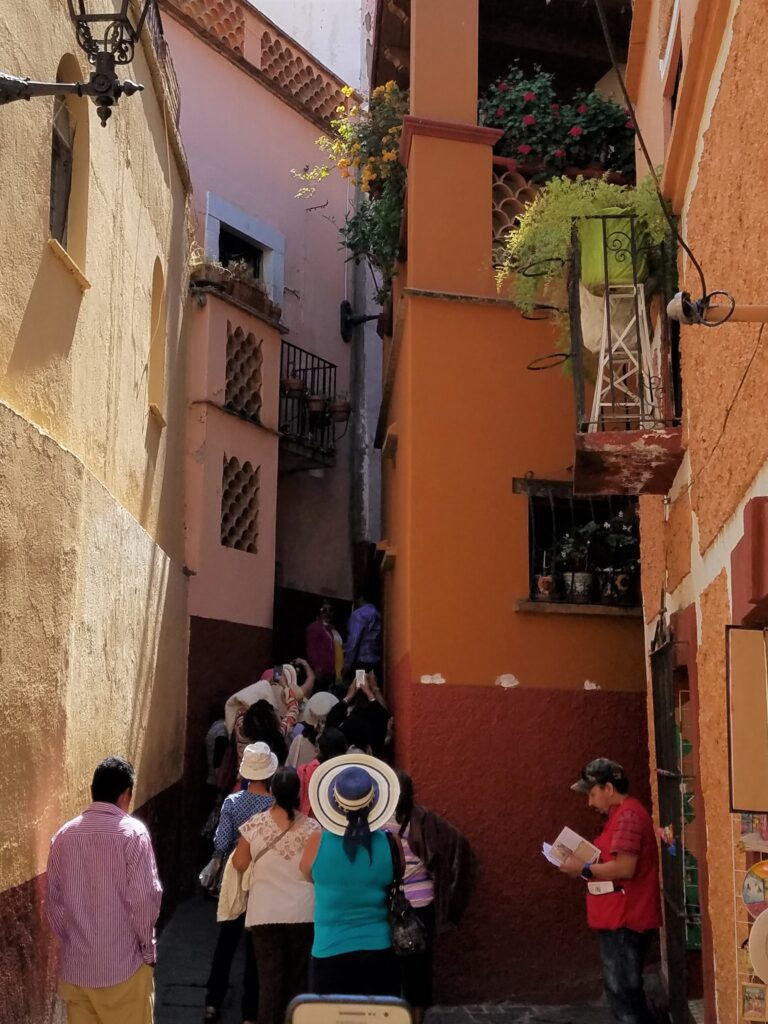 Mercado Hidalgo
There are several mercados of different sizes around Guanajuato City, but the main one that you need to visit is Mercado Hidalgo. Housed in what should have been a train station (that was never completed), this maze of vendors sells anything you could possibly need. Shop for meats and produce to cook at your Airbnb and buy some leather shoes or bags made just down the road in the leather capital of Mexico, Leon. We ate breakfast chilaquiles at one of the food vendors. It was so good, we came back the next day for tacos.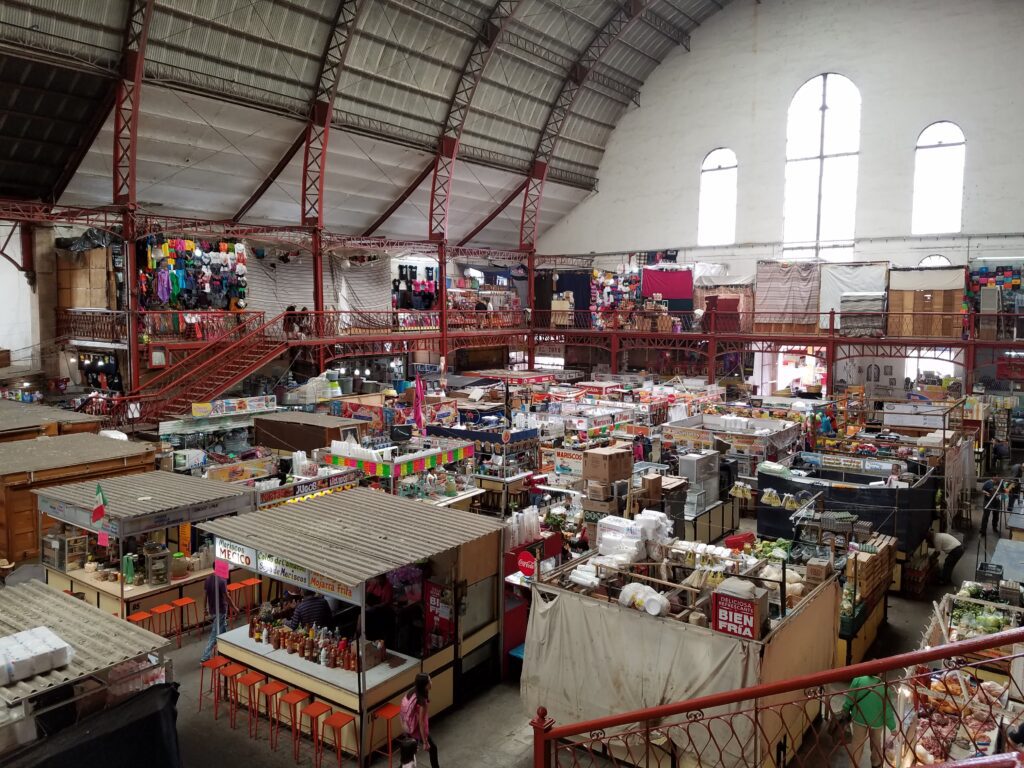 MUSEUMS
Diego Rivera House Museum (Museo Casa Diego Rivera)
Did you know the famous muralist Diego Rivera was born in Guanajuato? The house that he grew up in has been converted into a museum. Inside you'll find the home décor of the turn of the century and rooms dedicated to his sketches, watercolors, and paintings from his childhood to just before his death in 1958. It's a fascinating visit not only to admire the artist, but to see how Mexico and the world was changing during this time period. For a more in-depth explanation, you might be interested in this tour by Viator.
The museum is open Tuesday- Sunday 10am- 4:30pm. Price is 25 pesos.
Don Quixote Iconographic Museum
One of the most famous books of all time has developed quite a cult following over the past four centuries. The Don Quixote Iconographic Museum is a unique establishment showcasing sculptures, paintings, sketches and other artistic endeavors related to this literary work. Other exhibitions and workshops are rotated throughout the year including comics, animation and film.
Check website or social media for different workshops and events.
Mummy Museum (Museo de las Momias de Guanajuato)
The most famous museum in Guanajuato City is the Mummy Museum. This is not for the faint of heart. Many of these bodies were buried during the devastating cholera outbreak between 1829-1851. Afterwards, the government imposed a "perpetual" burial tax that lasted until 1958. If the families couldn't pay the tax, their loved ones were removed from their graves. Because of the climate, the bodies become mummified. The best-preserved bodies were stored in a building by the gravediggers who later accepted money for people to gawk at the bodies. This of course led to a new tourist attraction in 1969. The Mummy Museum has enthralled  visitors for more than 50 years.
By the way, I wouldn't be caught dead there (pun intended). You'll have to see it on your own if you want to know more about it.
Open every day 9am-5pm. Price 50 pesos.
Other Museums
If you are a museum addict and love seeing art, period furniture and the homes of famous historical people, then here's a few other museums to check out:
Olga Costa House of Art Museum – José Chávez Morado
Jose and Tomas Chavez Morado Museum
Museo del Pueblo de Guanajuato
Please note that most museums in Mexico are closed on Mondays.
Nightlife
There is always something happening in Guanajuato City. Just walk out onto the street, and you'll hear music everywhere. Orchestras perform on the steps of Teatro Juarez. Callejoneadas wander the many alleys playing their music. This is a big university town so you may see students practicing performances or visit a bar like Antik Cafe where a live band belts out cover songs. Walk around or just sit in one of the many plazas eating an elote or ice cream. No matter what you do, you'll a part of the nightly celebration.
Festivals
Festival Internacional Cervantino
This is THE festival for music lovers. This month- long celebration (October) attracts international bands and musicians of every genre. This year (2022) they celebrate their 50th festival anniversary.
Day of the Dead
Day of the Dead (November 2nd) is popular all over Mexico. Most of Guanajuaot City is closed to traffic which makes it a perfect place to see this celebration.
International Balloon Festival- Leon
Festival del Globo is one of the largest hot-air balloon festivals in Latin America. Mid-November is a perfect time to visit and split your time between Leon and Guanajuato City.
Catando Mexico Wine Festival
Wine lovers will love the two-day wine festival that lines the main street in front of the Cathedral. Spend two evenings tasting wines from all around the country.
And There's More…..
This was just a recap of what's in the city, but there's outdoor adventures, wineries, and pueblos magicos like Dolores Hidalgo just beyond the mountain ridges. Most tours only give you a day in Guanajuato, but there's so much more to see and do. We hope this helps you plan your trip to Guanajuato a little better.