Inventive Cuisine at Relae
From Our Restaurant Archives:
A few years ago we were in Copenhagen, where we met a food critic at Geranium who enthusiastically recommended going to Relae. We were glad we listened to her. Relae has it all; the food, the location, and the people watching. The restaurant has a casual atmosphere, while the food is top-notch.
Starting with the people, the table across from us were locals, dressed in jeans and flannel shirts who just ate and drank. Two Japanese girls at the table next to us were focused on taking pictures of each other and the food. They barely touched the food or wine, but were excellent at posing and posting. Out the window, every day Danish life was taking place.
Relae is located in a neighborhood of apartments over tiny stores. Potted geraniums and bikes line the sidewalks. Relae was a few steps below street level with large windows to watch the different styles of boots and leggings pass by.
But the food was the real star of the place. Their food is 90-100% certified organic, and the flavors are unbelievable. This is one of the few places we did a wine pairing with the courses. We wouldn't have chosen any of the wines we drank on a random day, but the servers were very generous with their pours. This is a fun restaurant to experience.
From the Menu
1. We started with an amuse-bouche of baby radishes and a glass of sparkling Italian rosé Il Fric 2014.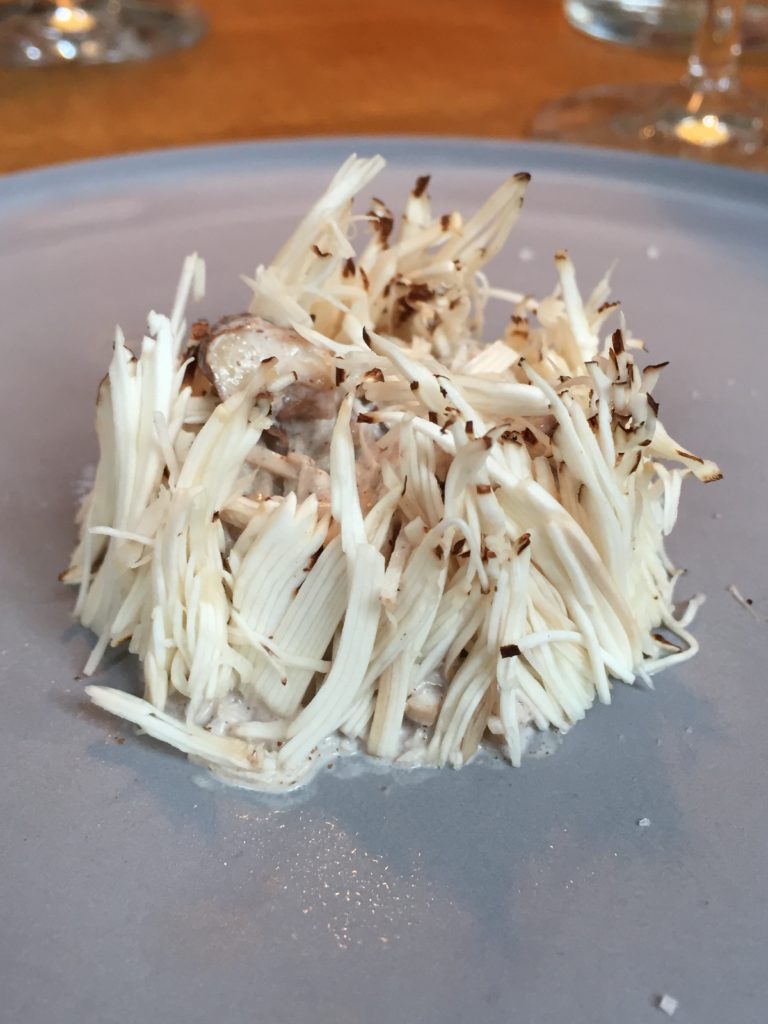 2. Sunchoke, mushrooms, and walnuts. Beautiful dish, tastes even better.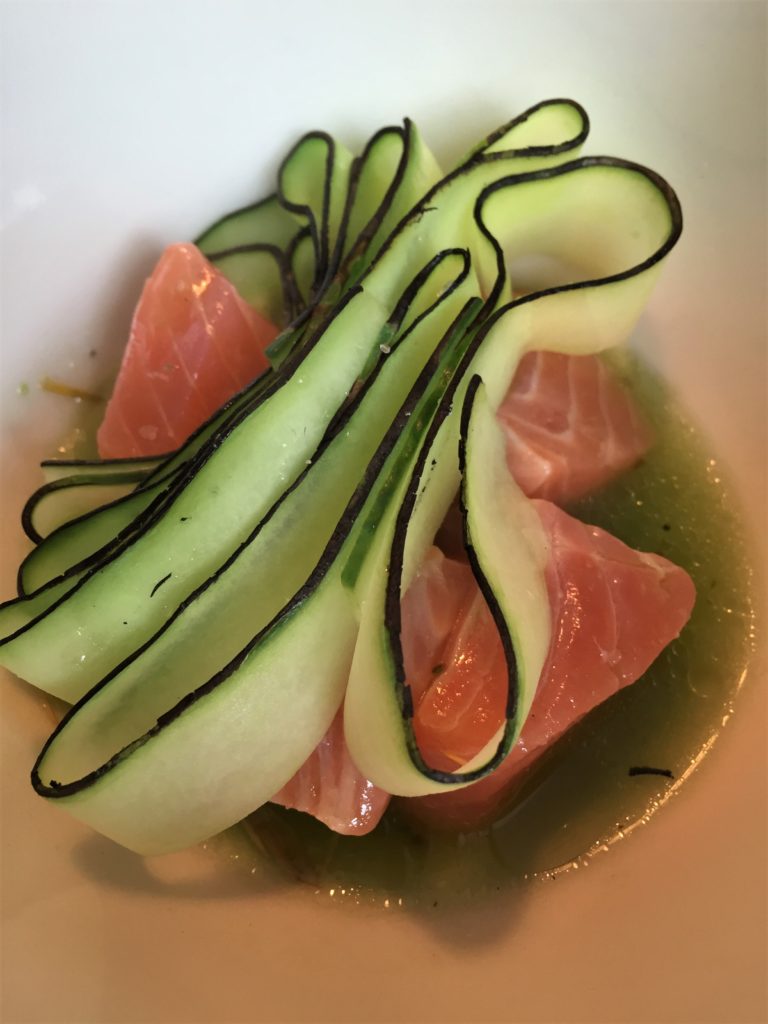 3. Trout, cucumber, and pine. Nice, clean flavors. I also love how the cucumber is cut into ribbons.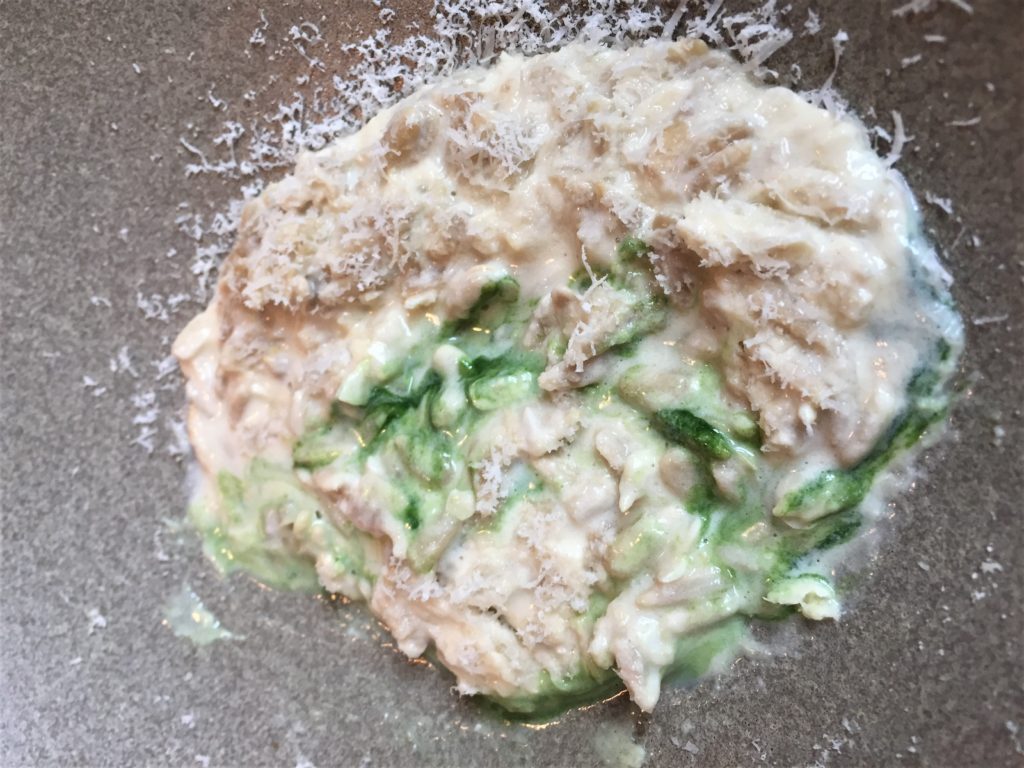 4. This may look like mush, but it's really the main reason we came to Relae. The restaurant critic we met told us about this dish, and it really is spectacular. The risotto is made from sunflower seeds with Parmesan and nettles.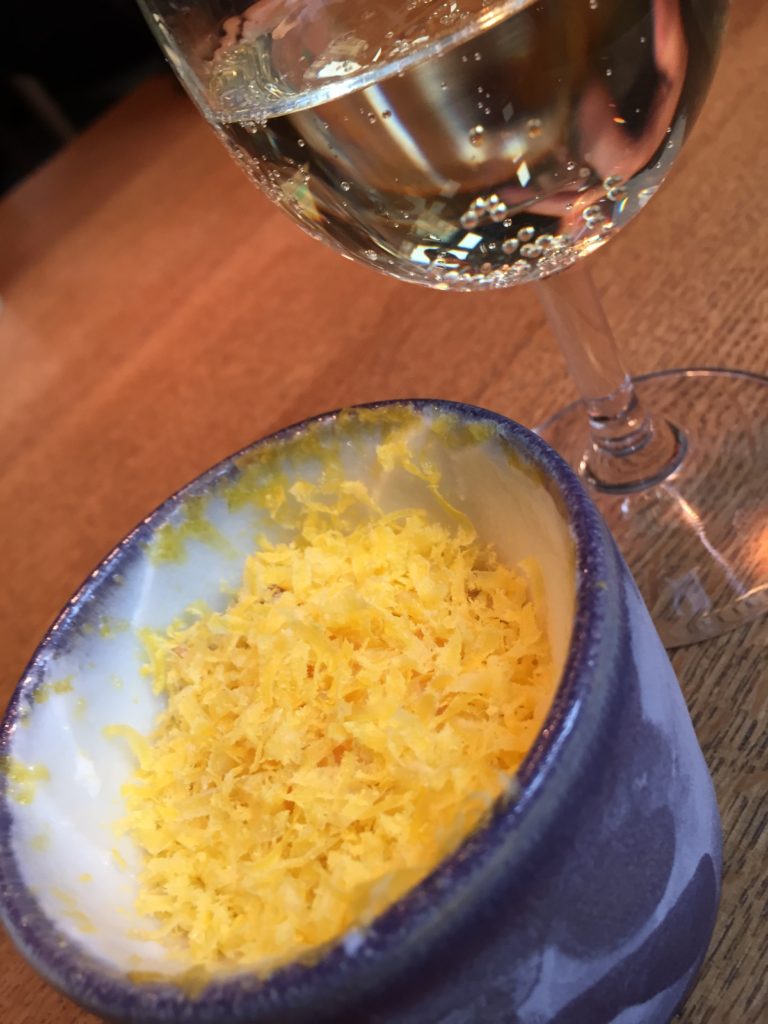 5. Yogurt, lemon and egg. This was total comfort food. A beautifully poached egg is hidden under the yogurt and lemon zest shavings. The wine was La Stoppa Malvasia, a sweet effervescent white wine.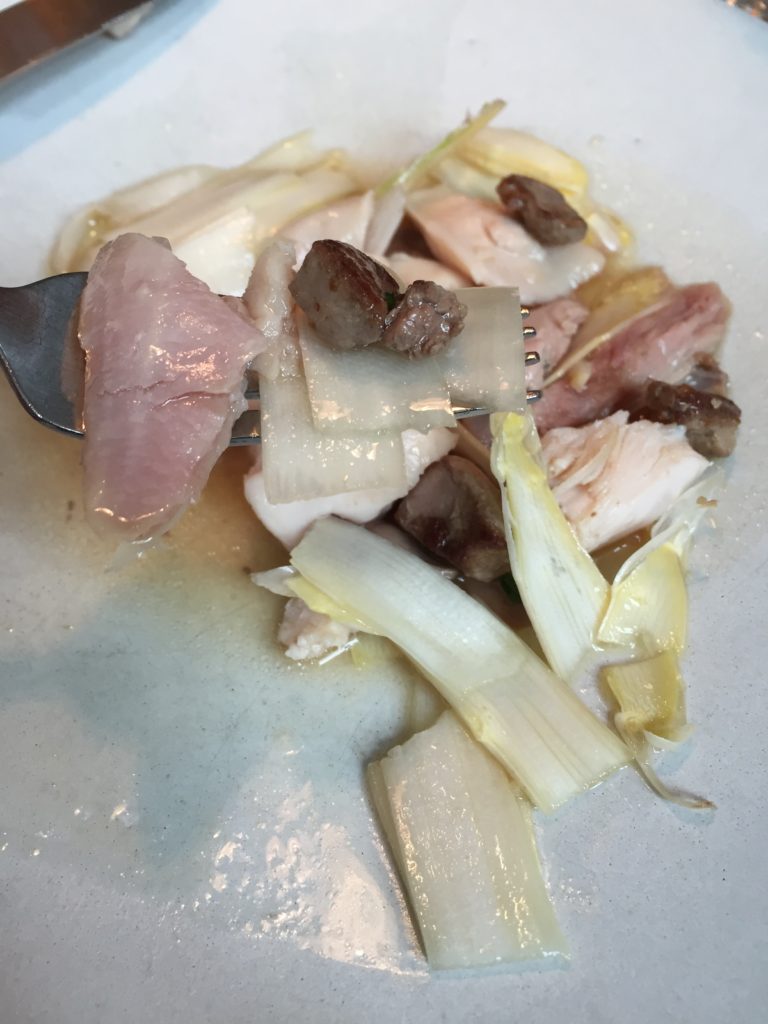 6. Sodam chicken with white asparagus.
7. Red Lober with pickled ramson capers. In layman's terms, Skyr (yogurt) with rhubarb compote paired with Christophe Mignon Brut Rose. Excellent!
There were a few other dishes but my pictures did not showcase the food adequately. Overall, we really enjoyed Relae. The food was incredibly inventive, and the array of vegetarian dishes was impressive.
Relae is the perfect, casual dining place to sip wine and graze for hours. This is the European experience that Americans dream of.
*The menu is always changing. If you go, please share your foodie pictures. I'd love to see what new dishes they create!*
Restaurant Relæ
Jægersborggade 41
2200 København N
+45 3696 6609
website: http://www.restaurant-relae.dk/

**June 19th, 2018 the full list of the World's 100 Best Restaurants was revealed. Most of our travels are determined by this list every year. These restaurants change their menus 2-4 times per year, so what you see below may not reflect the menu of today. Enjoy the technique and creativity of the chef.**
Disclosure: Some links may be affiliate links where we receive a super-small commission at no additional cost to you if you click through and make a purchase. We call this our Chocolate & Churro Fund. These are books we own and highly recommend.
UPDATE
Relae was ranked at No. 56 for 2019. The World's 50 Best Restaurants 2020 awards, sponsored by S.Pellegrino & Acqua Panna, postponed the awards ceremony for 2020.