Most Memorable Dining Experience- Martin Berasategui
From Our Restaurant Archives:
We travel extensively mostly for food experiences. When we sit back and reminisce about our adventures, only a handful of restaurants are repeatedly mentioned time and again. Martin Berasategui is one of those. It's a restaurant that is continuously on the cutting edge of new gastronomical techniques, experiments with flavors and textures, but also offers age-old favorites from years past that have stood the test of time. Located in LaSarte, a suburb outside of San Sebastian, Spain, it's repeatedly ranked in the top 100 on the Worlds 100 Best Restaurants.
A slab of red stone leading to a dark wooden door distinguishes this restaurant from the other residential dwellings in the neighborhood. Inside the reception area is small, leading to a large expanse of restaurant space with clean, white minimalistic furnishings. Tables are spaced wide apart to allow comfort and privacy, and the view of the distant hillside through the picture window is stunning and peaceful.
Detail- Oriented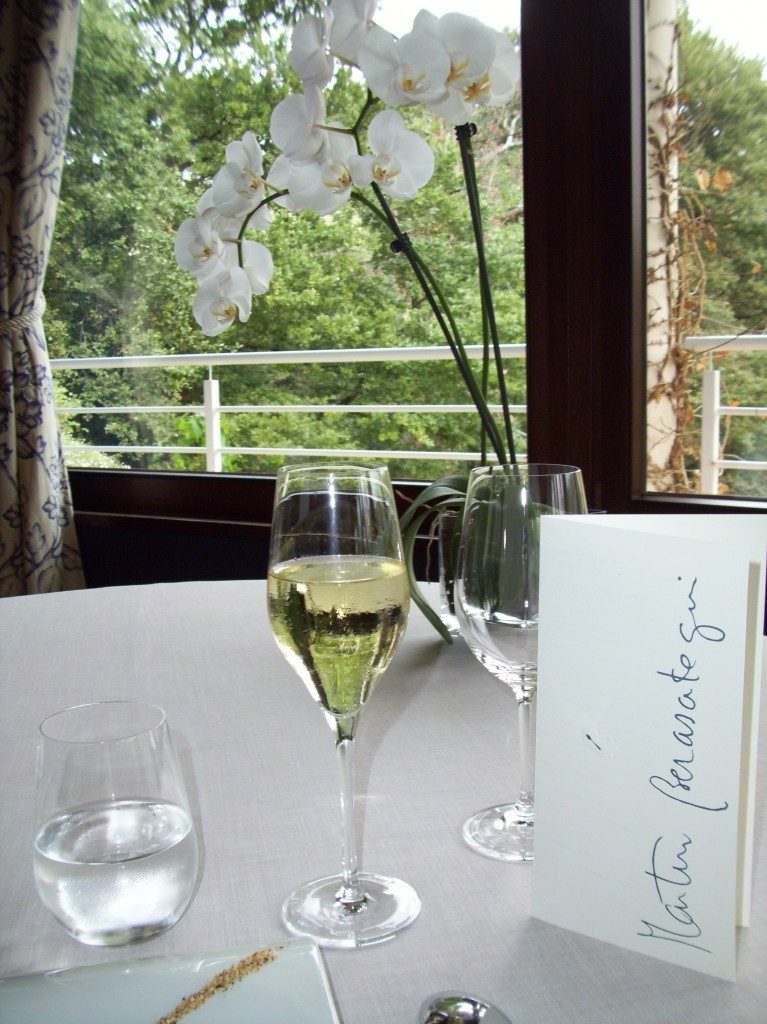 I was very impressed with the level of food artistry, but even more impressed by the exemplary degree of hospitality by the staff. Martin Berasategui is only one of two top-end restaurants that I have visited that have noticed that I was left-handed. It may seem like an insignificant thing to most people, but it was a small gesture that I appreciated very much. All courses were served to me from the right, with my silverware always on my left for easy access. I was given an ottoman for my purse. Every time I left the table to visit the restroom, I had an entourage help me with my chair, fold my napkin and lead me to the restroom. Tom and I performed musical chairs so I could have a better view of the surrounding countryside, and the staff buzzed like honeybees around us, rearranging the place settings properly including my purse ottoman. If I rated all the restaurants I've been to in my life on their guest service, Martin Barasategui would win first place by a landslide.
Tom discussed the menu selection with the maître de, and he returned with a personalized 15 course menu for us with classic favorites and new dishes to sample. The following were the most impressive, or, I just remembered to take a picture of it before I devoured it.
Degustation Menu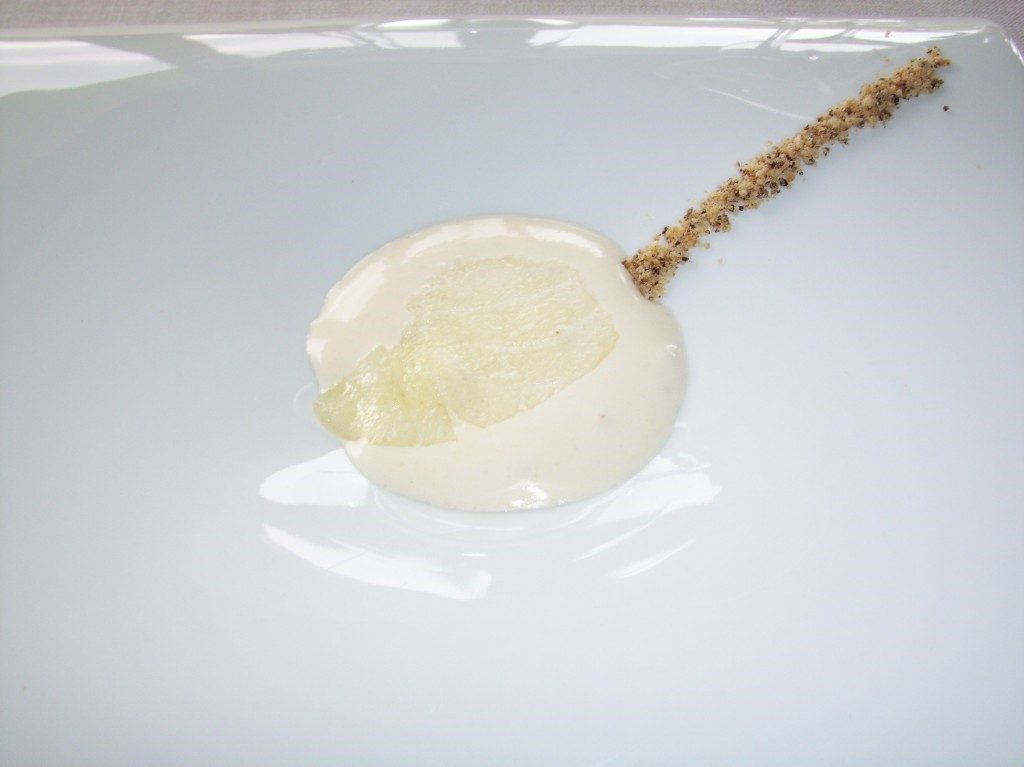 Our lunch began with a Lightly Smoked Cod cut transparent thin on a dollop of something with a creamy texture, with a powder trail of hazelnuts, coffee, and vanilla. It lived up to its name of Amuse-bouche having a light silky flavor with the contrasting intense rough texture of coffee and hazelnuts.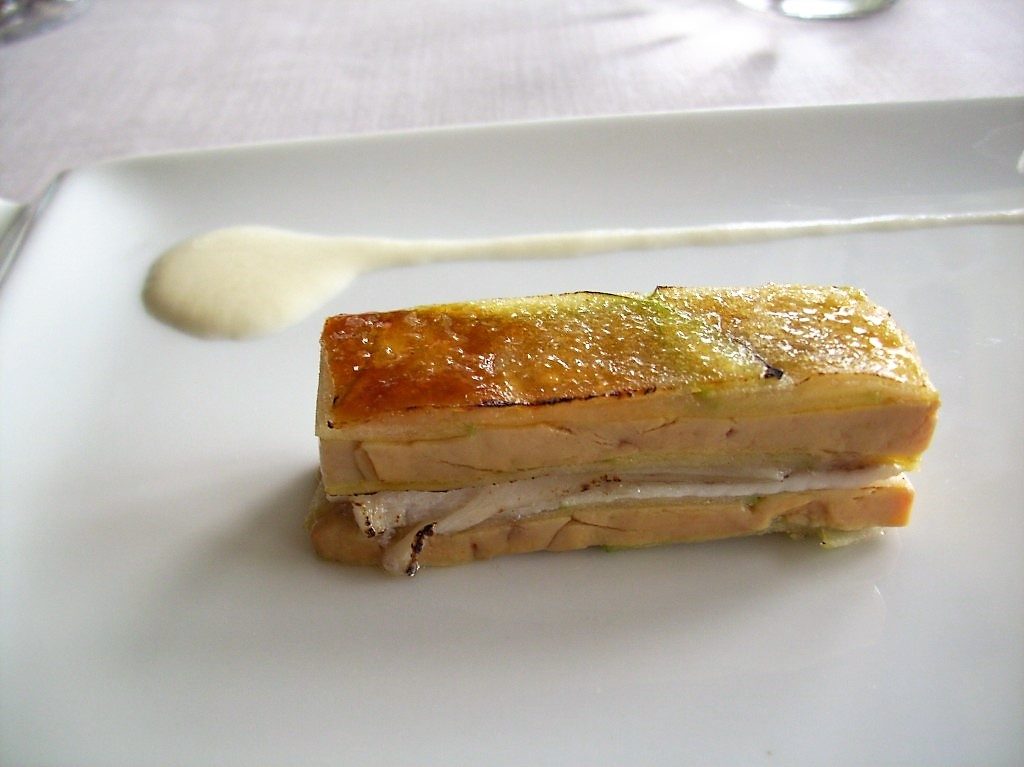 The Mille-Feville of Smoked Eel, Foie Gras, Spring Onions, and Green Apple was stunning. Each ingredient stood strong on its own in this layered masterpiece. This was a classic dish that was created in 1995 and one that Tom remembered the most from his previous vists.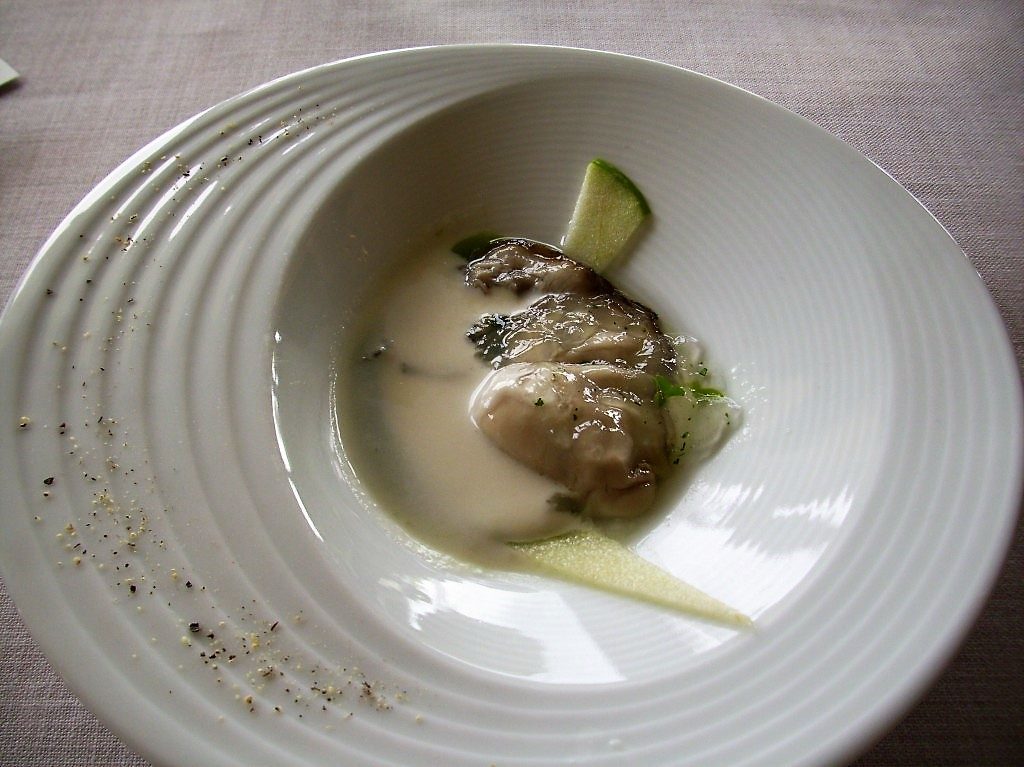 The Oyster with Water Cress, Rocket Leaves, Apple Chlorophyll, Lemon Grass, Fennel Cream and Oxalis Acetosella (the little green leaves) was bright and summer sweet.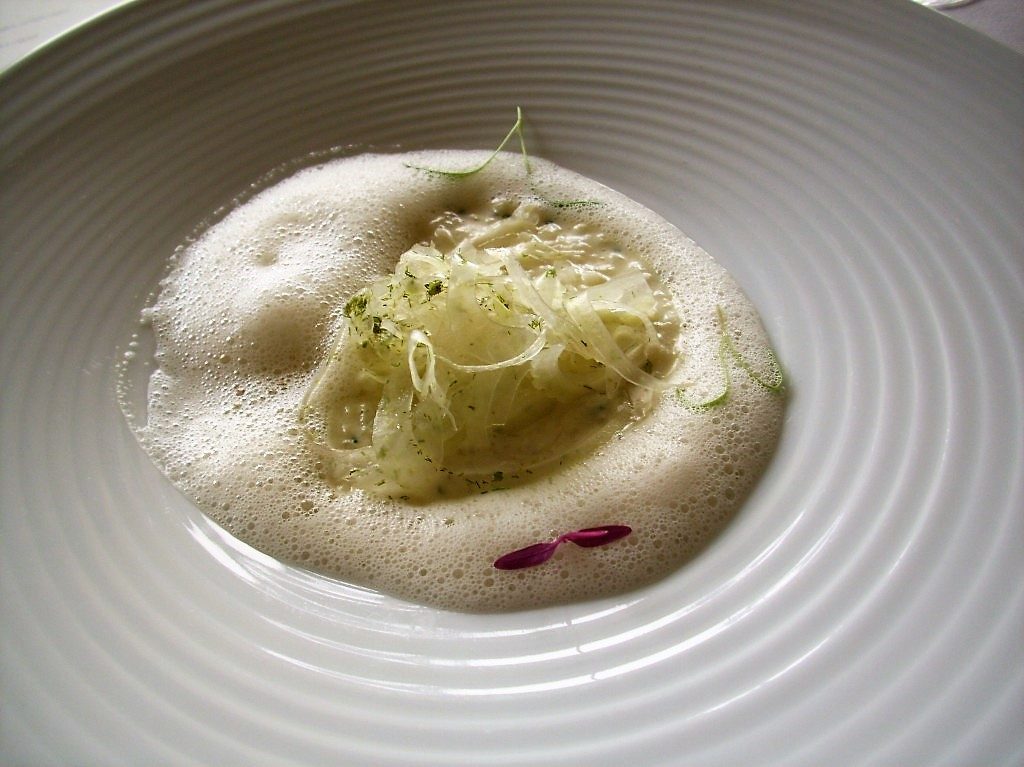 Little Pearls of Fennel in Raw, Risotto, and Emulsion was an experiment in textures. Martin Berasategui is one of the forerunners of molecular gastronomy, and foams and bubbles are prominent in his dishes. I liked the risotto the best with the airy emulsion coming in at a close second.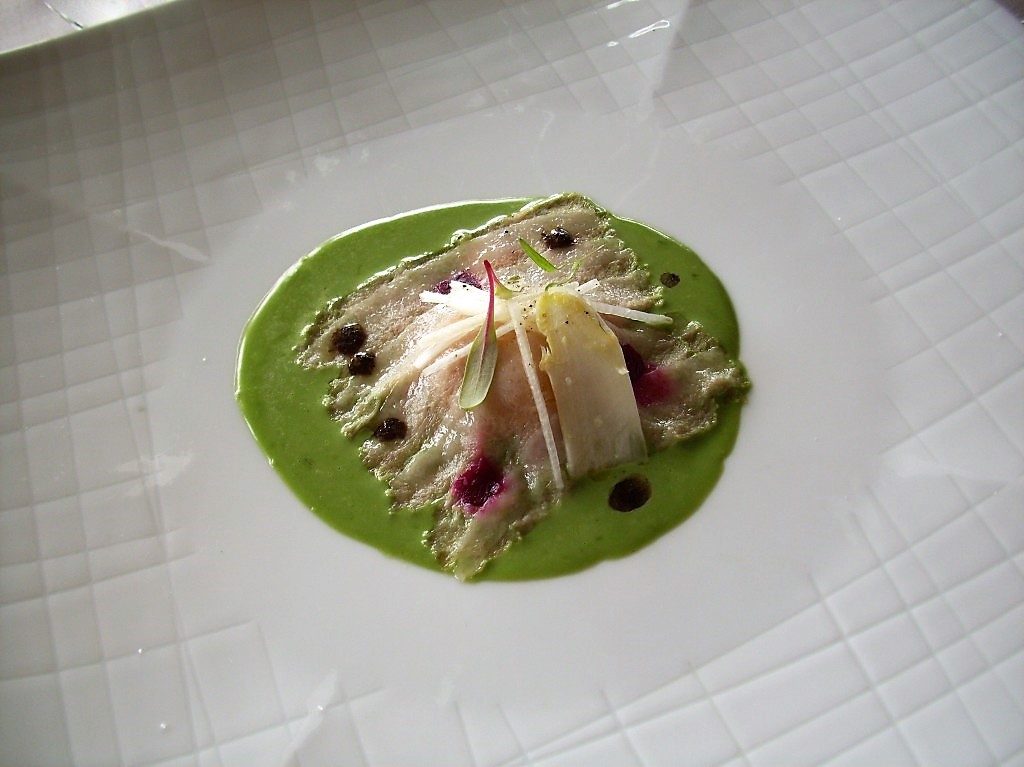 Farm's Egg with Beet Root and Liquid Herb Salad, Carpaccio of Beef Basque Stew and Cheese. The softly poached egg and liquid herb salad mingled well together creating a very satisfying comfort-food dish. The droplets of beef stew and layer of cheese intensified the experience.
The Warm Vegetable Heart Salad with Seafood, Cream of Lettuce Hearts and Idionized Juice was the prettiest of all the dishes with light summer flavors that cleansed the palate for the next course.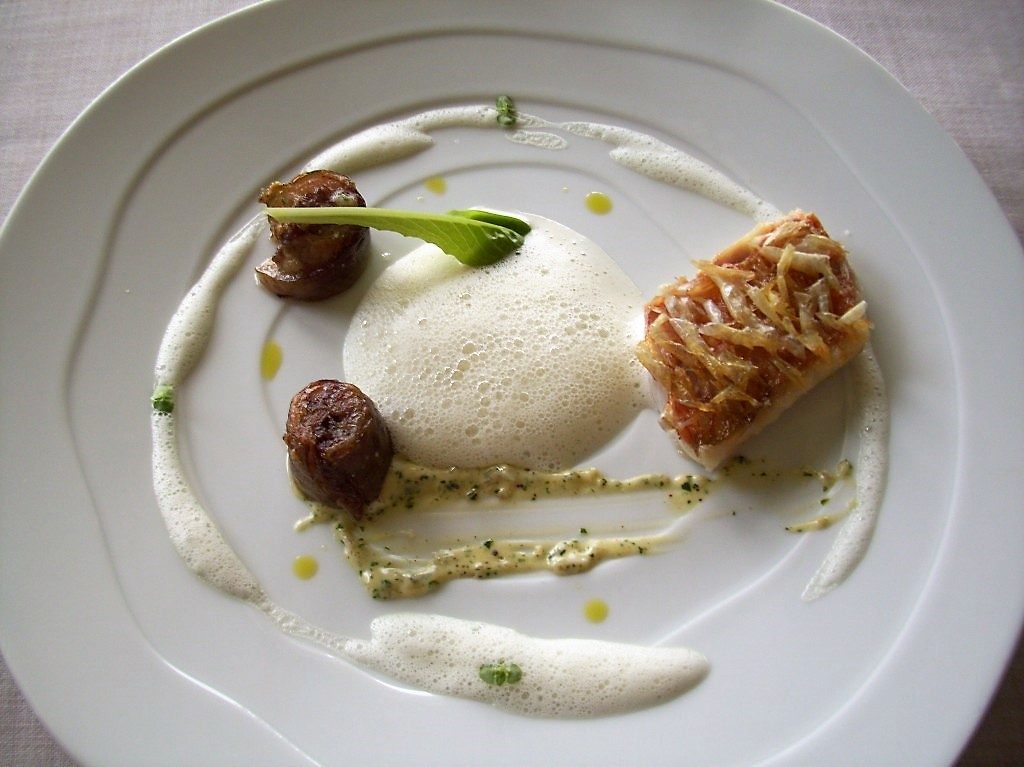 Roast Red Mullet with Crystals of Soft Scales and Juice of White Chocolate with Seaweeds. The Basques use a lot of salt on their fish, but this was cooked exceptionally well, the saltiness reduced by the white chocolate foam.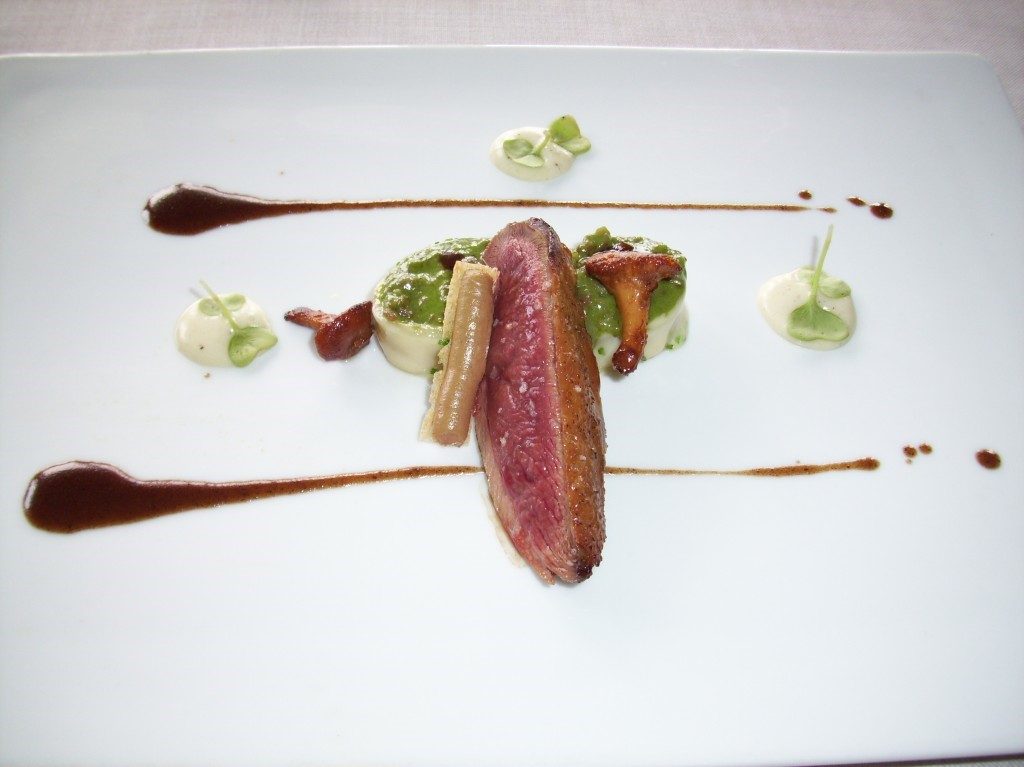 Roasted Araiz's Pidgeon, Fresh Pasta with Mushrooms and Spring Onions, and Touches of Truffle Cream. This was one of the best gamebirds I have ever had, and I would have been ecstatic to have an entire plate of the truffle cream.
Desserts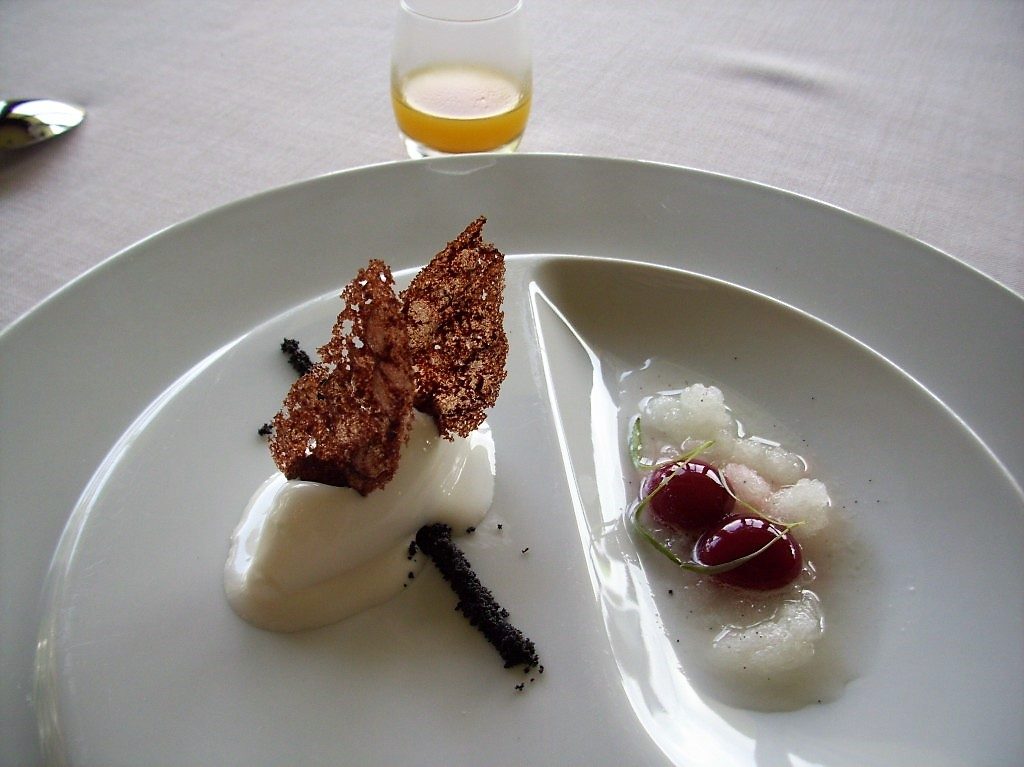 Desserts are my favorite, and Martin Berasategui expertly tantalized my sweet tooth. Coal Crumbs with Frozen Yogurt and Little Acid Touches of Strawberries, Lemon Grass, and a shot glass of Passion Fruit on the side was a contrast of bitter (coal) and sweet (fruit).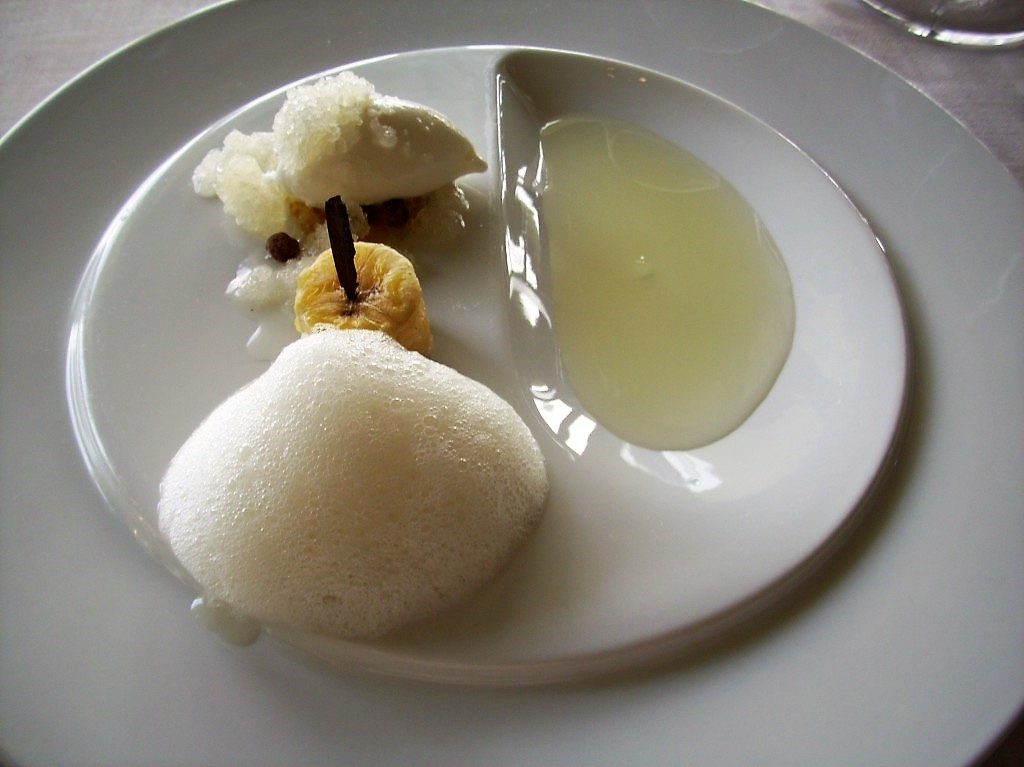 As a Cold Soup, Banana and Vanilla Stew with Citrics and Ice Cream. The mildness of this dish cleansed the palate and ended our gastronomical adventure; not too heavy, not too sugary, but just right.
The beauty of Martin Berasategui's cuisine is that he constantly changes from sweet to savory and back again to allow the consumer a chance to reflect on each individual dish without overloading the next one. At many restaurants, they move from light courses to savory and finish with sweet. Martin Berasategui interchanges light and heavy flavors, seducing the mouth in a taste sensation mambo. Martin Berasategui continually ranks in our personal top 10 as one of the best dining experiences we have ever had.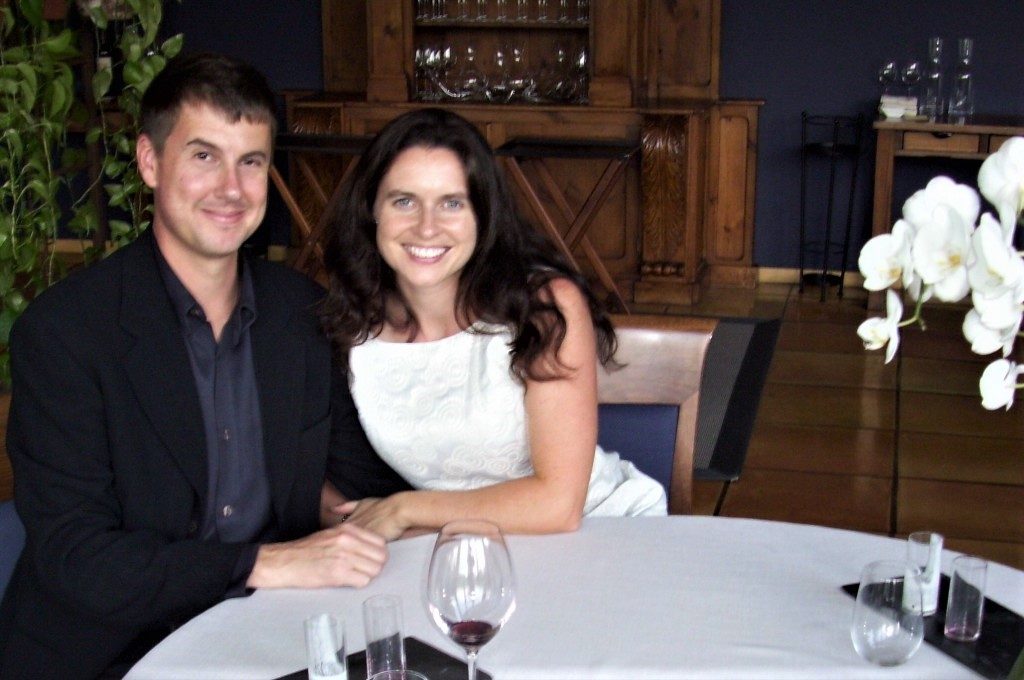 Reservations Recommended
Martín Berasategui
Loidi Kalea, 4 – 20160 Lasarte-Oria (Gipuzkoa)
Lat. 43.2668 / Lon. -2.0155
Tel. (+34) 943 366 471 / (+34) 943 361 599
[email protected]
**JIn 2019, Martin Berasategui was listed as #87 on the World's 100 Best Restaurants. Most of our travels are determined by this list every year. These restaurants change their menus 2-4 times per year, so what you see in the pictures may not reflect the menu of today. Enjoy the technique and creativity of the chef.**