Sights to See in Guadalajara, Mexico
Known for tequila, mariachi, and the drowned sandwiches tortas ahogadas, Guadalajara is the perfect blend of culture and modernization.  As the largest city in the state of Jalisco, Mexico, and the second largest city in Mexico by population, Guadalajara has attracted large tech companies, start-ups, and research industries making it the "Silicon Valley" of Mexico. With its gorgeous historical center, modern neighborhoods, and easy access to the mountains, coast, and Lake Chapala, Guadalajara is the perfect place for many diverse experiences. If it's your first time in Guadalajara, here are a few things to see and do in Guadalajara. 
Disclosure: Some of the links below are affiliate links which means we will receive a small commission when you make a purchase at no additional cost to you.
Where is Guadalajara located?
Guadalajara is in the western part of Mexico about 7 hours northwest of Mexico City and 4.5 hours east of Puerta Vallarta. Guadalajara is on a high plain bordered by the Sierra Madre Occidental mountains to the west.
How Do I Get to Guadalajara?
You can fly direct to Guadalajara from these 21 US cities:  from Seattle, Portland, San Francisco, Oakland, Sacramento, San Jose, Los Angeles, San Diego, Denver, Las Vegas, Phoenix, Salt Lake City, Dallas, San Antonio, Houston, Atlanta, Chicago, Miami, Tampa, Charlotte, and New York (JFK).
If you wanted to combine Guadalajara with another place in Mexico, there are plenty of direct flights to Cancun, Puerta Vallarta, Mexico City, and Los Cabos.
Sadly, there are no direct flights from Canada, and only one direct flight from Madrid, Spain.
How to Get Around Guadalajara
Guadalajara is a large city. Uber is the easiest way to get around. Buses and a limited metro system are also available. 
Weather in Guadalajara
Contrary to what many publications have written, Guadalajara does not have spring-like weather. We visited at the beginning of May, and the temperatures were over 100 degrees. Summers (May-August) are brutally hot with temperatures in the high 90s-110 degrees. Most restaurants either don't have, or don't use their air conditioner preferring "natural air flow". It's very uncomfortable sitting on a plastic seat for 2 hours sweating your butt off, literally. If you plan on visiting Guadalajara, try to avoid May through August.
During the coldest months (December-February), highs are still in the high 70s-80s with lows in the 40s. Pants and a light jacket are all you need. The best time to visit Guadalajara is between October-April.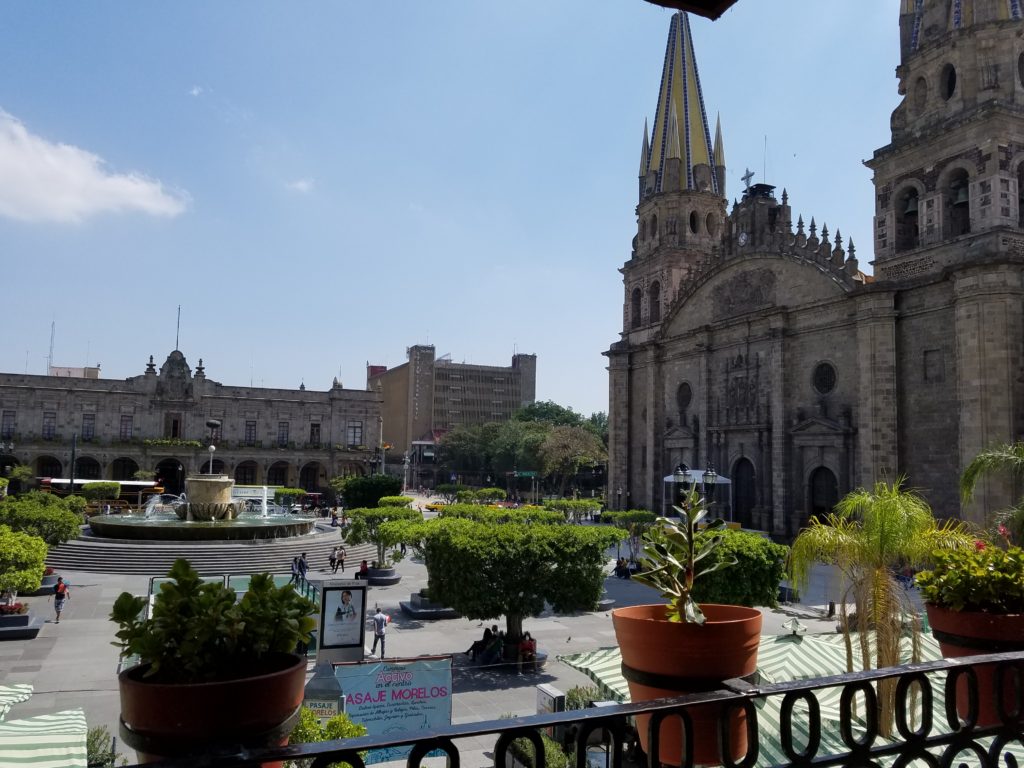 GUADALAJARA HISTORICAL CENTER
Guadalajara's historical center is spread out across many kilometers and many commercial businesses. Graffiti is everywhere, even on old buildings with beautiful architectural highlights. It's definitely a bit more gritty than other Mexico cities we have visited.
The best way to see the sites in the historical center of Guadalajara is to take a walking tour. Wars, earthquakes, laws, and esteemed dignitaries all grace the Guadalajara's history. Having a guide to show you and tell you the stories behind the architecture is the best way to get to know Guadalajara.
Places You Cannot Miss in Guadalajara
Guadalajara Cathedral
The Guadalajara Cathedral is the centerpiece of the city. Construction lasted only 50 years between 1560-1610. Inside the cathedral, it might not be as elaborately decorated as other churches, but the architecture alone is something to behold.  in the Spanish Renaissance style. Art historians may notice that the twin spires are built in the Neo-Gothic style of the mid-19th century in contrast to the rest of the cathedrals' Spanish Renaissance style of the 16th century. An earthquake in 1818 decimated the original towers.
Hospicio Cabañas (Museo Cabañas)
Another jewel for art historians is the Hospicio Cabañas. Originally built as an orphanage in 1810, it's also been a war headquarters during the War of Independence (1810-1821). Neo-classical design, Doric columns, and 57 murals painted by the artist José Clemente Orozco are just some of the highlights of this historical monument. Orozco's "Man on Fire" (Hombre de Fuego) is powerful and a bit disturbing. It's best viewed lying on one of the benches below (if it's not busy). The Hospicio Cabañas displays many different traveling art exhibitions throughout the year.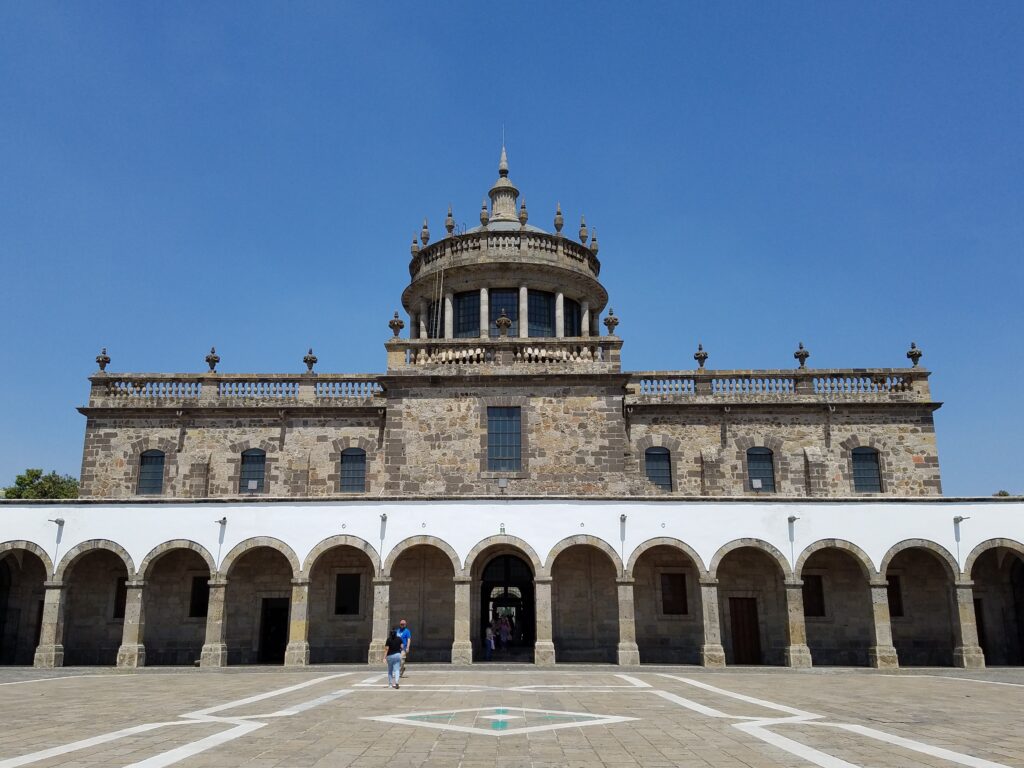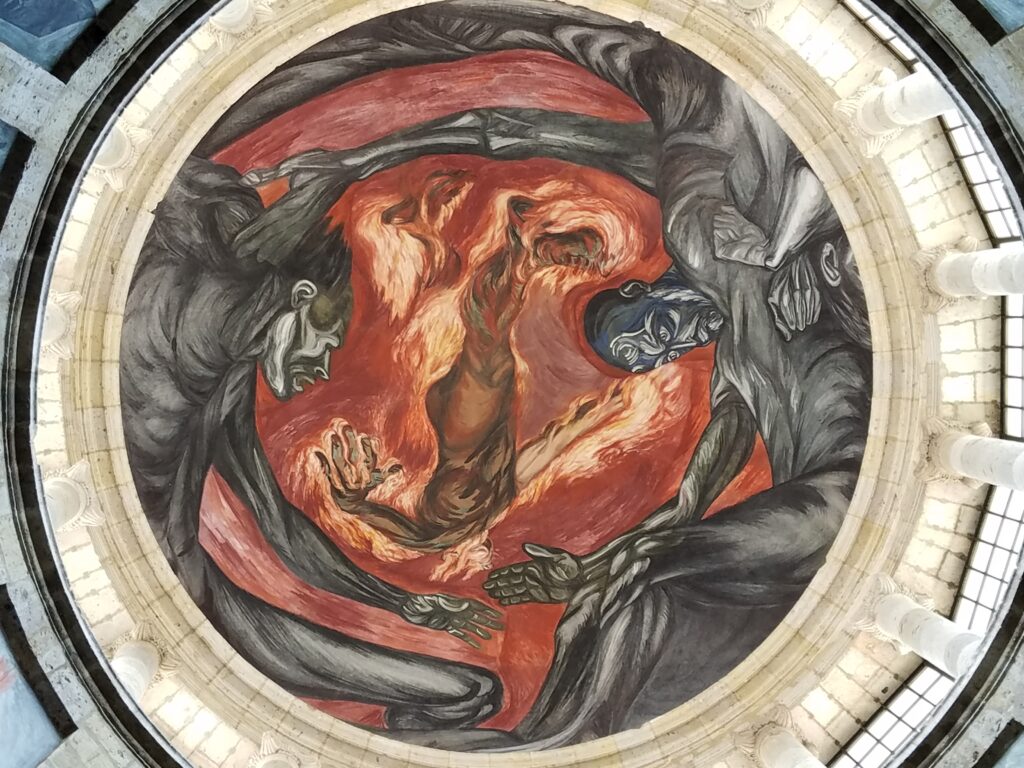 Teatro Degallado
Another fine example of neo-classical architecture is the Teatro Degallado. Though it was constructed in the late 1860s, the theater has undergone many enhancements and restorations. You could easily spend half a day just admiring all the murals, sculptures, Corinthian columns, and the bronze relief of the Founders of Guadalajara, or take this tour to visit the theater and the pueblo magico Tlaquepaque.
Movie Trivia
Film director Guillermo del Toro who directed such films as Hellboy, The Shape of Water, and the 2022 animation Pinocchio was born in Guadalajara.
Other Sights to See in Guadalajara
Other notable sites to see are the Rotonda de los Jaliscienses Ilustres commemorating the state of Jalisco's artists, musicians, and historical leaders, the archeological exhibits at the Regional Museum of Guadalajara, the fountain in front of the Guadalajara Cathedral, and Plaza de Armas with its ornate bandstand in the center, flanked by the State of Jalisco Government Building with more murals by Orozco inside. If you enjoy seeing different churches, visit Templo Expiatorio del Santísimo Sacramento for its stained glass windows and Italian mosiacs, and the ornate altar in Los Dos Templos.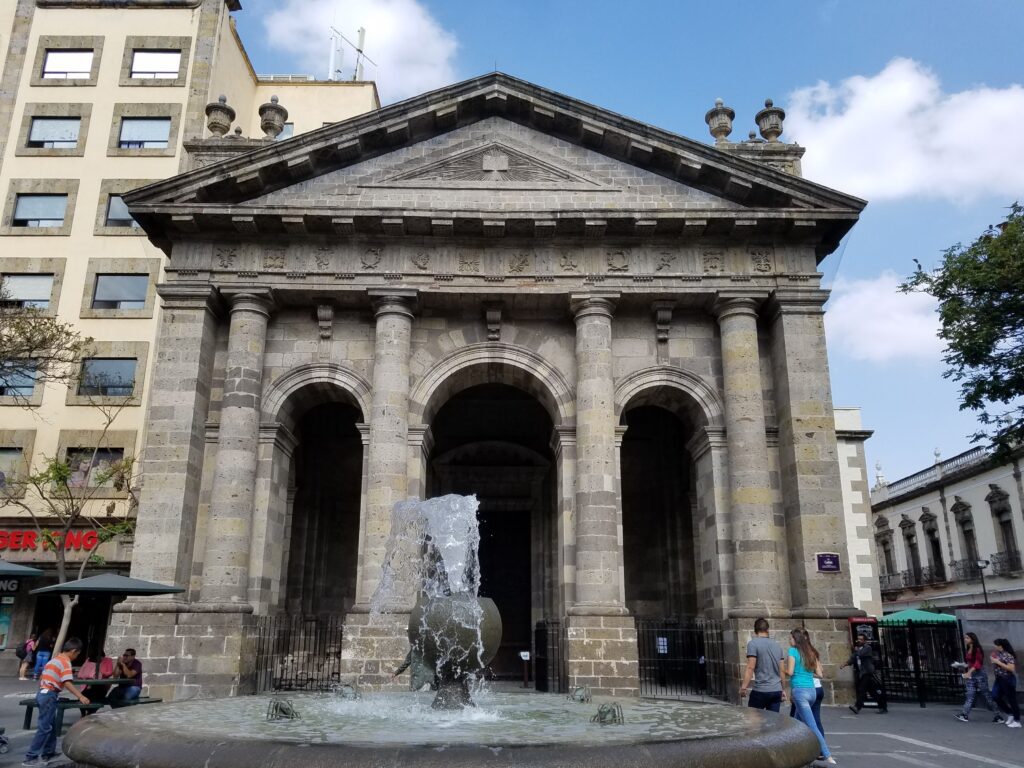 Mercado Libertad – San Juan de Dios
This indoor market sells anything you need or can think of! Spread out on three different levels, you can find all kinds of fruits and vegetables, clothing, electronics, tools, you name it, it's here. Try the torta ahomados, a sandwich with pork or beef, cheese, and drowned in a spicy sauce. It's messy, but delicious!
For the best restaurants in Guadalajara, check out our post: Best Restaurants in Guadalajara.
Guadalajara Zoo
The Guadalajara zoo, one of the largest zoos in Latin America, is just 15 minutes away from Centro by Uber. Take the aerial tram to see the entire zoo from above, and the safari ride to get up close and personal with giraffes and roaming African wildlife.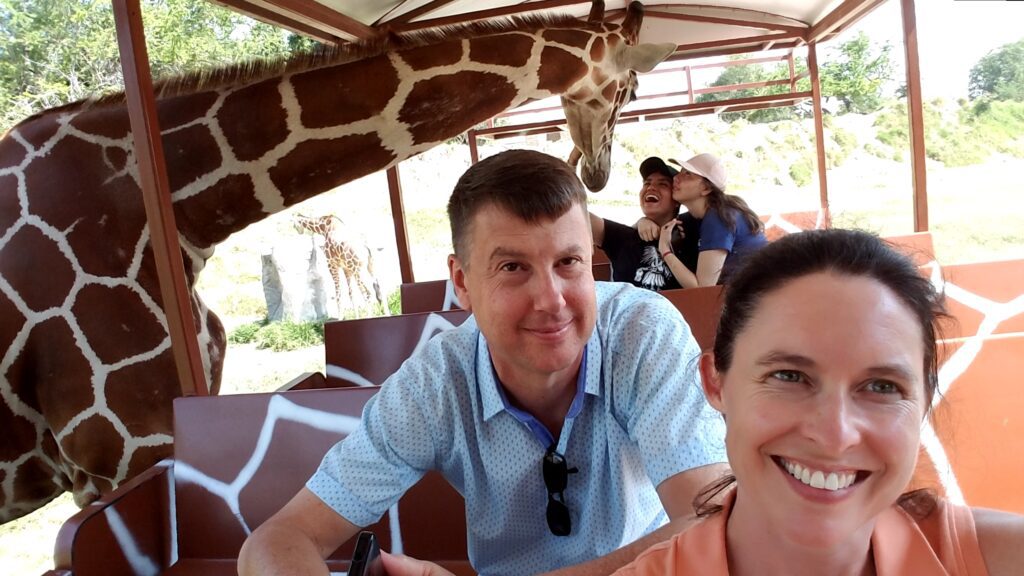 NEIGHBORHOODS
The neighborhoods of Guadalajara are as eclectic as their architecture. These three neighborhoods are just 10-20 minutes outside the historical area and are worth a visit even if it's just for a certain restaurant.
Lafayette
This small area has very unique mini-mansions, great restaurants like Hueso, and is near the Paseo Chapultepec, a street filled with bars and restaurants for people who enjoy an active nightlife. The US Embassy is a good landmark for choosing hotels in this area.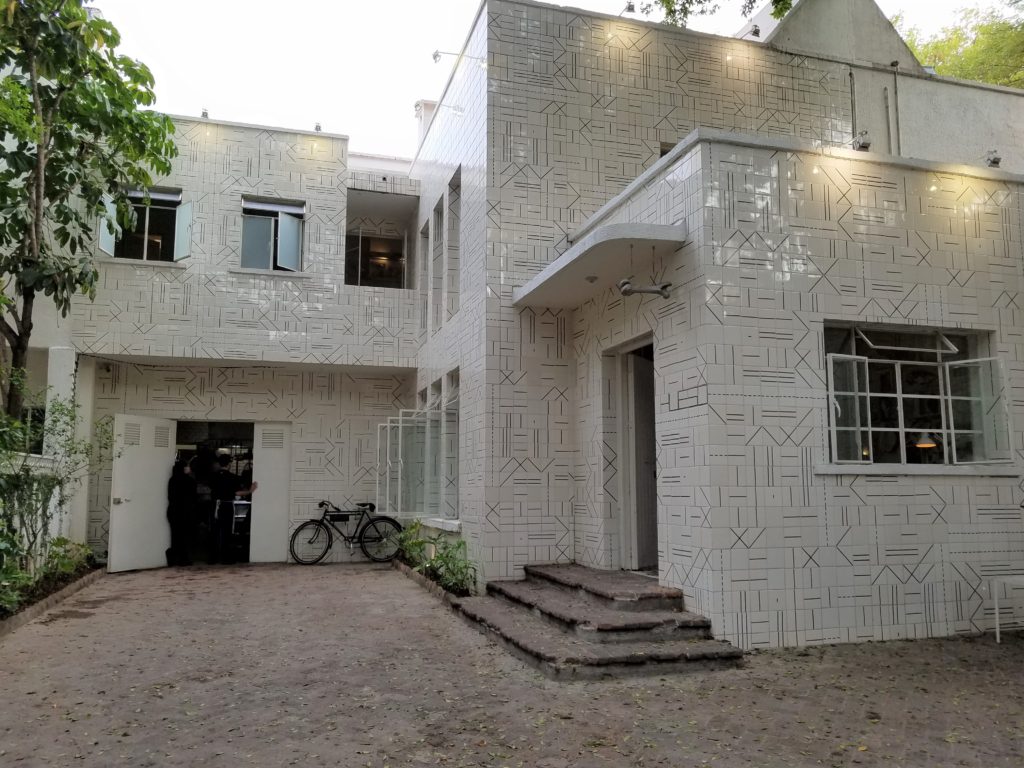 Providencia
Providencia is a wealthy neighborhood that's in between the Guadalajara Country Club and Bosque Los Colomos, a huge nature preserve and recreational area with running paths and hiking trails. The Japanese Garden is a popular place for meditation and quinceanera photos. Shopping centers and fine dining restaurants are nearby in Plaza Patria.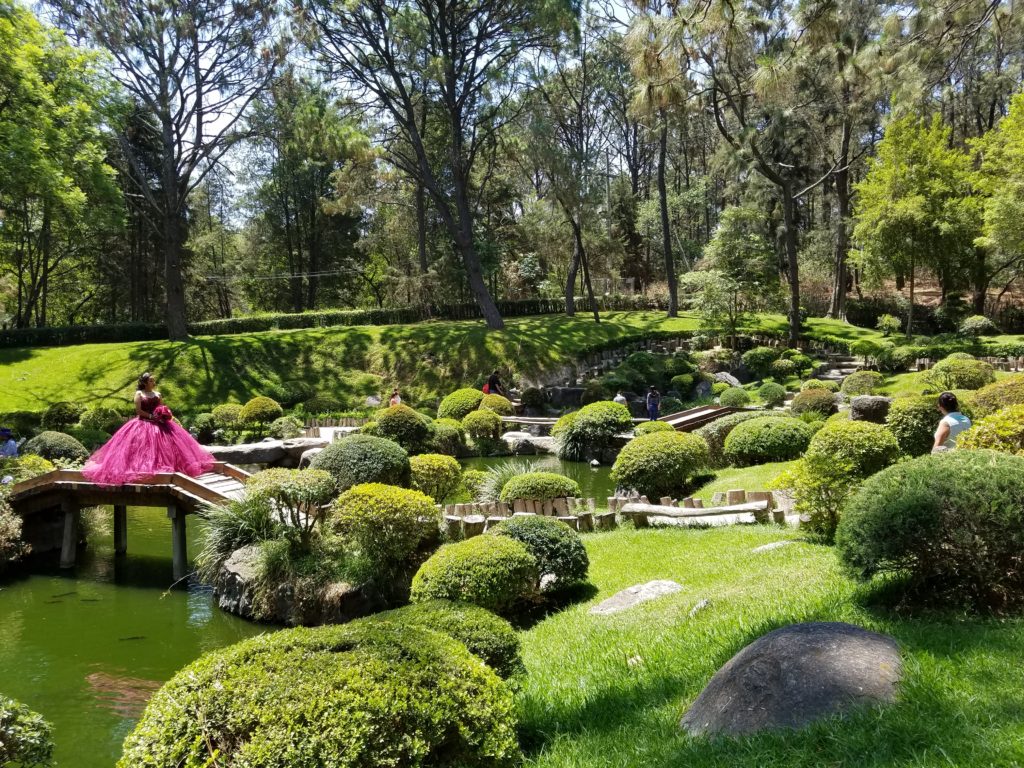 Tlaquepaque and Tonala
Tlaquepaque is an artisan town between the airport and the historical area of Guadalajara. Cobbled streets, mission churches, and a market you can lose yourself in are all part of the charm. Small hotels and B&Bs are more common here but check to see if they have air conditioning if you can't stand the heat.
Tonala is to the east of Guadalajara and is famous for its pottery. Market days are Thursday and Sunday where you can find all kinds of different handcrafts and souvenirs to take home.

Other Towns Nearby
Guadalajara is a good jumping-off point for day trips to pueblos magicos. Spend a relaxing day in Ajijic on Lake Chapala or see how Tequila is made in the town of Tequila. Do you have extra days in Guadalajara? Rent a car and spend a week exploring the villages of Chapala, San Antonio Tlayacapan, Ajijic, San Juan Cosala, and Jocopetec on Mexico's largest freshwater lake, Lake Chapala.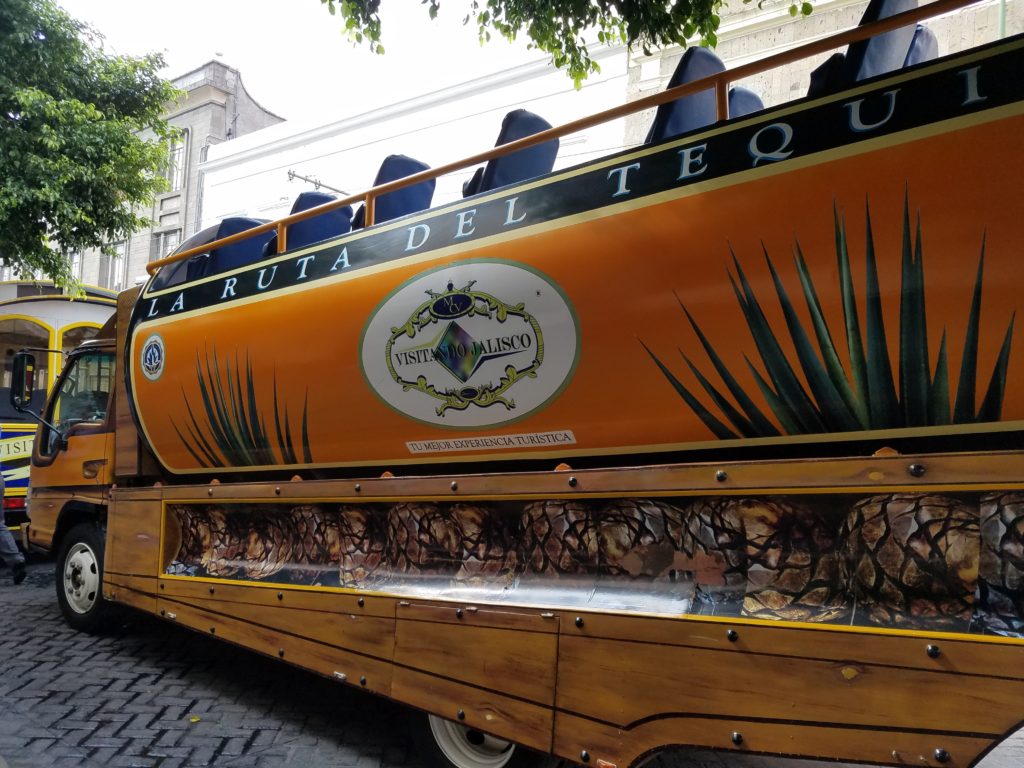 If the beach is more your thing, Puerta Vallarta, Punta Mita, and Sayulita are just a 4.5-hour drive west of Guadalajara. If you prefer not to drive through the mountains, buses are available or you can fly. The airport is well organized, and plenty of low-fare inter-country flights can get you there quicker without the stress of Mexican driving.
Where to Stay in Guadalajara
Centro may seem like the perfect place to stay in Guadalajara, but you really have to do some research. Boutique hotels may seem charming, but air conditioning may not work as well as you expect it to. I'd recommend staying in a more modern place such as Hotel Dali Plaza Ejecutivo located a short walk from everything and great views of the cathedral.
We stayed in Centro for two nights and in Providencia for two nights at the AC Marriott to be closer to Bosque Los Colomos and La Docena Oyster Bar and Grill.
In all, Guadalajara has its pros and cons like any city. The historical monuments are very impressive, and it's a great gateway to other lesser-traveled destinations in the state of Jalisco. We will visit again to explore other areas, maybe even do a road trip to Puerta Vallarta.
Like this post? Save it to Pinterest!