Artistic Expressions in San Miguel de Allende
For over 70 years, San Miguel de Allende has well been known as an artisan community and expat haven. Travel & Leisure has named it the Best City in the World in 2017 and 2018 and we can see why. Cobblestone streets, multi-colored buildings, a culinary scene that ranges from street food to fine dining, and exquisite art give San Miguel that real Mexican charm that people desire. With a yearly writer's workshop and more art classes than you can fit in your schedule, San Miguel de Allende is the perfect place for art lovers.
A Bit of History
Back in the 1930s, Stirling Dickinson, an American artist and writer, and Felipe Cossio del Pomar, a Peruvian author and painter wanted to create an artist colony in the heart of Mexico.
Pairing the advertising genius of Dickinson with the political contacts of Cossio del Pomar, San Miguel de Allende became a well-known sought-after artist retreat. After WWII, U.S. veterans were permitted to study abroad under the G.I. Bill and flocked to this tiny town.
Even today, without an airport to support the influx of tourists, San Miguel de Allende is a destination to be experienced. San Miguel retains most of its charm with cobblestone streets and haciendas transformed into boutique hotels, restaurants or art galleries. The art and architecture of the colorful streets of San Miguel de Allende are mesmerizing and sometimes overwhelming. Here's what not to miss when visiting San Miguel.
Disclosure: Some of the links below are affiliate links which means we will receive a small commission when you make a purchase at no additional cost to you.
Galleries
With 153 art galleries in San Miguel you are bound to find something you love. The city is best enjoyed by walking, and this gives you the perfect opportunity to window shop or peek into courtyards of many San Miguel galleries. Since art is relative to each person, I will just say there are some interesting one-artist galleries around town with exceptional artwork, and some not so much. Don't judge a gallery by the doorway. Many shops and galleries are housed in narrow buildings with a maze of small rooms that go back several feet. It's best to walk into a place to see all that they offer.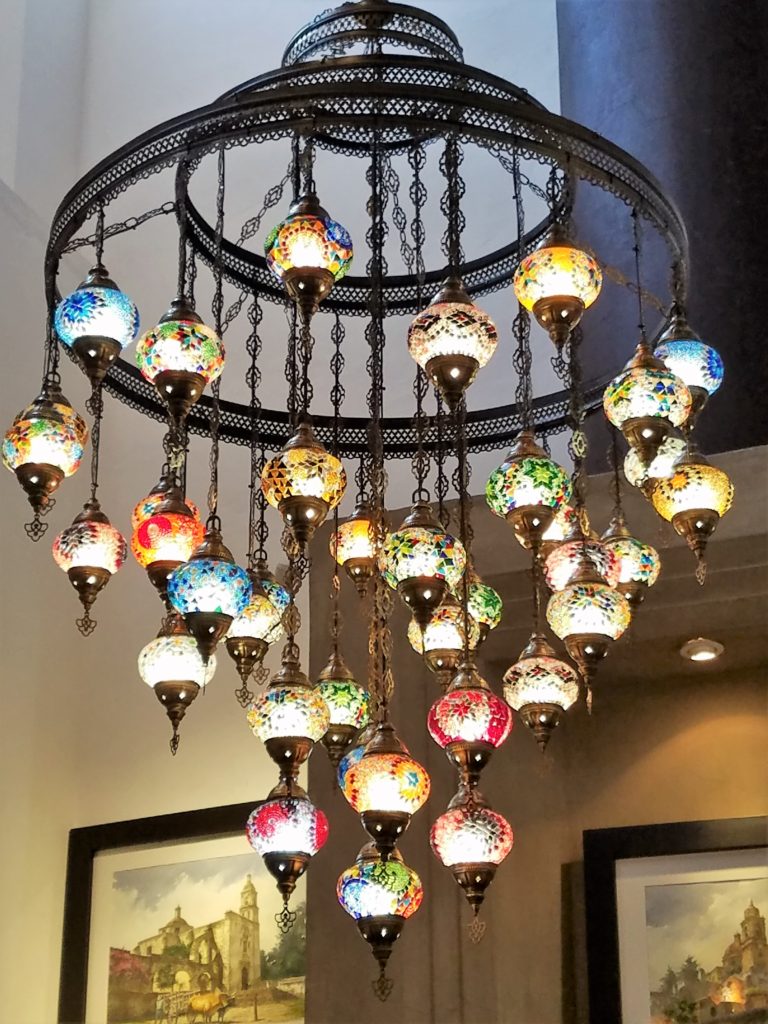 Street Art in Guadalupe and San Antonio
Calle Hidalgo leads away from the Parroquia (pink church), past many expat restaurants to Fabrica La Aurora. Along this street, you'll discover "free" art for that awesome selfie. To your left will be a concentration of San Miguel street art in the neighborhood Guadalupe. Each year there is a #MurosenBlanco Festival where local and international graffiti artists come and beautify the neighborhood with colorful artistic interpretations.
Another neighborhood that has become "the place" for street art is the neighborhood of San Antonio located across from the street from Heche en Mexico restaurant. More than 100 murals can be seen around town. Take a few hours and wander the streets to find as many as you can or join a San Miguel street art mural tour that know where all the murals are hidden.
This mural is my favorite because it incorporates many cultural images of Mexico such as the Maria dolls, Day of the Dead and Lucha Libre masked wrestlers.
More to See in Guadalupe
Whether you take a street tour or just wander around yourself, the neighborhood of Guadalupe is quirky and tranquillo. Colorful houses line the streets, some with unique decor. Small restaurants serve delicious local and international foods, pizza being the most popular. This is an area that has been transformed by the artwork and deserves a few hours of exploration.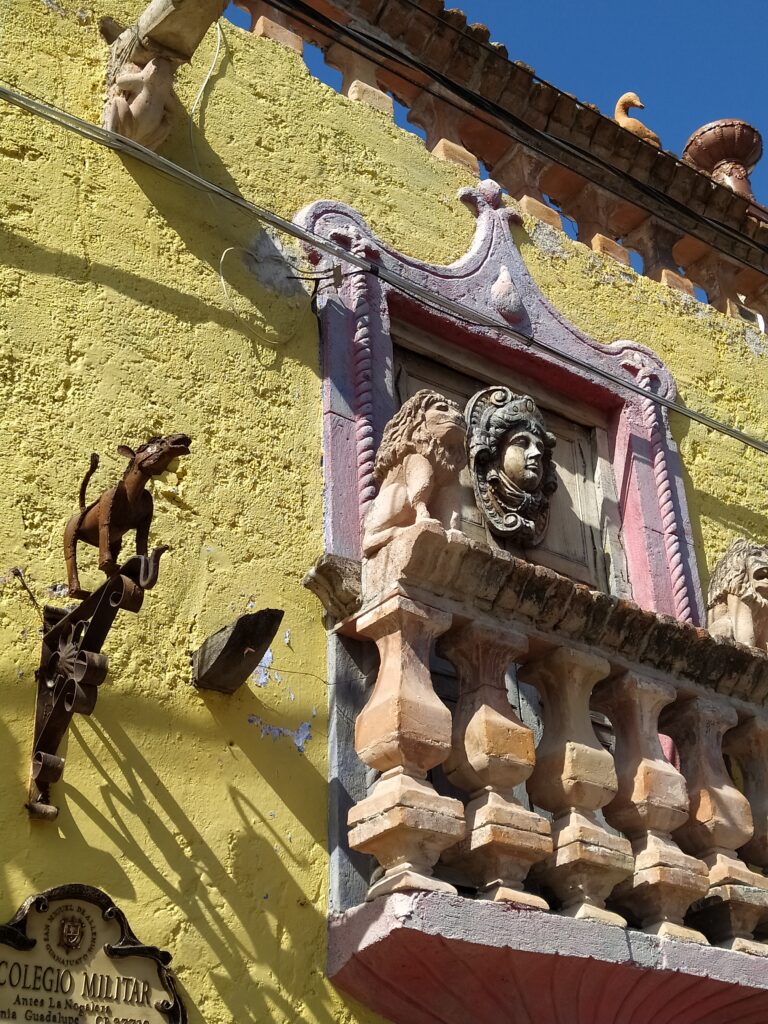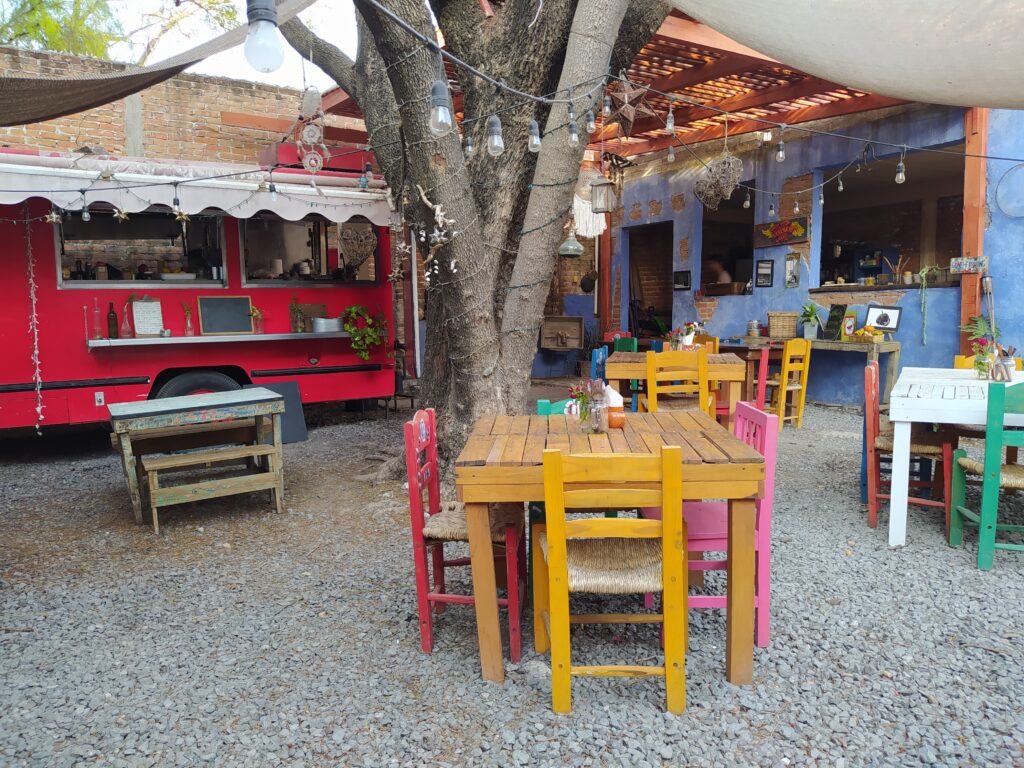 More to See in San Antonio Neighborhood
View the street murals between Calle Stirling Dickinson (Hotel Real de Minas is on the corner) and Calle Orizaba. This neighborhood is becoming popular with expats and you can find a number of Airbnbs to stay in. Neighborhood cafes, mercados and small restaurants are scattered within San Antonio including the San Miguel Expat Community Resource Center should you decide to live here more permanently.
Fabrica La Aurora
Continue walking down Calle Hidalgo, you'll cross the river and see the entrance to Fabrica La Aurora. Once a textile mill, today it is a collection of art galleries, shops and studios. Prices are much higher here, but it's worth a visit just to admire large scale paintings, glass sculptures and light works. Some of the artists are known internationally like one of our favorites, Moyshen M.
Special note: The first Saturday of every month, Fabrica la Aurora hosts an "Art Walk". All the galleries are open and sometimes the artist is there to talk face-to-face. It's a wonderful time to meet people, hang out with friends and enjoy the beautiful artwork.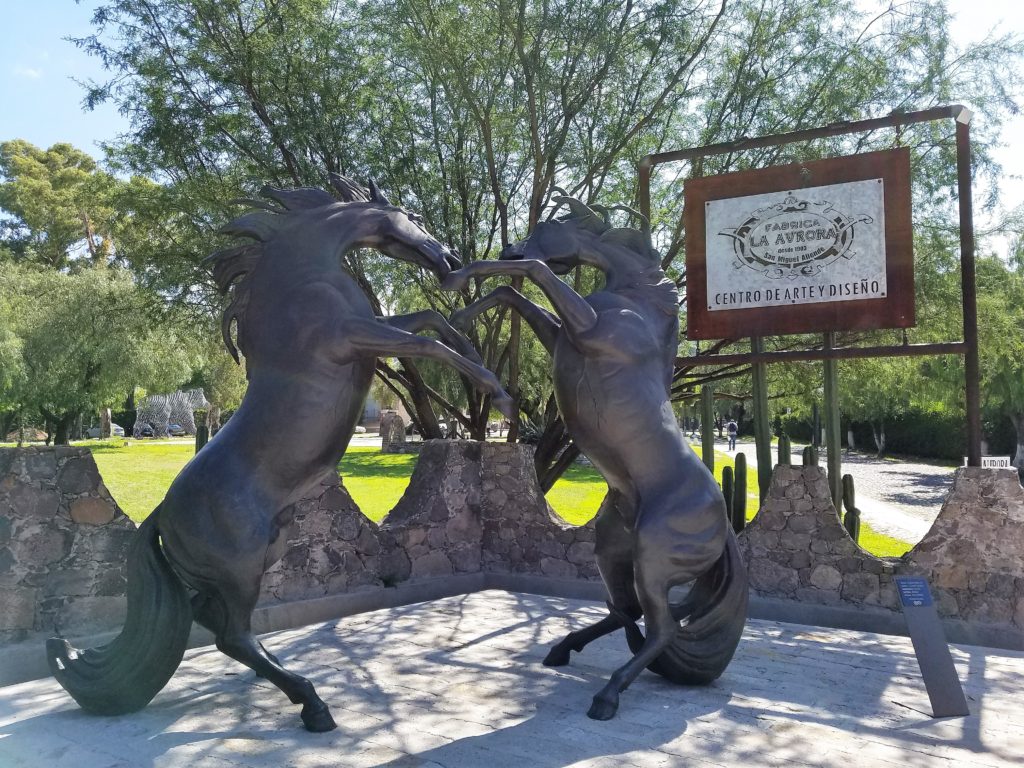 Cultural Center Ignacio Ramirez also known as Bellas Artes
The Bellas Artes as it's fondly called is named after Ignacio Ramirez, a prominent writer, poet, journalist, lawyer, and defender of education for women and the indigenous Indians. I find it amusing that the cultural center, library and many other buildings dedicated to the arts and history are named after him because he was an atheist in a predominately Catholic country. The cultural center is an ex-convent known as the Convent of the Immaculate Conception. Originally constructed in the mid-1700s, today it offers classes in its cloister rooms in music, loom-weaving, pottery, painting and many other arts.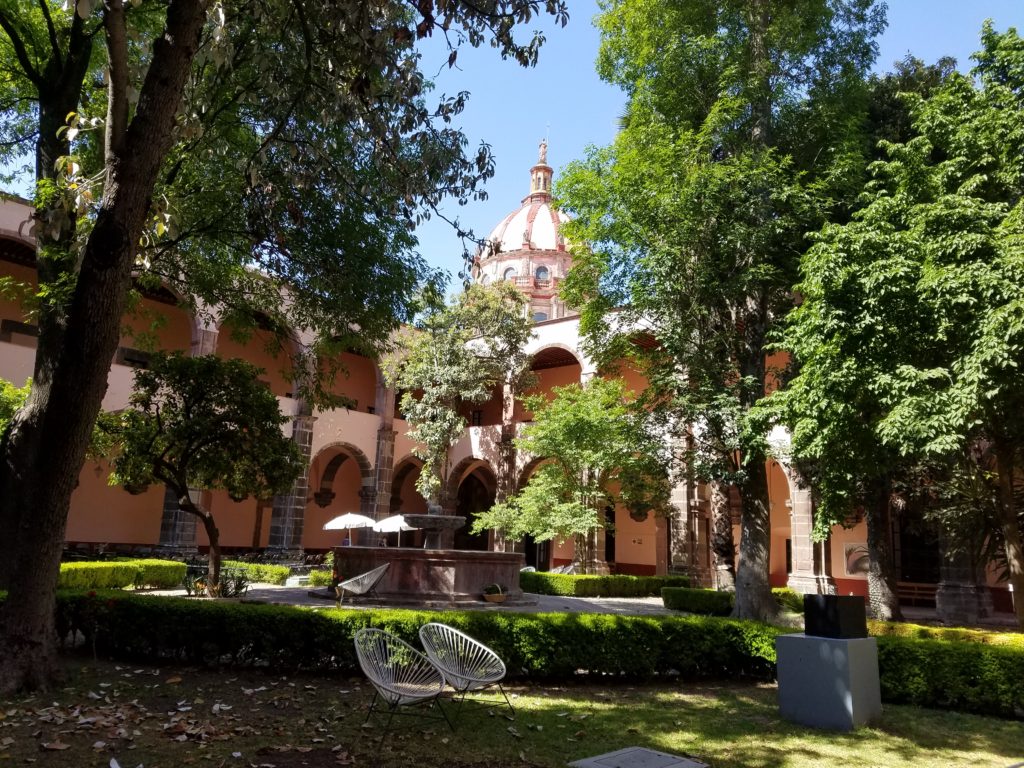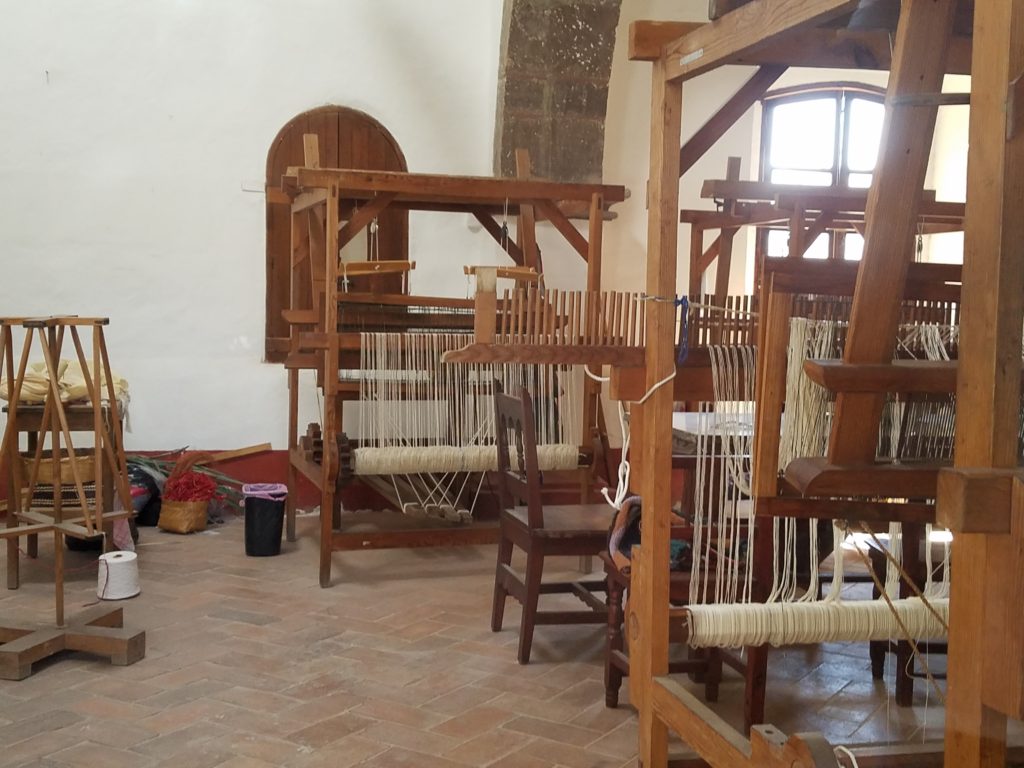 Instituto Allende
The Instituto Allende is a visual arts school associated with the University of Guanajuato. It offers Bachelor and Master degrees in the Arts. It's a beautiful building and worth a visit.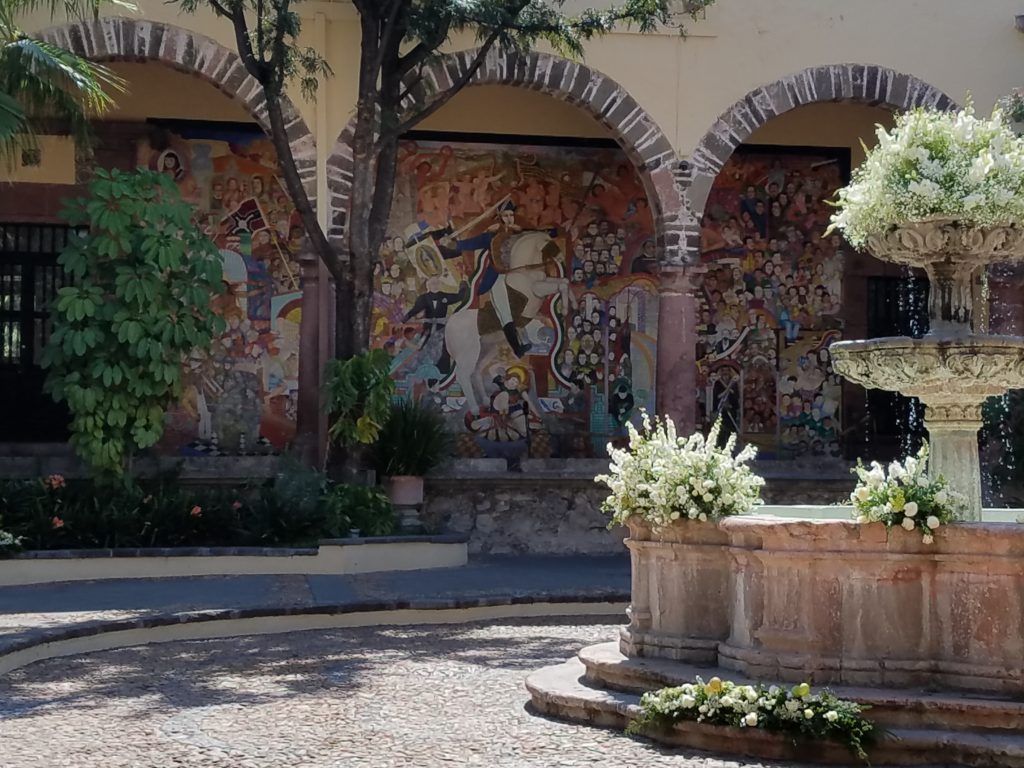 Instituto Allende Courtyard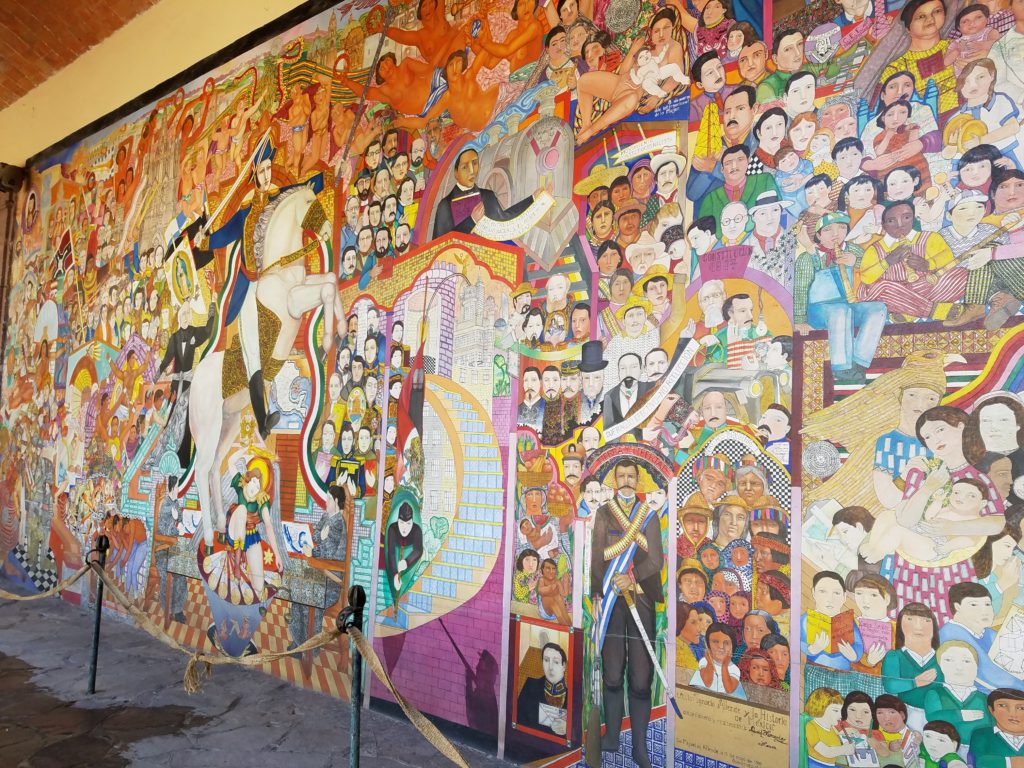 Juarez Park
On the weekends you'll find many painters and artisans line the outer pathways of Benito Juarez Park with their works of art. Some are drawings, others are large oil paintings. Sometimes you can find crafts, leather goods, body creams and local honey vendors as well. The park is a nice green oasis, mostly shaded, south of the Centro Historico.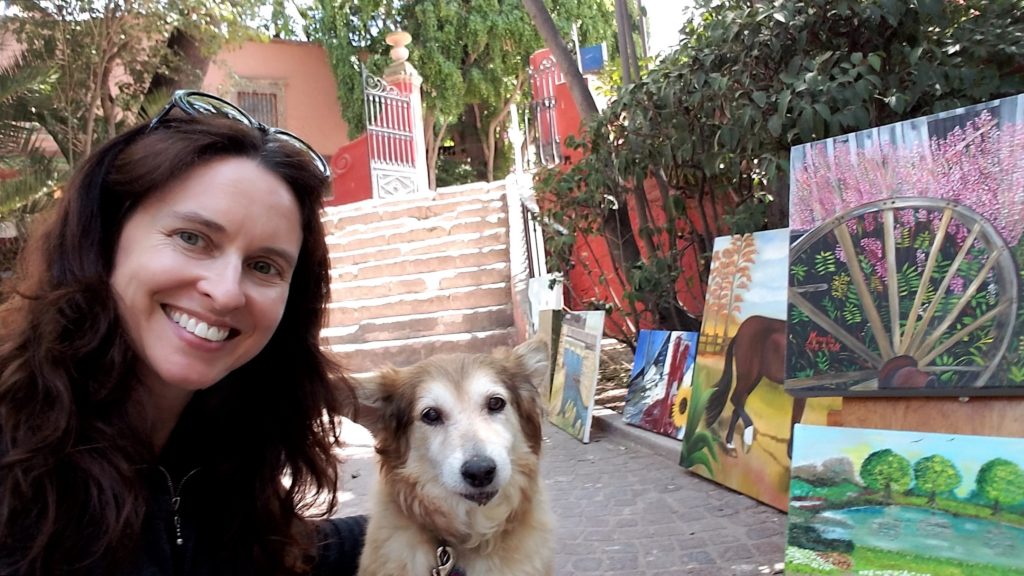 Check out our hotel review of Casaliza Hotel Boutique near Juarez Park.
The Little Details
Art in San Miguel de Allende is not restricted to just galleries. Walking the streets of Centro you will encounter carved wooden doors, statues, fountains in courtyards and creative doorknobs. Sidewalks are narrow and the cobblestone streets are ankle breakers, but always have a camera on hand. You never know what artistic treasure you may find. If you are into photography, you might be interested in the Photography and Workshop Tour in San Miguel de Allende.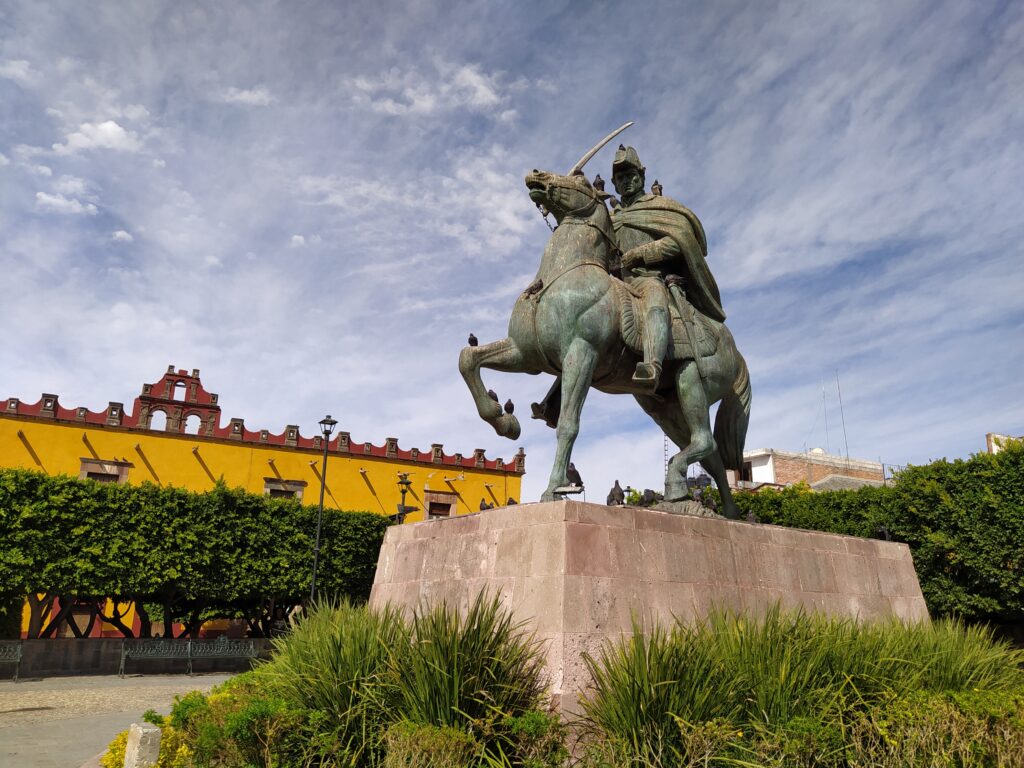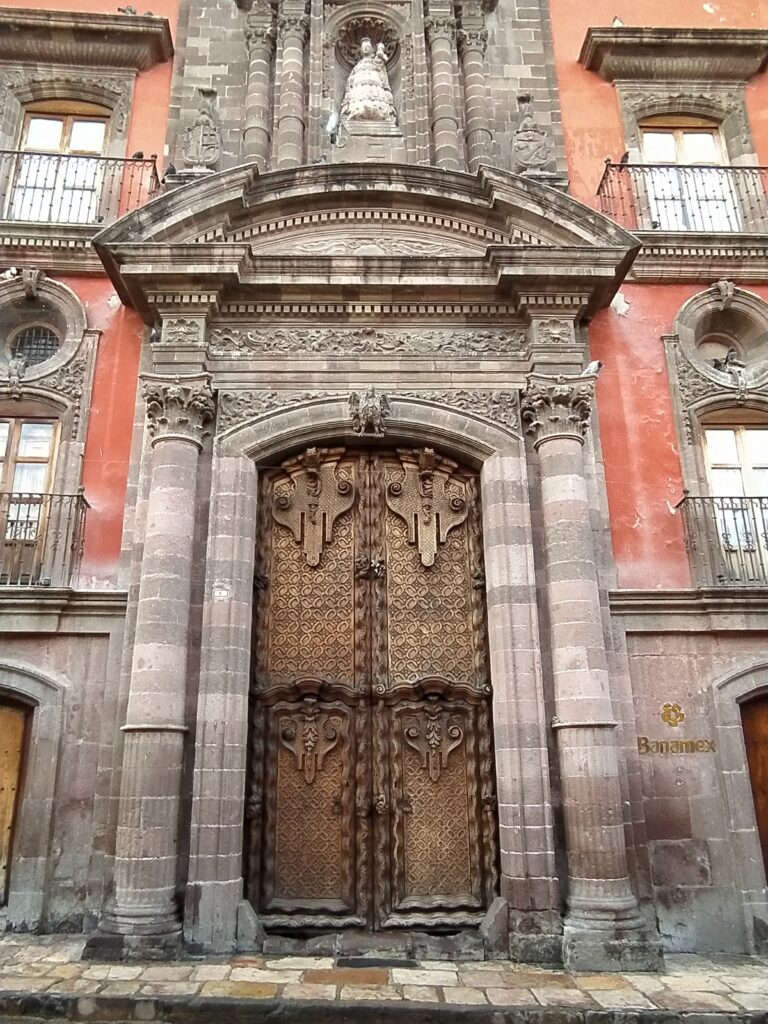 Explore Mexican traditions with these activities: 
For Original Art Souvenirs:
Artisanal Markets
Artisan markets are everywhere in San Miguel, but the largest is connected to Mercado Ignacio Ramirez. You can enter from Calle Colegio for produce, meats, food vendors and some artisan crafts. The San Miguel de Allende Arts and Snacks Walking Tour will walk you through the market for tastings and shopping plus a visit to the many galleries in Fabrica de Aurora.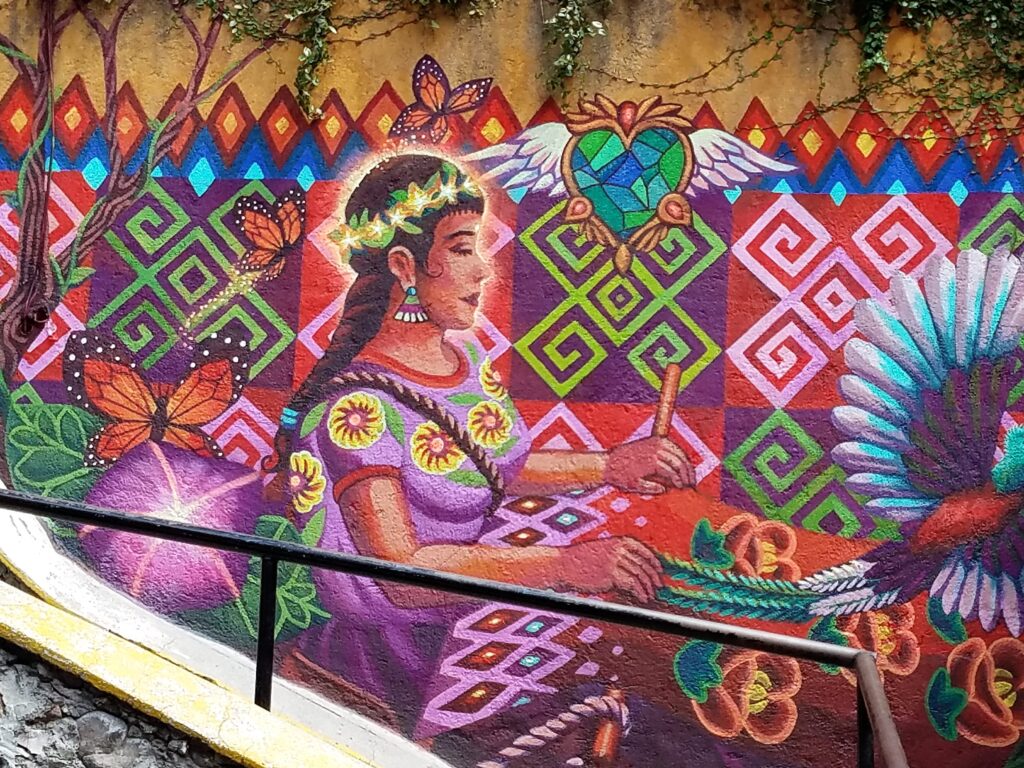 Or you can enter from Calle Hidalgo where a street art painting of an indigenous woman marks the way.This entrance has more handcrafted jewelry, paintings on leather, clothing, metalwork, glassware and ceramics.  Prices are reasonable and the craftsmanship is extraordinary.
SHOPS
Abrazos
If you like loud and colorful clothing, then visit the design shop Abrazos. Tom loves the shirts here. On our last visit he bought a Mexican shirt with wrestlers on it and skulls with roses. Other items we've bought are a Calendar Girl tortilla warmer and napkins with more traditional artwork. They have rolls and rolls of weird and vibrant fabric prints. If you want something really unique, they can make you a dress for around $100.
Abrazos Is located on Calle Zacateros. Many other fine clothing stores and galleries are on this street, so it's worth a stroll.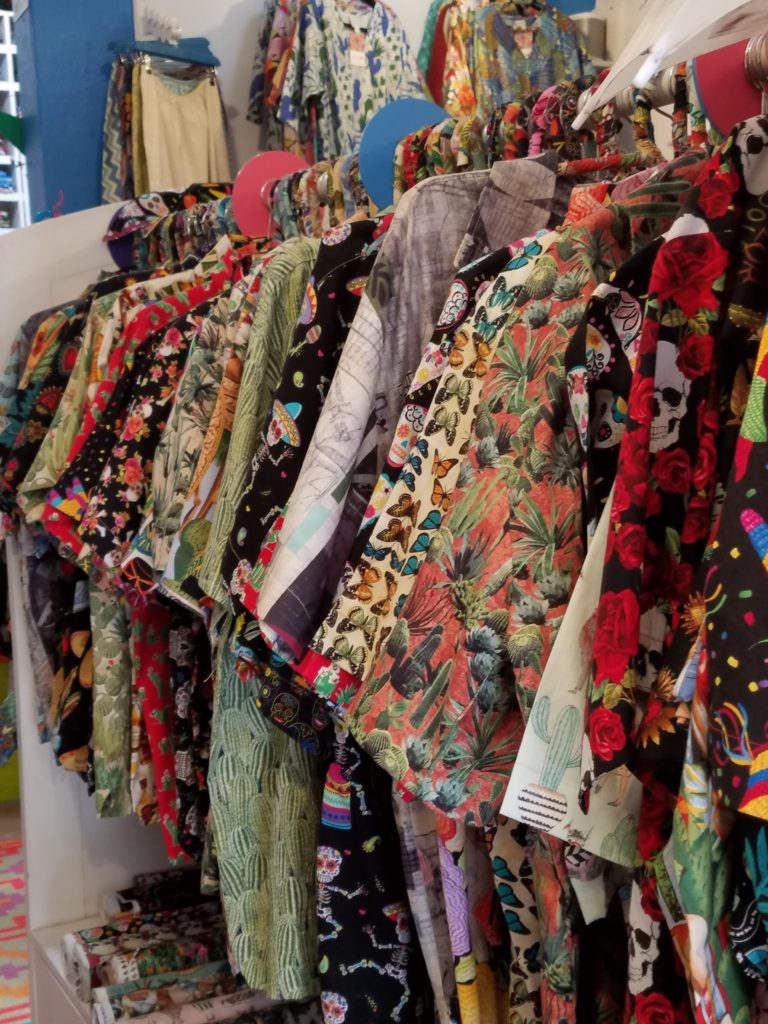 Unique Street Encounters
There a good chance you will see indigenous women selling Maria dolls between the Parroquia and the mercado. You may also bump into the Mojigangas, stilt walkers with large paper mache heads dressed in Spanish colonial dresses.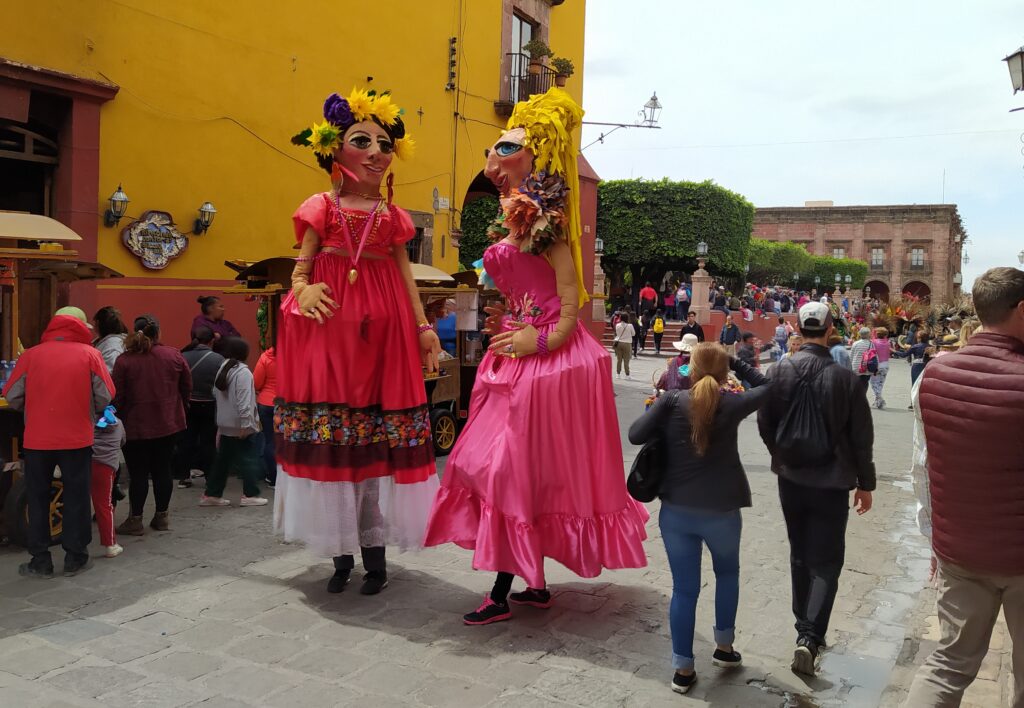 Festivals
If there is a festival to celebrate, there's a good chance a parade will wind its way through San Miguel de Allende. Dia de los Locos in June, Independence Day in September, Day of the Dead in November, and Christmas posadas are just some of the holidays where you will encounter parades.
On the first Friday of March is a unique day honoring the integration of the indigenous culture with Catholicism. The Conchero Dancers first visit the Parroquia for a blessing and prayer before filling the streets stomping to the rhythm of the drums. Dressed in bright colorful costumes or animal prints with feather headresses and noisy seed pods on their ankles, these pre-Hispanic Mexican dancers are a sight to be seen.
Check out our Instagram feed to see the video.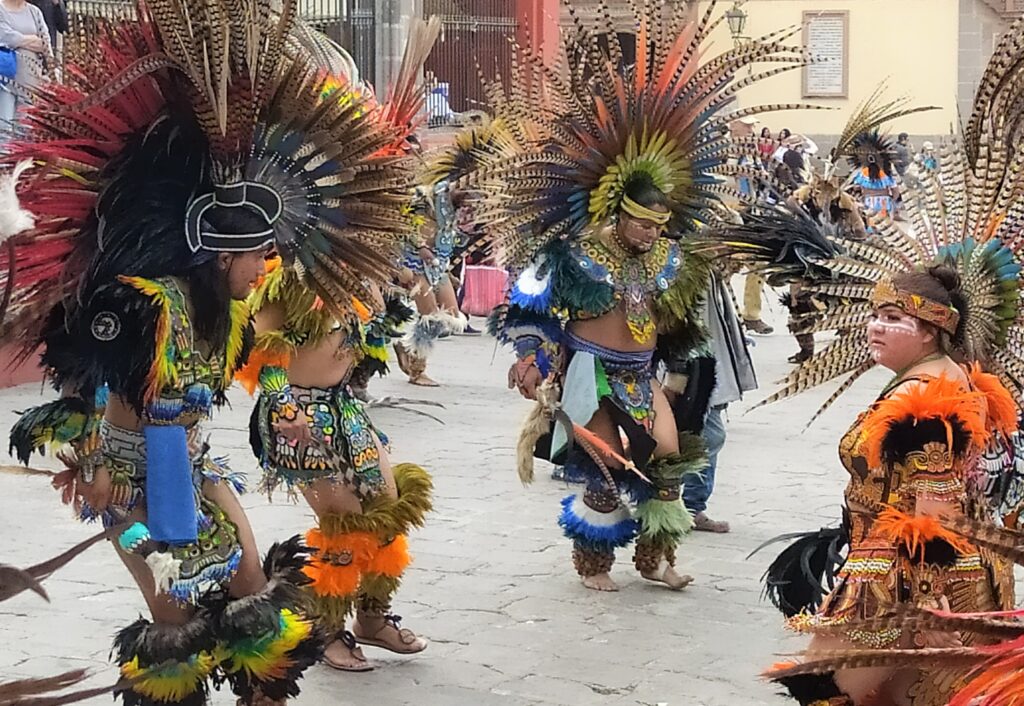 Festivals extend beyond Centro out into the country where the city is surrounded by wineries. Celebrate wine at a vendemia (wine harvest festival) in August or September or at one of the many festivals throughout the year. Even when there isn't a wine festival, wine is definitely something to celebrate! Relax and spend a day in the country tasting fantastic wines on a San Miguel Wine Lover's Tour by Heart of Mexico Wine Tours.
Colorful Moments in San Miguel de Allende
Artistic expression is the heart of San Miguel de Allende. You see it in the dresses of the indigenous women and the architecture of the haciendas. The beauty of this city is in the fine details. Paris may have the Eiffel Tower, and Rome may have the Colosseum, but San Miguel is an attraction all on its own.
Travel Planning? Save this to Pinterest!
For more on San Miguel de Allende, check out these posts: