The Best Chocolate In Under The Radar Places
What started out as a travel memoir of the best chocolate from our recent European trip, quickly became a list of delicious chocolate concoctions from our travels around the world over the past decade. First created in the Mesoamerican landscape of Mexico and Central America, the "Drink of the Gods" morphed from a bitter drink to the sweet candies of today in a matter of a few short centuries.
If I asked you who has the world's best chocolate, Belgium, France and Switzerland would probably be near the top of your list. While many countries have fantastic chocolate shops, this travelogue focuses on some unique restaurants and cafes within Mexico, Spain, Sicily, Malta and Peru. These countries are more known for their specialties of tequila, wine, pistachios, culture and natural wonders respectively, but they also have long histories in making chocolate.
This is not an all-inclusive list by any means, but I hope it inspires you to explore lesser known regions and under the radar places for their extraordinary gifts of chocolate to the foodie culture. I've also included a few places on where to stay based on their fantastic location to landmarks and restaurants. While I do not encourage you to travel now while the results of the coronavirus are still uncertain, I do hope you continue to learn more about destinations you are interested in.
Disclosure: Some links may be affiliate links where we receive a super-small commission at no additional cost to you if you click through and make a purchase. We call this our Chocolate & Churro Fund.
A BRIEF HISTORY OF CHOCOLATE
Mesoamericans have been cultivating the cacao plant for centuries. Archeologists have discovered that the people of Central and South America have been creating a chocolate concoction as early as 1900 BC. We credit the Mayans as the first to create a drink from the cacao, but it was the Aztecs that gave us our foundation for the chocolate name in the Nahuatl language: xocolātl (sho-KO-la-tol).
Mayans drank the bitter drink hot, while the Aztecs enjoyed it cold. Both cultures roasted the beans, added water, vanilla, chilis and cornmeal and transferred the mixture back and forth between two pots to create a foam on top. You can still taste something very similar to this ancient drink called a chilate. In the Southern Mexican states of Oaxaca or Guerrero it is served cold, while in El Salvador it is served hot.
Chocolate was introduced to Europe in the 16th century. The Europeans at first used it as a medicinal drink for stomach ailments, but once they sweetened it with honey, sugar and milk, chocolate spread like wildfire as the preferred drink of royalty and commoners alike. In the mid-1800s alkaline salts were introduced to reduce the bitterness and chocolate was heated and cooled into molds to create whimsical candies.
Fun Fact: The Americas introduced chocolate to the world, but today Western Africa and Indonesia supply 2/3 of the world's chocolate.
MEXICO
Café Don Porfirio on top of Sears Tower, Mexico City
For a chile infused hot chocolate and one of the best views in Mexico City, head to this café on the 8th floor of Sears. Café Don Porfirio serves coffees, pastries and hot chocolate the usual way and the Mexican way. Their Aztec chocolate drink is made with water instead of milk and has a nice spicy kick to it due to the chilies, cinnamon and other ingredients blended in.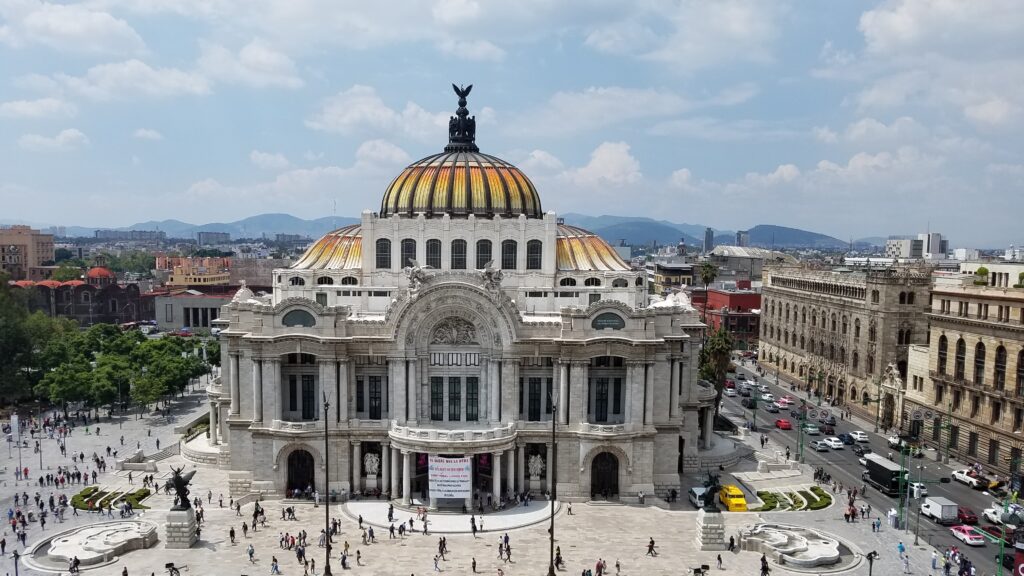 Where to stay: Hotel Zocalo Central is the perfect boutique hotel next to the Cathedral and a short walk to Templo Mayor and Bellas Artes.
El Moro, Mexico City
Chocolate and churros are made for each other, and El Moro is THE place to go for this winning combination. The churros are fresh and generously long for the price you pay. The hot chocolate is perfect for dipping, and for a little extra, you can get dark chocolate and cajeta side dips. El Moro has two locations in Polanco and several other locations throughout Mexico City.  The only El Moro location open 24 hours is near Bellas Artes.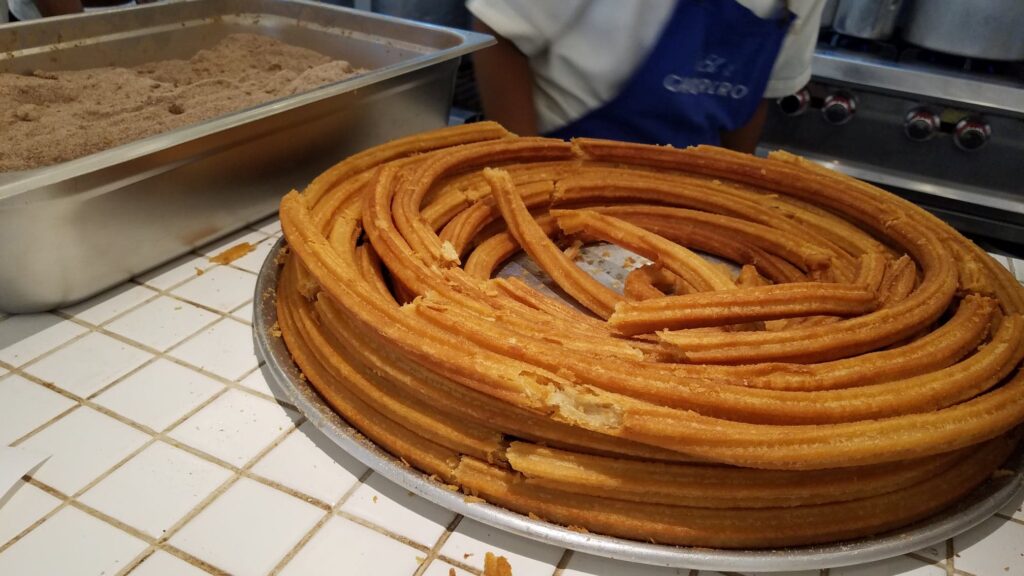 Where to stay: Pug Seal Boutique Hotels in Polanco. Pug Seal has four locations in Polanco all within walking distance to high-end shops, parks and a lively food scene including two of the world's best restaurants, Pujol and Quintonil.
Dichoso Cacao, Mexico City
Chocolate makes a great souvenir (if it even makes it home with you), and the best chocolate shop in Mexico City is Dichoso Cacao. They carry small grower chocolate made in the states of Tobasco and Chiapas, where the best chocolate in Mexico comes from. Grab a few bars made with with chocolate, coffee, and/or fruits. Cant' decide which one(s) to buy? They will give you small samples to try for free, plus they make a great hot chocolate.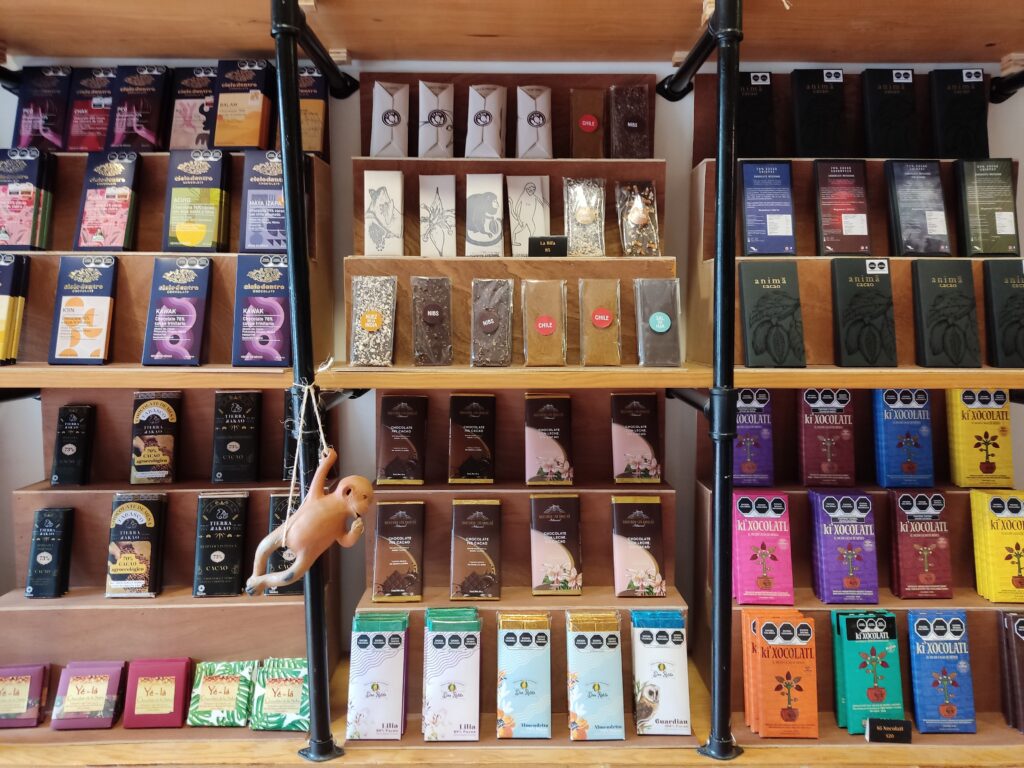 La Fabrica de Chocolate, Queretaro
In Queretaro, La Fabrica de Chocolate in Queretaro's Centro takes our love for chocolate and churros one step further. They have a three chocolate sample platter served with fresh churros. The sauces are different percentages of chocolate and flavors. During the summer, instead of the warm dipping sauces, they serve chocolate ice cream. My favorite is the tabasco-chocolate with chili spices.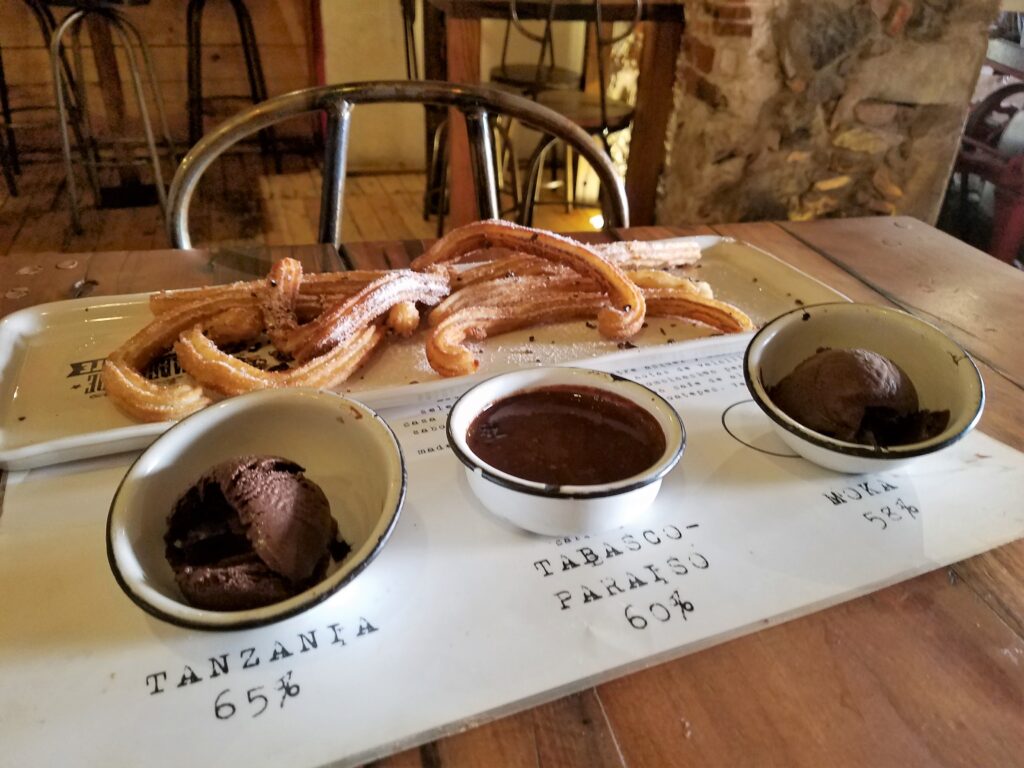 Where to stay: Casa de la Marquesa is a part of Queretaro's history. It's ideal location on a walking street and Moorish architecture make it one of the most luxurious hotels in Centro. Read about the love story that created this beautiful hacienda and the aqueduct of Queretaro here: Boutique Hotel La Casa de la Marquesa
Augurio, Puebla
Puebla's signature dish is mole poblano made with over 30 different ingredients including a generous helping of chocolate. For the best mole poblano, you need to go to Augurio. We taste-tested several moles while visiting Puebla, but the mole at Augurio was the best. Augurio's mole poblano is very chocolatey with a slow, warming chili spice element to it. Have you ever tasted something that makes you stop and savor the flavors and wanting that taste to last forever? This will do that to you.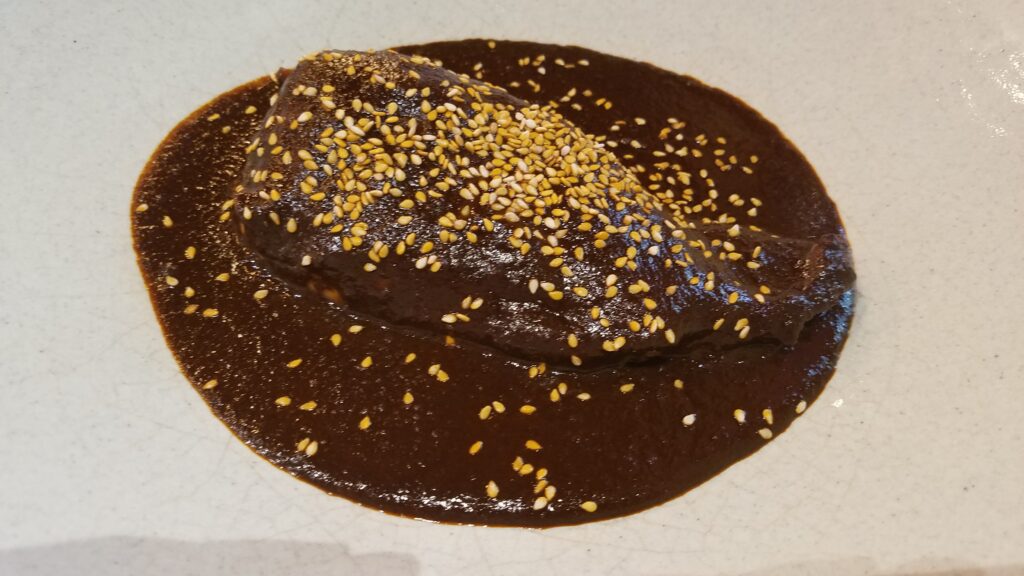 Where to stay: El Sueño Hotel & Spa is an 18th century hotel with spa and pool. It's a quiet part of Centro close to Museo Amparo, Los Sapos, the Zocalo and many of the best restaurants in Puebla.
SPAIN
Avila
Located mere steps from the Cathedral de Avila is a little café called Restaurant Alvaravea. Something about cold weather and hot chocolate make this drink even better. It's served thick and sticks to the ridges of the churros. We went back twice because it was so good!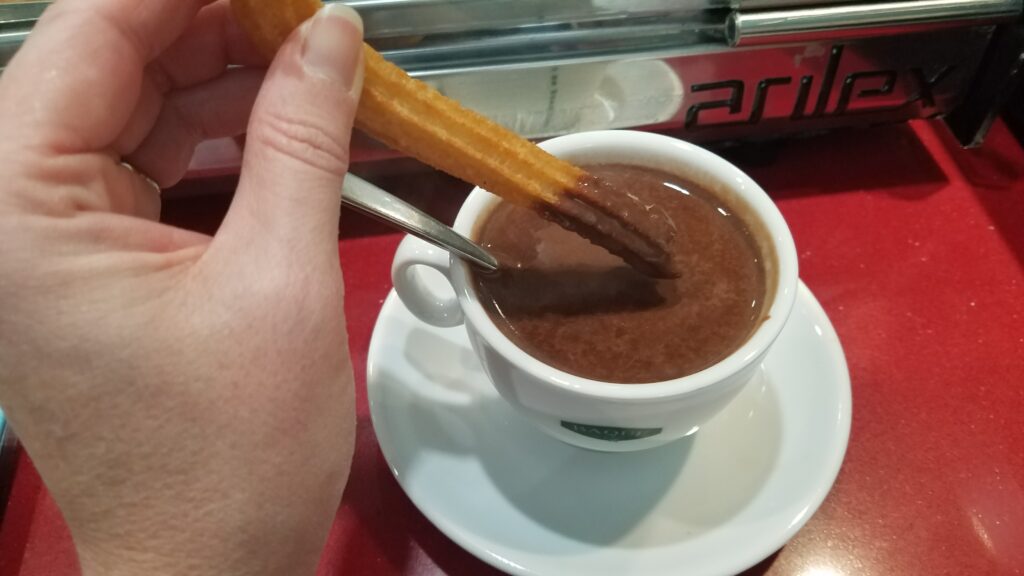 Where to stay: Hotel Palacio Valderrabanos is centrally located in this walled city and shares a small plaza with the Cathedral and Restaurant Alvaravea.
Limon y Menta, Segovia
I'm pretty sure we didn't have a bad cup of hot chocolate anywhere in Spain. Limon y Menta is a cute little pastry shop to the right of Hotel Infante Isabela in Segovia. I ordered a hot chocolate with the traditional Ponche Segoviano, a layered cake filled with custard and marzipan and topped with caramelized sugar in a crisscross pattern. Both were rich in different ways. The sweetness of the ponche made the hot chocolate almost savory.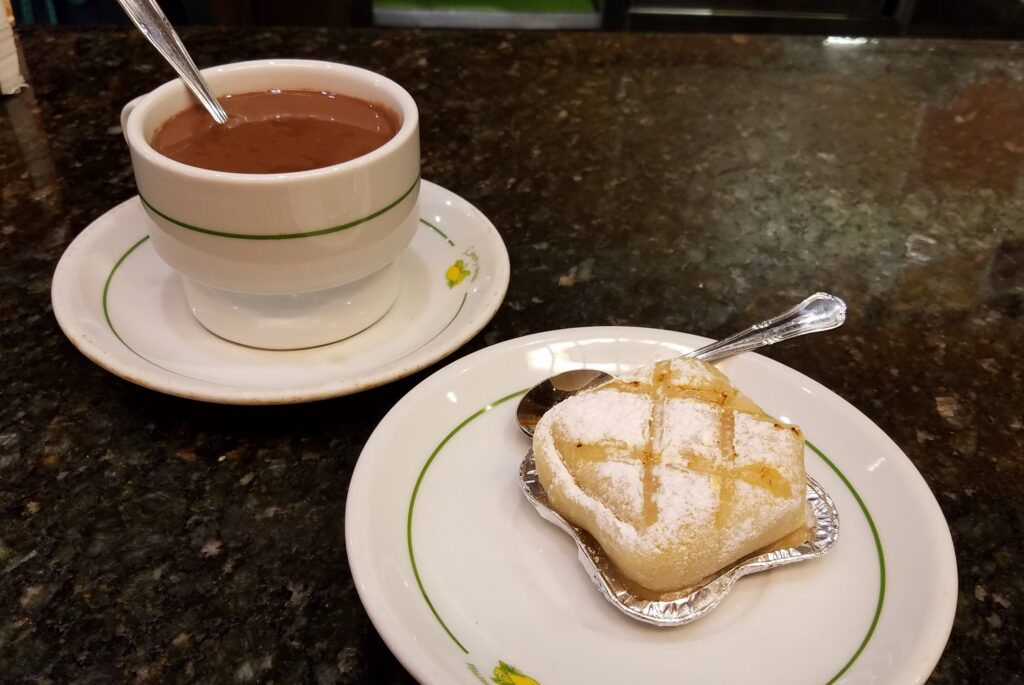 Where to stay: Hotel Infanta Isabel is the luxury hotel of Segovia. It's within walking distance to the Cathedral, aqueduct, alcazar and delicious tapas restaurants.
SICILY
Modica
Modica is the only place in Europe that still makes chocolate using the Aztec methods.  The chocolate is created by softening the cacao beans over low heat (not more than 35-36 °C or 96.8 °F), then mashing the cacao with sugar and any other flavorful ingredients (honey, vanilla, cinnamon, etc). The heat is low enough to make the mixture pliable, but not hot enough to melt the sugar. This gives it a gritty texture, but the chocolate flavor is more intense. Modica is also a UNESCO World Heritage Site along with 6 other Baroque  towns in Sicily that were destroyed by an earthquake in 1693. Walk the hills of this charming town and watch as the professional chocolatiers create one of the most beloved candies in the world.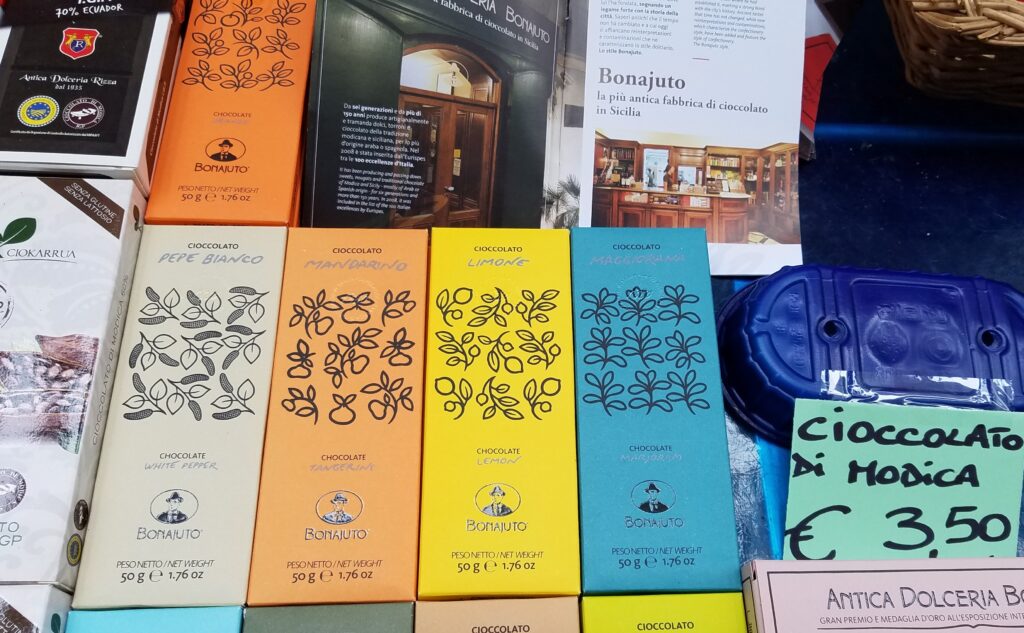 Where to stay: The towns of Modica and Ragusa are within a 20-minute drive of each other. Casa Giardina is oozing with Italian charm, modern bathrooms and fantastic views. Staying in Ragusa at the Relais Antica Badia will give you more options for restaurants, shops and see the old and new of both cities.
Comis Ice Café, Catania Sicily
Cosmis Café is a Tripadvisor favorite located in the Piazza Vincenzo Bellini steps from the Teatro Bellini. This artisanal gelato and coffee café serves granite year round. We started with breakfast of brioche and granite, a semi-frozen treat made from sugar, water and flavorings similar to sorbet, but lighter and coarser. We visited during the winter and instead of the usual pistachio or lemon granite, I got the chocolate and hazelnut. It's better than eating Nutella out of the jar! Later we went back to feast on some of the delicious gelatos, and naturally, chocolate was one of the flavors I chose.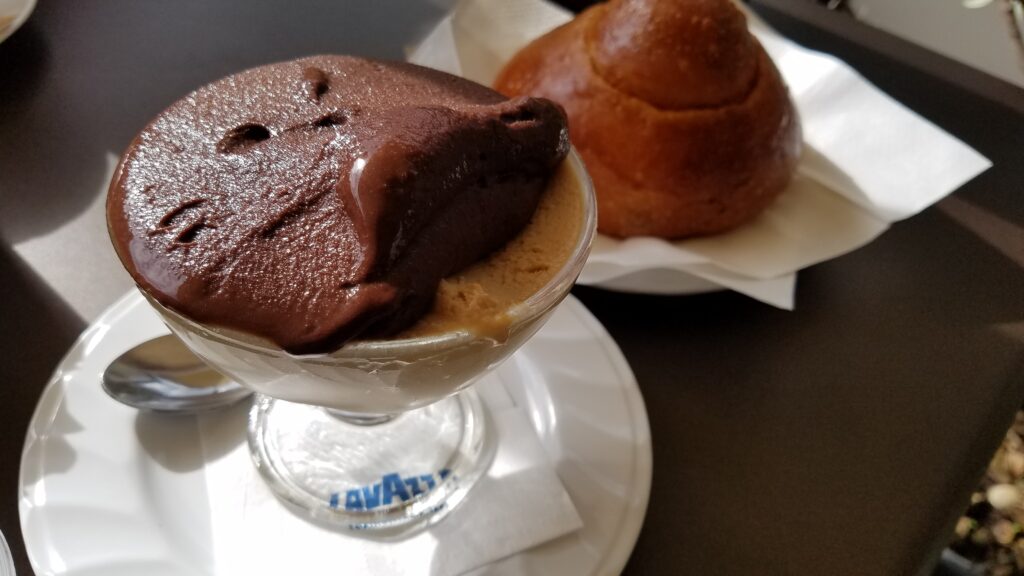 Where to stay: Duomo Suites & Spa, a modern hotel in the center of this ancient Baroque city and within walking distance to everything.
MALTA
Fontanella Tea Garden, Mdina
My first hot chocolate on the tiny island of Malta was at Fontanella Tea Garden in the "Silent City" of Mdina. This restaurant is a popular place known for its coffee, pastries and pizza. I had the hot chocolate and Baci Cake made with chocolate ganache and hazelnuts. Both were a chocolate lover's dream. If we had all day, I would have also tried their chocolate cheesecake, chocolate cake and other chocolate desserts.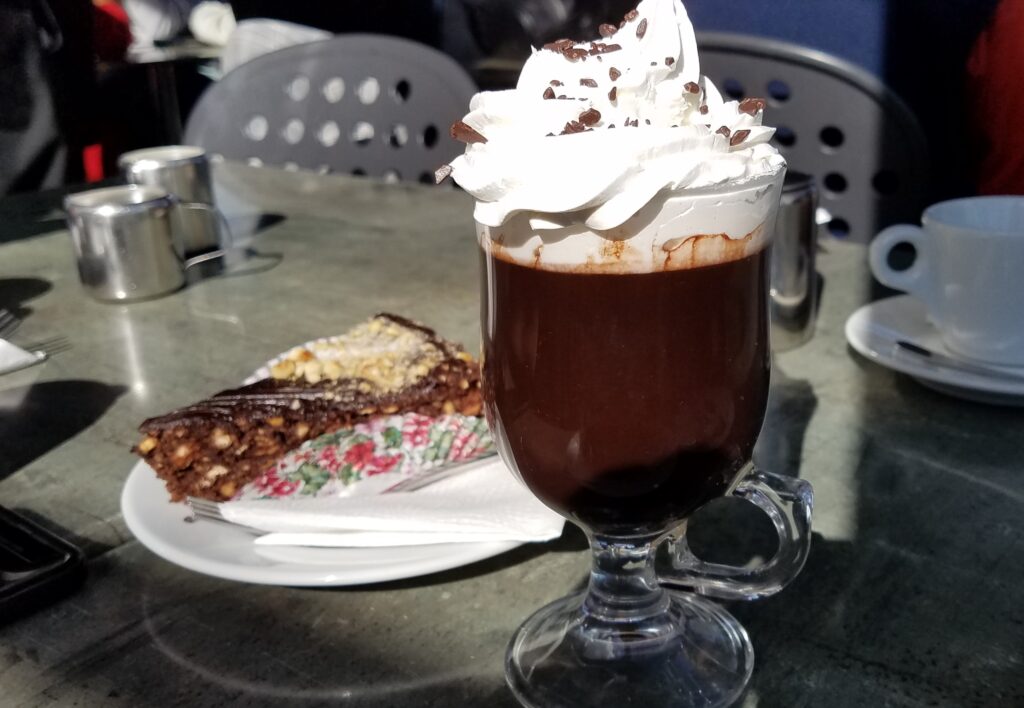 Where to stay: The Hotel Phoenicia Malta is located just outside the city gate to the old town of Valletta. This hotel is perfectly situated for walking the old town or hopping in a taxi to visit other parts of the island. Mdina is a 20 minute drive away.
Blue Grotto, Malta
After a colorful boat ride to gaze at the rock formations and crystal blue waters of the Blue Grotto, we stopped into a little café across from one of the watch towers. Tom had a coffee and I had the most delicious hot chocolate thick enough to eat with a spoon. We noshed on a cannoli made with fresh sheep's milk for the perfect mid-morning snack. I wish I could remember the name of the place. Look for an outdoor shaded café with an A-frame sign in front of the wood covered seating area. The kitchen and cashier are inside to the left. This was one of the best hot chocolates I have ever had.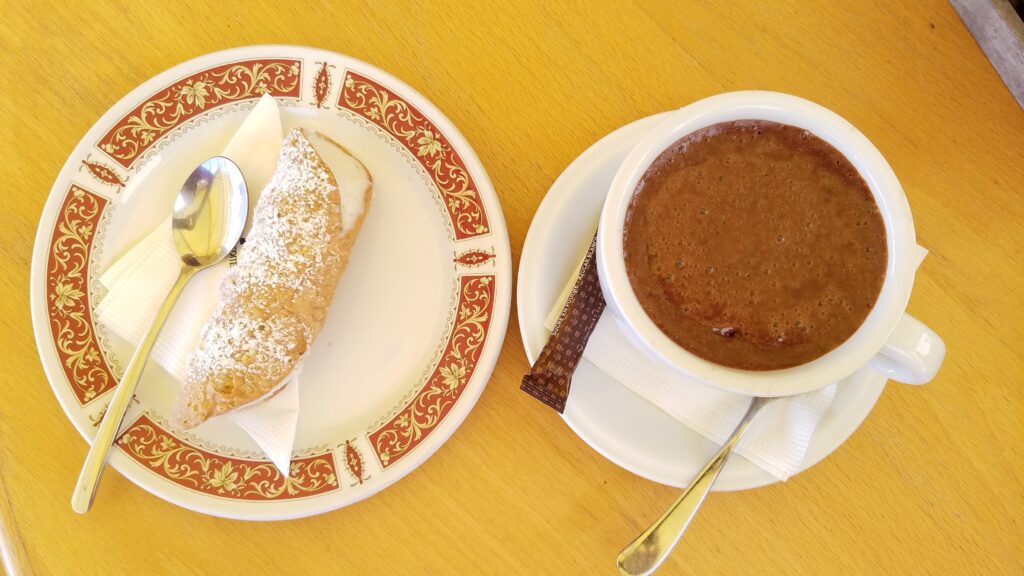 Where to stay: Valletta is the capital of Malta and most sites are within a 30 minute drive or less. I wish we had known about this VIP Hop On and Off Tour with a private van for 8 people max. We could have seen more places on our stay without worrying about driving on the left hand side of the road. I still recommend the Phoenicia for its perfect location for walking and getting taxis.
PERU
ChocoMuseo, Lima
The ChocoMuseo is not only a museum of the history of chocolate and shop, it's also a place to make your own chocolates. Different grades of chocolate can be mixed with milk, chilis and spices to create a chocolate that's undeniably your own. This is a wonderful activity for all ages. Make sure to bring some chocolates or nibs home for further experimentation. Tom brought home cacao pods and infused them into a mezcal vinegar for flavoring.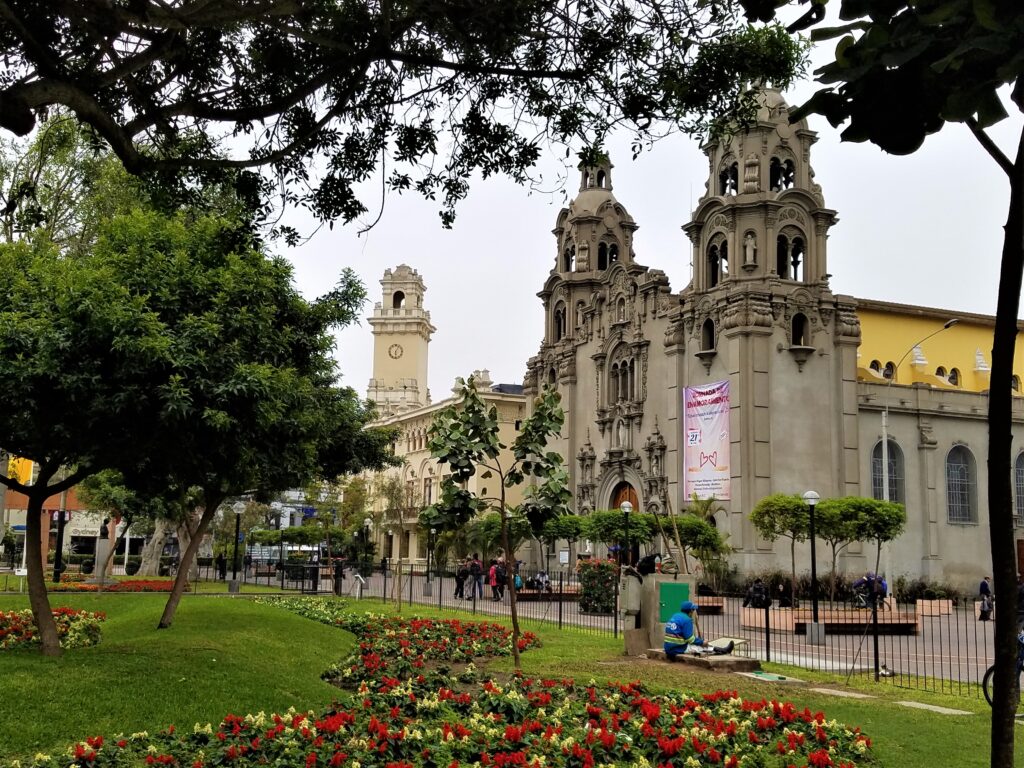 Where to stay:  Miraflores is a large district in Lima with plenty to see and do. Courtyard by Marriott Lima Miraflores is located within walking distance to Parque Kennedy and the top Latin American restaurant Maido. Hotels in Lima are expensive. This is a good place to use your hotel loyalty points or awards.
Mayo Bar between Central and Kjolle, Lima
Fine dining lovers can enjoy an aperitif at the Mayo Bar before experiencing exquisite Peruvian cuisine at Central or Kjolle. Unfortunately, I can't remember the name of the drink. What I do remember is that it was a fusion drink of smoked cacao, sweet cinnamon and a bit of orange. Known as some of the top chefs of their trade, Pia León and Virgil Martinez are always experimenting with local Peruvian flavors.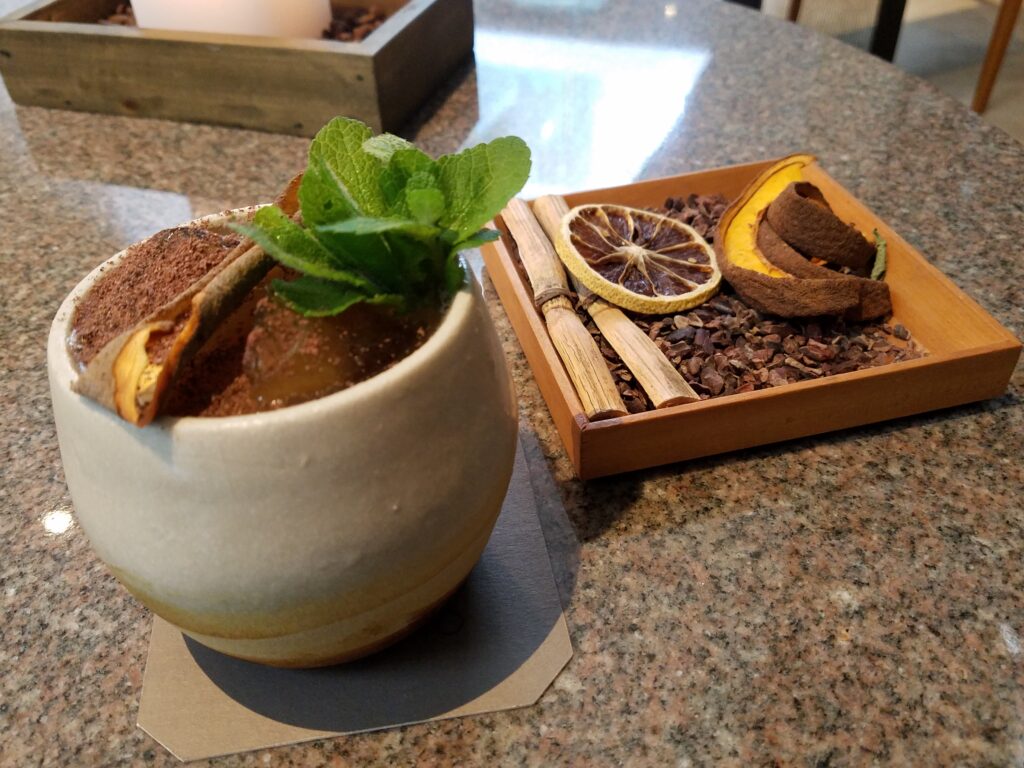 Where to stay: Casa Republica Barranco is located in the eclectic neighborhood of Barranco. This area is home to colorful street murals, New Orleans style architecture, a hip café scene and these two world class restaurants.
Where have you had some of the best chocolate in the world?
When you travel, do you "collect" tasty locations like coffee houses or wine bars?
We would love to know what flavors you like on your travels!