The Exotic Flavors of Central
It is almost by accident that we finally made it to Lima for an epic nine days exclusively for dining. We might be the only Americans who ever traveled to Peru for that long of a trip that didn't just pass through Lima on their way to Cusco and Machu Picchu. I have been following the careers and cooking of Virgilio Martinez Veliz and Pia Leon (the husband and wife chefs behind Central Restaurante) for at least 5-6 years now. When I purchased the Central cookbook a few years ago and realized I couldn't source any of the ingredients in America, it stoked the fire to travel there. This voyage of discovery wasn't really planned at all.
We were searching for travel deals on the Liverpool department store web-site in our new home base of Queretaro, Mexico. We found a good deal to Bogota, Columbia but before booking it, I said, just for giggles, lets price out the same days to the other South American destinations we want to explore. Lima turned out to be cheaper than Bogota, and was the cheapest of all South American trips from Queretaro ($1750 USD for two people to fly round trip and nine nights in a decent hotel in Miraflores). So we booked it on a whim and then began the challenge of getting every restaurant booked (Central opens for bookings at midnight every quarter and they were sold out in eight minutes).
Central's New Location
It is a tough reservation but not the toughest. If you want to dine at the worlds best restaurants, a little work is required. Central recently moved to a new location in the Barranco district just south of Miraflores. it is close to the ocean with tree lined boulevards, stately old mansions, non-functioning street cars and little bit of aging glory which of course makes it the next hot spot. The new digs offer a stylish manor house and grounds big enough to house Central, the research facility for the two chefs, Pia Leon's new solo project Kjolle plus a nice lounge.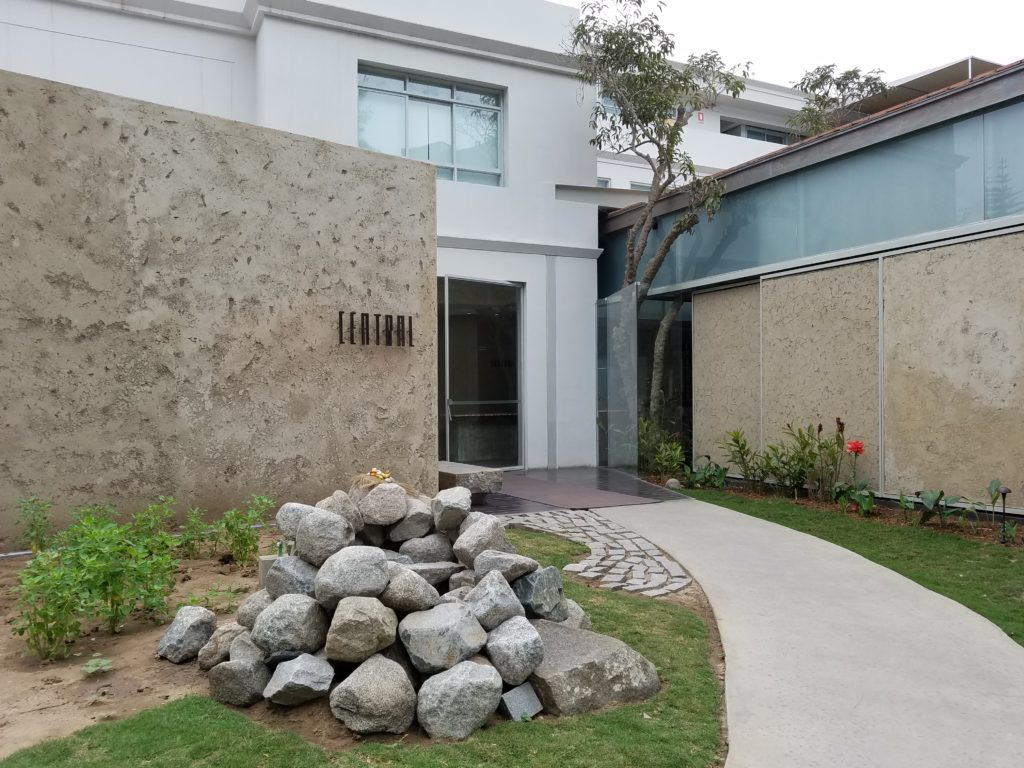 Central is modern with an open kitchen, polished concrete floors and lots of steel and glass. You are led from the front gate through the estate grounds, into the restaurant and directly to your table. The drink options were varied with a juice pairing, a beverage pairing which included beer and cocktails plus infusions, a wine pairing or ala carte off the wine list. Whenever we do a multi course degustation menu, especially when it has Asian or high acid sauces or fruits, I like to start out with Champagne. That usually gets us through the seafood pretty well and it never competes for the attention of your palate, letting the food shine. Just a little palate cleanser. We selected a Reserva Brut Nature Cava, and Tiffany ordered the juice pairing as well. Go large or go home.
Impression of Central
All of the food is recapped below. The dishes represent the bounty at different elevation levels of Peru. Some are below sea level, others are high in the mountains or deep in the rainforests of the Amazon. My overall impression was the styling has a great deal of refinement like we have enjoyed at other great restaurants like Gaggan, Geranium, Cellar de Can Roca and Akellare. The composed dishes were reminiscent of the smoke eel-foie gras mille feuille at Martin Berasategui in Lasarte. Not precious mind you, but very attractive architectural food styling with exotic flavors that really worked. I am reminded that it is hard to define quality, but when you experience it, you know you have rubbed up against greatness.
This meal and the lunch we had at Kjolle in the same building the day before were really enough to justify the entire journey. I have found a great deal of inspiration in the restaurants of Lima and I look forward to applying it in my new kitchen sometime next year.
The 16- Course Tasting Menu at Central
1. RED ROCKS piure percebe clams -10m  Tea lettuce with pineapple with percebes. Cold cactus fruit, dehydrate sweet potato and leaves, and uni with cactus fruit. Juice Pairing: Tuna juice with cilantro. (Tuna is what the Spanish call prickly pear).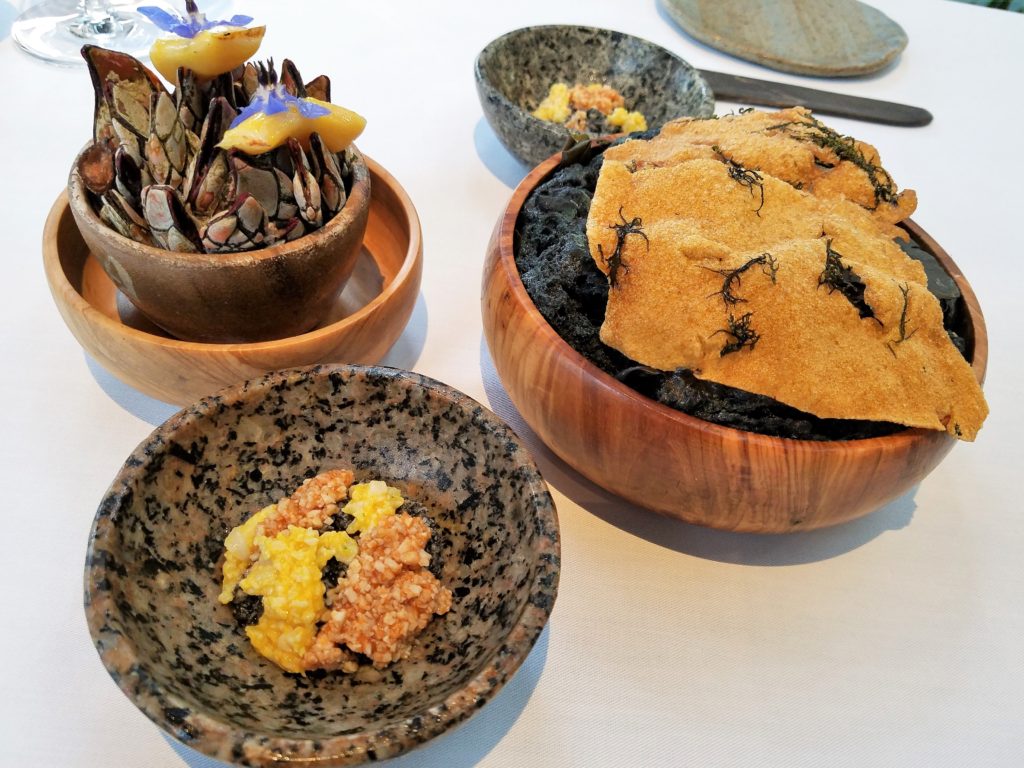 2. EDGE OF THE DESERT sargassum huarango cactus 180m. Also served with uni.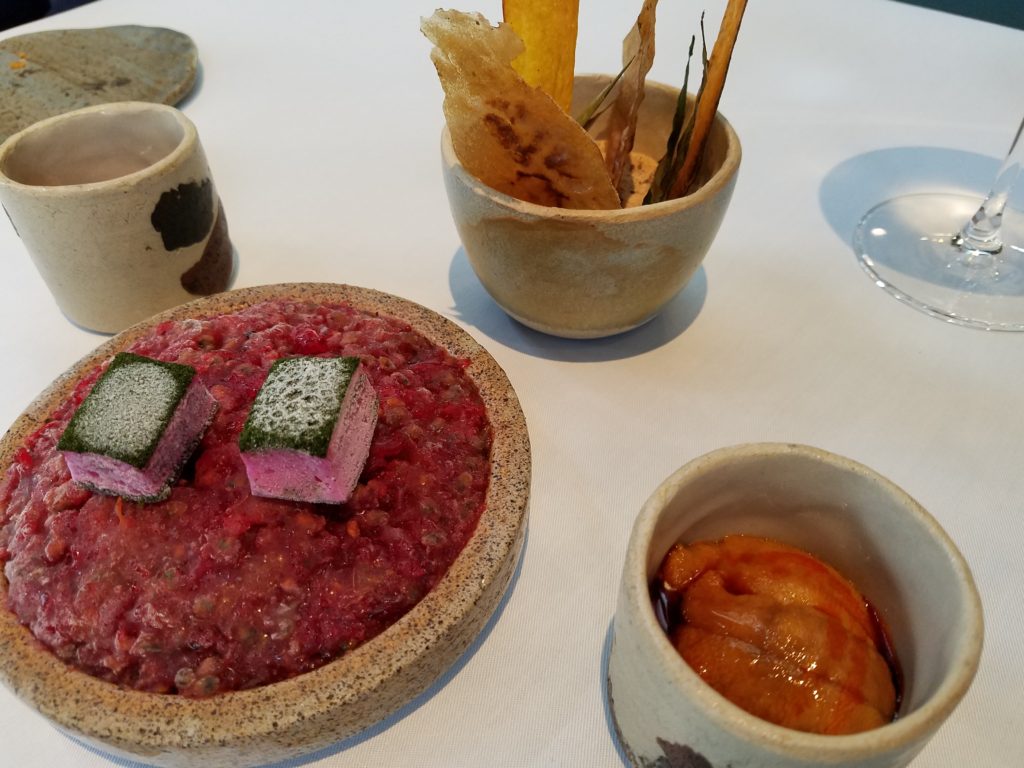 3. DARK PURPLE ROOT mashwa duck chijchipa leaves 2450m Pickled mushrooms on top, rock of mushroom on bottom, mashes different textures crispy dehydrated and cream, duck tartar with shaved egg yolks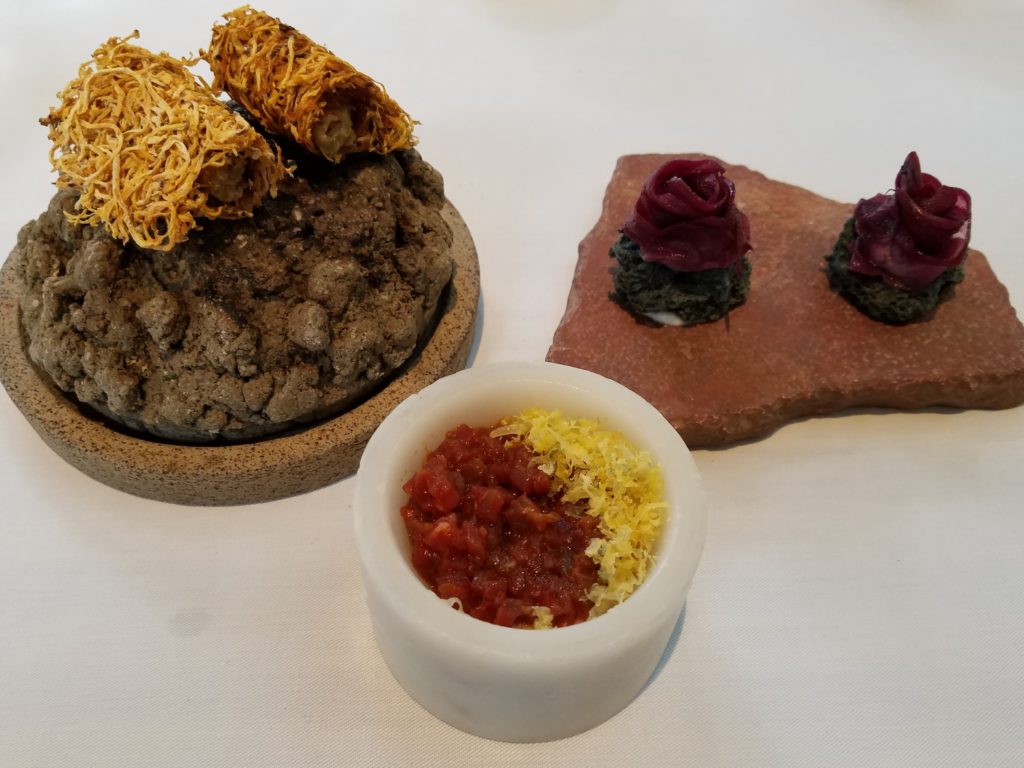 4. FOREST COTTON ungarahu arapaima 106m. Very light, apapaima on top, rock shrimp paiche on bottom, seafood fritter, the broth is used to dye fabrics black or for hair coloring, pacay is a sweet fruit that tastes like vanilla ice cream. (Pacay is also known as the ice cream bean.) Juice Pairing: acai and kopasu belonging to cacao family, watered down.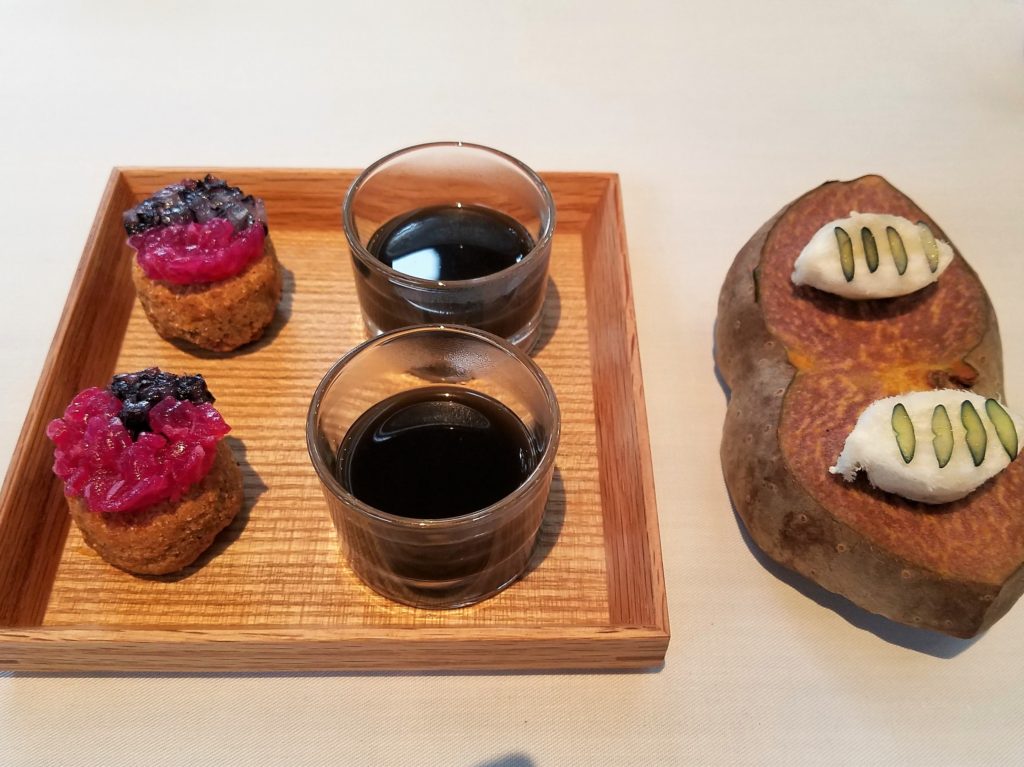 5. JUNGLE HIGHLANDS copoazu dale-dale tree tomato 1890m Bread made from same root vegetable found only in the jungle. Butter with tree tomato powder and kopasu powder grown near Peru and Brazil border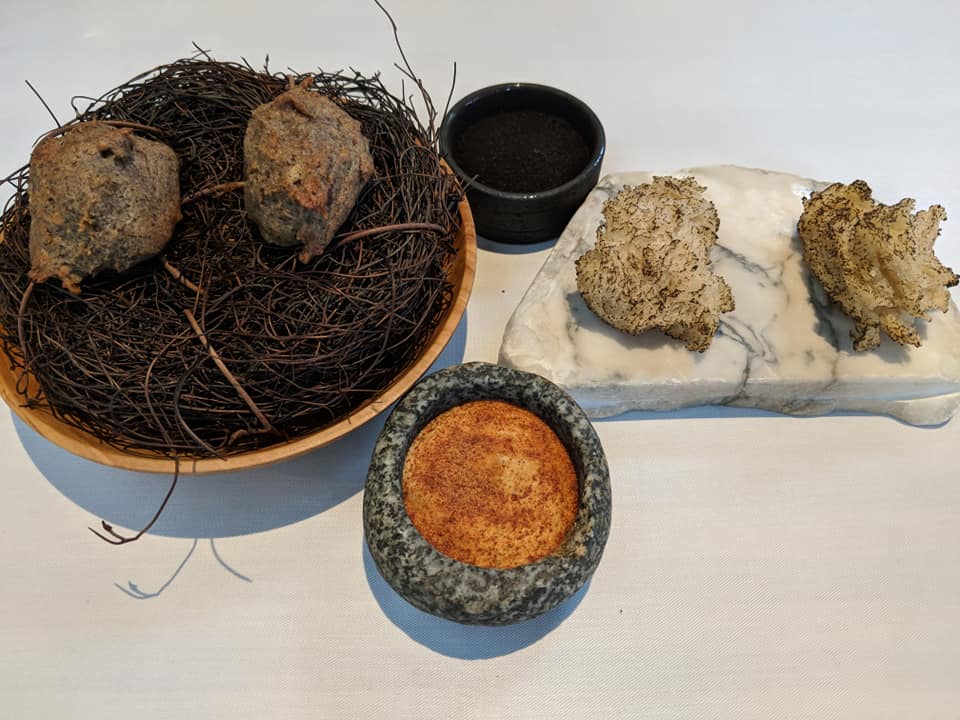 6. OCEAN FLOOR scallop, sweet cucumber, seaweed -25m Sweet scallops with cucumber and ribbons of vegetables. Juice is camu camu and squash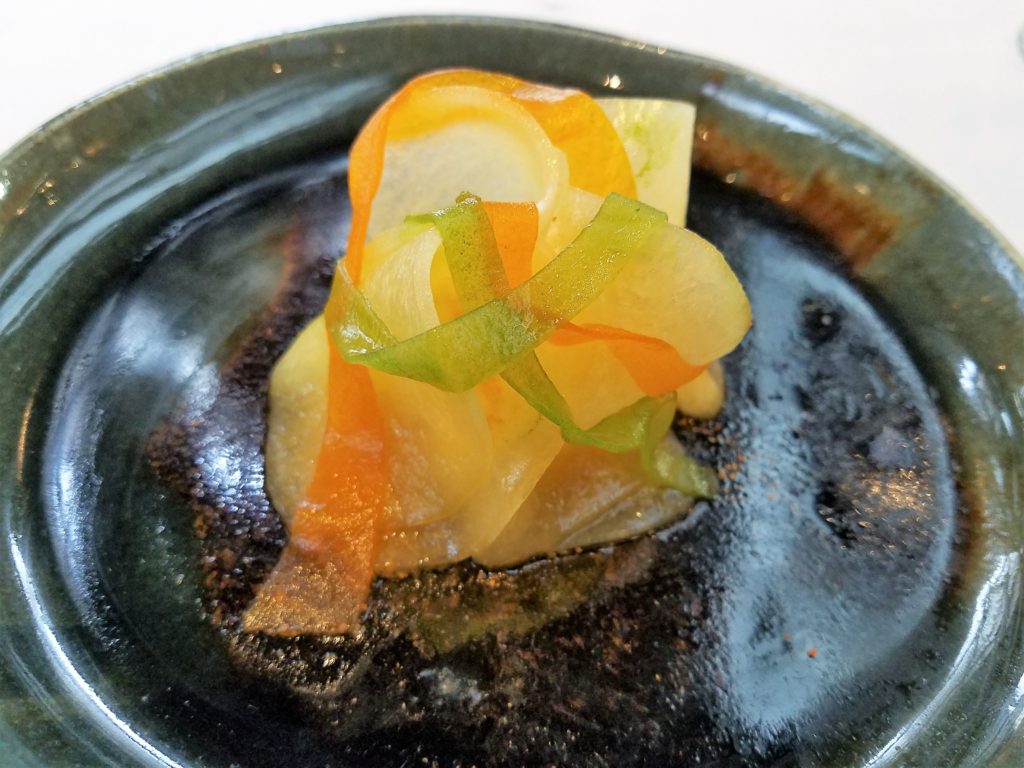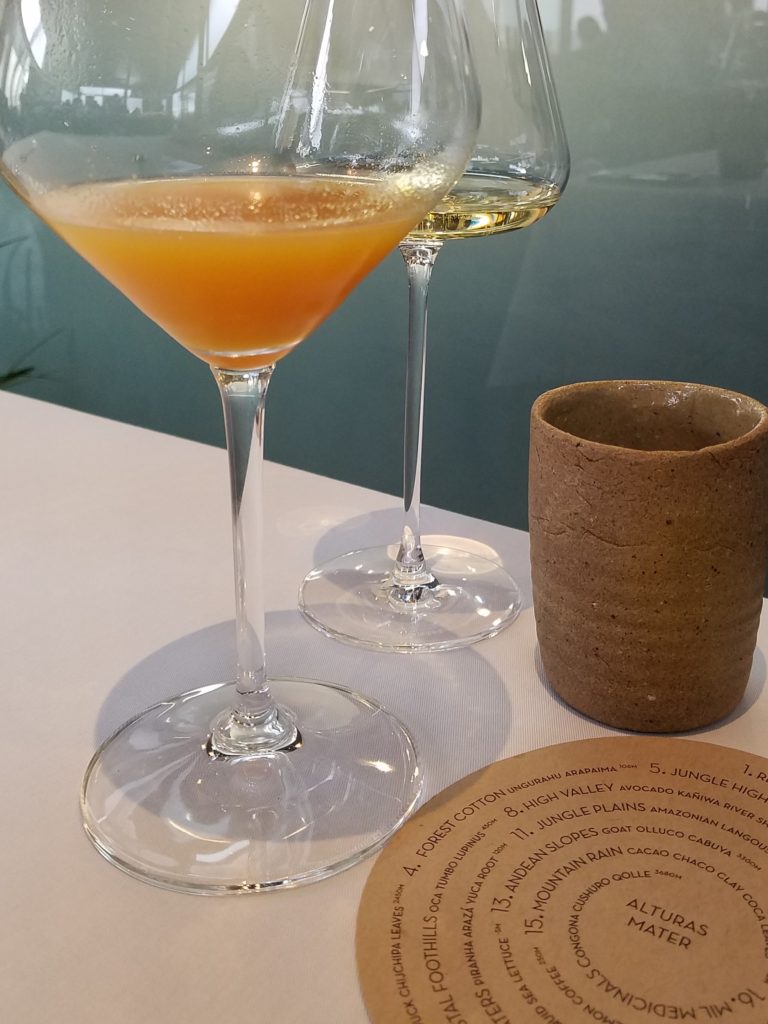 7. COASTAL FOOTHILLS oca tumbo lupinus 450m. Tumbo is similar to passionfruit.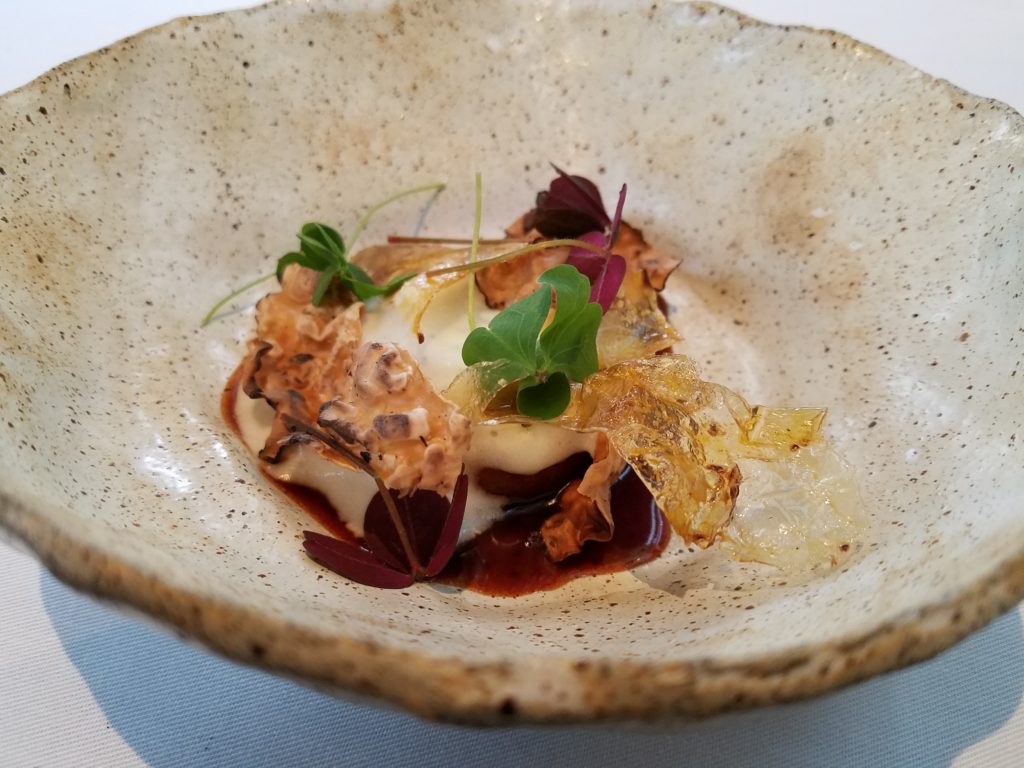 8. HIGH VALLEY avocado kaniwa river shrimp 2800m. Juice Pairing: avocado, passionfruit and yuyu which is seaweed.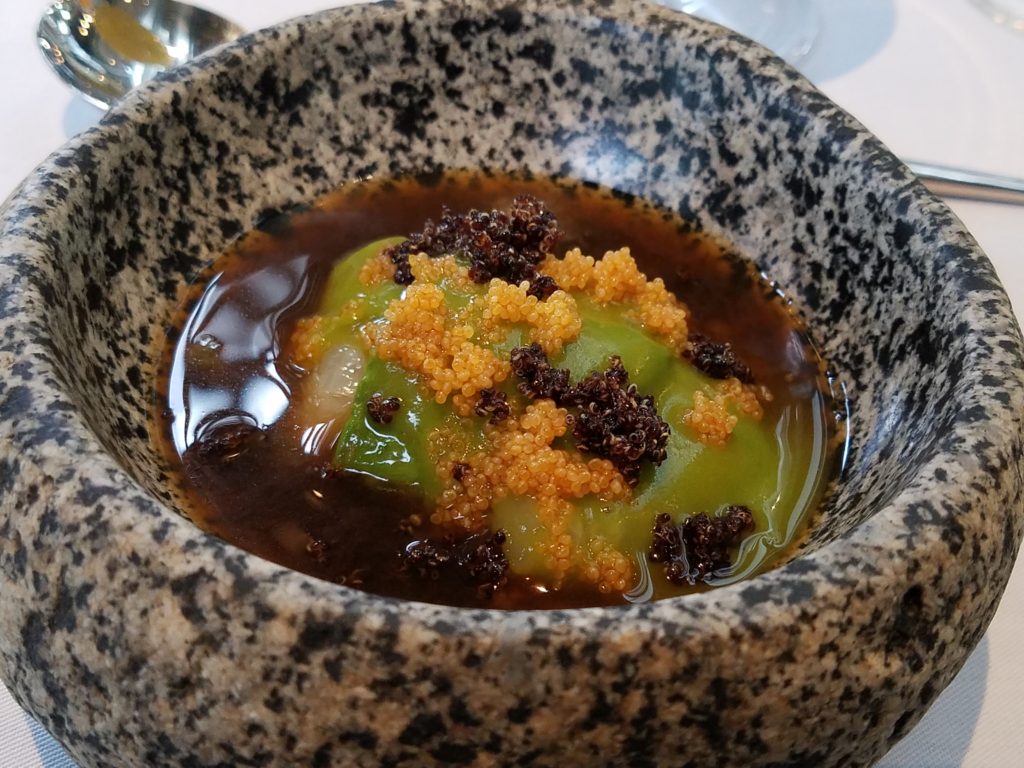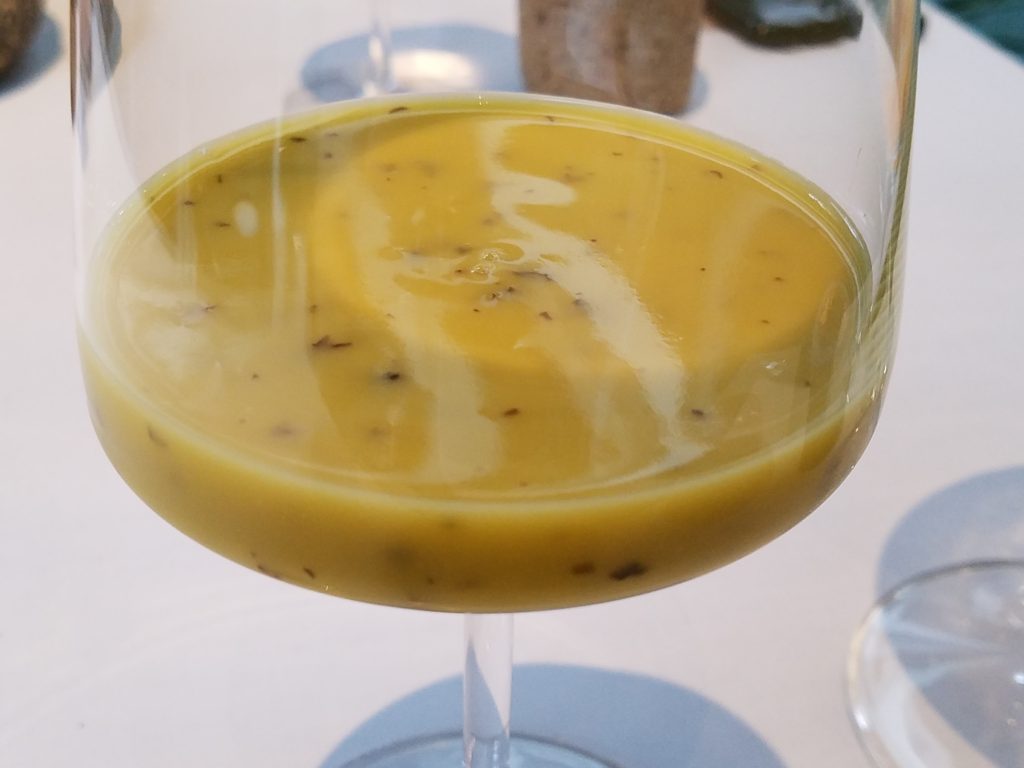 9. PLANT DYES OF MORAY tubers clay ch'illka 4050m.  Potato grown in mountains, baked in clay with herb sauce.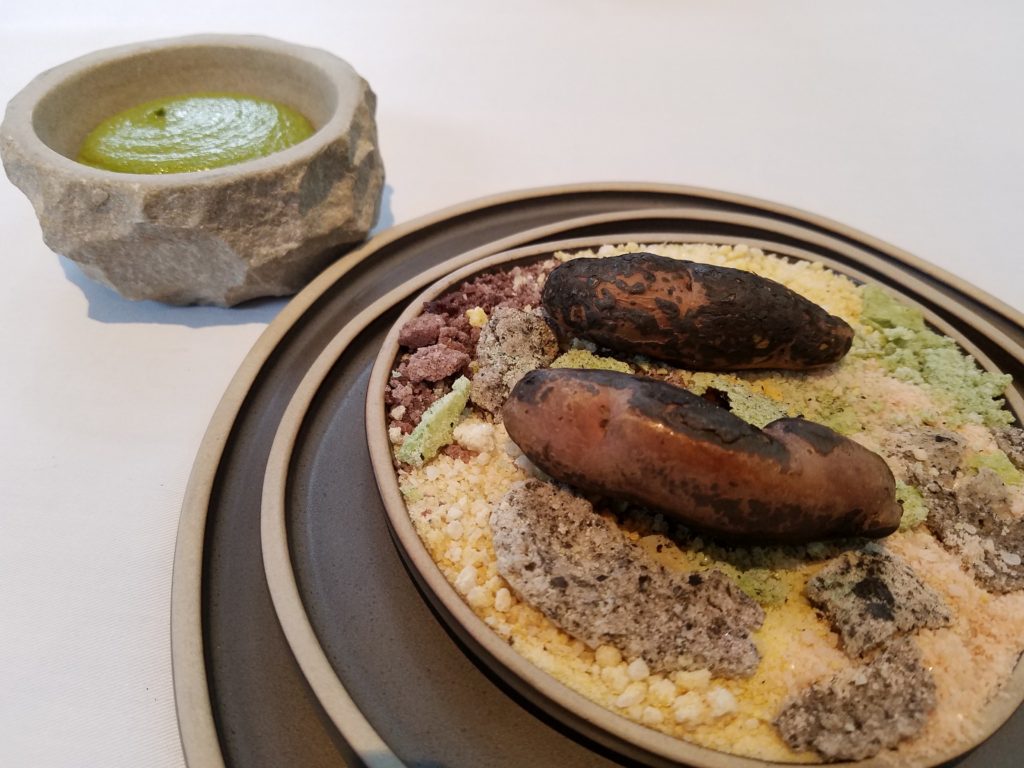 10. AMAZONIAN WATERS piranha araza yuca root 120m. Crispy piranha skin with arisa drops. Juice Pairing:  Juis Juis arisa with orange bitter,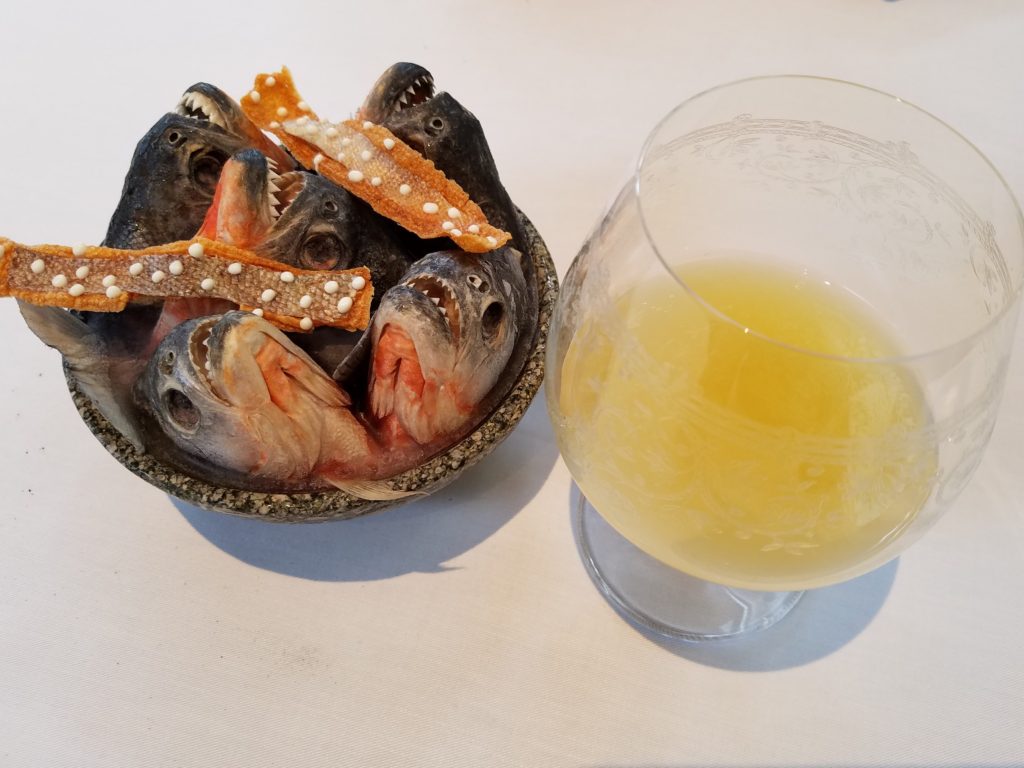 11. JUNGLE PLAINS Amazonian langoustine Cecina bellaco plaintain 165m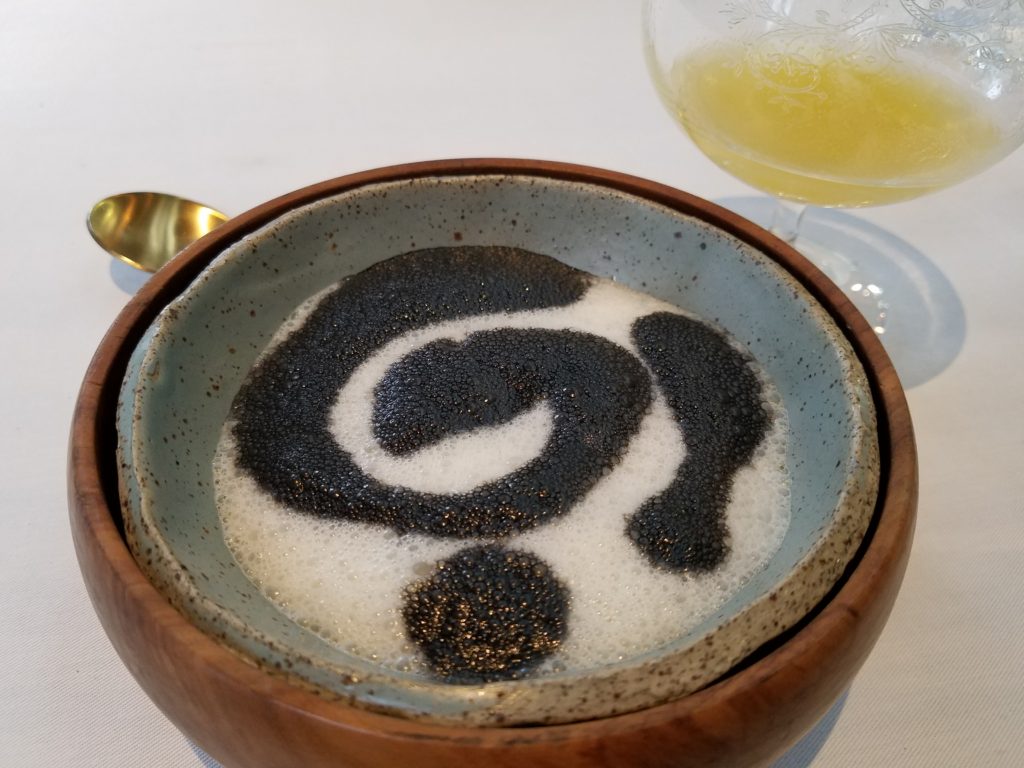 12. DEEP SEA CORAL octopus squid sea lettuce -5m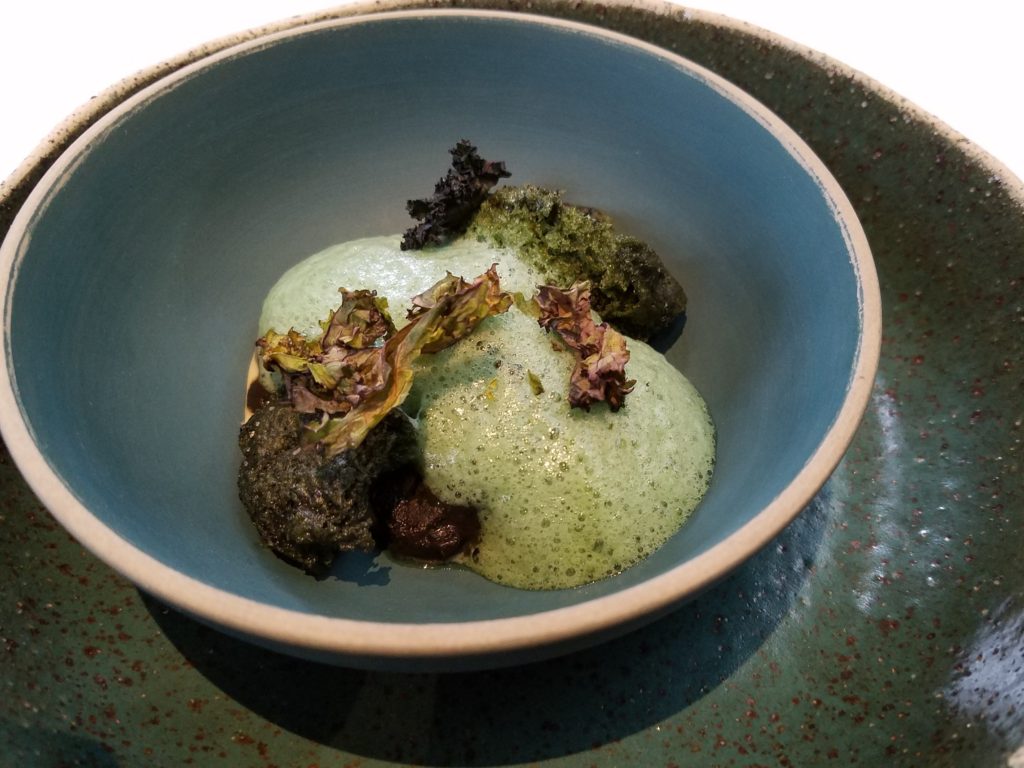 13. ANDEAN SLOPES goat olluco cabuya 3300m. Goat cooked for hours with dehydrated goats milk. Juice Pairing: kyawa a vegetable and grenadine a fruit like passionfruit with soda water.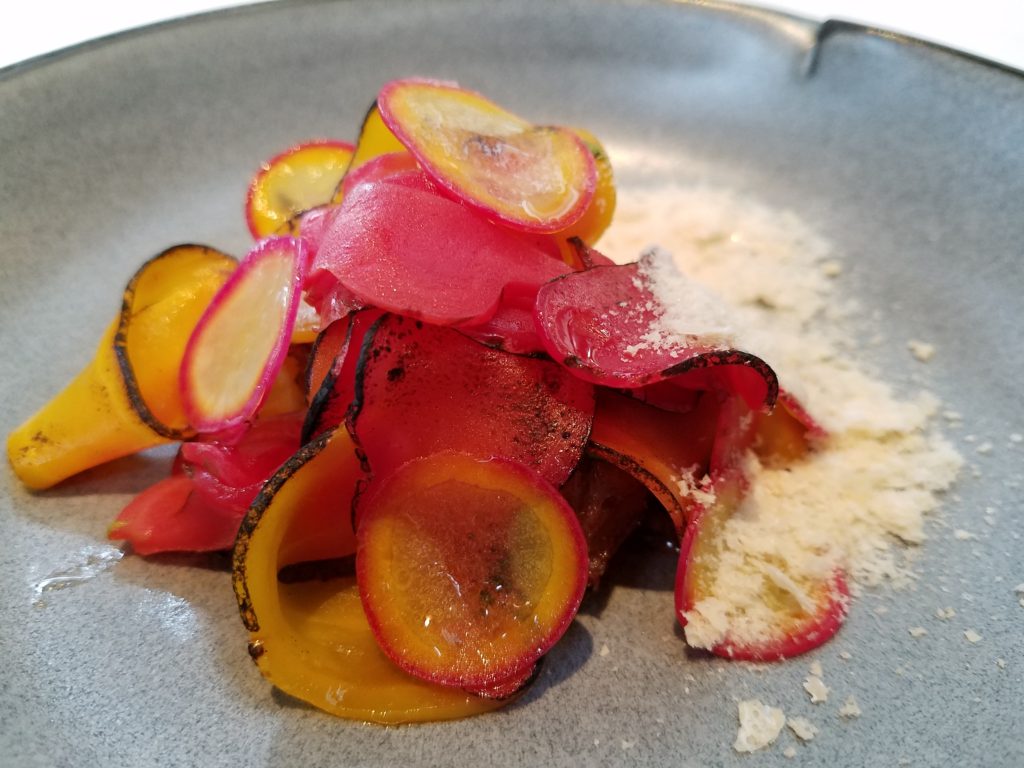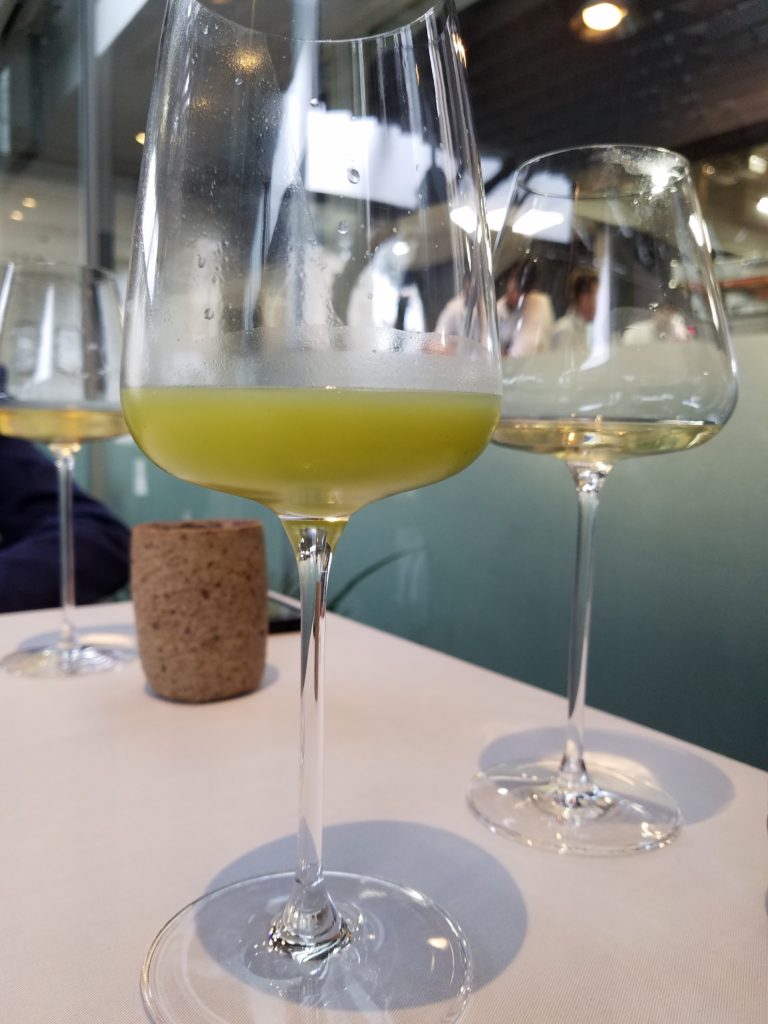 14. AMBER WOODS yacon root wrinkles lemon coffee 250m Juice coconut and ginger. Dessert of coconut, coffee, lemon and a root vegetable that's naturally sweet.
15. MOUNTAIN RAIN cacao, chaco clay, coca leaves 2100m. Juice coconut and ginger.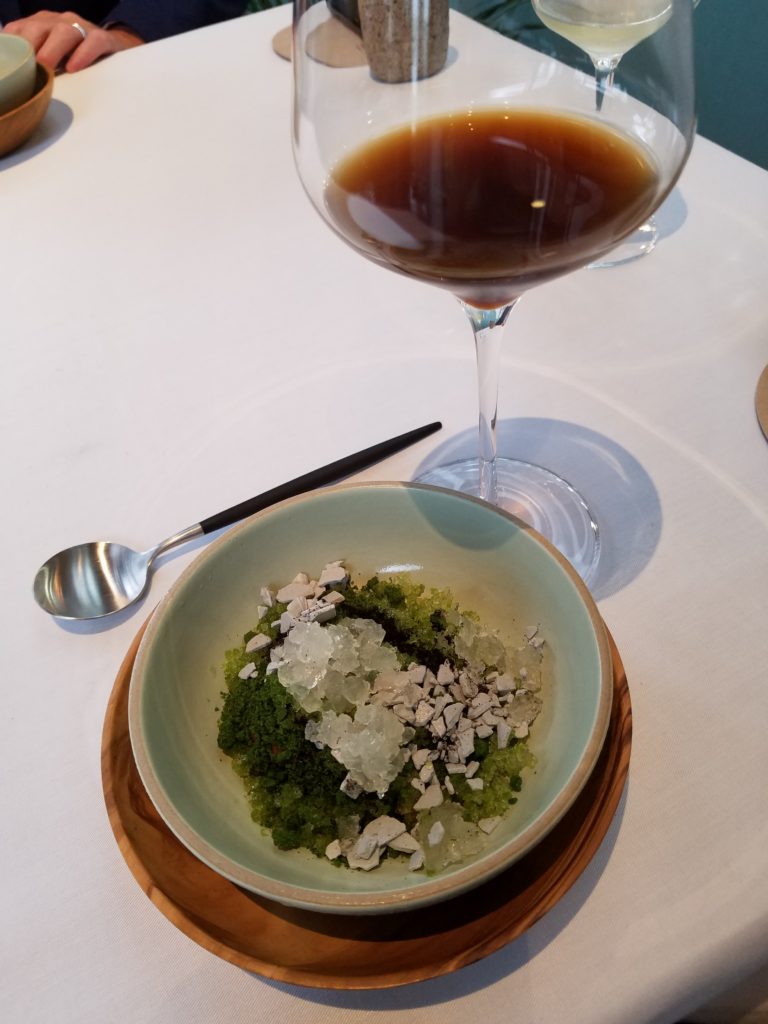 16. MIL MEDICINALS congona cushuro qolle 3680m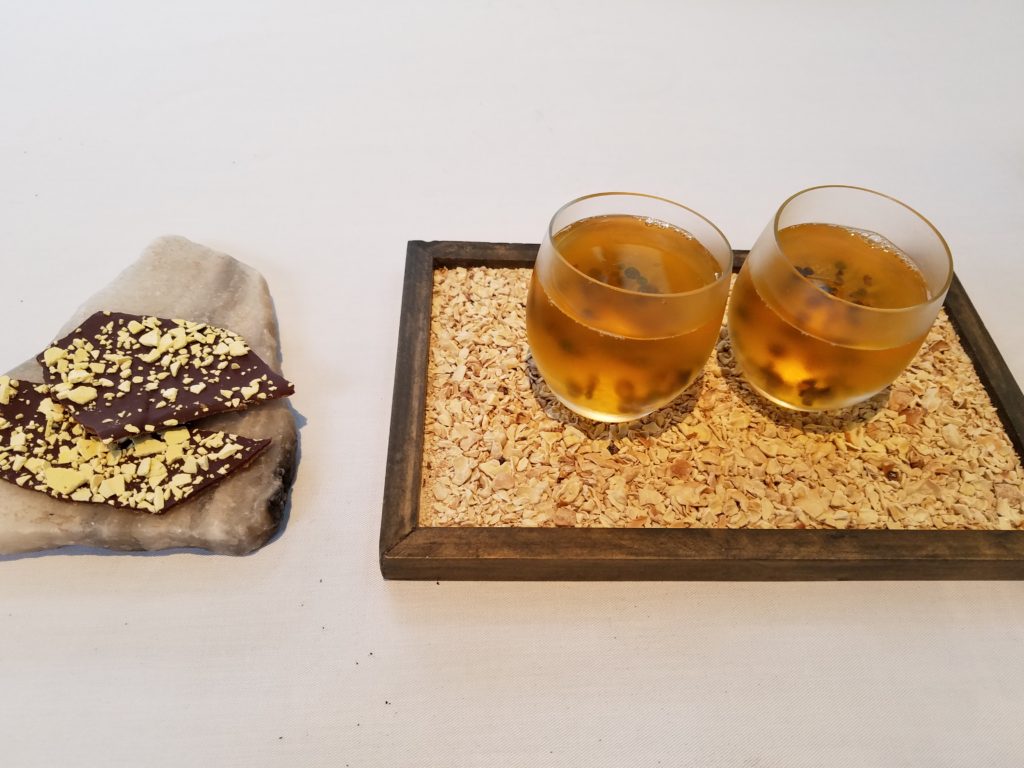 Disclosure: The link below is an affiliate link which means we will receive a small commission when you make a purchase at no additional cost to you. These are books we own and highly recommend.
UPDATE
Central is the highest rated restaurant in the Americas at No. 6 for both 2018 and 2019 on the Worlds Best 50 Restaurants List. It's rated as the 2nd best restaurant on the Latin American Best 50 Restaurants List after Maido.
Like this post? Save it to Pinterest!