Hisa Franko in Residence Pop Up Dinner in Madrid
We were thrilled to receive a notification from the Worlds Fifty Best Restaurants during our month long European vacation that Ana Ros was bringing her world renowned restaurant, Hisa Franko, to Madrid for a residency at the NH Hotel while we would be visiting. Within moments we had reservations on what would be the last night of the event, December 6th.
Hisa Franko is located in rural Slovenia in an area not at the top of our travel wish list (similar to Faviken in rural Sweden, we were unlikely to ever get a chance to enjoy it).  I have admired Ana Ros for years. She is a completely self-taught chef who uses hyper-local ingredients from her valley in Slovenia to create original combinations that earned her the number one Female Chef in the World honor in 2017. She is one of the most admirable, creative and original chefs in the world and we were excited to dine with her.
HISO FRANKO IN RESIDENCE
Hisa Franko In Residence was held at the NH Collection Madrid Eurobuilding in the financial district near the Santiago Bernabéu Stadium. It's part of the #inresidence series between NH Collection and Mateo & Co, a culinary consulting agency that promotes chefs and restaurant brands. The NH Collection is also the home of DiverXO, the only 3-star Michelin restaurant in Madrid. Barcelona soccer club was checking into the hotel when we arrived so we waded through the hundreds of fans and down the stairs to the space for the dinner.
Ana said they had to ship in forty containers full of wine, cheese, meats and other ingredients for the 3-week long event, so we were literally getting the same food and wine as we would have been getting in Slovenia.
The Hisa Franko dinner was nineteen courses including desert and coffees. While this isn't a course-by-course restaurant review I will say that she has a special talent for fusing seafood and meat in one course which she did with great success repeatedly.
APERITIVO
1. Baked potato in hay, fermented ricotta and chocolate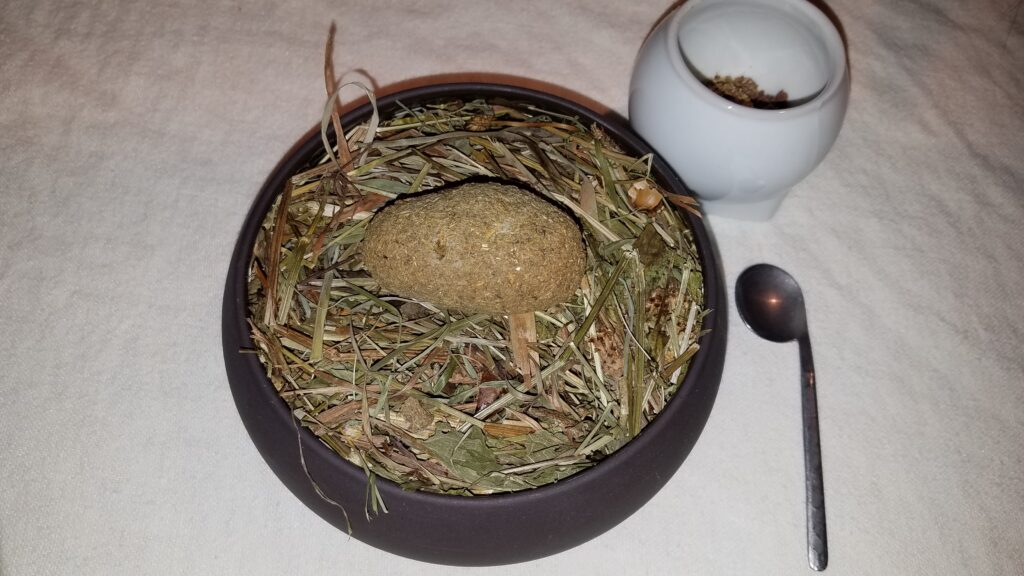 2-3. Taco of plantains, wild plants and hazelnut miso. Rye crunch with smoked cave cheese and trout caviar.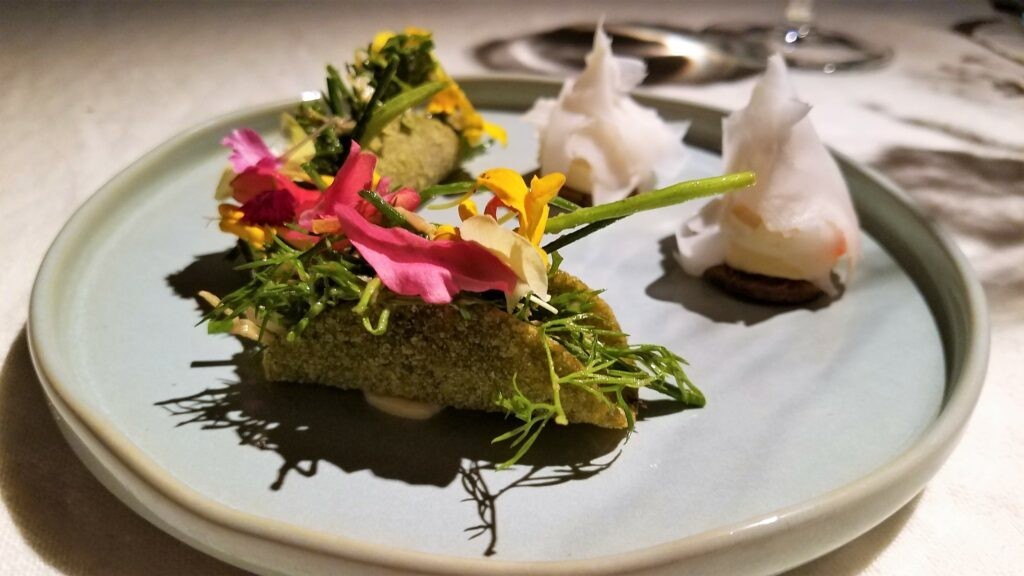 4. Donut with pate of lamb brains and preserved red fruits
MAIN COURSES
5. Surf n Turf
Consome of mortadella with razor clams and tomato sphere, plus soup croquettes and mussels, mortadela mousse and cuttlefish.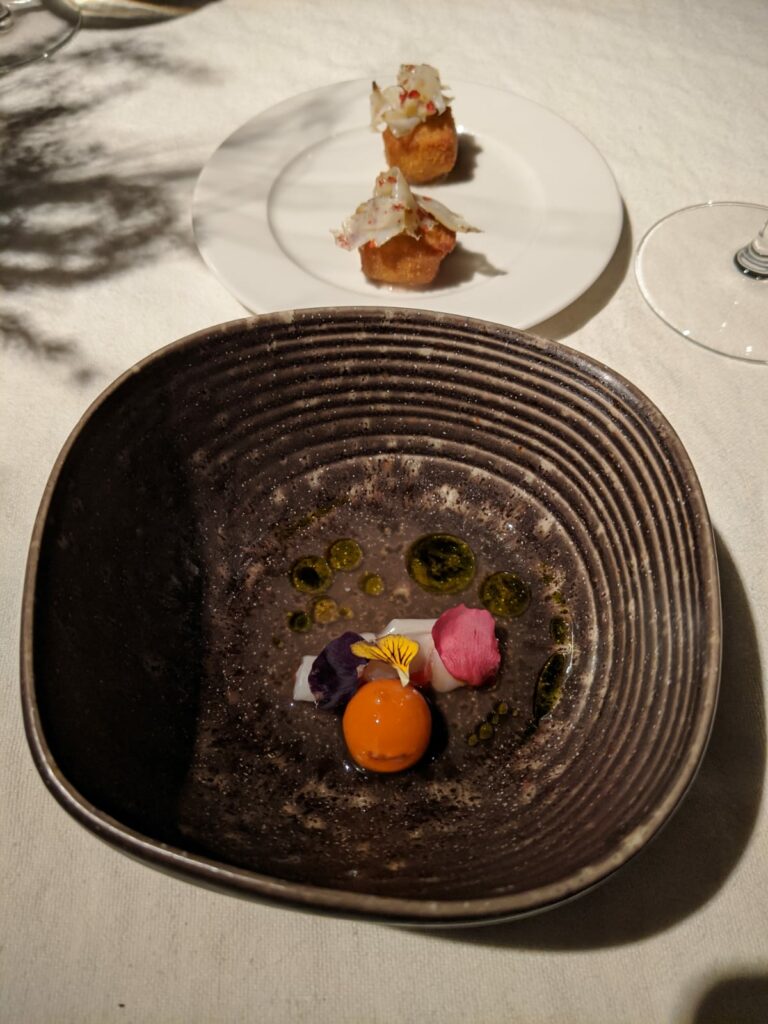 6. Deer sashimi marinated in umeboshi -Japanese ume plum vinegar- deer, juniper and chestnut.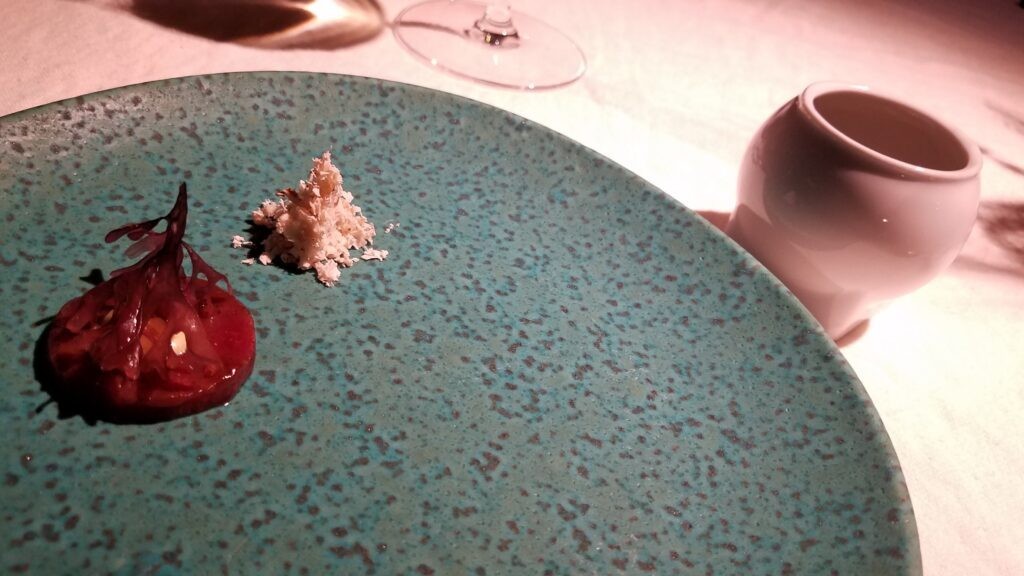 7-8. Pituralka and Mountain Goat Cheese
Foie gras, yogurt with coffee and sage. Mountain goat cheese, black mushroom gel and pan fried prawn.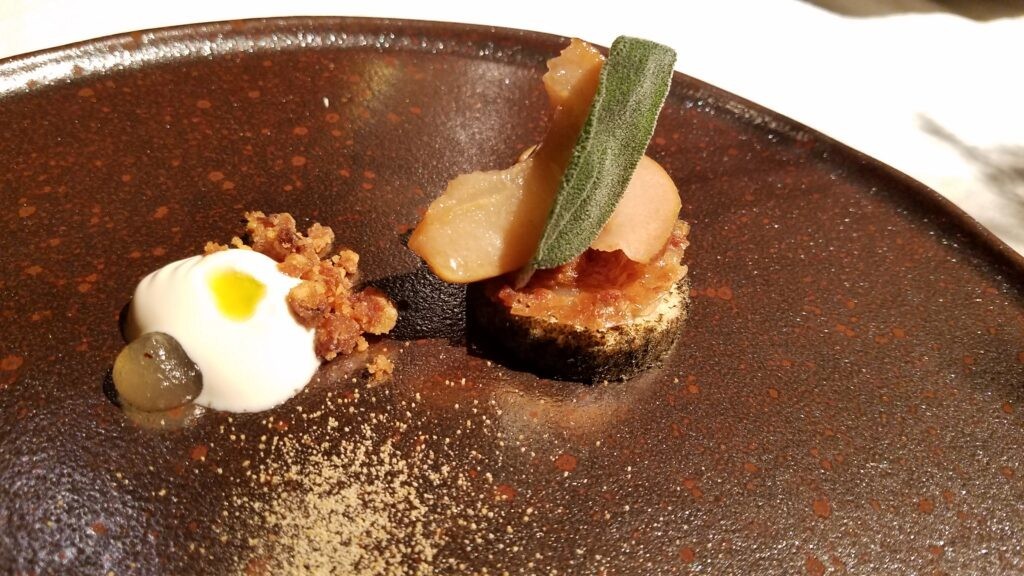 9. Lamb and Lobster
Dreznica lamb and lobster roll, lamb soup, yolk stuffed with anchovies.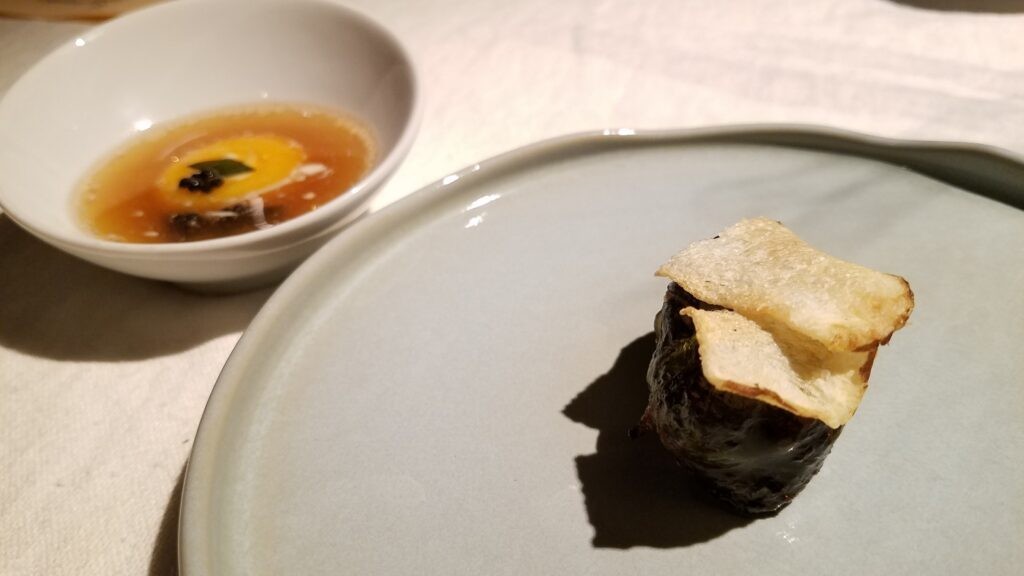 10. Roasted buttered pumpkin and sea urchin.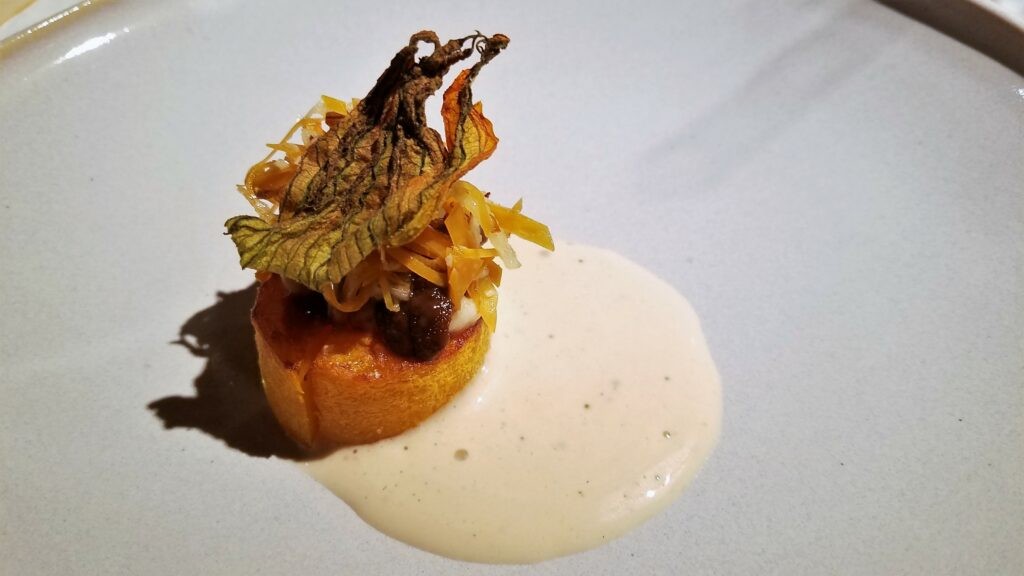 11. Christmas mullet, carrot and cinnamon.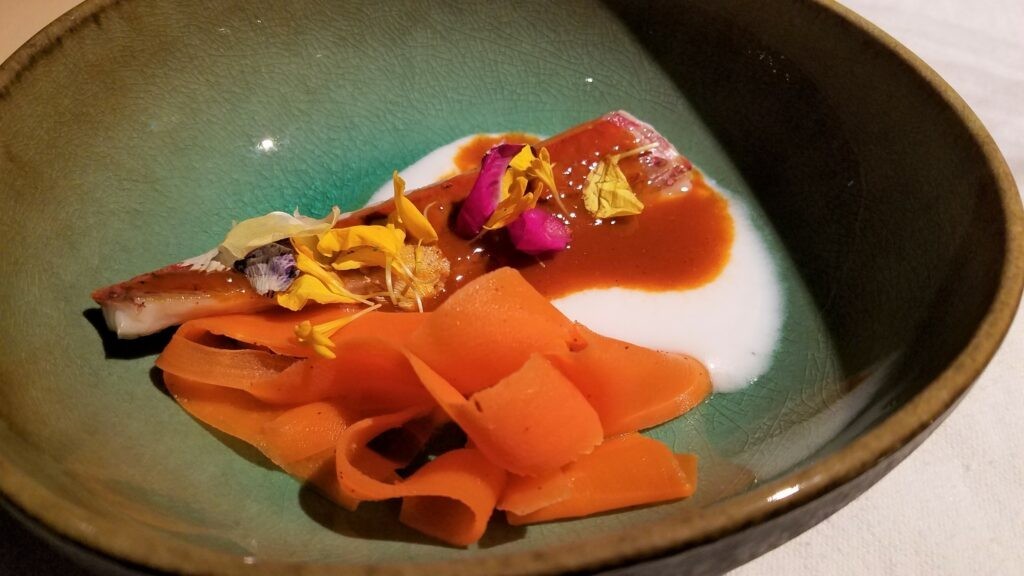 12. Jota
Different textures of cabbage, pork nose, white truffle, smoked eel.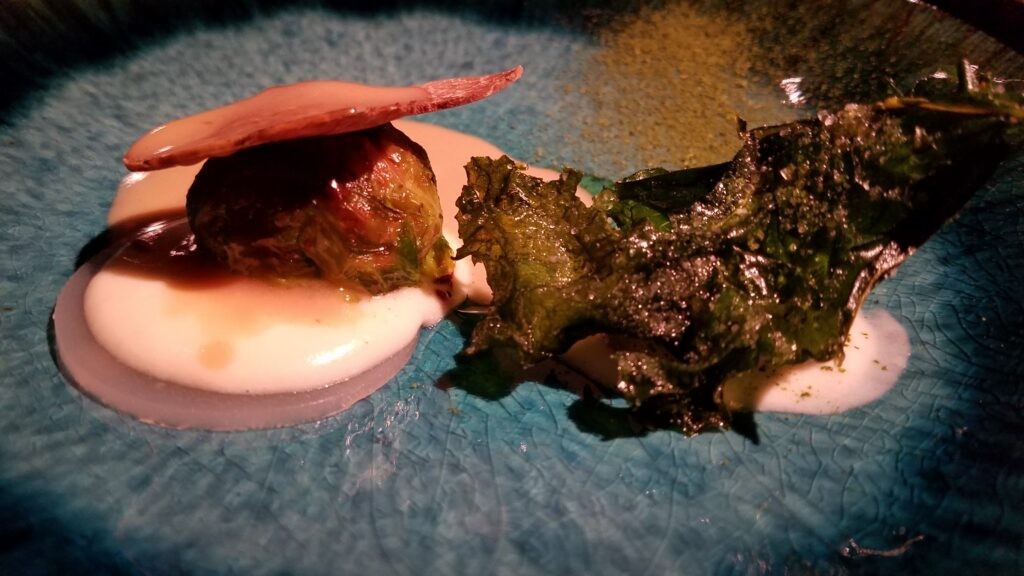 13. Corzo
Deer, horseradish cheese, beet in pine syrup.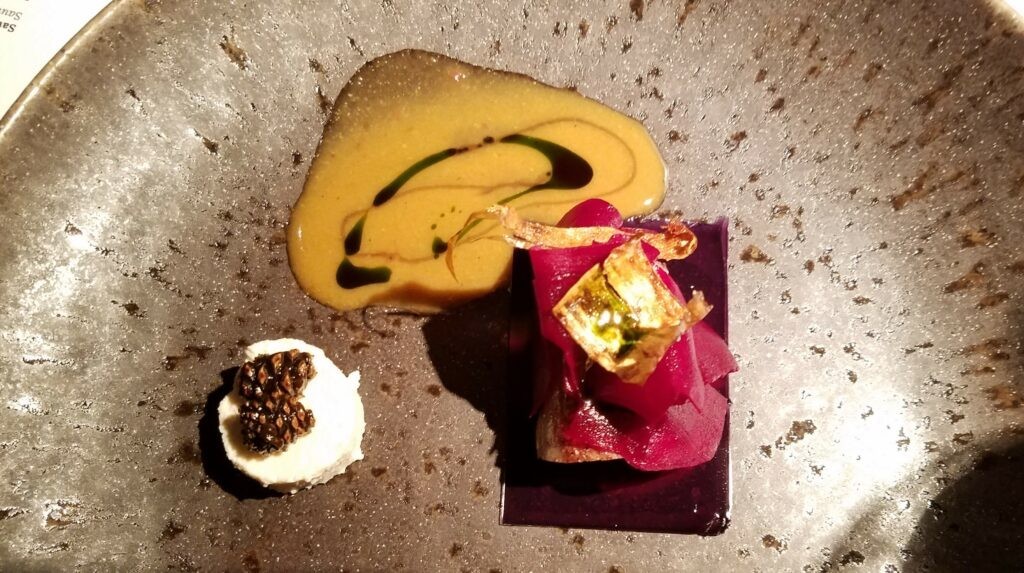 14. Tolminc cheese selection aged at 1 year, 2 years and 3 years by Ana Ros' husband, Valter Kramar.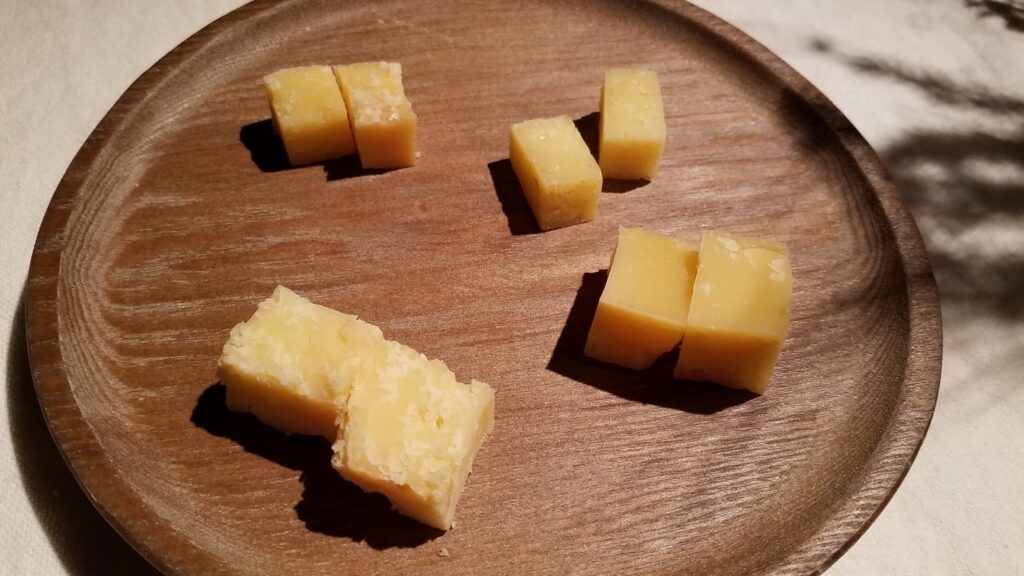 POSTRES
15. Masterpiece
Apple croissant with goat's milk, rose hip stuffing, baked apple ice cream and beeswax.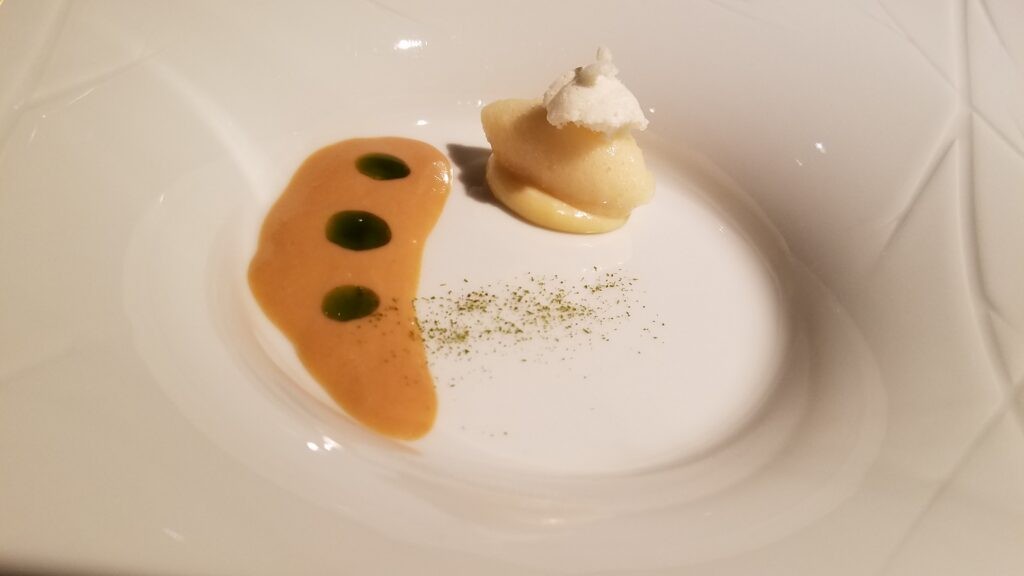 16-17. Revelation of Kobariski Struklji and Preserved Lemon
Dumpling, creme smoked pork brulee with dried plums and radish.  Brown butter with bergamot, cidron, and Zacapa Rum.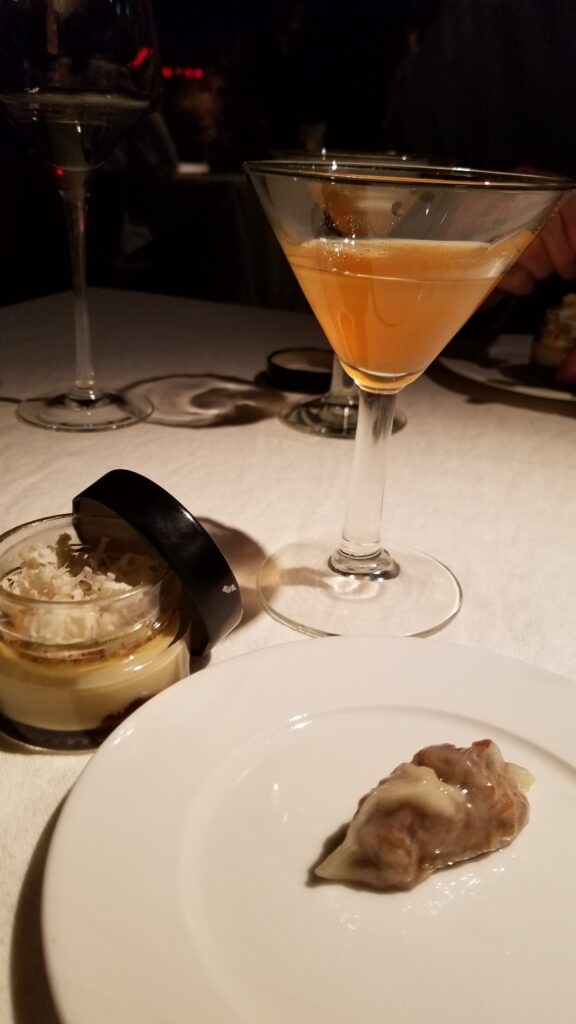 Natural Wines From Slovenia
Ana's husband, Valter Kramar hand selected each of the Slovenian wines on the wine list.  We chose to start our degustation menu with a Sauvignon Blanc, and later with the meat courses a Pinot Noir.  Both wines were from Stajerska, a sub-region in the eastern Slovenia's Podravje wine growing region.
Sumenjak Sauvignon Blanc 2018 and Pinot Noir Sumenjak 2017
We are Amazon affiliates. If you click and buy something, we may receive a small commission at no additonal cost to you. This book was just released by Chef Ana Ros.
It was a lovely dinner, one that we shall not soon forget. After the meal Chef Ana Ros took a picture with us and we learned that one of her managers was from Puebla, Mexico so we chatted her up as well. As we were leaving, they took a framed photo of the valley the restaurant is located in off the wall and presented it to us as an enticement to visit one day which we very much might.
Only 2-3 hours from Venice (depending on if you take a toll road) and less than 4 hours from Zagreb, Croatia and Salzburg, Vienna, Slovenia is an easy add-on country from Italy, Croatia and Austria.
Visit their website: https://www.hisafranko.com/en/