How to Make Tamales for Tamale Day
Dia de la Candeleria is a Catholic holiday with many names and meanings. In English, it's called Candlemas. It's also called Feast of the Presentation of Our Lord Jesus and Feast of the Purification of the Blessed Virgin Mary.  It falls exactly 40 days after Christmas (birth of Christ) and is the final celebration day for the Christmas season. But this is also a pre-hispanic celebration. This date falls on or near the day the Mayans would honor the tlaloques, or assistants to the rain god Tláloc and the main offering were tamales made from corn or maiz. The Mayans believed that man was created from maiz.
If you read our post Day Trip to Acambay on Three King's Day, you'll recall that Tom found the first baby Jesus in the Roscas de la Reyes. Whoever finds the baby Jesus would be responsible for making tamales on Dia de la Candeleria also known as Tamale Day in Mexico.
Tom's Twist on Tamales
Tom has been excited to make tamales for almost a full month. He bought enough fresh masa, baking powder, and corn husks to make what he thought would be 50 tamales. (We made more than that).
The masa lady gave us twice as much baking powder as needed. The masa absorbed only half of the salt, chicken stock and manteca (pork lard)  it was supposed to. Tom tweaked it to the consistency he wanted and as usual, made something wonderful. We ended up having to run out and buy more corn husks just to finish using all the masa and meat.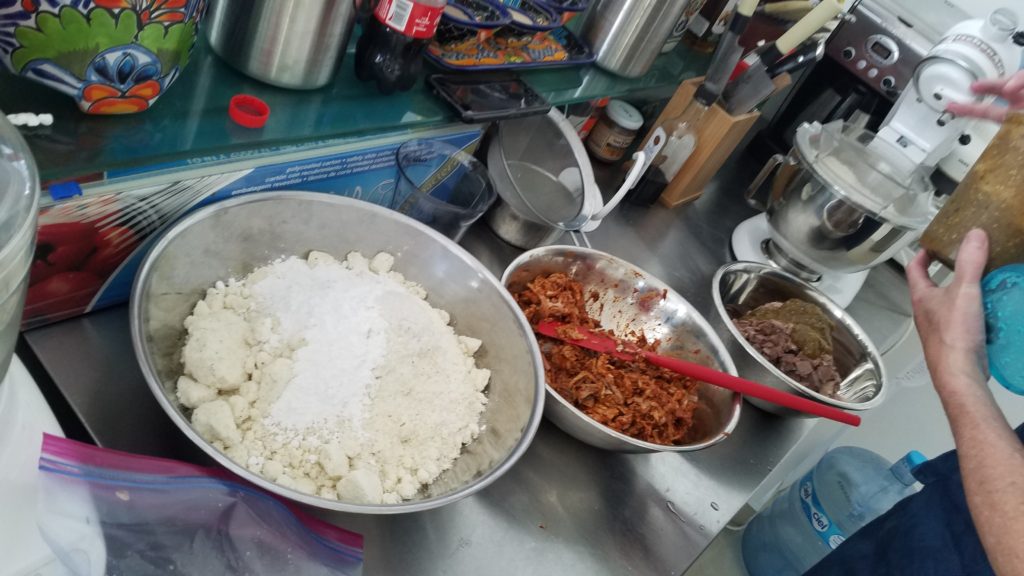 Tom started preparing the meat days in advance. He cooked beef tongue sous vide (low temperature in circulating water) for 36 hours at 158 degrees. He then chopped the tongue into small bite size pieces and tossed in a green chile sauce. The green chili sauce was made from oven roasted tomatillos and serranos, garlic and onions with lime juice, salt and mezcal vinegar (which he made himself) for an extra kick of acidity.
Cooking the tongue sous vide made it easy to peel the skin off  and it was cooked evenly through. Tom said he'll never make it another way. It was so tender.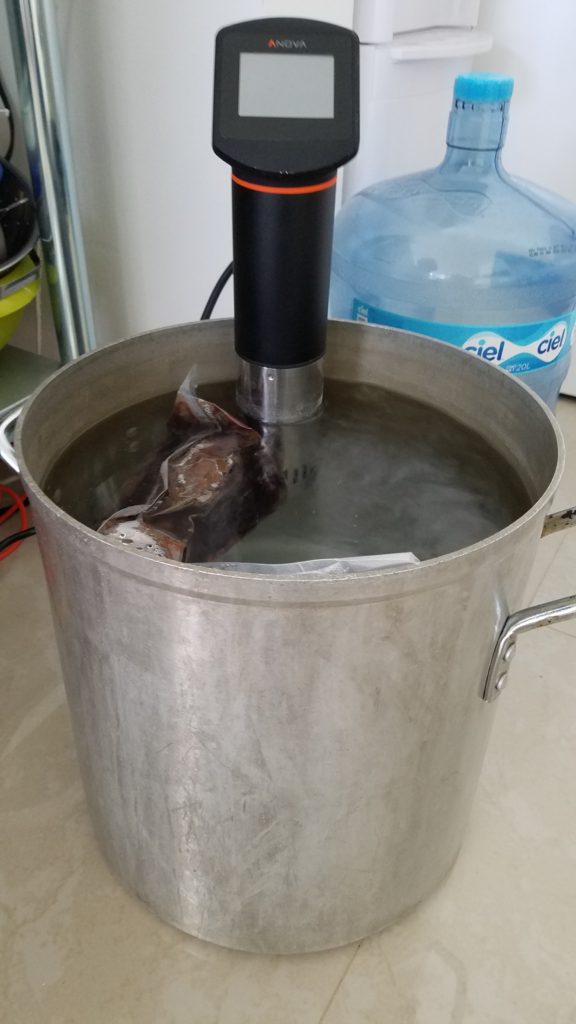 The pork was rubbed with mustard and spices and cooked at 275 degrees for 9 hours until it was falling off the bone. Once pulled, he tossed it in red chili sauce made with five varieties of dried red chilis with oven roasted tomatoes, onions and garlic, salt and lime juice.
The corn husks were soaked in hot water to make them pliable. Now it's time to combine all the ingredients.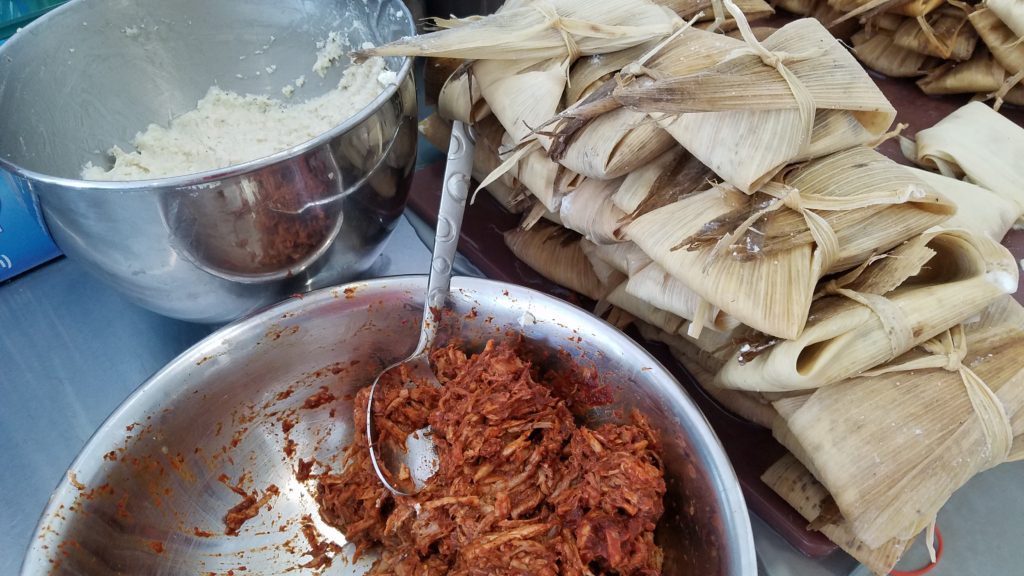 How to Make Tamales
Take one corn husk and spread out the center to prepare it for the masa. Spread a handful of masa in the middle in a rectangular shape.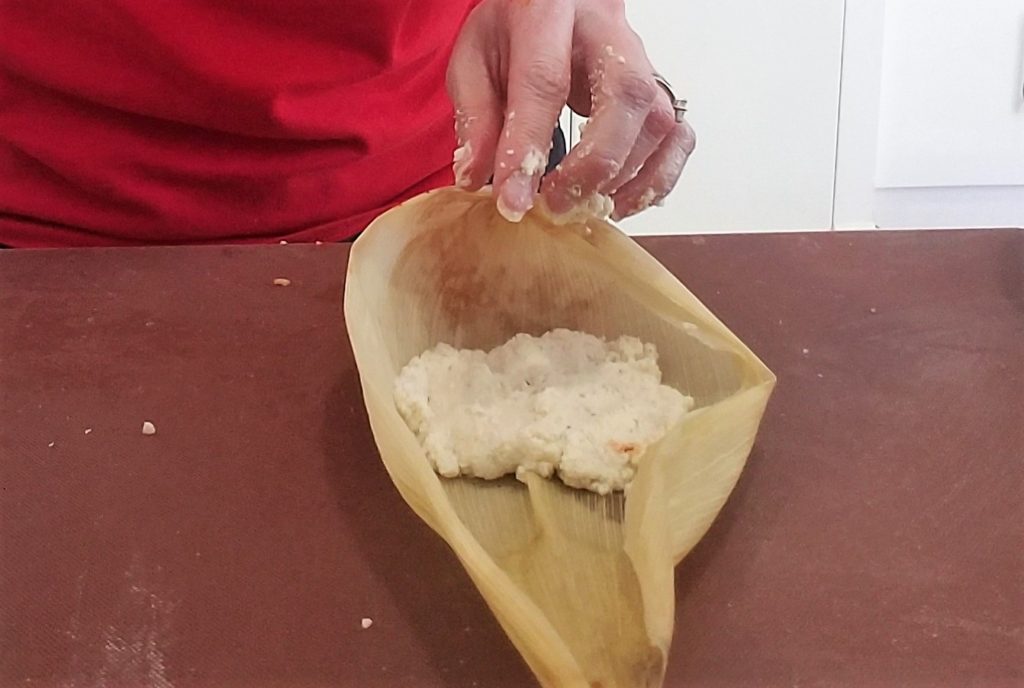 Take a spoonful or more of the meat and put that on top of the masa.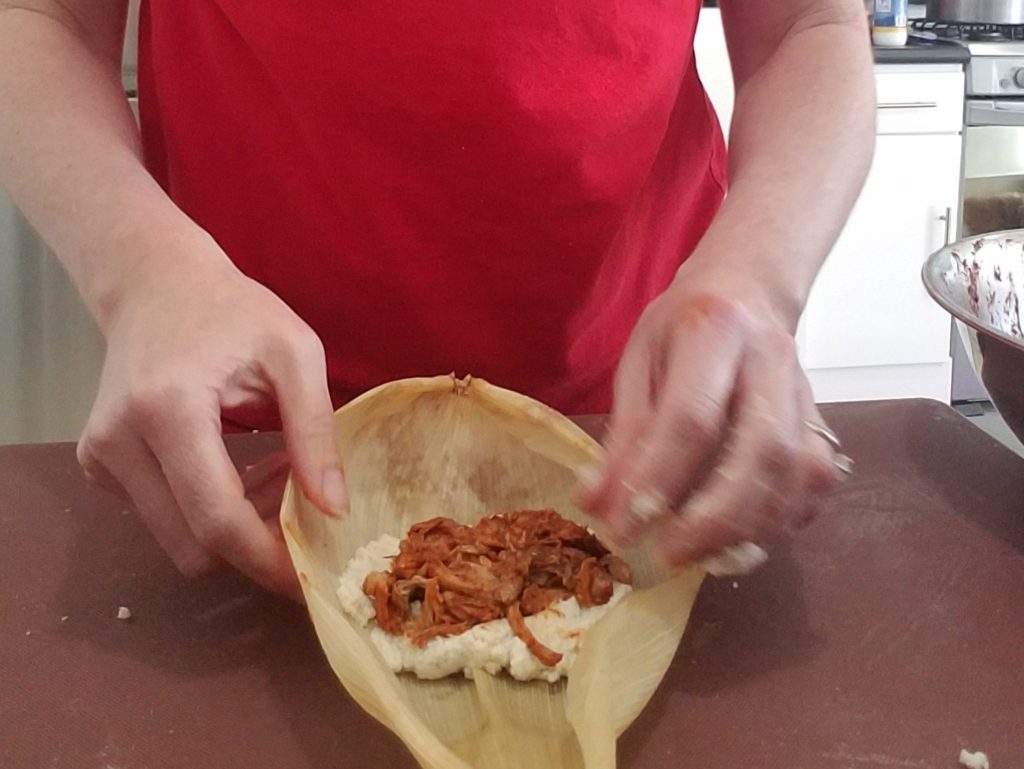 Fold the corn husk in half. Move it back and forth to get as much as the meat covered by the masa as possible.
Fold one side in around the masa, then fold the other side over.
Fold the bottom up and fold the top down (so it looks like a present). Take a strip of one of the corn husks and wrap it around the corn tusk to hold the folded ends in place.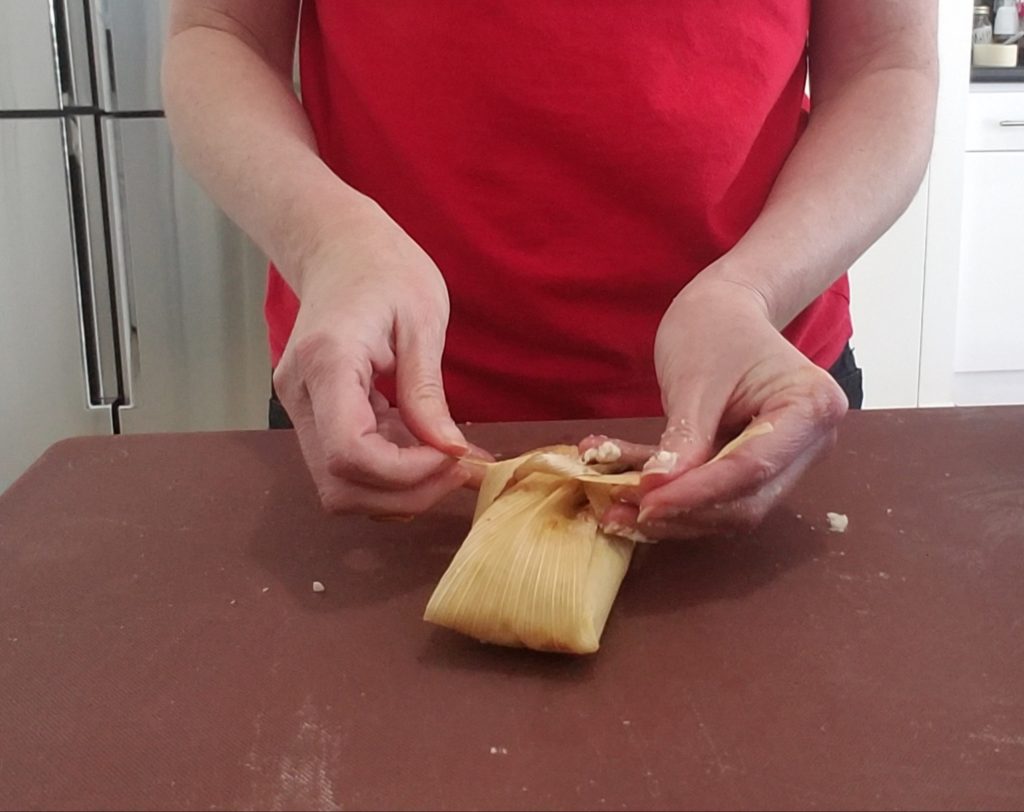 Once all the tamales are made, stack them in a steamer pot with water at the bottom. Steam for 1.5 hours.
When you are ready to eat, cut the corn husk strip and unwrap the tamales. Serve with extra sauce.
Atole
Our friends Michelle and Alex brought over atole as a pre-dinner drink. It was so good! Atole is a warm, thick drink prepared with masa, panela, water and milk and can be flavored with vanilla, anise, and/or cinnamon. The drink can be as sweet as the individual wants just by adding more panela or types of sugar. Our atole tasted like vanilla. This is typically drunk in the morning or at night, before or after a meal. The chocolate atole is known as champarrado.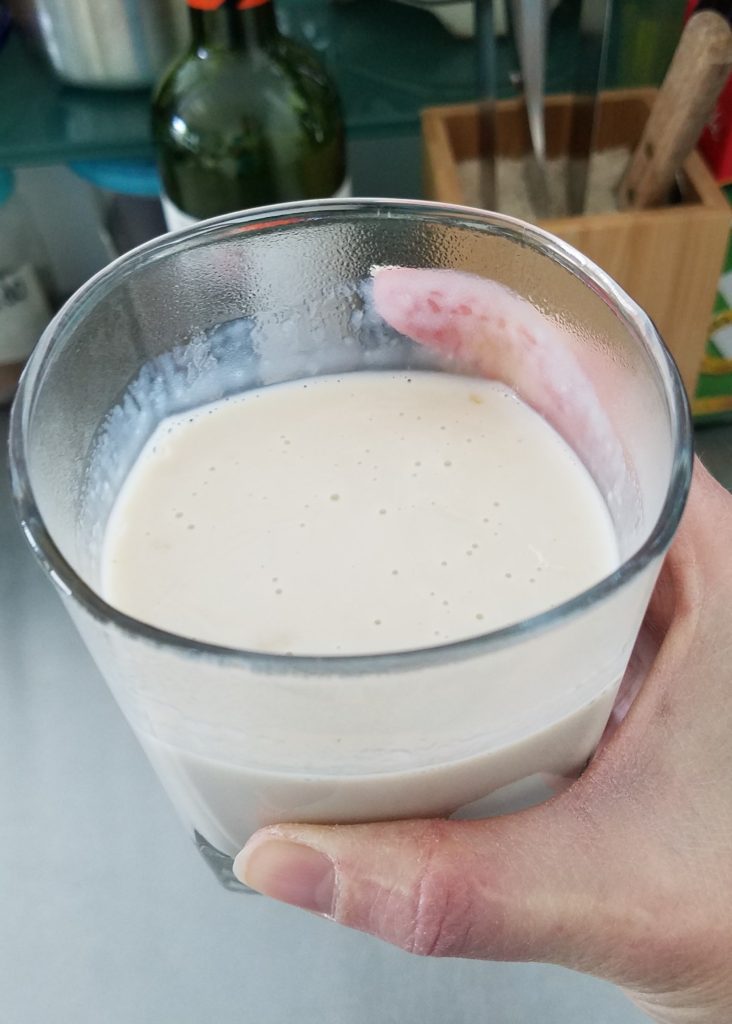 Time to Eat the Tamales!
Our tamales were so full of flavor! The spice and heat quotient was perfect and the masa was light and fluffy. Our only question was what wine would go best with each tamale?