Tom's Test Kitchen Is in Overdrive
With COVID-19 keeping us isolated in our house except for the occasional trip to the grocery store, Tom has been cooking up a storm! He's making things from scratch like breads and barbeque sauce, experimenting with fermentation to make flavored vinegars, and creating ethnic fusion dishes for dinner.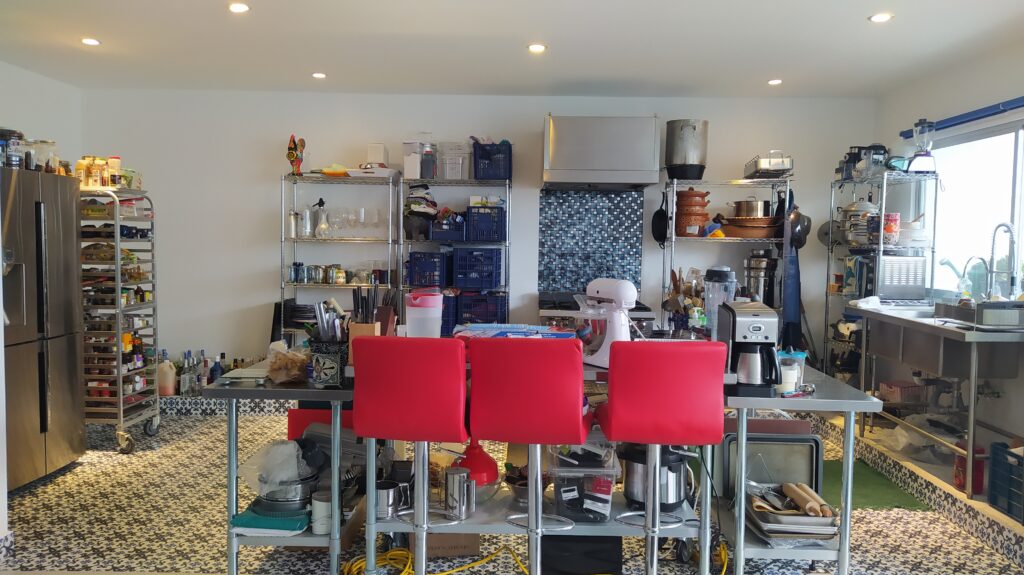 Disclosure: Links in this post may direct you to a product. We may receive a small commission if you click or buy something at no additional cost to you. 
Why didn't Tom become a chef?
Tom's first passion is food, his second passion is wine. Anyone who is passionate about something can tell you that they want to do it for the love and joy that it brings them, not for the money. He's also not someone who likes to do the same thing over and over. Once he has perfected his technique with a dish, it's time to move on to another one.
On occasion, I've shared a few of his dishes on social media and maybe wrote a post or two about a delectable dessert, but I think you all need to see what a scary genius Tom is with food when he has the space to create.
From salsas and vinegars to Indian and Asian cuisine, here's just a few remarkable dishes Tom has whipped up in his test kitchen.
Tom's Favorite Appliances in the Kitchen
While my idea of moving overseas means "whatever you can pack into 3 suitcases", Tom was not about to part with his kitchen appliances. This is understandable when you realize that many kitchen appliances in MExico are imported and the prices are much higher. When you've had something that has worked for you consistently for the past 20 years, why get rid of it just to spend more buying it later?
Tom has a few kitchen appliances that he could never do without. He's used at least one (if not more) of these products for each of the dishes below. His KitchenAid mixer and KitchenAid food processor are used the most, followed by our Vitamix blender for salsas and grinding, Le Creuset casserole dishes, a sous vide machine, InstaPot and a Foodsaver cryovac machine for portion control and leftovers.
Amazon Prime Deals: Best Sellers in Kitchen and Dining
BREADS
Focaccia
one of my favorites that Tom makes is focaccia bread. He salts it just perfectly. Pizza has been a challenge for him in our high altitude kitchen, but with a few modifications to his focaccia bread recipe, we don't have to rely on Domino's Pizza anymore. "The dough puffs up so much from the long fermentation and the addition of a tablespoon of honey, it is more like Chicago style deep dish pizza."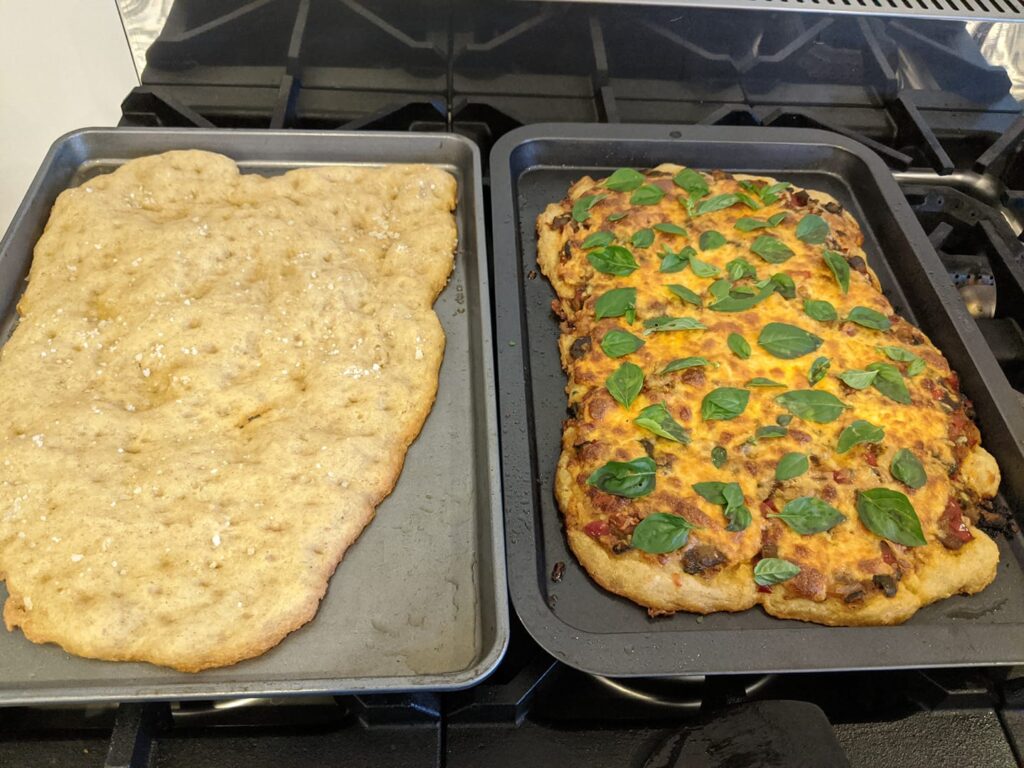 Corn Bread
From Tom: Made some Dos Equis bread this morning with sour corn (just like saurkraut but made with sweet corn), pickled garlic and pickled jalapenos (all homemade). I feel toasted cheese sandwiches happening today.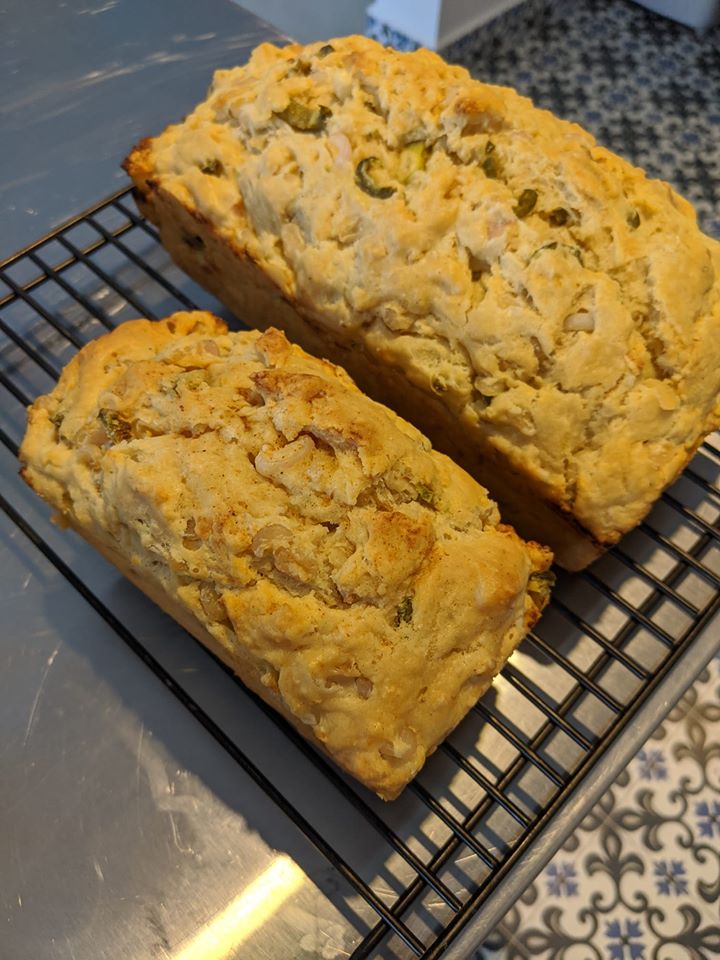 Naan
Garlic naan with wild cilantro (that somehow landed in my pineapple container) goes perfectly with the habanero pulled pork. Such a satisfying dish, we ate it all before we could take pictures! This was the second batch.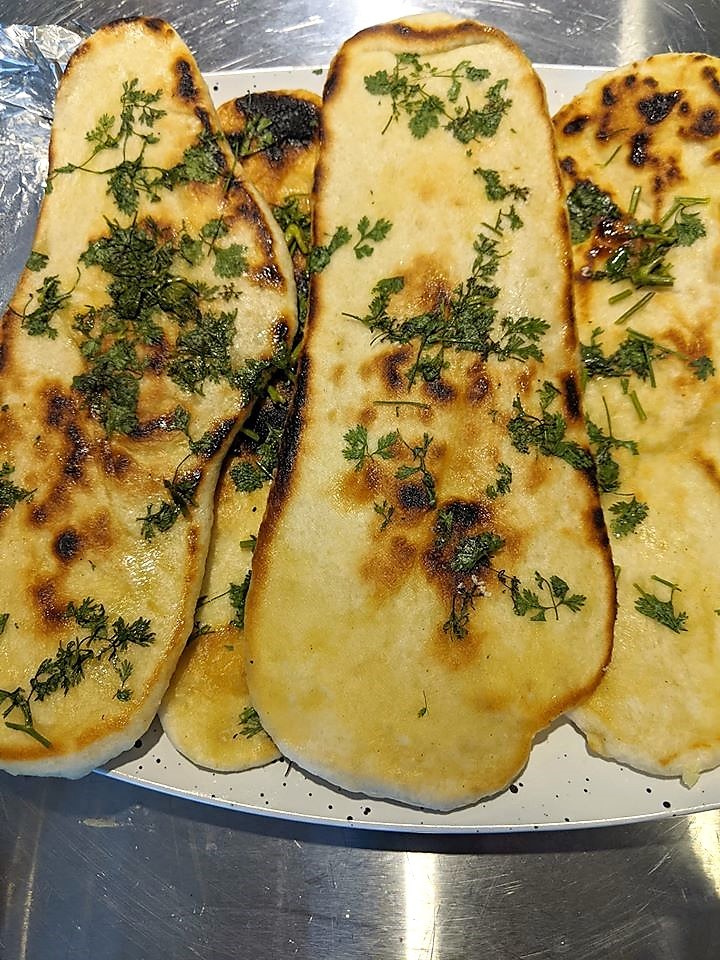 GEORGIAN BREAD
Using a recipe from Flipboard, Tm made a classic Georgian Bread with cheese and egg, then put his own style into two others: onion/anchovy jam and roasted tomatoes and with harissa (homemade), roasted zucchini and sumac.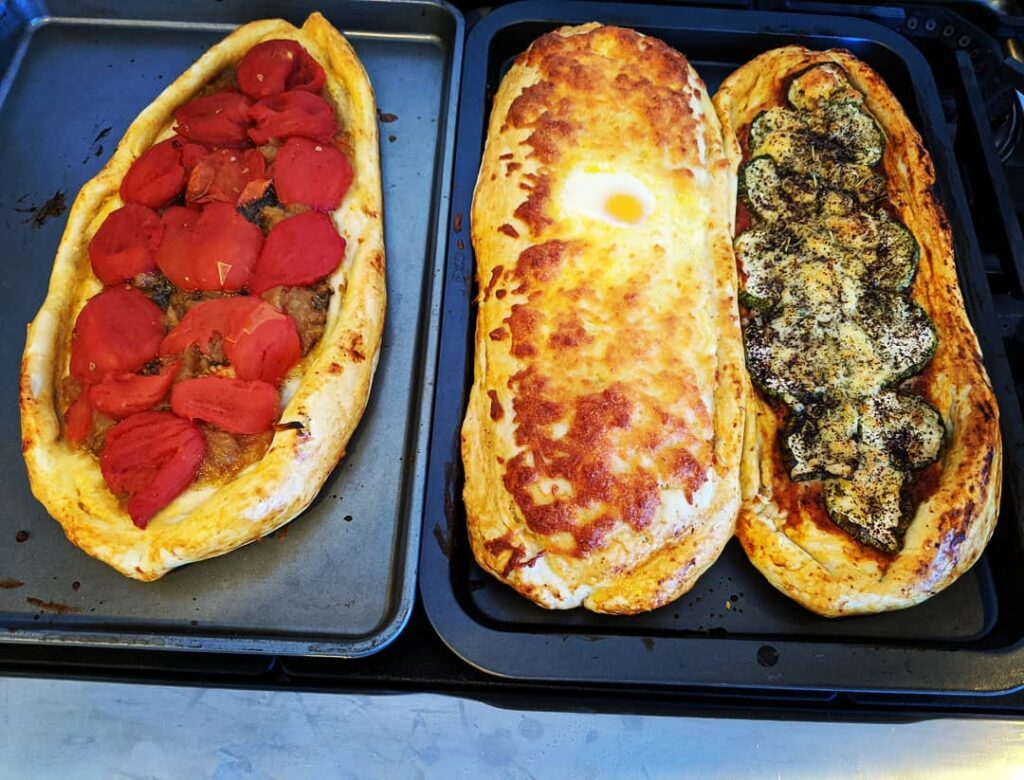 FROM OUR GARDEN
Herbs that we could never grow in Florida like mint, cilantro, basil and thyme go CRAZY here. Tom made a tincture mint and oregano (four cups of densely packed mint and one cup of dried Mexican oregano). Then made a liter of Tepache/cilantro vinegar.
The one thing you never, EVER want to do is spill mint tincture. So intensely green it looks brown in the photo. It stained my chinous, stainless steel sink and funnel in less than two minutes!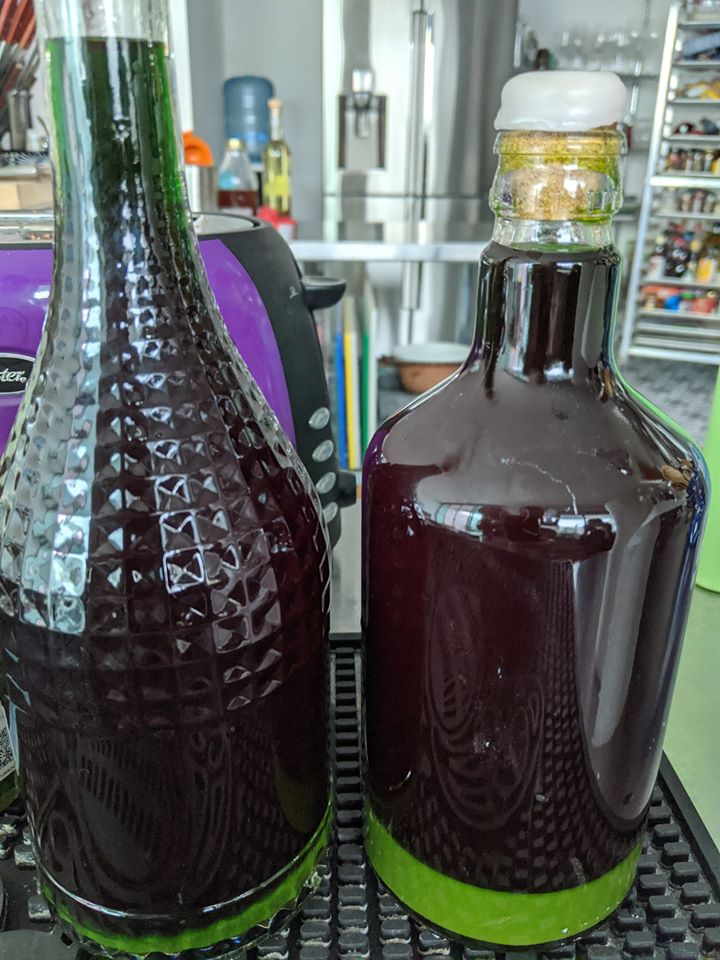 SAUCES, DIPS AND SALSAS
When life gives you basil this sexy, you make Hazelnut/Idiazabal pesto and why not make some spinach dip for Tiffany while you are at it.
Shop Vitamix!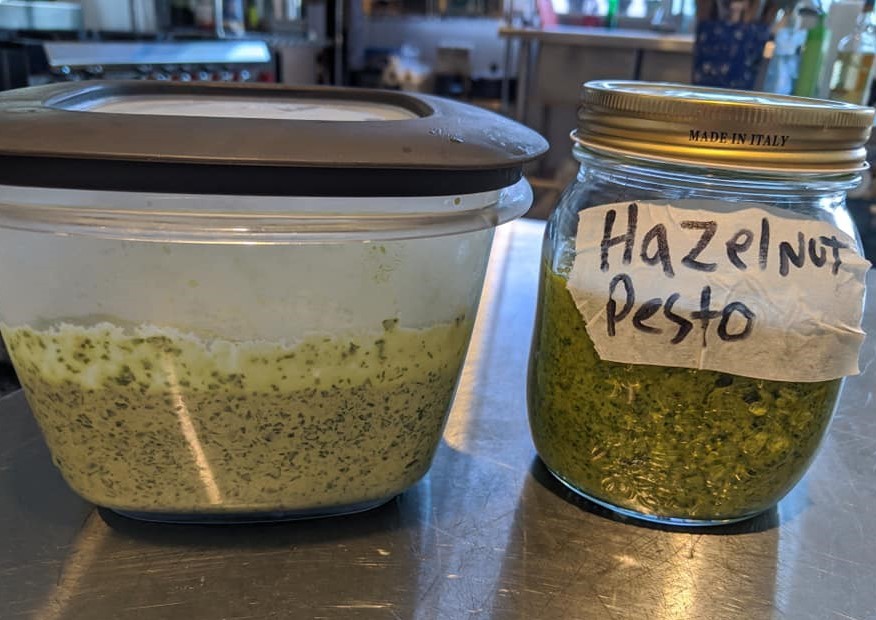 Tom canned some Harrisa spice paste and spicy tamarind sauce. If he dies, the pantry is full, and I will survive until I find another man to cook for me.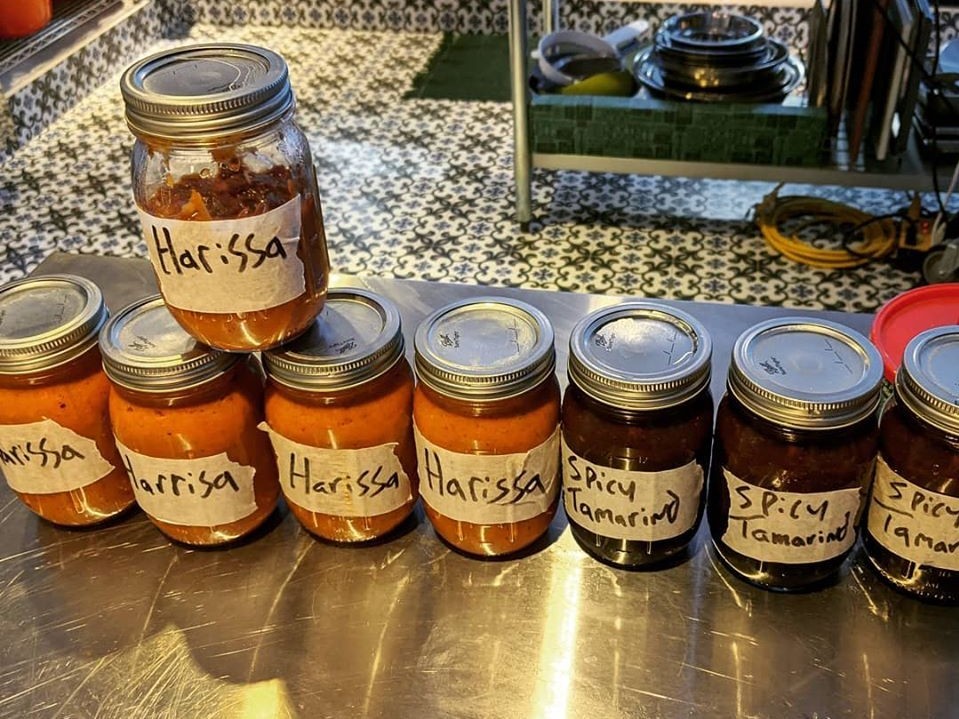 If your veggies are going bad in the fridge, it's time to make them into salsa. Roast in the oven or on a plancha, then place in a Vitamix blender and make salsa. We roast tomatillos, onions, garlic and jalapenos for our salsa verde.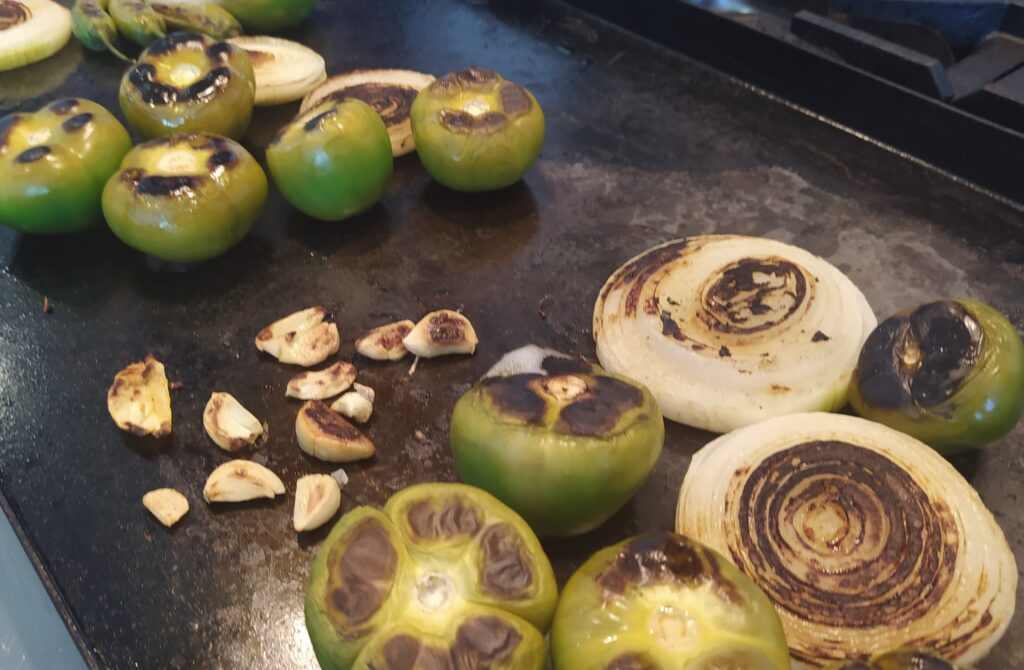 So this science project is the juices from lacto-ferm mushrooms and huitlacoche mixed into salt water. Tom dries the huitlacoche and mushrooms, adds them to the brine and boils. When reduced,  puree and strain. This mad genius is shooting for an umami bomb seasoning sauce.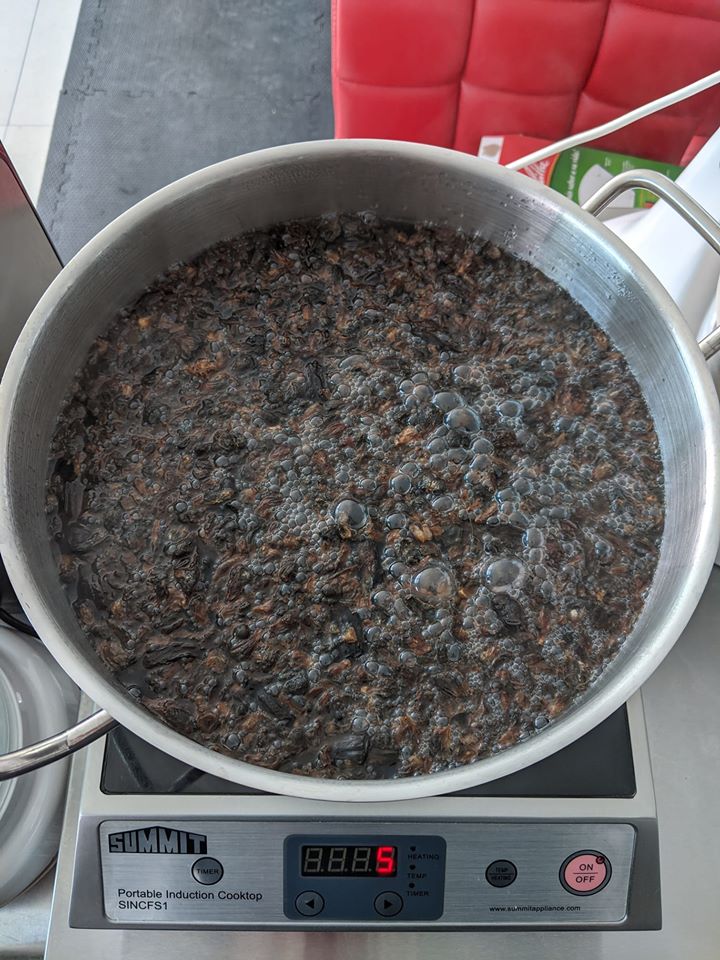 Tom also just finished a lacto-ferm habanero sauce by pureeing the peppers, onions, garlic and carrots that have been souring for two weeks with sugar, pineapple vinegar, orange and grapefruit juice. Hit that with a bit of vitamin C to keep the oxygen out and the color in and then into a food grade container to age. Be warned, it's hot!
Other tasty food projects include Nam prik num (smoky eggplant and green chilie dip) and fresh jerk paste.
TIP: Keep your guacamole green for days by adding Vitamin C (ascorbic acid).
Vitamin C stops the oxidation process (guac turning brown). You can add it to other food and liquids to  keep for a longer period. Vitamic C can be bought as capsules from any health food or supplement store.
FERMENTATION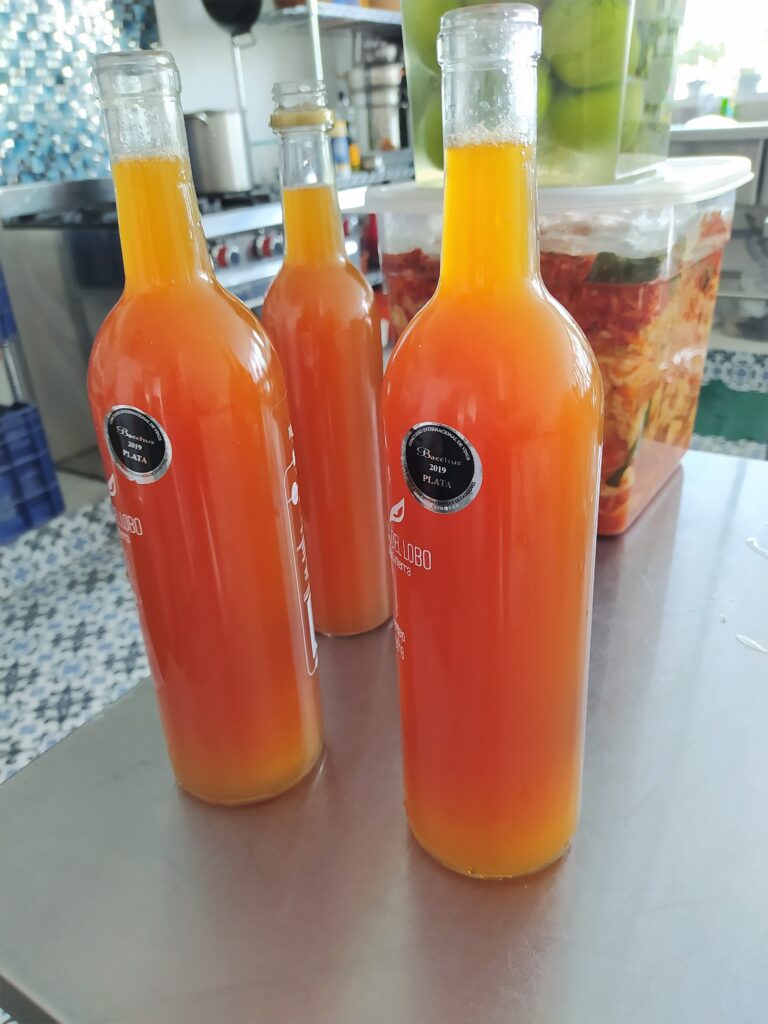 Many of Tom's experiements have revolved around fermentation. From pineapple tepache to prickly pear vinegar, he's been having fun making unusual flavors into additonal flavor bombs. If you'd like to experiment with fermentation, we highly recommend the book The Noma Guide to Fermentation: Including koji, kombuchas, shoyus, misos, vinegars, garums, lacto-ferments, and black fruits and vegetables (Foundations of Flavor)
COCKTAILS
Tom has made a variety of shrubs to add to to We use pineapple this custom cocktails like rhubarb shrub, pineapple shrub and mango shrub.
Tom's Spiced Rum: Appleton silver, cloves, star anise, cinnamon, black peppercorns, pink peppercorns, orange peel. Two hours sous vide at 153F.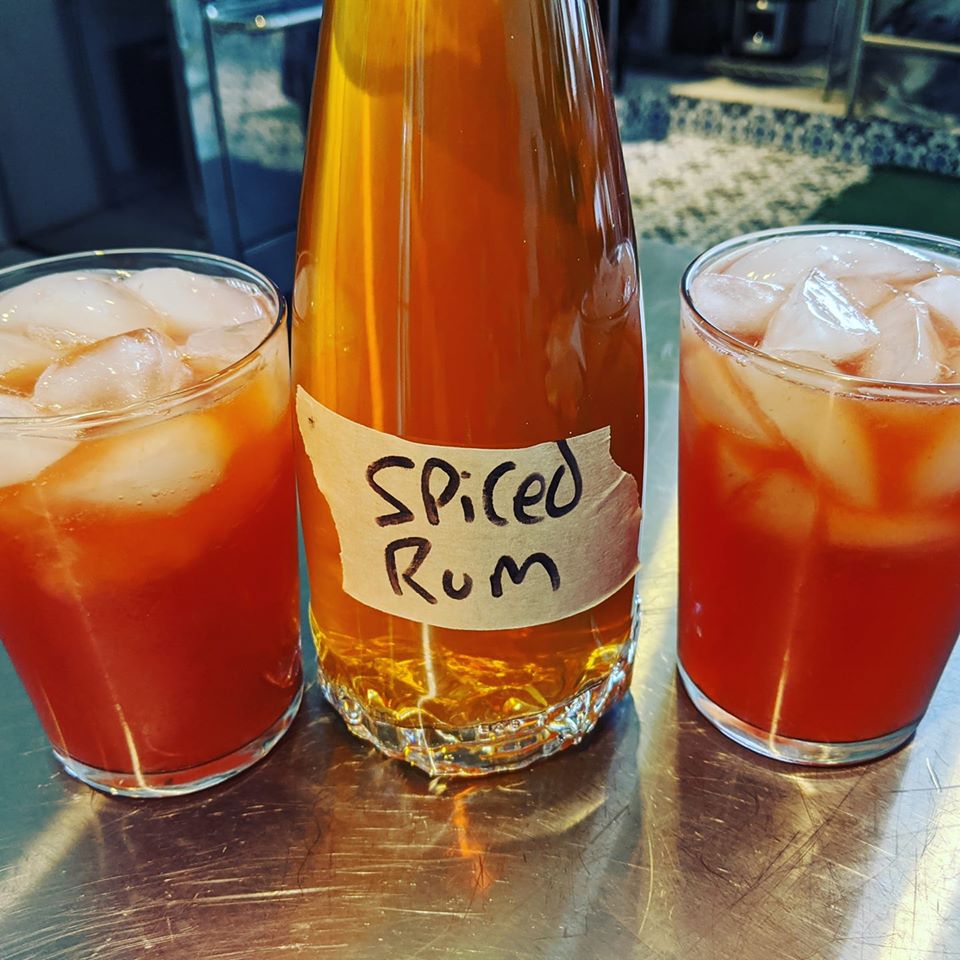 INTERNATIONAL DISHES
MEXICO
Tacos are the comfort food of Mexican cuisine. From street food taco al pastor to Pujol's fancy Taco Omakase tasting menu, tacos can be as simple or as complex as the chef wants them to be. In our household, they always seem to be more complex unless Tiffany is throwing together a leftover taco. From brisket to shrimp tacos, we've made them all during COVID2020, but the rabbit tacos were the best.
Rabbit Vaca Frita Tacos
Rabbit Vaca Frita Tacos, Salsa Verde, Pineapple salsa, avocado. Salsa Verde from roasted vegetables and blending in our Vitamix. Pineapple salsa from fruit and herbs in our garden.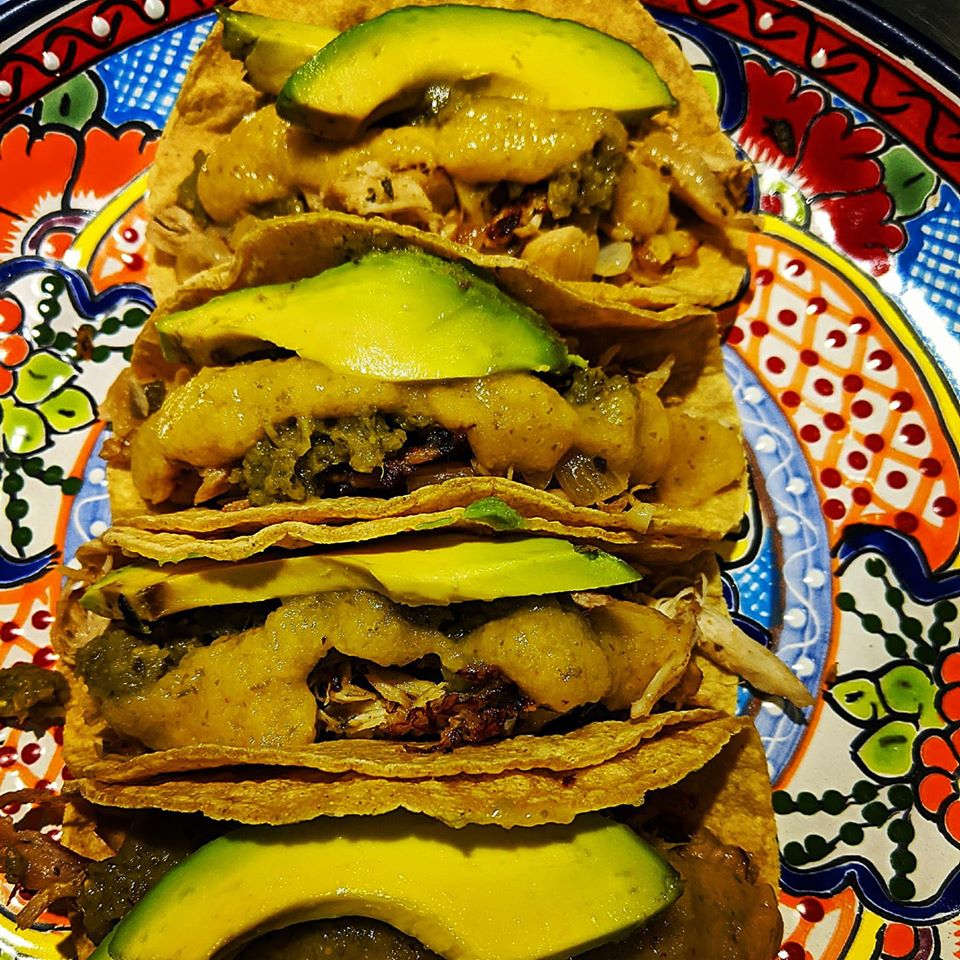 Sopes
Sopes with black bean puree, jalapeno cheese, chicken, onions and potatoes sauteed in chili oil and crema.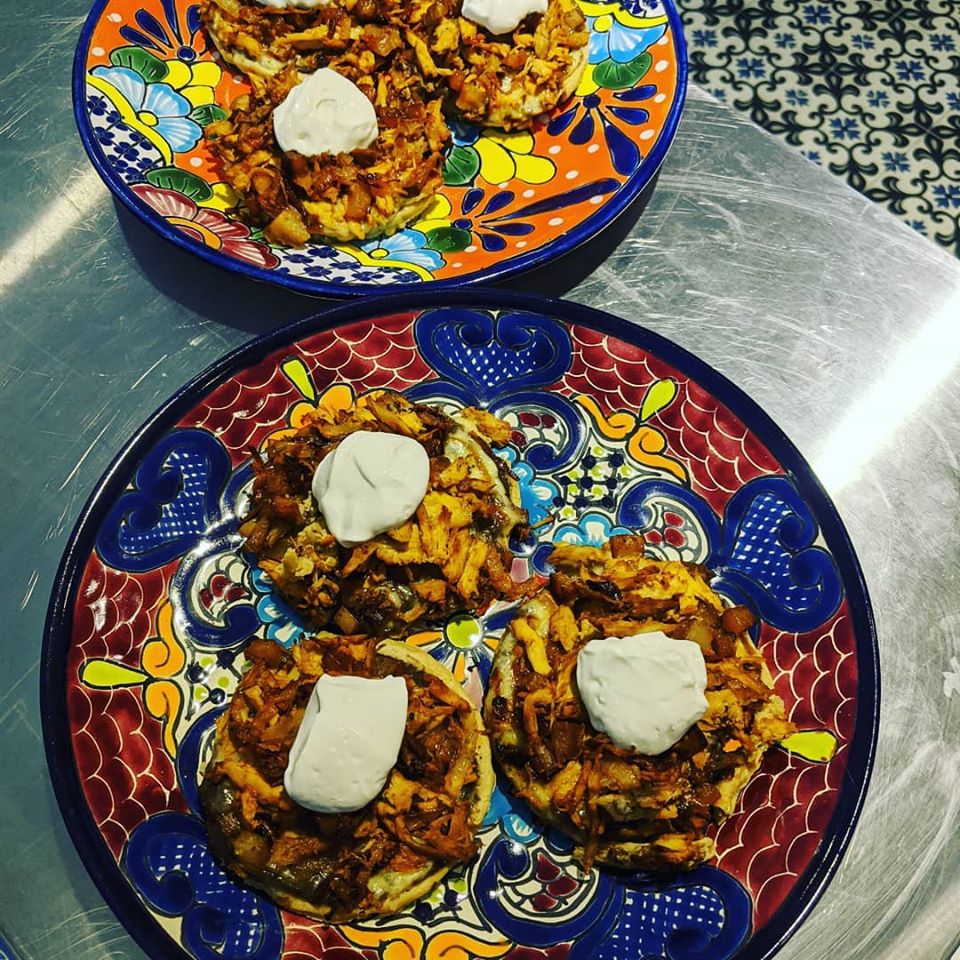 USA
Seafood Gumbo
Hanks's New Orleans Cafe & Oyster Bar is a popular local and expat hangout in both Queretaro and San Miguel de Allende. Every once in awhile, we get a hankering for some Southern Creole cuisine. But since we haven't been dining out these last few months, Tom made his own seafood gumbo. We don't get okra here until June, Tom used leeks as a substitute. Everything else is legit!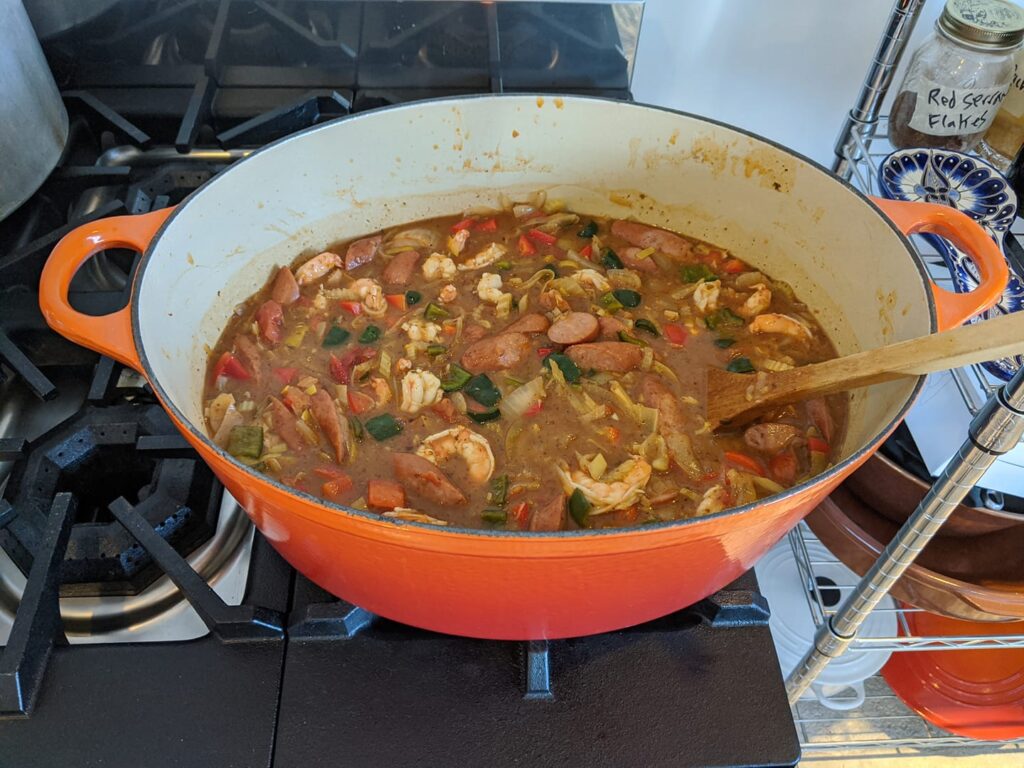 Being a southern boy, BBQ is always pork (whole hog) and the sauce is always mustard based. Everything else is Kansas City Ketchup and Smoked Meat.
I did manage to make some homemade BBQ sauce, red with Chipotle and Carolina mustard sauce. When I say homemade, I mean I made the ketchup, mustard, vinegar, brown sugar and Worcestershire sauce from scratch before starting on the sauces.
Amazon Prime: Best Sellers in Kitchen and Dining
KOREAN
Some fried chicken thighs I have been marinading in plain yogurt and a plethora of spices for three days. Served with my red salsa and David Chang's Bo Saam sauce with some Korean pickles.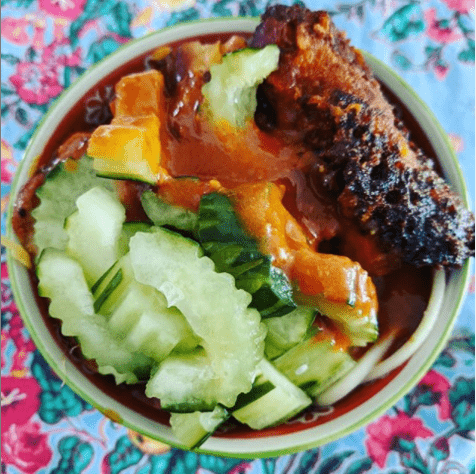 ITALY
Shrimp Bucatini with Saffron, orange and star anise sauce.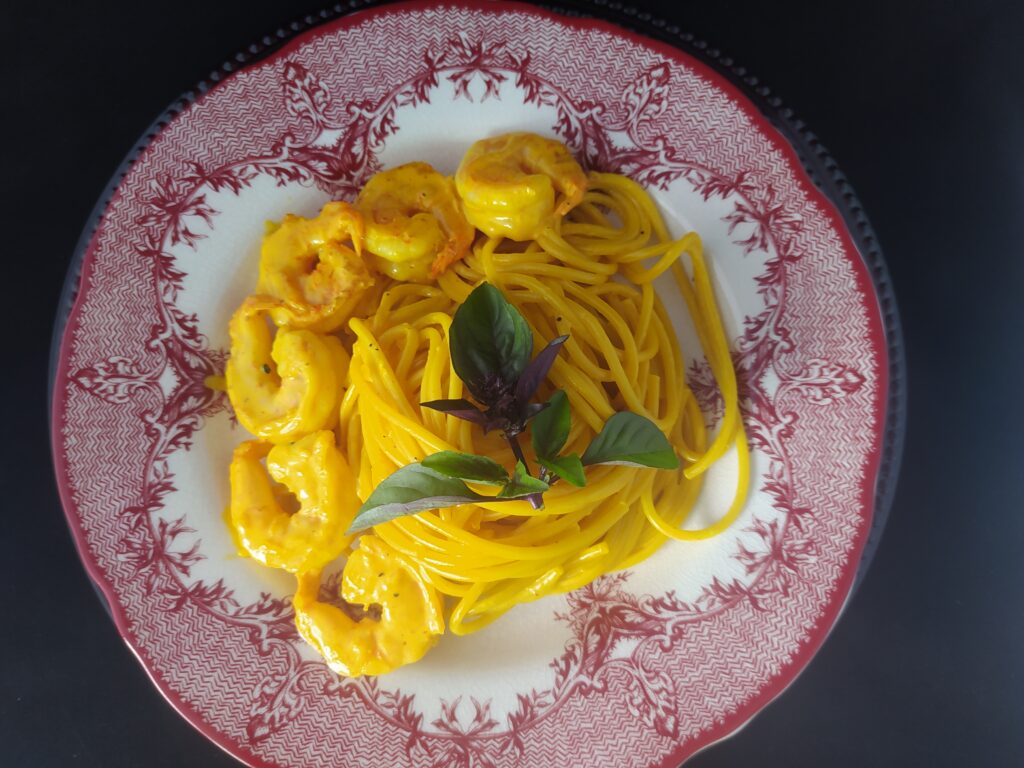 Pizza
Pizza crust has been a challenge at 7000 feet elevation. Tom has tried different flours and different recipes, but the crusts keep coming out hard. I told him just to use focaccia bread as his pizza crust. Determined to get it right, he used the Georgian bread recipe which calls for milk.
Pizzas he has made:
Alfredo sauce, parmesan, hot chili flakes, piquillo peppers, zucchini, olive oil, Italian herbs, Jalapeno jack cheese Roasted red chili sauce, onion, tomato, bacon and manchego
But the best pizza and pizza crust was the crispy, roasted squid ink "pancake" with ocho sauce (eight chile roasted red salsa), fiery adobera chipotle cheese (local), lemon-chile crisp shrimp and goat cheese stuffed into zucchini blossoms. The crust stayed firm with a little chewiness.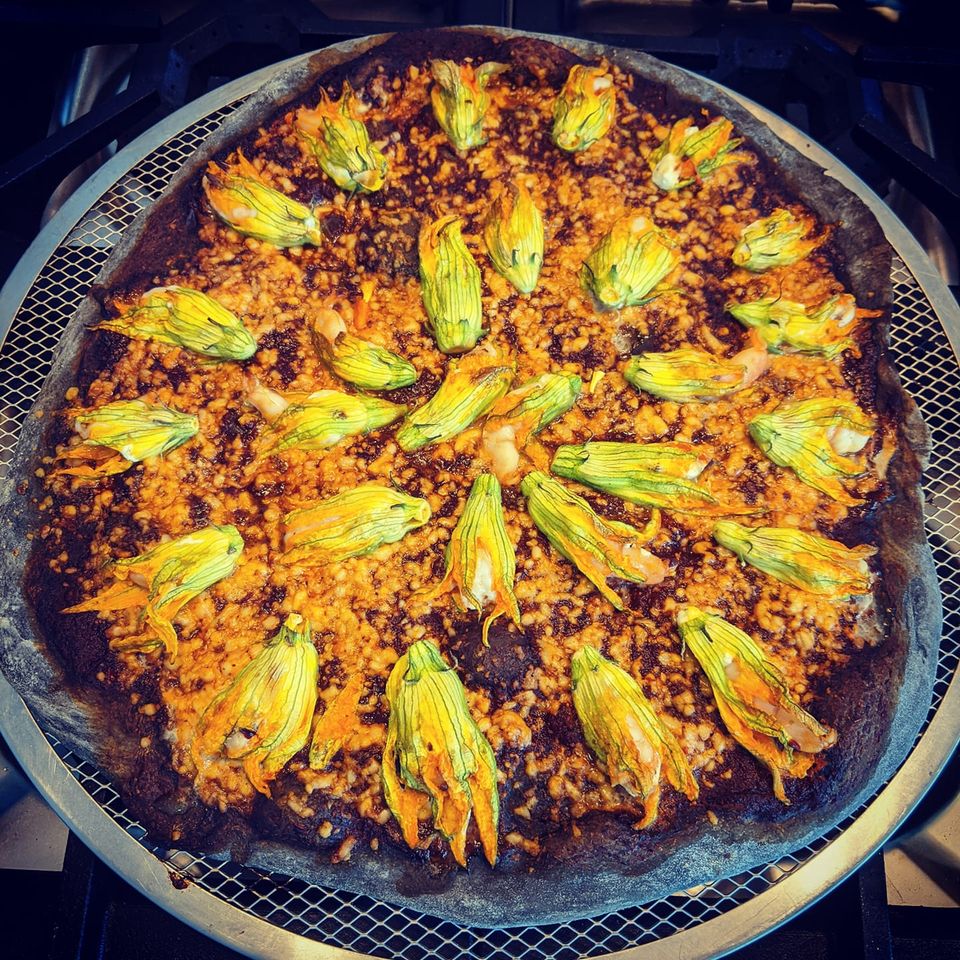 VIETNAM
Pho
"Pho with brisket and chayote tonight. Best I have had since Hanoi." I bought a whole brisket from City Market. I cut off the thickest 60% for smoked meat and cooked the other 40% in the pressure cooker after a heavy sear with a browned onion. Added half bottle of red wine and a quart of water. The stock was so intensely beefy there was only one option. The rest becomes tacos tomorrow!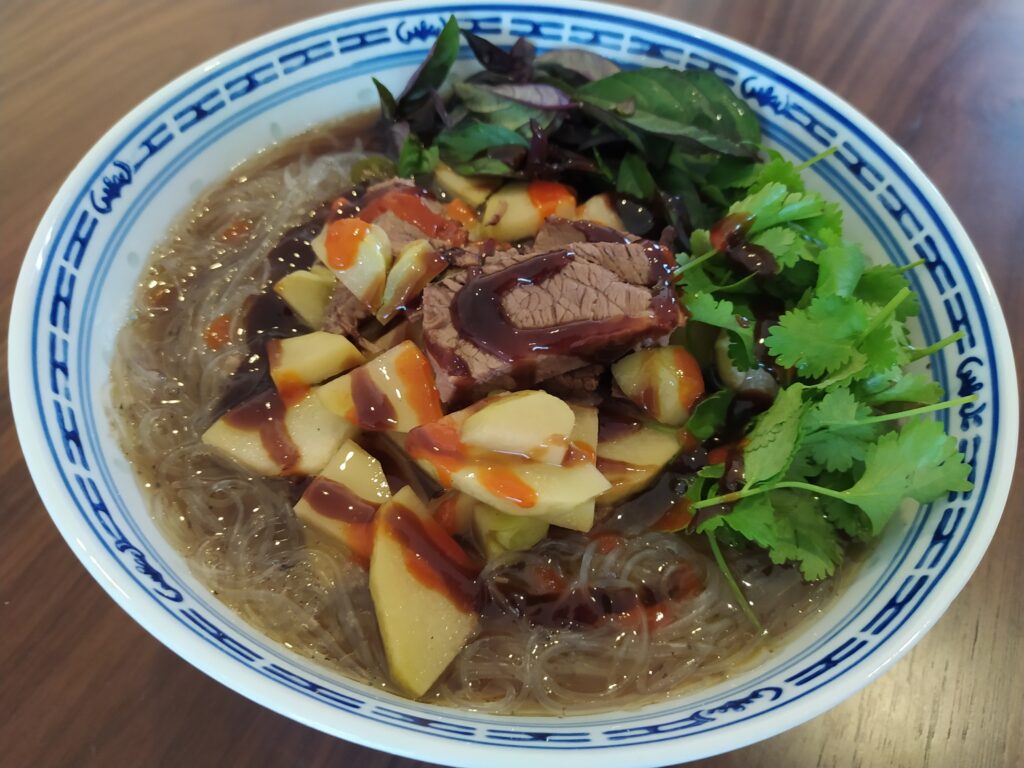 Banh Mi Mexican Vietnamese Fusion
Adding a little Mexican chorizo to your usual Vietnamese banh mi sandwich.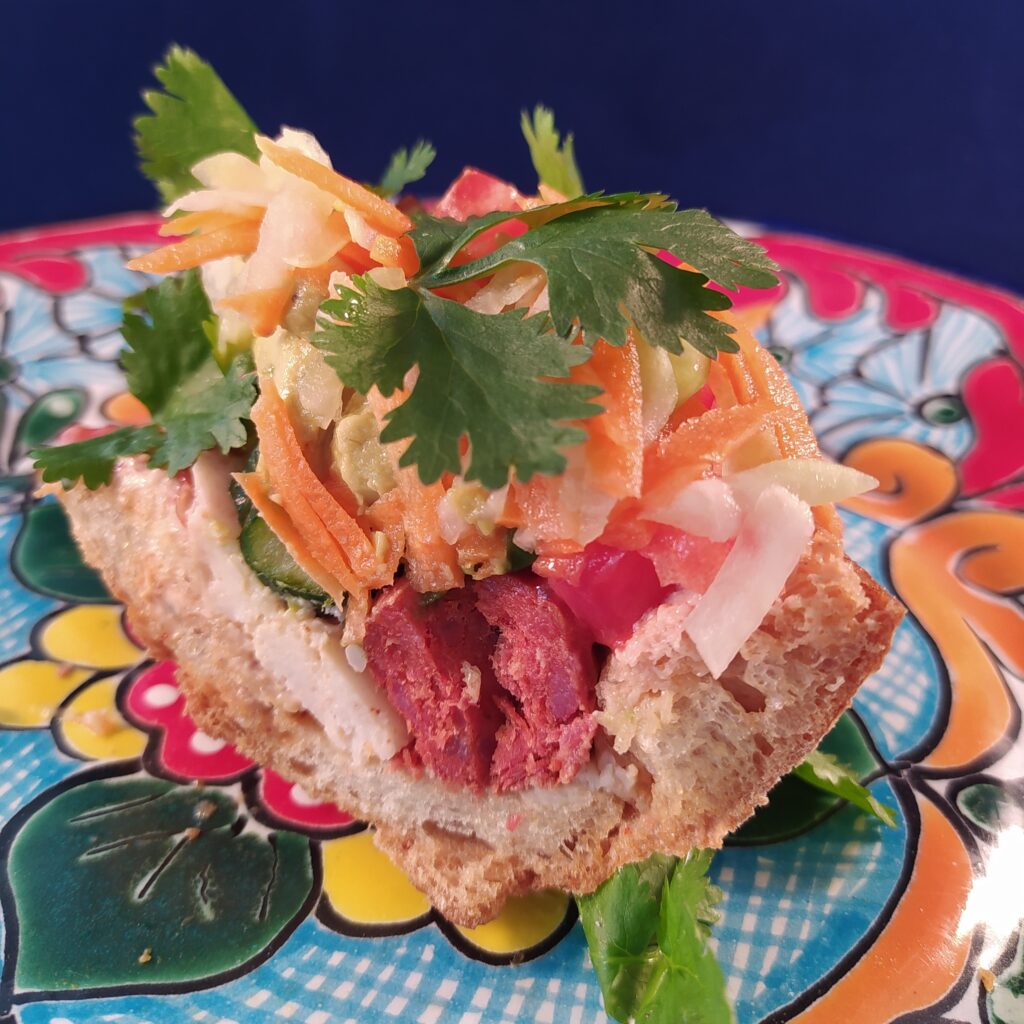 MIDDLE EASTERN
Medjool dates stuffed with homemade green chorizo. Braised in homemade Harissa with cava and chicken stock in a tagine. Served with plain couscous.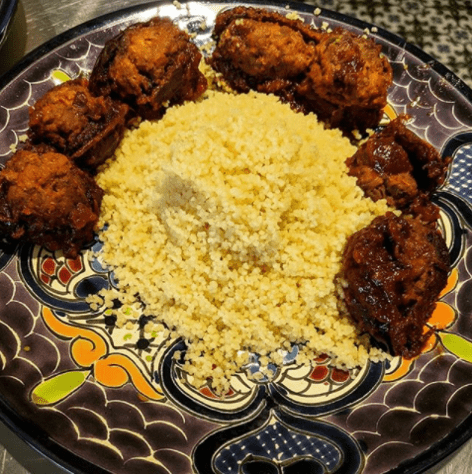 NORTH AFRICAN
Seared Tuna steaks, mashed potatoes with chorizo "sand", cumin carrots "mulligatawny", curried carrot gastric.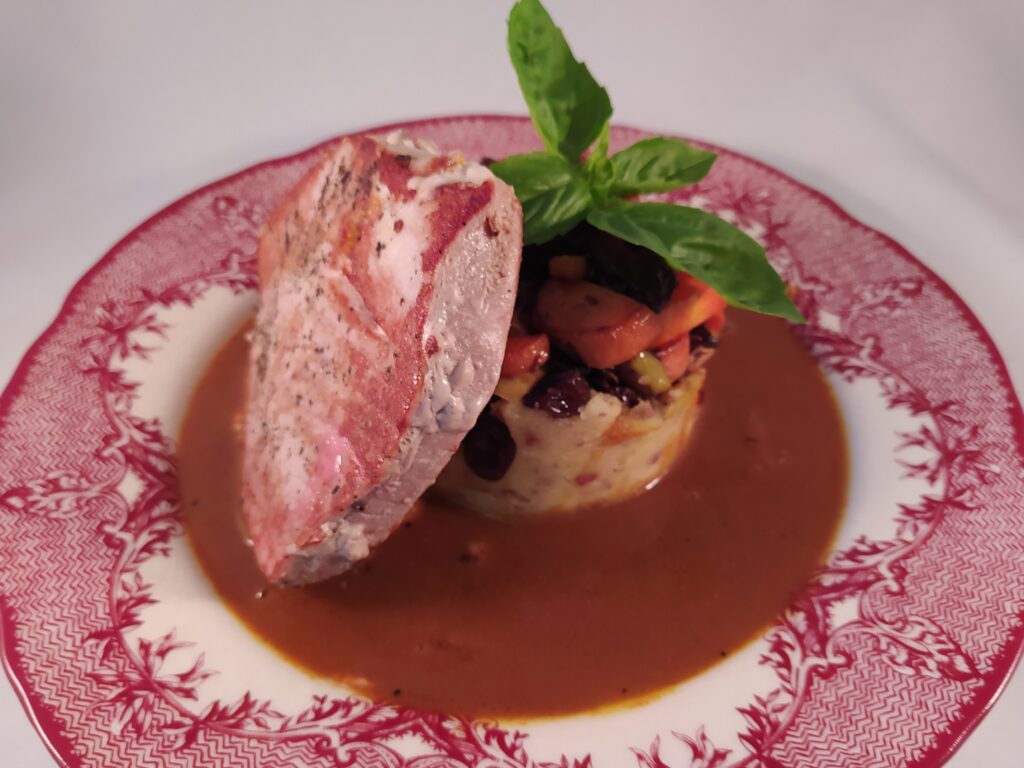 SEAFOOD
Poke Bowl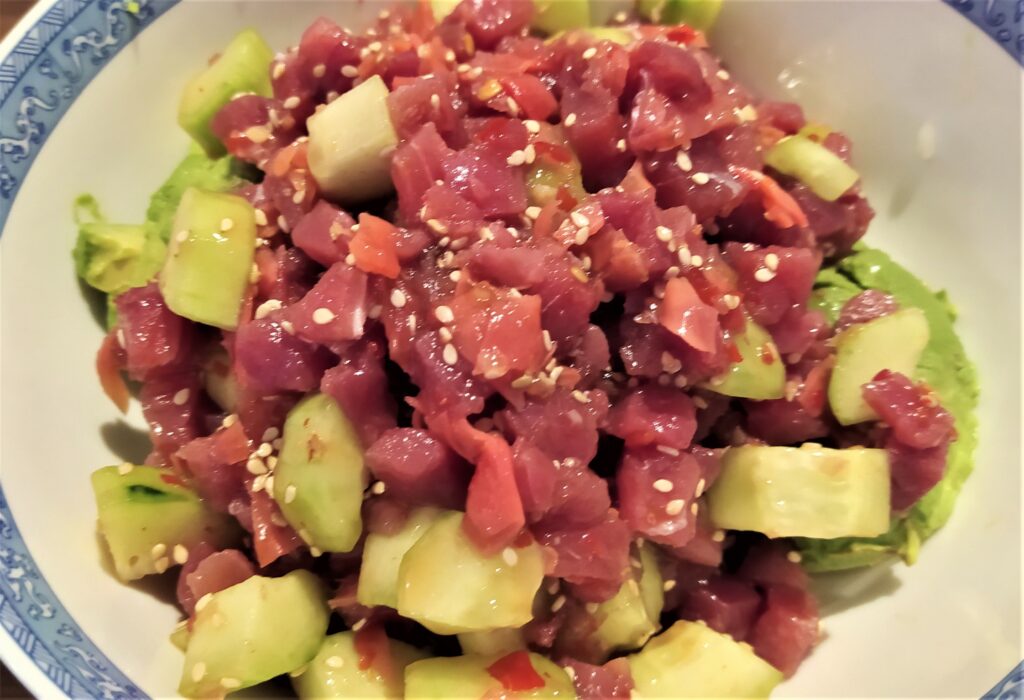 Tuna
Tuna steaks with Asian caramel sauce, udon with sesame sauce and stuffed bola zucchini with cured lemon, piquillo pepper cheese sauce.
For the Asian caramel sauce: Dark soy, mirin, ginger rice wine vinegar, sambal (marinade). Sear the steaks, remove to warm plates. Pour in the marinade, the sugar in the mirin quickly seizes up and then you add a half stick of cold butter and swirl until emulsified. Adjust saltiness with more mirin if needed.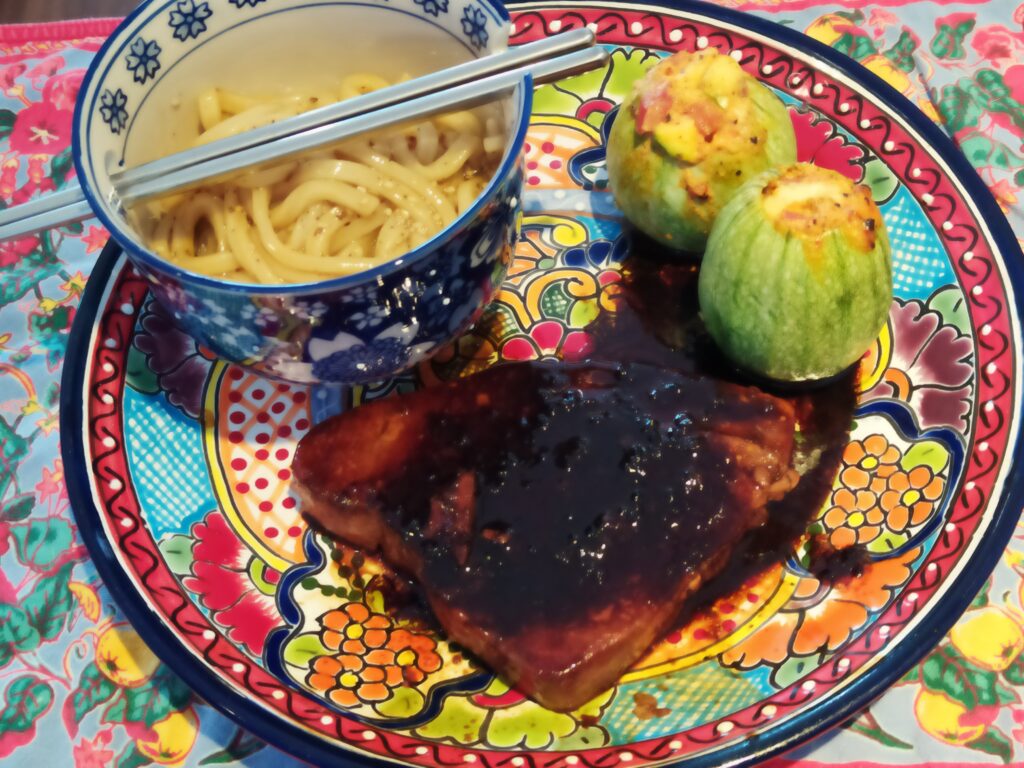 DESSERTS
Tom knows how much I love desserts, so every few days we have something sweet to nibble on. Sometimes its ice cream like Fig Mezcal or Licor 43 and Banana ice cream, and sometimes its baked goods like Strawberry-Rhubarb crumble, mango Claflotis, fig skillet pie and chocolate peanute butter cookies.
Amazon Deal: Mini- Dessert Shooter Glasses with Spoons
While I've enjoyed licking the spoon, fork or my fingers after these finishing these scrumptious desserts, these two are uniquely Mexican:
Cheesecake
Licor 43 cheesecake with Chokis crust and home-made Mexican Chocolate ganache. See the full recipe in our post Licor 43 Cheesecake with Mexican Chocolate Ganache.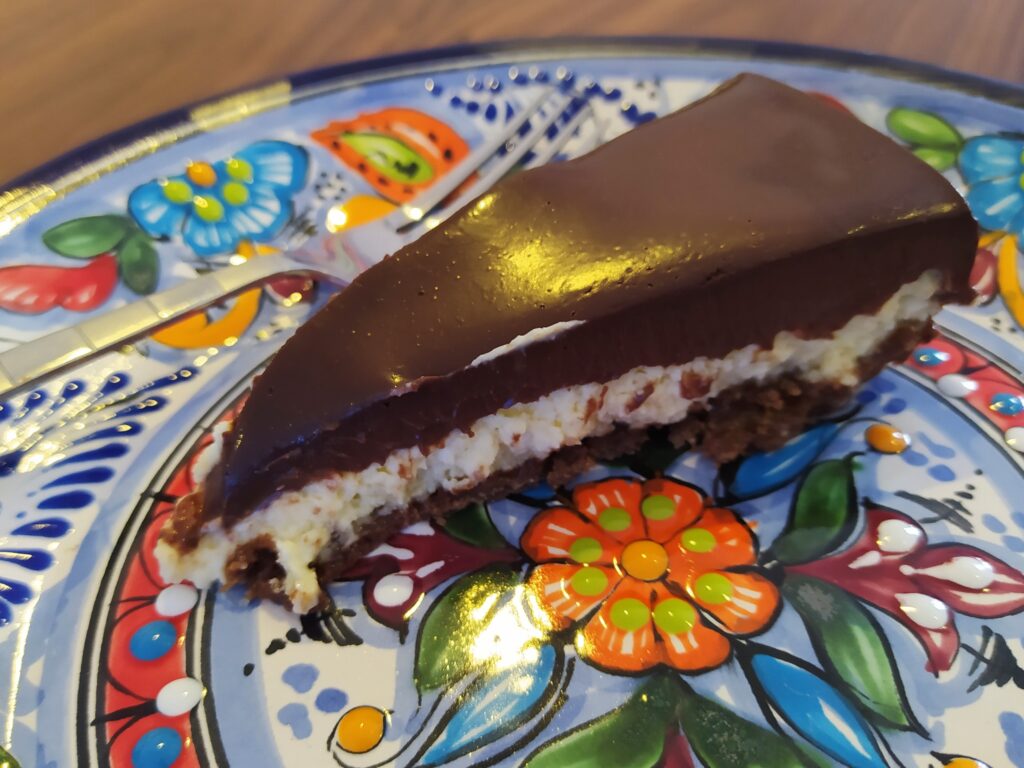 Chocoflan
Chocoflan, a favorite Mexican dessert dubbed "the impossible cake" is made with with dulce de leche flan on top of chocolate cake. The cake batter and flan flip places while baking. Tom substituted cajeta (goat's milk caramel) for the dulce de leche. Thick and moist!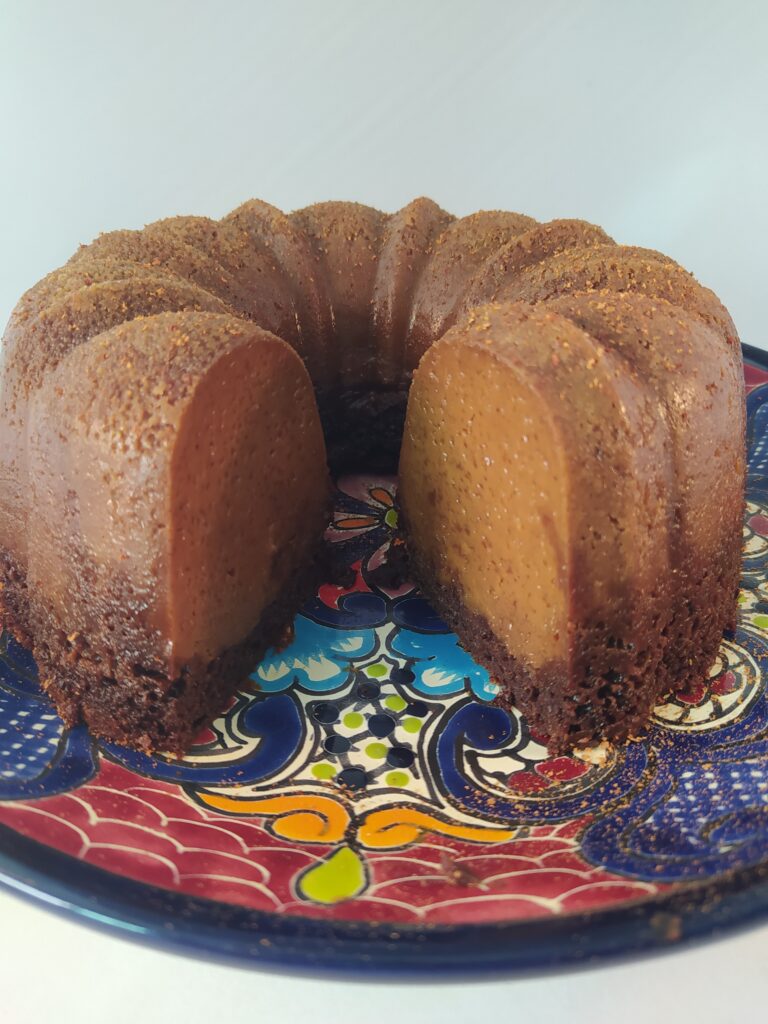 Do you need inspiration in the kitchen? Here are some of Tom's favorite books: