Licor 43 Cheesecake with Mexican Chocolate Ganache
It's always fun to see what Tom is making in the kitchen, especially when its desserts. He really isn't into sweets so its always a special treat to have some sort of sweet dessert in the house. He's been wanting to make a chocolate covered cheesecake for a few weeks, but not just any old cheesecake. He wanted to make a cheesecake with Mexican flavors, one that chefs around the world would say "Why didn't I think of that?" Behold, a Licor 43 Cheesecake with Mexican Chocolate Ganache.
Disclosure: Some links may be affiliate links where we receive a super-small commission at no additional cost to you if you click through and make a purchase. We call this our Chocolate & Churro Fund.
Tom used a recipe as a guide, but made modifications according to what ingredients we could find here in Mexico. For the crust, we haven't found graham crackers in Mexico, so he improvised with "Chokis" chocolate chip cookies.  He used Licor 43 instead of vanilla extract for flavoring the cheesecake. For the chocolate ganache topping, he made his own Mexican chocolate. You can find bars of Mexican chocolate, but it's also easy to make, and you can tweak the ingredients to your liking. The result is a deliciously rich Mexican-inspired dessert.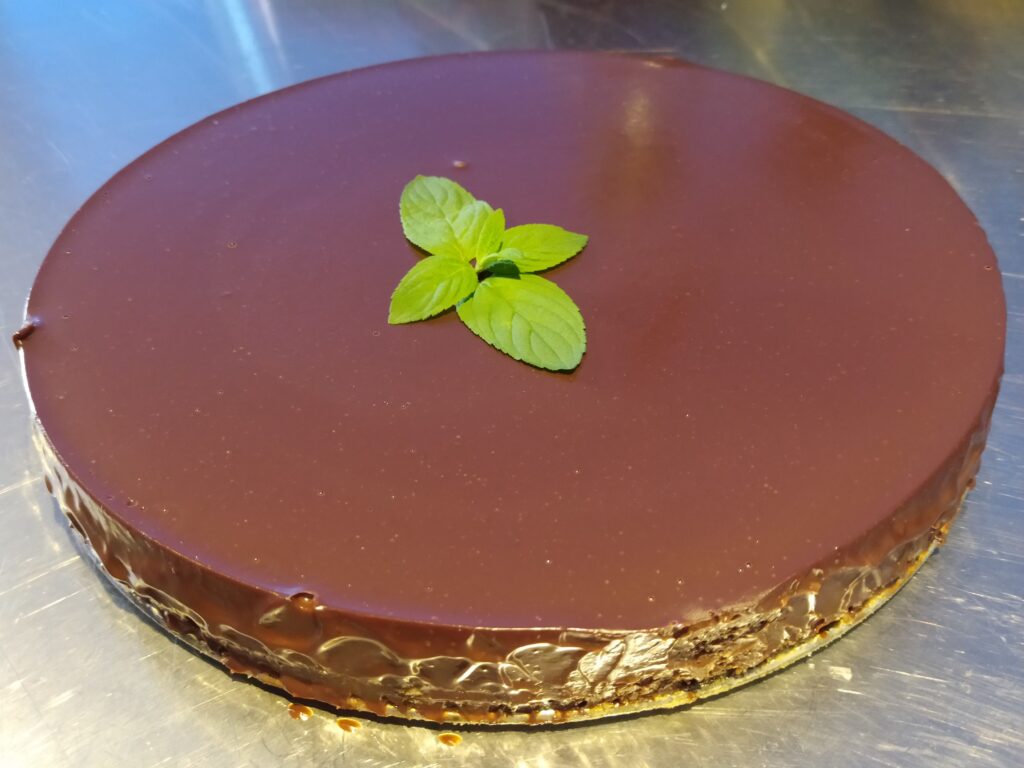 What is Licor 43?
Licor 43 is a Spanish liquor made with 43 different ingredients (hence the name). It has a strong caramel flavor that is perfect for mixed drinks or just over ice. Mexicans like to add it to black coffee to make a carijillo. The Licor 43 website has wonderful cocktails and food recipes you can try out. I like it straight over ice or shaken with coconut milk, pineapple juice and ice. Try Licor 43 with fried cinnamon bananas paired with French toast. It's fantastic! Licor 43 gives the cheesecake a subtle caramel flavor.
Baking utensils you will need:
9-inch or 12-inch cheesecake pan (with removable side)
Baking sheet
Food processor
Mixer
2 medium bowls for ingredients
2 saucepans or 1 saucepan and 1 double boiler
Spatulas
Cooling Rack
Blow Torch
Cake Knife


Ingredients for crust:
2 cups (crushed) Chocolate chip cookies
¼ cup of granulated or confectioner's sugar
6 tablespoons melted butter
1/8 tsp of salt
Ingredients for cheesecake:
To avoid lumps in your cheesecake, let the ingredients warm up to room temperature before combining. Mix at low-medium speed.
2 large Eggs
2/3 cups of granulated Sugar
2 cups Cream Cheese
3 tbsp Licor 43 (instead of 1 tsp of vanilla)
How to Make the Mexican Chocolate Ganache:
The first 4 ingredient measurements are not specific. These ingredients will make the chocolate taste more like the chile-chocolate of Mexico. Add as much or as little as you want according to taste.
1 tbsp Cinnamon (grounded)
1 ½ tspn Nutmeg (grounded)
¼ tsp Ginger (powder)
1 tbsp Chipotle pepper powder
1 package of bittersweet dark chocolate chips (Ghiradelli is the best)
an equal weight of heavy cream (heated separately)
Whisk to throughly combine over simmering water in a double boiler.
Before You Start:
Set the oven at 350 degrees F.
Place the cheesecake pan on the baking sheet. This will make it easier to remove from the oven and cool later.
For the Crust:
In a food processor, combine the chocolate chip cookies, melted butter and sugar and blend until it's a wet crumb mix. Spread evenly along the bottom and (if you have enough) up the sides of the baking pan using a spatula or your hand.
For the Cheesecake Filling:
Using a hand mixer or large mixer, whip together all the eggs, cream cheese, sugar and Licor 43 until smooth. Pour on top of the crust in the pan and spread evenly.
Bake Cheesecake
Bake at 350°F for 20 minutes. Remove and cover with aluminum foil and bake another 10 minutes. This will keep it from browning. Test the filling about 1 inch from the edge with a digital thermometer. It should read between 165°F and 170°F. The center may not be set yet.
Remove from oven, place it on a cooling rack and let it cool at room temperature. Use a cake knife to separate the cheescake from the sides for the ganache to cover.
Making the Ganache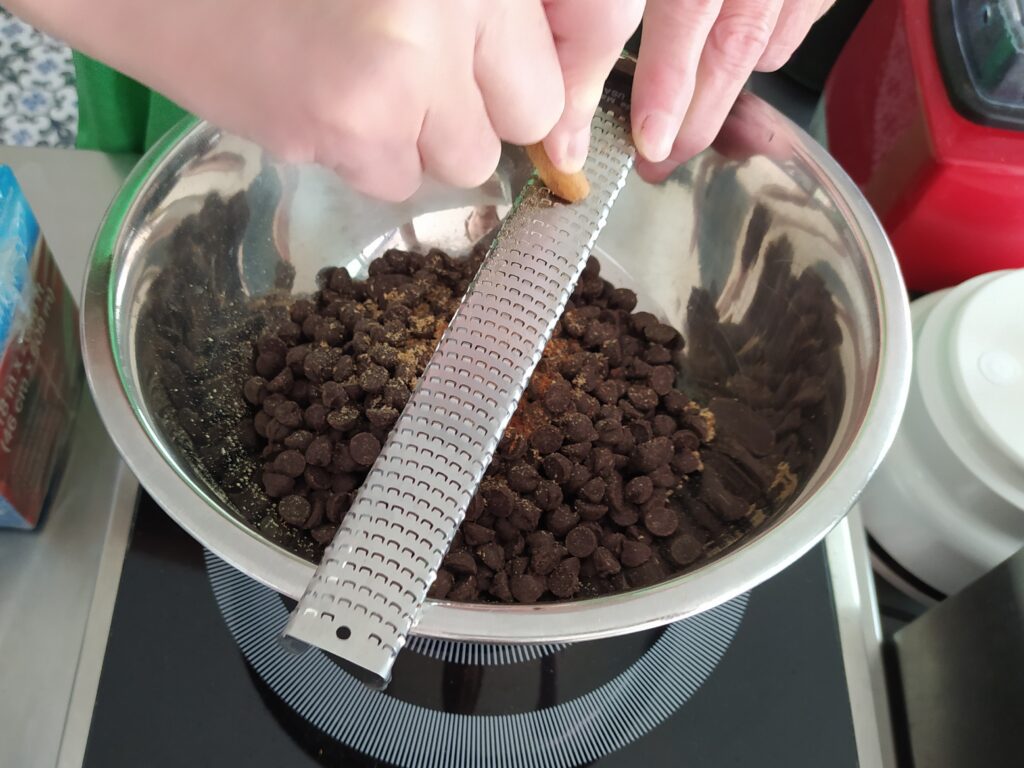 In a tall saucepan, heat the cream on a simmer. Make sure it does not boil (it will overflow).
In a metal bowl, combine all the dry ingredients with the chocolate chips. Place the bowl over the saucepan to melt the chocolate at low heat. Stir consistently. You can also use a double boiler/steamer to melt the chocolate.
Once the chocolate is melted, remove from heat. Add the heated heavy cream. Stir until completely blended. Pour over the cheesecake. Place in refrigerator for few hours to cool and set.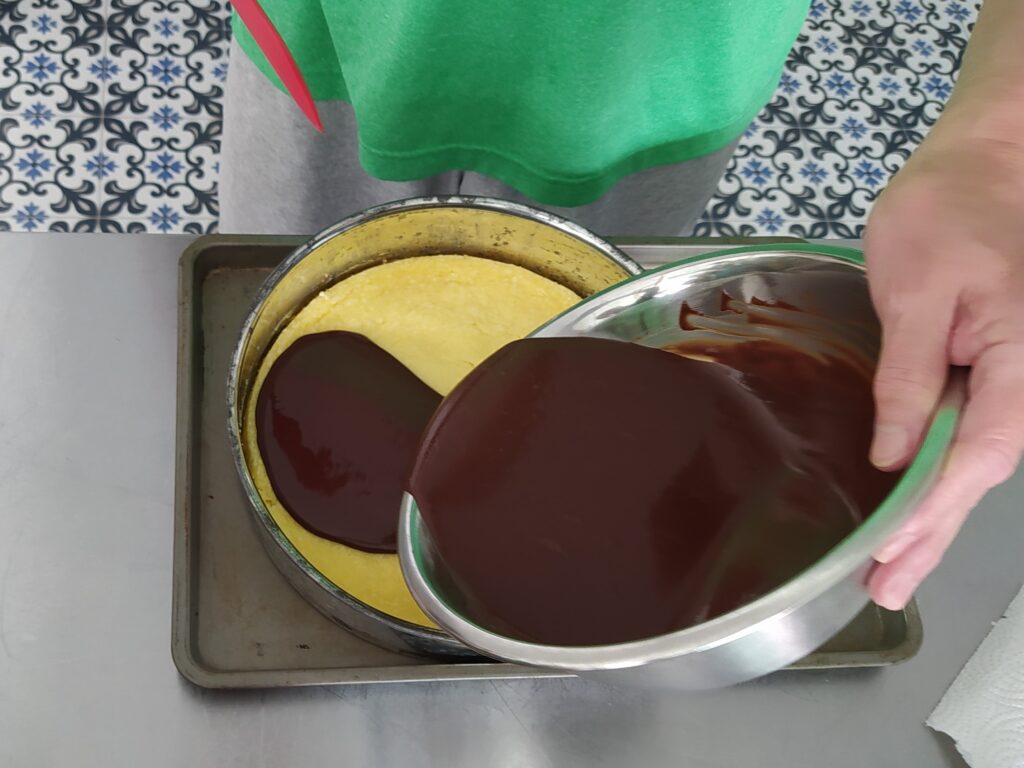 Ready to Serve
When you are ready to serve the cheesecake, remove from fridge. Unclasp the side of the cheesecake pan. Use a blow torch if needed to separate the chocolate from the sides. Cut into wedges and serve.
Enjoy this decadent dessert perfect for special occasions!