15 Iconic Mexican Drinks to Bring You the Taste of Mexico
Mexico is a land of many landscapes, cultures and cuisines. Mexican drinks are just as varied, and like regional food, some drinks are more common in certain places than others. Margaritas on the coasts, micheladas in the central region, microbrews are popular everywhere and wine consumption is growing. Other Mexican drinks are mainly for holidays and some have been around since ancient times.
You may be nowhere near Mexico, but you can bring the taste of Mexico home. Take a tour with us through these iconic Mexican drinks. I've included some short recipes and/or links for you to make some of these Mexican drinks in the comfort of your home. Other drinks come ready made that you can purchase through a store or restaurant. Travel vicariously through your taste buds through Mexico's many liquid landscapes.
MEXICAN COFFEE DRINKS
Coffee is universal, and to some people it's essential to start the day. This world reknowned beverage unites people who don't even share a common language. Coffee is drunk all day in Mexico especially after a meal.
1. Café de Olla
In the morning, you might start with café de olla. This coffee drink is sweetened with cinnamon and piloncillo (unrefined whole cane sugar). This delicious coffee drink is easy to make at home. Check out this recipe link to make authentic Café de Olla in your own kitchen: https://driftaway.coffee/mexican-coffee/
Main Ingredients
water
piloncillo
Mexican cinnamon stick
ground coffee
You can also add other spices to your café de olla like Kahlua coffee liqueur, anise, cloves and orange zest.
2. Kahlúa
Did you know Kahlúa liqueur is from Mexico? Kahlúa contains run, vanilla bean, sugar and arabica coffee. For people who love the flavor of coffee, Kahlúa can be added to many drinks like sodas and hot chocolate. White Russians and Mudslide drinks are the more famous cocktail creations made with Kahlúa. For more great cocktails check out the Kahlúa website: www. Kahlua.com 
3. Carajillo
Our Mexican friends introduced us to a Carajillo after a beautiful lunch at a winery. The carajillo is the Mexican version of an Italian caffè corretto, an espresso drink with either grappa, sambuca or brandy.  This coffee cocktail is made with espresso and Licor 43, a caramel tasting liquor from Spain that has become a favorite additive of mine for margaritas or just on the rocks.
Carajillos can be served hot or cold. As an iced coffee, it makes a wonderful after meal beverage or dessert.
Ingredients
2 ounces Licor 43
Espresso (or dark roast coffee if you prefer)
Ice
In a deep glass, pour the Licor 43 over ice.
Add the espresso (hot or cold)
To "float" the espresso over the licor 43, pour the espresso slowly over the back of a spoon. Serve with a cocktail stick for the drinker to stir together as they like.
Drink and enjoy!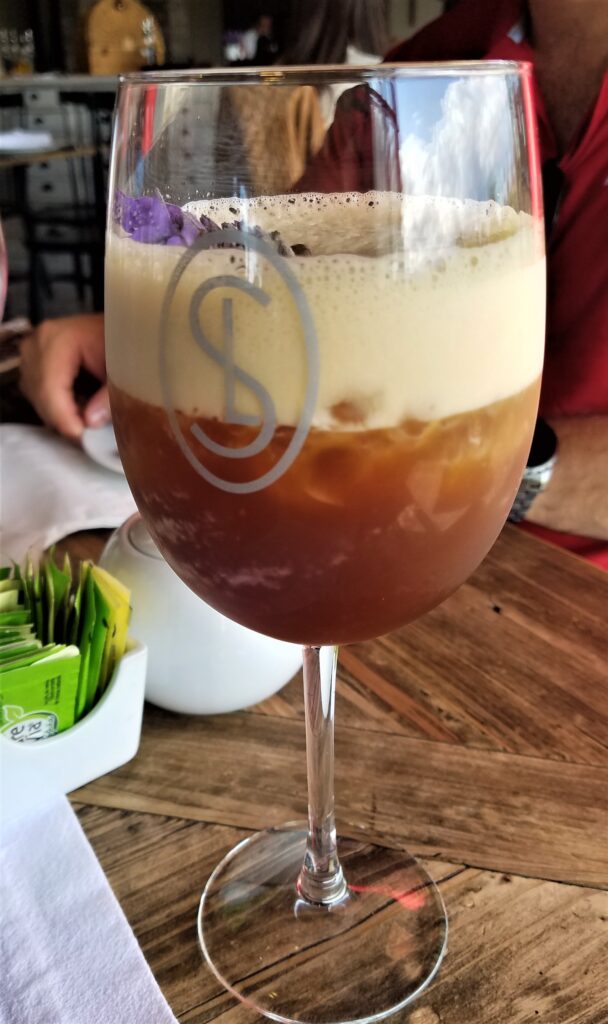 4. AGUA FRESCA
Agua fresca is a refreshing beverage to drink anytime of the day. The Spanish translation roughly means "fresh water" or cool water". Fruits and/or botanicals are blended or steeped to flavor the water.
You can easily make this at home using fresh fruit, frozen fruit or freshly squeezed juice.
Try using pineapple, mango, or passionfruit for a tropical flavored agua fresca.
Preparation:
In a Vitamix or other blender, combine 2 parts fruit with 4 parts water and add ice. Blend.
Pour through a strainer to remove any seeds or fibrous material.
Add a few squeezes of lime juice and ¼ cup of sugar.
Add more sugar or lime juice if needed.
Keep refrigerated and serve cold.
For agua fresca on the fly, add 1-part juice, 2-parts water and ice to a shaker and shake vigorously. Add some lime juice and sugar to taste.
Agua de Jamaica
One of my favorite agua frescas is Agua de Jamaica, or hibiscus water. This will take a little more time, but it's worth it.
Preparation:
Add 2 cups of fresh or dried flor de Jamaica (hibiscus flowers) to 2 quarts of cold water in a pot.
Place on stove and heat until the water boils.
Reduce heat and simmer for 10 minutes.
Turn off heat and let it cool.
The flowers will absorb the water and sink to the bottom.
Pour through a strainer to remove the flowers.
Start with ½ cup of sugar and add more to taste. Some people like it tart, but I like sweeter.
Add additional water and lime juice if needed to desired taste.
TIP: Store in a glass container. Agua de Jamaica will stain plastic.
5. ATOLE
Atole is a traditional Mexican drink from Mesoamerican times. Many local markets will have it available ready to be served and it's very popular during Day of the Dead celebrations and Los Posadas.
The classic atole is made with corn flour, water, piloncillo, cinnamon and vanilla. Variations of atole include chocolate atole (known as champurrado) and fruity atoles like Atole de Pina. Classic atole is served hot, but many of the flavored atoles can be served hot or cold.
Families make atole to their desired taste and texture, so feel free to experiment with a little more or less of the main ingredients.  Rick Bayless has spent a lot of time in Mexico learning from many grandmothers. His recipe for classic atole is easy and can be found here: https://www.rickbayless.com/recipe/atole/
Serve with breakfast, after dinner or during the holidays. Atole goes great with tamales!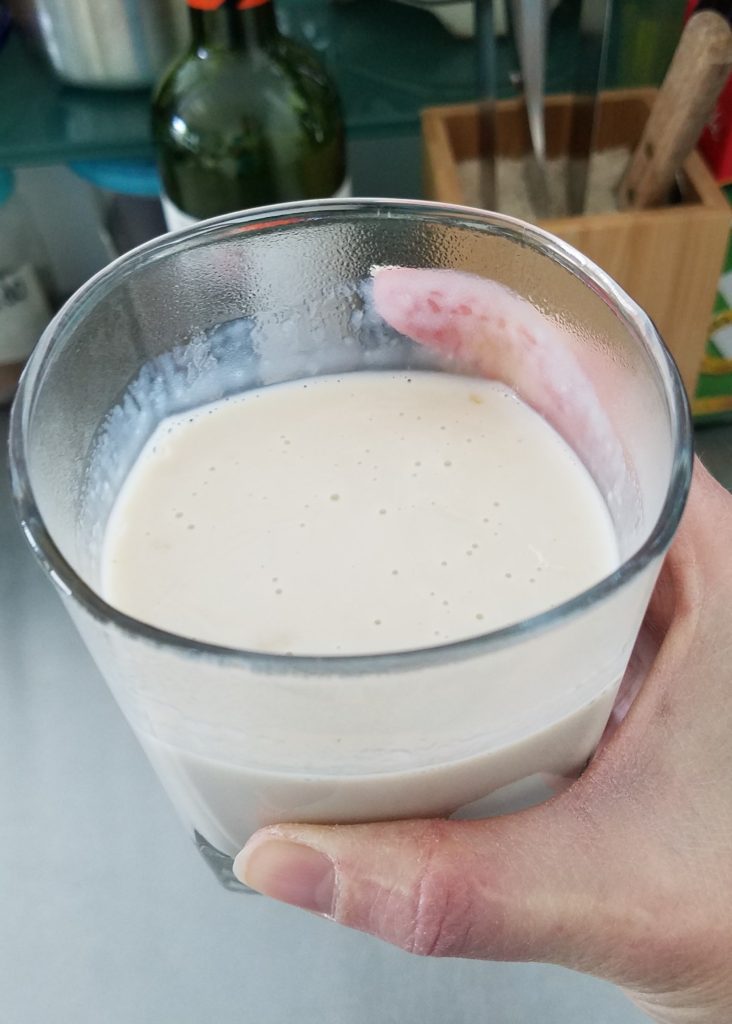 6. HORCHATA
Horchata is a rice drink that is very popular around the holidays but is also available anytime of the year. Original horchata is a sweet beverage similar to a milked-down version of eggnog made out of rice, milk, vanilla, and cinnamon. You can also make horchata with chocolate, berries or coffee. Making horchata takes a good amount of time, so make it a day early before you plan to serve it. The Tastes Better From Scratch website has an easy to follow recipe for horchata: https://tastesbetterfromscratch.com/horchata/
Trivia: Did You Know?
In Mexico, horchata is made with rice. In Spain, horchata de chufa is made with tiger nuts.
7. PONCHE
The winter holidays are the time for ponche navideño or Christmas Punch. Neighbors, friends and family get together for posadas and pot-luck dinners, but it's not complete without the ponche. Everyone makes it differently depending on what fruits and spices are available in the region. Apples, pears and prunes are more common at higher elevations while pineapple and citrus are more readily available in hotter areas.
Traditional ingredients in ponche are cinnamon, piloncillo, tejocotes (a small yellow fruit that resembles crabapples) and other seasonal and dried fruits like apples, pears, oranges, lime, pineapple and guava. Other ingredients that might be added are chamomile and star anis. Ponche is served hot and tastes like a nutmeg fruit tea.
During festivities, a large pot of ponche will sit on the stove ready to be served. The longer it steeps on a low temperature, the more flavorful it will be. Ladel the ponche into a mug so you have some of the fruit in it as well. Ponche can be served with or without alcohol. The kids in our neighborhood always enjoyed a cup of ponche on their own, and the adults would add the desired amount of tequila or mezcal to their own cups.
TEQUILA vs. MEZCAL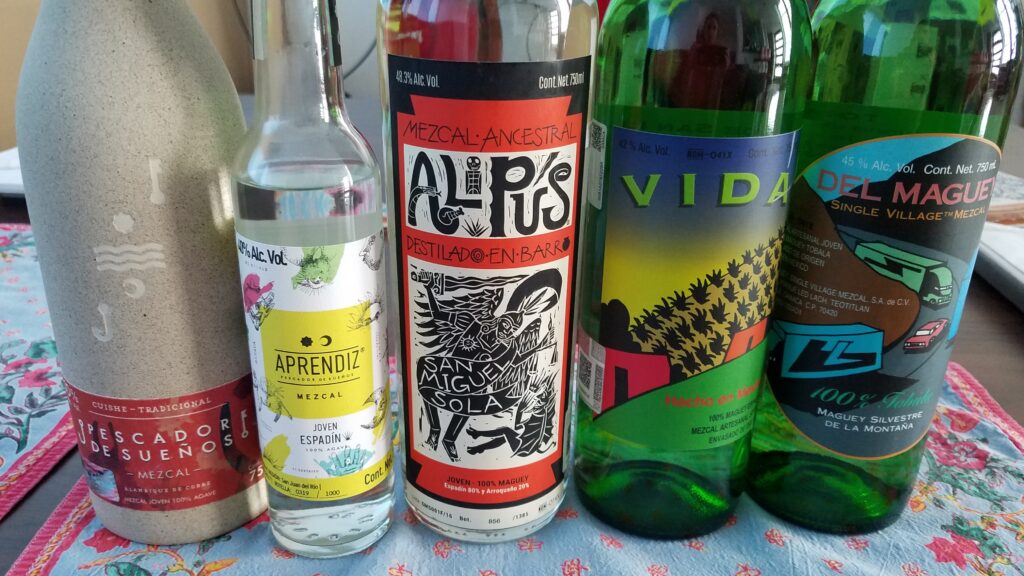 8. Tequila
Just like Champagne from France, Tequila can only be called Tequila if it is from the town of Tequila in the state of Jalisco, Mexico. Tequila is made from the Weber blue agave by steaming the heart or piña of the agave in above ground ovens. The hearts are crushed to separate the fiberous material from the sugary juice and allowed to ferment. Fermentation can take 7-12 days. after which the liquid is distilled.
9. Mezcal
Mezcal is also made from agave, but it can be made from 30 different varieties of agave. Its distinctive smoky flavor comes from roasting the heart of the agave in underground pits. Crush, fermentation and distillation is much the same as it is for tequila.
Aging Classifications of Tequila and Mezcal
Both distilled liquors can be bottled immediately or aged in stainless steel or oak barrels.
Silver or Blanco or Joven means the tequila or mezcal was bottled immediately after distillation or aged for less than two months  in stainless steel tanks or oak barrels.
Reposado: tequila or mezcal that's aged in oak for a minimum of two months but less than a year.
Añejo: tequila or mezcal that's been aged between one and three years in oak barrels.
Extra Añejo:  tequila or mezcal that has spent a minimum of three years in oak barrels.
Best way to drink Tequila or Mezcal
College kids slamming tequila shots during spring break comes to mind when we hear the word "tequila", but traditionally both tequila and mezcal are Mexican drinks sipped straight along with a slice of lime or orange and salt.
10. Margaritas
We have found that margaritas seem to be more of a coastal thing than an "all-over" Mexico thing. For the first few months that we were living in Queretaro, we could not find a good margarita on the rocks anywhere. The sweet and sour mix always seemed to be missing, and tequila and lime juice by themselves are not sweet enough to drink.  The frozen margaritas always tasted perfect. So if you are on the coast, the Mexican drink of choice is a margarita, perfect for those sunsets over the water. Inland, you might opt for the frozen variety.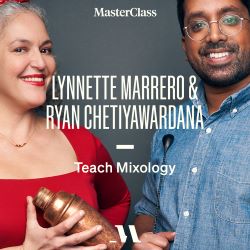 Creative Cocktails
Recently, mixologists have been favoring both tequila and mezcal for a variety of cocktail concoctions. If you have a bottle or two at home, consider experimenting yourself with different fruit juices and herbs. You can check out some our creative cocktails made with mezcal on our Facebook page: Food and Wine Tours Central Mexico.
Cocktail creation with mezcal, tamarind and mint.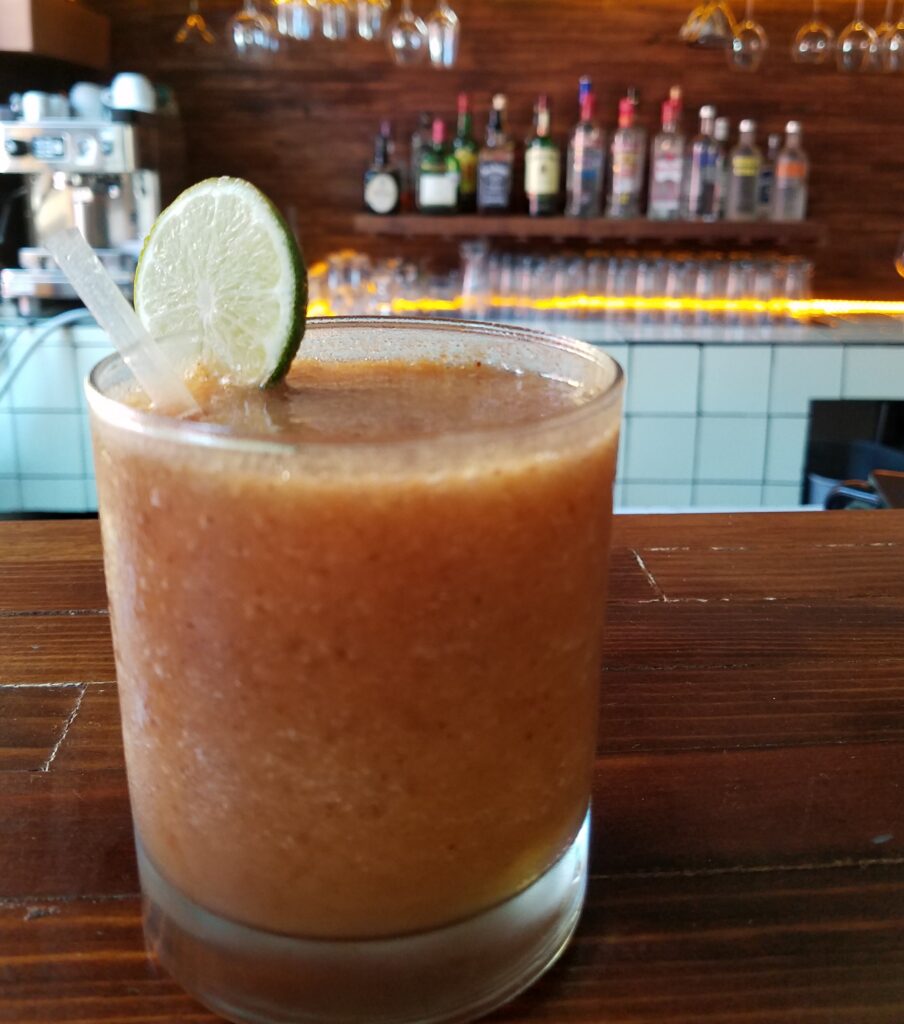 11. PULQUE
Pulque is the fermented sap from the agave plant. It is milky in color and has a sour taste. Archeologists have found traces and tools used to make this "Drink of the Gods" as far back 1200 BC. Have you tried pulque? I'd love to hear your thoughts on it.
12. MEXICAN BEER
The Mexican beer industry had tremendous growth during the Prohibition times in the United States with many Americans making a "run to the border" for this fermented beverage. Grupo Modelo and Cerveceria Cuautehmoc-Moctezuma are the two corporations that control many of the popular beers you may know today such as Corona, Modelo, Dos Equis and Bohemia.
And while the popular beers enjoy fame worldwide, microbreweries are becoming a hot favorite regionally in Mexico. Beer routes (like wine routes) are springing up all over the country. Light beers and ambers seem to be the favorite among the Mexican locals.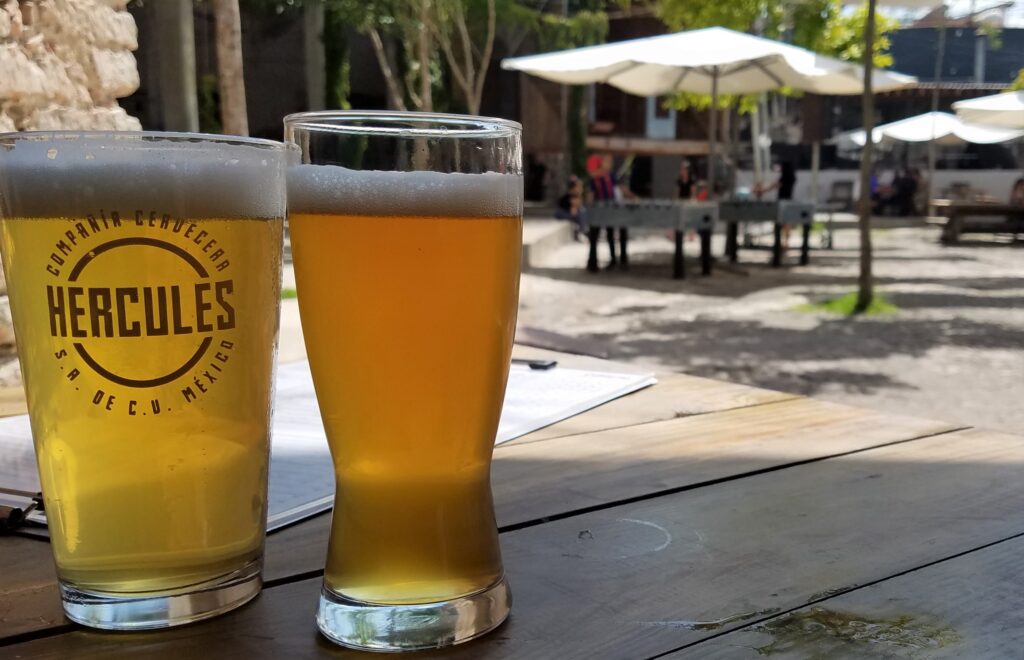 Here's a few microbrews to try in some of Mexico's popular destinations:
Queretaro: Cerveceria Hercules and Cerveceria Cuahtemoc
San Miguel de Allende: Cerveceria Dos Aves and Cerveceria Allende
Puerta Vallarta: Los Muertos and Monzón
Yucatan: Akumal and Tulum
Mexico City: Cru Cru and Cerveza Cosaco
TRIVIA: Did you know?
Lagers are produced by bottom fermenting yeast strains in colder temperatures, and ales are produced at warmer temperatures with top dwelling yeast strains.
Beer Cocktails
13. Michelada
A popular beer cocktail in Central Mexico is a Michelada. A classic michelada is beer with beef bouillon (they call it Jugo in Mexico), Worcestershire sauce, lime and hot sauce with a chili powder/salt rim. Michelada Clamato is a classic michelada with the addition of Clamato juice and a bit more lime. Then there is a huge array of fruit flavored Micheladas (Michelada Tamarindo is my favorite). They quench the thirst like no other when you are dehydrated.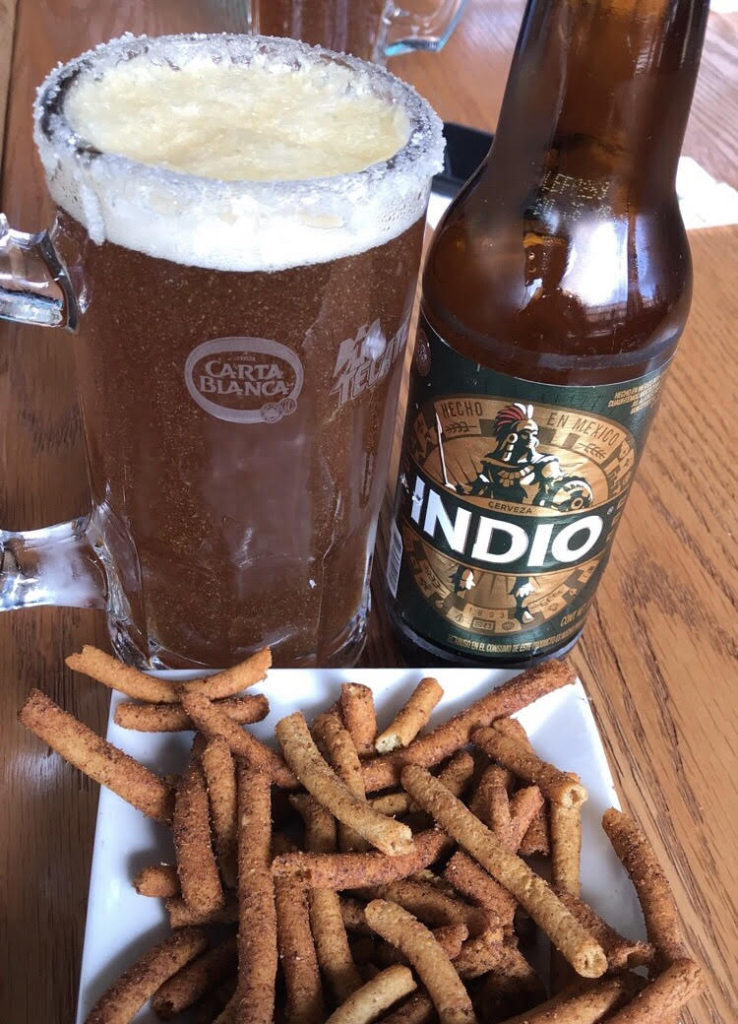 14. Chelada
Chelada is slang for beer in Mexico and other Central American countries. The chelada is a more simplified, refreshing beer drink that's great for hangovers. Typically, a light beer or golden lager is used, lime juice and a salted rim. This is really easy to make at home.
Chill the glass and add a salt or tajin rim.
Add cold beer.
Squeeze fresh (and chilled) 1-2 limes into the beer. Happy chugging!
15. MEXICAN WINES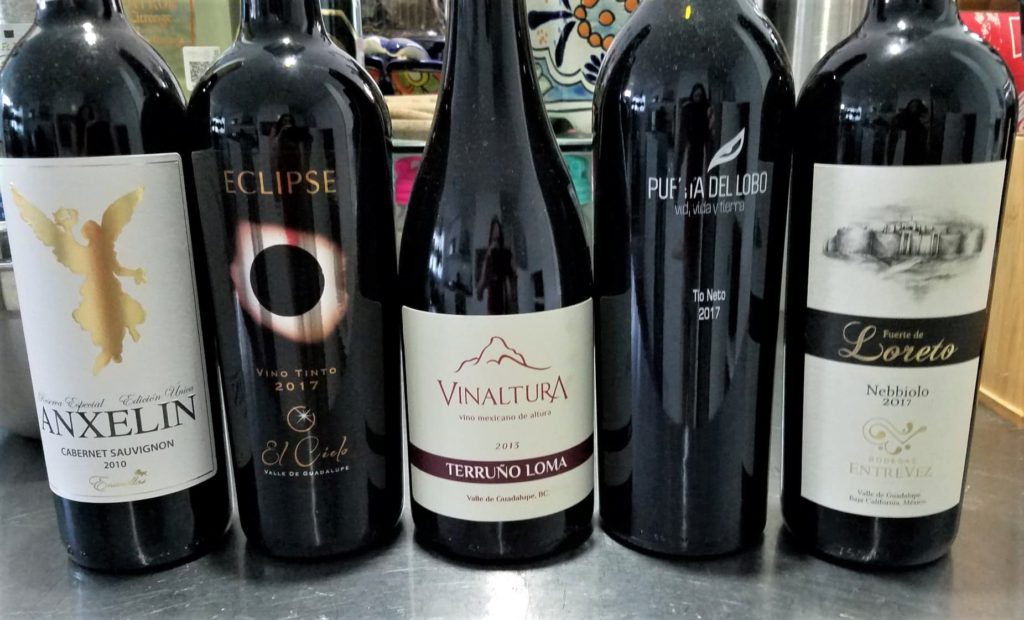 Mexico has been making wine since 1597, longer than any other country in the Americas but it wasn't until the 20th century that wine production was taken seriously. In the 1970s, foreign interest in Mexico's lands and climate for vineyard production really took off. Freixenet Finca Sala Vive in Queretaro and Bodegas Henri Lurton in Baja are two big players in Mexico's wine industry.
Today, 90% of all Mexican wines exported are from the Baja Peninsula, but many wineries are producing excellent wines in Sonora, Chihuahua, Guanajuato and Queretaro. To learn more about some of the Mexican wines we recommend, check out our post on 9 Mexican Wines You Should Recognize and Try on a Wine List.
We may not be able to travel right now, but that doesn't mean we can't enjoy a few Mexican drinks at home.  Tell us your favorites or share your creative cocktails with us here in the comments or on our Facebook page Food and Wine Tours Central Mexico.  Cheers!
PIN THIS!
Check out our other posts on where to eat: