What American Foods Are Hard To Find In Mexico?
People have plenty of questions before they move to a new country which is completely understandable. You want to know if there are good doctors, schools, easy transportation and good neighborhoods. I'm part of a few expat groups on Facebook, and they are a great resource for questions you may have. But it's not very often that people ask about their favorite American food brands. Recently there was a post on one of the Facebook groups about Which American foods have been difficult to find?
The best way to decide if a place is right for you is to visit it before you move. Skip the tourist attractions and go shopping to price items you use every day like appliances, clothes and most importantly, groceries. Many of the grocery stores do sell familiar brands, but you may not be able to get all your favorites.
Mexico has numerous choices on where to shop for food. In Queretaro we have Costco, Sam's Club, Soriano, Superama, Wal-mart, Chedraui, HEB, City Market, Fresco, local mercados, and the big mercados on the weekends. We are not starving for good food here.
But there are times you are looking for something specific, maybe for a holiday meal or even just to satisfy a junk food craving. Luckily, I can find my every day American food necessity of Skippy peanut butter, but I have had to substitute Hershey's semi-sweet chocolate chips for my favorite Ghiradelli because they don't have it here.
Getting back to the question: What foods are HARD TO FIND in Mexico?
These are some of the American foods that people listed as being difficult to find. Some of these will blow your mind:
Double stuffed oreos
Original Fritos
Cans of corn beef hash
Stove Top stuffing
Triscuits
Fritos Bean Dip
Lemon juice
Horseradish sauce
Kosher food
Good vitamins and supplements
Canned biscuits
Pickles
Non-diet Snapple
Miracle Whip
Honey Mustard
sourdough pretzels
Hidden Valley Ranch Dip
Lipton's onion soup mix
Pastrami
Mountain Dew
Good mustards
Cheez-its
Blue Cheese and Cheddar Cheese
Taco seasonings
Big gulps (There's no 7/11s)
Sifting through the several hundred responses and jokers, many people seem to miss processed American food like Triscuits and Stovetop Stuffing or things in a can like corn beef hash. Mountain Dew lovers, you are so pumped with chemicals, it's time to wean yourself off of this stuff.
With all the good produce and readily available meats and breads, why do you need all that processed stuff? If you really need it, Mexico has plenty of its own processed stuff like chips and candy.
Also, some of the American food on this list can be found, you just need to know where (and sometimes when) to shop.
HOLIDAY FIXINGS FOR THANKSGIVING
There are some things we only think about once a year like Thanksgiving items or Christmas cookie baking goods. If you visit during February or May, these may not be on your mind while you are perusing the local food stores.
Turkey is not hard to find. Mexicans have been cooking turkey with a variety of moles for hundreds of years. You can find turkey year- round.
The side dishes and desserts may be harder to find, but because of a huge expat population in Mexico and the fact that Mexicans love to celebrate any holiday when food is involved, you should be able to find these items 2 weeks to a month before the holiday.
Don't be a procrastinator!
If you wait until the week of Thanksgiving, the grocery stores may be out of stock. They only get a limited supply and seasoned expats will snatch them up early. Things like pumpkin pie filling are in high demand.
Green beans, sweet potatoes, marshmallows and apples you should be able to find without a problem anytime of the year.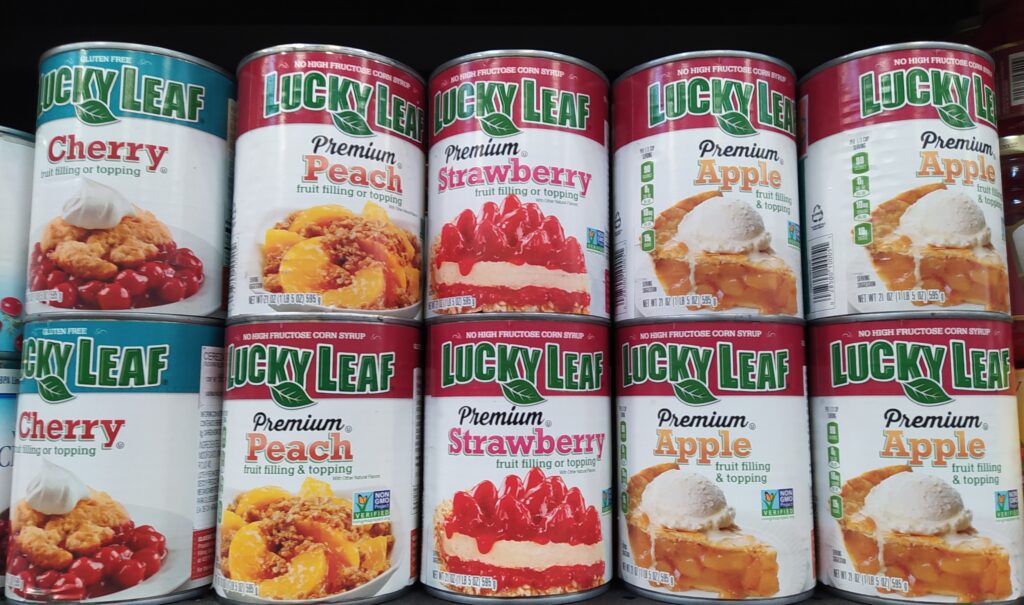 We personally are not fixated on having the "traditional Thanksgiving dinner". Thanksgiving to us means a day for Tom to create something new. We've been together for more than a decade and haven't had turkey or the usual Thanksgiving sides once. He makes something different every year like lamb and pork meatballs with spaghetti, seared tuna, Korean fried chicken, ceviche, tongue pastrami and the list goes on.
I have fond memories of the traditional American food Thanksgiving with family and friends as I was growing up, but I prefer the creative genius behind my husband's cooking now.
SEASONINGS AND CONDIMENTS
Someone mentioned taco seasoning and chili powder because "the chiles in Mexico are too hot". You are in a country known for its tacos and chiles. Make your own! Yes, that means work, but the reason Mexican food tastes so good is because grandma is behind the scenes drying and grinding. Try it, it will give you a new appreciation for Mexican flavors.
Mexico has most of the seasoning people use often: oregano, cinnamon, garlic, mustard seeds, peppercorns, and cumin. Cilantro, rosemary, sage (called salvia), lavender, and vanilla are all grown in Mexico.
Horseradish sauce was difficult to find, but we did find it. Tom makes his own spicy mustards and flavored vinegars, so our home does not have a shortage of flavoring options.
And when it comes to oils, there is usually an entire aisle dedicated to vegetable, olive and other cooking oils.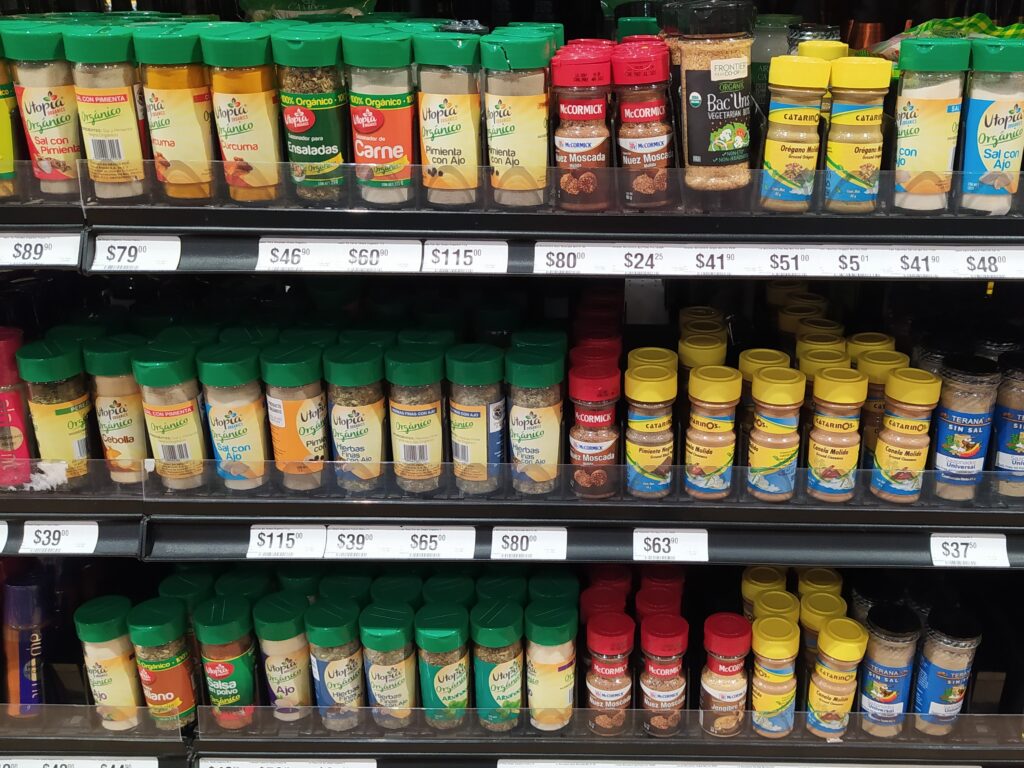 PICKLES
I found this one interesting because I can't stand store bought pickles. I won't even touch a pickle on my plate if it is served to me. Tom makes the best pickles, and these are the only ones I will eat. They are crisp with a kick, not soggy, slimy or smelly. They aren't hard to make, and taste so much better.
Pickles are slightly different here. Mexicans prefer to put rajas on their carnitas (pickled carrots and jalapeno peppers). If you want regular pickles for your burgers and sandwiches, you may find them at the American chain stores.
SALAD DRESSING
Whether its ranch, Caesar (very popular here) or others, you can find salad dressing. You may not have as many choices, but considering how fattening these dressings are, maybe it's a good time to try something new.
CHEESE
Mexican cheese may not be a flavorful as a Tillamook cheddar or French blue cheese, but it serves it's purpose in Gringas and Quesadillas. I admit, I have had a craving for some mild cheddar cheese or Colby jack on occasion. These and Kraft singles aren't everyday cheeses to a Mexican, so very little is stocked, and they are more expensive here.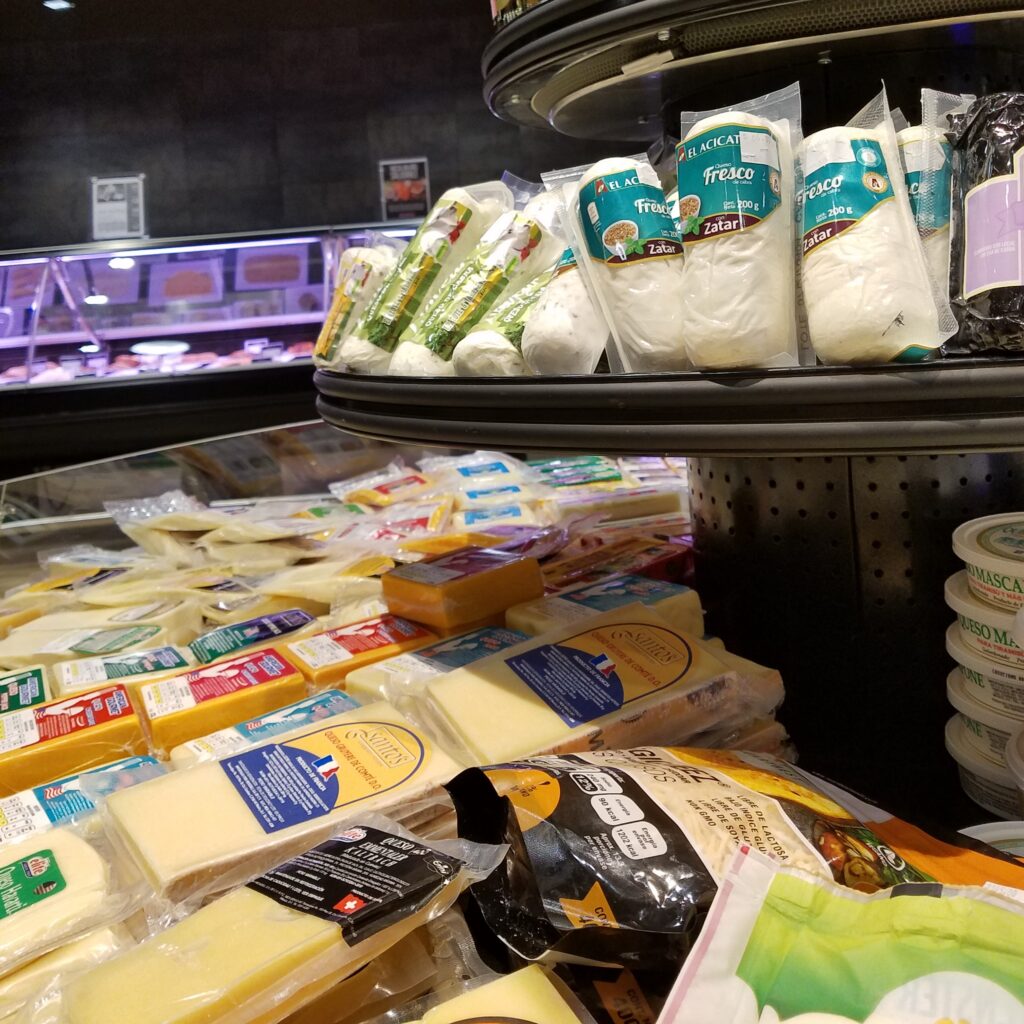 City Market is the place for fancier cheeses and international cheeses. There's plenty to choose from such as Brie and goat cheeses from France, Port Salud from Spain, Parmesan wedges from Italy and Gouda from the Netherlands just to name a few.
FRESH PRODUCE
Mercados and the grocery stores have excellent selections of fresh produce. We even have a favorite purveyor we always visit on Sundays at the Santa Rosa mercado. He gives us a great price on produce and always recognizes us, though he thinks Tom is from France. We don't mind because he doesn't add the gringo tax like some of the others have done to us.
TIP: If your Spanish is limited, shop with the purveyors who list prices or try to help you.
When produce is in season, you can get crates of things for a steal. We've bought tomatoes for 7 pesos a kilo. That's 37 cents for 2.2 pounds of tomatoes! Since Tom makes his own spaghetti sauce and salsas, we took home over 20 kg of tomatoes!
You can also find a lot of produce on the side of the road when in season like peaches, avocados, figs, nuts and corn.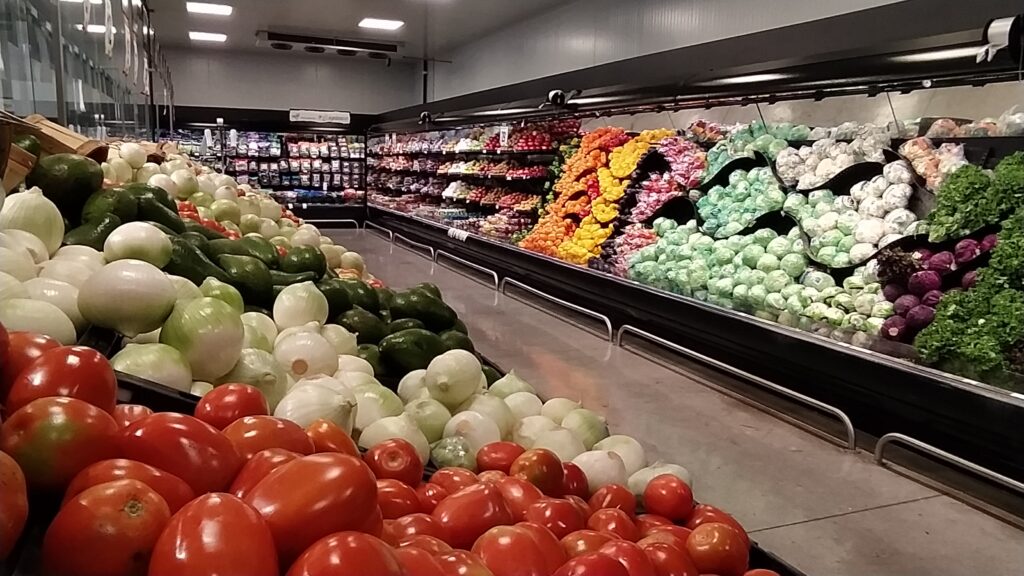 KOSHER FOOD
I'm sure kosher is hard to find. Mexico is 96% Catholic. Unless you get to know the purveyor and see how they slaughter the animal in person, you just don't know. I'm sure there are specific products labeled as kosher that people rely on, and their best option is to go to Costco, Sam's Club or a high-end supermarket like City Market to find what they need. If you choose to follow any religious or strict dietary guidelines, getting to know a purveyor would be in your best interest.
INTERNTIONAL FOODS
One of the reasons we chose Queretaro was because of the international expat community and restaurants. Many Koreans live in Queretaro and we have Korean restaurants and grocery stores nearby. They are small but carry a lot of variety. We also found one guy who imports Indian spices and rice for the small Indian population here. City Market has a large quantity of international food items. Yes, we would prefer to get a 10-pound bag of Basmati rice instead of 2 pounds, but we aren't cut off from the international food scene by any means.
For the best international food shopping, head to Mexico City where they literally have everything.
MILK
Milk comes in the fridge or in a carton on the shelf. You have the choice of whole milk, fat-free, a percentage of fat (not sure how much because I don't drink milk), almond milk, soy milk and coconut milk.
ICE CREAM
Someone said that they missed "good ice cream". I don't know where this person lives, but we have GREAT ice cream in Mexico. The store brands are creamy, Haagen Daz is available and ice cream stores with "Michoacan" in their name are known to have really good ice cream. Plus we have gelato shops. Mexicans love ice cream and eat it all day long. If you walk through Queretaro's Centro almost every third retail space is either an ice cream shop or a shoe store.
BAKING GOODS- CAKES, COOKIES, PIES
Betty Crocker and Duncan Hines occupy a good portion of shelf space for those special occasions. Brown sugar is not like you are used to and  molasses is nonexistent. Muscavado combined with organic Miel de Maguey works the same and gives it that molasses taste. Flour comes in all types, so keep your Google Translate handy if your Spanish is not up to speed.
For puff pastry, look in the frozen section or ask one of the people working in the bakery.
The bakery also has a case dedicated to cakes. Chedraui makes a wonderful cheesecake with raspberry glaze.
CHIPS AHOY CHOCOLATE CHIP COOKIES
I haven't seen these very often, but we get the Mexican version Chokos which tastes the same.
CRACKERS
Saltines are called Saladitas. Ritz crackers are Ritz. Both are easy to find at any grocery store.
PANCAKE MIX AND SYRUP
These are in limited supply. Usually they have them when you aren't looking for them. You probably won't recognize the brands. If they aren't to your liking, there is always Denny's and IHOP.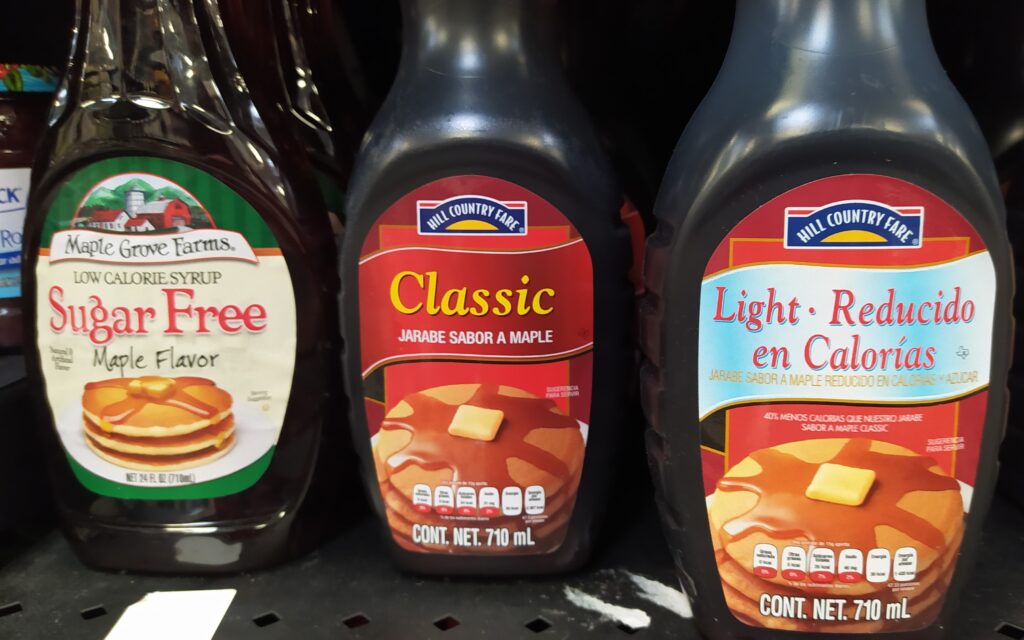 RICE
For a country that loves rice, there isn't much variety. You'll see an entire aisle dedicated to rice, but you won't find Basmati or Jasmin except at the Asian stores.
SWEET TEA AND EGGNOG
For true Southerners, it will be hard for you to find sweet tea. My recommendation is to learn to make your own.
Same thing with eggnog. I can drink the Rompope (thin eggnog with brandy), but Tom knows how much I like the non-alcoholic variety and makes it for me every year.
POTATO CHIPS
Mexicans love potato chips. Again, you may not see your American food chip favorites, or more than half will have some kind of chili powder flavoring, but if junk food is your thing, there's plenty to choose from. I have heard that Fritos do not taste the same.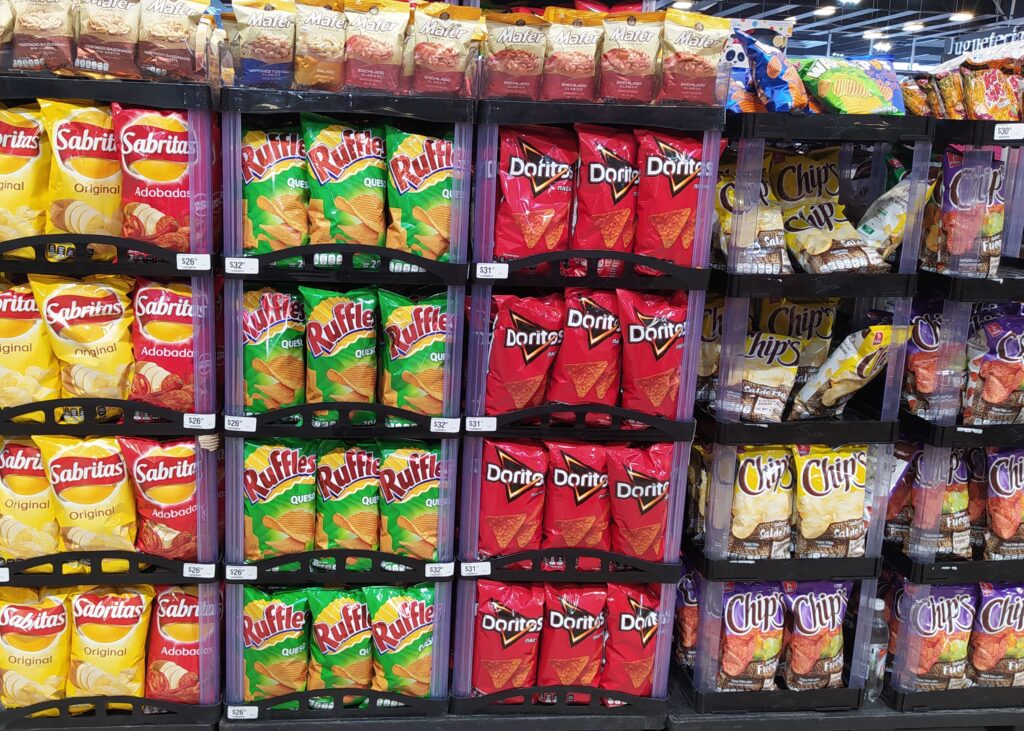 GLUTEN-FREE ITEMS
Many of the grocery stores like City Market and CHedraui have a dedicated aisle for gluten-free crackers, chips, pastas and other items.
VITAMINS AND SUPPLEMENTS
There are vitamins and supplements sold in Mexico, but probably not under the brand names you are used to seeing. GNC has stores everywhere. If you have specific supplementary needs, I recommend bringing your own.
OTHER NON-FOOD ITEMS
Grocery stores in Mexico also carry personal hygiene items and have a pharmacist in house. Shampoos, hair color, toothpaste, Benadryl, contact solution and pain relievers are all available. The tampon selection is very small. Latinos don't seem comfortable with the idea of tampons.
Things we have not found here and needed someone to bring them down for us:
Saline solution for eyes (different from the contact disinfecting solution)
Electric heating pads
Box of plastic gloves (these are in short supply- for cooking, cleaning, and now for the coronavirus)
Moving to Mexico, or anywhere in the world is a new adventure. I understand that some people miss "a taste from home." Finding something new to satisfy a craving or learning to make your own can lessen that feeling of loss. But now that you live in a new country, why not try the local food? You may find something even better.
Relocation Consultation
Do you have questions on prices, neighborhoods, and expectations about starting your new life in Mexico? Ask us directly! We can set up an hour long video conference call on Whatsapp and help answer questions that pertain to you and your lifestyle. Our consultations are $70 USD for an hour. If we go over the allotted time, no worries. We won't charge you extra. We want you to get the answers you need to make the best decision for a new life. Plus, we will send a follow-up email with other resourceful links specifically for you.