Food Tour Through Historic Georgetown, Penang
A fusion of different cultures, the city of Georgetown on the island of Penang is one of the best foodie destinations in the world. Georgetown has been a major port in Southeast Asia for hundreds of years trading goods and spices throughout southeast Asia and the main Asian continent. Descendants of China, Malaysia, India and other South Asia countries live and work together in this diverse city continuing their traditions, religions and cuisine. We decided the best way to learn more about the different cultures of Georgetown and how they influenced the cuisine was to take a food tour.
Our official food tour of Georgetown began early in the morning. We booked a tour with A Taste of Penang: Small Group Food Tour on Viator.com. We are not the "group tour" types, so the promise of a small group was what attracted us to this particular tour company. This would allow us to ask questions, and be able to hear the guide. When we arrived, we discovered that we would be the only two people on the tour. Awesome! Our tour guide Juni was a well-traveled local and ready to show us the best dishes of Penang.
Malaysian Breakfast
We began with a breakfast consisting of Nasi Lemak (rice cooked in coconut milk with sauces, dried shrimp and a hard boiled egg) and pork encased in bean curd casing, fried, with shrimp filled tofu and fried shrimp dumplings.
Next, we walked down a street to one of the wet markets. A wet market is where perishable goods are sold such as fruits, vegetables and meats. A few clothing and nick knack vendors were dotted in between and at the entrance. Some vendors had grills set up to cook meats and offer snacks. This man was making something similar to a crepe, and his wife wrapped what tasted like a Rice Krispy treat inside. This was a typical sweet snack, though I don't remember the name.
Dining Amid Food Hawkers
Following the twisted streets of the market, we turned down a short alley with food hawkers and shaded tables for dining. Juni found us a table under a fan, then went to order a few key dishes.
We had our first taste of nutmeg juice. Nutmeg, cinnamon and vanilla are all spice flavors used in Coca-Cola. The nutmeg juice tasted like Cherry Coke without the carbonation.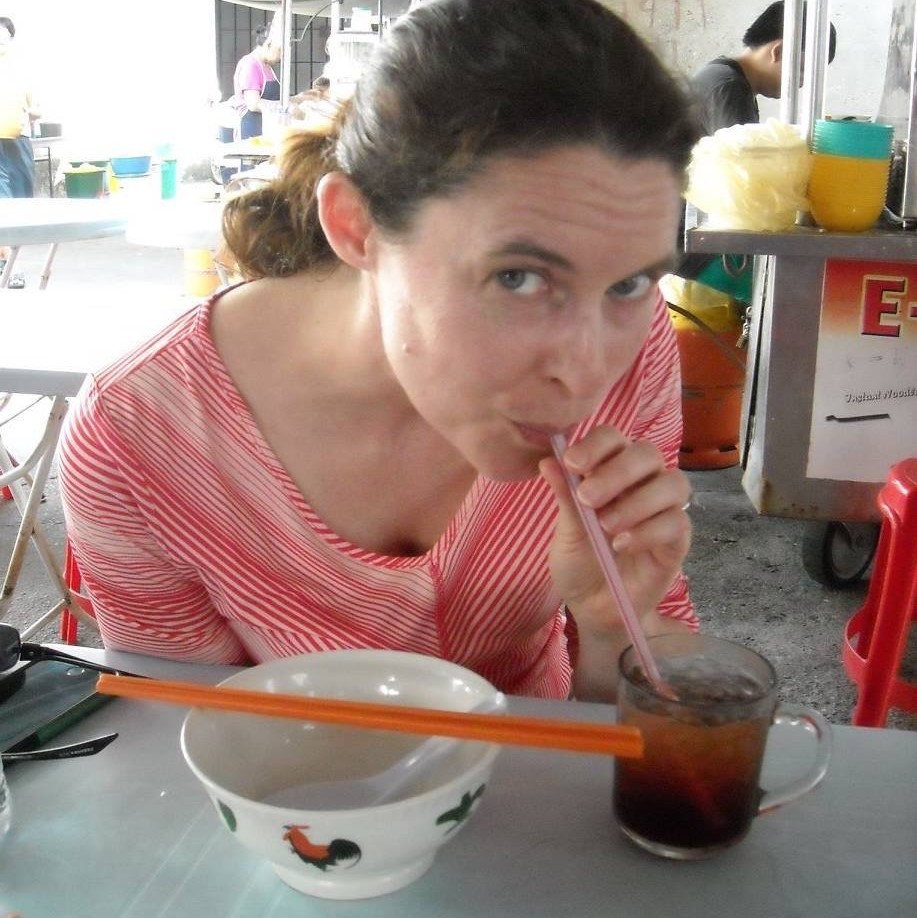 Char Koay Kak
Char Koay Kak is a Malaysian dish consisiting of a rice cake  chopped into small bites, fried in dark soy sauce, then fried again to order. The smaller the pieces, the more flavorful the dish because it soaks up the oil and seasonings.
Singapore Laksa
Singapore Laksa, a spicy, rice noodle soup with coconut milk, chicken and shrimp. Laksa is a hot soup with noodles dish derived from Chinese immigrants. Many different types of laksa exist throughout Malaysia influenced by the different ingredients available and cooking traditios of the people.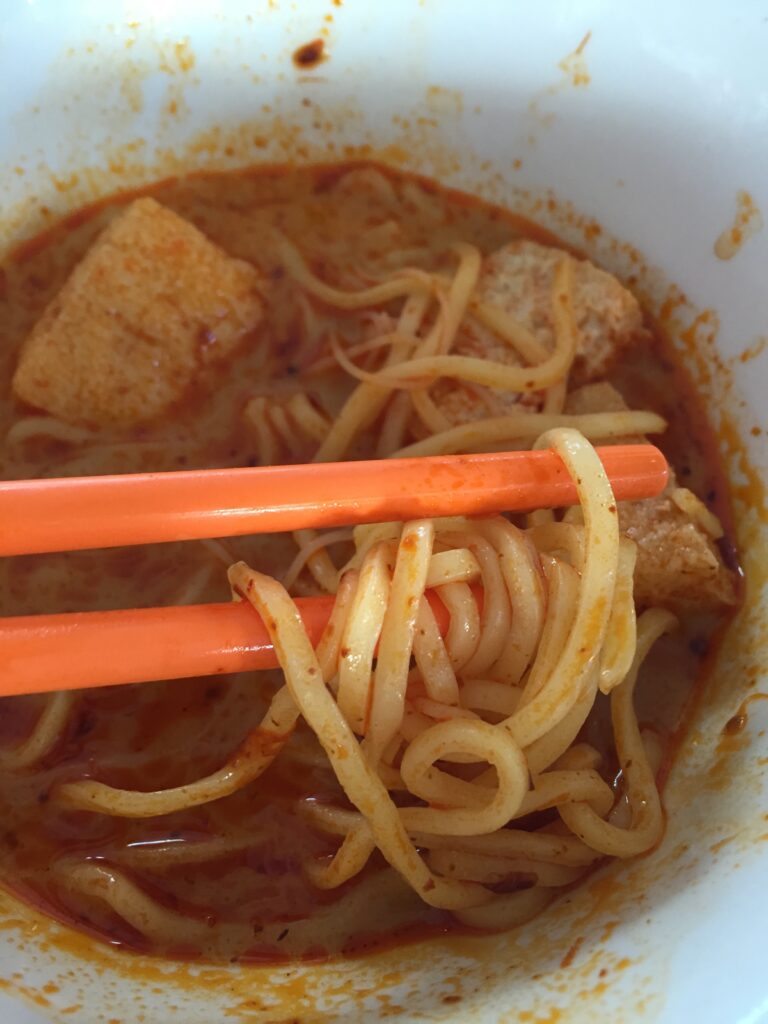 Campbell Street
After our second dining experience, we walked the streets of Penang looking at the different shophouses and cafes on Campbell Street, the "5th Avenue" of Penang. Colorful colonial buildings housed electronics, retail and even a designer burka shop. We stopped inside a Chinese Pharmacy where the owner was measuring out ingredients. As we window-shopped, Juni pointed out some of the street art depicting every day life of the people of Penang.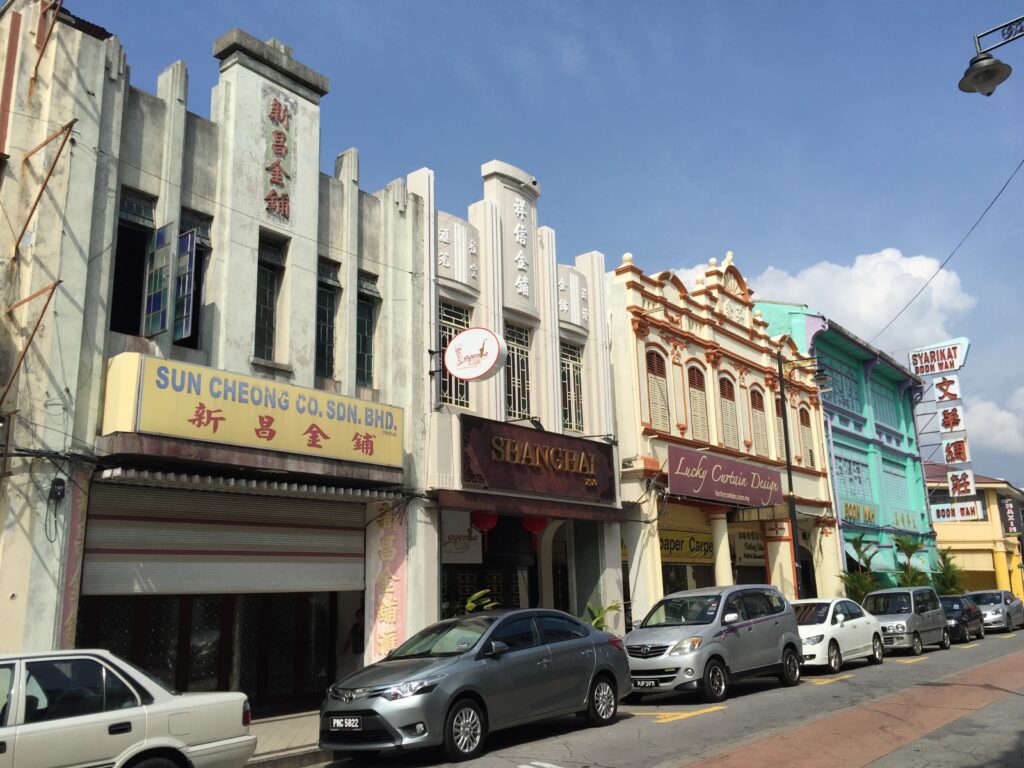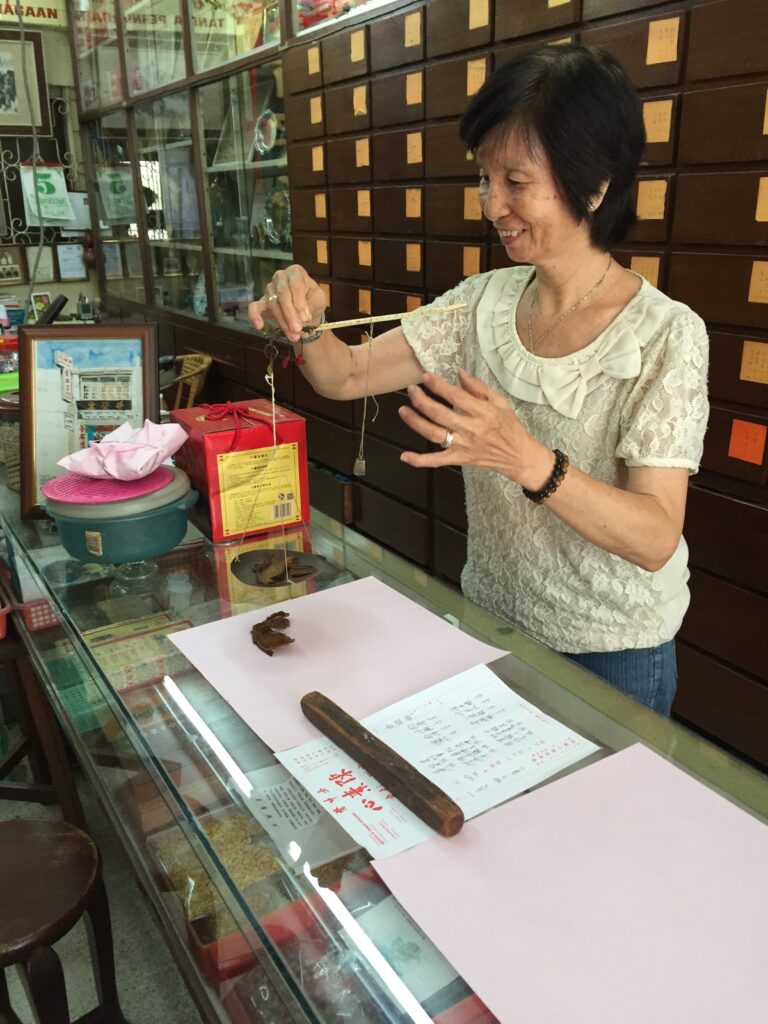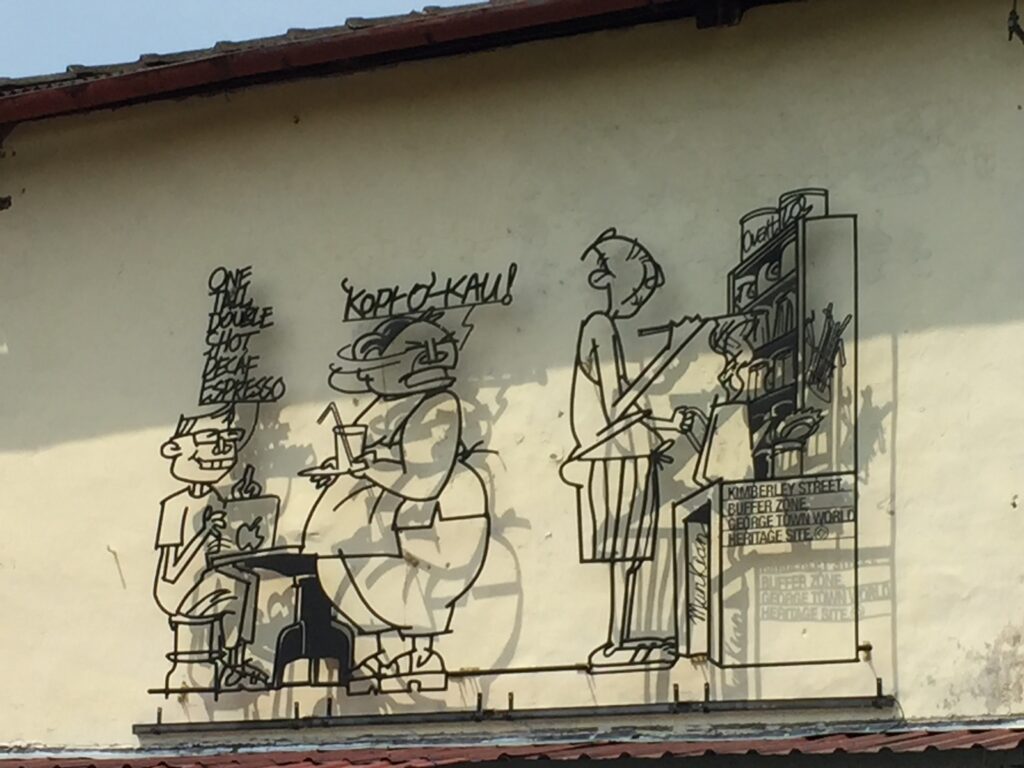 Dining at a 100-Year-Old Indian Restaurant
Our third stop was at the famous Indian Restaurant, Hameediyah! an Indian Muslim restaurant well over 100-years-old. We had the Nasi Kondar which originated in Penang by Indian immigrants. This mild dish consists of steamed rice with assorted curries, chicken and mutton.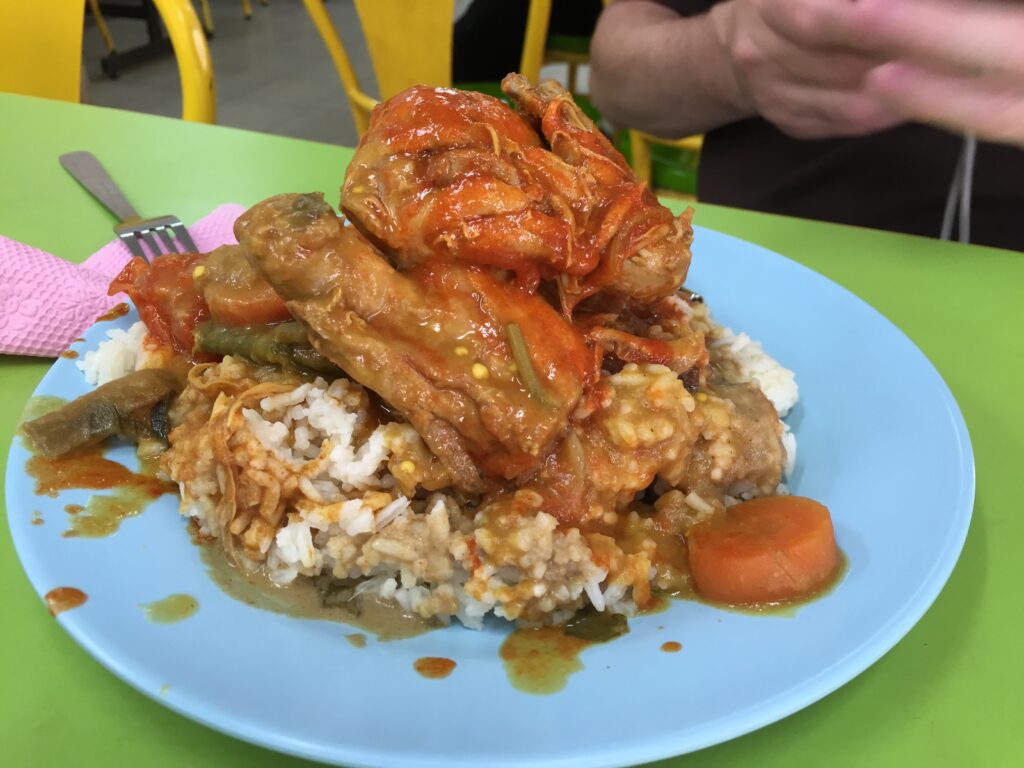 Murtabak
Indian food tends to be heavy on the curry, but Murtabak is different. Murtabak is a pan fried crepe stuffed with curry chicken, onions, potatoes and served with pickled red onions and curry sauce. Because everything is enclosed inside, it can be eaten on-the-go or at a table with a fork. Murtabak is a food staple from the Saudi Arabian peninsula to Southeast Asia. This was my favorite dish, and I had many more murtabaks on our trip through Penang and Singapore.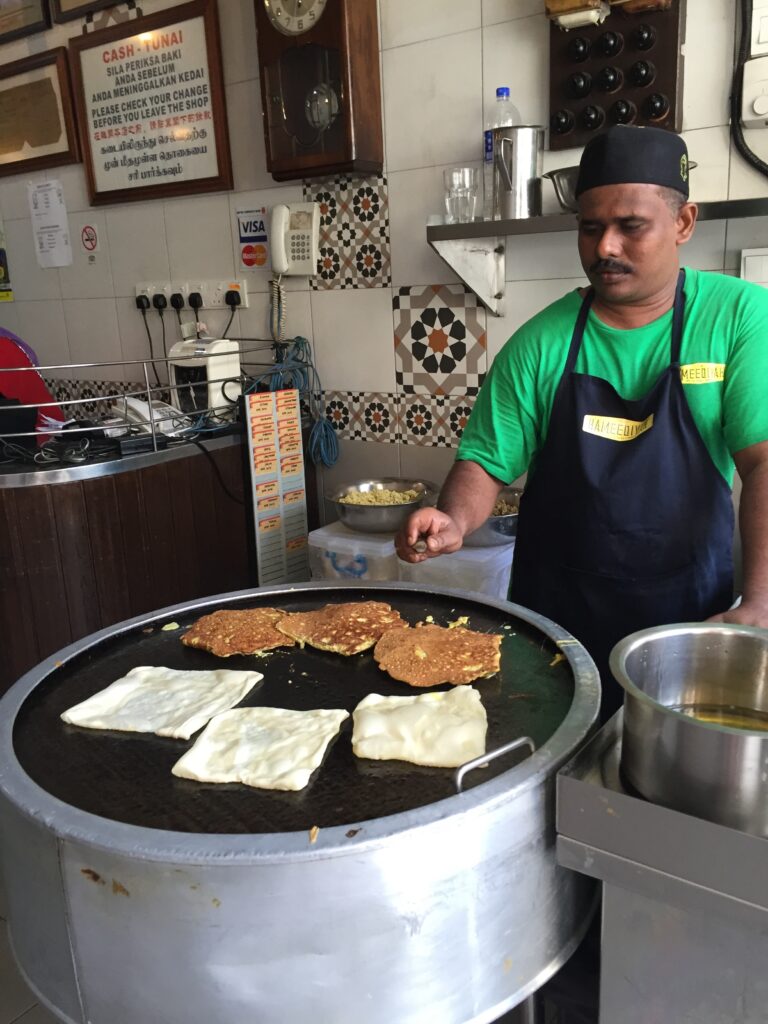 Asam Laksa and Indonesian Dessert
Our last stop on the tour was at a small cafe. We were both pretty full by now, but the last course was what Tom had been waiting for, and the reason why we came to Penang; Asam Laksa.
Asam Laksa
Asam means tamarind, and the tamarind is what gives this dish a slightly sour taste. Asam Laksa is a soup made with mackerel stock, turmeric, tamarind, red chilies and noodles. It's garnished with cucumber, onions, water spinach, Malay mint, pineapple and ginger flower blossoms. It's tangy with an addictive spiciness.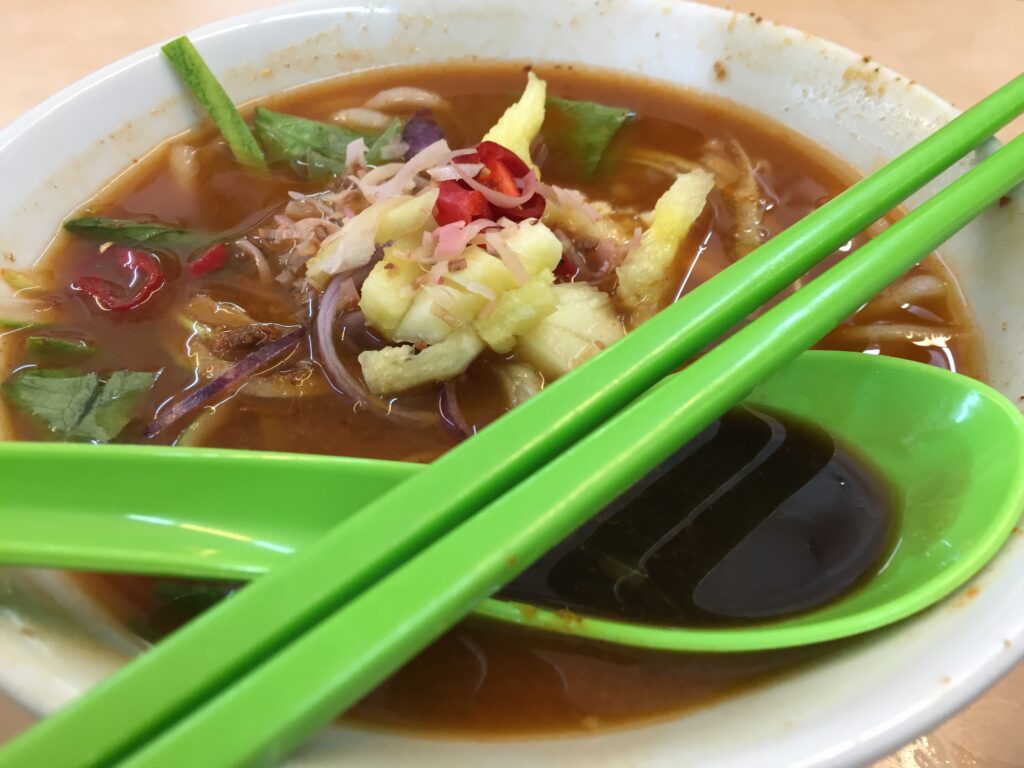 Cendol for Dessert
Our last dish was the local dessert called Cendol. This consists of green jelly noodles, red beans, coconut milk and shaved ice. Beans are often used in Asian desserts. After the spicy Asam Laksa, and the heat of the day, Cendol was a refreshingly cool treat.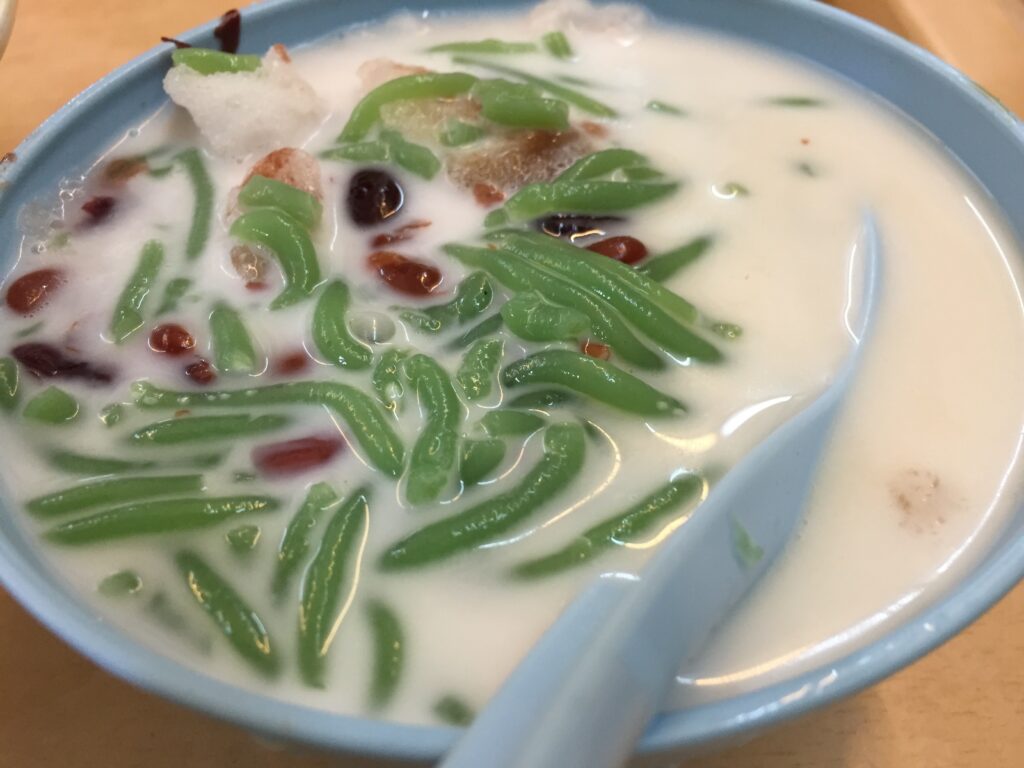 We recommend this food tour for anyone coming to Georgetown. The food was outstanding, and Juni our guide was very knowledgeable and able to hit all the highlights on this 3-hour tour. It's also a good way to get to know the different neighborhoods and decie where you want to go back. For more info, visit Viator.com and check out A Taste of Penang: Small Group Tour.
And here's some other tours you might like in Penang:
Pin This!