Getting a COVID-19 Antigen Test Before Flying Back to the States
This post is for those who want to know what they need to do to travel to Mexico and get back into the United States. Right now, traveling abroad is limited, but Mexico is open for tourists. But getting back into the United States has an additional requirement: a negative COVID-19 antigen test. This is our personal experience plus a few resources if you decide to travel to Mexico and back to the States.
WHY WE ARE TRAVELING DURING THE COVID ERA
If Mexico was rolling out the vaccines a little faster, we wouldn't have even considered taking a trip back to the United States for our vaccines. But with Mexico still trying to vaccinate people 60 and over for the past two months, and our vaccine choices limited to the Chinese, Russian and Astra Zeneca vaccines, we decided the pros outweighed the cons in flying back. We want to get back to work face-to-face with our wine and culture tours, and getting the vaccine will give us some assurance that we can do that.
Plus, knowing everyone on our flights from Mexico to the States had to present a negative antigen test made us feel a little better about travel, at least to the first airport.
Disclosure: Some links may be affiliate links where we receive a super-small commission at no additional cost to you if you click through and make a purchase. We call this our Chocolate & Churro Fund.
Once we booked our trip, we went to work on making appointments for the vaccine in Florida and researching where we could take the antigen test in Queretaro. Word-of-mouth is still the best form of advertising in Mexico, so after asking friends, neighbors and stalking expat Facebook groups, we found a place near us that offered the tests. Luckily, the actual appointments for both the antigen tests and vaccines all went smoothly and took even less time than scheduling them.
WHERE CAN YOU GET THE ANTIGEN TEST IN MEXICO?
Some hotels in Mexico are offering antigen tests for free before you leave so you don't have to hunt down a clinic or pharmacy. If you are considering a vacation in Mexico, I highly recommend booking a hotel that offers this service.
This article by Travel Weekly lists the hotel chains throughout Mexico and the Caribbean that offer the COVID antigen test at their hotel, and some are for free: Caribbean and Mexico Resorts Roll Out COVID Programs
Volaris Airlines is offering the antigen test at the airport. Prices range from 290-1290 pesos depending on the city. Check the Volaris website for locations and information.
Viva Aerobus lists airports that have the antigen tests for day-of-flight testing. Go to Viva Aerobus website for more information. 
WHERE CAN YOU GET THE ANTIGEN TEST IN SAN MIGUEL OR QUERETARO?
In San Miguel de Allende, the CHOPO Clinic is offering the antigen test. Also, the Rosewood Hotel is offering the test to their guests onsite by healthcare providers for an additional cost.
In Queretaro, Farmacia del Ahorra is offering the antigen test, but not at all locations. The best thing to do is go into any pharmacy and just ask. It's a common question, so they will be able to direct you to a location that provides the testing.
HELPFUL EXPECTATIONS ABOUT THE ANTIGEN TEST
Do not expect every pharmacy location to do the antigen test. The first Farmacia del Ahorra I walked into was kind enough to use Google translate to show me that this particular location was not doing tests. She directed me to another location.
The second Farmacia I walked into near the University did have all the signage advertising the antigen test, but they only tested for 3 hours a day. These short business hours were due to limited supplies plus the doctors in the clinic next door still needed to see patients in the afternoon for other health issues.
It's best to go to the testing site a few days before to check the times of when they will be testing. We were flying on Tuesday. They were not testing on Sunday, so we planned to have our test done Monday morning at 9am.
COST OF THE ANTIGEN TEST
The cost of the antigen test is very reasonable. Though you may see signs that it costs 299 pesos, these tests will be taxed for a total of 346 pesos. This is the lowest price we've seen. The Queretaro Airport does do onsite testing, but the cost is around 1290 pesos.
HOW TO BOOK AN APPOINTMENT FOR THE ANTIGEN TEST
The sign on the outside window of the pharmacy had a QR code on it to register for the test. The pharmacy staff wanted us to read the QR code first before paying, but you need to pay to get a code to enter into the registration form online. This could have been confusing if we didn't have someone there to help translate for us. Also, the registration is only good for 24 hours. You will need to get a test done within 24 hours of registering or you will have to register (and pay) again.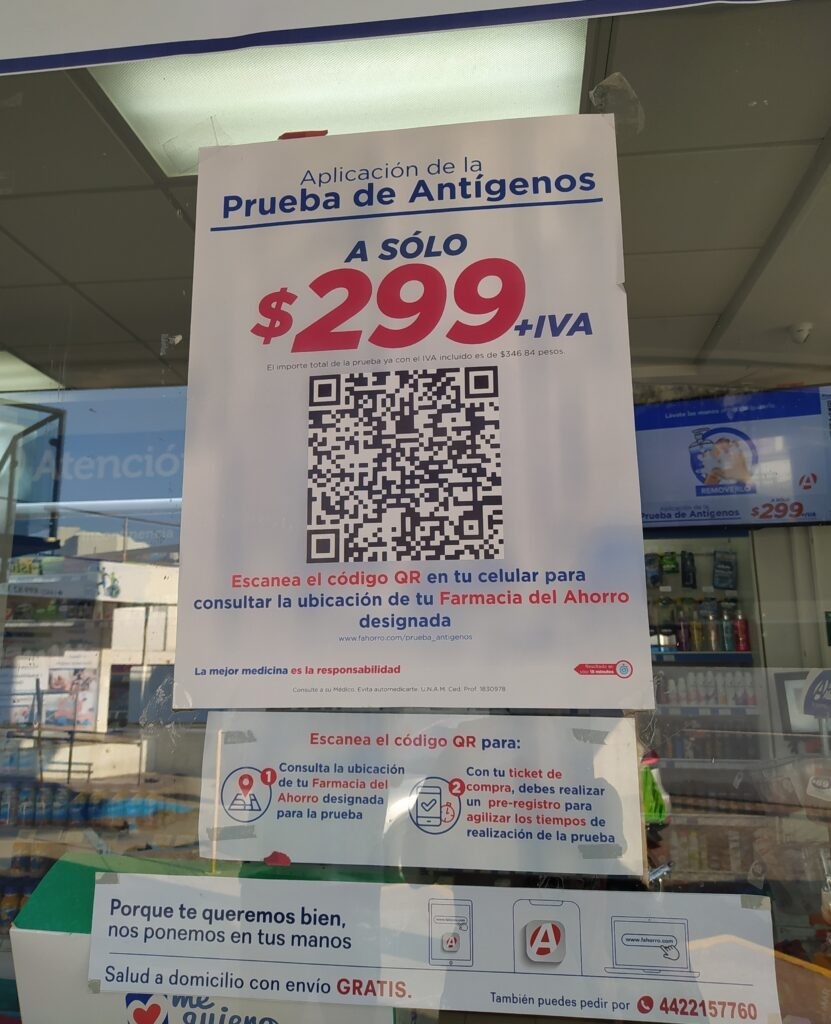 1- Read the QR code with your phone, open the registration link, and fill in what you can. Do not submit yet.
NOTE: Where it says MOTHER'S MAIDEN NAME, put your middle name like it is printed in your passport. Your name and birth date need to match your passport.
2- Pay the money for the test. The cashier will give you 2 sheets of paper to fill out and sign plus show you the code on your receipt to enter into the online registration.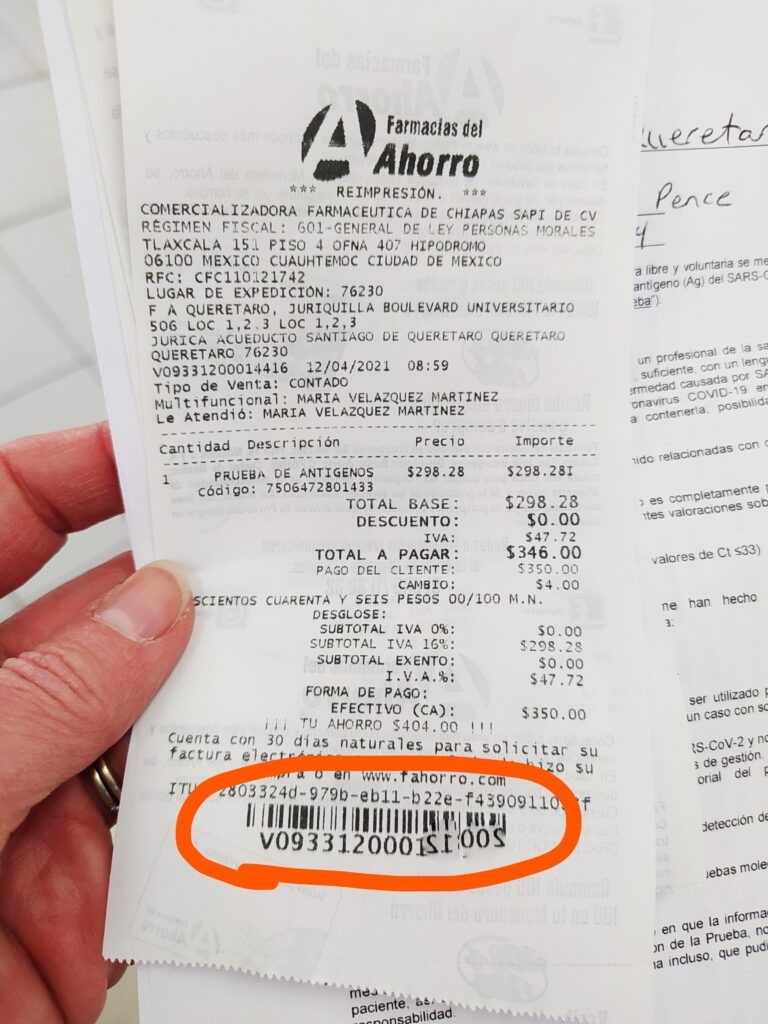 3- Finish registering online with the special code and your information. You will then get another special code (FOLIO) to put on the medical sheets. Give the cashiers the completed medical sheets.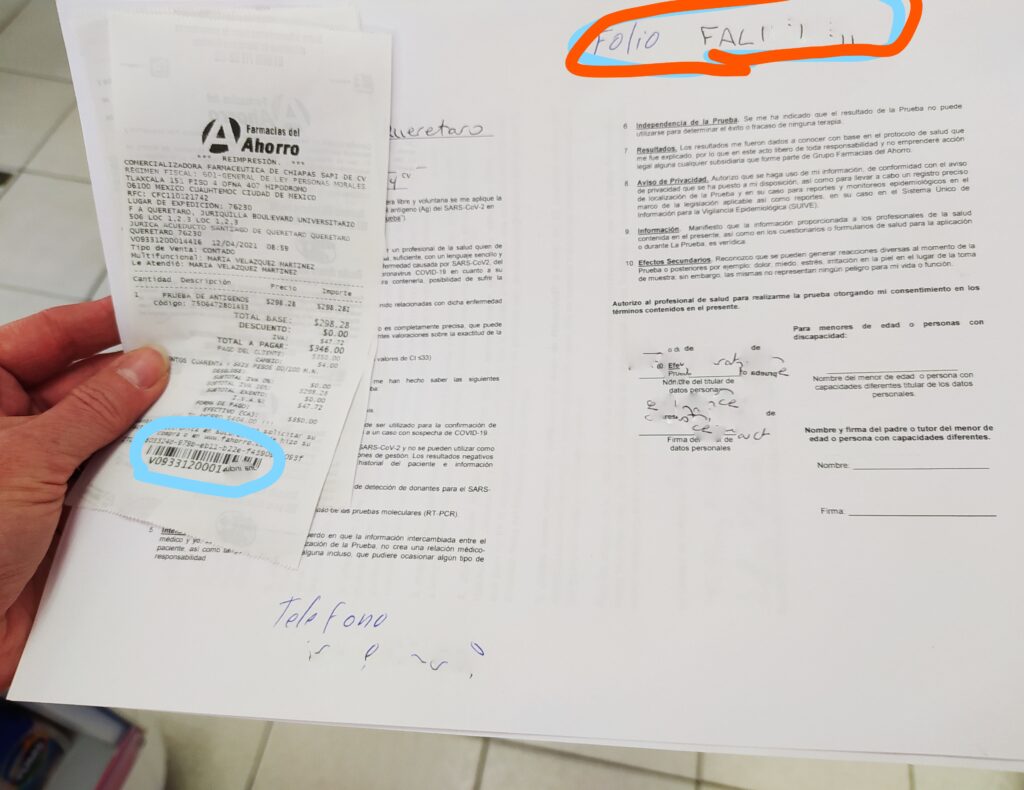 4- Wait until the doctor calls you. In our case, the medical office was next door to the pharmacy.
Our doctor spoke English and was very friendly. He explained each step of the procedure before starting. As instructed, I pulled my face mask down below my nose, but still covered my mouth. I tilted my head back and he inserted the swab as far as he could up my nose. It's very uncomfortable, but only lasts for a few seconds.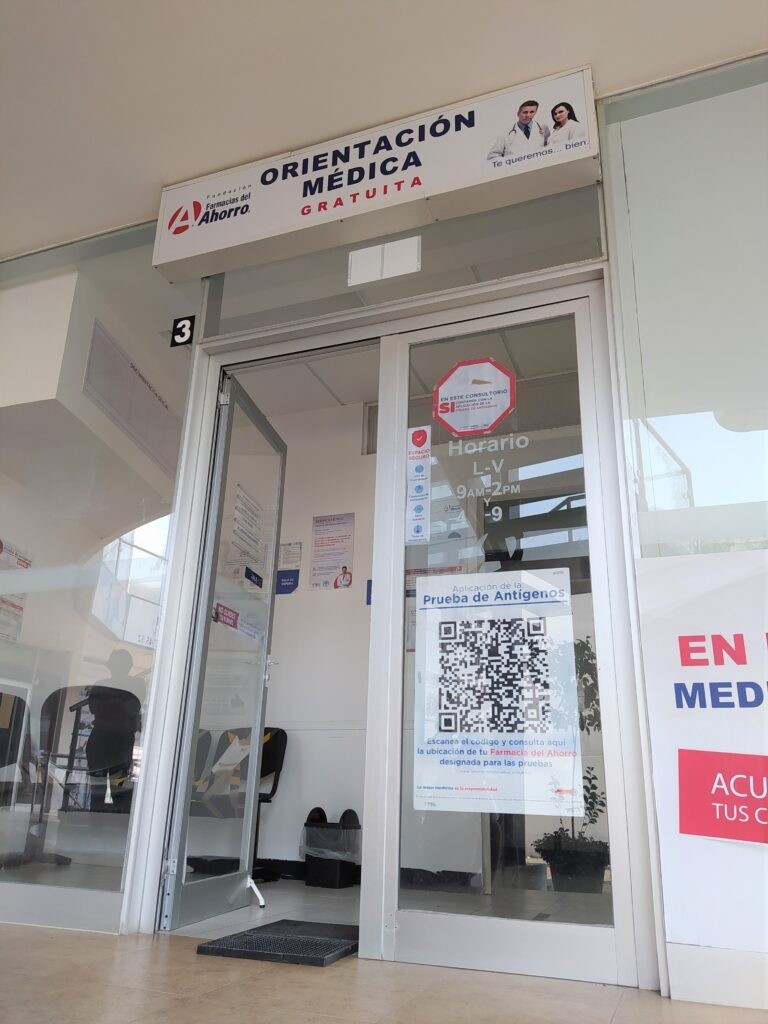 5- Wait for the results. (15-30 minutes)
Some places have said results can take up to 36 hours. Our results were ready within 30 minutes. The doctor called us back in individually, had us check that our names, birthdate, and any other information was correct and matched our passport, printed the document, and we were on our way!
The doctor even showed me the testing capsule. It looked like a mini-pregnancy test with one line meaning NEGATIVE and two lines meaning POSITIVE.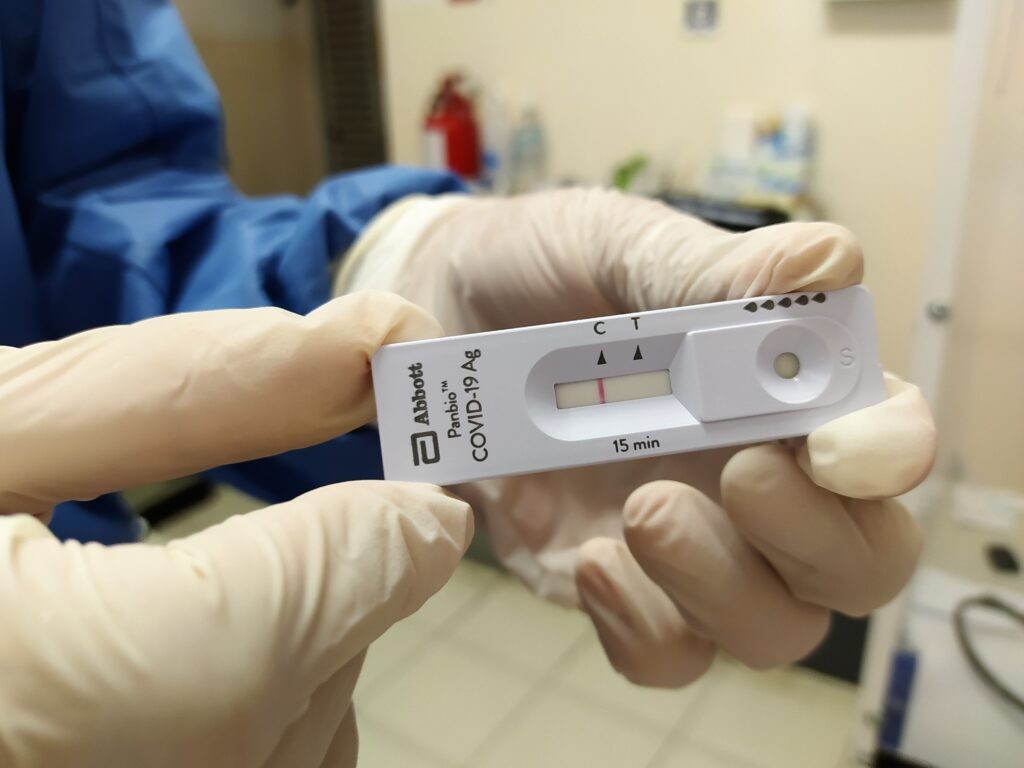 ANTIGEN TEST vs. EVERY OTHER GOVERNMENT THING WE DO IN MEXICO
Compared to the runaround and headaches dealing with immigration and the internet service, this antigen test was a breeze. I hope you find this post useful as the world tries to get back to some sort of normalcy.
Just a note: Please get your vaccines before visiting Mexico. Keep yourself safe and anyone you may come in contact with by wearing a mask and social distancing. Face masks are still required when entering stores and businesses in Queretaro and San Miguel de Allende but can be removed for dining. 
This pandemic will only go away if everyone does their part.