Best Places to Photograph Florida Wildlife
Florida is one of the best places in the world to see wildlife. Now, I may be slightly biased because I have lived in Florida off and on for 20 years, but I can't remember a day that went by without seeing some kind of wildlife.
On my early morning walks with the dogs, I would see owls and possums. Driving to work, I was usually accompanied by an eagle or osprey. Sandhill cranes would visit me at work. In the evenings, squirrels were busy burying acorns in the playground, while grackles attacked hawks in the air above. Even while watching TV, I'd see a family of raccoons crossing our backyard in search of tasty morsels from our garden.
In Florida, you don't have to travel far for incredible wildlife. Whether you are a professional photographer or take photos as a hobby, these natural places offer some of the best encounters of native wildlife in the USA and most are easy to reach from major cities.
Merritt Island National Wildlife Refuge
The John F. Kennedy Space Center acquired several acres to build its space center complex, but most of the land has remained undeveloped and became a wildlife refuge for migratory birds. Several different ecosystems lie within the 140,00 acres making this diverse area a perfect place for protecting and preserving wildlife. Gopher tortoises, river otters, ibis, shorebirds, bobcats and alligators enjoy the solitude of the refuge and loggerhead sea turtles nest on the beaches between May and October. Manatees can be seen in the intercoastal waterways and shorebirds, osprey and Florida scrub-jays are common sights.
Best time to go: All year round.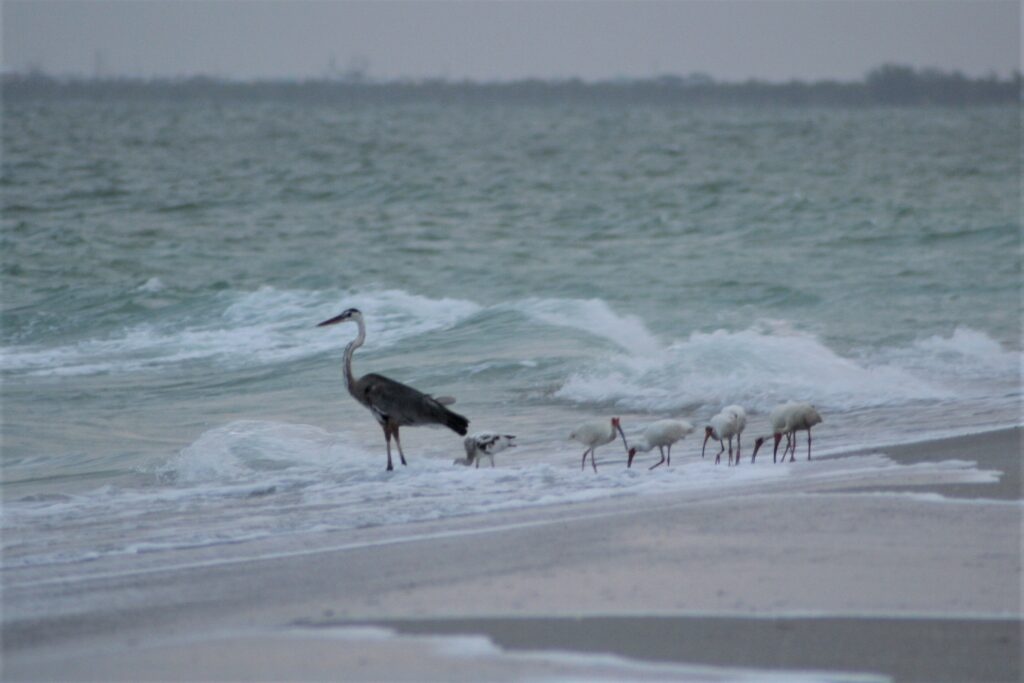 Blue Springs Park
Only 45-minutes from Orlando and the largest spring on the St. John's River, Blue Springs is a natural paradise. Blue Springs State Park covers 2600 acres and offers picnic areas, hiking trails, fishing, canoeing, swimming, snorkeling, diving (certification required), camping and air-conditioned cabins. During the winter months, its common to see manatees enjoying the 72-degree water, and in the summer, fish, turtles and tourists splash in its crystal-clear waters.
The Florida Department of Environmental Protection acquired the park in 1972 to start its Manatee Protection Program.  Colorful billboards line the boardwalk next to the estuary describing the history and the wildlife that can be found around the spring, and where more than 1 million gallons of water a day comes from.
The crystal-clear waters of Blue Springs flow into St. John's River, the longest river in the state of Florida. St. John's River Tours leaves from Blue Springs Park and is the perfect way to enjoy a day out on the water observing wildlife such as turtles sunbathing on mangrove roots, gators glaring from shore, and herons stealthily stalking their prey in the shallows.  You might even see an osprey nest on one of the water signs. Kayak rentals are also available.
Best time to go: To see manatees in the spring go between November and March. The spring is closed to swimmers at this time to give the manatees refuge, but the boardwalk has great viewing locations. For all other animals and to cool off in the springs yourself, go between April and October.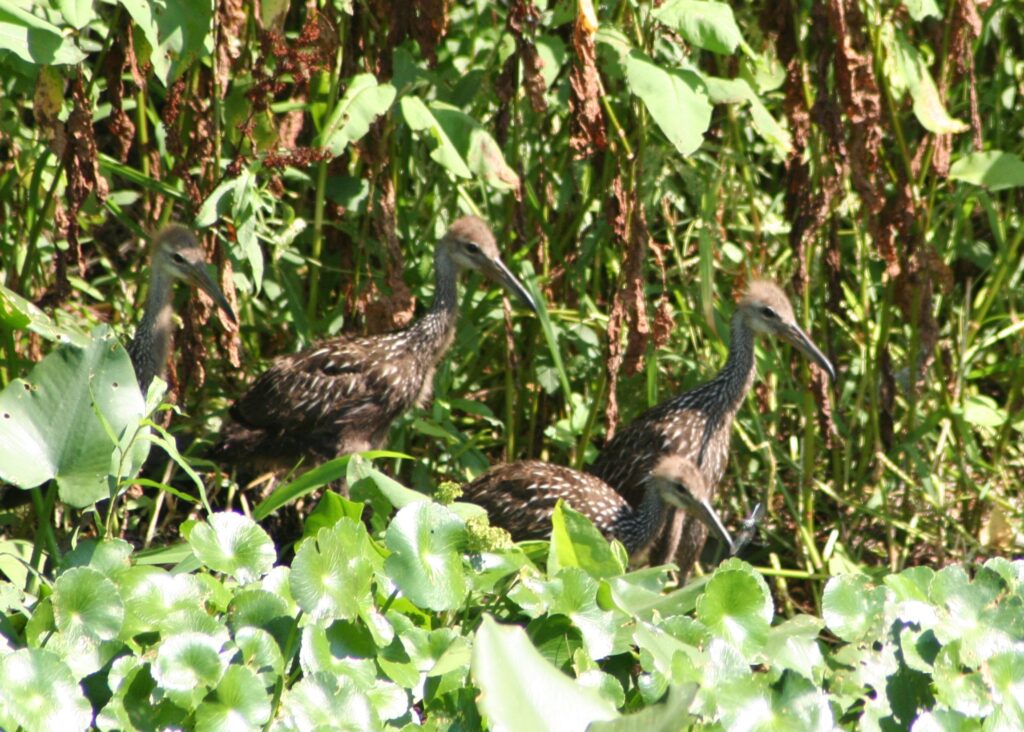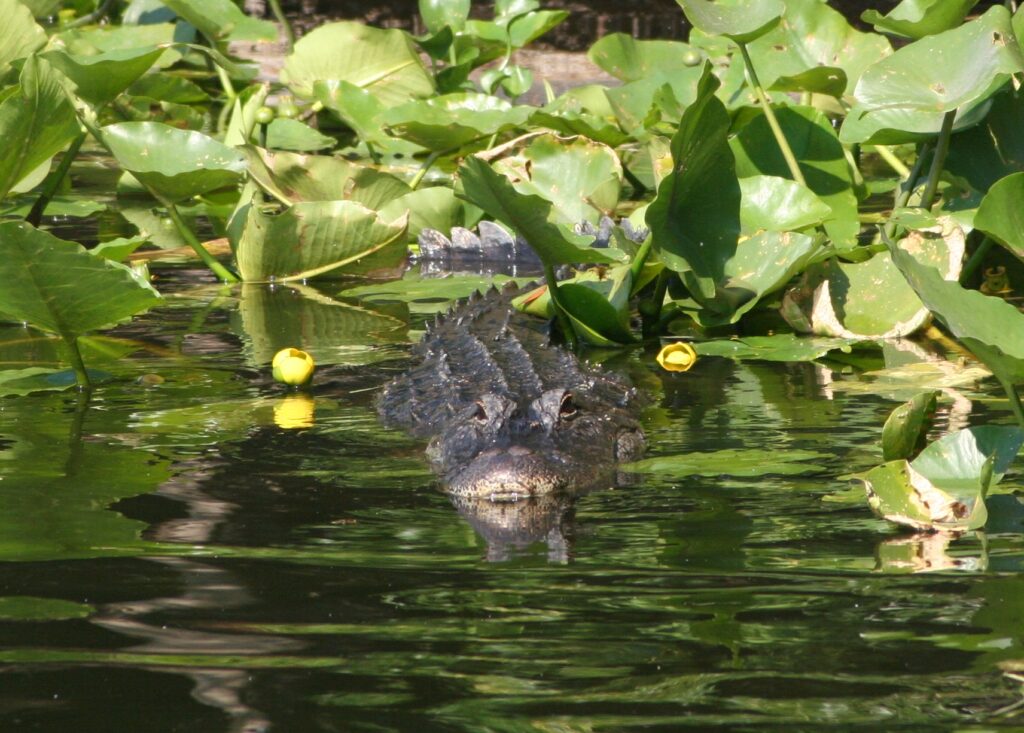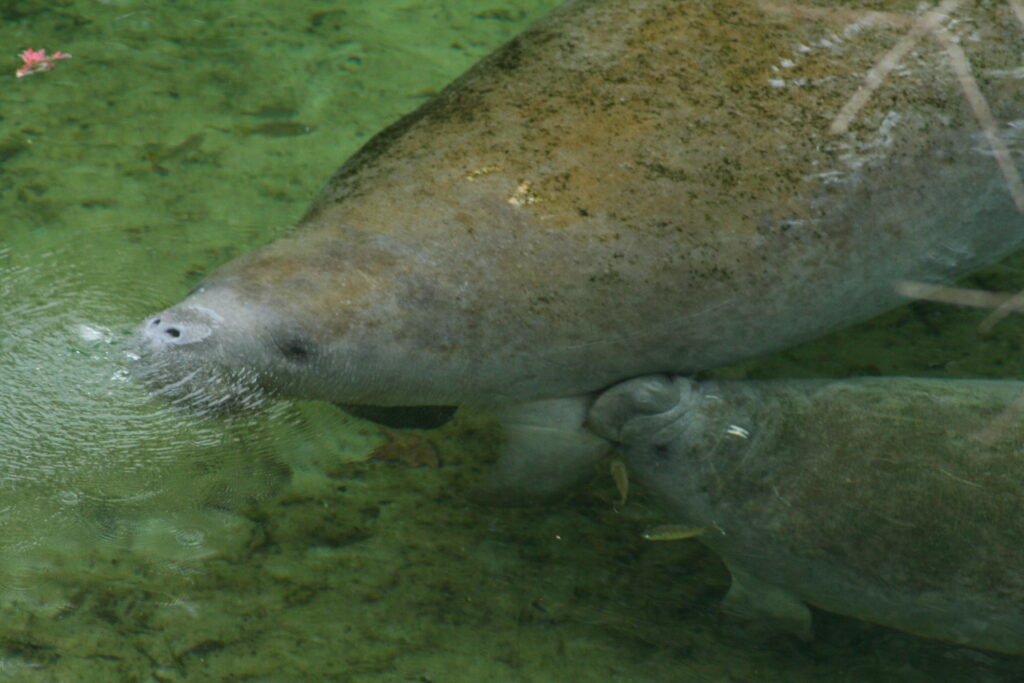 Grand Floridian Resort and Wilderness Lodge at Walt Disney World
Can you really see wildlife at the Disney resorts? Yes! And the Grand Floridian and Wilderness Lodge are the two best resorts to see Florida wildlife. On the drive up to the entrances towards sunset, I have seen families of deer. During the day, there's plenty of herons and birds around the lake, and on occasion you may see an eagle fly by, or raccoon prints in the sand. Sandhill cranes love the manicured lawns, too. Take the time to sit still and see what other species grace you with their presence.
Best time of day to see wildlife: early morning or evening as the sun is setting.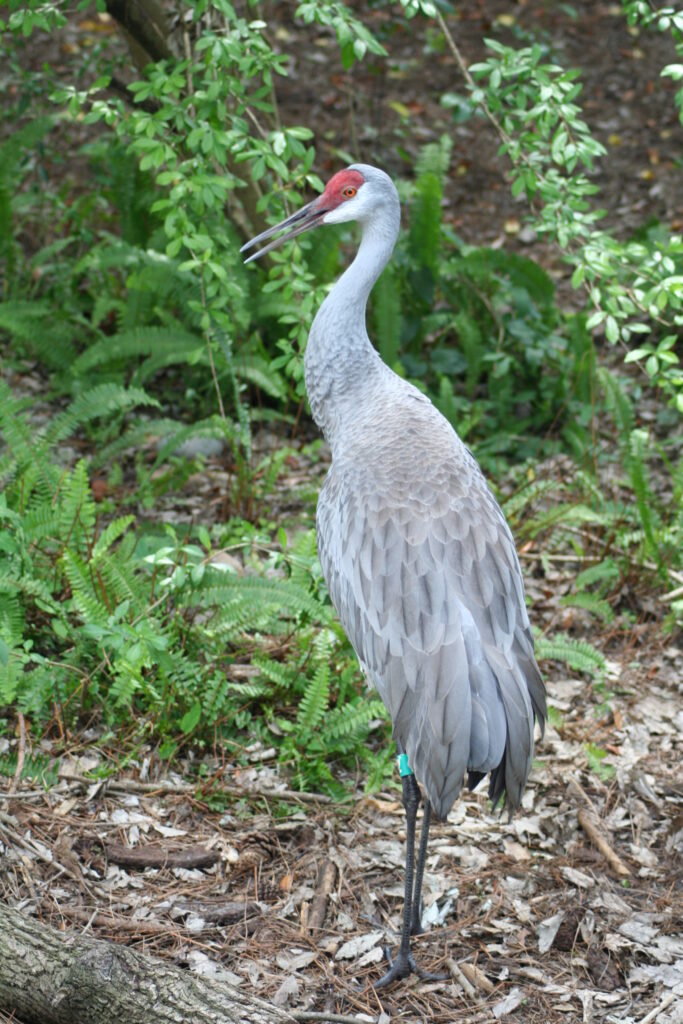 Gatorland
Besides being the "Alligator Capital of the World", Gatorland is also a bird watcher's paradise. In the heart of Gatorland's 110-acre park lies a 10-acre breeding marsh teeming with a wide variety of native Florida birds, alligators and other wildlife.  Gatorland built their breeding marsh in 1991 for their resident alligators, but one year later, a little bird had spread the word, and now thousands of birds flock to this safe haven to raise their chicks.
Great egrets and snowy egrets are the easiest to spot with their white plumage, and many of their nests are on the outside branches of the trees.  The shy tri-colored herons and cattle egrets seem to favor the cover of the inside branches.  Wood Storks and cormorants build their nests high in the trees, and the gators cruise below keeping snakes, opossums, and raccoons away from the fragile nests. Though many professional photographers bring out the big guns of lenses for the "perfect shot", many nests are close enough for a great picture with a regular point and shoot camera or basic telephoto lens.
Gatorland is part of the Great Florida Birding Trail, a program of the Florida Fish and Wildlife Conservation Commission. For other great bird and wildlife viewing areas around Florida, visit www.floridabirdingtrail.com.
Best time to go: April is the best month to visit Gatorland for baby birds and photographing alligator mating. Baby gators usually hatch in the summer.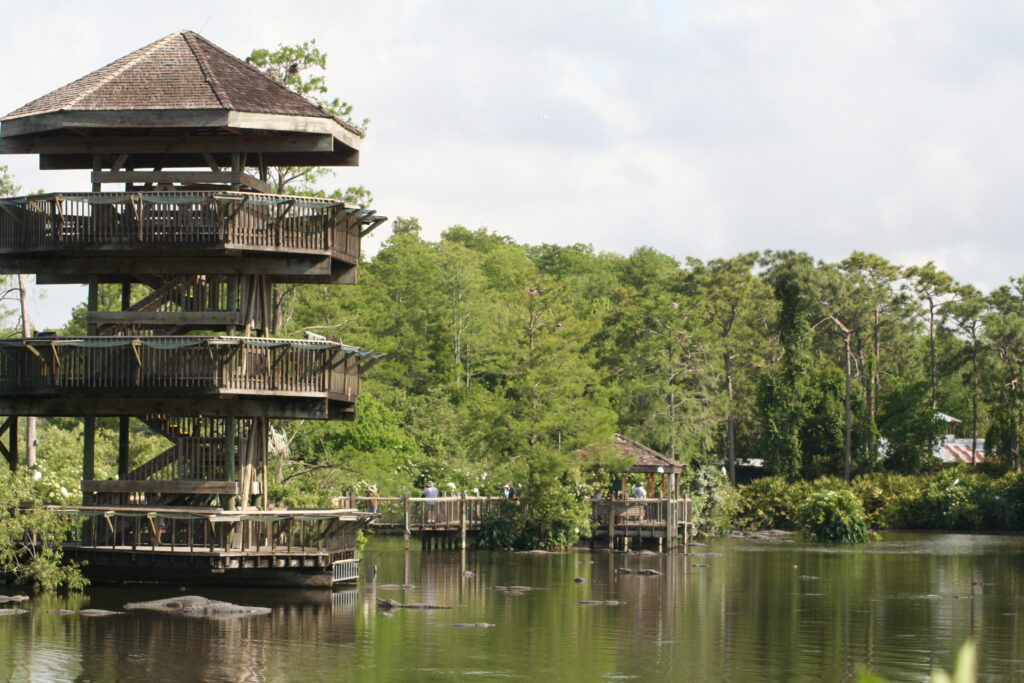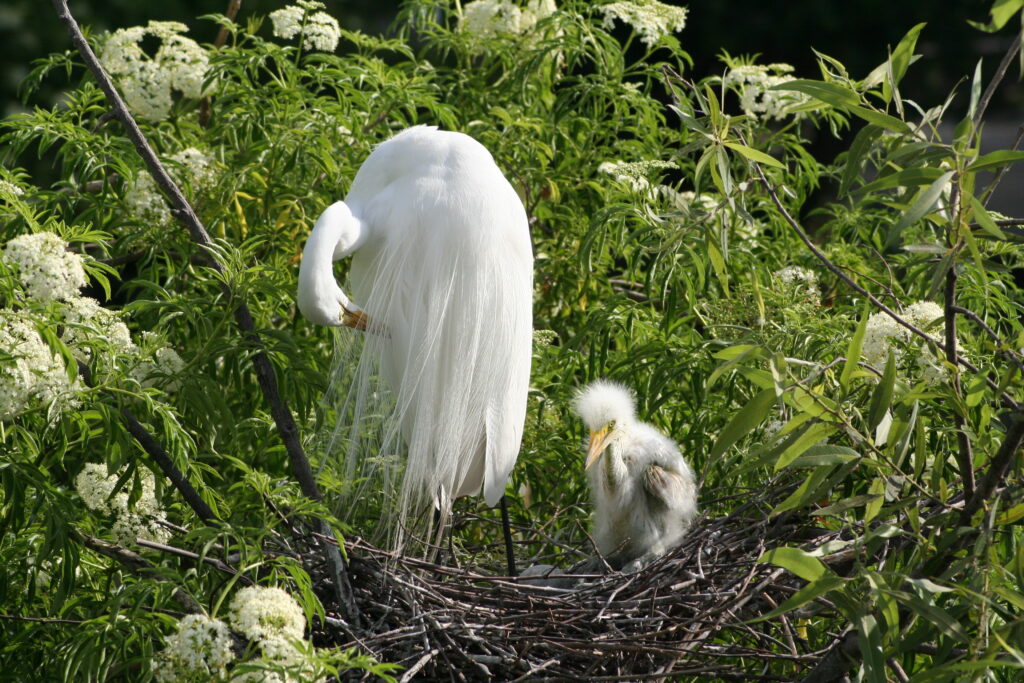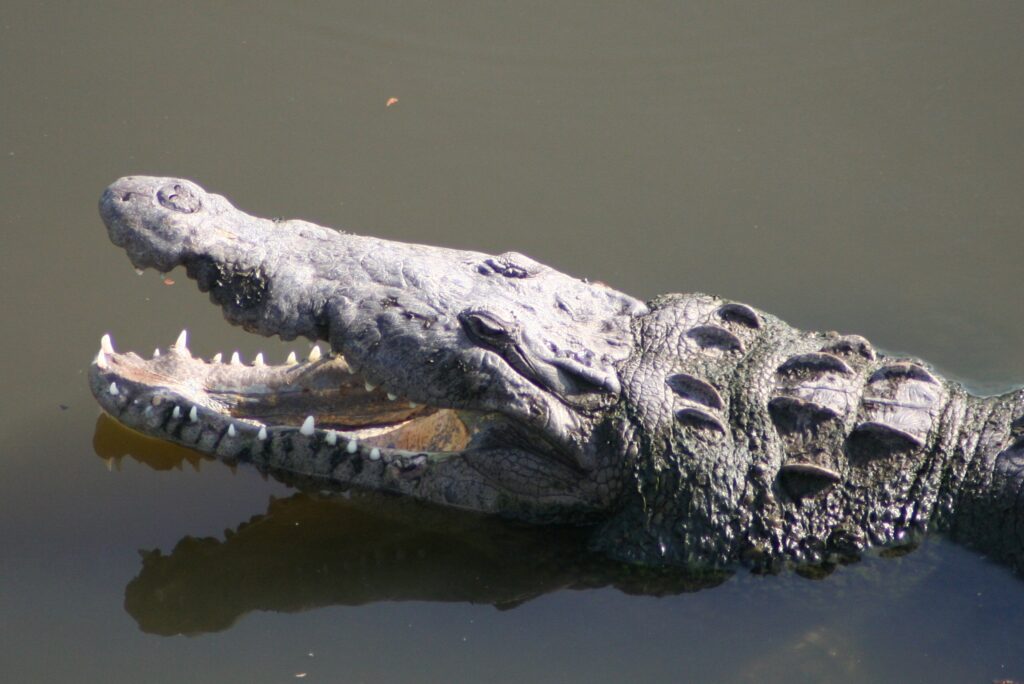 Crystal River
Located 90 minutes from either Tampa or Orlando is Crystal River. This is Old Florida and one of the few places you are allowed to swim with manatees. Tours will take you out to where the springs meet the brackish waters. Where you can float and watch the slow-moving grace of the West Indian Manatee. It's an incredible experience and one that respects the animal and its habitat. Buoy lines have been set as areas for the manatees to have solitude away from people. Rangers in kayaks watch to make sure people respect the manatees' space. During the boat ride to and from the docks, there's a good chance of seeing dolphins, eagles, osprey, and other wildlife.
Best time to go: December through March when it get cold. The manatees will concentrate around the spring openings. The water stays a constant 72 degrees.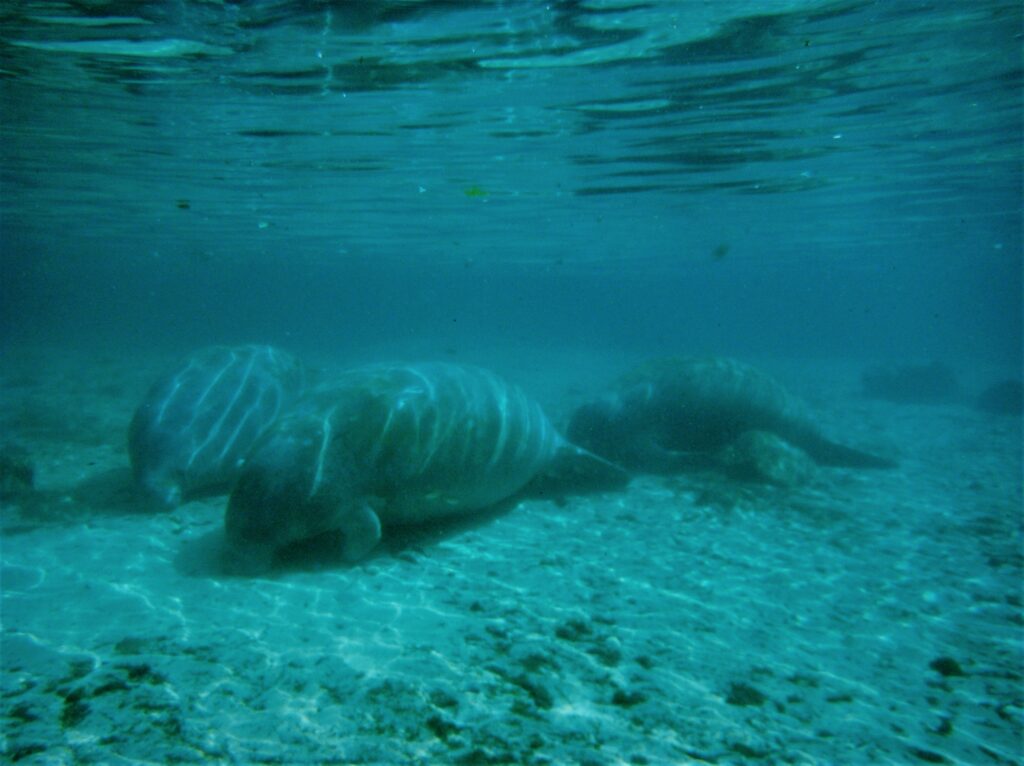 Clearwater/St. Petersburg
TripAdvisor rates the beaches of Clearwater Beach and St. Petersburg in the top 5 of the best beaches in the United States. These sugar-white sand beaches are picture perfect for a beach getaway, and also ideal for sea turtles especially loggerhead sea turtles. Nesting season runs from May 1-October 31. The best time to see sea turtles either nesting or hatching is August or September. Nests are taped off with the date they were discovered. Typically, sea turtles will hatch about 2 months after the eggs were laid. An easy way to identify which nests might hatch that night is to look for the Clearwater Aquarium Sea Turtle volunteers monitoring the nests. They will be watching for little hatchlings to emerge sometime during the night.
We highly recommend the Sheraton Sand Key Resort. With plenty of beachfront space and dunes to block some of the artificial light, it's the perfect place to monitor turtle nests. The restaurant and rooms are excellent as well. 
Clearwater Aquarium is a rescue and rehabilitation center for Florida's coastal wildlife with a starlet resident Winter the Dolphin. Permanent residents include Winter, river otters, pelicans, and shorebirds. Their Dolphin & Wildlife Tour through the intercoastal waterways is both entertaining and educational. A naturalist will show you smaller crustaceans and fascinating fish that live in this habitat. Clearwater Aquarium initiated the Dolphin Dorsal Fin Photo Identification Program and monitors 21 miles of beach for its Sea Turtle Conservation Program.
Best time to go: All year round, but to see sea turtles, May through October is nesting and hatching season.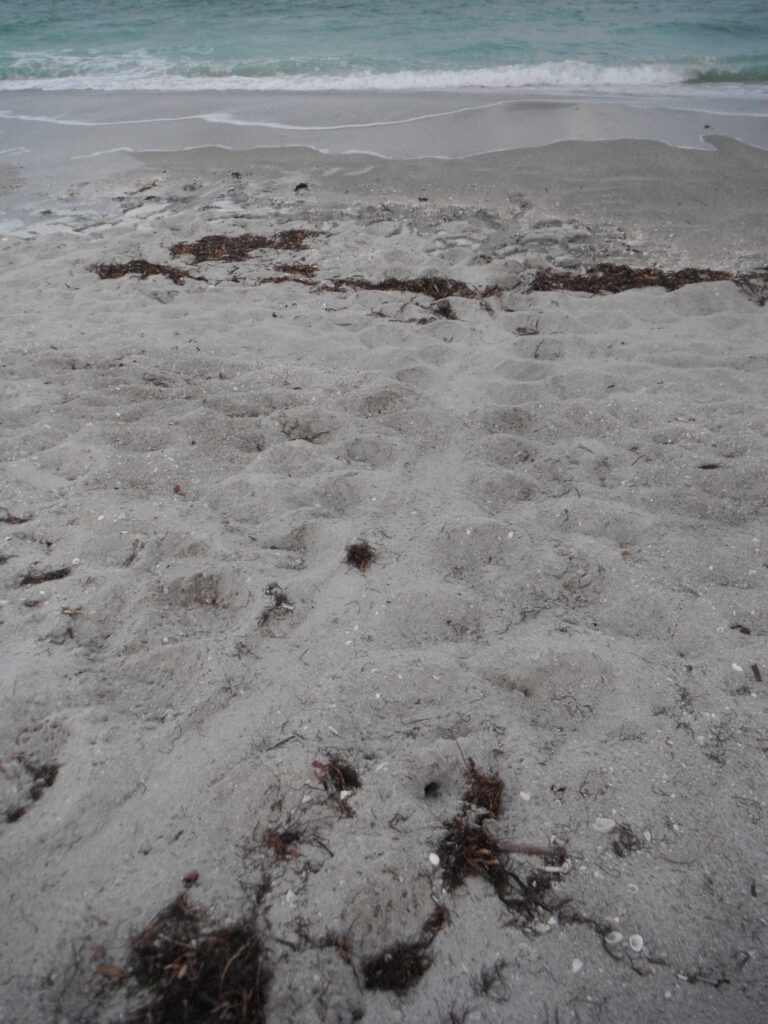 ZooTampa at Lowry Park
If you want to see all of Florida's native wildlife in one place, then head to ZooTampa at Lowry Park. It has an exceptional Florida wildlife section called the Florida Boardwalk & Manatee Mangrove where you can see Key deer, Florida panthers, bald eagles and black bears along with many other endangered animals that are part of the Species Survival Plan.
ZooTampa is one of only four federally permitted manatee rescue and rehabiliatation centers in the country. (Sea World Orlando, Miami Seaquarium, and Jacksonville Zoo and Gardens are the other three federally approved rescue centers). The David A. Straz Jr. Manatee Critical Care Center houses three treatment pools with remote controlled floors for medical procedures, and emergency hospital equipped for emergency treatment with sterile operating room, large animal x-ray and life support systems.
Best time to go: Anytime.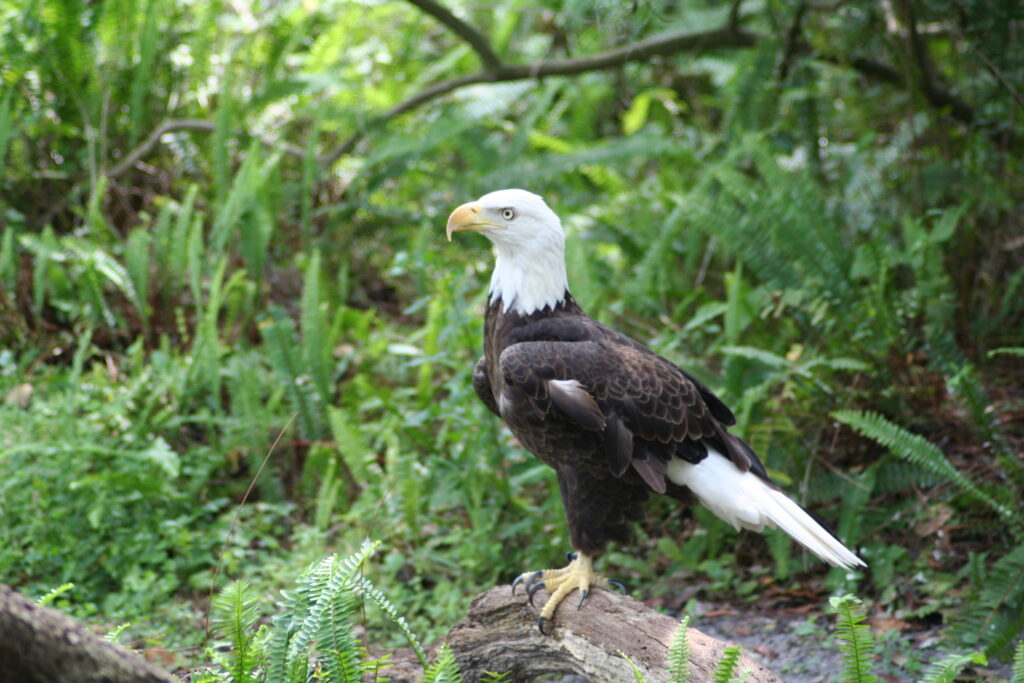 J.N. "Ding" Darling National Wildlife Refuge
There's no better coastal wildlife sanctuary than J.N. "Ding" Darling Wildlife Refuge in Sanibel Island. This 7,600 acre refuge is home to more than 230 bird species, 32 different mammals and 51 species of reptiles and amphibians. Drive, walk or bike through the coastal wetlands on the Indigo Trail or take a paddle tour with a nature guide to get a different perspective on the water. Reddish egrets may display their canopy feeding technique, and this is the only place in South Florida where you might catch a glimpse of the mangrove cuckoo. Bike, boat and paddle rentals are available in the refuge.
Best time to go: All yar round, but baby birds will be testing their wings in the spring and summer.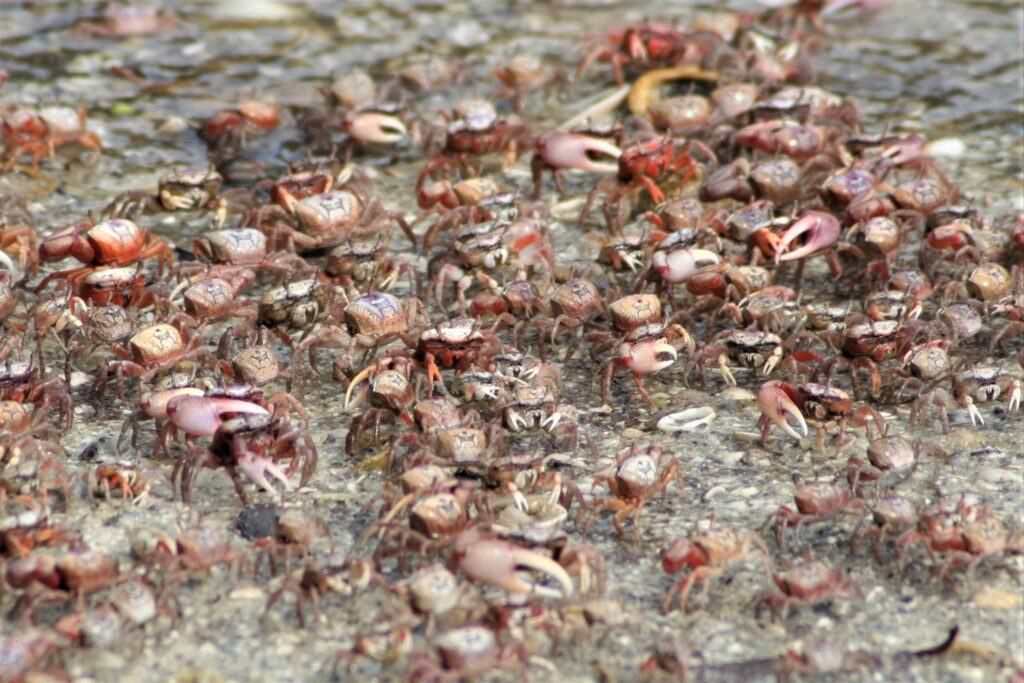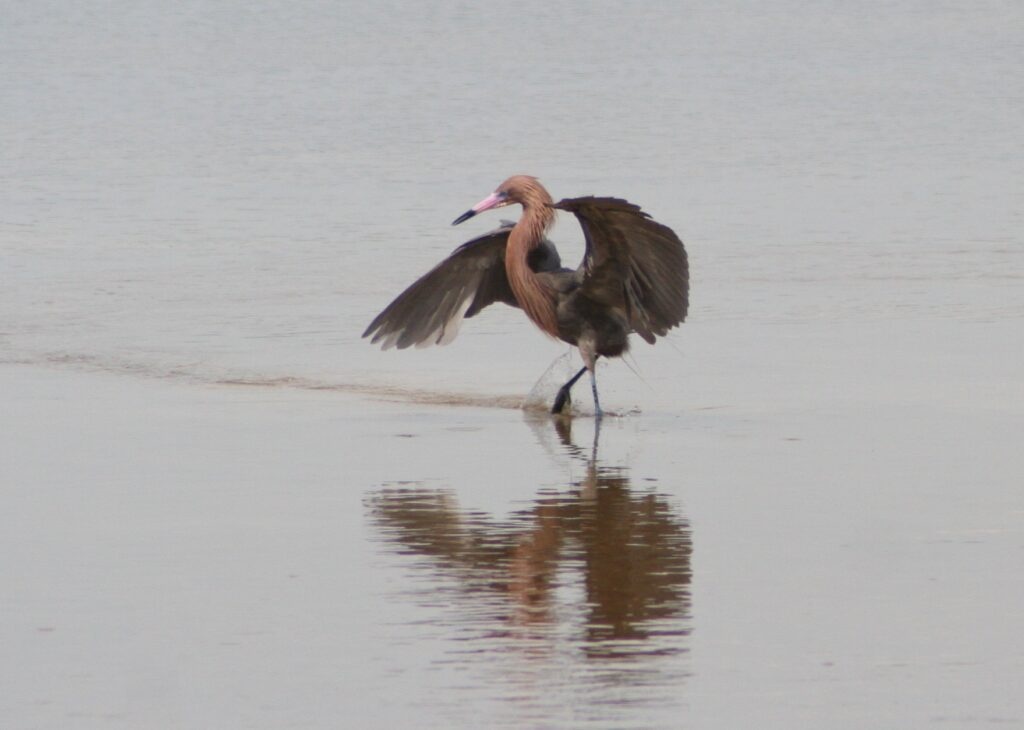 Big Pine Key
The smallest deer species in North America lives on just a few islands in the Florida Keys. A subspecies of the white-tailed deer, males reach a maximum height of 30 inches with females a few inches smaller. These deer are adorable and not as skittish as their taller cousins (though you should still keep your distance). Key deer can swim between the islands, but your best chance to see them in their native habitat is on Big Pine Key.
Best time to see them is in the early morning or late evening.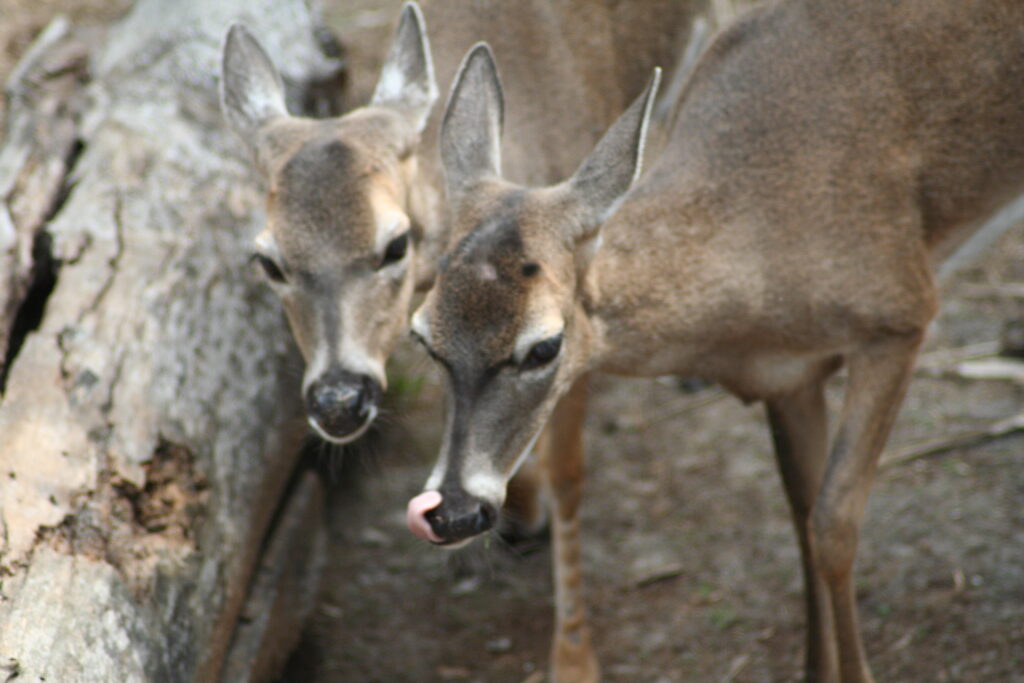 John Pennecamp Coral Reef State Park
Dive in to the first undersea park in the United States, John Pennecamp Coral Reef State Park. The park extends 3 miles offshore and 25 miles along the Keys. Kayak through mangrove swamps, take a boat ride out to see wild dolphins or even better, head underwater to marvel at the colorful corals in the crystal-blue waters. In most areas the water is shallow (under 25 feet), so its perfect for snorkeling or beginning open water divers. If getting in the water is not your cup of tea, glass bottom boat tours are available to observe the underwater world.
Note: There are sharks around the keys and in the estuaries. Most of the shark species(reef sharks, lemon sharks, nurse sharks) are very docile and will swim away. Bull sharks can be found in the estuaries where fresh water meets salt water. It's recommended to go with a diving professional if you want to dive with bull sharks.
Best time to go: December through May. Hurricane season is July 1- Nov 30 and can affect visibility.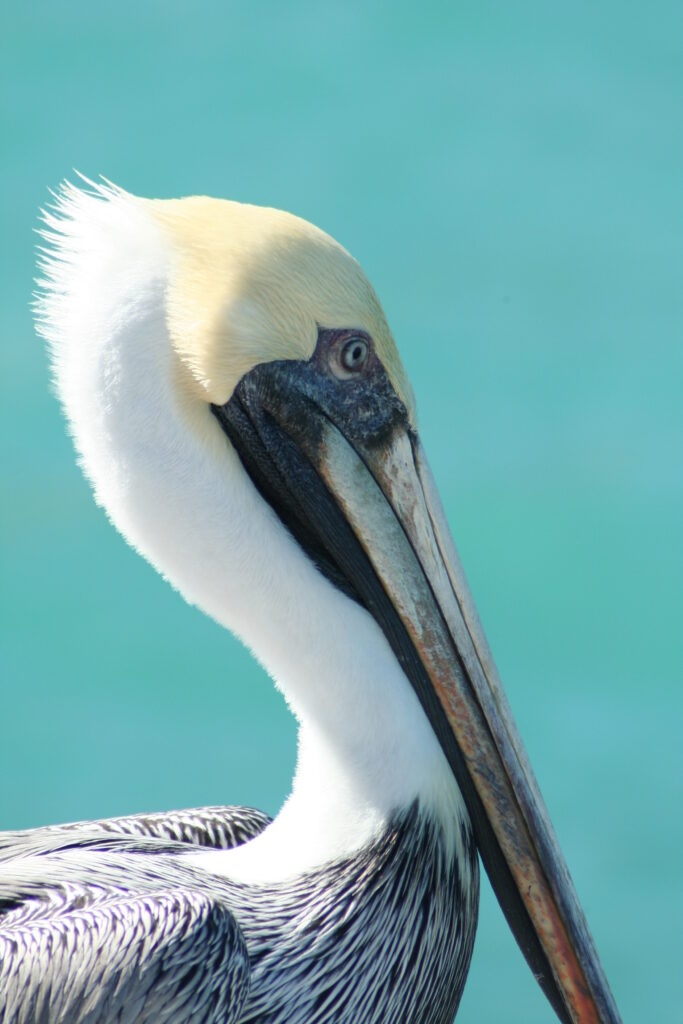 Dry Tortugas
A 2 hour and 15-minute ferry ride will take you to the pristine islands of the Dry Tortugas. On land you can observe migratory birds, but the real wonders live under the water. Turtles, fish, crustaceans and a myriad of corals make the Dry Tortugas the ultimate snorkeling or scuba diving destination for wildlife.
Best time to go: December through May. Hurricane season is July 1- Nov 30 and can affect visibility.
The Florida Keys are stretched along a 125-mile highway. We recommend island hopping. Drive through to Key West, then make your way back slowly staying on different islands. You'll find the most accommodations on Key West, Big Pine Key, Marathon, Duck Key, Islamorada and Key Largo.  
Bill Baggs Cape Florida State Park- Miami
Don't have time to drive down to the Keys? You'll feel world's away from the fast-paced life of Miami at Bill Baggs Cape Florida State Park. Located on the tip of Key Biscayne, this is a popular weekend getaway for fishing, birding and walks along the beach for locals. Migratory birds stop to rest here on their way south to tropical Caribbean islands. Home to the only long-term banding in South Florida, the Cape Florida Banding Station is part of the South Florida Bird Observatory. Don't miss getting a bird's eye view of the island from the top of the 1825 Cape Florida Lighthouse.
Best time to go: December through May. Hurricane season is July 1- Nov 30 and can produce flooding.