Celebrate Life During the Day of the Dead
Dia de los Muertos, or Day of the Dead, is a favorite holiday of the Mexican people. While death is a somber experience in many parts of the world, the Mexicans have created a 3-day celebration filled with music, laughter, and of course, food. If you are planning a trip to Mexico in the future, consider spending your time around this special holiday that celebrates life even after death.
It's Really A Three Day Celebration
Day of the Dead is more than just a one-day celebration. The official days are October 31 through November 2nd, but the celebrations can start weeks before and end a few days later depending on the region, town, or family. Officially named All Hallows Eve, today October 31st is known as Halloween in several countries and the day that "living" children dress up in costumes and ask for candy. On the Catholic calendar, November 1st is known as All Saints' Day. In Mexico, it's also known as "el Dia de los Inocentes" or the day deceased children are honored and can rejoin their families. November 2nd is All Souls Day or Day of the Dead. Adults are honored and rejoin their families on this day.
Dealing With Death
Everyone deals with death differently. Some people choose to share their pain, and others tend to internalize their feelings. The Day of the Dead isn't so much to mourn the deceased as it is to celebrate the life they had. Dia de los Muertos has been celebrated for thousands of years. It has evolved over the years and merged with some Christian beliefs, but it has never lost its true meaning. Do not fear death. Celebrate life.
Disney Taught Me About Dia De Los Muertos
Until I watched the Disney animated movie Coco, I didn't understand what the Day of the Dead was about. Just from looking at the pictures, it looked like a ghoulish street party. I was still a bit clueless when we moved to Mexico, but I understood Dia de los Muertos was more of a celebration of the person's life rather than their end. Having a day to celebrate your lost family members is understandable, but what did that entail?
Do people have wailing sessions all day?
Do they dress in black?
Is there designated "mourning" food?
The answer to all these questions is no. This is the time to share stories, laughter, and music. The dress can be as simple as jeans or as elegant as a prom dress. Besides Pan de Muerto and sugar skulls, the best food to share with the dead are their favorites from their living days.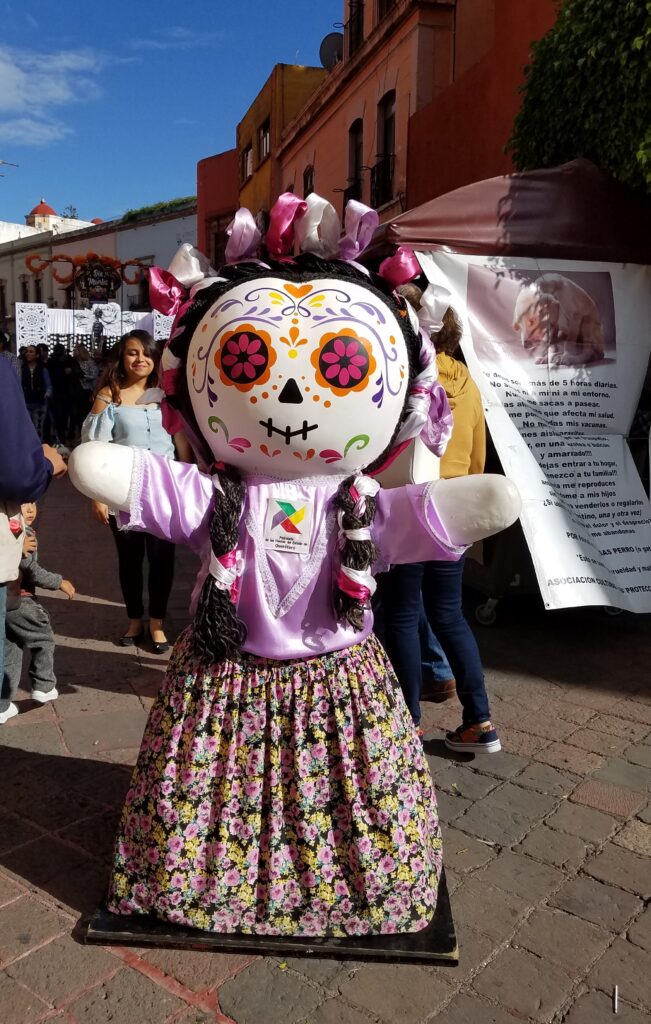 Best Places to Experience Dia de los Muertos
I don't think you could go wrong visiting any city during Dia de los Muertos. Celebrations include anything from candy vendors and face painters, altars and parades, to plays and art installations. These towns especially are known for their Day of the Dead celebrations.
Pátzcuaro
Pátzcuaro in Michoacan is famous for its Day of the Dead celebrations. The townspeople (and tourists) climb into boats lit by lanterns and row across the lake to the island of Janitzio. Once there, the families sit around their family graves, decorated with an altar set up days or weeks before, and tell stories until the early morning.
Chignahuapan
Chignahuapan is located in the northeast corner of the state of Puebla. This little pueblo magico is not only known for producing beautiful hand-painted Christmas spheres but also for its Festival of Night and Life on November 1st. The town retells the story of a spirit's journey to Micltán with lights, actors, and fireworks.
San Miguel de Allende
The people of San Miguel de Allende go all out with art installations in different mediums and music. During La Calaca, an interactive art festival with workshops, bands, and artists come together to celebrate the history and artistic expression of the Day of the Dead. Viator offers a Day of the Dead Tour so you don't miss a thing.
Oaxaca and Chiapas
These states still have many communities of indigenous tribes with their languages. Dia de los Muertos is celebrated Oct. 30-Nov. 5 with plenty of music, tribal dancing, decorations, and ancient storytelling. The best Day of the Dead celebration is supposed to be in Oaxaca.
Mexico City
Mexico City has beefed up its celebrations of the Day of the Dead after the success of the James Bond movie Spectre. Parades, decorations, and special effects are all on overdrive in this massive city. For a unique way to experience the Day of the Dead try this boat tour through the canals Xochimilco in your own decorated trajinera, listening to stories of "La Catrina" and dining on authentic Mexican cuisine.
Helpful Tip:
If you plan to visit Mexico for the Day of the Dead, make reservations more than 3 months in advance. Hotels will sell out. Prices are higher at this time, so just expect to pay more. We use Booking.com to search for the best hotels in the area.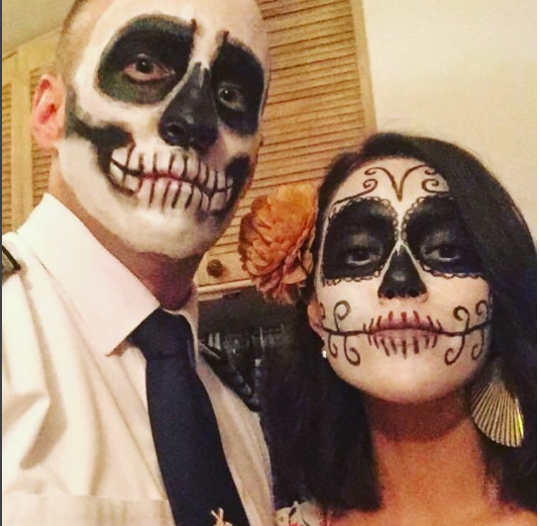 Day of the Dead Altars and Offerings
Altars
Ofrendas or "offerings" are displayed on the altars. Many of the elaborate altars you see in pictures are constructed in plazas honoring an important member of the community. Some areas even have contests for the best altar.
As with anything related to religion, levels, colors and items all have special meanings. But as my friend Michelle (who is Mexican) told me, "Many people don't know or remember all the details. It's more about the meaning of remembering your loved one and building something pretty for them."
Altars can be from 1-7 levels. At home, people typically set up a 1-2 level altar on their table with photos, food, and personal items. There's no special placement of photos and items, they just want to make something pretty to honor their loved ones. Altars in public areas tend to be up to 7 levels and are very extravagant.
Sugar Skulls, Chocolate Skulls and Candies
Sugar skulls decorate many of the altars, and they are also given as gifts during the season. The chocolate skulls I had no problem eating them, but I did wonder if people actually ate the sugar skulls. Yes, they are edible. Kids love them. But the candied skulls on the altars are not eaten because they are for the spirits. (That's probably why I didn't see chocolate skulls on any altars.)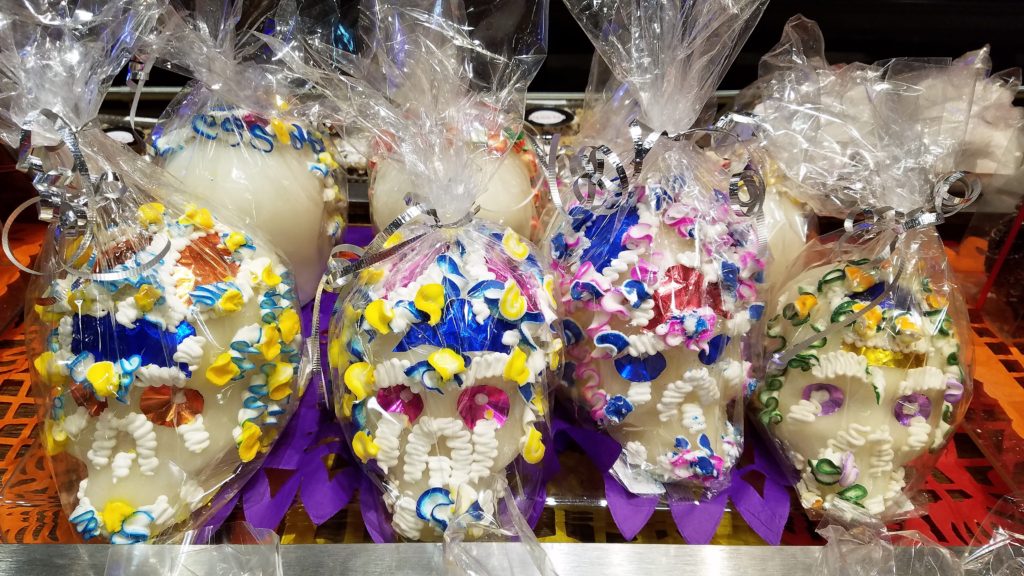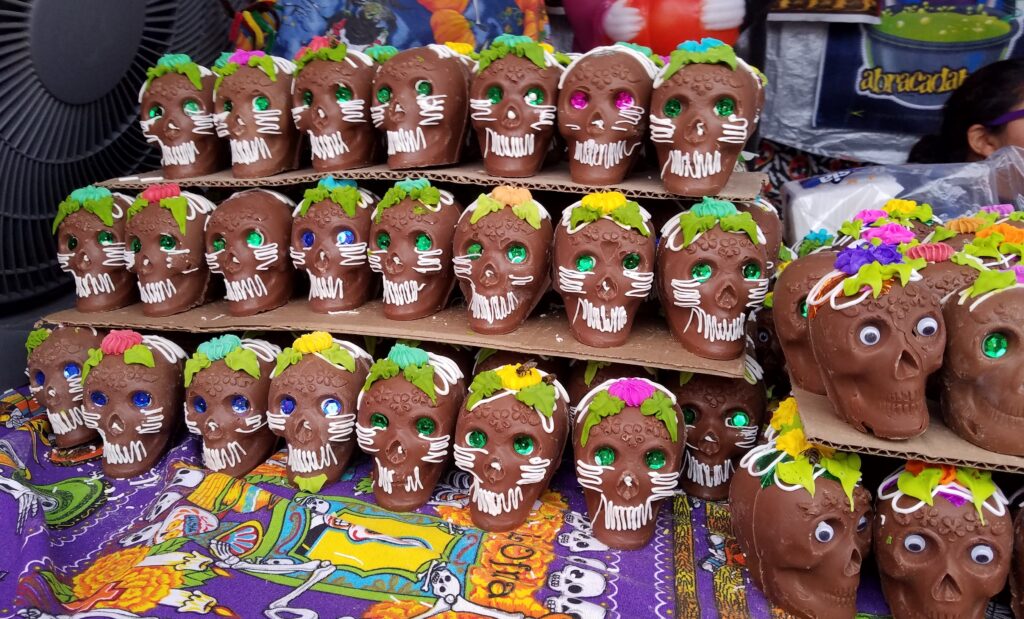 Pan de Muerto
Bread of the Dead doesn't sound very appetizing, but if you are in Mexico during October, you have to try it. This light brioche-type roll has a hint of orange flavor. Decorated with crossbones and a hefty amount of sugar, it's the perfect pastry to keep you going.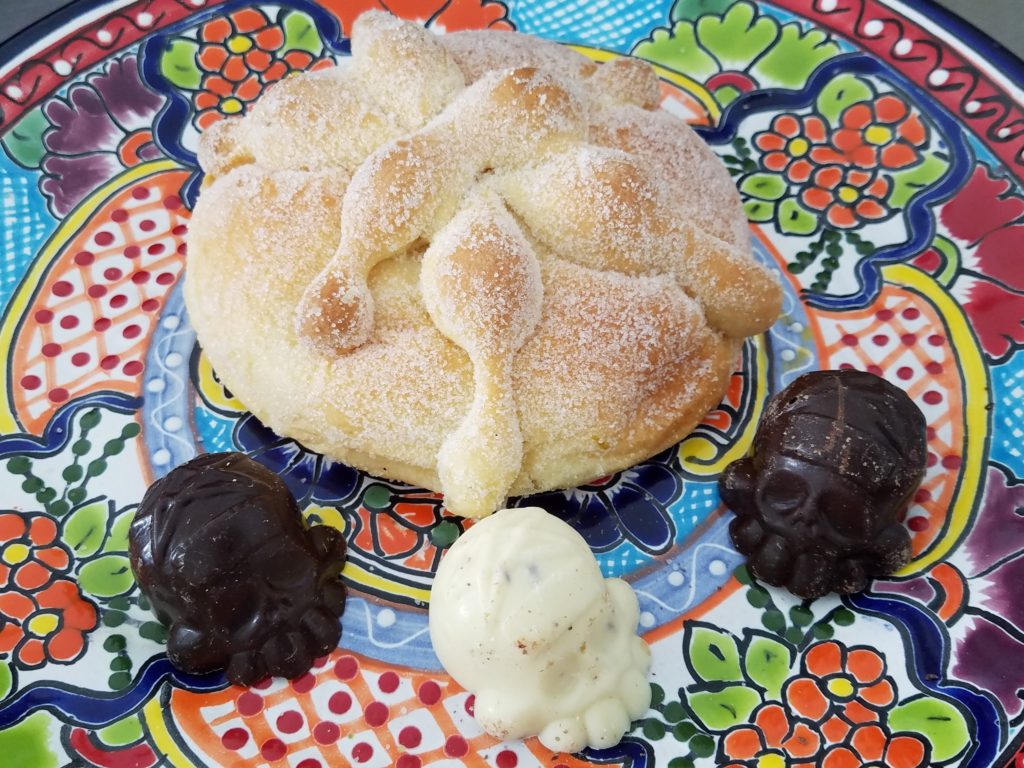 Food on the Altar
Why is food placed on the altar?
The ancient stories tell of the nine levels the spirit must travel through to reach Mitlan, the underworld. The easy version of this is that the traveling spirits need fuel to make the journey to and from the land of the living. Breads and fruits are the main staples along with any favorite foods of the deceased. We've seen enchiladas and moles along with tequilas and wine.
Is the food on the altar eaten by the living eventually?
The answer is no. The food is laid out 1-3 weeks before the Day of the Dead. After the holiday, whatever the spirits have not "eaten" is thrown out. I'm sure that doesn't pertain to the tequila and wine, though.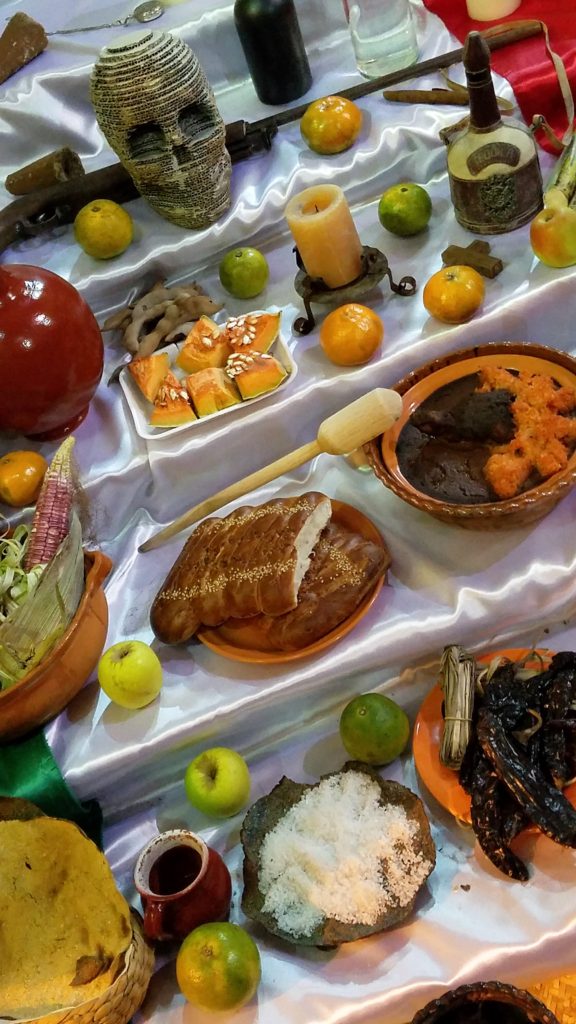 Aztec Marigolds
Cempasúchil flowers, also known as Aztec marigolds, bloom late in the year after the rainy season. They're bright orange coloration and fragrance help the spirits find their way home. You'll see these flowers around doorways of public places, private residences, and on altars.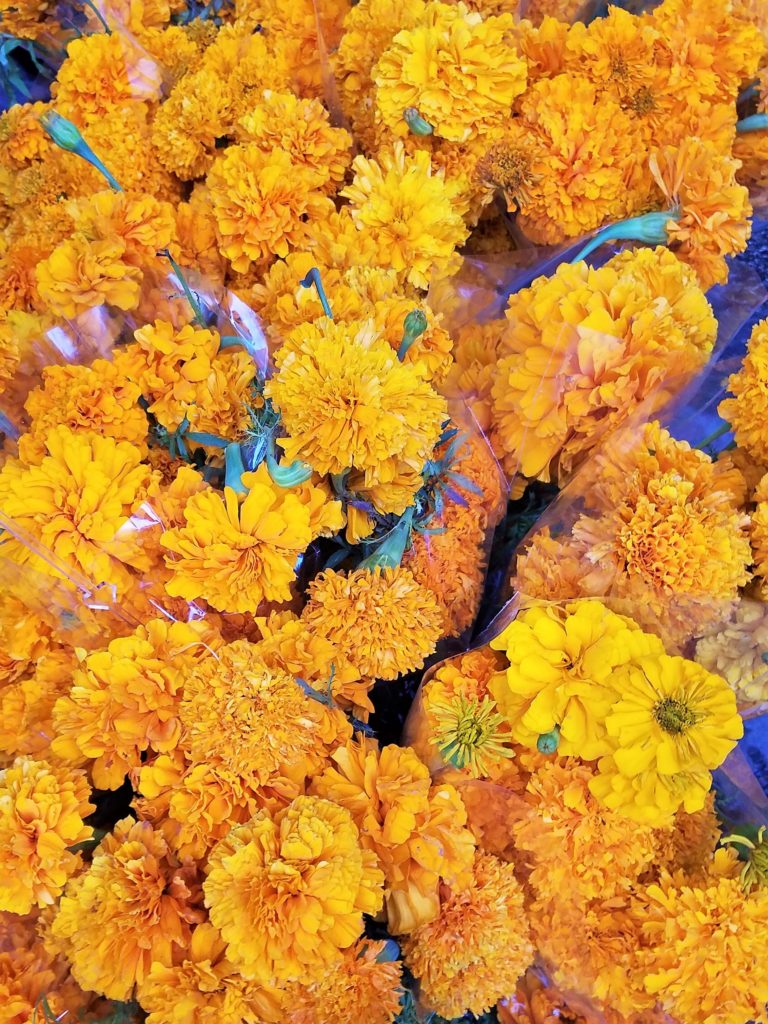 Personal Items
These are always the most interesting because they tells you something about the person. Ballet shoes, elaborate hair combs, cowboy hats and saddle, toys, pipes, and blow-up plastic dogs all represent details of the person's life.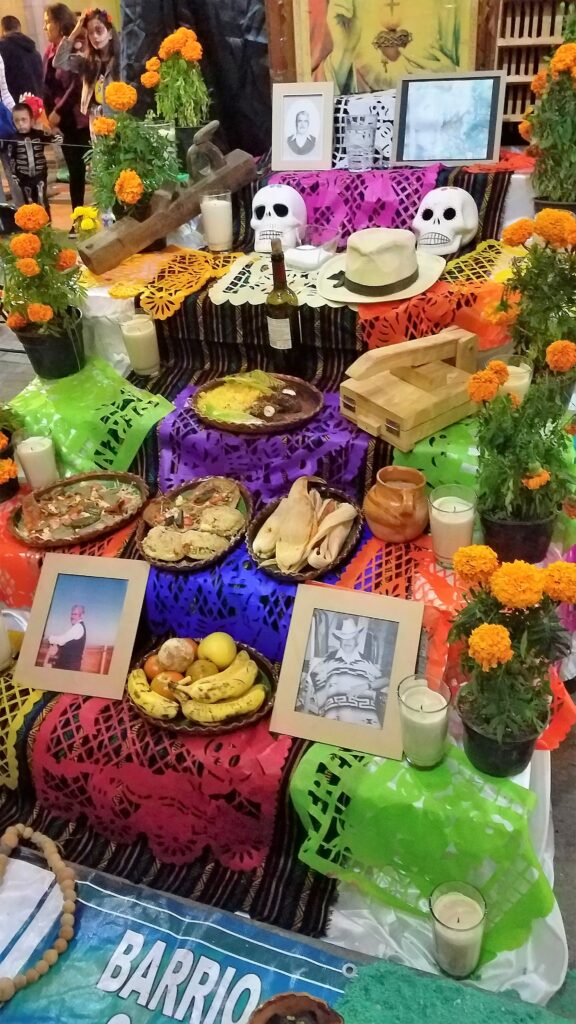 Fun Fact: In Aztec folklore, the Xoloitzcuintli dog was often buried with its owner to help guide their spirit to the underworld.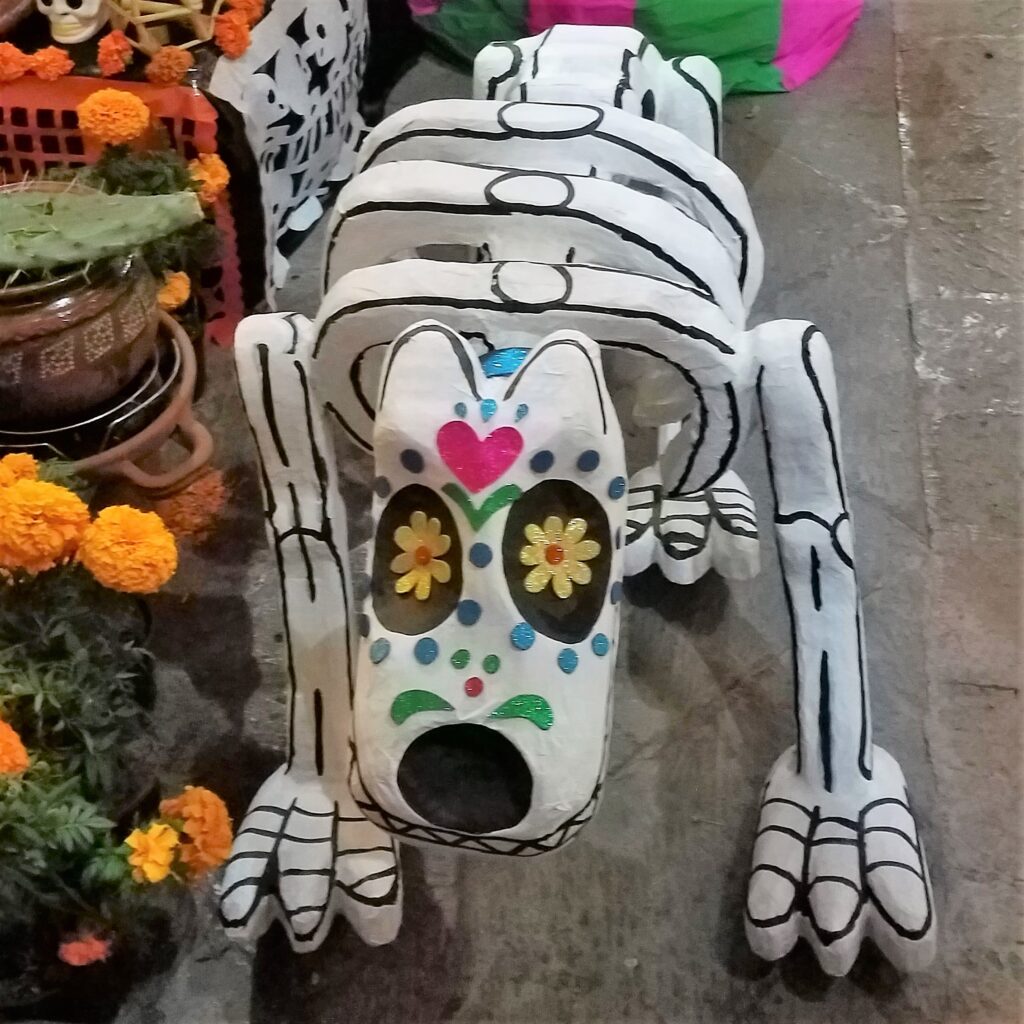 Other Decorations
Candles, colorful papel picados, salt, seeds, and incense are also used to decorate the altars.
Our Day of the Dead in Queretaro
Our first Day of the Dead was in 2018. At that time, we were still tourists stepping into the unknown.
Our Day of the Dead experiences have been right here in Queretaro. The pictures below are from 2018 and 2019. In Centro, they post billboards of daily activities happening around town, but they don't list things online. We took an Uber down to Centro as parking would be near impossible during these festive days. It was slightly chaotic with so many people and a ton of vendors, but exciting to see all the activity and families enjoying the cool night air.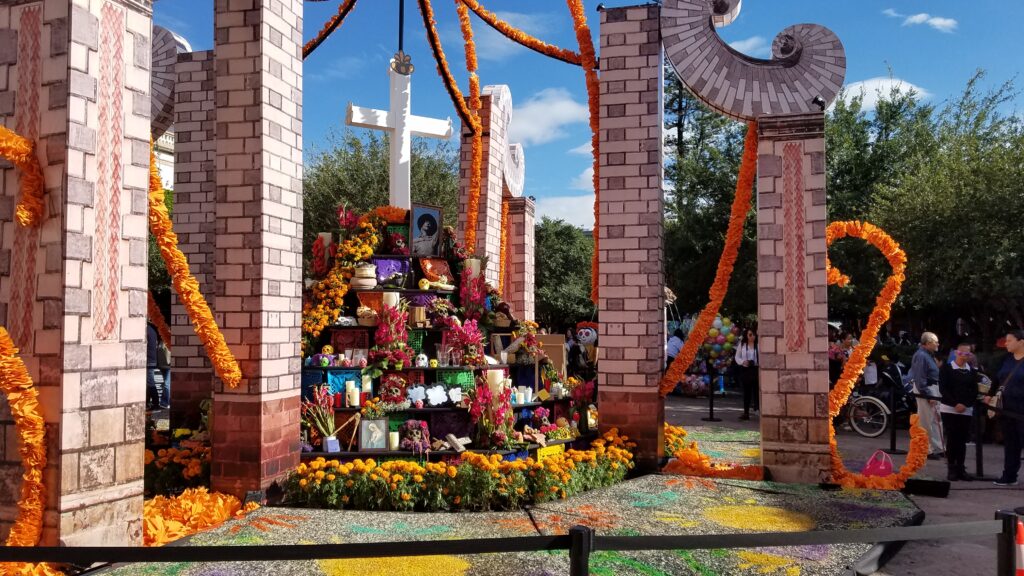 The courtyard of Casa de la Corrigidora, the Government Palace, was decorated with altars honoring key members of different barrios. Offerings ranged from corn and chilis to a favorite Mexican dish with Coca-Cola, tequila, or wine. Pictures, toys, and clothing were also displayed and surrounded by fragrant Aztec marigolds.
Some of the hotels like Casa de la Marquesa created extremely elaborate altars complete with catrinas, tamales, candles and marigolds.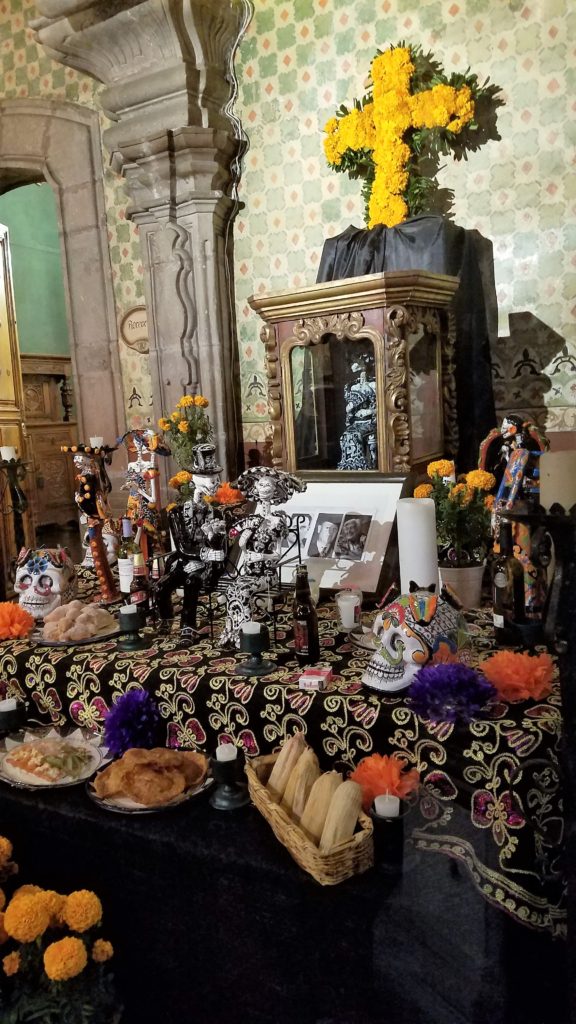 Street vendors were selling Halloween decorations and costumes, everything from superheroes to rainbow unicorn dresses. Every other food stall was selling sugar skulls, chocolates, and other candies. We stopped to have huaraches and tamarind juice, but we could have easily stayed under the food vendors' tarps all night eating our way through husks of corn and sugary fried bunuelos.
Light displays, music, and tribal dances filled the plazas. Many children dressed up as their favorite superheroes or as a catrina carrying small plastic pumpkins to gather their candy.
Local Tip: If you visit during the week of the Day of the Dead, bring candy or buy a bunch of sugar skulls. Children will come up and ask you for some.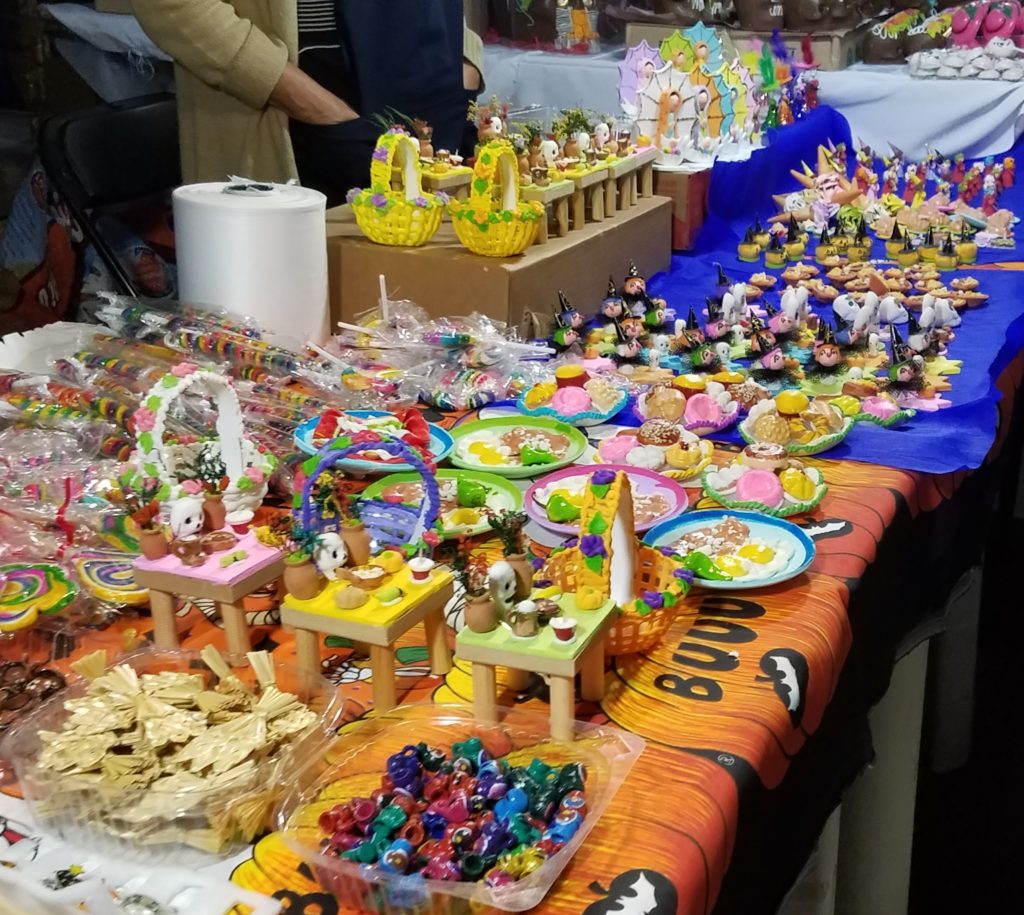 We ended the night with a bottle of wine on the rooftop bar of Hotel Aspeytia watching fireworks. I've never been a fan of scary Halloweens, but I'm really enjoying the party atmosphere of Dia de los Muertos in Mexico.
Join us any time of the year to explore the wine regions and pueblos magicos around Queretaro and San Miguel de Allende with Heart of Mexico Wine Tours!

Video of Day of the Dead in Queretaro
Pin This!