Three Similar But Different European Christmas Markets
Christmas time is my favorite time of the year. It doesn't matter if I'm on the beaches of Miami or skiing in the Swiss Alps, the Christmas holiday season transforms the ordinary into the extraordinary.
I have to admit, I've been spoiled when it comes to Christmas. And I'm not talking about gifts. Growing up in Germany, I strolled through those perfect postcard Christmas scenes of Christmas markets dusted in snow. Living in Florida, I always made special trips to Walt Disney World, Universal Studios and Sea World to see the decorations. I love traveling in December to see how different countries and cultures celebrate the holiday season because they are all so different.
I've seen Christmas markets and celebrations in four different European countries, and it is remarkable what things are the same and what traditions are different. I don't have any pictures from my time in Germany (that was before the age of digital cameras), but I put together our Christmas time in Madrid, Catania and Vienna for you to see how different countries decorate and celebrate this joyous hoiday with lights, markets and traditions.
Disclosure: Some links may be affiliate links where we receive a super-small commission at no additional cost to you if you click through and make a purchase. We call this our Chocolate & Churro Fund.
VIENNA CHRISTMAS MARKET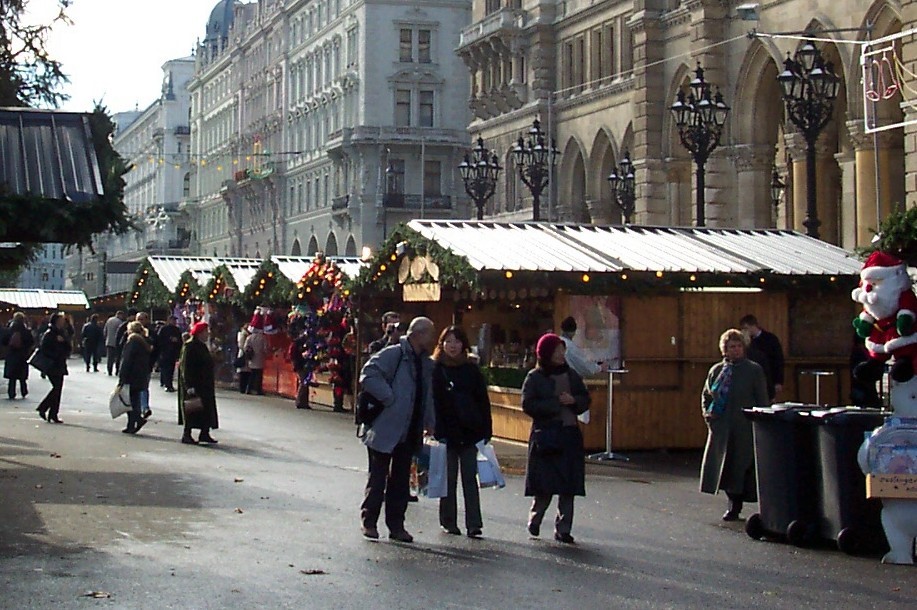 Nothing compares to a Germanic/Austrian Christmas market. The Vienna Christmas Market brings back my childhood memories.  The sights and smells are as cozy as a quilt wrapped around me, and I barely feel the biting chill in the air. Row after row of tiny wooden market stalls shine and sparkle with their unique ornaments. The baking-spice smell of gluwein wafts through the stalls. I remember holding hot cups of gluwein to warm my hands, and the thick, fruity, brandy wine mixture coating my mouth and warming my insides. Snow in Vienna would have been the icing on the cake during my visit, but alas, it snowed after I left.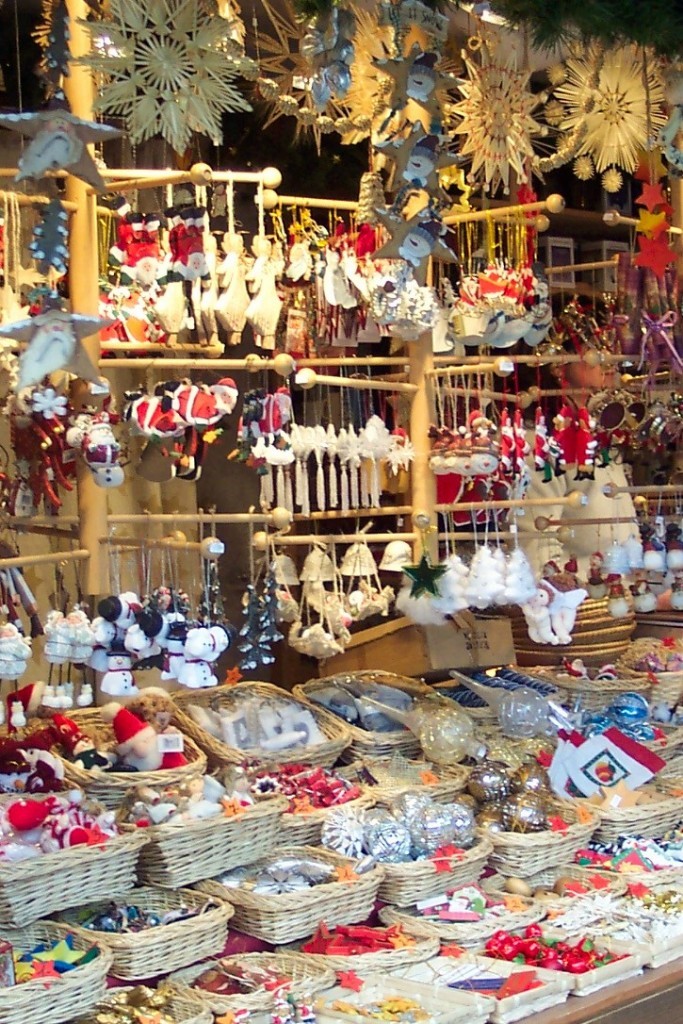 What Should You Buy at an Austrian or German Christmas Market?
It's hard for me to pick a favorite thing from an Austrian or German Christmas market. I really love them all! Handmade ornaments of stars and angels made out of wheat and yarn, and frosted hand-blown glass decorations twinkle in the light. St. Nicolas and nutcrackers stand at attention, and wooden figurines of the wise men, angels, animals and baby Jesus of all shapes and sizes recreate the manger scene.
Another favorite of mine is the Christmas pyramid or Weihnachtspyramide (a candle-operated carousel) with carolers and religious scenes spinning around. The craftsmanship may be simple or intricate, but always a beautiful Objet d'art for the home.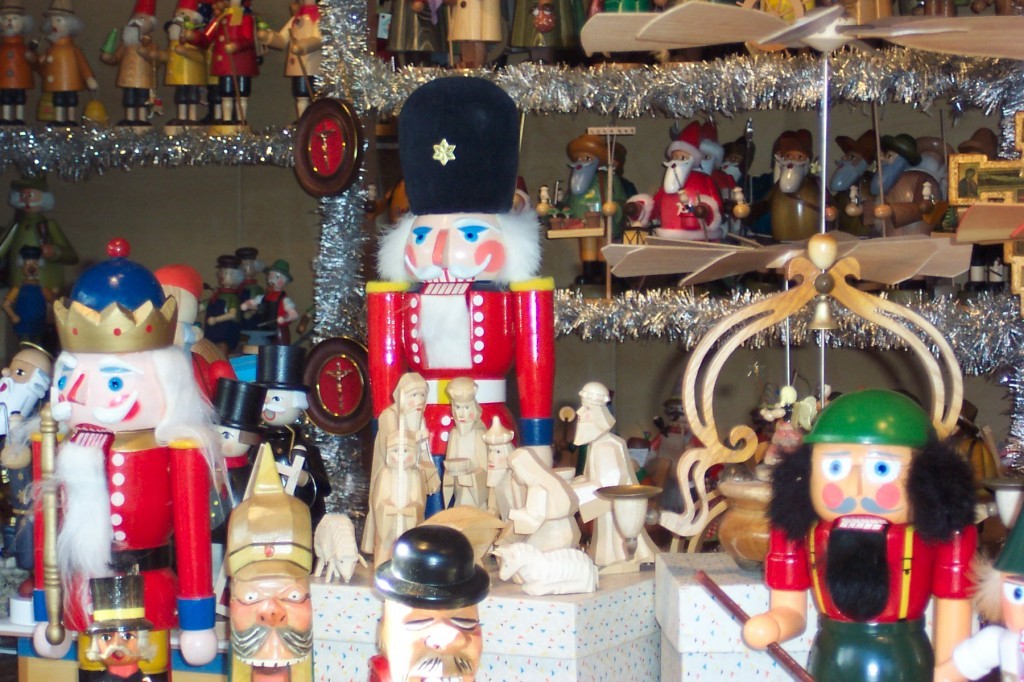 And the aromas of Christmas! Chocolate, coffee and baked goods seem more intense in the cold air. My holiday binge eating starts with sugary delights such as chocolate truffles, marzipan, candied apples and stollens. (There's no dieting at Christmas!) As a kid, I loved getting the gingerbread heart-shaped cookies decorated with messages of Good Luck in the New Year and I Love You, but never actually ate one. They were always too pretty to eat.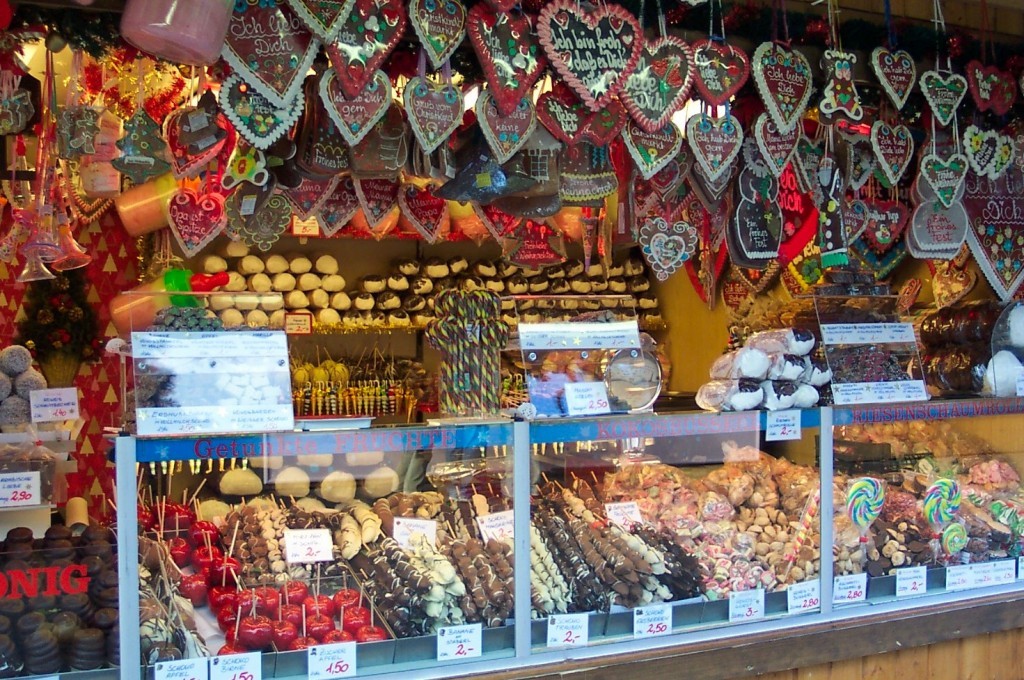 St. Nicolas (the forerunner to Santa Claus) is celebrated on December 6th by Germans and Austrians. St. Nick fills childrens' shoes with sweets and toys while Krampus, the strange and evil creature who accompanies St. Nick, leaves coal for bad children. The big Christmas celebration takes place on December 24th, Christmas Eve with a family dinner, going to church, and opening presents.
CATANIA CHRISTMAS MARKET
Catania on the island of Sicily is our next stop for beautiful Christmas markets. Piazza Università is the perfect open area to create a Christmas market complete with wooden huts and photo ops. A few other walking streets around town are packed with wooden huts that focus on artisan crafts. Carved wooden ornaments, handmade woolen scarves and mittens, and traditional majolica ceramics were the most frequent wares.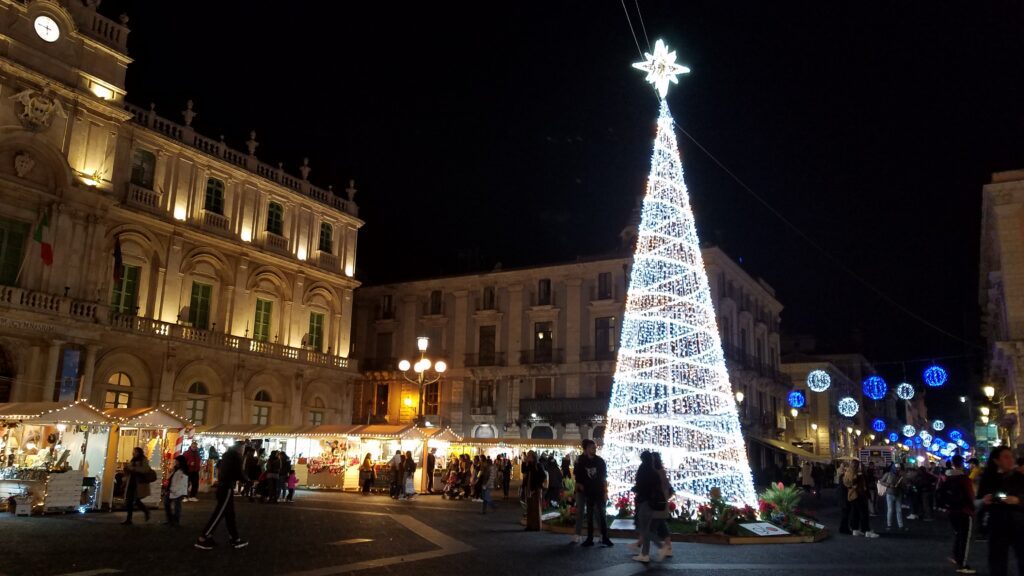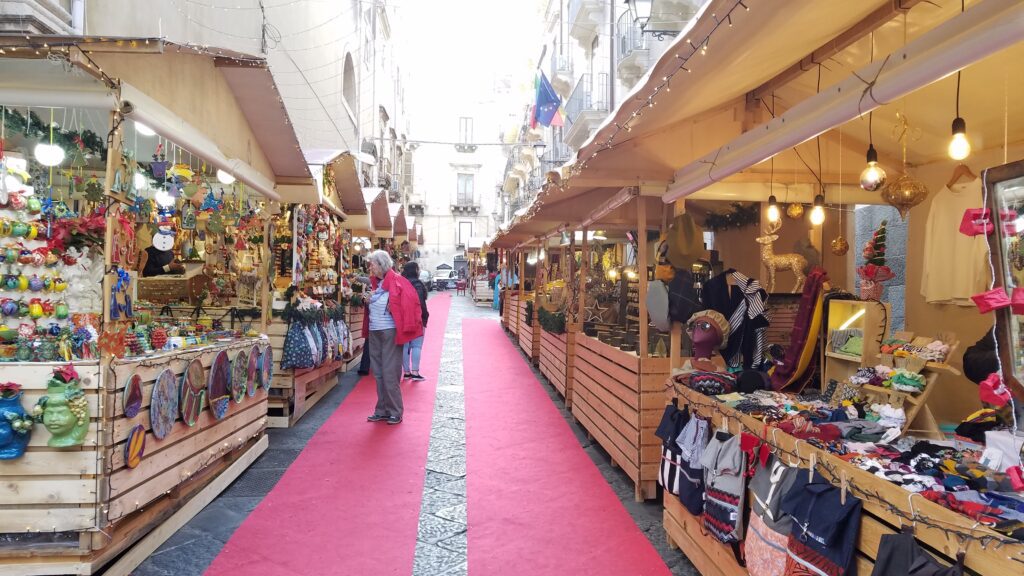 What Should You Buy at a Sicilian Christmas Market?
If there's one thing you should buy while you are in Sicily, it's the majolica pottery. The intricate patterns and artwork are stunning and an excellent conversational piece for your home.
Religion is strong in this Catholic country, and you can find many different types of figurines to make your own nativity scene. If you need some inspiration for your own nativity scene, stop into one of the churches and see a life size replica of their own interpretation of that momentus occasion.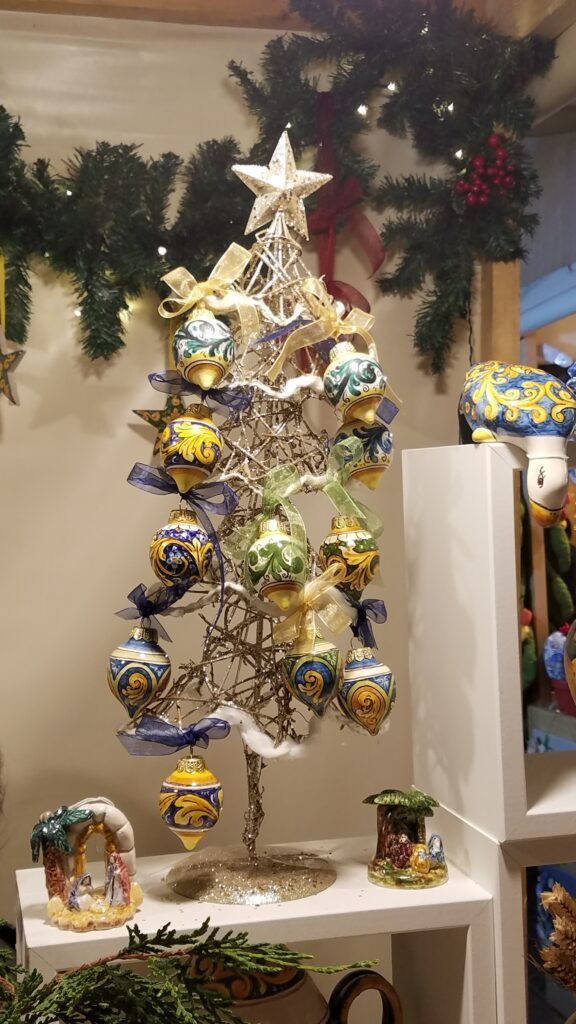 Children receive the majority of their gifts during the Feast of the Epiphany on January 6th. La Befana, an old woman riding a broomstick, is also part of the celebration. It is said she refused to walk with the Three Kings to greet baby Jesus. Regretting her decision later, she wanders the countryside leaving gifts for children in their shoes.
There are many silmilarities between the American Santa Claus and La Befana. Both are covered in soot from climbing down chimneys, and both leave presents and candy for good children. If children have been bad, their shoes are filled with coal. The Italians know that kids can't be good year-round, so shops will sell black rock candy to sustitute for coal.
Italy is known for its sugary delights. Marzipan shops are loaded with colorful candies in the shapes of fruits. Buccellato, a big, round cookie filled with almonds, pistachios, figs and other dried fruits go great with a cappuccino or zabaglione, a Sicilan eggnog made with Marsala wine. One thing you should not miss are the many artisan choclate truffles sold at this time.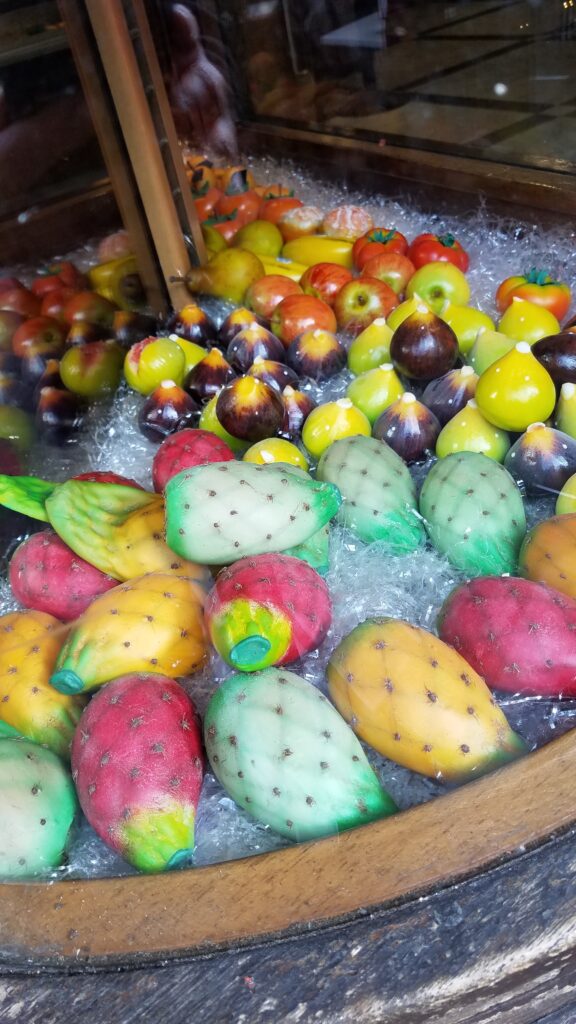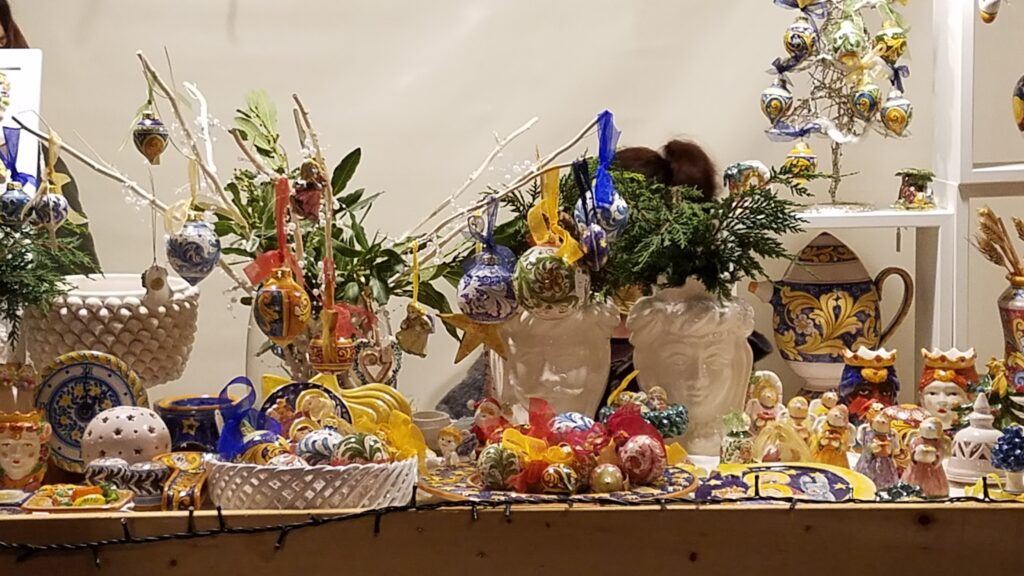 MADRID (PLAZA MAYOR) CHRISTMAS MARKET
Madrid is magical anytime of the year. Plaza Mayor is the most popular Christmas market with its large lit Christmas tree surrounded by wooden huts and balconies decorated with icicle lights. The music and vibe is intoxicating, and so were the chocolates and turrones.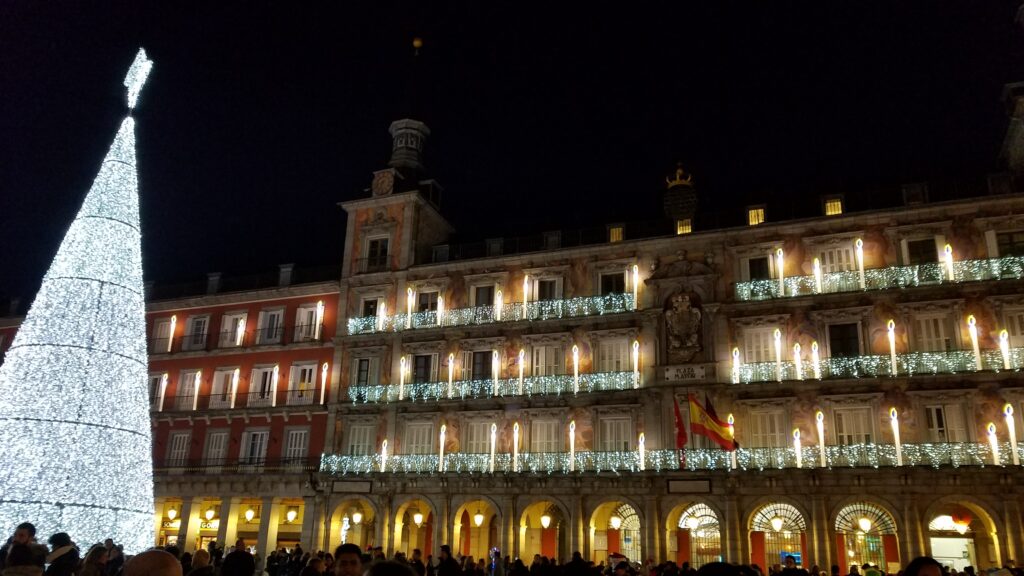 Spain is also a Catholic country like Italy, and there's a real emphasis placed on the Belén, or Bethlehem nativity scene. Several nativity scenes depicting the journey of the wise men and the inn are displayed in Plaza Mayor. An unusual figure you might see in the nativity scenes is El Caganer. He's more popular in Catalonia, but he does stand out. El Caganer means the "poo-er", and just like the name implies, the figure is seen squatting with his pants down… The Spanish have a wicked sense of humor.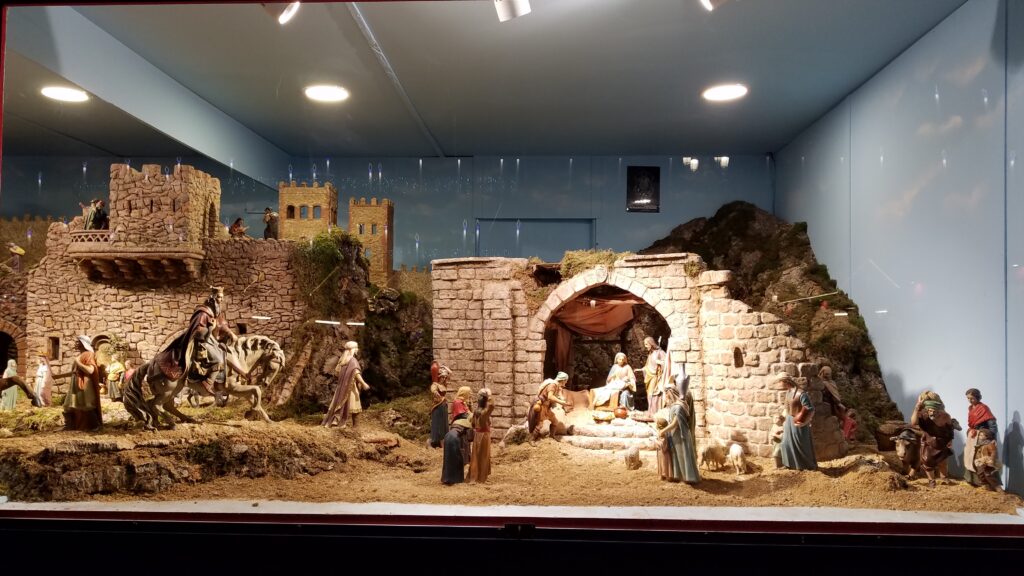 In Spain, Midnight Mass called La Misa del Gallo and children will go around singing Christmas carols. On Christmas Day, children are given a few gifts, but the majority will be opened on January 6th, Three King's Day, Fiesta de Los tres Reyes Magos. And while you may see many Santa ornaments and even a 5K Santa Run, he does not exist in the true Spanish Christmas traditions.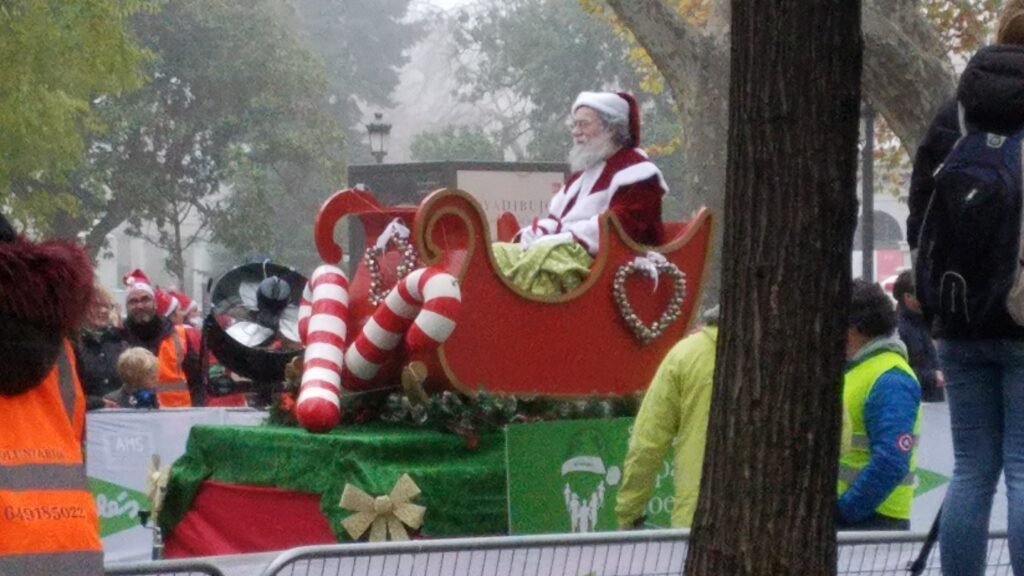 Madrid is a colorful kaleidoscope with larger-than-life holiday decor in December. Light displays transform ancient monuments, fountains, and walking streets into an enchanted wonderland.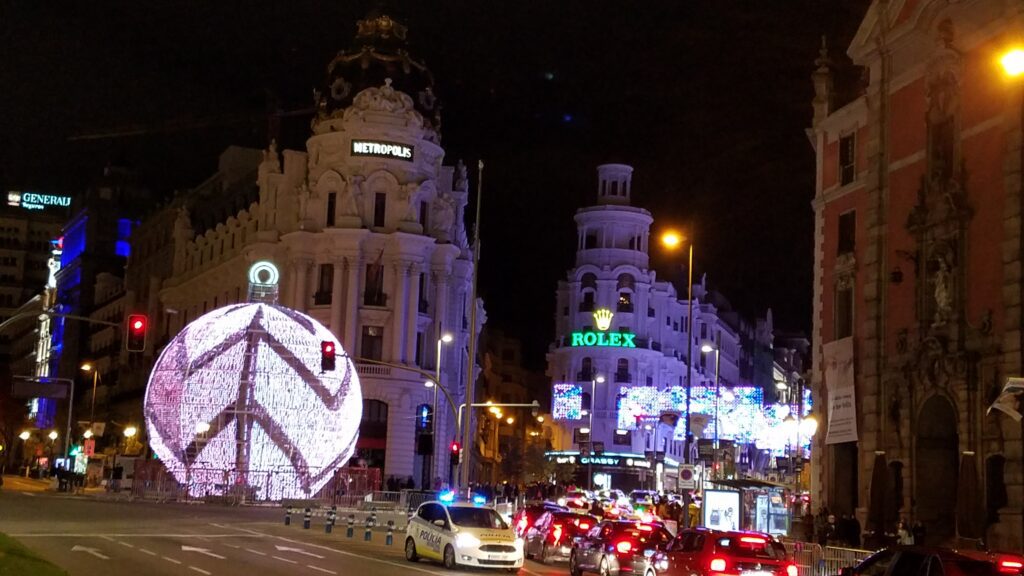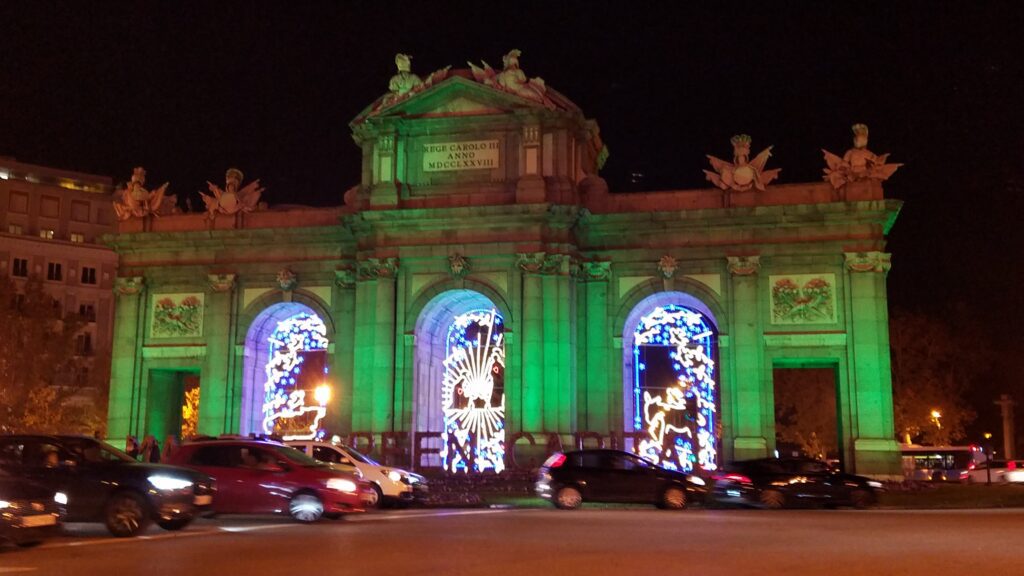 What Should You Buy in Spain at Christmastime?
The one thing I recommend to buy in Spain is turrónes, a nougat made with honey, almonds, sugar, hazelnuts, and egg white. Nowadays you will see turrónes in all sorts of flavors from chocolate and creme brulee to your your favorite liqueurs. It's a delicious treat. We stuffed our luggage with as many different turrónes as we could carry to take back home.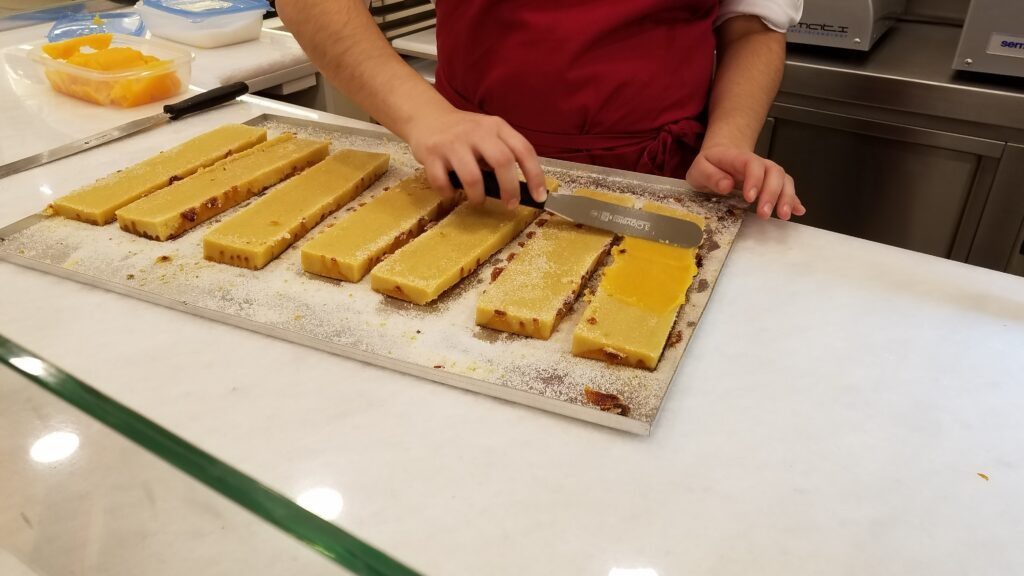 Which Christmas Market Is on Your List This Season?
Lights, colors, smells, and sounds.  The season of Christmas and its markets have it all. The Christmas season should be longer than a mere 4-6 weeks. It's a time to remember childhood dreams, gather with loved ones, and really appreciate each other and the beauty in the world. If you are heading to Europe this Christmas, check out a Christmas market tour through Viator.com.
And stay tuned for 2024! We will be visiting Christmas markets and wine regions in Germany and France. Join us in Frankfurt to tour the Mosel wine region (known for Riesling) between Koblenz and Trier, a UNESCO World Heritage Site dating back to the Romans. Or join us in Heidelberg where I spent my childhood and tour the Christmas markets of Strasbourg, Colmar and many small villages in between. To stay informed about our tours, send us an email at [email protected].