Road trips are a fun way to explore a new, or even old, destination. And a road trip around Cozumel off the coast of Mexico is a great way to see more than just its famous beaches. With a town bustling with tourist traps, Mayan ruins, a lighthouse on the southern tip, and an eastern coast that would make pirates reconsider a life at sea, Cozumel was the perfect place to get out and explore on an island road trip.
Tom and I prefer to set our own path and discover places in our own way. I had my heart set on exploring the entire island of Cozumel (or at least what's been paved), so we boarded the ferry from the mainland, landed in San Miguel, the major town of Cozumel, and headed to the car rental place for our own island adventure.
We rented a compact car for the afternoon drive. Compact is exactly what we got. No power steering, power windows, power locks… No power at all. Tom had to drive because I couldn't turn the wheel. Not that I complained. It means I get to look at the scenery. We headed south around the one main road of the island.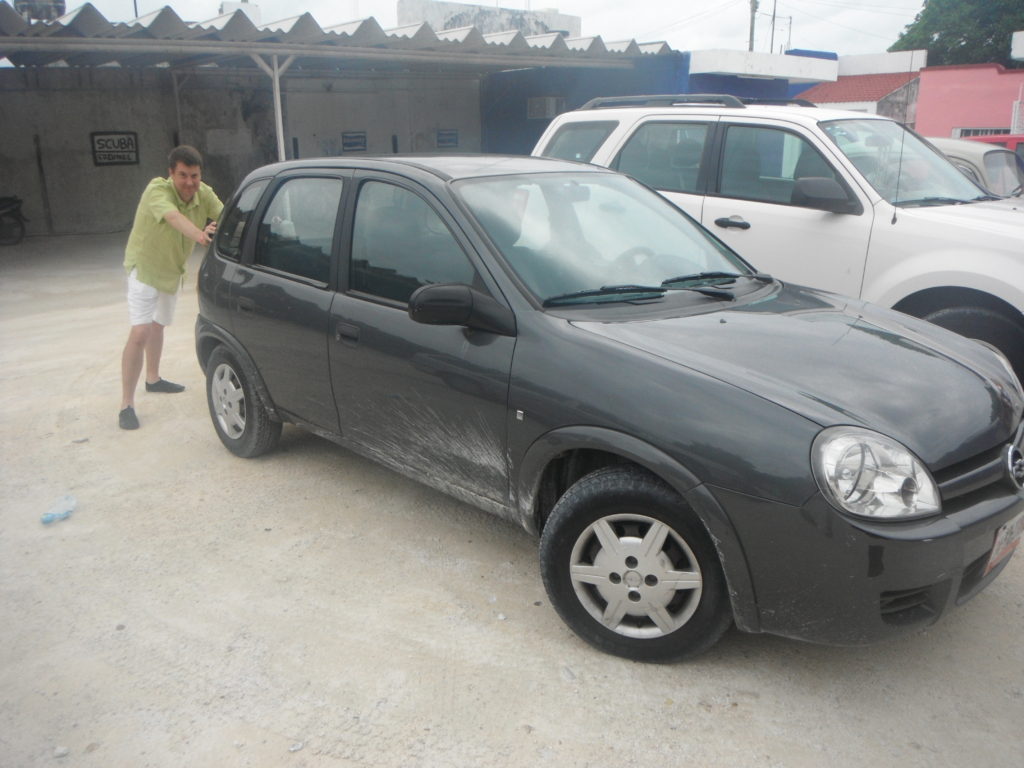 Disclosure: Some of the links below are affiliate links which means we will receive a small commission when you make a purchase at no additional cost to you.
West Side
Most of the west coast of Cozumel is occupied by resorts because of the calm waters and white sandy beaches. The west also has some of the best dive sites in the world with crystal clear waters almost 90 feet deep. One of the best nature parks I've ever visited, Chankanaab National Park has fantastic snorkeling, beautiful beaches, wild iguanas plus a dolphin encounter. A 15 minute taxi ride from San Miguel and $21 entrance fee is all it takes for a great day of fun. It's well worth it!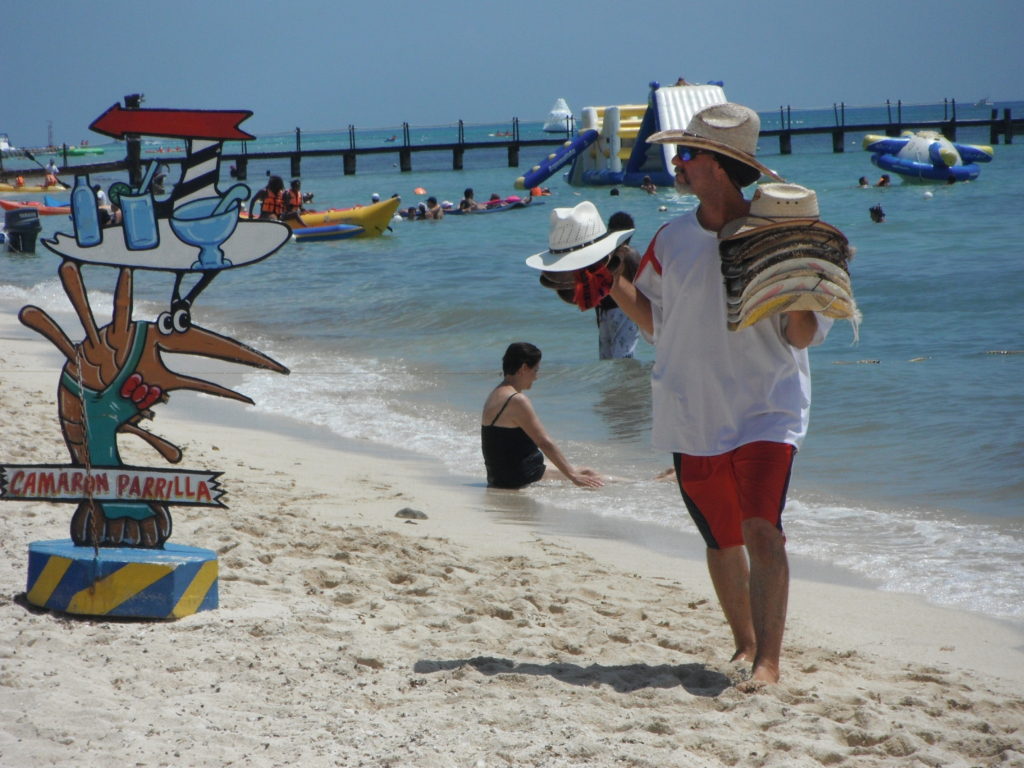 Central
Always looking for the road less traveled, we drove into the central part of the island looking for Mayan ruins. The paved road ended, and we followed a packed dirt road into the interior, past local houses and kitchy souvenir and food stands. It was obvious it was set up for ATV tours. There weren't any signs, so after we reached what looked like the central meeting center, we followed the most worn road further on.
And then it rained.
Not just pitter, patter. This was a downpour. The road turned to rivers of mud, and as badly as I wanted to keep going, the car was not going to make it. Doing a U-turn on a one lane dirt road with deep ditches on either side in the rain was our workout for the day. We had to get out several times and push the car to get it unstuck. After an hour, we were back on the paved highway, and more than happy to stay there. Obviously, no Mayan ruins for us.
South Point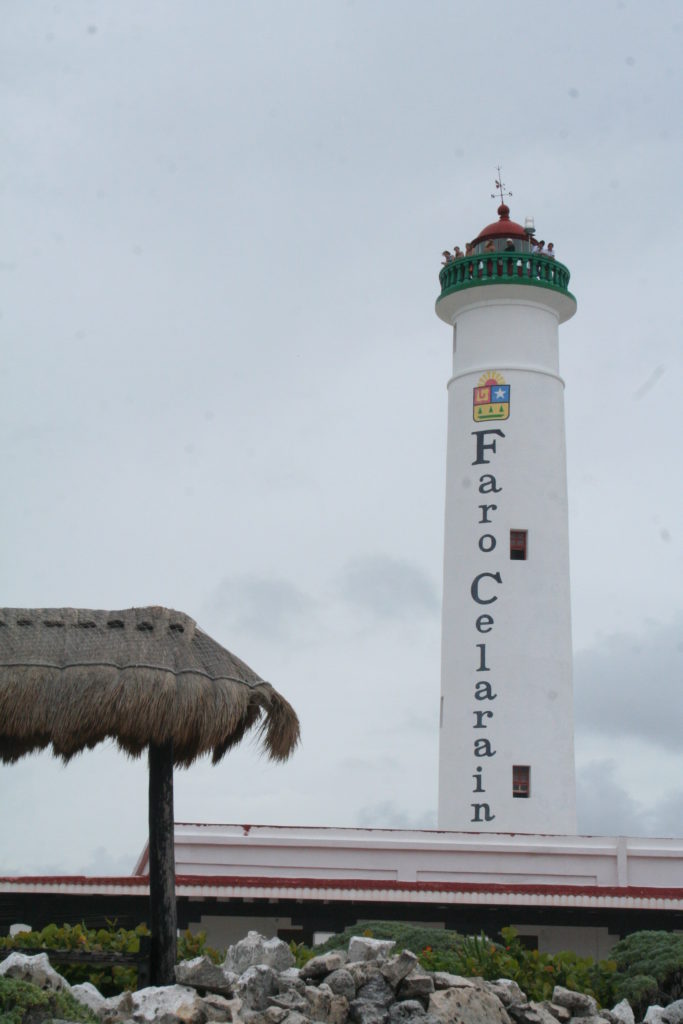 The Southern tip of the island was what really intrigued me to take this little road trip. Punta Sur Eco Beach Park encompasses the entire Southern tip of Cozumel, and is home to a crocodile swamp and sea turtle nesting area. There's a beautiful and well-kept lighthouse, Faro Celarain that we climbed for spectacular views of the park and sea. The lighthouse also houses a museum on the Mayan and pirate history of Cozumel.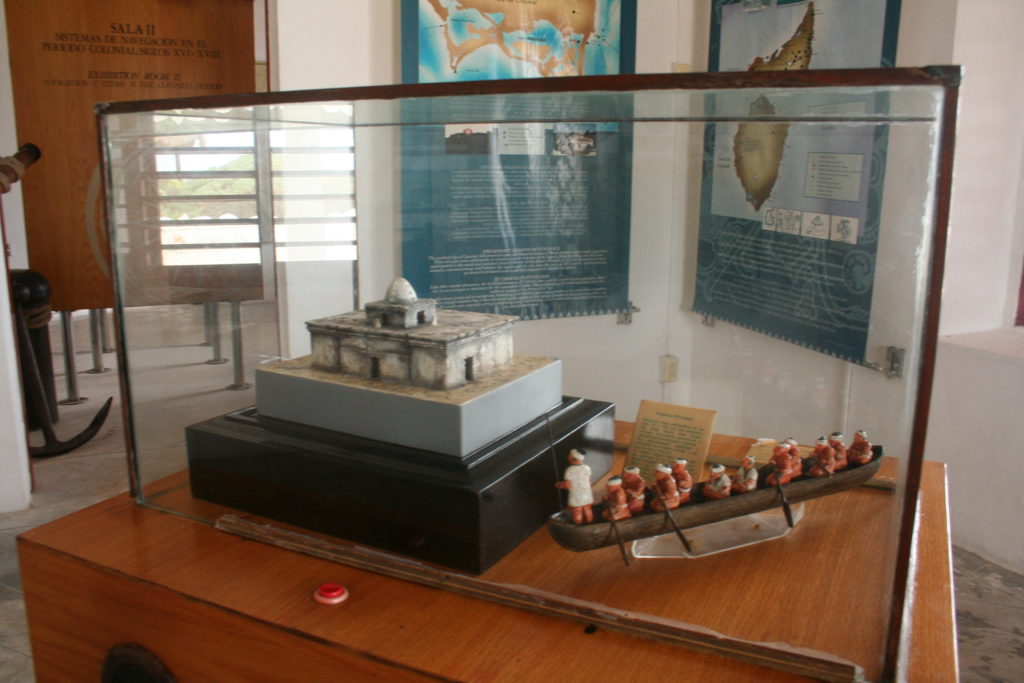 Though I was intrigued by this area, once I got there, I was very disheartened. If I have to pay to go into a park, I expect the sea turtle nesting beaches to be free of debris. Unfortunately, all the sea garbage gets swirled into the southern tip by the the two bodies of water coming together.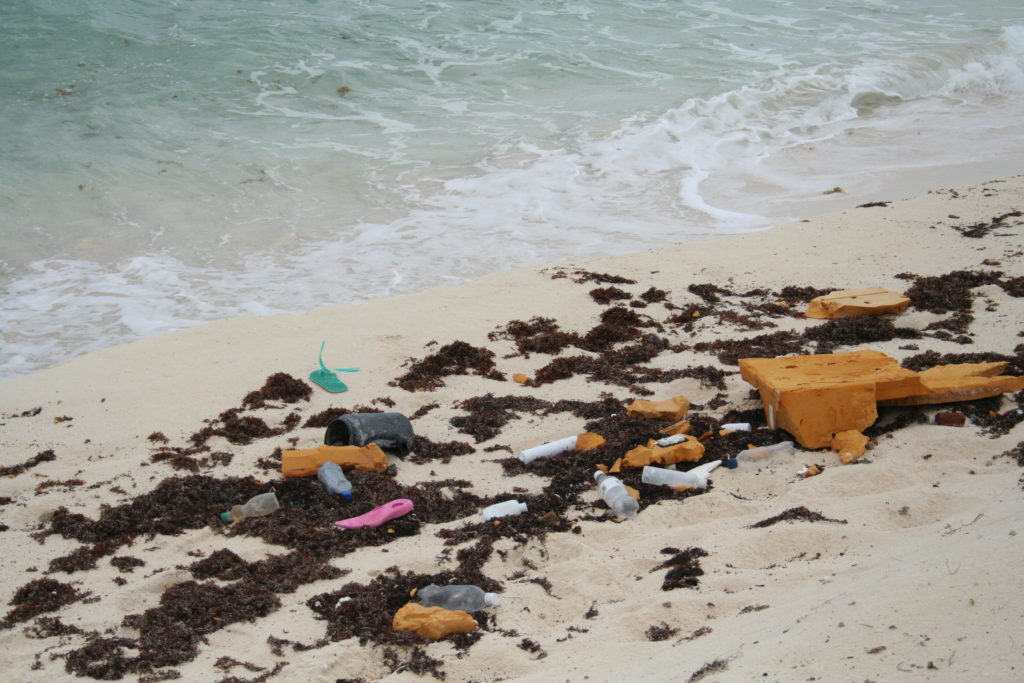 East Side
The east side is nothing like the west side. While the west side is choked with resorts capitalizing on the calm waters, the east side is wild, rocky and undeveloped.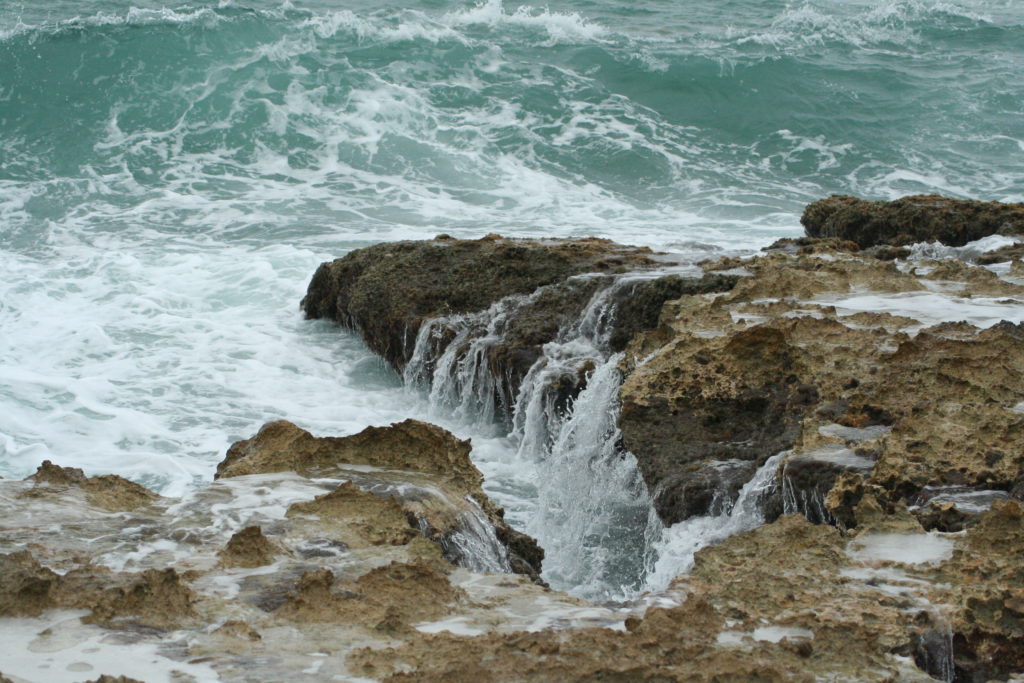 We stopped for lunch at Coconuts, a colorful place on a small incline looking out over the blue sea. T-shirts, license plates and scribbled notes covered the roof, pillars and any other possible surface. The food was good, what you would find at any beach bar. The water crashing against the rugged coastline was spectacular.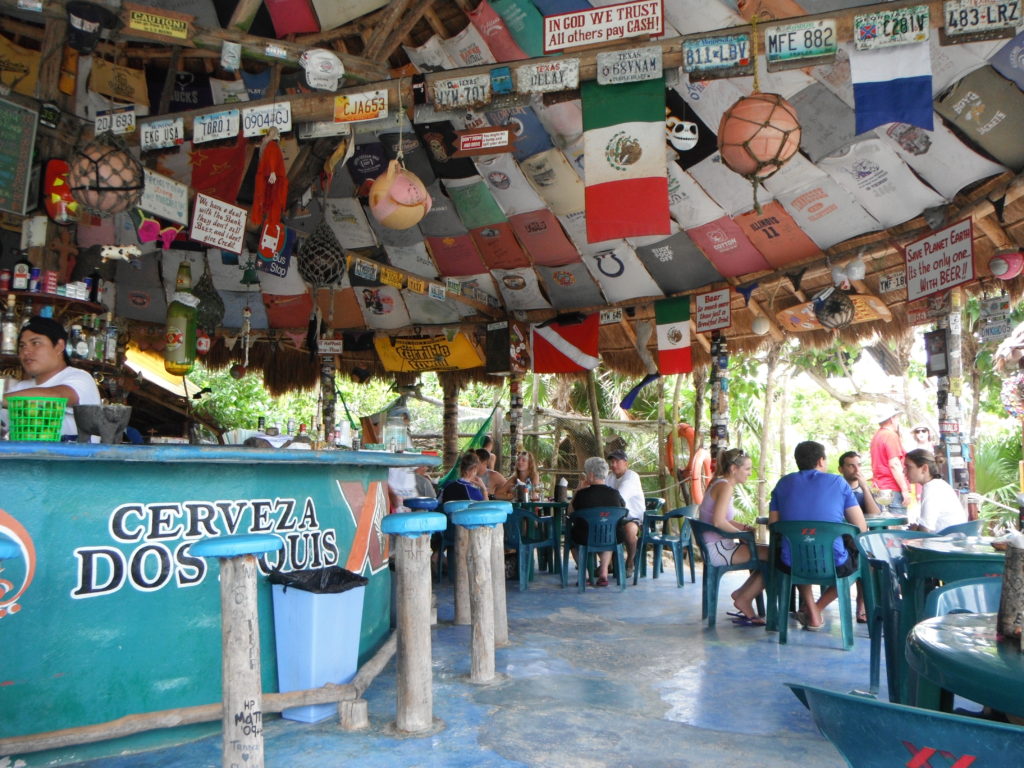 Funny Story
When we first pulled in to the restaurant parking, there were two men directing the cars on where to park. This was a scam. We followed their point, and ended up burying the front tires halfway in soft sand. We looked at each other and knew we had been had. One of the guys said, "don't worry, we will help you get out."
After lunch we came back and guess what? His cousin was there with a cart full of souvenirs. "Take a look. My cousin give you great deal." We knew we had to buy something, so I picked a cascade of shells and Tom chose a stone shaped like a gator for a friend. True to his word (after we bought stuff), he helped push the car out of the sand and we were on our way. Our cascade of shells now hangs proudly in our bathroom as a reminder of a our local interaction.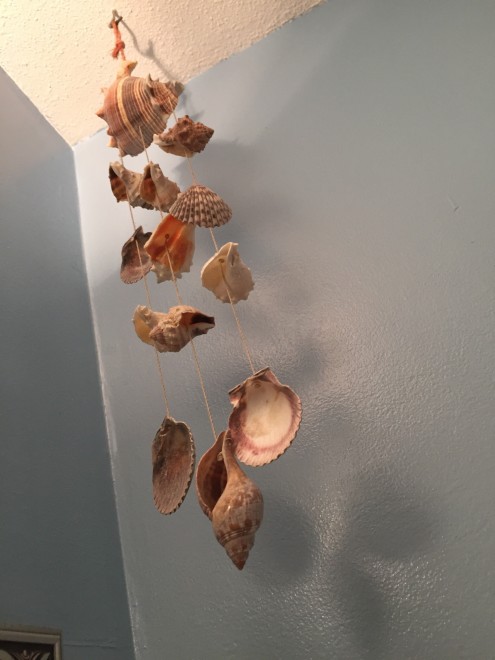 North
The paved road back to San Miguel was a straight shot across the island. The north side has more Mayan ruins, and a few tourist traps like the Tequila Factory. After our little off road fiasco ealier in the day, we weren't really feeling adventurous.  A 4-wheel vehicle or boat would be better options to explore the true northern part of the island.
Our little excursion took less than half a day. If you don't stop anywhere, it takes 45 minutes to drive around the island. Our adventure including getting stuck in the interior, exploring the southern point, lunch and being tricked into buying useless souvenirs took less than 4 hours, which left plenty of time to explore San Miguel.
San Miguel, Cozumel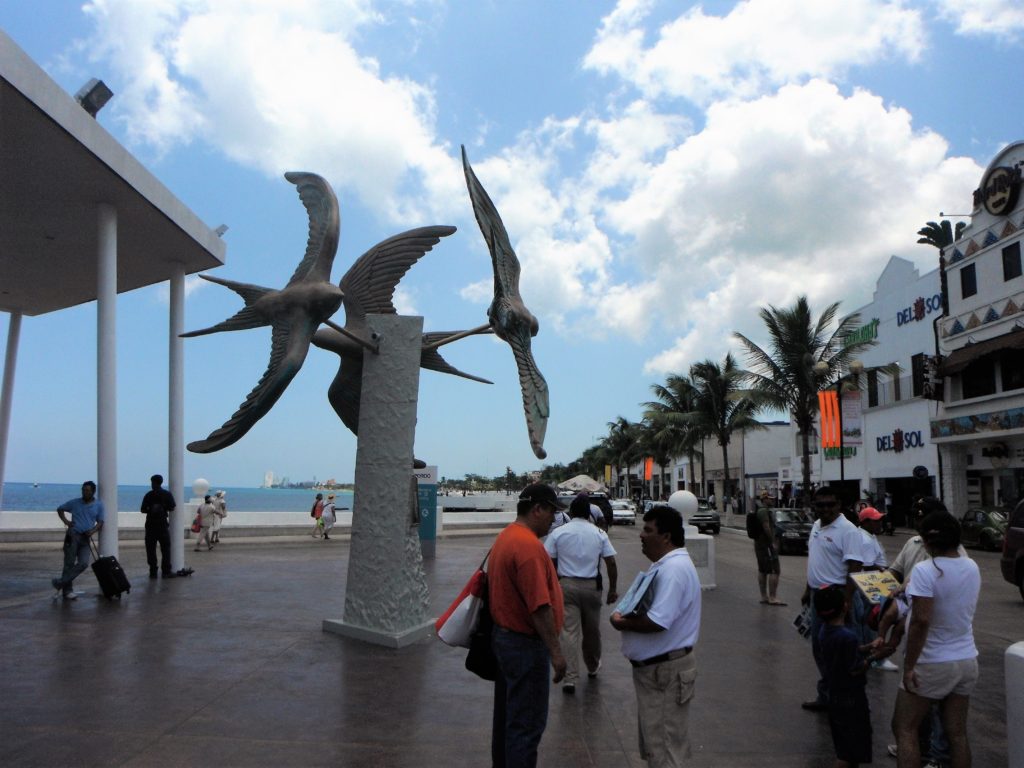 Cozumel is best known for snorkeling and diving its coral reefs and clear waters, but if you choose not to go in the water you can still enjoy the land activities on the island.  Many excursions are offered such as ATV and jeep tours. The town itself has grown from a few bars into an exuberant tourist mecca filled with chain and specialty restaurants, souvenir shops, a serene park square and an endless line of hotels and boat tours.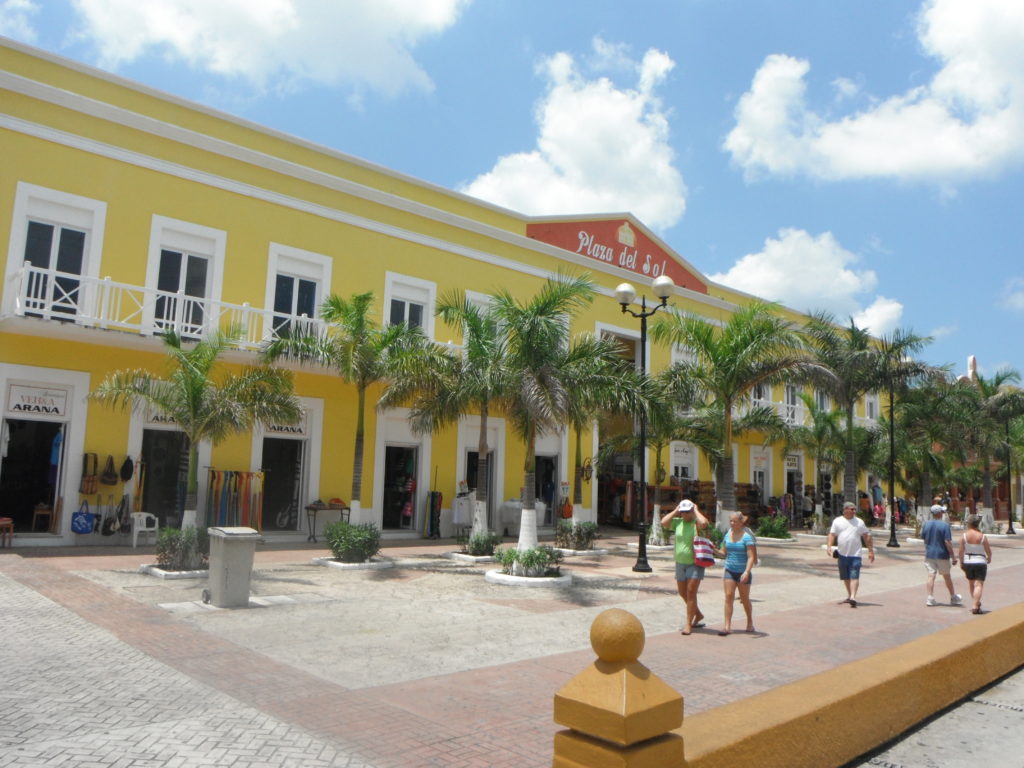 Cozumel can be reached by a 45-minute ferry ride from Playa del Carmen.  It also has its own airport and is a major cruise ship port.  There's only one taxi company on Cozumel and they have a rate chart to different destinations on the island.
If you decide to rent a car and explore on your own, let me know what you experienced. There's definitely areas I would like to explore more!