Our favorite restaurant in San Miguel de Allende is Aperi. It's our monthly splurge for fine dining and creative cuisine. We try to explore new areas and restaurants every time we visit (luckily, we are less than an hour away). We enjoy traditional and regional cuisine in Mexico, but Aperi is the closest restaurant to us that thinks outside the box and explores creativity with the local produce of the region. Aperi is our choice for that "fine dining" restaurant experience.
San Miguel de Allende is home to many sister restaurants of big name chefs and the Best City in the World Award from Travel & Leisure for two years in a row. Though Aperi has received many awards, they still don't get the world-renown recognition they deserve. Italian- Mexican chef Matteo Salas opened Aperi in 2014, but just recently handed over the reigns to French- Mexican chef Olivier Deboise who was previously working in Mexico City. Both chefs are inventive with cuisine showcasing influences of both their upbringing and training.
This was our fifth visit to Aperi and we were joined by our new friends Brianna and Steve from  Casualtravelist.com. The staff has started to recognize us, and the wine menu is automatically brought to the table. Because we are here at least once a month, the chef does make a few changes to the menu for us to keep it fresh and new.
Our 8- course tasting Menu at Aperi
Starting with an amuse-bouche of cactus fruit jelly. Cactus fruits are sweet and tangy, and very popular in central Mexico.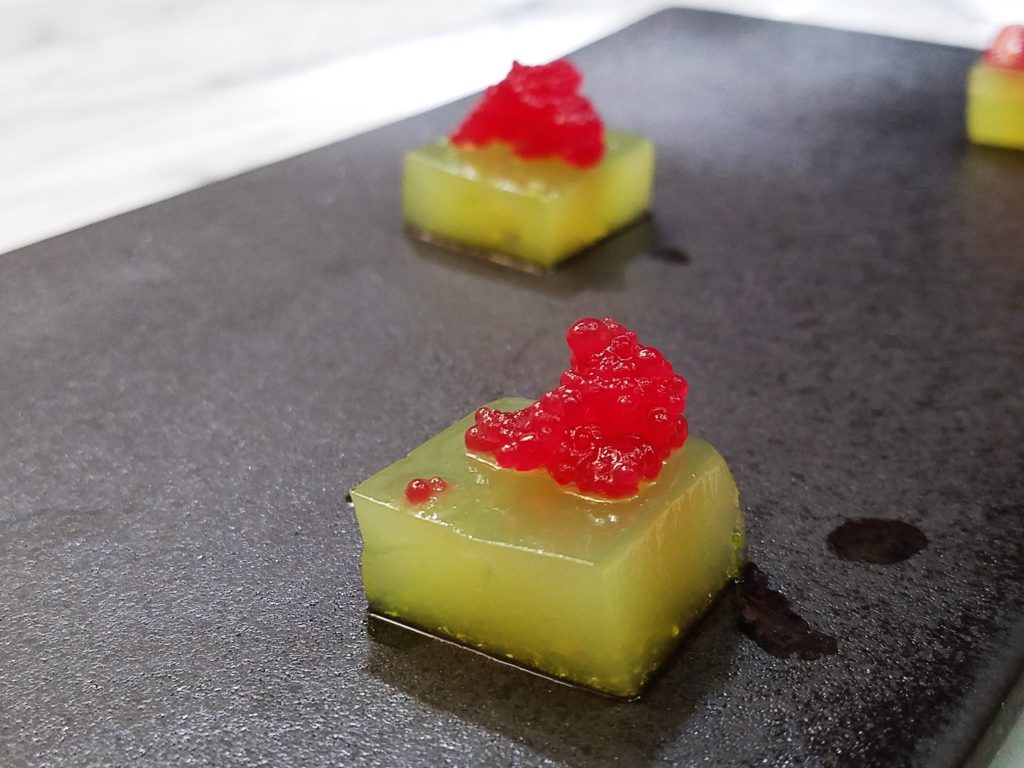 Pickled and roasted cucumbers and watermelon. Each piece was different and complemented by the fresh goat yogurt with olive oil.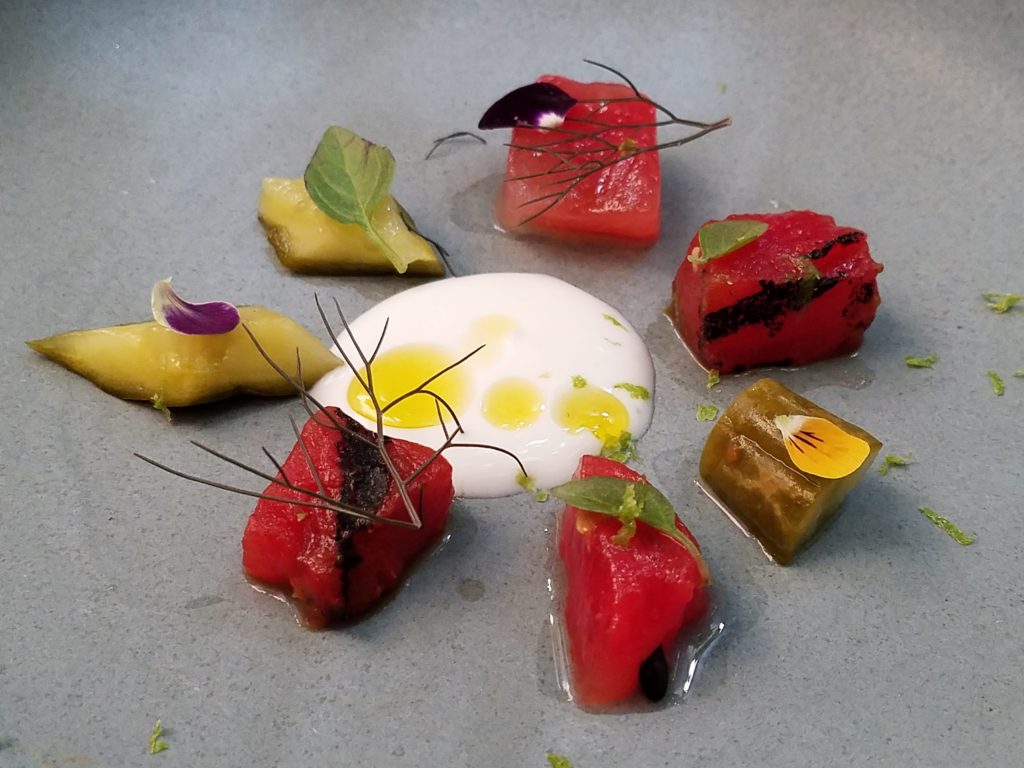 2. Soft shell crab with avocado crème and almond crème. We had ordered this a la carte on a previous visit. I was very excited to see this as one of our courses as I feel it really showcases the chef's talents for seafood. It's so delicious that if they had offered the soft shell crab for all 8 courses, I don't think anyone would complain.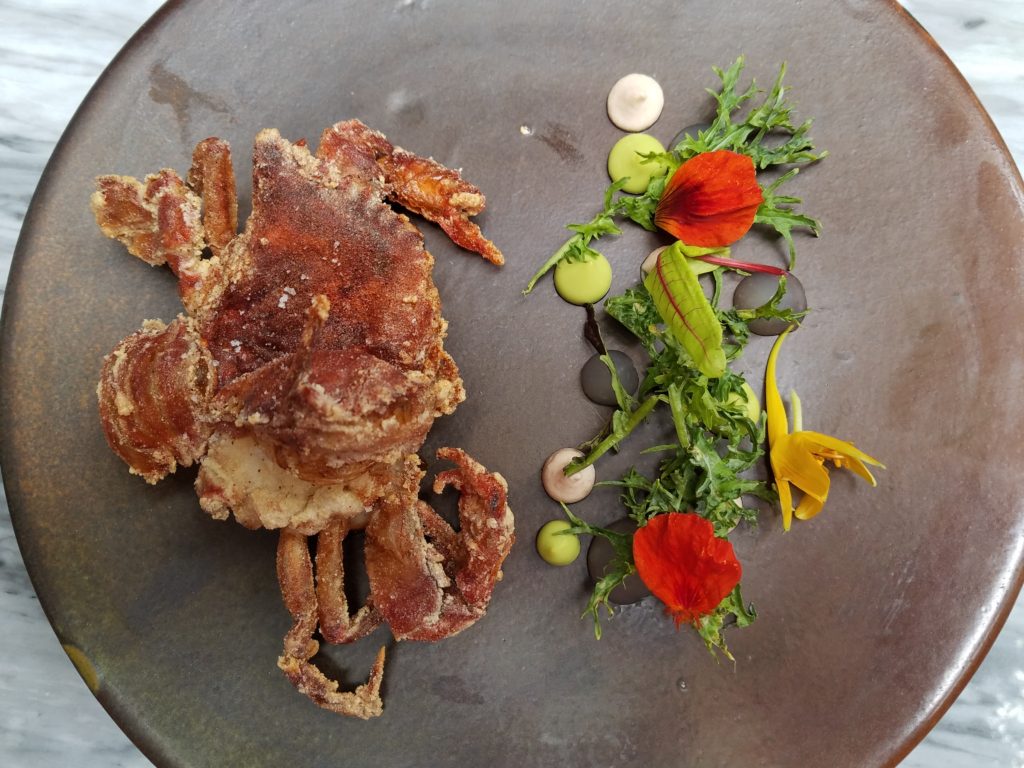 3. Roasted foie gras with mango crème and candies fruit, plum. The foie gras is a staple dish that is offered frequently in the tasting menu, but it is presented slightly different each time. Not pictured: the thick slices of toast we spread the foie gras and candied fruit on. The fatty richness with the sweet concentrated fruit on crunchy bread was divine.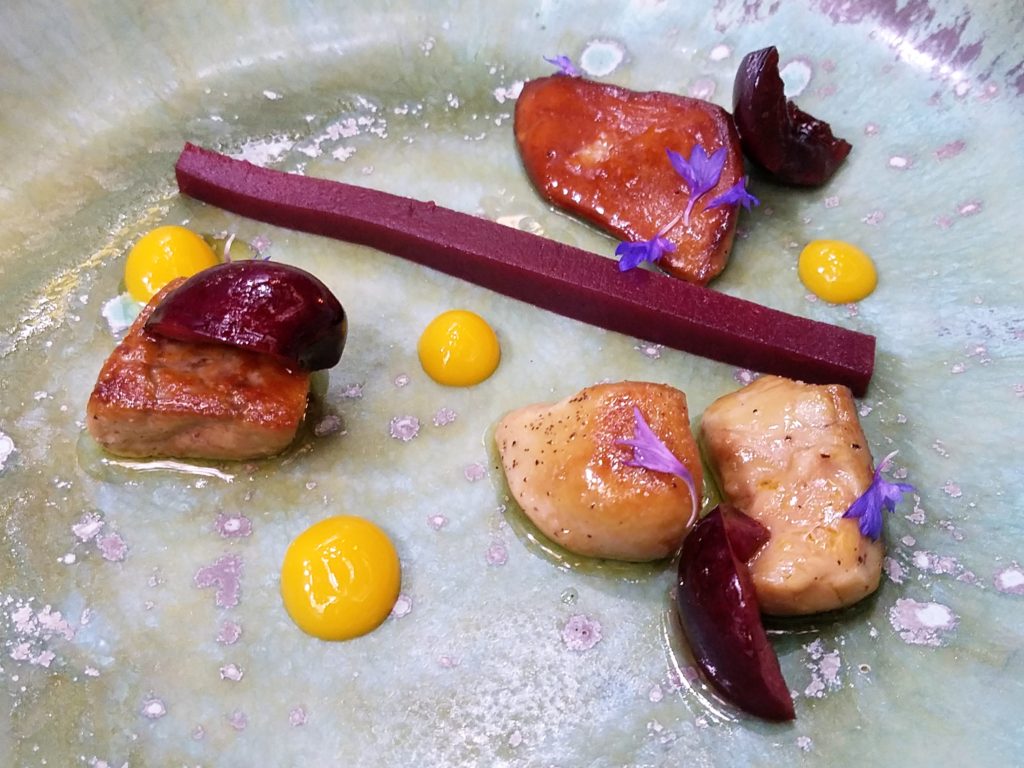 4. Sous vide pork belly smoked with parsnip cream and oyster mushrooms. The pork belly was tender, and the smokiness heightened the earthiness quality of the dish.
5. Steelhead trout with apple puree, fresh apple, dried apple and charred apple. It's comfort food while exploring different tastes of the same ingredient.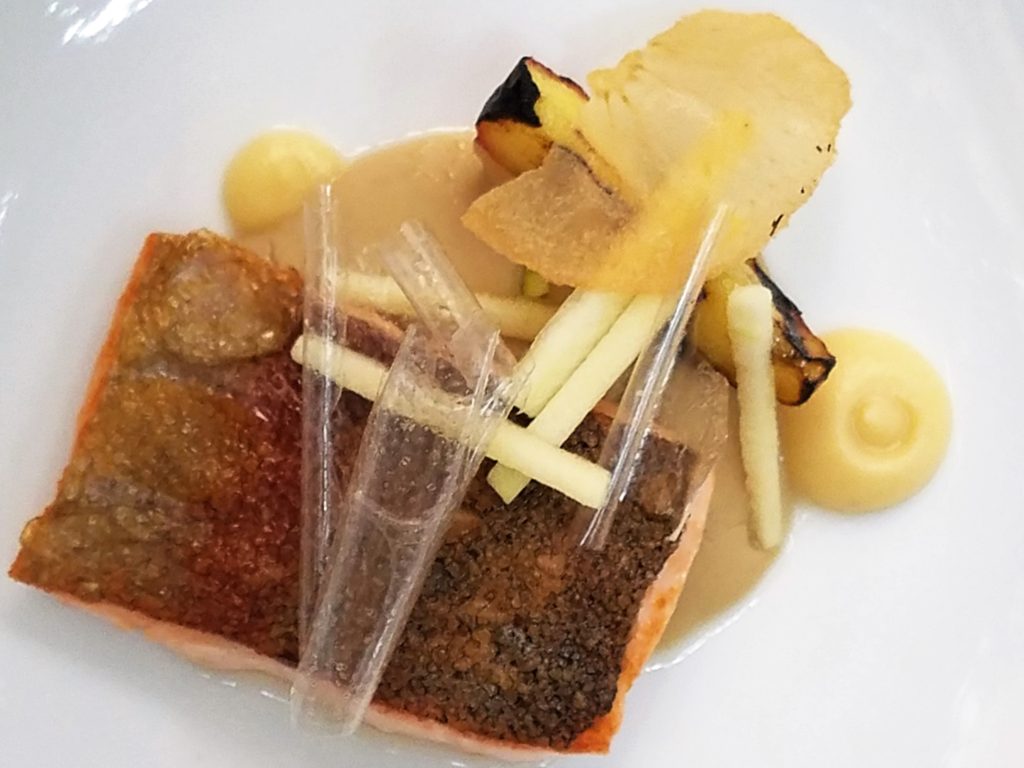 6. Duck confit with beet sauce and raspberries. All the duck fat was rendered out and what was left was just pure duck flavor with the sweetness of the beet sauce and raspberries. This was my favorite.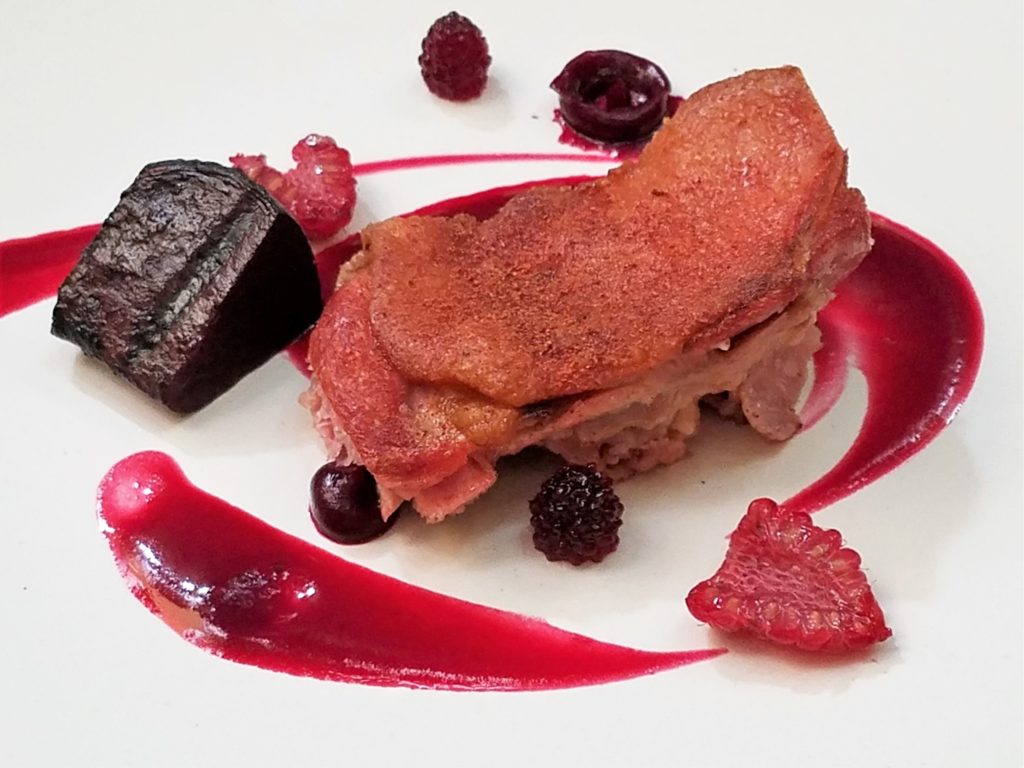 And for dessert….
7. Goat cheese ice cream with prickly pear gel, almond crumb, and porchetta paper. The fruit gel cut through the thickness of the goat cheese ice cream while the almond crumb and porchetta paper textures gave it crunch.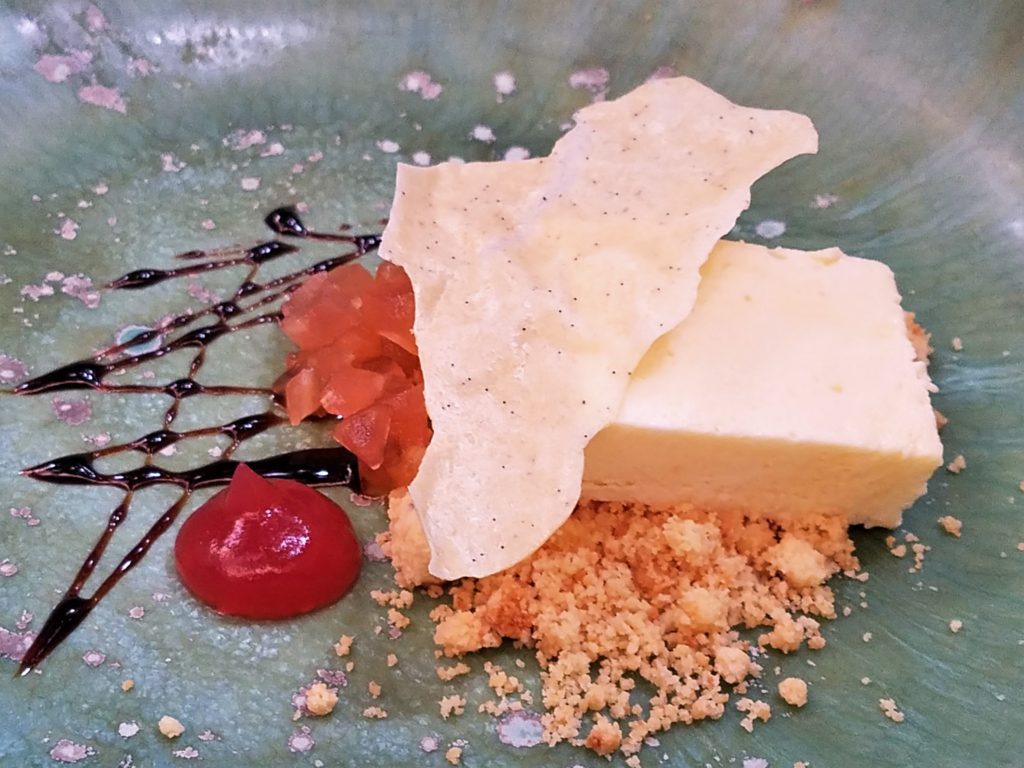 8. Presentation of different textures of chocolate: crumb, cake, crisp, ganache and ice cream. Always a favorite.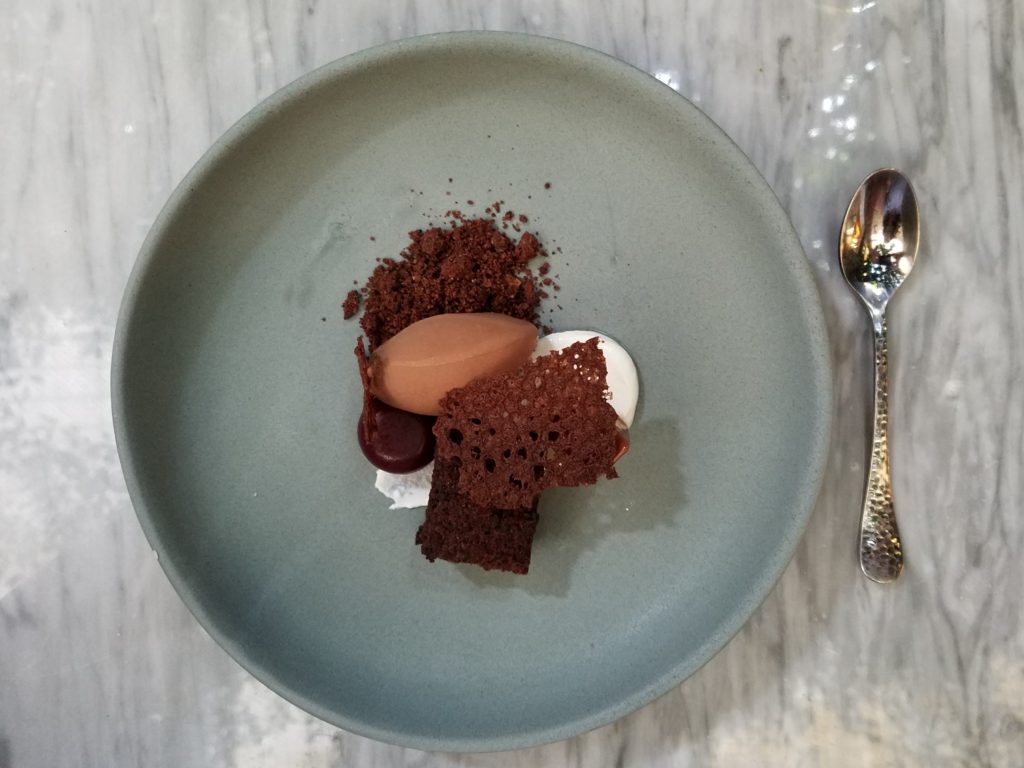 This particular tasting menu was my favorite from Aperi. Many times beef is presented as a course (not just here but at other fine dining restaurants as well), but usually after the foie gras and rich game meat, I don't have room for a heavy red meat. The menu was light with bold flavors and we left satisfied, but not overstuffed.
When you visit San Miguel de Allende, I highly recommend you splurge on at least one meal, and experience Aperi's 8- course tasting menu.
Aperi is located in Dos Casa Hotel & Spa
Tel (415) 152 0941 | [email protected]
Quebrada Street 101, Colonia Centro.
San Miguel de Allende, Guanajuato, Mexico